This month I've been sent a very nice piece of equipment to review! The Monolith by Monoprice Liquid Platinum Balanced Headphone Amplifier by Alex Cavalli, or LP as it's called, is hailed as one of the best tube amps under $1K on the market. Since much has already been written about this unit I'm going to attack it at a different angle. I'm looking at this small frame/big-sounding amp from the point of view of someone on a budget and who is not an engineer. How much and what kind of sound can I get out of a headphone amp that retails for $769 on Monoprice.com? I am not going to get all technical with this review. I am looking at is as someone just starting out in the hobby who's moved up to his or her first "good" amplifier.
Unpacking
The Cavalli Liquid Platinum comes in a basic black box and inside we find the power supply and unit within a very nice protective cloth bag and a pair of matched 6922 Electro-Harmonix electron tubes. The first thing you notice when unpacking the amp is its excellent craftsmanship and small size. Everything within the box is well protected and you just know that you are holding a quality piece of audio equipment.
Visual Appeal
I found the unit itself to be extremely well built and attractive. If you're pressed for space on your desk and want a great sounding amp, this is for you. With its black body, gray face, and beautiful design, you will not be disappointed. I particularly liked the ventilation slots on the top left and right sides with the tubes between them. This is a brilliant idea and works great. The unit never got too hot to the touch and the tubes are easily accessible. On the front you have a single volume knob and two outputs, one Single-Ended and the other a 4 Pin XLR Balanced. I only briefly tried the Single Ended and while it sounded good, the XLR Balanced sounded better.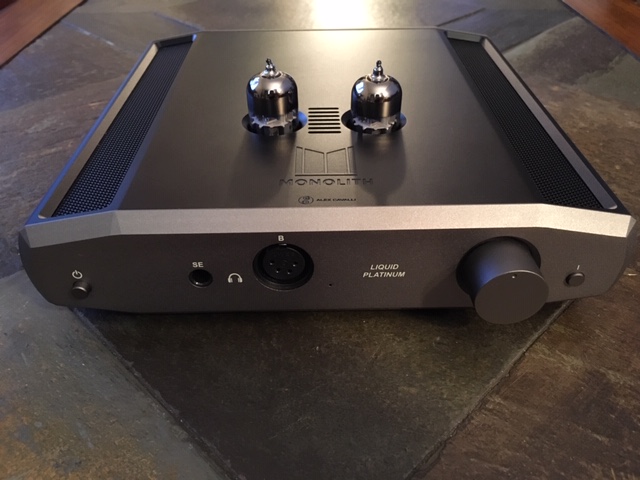 On the rear of the unit, you have dual RCA inputs as well as standard 3 Pin XLR Left and Right inputs, and the 36V DC power supply input.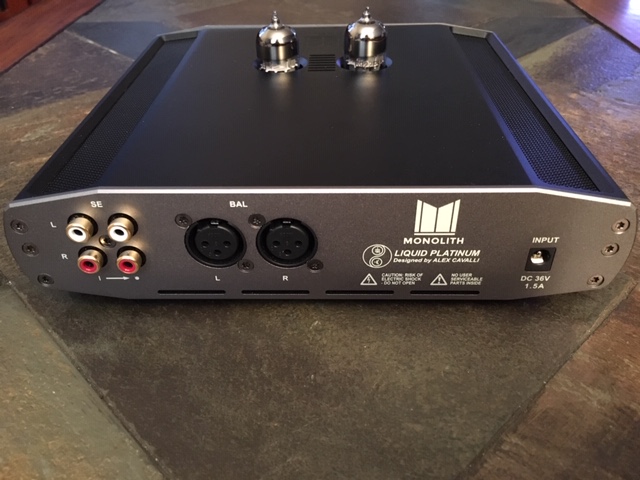 The specs of this amp are as follows:

Background
Alex Cavalli used to design, sell, and produce his own amps but now goes through Monoprice. However, I have read that with this particular device he has engineered and designed the PCB board and has veto power over all the components. He's known as a very skilled engineer and has made this unit affordable to the masses.
This is a hybrid tube amplifier. What the heck is that you might ask? Well, in general, it means an amp that has two technologies built into it. Something such as the Liquid Platinum has a tube pre-amp section and a solid-state output section. Why do this? Well, you get the great tube amp sound with low output-impedance, which standard tube amps do not have. High output-impedance changes the frequency response out to the headphones. What you get with hybrid amplifiers is a really clean warm sound experience.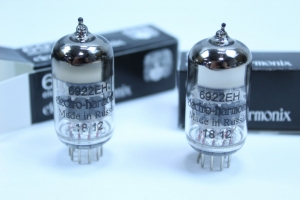 Testing
For this review, I am using the DX220 with the AMP1 MKII module as the source via Line Out into the Cavalli LP, and listening with my Audeze LCD2 Fazor Planar-Magnetic Headphones. I found that these sound exceptionally good with this amp. I am also using my standard playlist of 133 FLAC files of various genres, everything from rock, pop, country, classical, folk, and vocal recordings. I use a mix of studio recordings and live performances to determine the different quality of sounds a particular device produces. As I was not sure if the unit was burned in before I received it, I put it on a constantly monitored burn in for 200 hours before listening to anything. I was rewarded with an amplifier that sounded great for its price point. Let's get into it.
Impressions
First let me say that as with any amplifier, the better the source and music files, the better the sound coming out to your headphones. So, if you're using lossy MP3's out of a not so great cell phone, with sketchy cables don't expect much. However, if you are attaching this unit to a dedicated DAC or DAP with high-resolution files, and a quality cable you are going to have a great listening experience.
That being said, I recommend a great source, great files, and good quality cables.
There are some songs that truly sounded fantastic with this amp. There's a warmth and intimacy to it that I really enjoyed. This is not to say that the amp isn't powerful, not at all. What I mean is that with certain songs such as "Unchained Melody" by the Righteous Brothers it was just otherworldly. From the opening line, it's like you're transported right there into Phillies Recording Studio in 1965. The sound stage isn't what I'd call big, but its detail is exceptional. I've listened to this recording more times than I can count and listening to it through this amp is one of the best experiences I've had.
Then I moved onto other tracks, with everything from folk to heavy metal to pure vocals to classical. Of note, Metallica's "Enter Sandman" sounded fantastic with zero distortion at high volume. Every instrument was detailed and the bass is deep and tight. Some other tracks that floored me with its sound were "Hotel California" and "Desperado", the live versions by the Eagles from 1994. This amp was able to reproduce sounds that literally put me at the concert. The detail of the vocals as Don Henley and Glenn Frey sang these two songs was so intimate I could make out their breathing while singing! Again, it was as if I was in the front row!
"Sweet Home Alabama" by Lynyrd Skynyrd was another one of my favorite tracks that I listened to while reviewing this amp. I can honestly say that I was smiling the entire time listening to it. The acoustic beginning and the vocals were amazing. Hearing his iconic "Turn it up" line to the sound engineer sounded better than I've heard on amps costing five times the price of this! The last song to make a really great impression on me was James Taylor's "Fire and Rain". This amp was made for songs like this. Everything about the sound brings out emotion. By this, I mean that with this amp you're going to "feel" the emotion of the songs, not just hear the songs "louder". Not an easy thing to do with an amp let me tell you. With this song, on this amp, Taylor sounded so intimate you could make out his fingers on the neck of the guitar and his voice brought out a lot of emotion in me because of the nature of the song. I highly recommend listening to this song with a high-resolution player. The meaning of the song comes forward really strong and you simply get sucked into the music.
I ended my test with "Don't Stop Believing" by Journey. The iconic song sounded as good as I came to expect with this amplifier. Fantastic. The detail in the song brought back memories from long ago, as songs usually do, and I just sat there nodding my head and singing along…until my wife came in and yelled at me to stop, lol. The song was so enveloping that it was like being surrounded by the anthem. I really couldn't ask for any better with that song. That's the way this song should sound, like you're in an arena, with you singing along to it.
Conclusion
So this was a remarkable journey testing this great piece of equipment out. My notes put it as one of the best sounding amplifiers under $1,000. I found that acoustic songs are very detailed and intimate. The detail of the music is exceptional, even at higher volumes. While the soundstage may not be vast like some other mid-range amplifiers, it was more than adequate, I'd say…just right. When you listen to songs with emotion, this amp really does "amplify" those emotions and brings it home. I found that when playing high-resolution files the vocals were forward, the bass was vibrant and foot-tapping good, but the mids were on the recessed side. This amplifier is like a jack of all trades, it can handle pretty much everything you throw at it, and some things you throw at it are going to sound absolutely fantastic. Nothing I threw at it sounded bad. I threw heavy metal, southern rock, folk, classical, etc. and all of those genres sounded great! I think that this is a great deal for the price and can get even better if you swap out the tubes with some NOS tubes. This is something that is a personal thing and I can't tell you "what" tubes might be more pleasant to you over others. But I can say this with confidence, you're not going to get a better sounding amp in this price range.