I've been a big fan of NuForce and its products for many years. I've owned several of their headphones, IEMs (in-ear monitors) and their well renowned u-Dac 3 portable headphone amplifier and DAC. So I was a bit dismayed when I learned that Optoma had purchased NuForce as I wasn't sure what direction the new ownership would take this well respected audio company. Thankfully, NuForce is back and with a bang! It is releasing some great new products for the portable audio enthusiast.
I was recently contacted by NuForce to try out their new NE800M IEMs and I leapt at the opportunity to give them a try. I've always felt that NuForce's products have offered outstanding value and often punched well above their price points to compete with much more expensive options. I was curious to see if the NE800Ms would continue in that tradition.
The IEMs arrived quickly and upon first inspection, their build quality reminded me of IEMs in the $300+ price range. The shells are manufactured with carbon-fiber (one of the highest strength to weight ratios of any known material and something usually used for considerably more expensive audio products) and the sound nozzle is machined from solid brass. The inherent damping properties of carbon fiber help to provide one of the most acoustically inert materials known. As a result, the NE800Ms are free from micro-dynamic vibrations that can increase sound distortions.
An added benefit of using carbon fiber is that the NE800Ms can last you a very long time and withstand even the most taxing daily use you can throw at them, while still remaining very light and comfortable. NuForce selected solid brass for the nozzle as it is often used for its balanced acoustical transmission and damping properties. I've played trumpet (also a solid brass instrument) for over 35 years and can definitely attest to this. Brass is also very difficult to corrode and should last you many years with absolutely no issues.
The NE800Ms utilize a single large 8.6mm titanium-coated diaphragm, a N45 neodymium magnet and an innovative lightweight copper-clad aluminum voice coil. This design; along with the acoustic enclose of the carbon-fiber body and solid brass nozzles, yields extremely low distortion product with a powerful sound and an extended frequency range. Throw in the handsome black/gold package they come in; their extreme light weight and comfort, my hopes were quite high for these new earphones!
For this review, I used several different sources to put the NE800Ms through their paces so to speak. I used everything I had on hand; from my pedestrian iPhone 6 to my high end Astell & Kern AK240SS DAP and finally to the ultra-high end Chord Hugo TT desktop amplifier/DAC.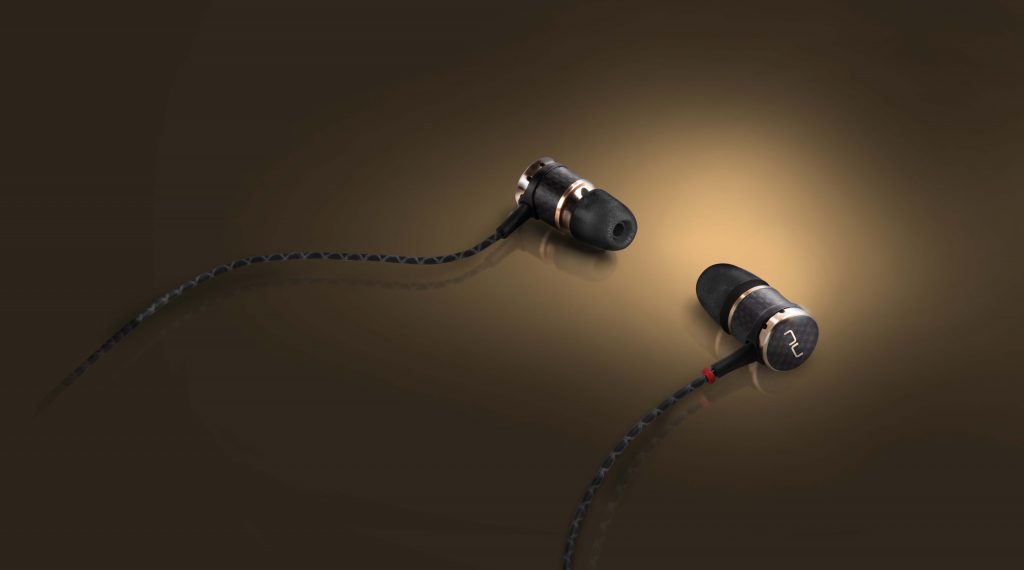 Right off the bat, I went with my iPhone 6. This is usually my first source when trying out portable earphones or headphones as I am of the opinion that portable listening devices need to sound close to their very best with a minimal setup to be truly useful as portable components. I was lucky with the fit as the pre-installed Comply foam eartips worked just perfectly with my ears and the comfort was very good, just as they were as advertised: light as a feather.
The noise isolation was above average. I would say that the much more expensive Shure SE535s ($499US) were one of the very best pair of IEMs I've used in terms of noise isolation, but the NE800Ms weren't too far behind with the Comply eartips. I quickly selected a favourite recording of mine: Andrea Bocelli's "Passione".
As I've come to expect from NuForce, the sound quality was again excellent and competed with IEMs that I've heard costing 2-3x as much. Andrea's voice was forceful and upfront. The male vocals as portrayed through the NE800Ms were simply magical. The passion of Andrea's voice flowed through the NE800Ms and really impressed me.
The bass performance was definitely both powerful and visceral. I might classify the bass as a bit on the more "fun" side of things when compared to what I would deem as strictly neutral, but it was indeed very satisfying. It certainly wasn't bloated, nor bled into the mid-frequencies like some IEMs can that are made for the "average consumer" in mind, but if you like some thunder down low with your music, the NE800Ms certainly will keep you happy.
The sound staging of the NE800Ms again, punched well above their weight class. I was expecting a more "closed-in" experience, but after about 75 hours of burn-in, they really opened up and sounded incredibly spacious; so much so, that I was shocked that they were only retailing for $149 on Amazon. This type of performance is usually reserved for the $300 and up crowd.
The treble was very nicely portrayed. Cymbals and flutes were never strident or etched and the overall presentation was incredibly musical. One small critique is that I would have liked a little bit more presence in this frequency range. I certainly am glad I'm not hearing any treble that comes off as grating, but a little more energy would help in the portrayal of both detail and continue to improve the sound staging even further in my opinion.
The overall enjoyment factor with "Passione" was truly outstanding. In fact, the NE800Ms have become my prime defacto pair of IEMs that I keep at my desk at work. They isolate out the daily grind of the workplace and sound just great straight out of my iPhone.
Next up I selected a DSD recording of "The Cole Porter Mix" by Patricia Barber and played it through my Astell & Kern AK240SS portable DAP. As soon as I plugged in the NE800Ms, I knew that I was no longer listening to 320kps music on my iPhone! As enjoying as the NE800M IEMs were through my iPhone 6, they just really seemed to open up when using my AK240SS DAP and DSD quality music.
It seems like you can have your cake and eat it too with the NE800Ms. You get a pair of great sounding IEMs that sound incredibly well out of your smart phone, but will scale up as the upstream gear and music quality improves! The imaging was that much more holographic, the bass quality improved by a few notches and the detail retrieval hit on all cylinders. Again, I found myself surprised just how good these lower priced IEMs sounded. Some of the issues I had with the subdued treble presentation from my iPhone 6 were definitely allayed when switched over to this setup.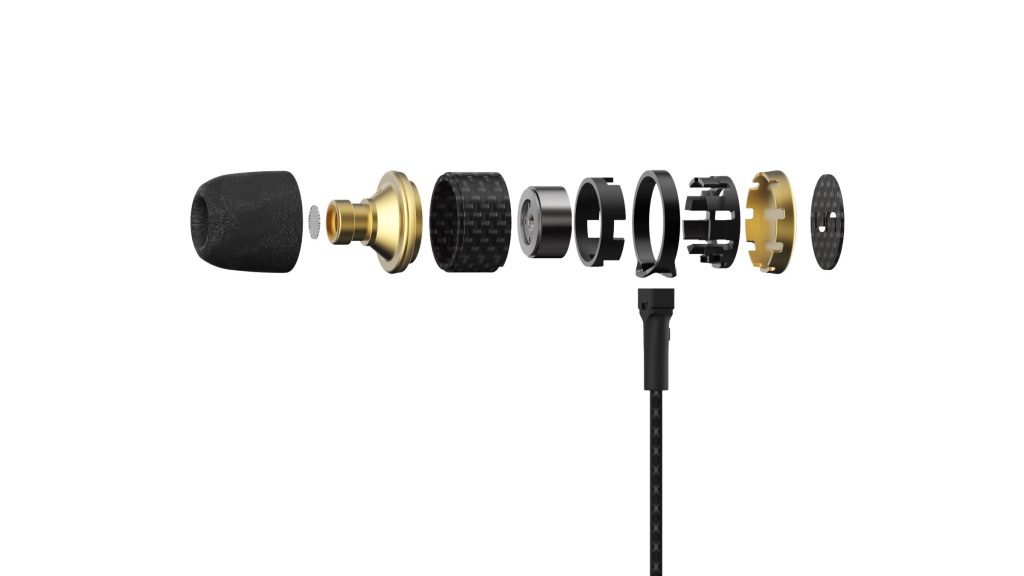 Finally I moved over to the Chord Electronics Hugo TT desktop amplifier/DAC. My source music came from my iMac via USB and included 192kps PCM files, DSD audio and lossless music played over Tidal. Again, the NE800Ms continued to impress. I hate to bring up their price point, but the quality of construction and sound never ceased to impress me. I would definitely classify them as slightly bass tilted and treble subdued (with outstanding mid frequencies), but as soon as Metallica's "Enter Sandman" kicked in, I really appreciated that extra "thump" down low. It was deep and visceral bass with incredible texture and detail. When I listened to "2112" by Rush, I completely was sucked into the recording and really enjoyed the presentation that the NE800Ms put forth!
So while the NE800Ms do improve with upstream gear and music, I didn't feel that I was giving up too much when using MP3s played through my smart phone. They seem to work with all sources I used them with. Coming in at only 16 ohms impedance and 120S.P.L. any player you have can make them sound quite good and quite loud! But surprisingly, they have the ability to capture improvements in recordings, amplification and the sources you through at them — very transparent!
If you are in the market for a great pair of IEMs and don't want to have to spend a fortune on them, I strongly recommend you give the NE800Ms a try. They definitely punch well above their $149 price point and compete with products costing 2X or more. While not "strictly neutral" sounding IEMs, they can still satisfy with a wide variety of musical genres. And if you're into strong and visceral bass and don't want to have to drop an arm and a leg, I strongly recommend you give them some serious consideration. I'm glad to see that Optoma's purchase of NuForce has not changed the great products that have been previously released by NuForce. Highly recommended!