Over the past decade, orthodynamic (also called planar magnetic) headphones have made quite the impression in the world of personal audio. I remember the old days when it was primarily just dynamic headphones like the Sennheiser HD600, or the AKG K701 and electro-static headphones by the folks at Stax. Then a few new pioneers entered the scene with some of the first new planar magnetic headphones to really push these other two driver categories for domination. Erzetich Audio, a newer player in the orthodynamic market space is located in western Slovenia and is solely focused on personal audio. With four headphone amplifiers and two headphones; the Phobos (flagship model; planar magnetic drivers) and Mania (50mm titanium dynamic drivers), Erzetich Audio has put forth quite a solid product offering. While I've seen these headphones from afar, I was never able to audition them locally here in Toronto. Well, thankfully that all changed a few months back when the review pair of Phobos headphones arrived at my door. I've been a huge fan of planar magnetic headphones for the past decade and these 1,999 Euro ($2250 USD) headphones really had me intrigued.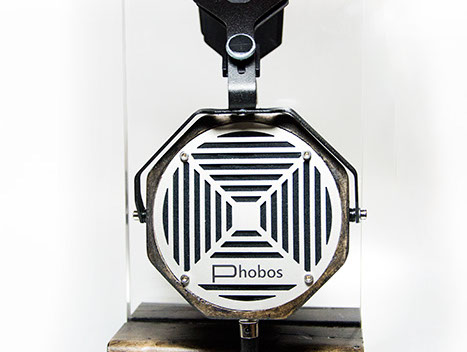 Right from opening the cardboard storage box, I could tell these headphones were orthos! They were big, hefty and substantial. Once I made the slight adjustments to get them to fit over my ears, I placed them on my head and I was glad to realize that the weight distribution was quite well spread out. Clamping force was also fairly light and I could tell that the discomfort that I've experienced with a good number of planars would not be an issue with these headphones. Build quality is (as mentioned) substantial. These headphones offer a very different design motif and are certainly unique as you can see with the attached photos. I really like their one of a kind looks! While they scream hard rock and heavy metal from their appearance, they work brilliantly with all the different genres of music (more to come on sonics a bit later). The aged octagonal Linden wood ear cups offer the owner a truly unique pair of headphones. The various knots and grain structures in the ear cups all work set your specific pair of headphones apart from rest! Conversely, the metallic grill offers a handsome contrast. The leatherette/metal headband complete the headphones with a very stylish and suitable method for adjusting the ear cups to your head. I also liked the restraining screws that are in place to "lock down" the sizing on the headband once you've found the perfect fit!
The included ¼" TRS terminated cable is also quite substantial, but isn't overly heavy like so many others offered today. It's quite light and ergonomic, though does exhibit some microphonics if you strum the cable jacket with your finger with the headphones on your head. Not a big deal for me as these headphones are designed for desktop listening.
The full specifications for the Phobos headphones are:
Impedance: 45 ohm
Driver: Planar magnetic
Cup system: Open
Weight: 690 g
Price: $2,199 USD
As I had these headphones delivered to my office, I immediately selected my Chord Hugo 2 for a quick test. With up to 1 W of power on tap, I've found that this wonder of a DAC can drive pretty much anything I can throw at it, with the exception of some of the most power hungry headphones out there. I was immediately struck with just how efficient the Phobos headphones were when played with the Hugo2. I only needed roughly 50% of the maximum volume to drive these headphones fully. My initial selection for my critical review was "Shine a Light" by Bryan Adams. I've been a fan of Bryan Adams since the 80s and his monumental release of "Reckless". The album "Shine a Light" shows that the venerable Canadian rock star can still rock! Right from the outset of the title track of the same name, these headphones immediately struck with their flat tonal balance. No area of the frequency spectrum dominated, but rather all three (bass, mids, and treble) seemed to play in perfect harmony. The other thing that immediately grabbed my attention was just how big they sounded. Typically both of these features tend to be just "adequate" when it comes to most headphones, but the folks at Erzetich seemed to hit this balance right on the head. Bass was deep and extended, but as mentioned never more than called upon by the recording. Vocals where neither pushed forward nor recessed and the treble was wonderfully nuanced and present while never sounding strident. Compared to similar headphones in this price range, the sound staging was definitely among the best in this category. They very much reminded me of the excellent Sennheiser HD800S, but with the visceral experience and weight that one can only achieve with a planar magnetic setup.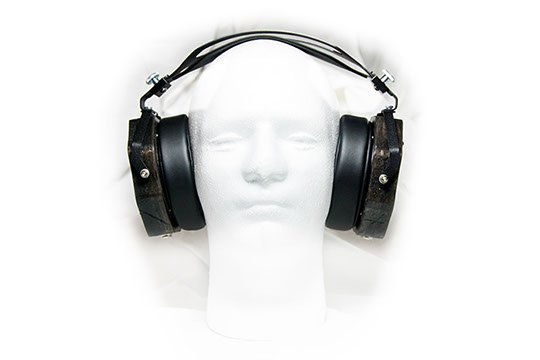 Next up on Qobuz, was the 24-bit version of the tribute album: "Joni 75: A Birthday Celebration". This is a brilliant album that showcases many of Joni's greatest songs performed by so many talented performers (from fellow Canadian Diana Krall to Emmylou Harris). Again, with this recording, the Phobos headphones by Erzetich Audio performed brilliantly! The soundstage was again, very wide and definitely one of the most expansive that I've heard from a planar magnetic headphone and very competitive with the Audeze LCD-4 and Abyss Phi CC. Quite impressive that the designers got such an immersive experience with their first flagship headphone. The one track that stood out for me was James Taylor's rendition of Joni's classic song "River". A very diffuse and ethereal experience is something I rarely come across in personal audio. Usually, it's pick one or the other; but not both. The HD800S offers a very diffuse soundstage, but certainly, don't give the ethereal punch and bass of a great planar magnetic headphone. Well, with these headphones, you can have both! James' vocals were outstandingly portrayed, though slightly pushed back, the diffuse sound field transported me to the studio where this legend laid down the vocal track to this classic song. Again, bass was very balanced but still weighty and very satisfying. Those looking for thunderous bass like the Sony MDR-Z1R flagship headphones, better look elsewhere. What you will get here is wonderfully textured and defined bass that only gives you what the recording engineer wanted you to hear. Cymbal detail and shimmer was almost perfect. Extended, detailed while never sounding strident is the best description I can give. Simply put a very balanced overall tonality that should make any listener smile; regardless of the genre of music that you throw at them. Finally, I want to mention that this session was conducted with the flagship DAC Chord Electronics DAVE and boy did these headphones scale with the improved upstream gear! Everything just sounded better across the board and really let me hear the differences between the Hugo2 and DAVE.
Finally, I decided to throw a classical album at it, "Mahler's Symphony No. 7" (by Ivan Fischer) on Qobuz. Many orthos over the years have somewhat left me wanting with regards to soundstaging and instrumental placement. Except for the very best orthodynamic headphones, I've mostly come away a little disappointed in this regard. Well, right off the bat, with their first planar headphone, Erzetich Audio has really nailed it. The previously mentioned soundstaging capabilities have come to the forefront with these headphones! Both a wide and deep soundscape was reconstructed in my head and the instrumental separation and distance between each player were simply breathtaking. If I had to pick my favourite ability of these headphones, this would most certainly be it! Again, tonality was closer to the neutral side of things, but the added ortho weight was still there. This allowed for both a very quick and transparent presentation. Not many top-flight orthodynamic headphones can do this like the Phobos headphones and I was very impressed that their first kick at the ortho-can was spot on!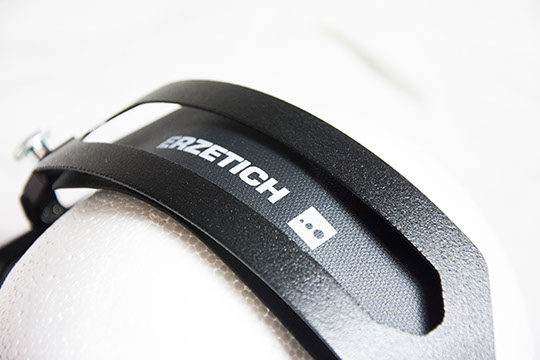 Overall, I loved my time with the Phobos headphones by Erzetich Audio and I was smitten with their immersive soundstaging and dynamics. Throw in the added planar "heft" and punch and you have a truly unique pair of flagship headphones. Due to their balanced sound signature, I found that these headphones worked brilliantly with any genre of music that I threw at them. From rock to jazz and from classical to metal, these headphones had me smiling. I found the comfort adequate for long listening sessions and very much in-line with many of the other flagship planar magnetic headphones on the market. Build quality is in one word: sturdy. While being fairly new to the world of personal audio, Erzetich Audio has really done a fantastic job with the Phobos headphones and offers a product that very much competes with the very best out there. I strongly recommend that you give these orthodynamic headphones a thorough listen, their open sound, dynamics, and transparency will certainly impress you!
Note: I would like to thank On Song Audio (http://onsongaudio.com) for the review pair loaned to us at Headphone.Guru