Streaming music servers are all the rage currently and so it comes as no surprise that a company like SOtM, with their passion for music and their desire to provide affordable access to all, would dive into the fray with compact modular offering.
The SOtM sMS-200: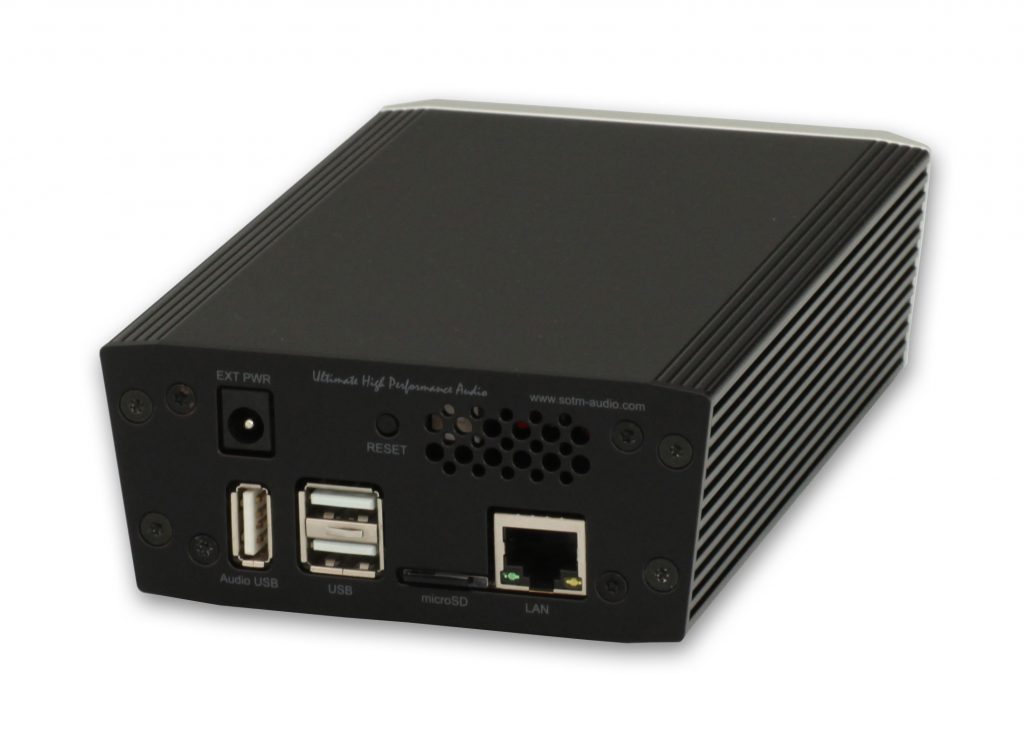 Unlike most of the network streamers I have encountered, the SOtM sMS-200 is a separate standalone piece that will work with any USB DAC, so a high end two channel system can easily be upgraded to offer streaming music, without any compromise in performance, and the sMS-200's small size allows it to be integrated into that system without taking up a great deal of room. Its one great weakness, as well as, its greatest strength, is its dependence on third party software to operate, which means that setup is not a simple plug and play procedure, and the documentation assumes that you already know how everything works. Luckily, the wonderful people at Crux Audio were more than willing to provide assistance when it became necessary. It is designed to interface with Roon, Squeezelite, HQPlayer, Shairport, DLNA and MPD, but has no UI (User Interface) of its own other than the web browser based Eunhasu Music Player page for set up and configuration. The sMS-200 does have two limitations that are worth mentioning, it has no built in WiFi (I have been informed that it will work with an available WiFi dongle), so a wired Ethernet connection to your router is required (given the limited bandwidth of WiFi, Ethernet is actually preferable if you wish to play high resolution files), and it only outputs through USB so if you plan to use it with an S/PDIF device some sort of interface would be required. That being said, the sMS-200 is still and excellent value and a perfect choice if you are already, or planning to, implement one of the above mentioned UIs.
The SOtM sHP-100: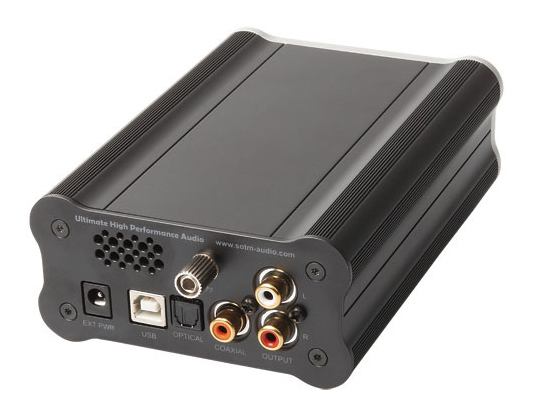 The sHP-100 is a pretty straight forward USB DAC/Headphone Amplifier employing the Cirrus Logic CS4398 DAC chip and the Texas Instruments LME49720 & TPA6120A2 amplifier chips for the headphone output along with an ALPS volume control. The extremely compact unit can be power by an external power supply or by USB. It has a Low Impedance (which if I read the specs right is also low gain)/ High Impedance switch, as well as, a Fixed/Variable output volume switch (so it can be used as a pre-amp via the line output). For input you have Optical, Coaxial, USB on the back panel along with the RCA line output and a 3.5mm Analog input on the front panel, next to the ¼" single ended headphone output.
The SOtM sPS-500: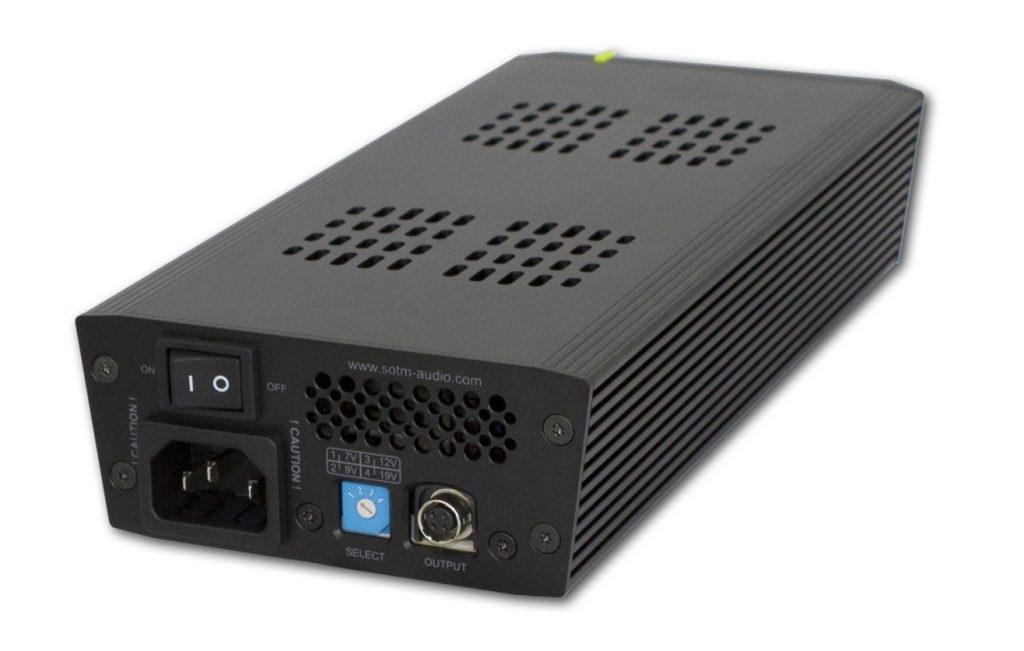 Since the beginning of high-end audio in the 60s, one rule has remained constant; it's all about power supply. Dynamic range, dynamic headroom and noise floor are all products of the power supply. An amplifier can only put out as much power as goes into it (actually the law a diminishing returns says only a fraction of the power that goes into it). An external power supply has the added benefit of better isolation (the power supply itself is a great source of EMF), equating to a lower noise floor. The sPS-500 is a universal power supply providing 7Vdc, 9Vdc, 12Vdc or 19Vdc, permitting it to be used with either the sMS-200 or the sHP-100, and its 50W output is more than enough to supply the needs of both.
The Setup:
My one complaint about the SOtM system is the documentation (I have been informed that Crux Audio is in the process of setting up a FAQ page on their website to make set up much easier), it is both hard to read (mostly due to the multiple languages being intermixed) and terse, it simply assumes that you already know how it all goes together, which implies that you weren't going to use the documentation to begin with. Optimally you would have two sPS-500s to power the sMS-200 and the sHP-100, but as I had only one, through a bit of trial and error I settled on connecting the sPS-500 to the sMS-200 (setting the sPS-500 to the max voltage setting the sMS-200 would accept) and ran the sHP-100 off the USB output of the sMS-200(Note: There does appear to be a dual cable available at a slight extra charge that I would recomend if you were planning to run only one sPS-500).
For burn in and my initial listening sessions, I went with what I know, which is DLNA using JRiver as the front end. While this worked well for testing purposes, it did tie me to the computer for interface and database, my assumption is you would have the same problem were you to use HQPlayer (while compatible with Roon, I see no logic in buying two pieces of software to do the job of one). So, when it came time for serious operation I set up Roon. On the plus side, Roon was very fast, assimilating my close to 8TB database within a few minutes. It also does an interesting thing, it consolidates multiple incidents of the same album, choosing the highest resolution copy (I don't know what it uses for metrics though). After a little experimentation, I was able to get Roon to interface with my phone making operation a wee bit more practical. Roon also allows you to incorporate your favorite streaming services like TIDAL. On the down side, I hate the Roon interface, while it might be nice to have all that information (Biographical data on the artist and the recording) at your fingertips, it is a real pain to browse to and select specific songs (though TIDAL users will find it familiar), and I was still tied to my computer as server and database (though this wouldn't be an issue for someone with a Roon Ready NAS).
My preferred method of using music streamers is to have the hard drives connected directly to the streamer (the sMS-200 has 2 USB ports for this purpose) and operate from a tablet or smartphone, taking the computer out of the equation (I think hardware solutions are more elegant and efficient, and often sound better, than pure software solutions, IE: rather than having a piece of software read and send the file to the DAC, a piece of control software tells the hardware to read and send the file to the DAC). To do this you need to run Squeezelite (Logitech Media Server) or MPD (Music Player Daemon). I started with an MPD app on my phone but had problems with the configuration (I could get it to see files loaded onto the sMS-200, but could not see the hard drive). So, I installed Logitech Media Server which worked great on my computer, but I was not able to get Squeezebox to run on my phone (probably another configuration issue), which prompted me to do more research and return to the MPD. In the long run I was happiest with the MPD, especially since I could control the sMS-200 entirely from my phone (via WiFi) without involving the computer at all (I was able to load Eunhasu Music Player on the browser of my phone over WiFi).
I would guess that most users will prefer to set up Roon, as this is the easiest and most straight forward, especially considering the primary reason for a streamer is to set up multiple stations with a single server database.
The Sound:
I was quite pleasantly surprised by the excellent sound quality of the SOtM system, especially for a chip based amplifier. Due to a large cue of items up for review, I was able to use the system for several IEM reviews, and was never disappointed by its performance. I made all of my listening tests in the Low Impedance setting, since all of the headphones I used were in fact low impedance. For my final evaluations I used the ETHER C Flow Orthodynamic Headphones.
Dean Martin's rendition of "King of the Road" from the Reprise album (Remember Me) I'm the One That Loves You (24/48 kHz) was presented with a large silent soundstage, with a slightly cool tonal balance, the midrange pleasant but not exactly honeyed.
"Freeway Jam" (Jeff Beck – Blow By Blow – DSD) put you in the center of the music with the bass guitar up front and the Rhodes piano on either side of you, slightly behind was the drums, the tom toms forward, and Jeff on the guitar in the background. Despite the immediacy of the recording there was still a sense of space.
Selecting "Piano Concerto No.2 in F minor Op.21" (Chopin: Piano Concertos Nos. 1 & 2 – Alfred Wallenstein and the Symphony of the Air – DSD), Artur Rubinstein's performance on the piano was magical, the piano itself rendered with a neutral delicate timbre, and the soundstage was expansive, though the orchestra came across as a single entity rather than a group of individuals.
I concluded my listening session with a live performance of "Since I've Been Loving You" by Led Zepplin (How the West Was Won – 24/48 kHz). It was front row seats in a large stadium, musical and intimate.
The Conclusion:
SOtM's modular approach to a streaming audio system makes for a versatile and affordable way to ease yourself into a fairly high performance end product. Most users will probably want to opt for a Roon Ready NAS, allowing them to set up a multi-room streaming audio system that can be controlled from a tablet or smart phone, via an sMS-200 for each station, with the option to use existing USB DACs or adding an sHP-100 for each station. A liberal application of sPS-500 power supplies will provide a quick and effective upgrade to the sound quality of each station.
The sonic performance of each product sits at the high end of their respective price categories, with a large and spacious sound stage, and fairly neutral tonal balance. I have totally enjoyed my time with these units, and Crux Audio has provided exemplary service, making it very easy to give them a hearty recommendation.
Specification:
sMS-200
Price: $450 USD
(with 1 year Roon License $520 USD)
OS
Audio player
Roon Ready
DLNA renderer
Music Player Daemon(MPD)
Logitech Media Server(LMS)
Squeezelite
HQplayer
Shairport
Audio feature
PCM 32bit/768KHz max, DSDx512 max
Ultra Low Jitter Clock
Ultra Low Noise Regulator
Active Noise canceller
USB port
High-End audio grade USB port x 1
USB 2.0 port x 2
Output voltage : +5.0V(+0.5V, -0.25V)
Over current protection : 0.8A at 20°C
Recommend output current : 0.5A >
Ethernet port
Power requirement
Input Voltage : +6.5 ~ 12Vdc
Power : Max 15W
Operating environment
Operating temperature range: +10 ~ +30℃
Storage temperature : 0 ~ +40℃
Operating & storage humidity : 10% ~ 90%
Dimension
106×48×152(mm)
Weight
1.5Kg >
sHP-100
Price: $600USD
USB input
USB specification 2.0 or higher
USB audio class 2.0
Support 24bit/44, 48, 88.2, 96, 176.4, 192KHz PCM playback
Support 64x DSD, 128x DSD playback
Native ASIO support
Coaxial, Optical input
Max bit-depth : 24bit
Sampling rate : 32, 44.1, 48, 88.2, 96, 176.4, 192KHz
Coaxial impedance: 75Ω
Analog input
Maximum input voltage : 2Vrms
3.5mm stereo jack
Headphone output
Maximum output voltage @ low impedance output select: 0V ~ 2.1 Vrms (± 0.1Vrms)
High impedance output voltage gain : 4
Output impedance : 13Ω (include headphone amplifier chip)
THD+N : < 0.005% @ 1KHz, maximum output level
Line output
Fixed level output voltage : 2.7 Vrms (± 0.1Vrms)
Variable level output voltage : Refer headphone output voltage
Output impedance : 47Ω
THD+N : < 0.002% @ 1KHz, maximum output level Indicate lamp Input select lamp x 4 : USB, Coaxial, Optical, Analog Mute indicate : Blink Power
input Input voltage range : 7Vdc ~ 9Vdc Input current : 2A max Operation environment Operating temperature : 10℃ ~ 35℃ Storage temperature :
-10℃ ~ 50℃ Operating & storage humidity : 10% ~ 90% Dimension / Weight 106mm x 53mm x 175mm / 1kg >
sPS-500
Price: $500USD
User interface
DC output on/off switch
Operating indicator LED x1
AC power input on/off switch(Rear panel)
AC power input
Voltage : 100Vac ~240Vac
Frequency : 50Hz / 60Hz
Current : 2.5A >
DC power output
Voltage : 7Vdc, 9Vdc, 12Vdc, 19Vdc selectable
Voltage tolerance: ±10%
Current limit:
5A@ 7Vdc, 9Vdc, 12Vdc
3.3A@ 19Vdc
Current tolerance: ±10%
Maximum output power :
50W@100Vac <, +50℃ > inside temperature
Protection
Output short
Over temperature
Operating environment
Operating temperature : +10 ~ +30℃
Storage temperature : 0 ~ +40℃
Operating & storage humidity : 10% ~ 90%
Dimension
106 x 48 x 230(mm)
Weight
2Kg >