Just before writing this review, I remember thinking to myself, boy am I happy with my portable setups. Owning both the Astell & Kern AK240SS digital audio player and Chord Electronics Mojo and the some really great in-ear monitors, I've felt that my "on the go" setup was as good as it could get. I was living the dream! Enter the UIT PMP-353P Music Purifier. Initially I was a bit skeptical whether this $188 US unit could improve upon what I was hearing with my very satisfying portable setups. The UIT Perfect Music Purifier comes after more than 10 years of engineering experience in the fields of both fibre optics and electronics from the folks at UIT (Unique Innovative Technology Co.). The Perfect Music Purifier (PMP for short) aims to isolate the noise within transmission signals between various music components. According to UIT, this noise is generally caused the electronic ground circuit connection and the subsequently shared connection between the Left and Right music channels (often referred to as "crosstalk"). This noise could then degrade the resulting audio experience by making it sound lifeless, with an overly noisy background with unclear detail retrieval, an etched treble response, and/or sloppy bass. The PMP looks to overcome these problems with their proprietary circuit design that eliminates this noise from transmitting within the music system. This proprietary design utilizes from already established fiber optic technologies to isolate certain signals transmitting within the system. With the elimination of this noise, the ensuing sound should be, in theory, much closer to what the artist had intended.
For this review, I was sent the PMP-353P model (one end female 3.5mm adapter and the other a male 3.5mm stereo TRS plug). The unit itself is very well built and the stainless steel case on the PMP really showed the care and workmanship that went into its manufacture. Using it is a snap; simply plug one end into your music player/amplifier and the other end your headphones/in-ear monitors. I have to admit initially I was a bit disappointed with what I heard. But that setup was far from ideal. I was using $100 IEMs straight out of my iPhone 7 (with the Lightning to TRS adapter) playing 320kps MP3 files. The differences were quite small and very difficult to detect.
A few days later I decided to give it another try, but this time with a much better setup. My Astell & Kern AK240SS DAP (digital audio player) is one of the very best portable players I've come across and has full capability to play native DSD and 192 PCM files. As soon as I plugged in my Empire Ears Zeus -R ADEL custom IEMs, I was able to notice a difference almost immediately. Jazz at the Pawnshop: Late Night is a very recent DSD album I've purchased and being a huge fan of the first two offerings, this one seemed like a great purchase. Like its predecessors, this newer version sounds absolutely brilliant! The recording is definitely worthy of being called "reference" level. After listening to this album with just my AK240SS/Zeus ADEL IEMs, I put the UIT PMP-353P into the mix. Almost immediately I heard an improvement in clarity and dynamics. I was surprised that with the small addition of this Music Purifier just how much the sound quality improved.
While not night and day better, the differences were certainly more significant than with a cable upgrade. As clear and open as this recording sounded without the PMP-353P, it seemed as if a small veil was lifted when the PMP-353P was added in between my player and IEMs. Decay was a tad tighter, detail and clarity level improved appreciably with the addition of UIT's new device.
Next up I decided to use the very excellent Campfire Vega flagship in-ear monitors and my widely acclaimed Chord Electronics Mojo portable DAC/Headphone amplifier. For this session I used both a standard lossless (44.1 kHz) and a DSD64 version of Norah Jones' very popular "Come Away With Me" album. As noted previously, with the DSD version, the dynamics and clarity were improved upon right from the outset. The clarity of the shimmer on the cymbals came to life when I compared the sound with and without the PMP-353P clarifier. It was as if there was a slight veil had been lifted from the presentation that only let me get even closer to this already impressive recording.
Equally surprising was just how organic Norah's vocal's had improved as well. The UIT clarifier did bring out the mid range in such a wonderfully organic way that I was definitely impressed! When I switched to the lossless 44.1 kHz version of this record, the differences weren't as profound as with the significantly higher DSD version. These differences, while still present, weren't as profound as with the higher resolution version of this album; it was more on par with say a cable upgrade over the more significant improvements that were heard with 192 or 384 kHz material. But with that high resolution material, I was very surprised at how the both the clarity and transparency really improved!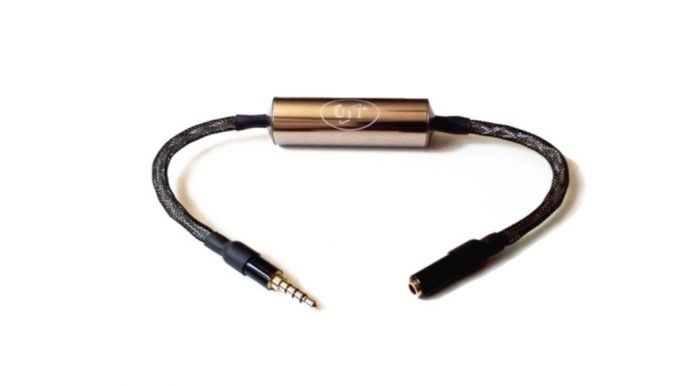 Overall I was definitely surprised with the improvements that the PMP-353P brought to the table; especially with high resolution music. Improved clarity, dynamics and transparency were very much immediately apparent with even my first listen. But as mentioned, these improvements were reduced if the quality of the source material was also reduced. But if you have a top flight portable setup and you are looking for that last "tweak" to put you over the top, I strongly suggest you look into UIT's music clarifiers. Priced at $249 USD or less, they definitely worth an audition and very strong consideration!