Ultrasone has been manufacturing high-end headphones for over 25 years! Their headphones range from their more entry level HFI Series to their high end Signature and Edition Series. One of my particular favourites was the now defunct Edition 7. Many long time personal audio enthusiasts hold these headphones in high regard and thankfully the folks at Ultrasone have re-released this headphone as the Signature Pro (which I will be reviewing shortly). Just this past May, Ultrasone, not to let the grass grow under their feat, released the Signature Studio. The reason for bringing up the Signature Pro, is that both headphones share quite a bit of similar DNA in terms of build styling, form factor and sound signature. But the new Signature Studio headphones come in at less than half of the cost of their bigger and older brother the Signature Pro and offer so much of the impressive build and sound quality in a cheaper package.
Upon opening the box, the familial resemblances are definitely there. The ear cups, headband and fit are all very much in-line with each other; however, the refinements in the higher end Signature Pro are definitely there in terms of materials used (such as real leather in the ear cups, head band and carrying case). Included with the Signtature Studio headphones is basically everything you'll need for these great home and on-the-go headphones:
3m headphone cable with a ¼" TRS stereo plug
2m portable headphone cable with a 1/8" TRS stereo plug
Sturdy carrying case for your headphones and both supplied audio cables
The drivers of the Signature Studio are based on their 40mm titanium coated mylar drivers. The addition of the titanium coating is to help prevent cone breakdown during use and thus minimize any resulting distortion. Also incorporated with these headphones is Ultrasone's famous "S-Logic Plus" technology. This is Ultrasone's patented technology that they have used for 25 years in their headphones and according to Ultrasone, results in a larger perceived sound stage. As an added bonus, S-Logic also produces less hearing strain, from a 3-4dB lower SPL (sound pressure level) that provides a similar perceived volume at lower levels.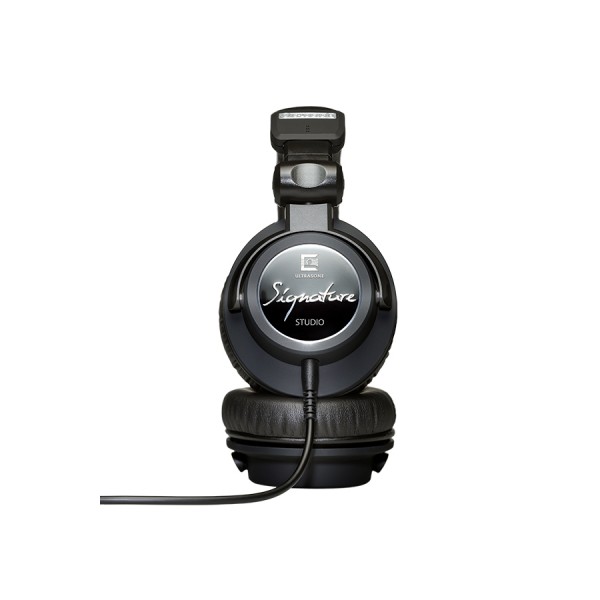 The advantage with the Signature Studio headphones that struck me right out of the box was that they could be used in a home based desktop setup, or they can be taken with you and used as portable headphones. With a mid-sized form factor, excellent noise isolation and an impressively functional carrying case, the Signature Studio headphones can be easily packed away in a knapsack or luggage and taken with you. For the purposes of this review, I used these headphones in both settings; namely on my home desktop setup and in portable mode using my iPhone 7 / Chord Mojo. These headphones really shone in both modes!
When they arrived at my office, I immediately unpacked them and plugged them into my iPhone 7 / Chord Mojo. While I did realize that these headphones were essentially brand new and that some burn-in time was warranted, I was overly curious as to how they sounded. Being designed to be both home-based headphones and for those on the go, I decided to test them on my portable rig first. I immediately opened Tidal HiFi on my iPhone and selected "Morning Phase" by Beck, turned on my Chord Mojo and proceeded to plug in the Signature Studios. I found myself smiling right from the first track "Cycle" all the way to the final song "Waking Light". These headphones really fired on all cylinders. Sonically they would be what I classify as "laid back and fun". There is plenty of bass to satisfy even the most discerning listener. Thankfully this bass doesn't leak into the midrange and offers a powerful, but still detailed presentation. The midrange is very naturally presented and Beck's vocals were clear, concise and very well laid out. In particular, the harmonica on "Country Down" was brilliantly portrayed. It was as if I could imagine Beck playing this instrument right in front of me in my office! The treble takes somewhat of a "pushed back" approach and while never rolled-off (as it did extend quite well), it rather offered a more natural sound. Other headphone manufacturers have done this previously with great success and avoided the pitfalls of un-naturally bright treble that can become fatiguing during extended listening sessions. When listening carefully, the Signature Studios offered excellent detail retrieval and still managed to sound natural at the same time; a very difficult thing to achieve, but with the Signature Studios (and Signature Pros; review coming soon), something the folks at Ultrasone were able to pull off successfully and hit the mark.
One of my favourite albums of all time is "Kind of Blue" by the legend himself, Miles Davis. This album is a brilliant display of jazz music at its best. Along with Miles, both John Coltrane (saxophone) and Bill Evans (piano) join in. If I were ever left on a deserted island and could only bring five albums with me, "Kind of Blue" would definitely be one of them. The version used in this trial was a high resolution 192kps download that I often use to test a headphone's ability to keep up with this very demanding recording. This time, I used my main home setup: Kitsune "Tuned" Singxer SU-1 DA/DA Converter –> Kitsune Level 3 Holo Spring DAC –> HeadAmp GS-X Mk2 –> Signature Studio headphones. Right from the outset, the ability of these closed-back headphones to offer an impressive soundscape was immediately apparent. Most closed-back headphones in this price range tend to offer a more closed-in and claustrophobic presentation. Thankfully I found the Signature Studios offered a more believable image that I could easily construct in my mind. Instrumental separation as well was quite good with a definite spacing around Bill Evan's piano work and Miles Davis' premier trumpet playing. Noise isolation was above average as well, even with my son or daughter coming in and out of the room, I couldn't detect their presence unless I turned my head and looked at them. So if noise isolation is important to you, these headphones will not disappoint!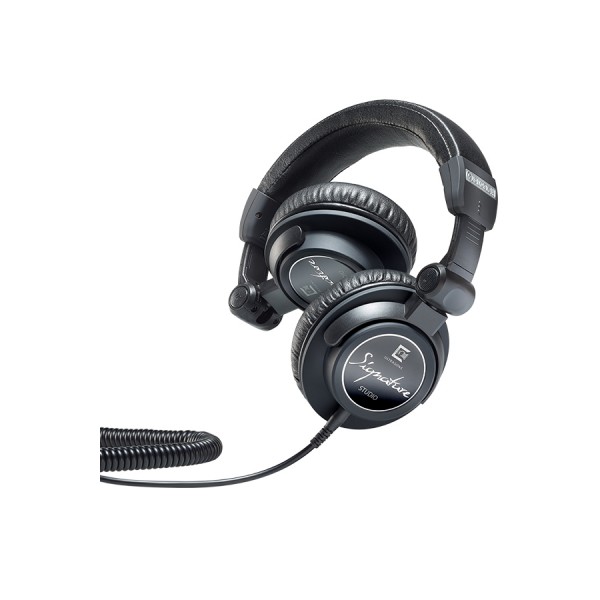 Tonally speaking, the relaxed presentation of these headphones really allowed me to listen to them for extended periods of time without a hint of listening fatigue. They offer a similar tone to the Audeze LCD-2 with a bit more mid-bass presence, excellent mid-range and a pushed back treble that offers a very natural and easy listening experience. While the bass offered a very good amount of energy, I did not find that it was sloppy or slow. But rather the detail was certainly there and well portrayed. The mid-range again was upfront and clear. The treble was well extended and never came off as "bright" or "strident". I might have preferred a bit more presence in the upper mids (1-3kHz), but that is a small desire as I found the overall presentation of these headphones to be quite enjoyable!
In the end, I find the Signature Studios a very easy headphone to recommend. Coming in at a reasonable price point of $599 US, they offer a fantastic build quality, great noise isolation and comfort and a sound quality that leads much of the pack in the sub-$1000 market space. I found them more than suitable for both home and portable use. They would be a great option should you want a pair of headphones to take on a flight with you for fun or business. Well done Ultrasone…a great new release. I strongly recommend that you give these an audition!