My first pair of truly "high end" in-ear monitors were the Westone 3s. I had finalized my selection down to the previous Westone flagship and the Shure SE530. But after auditioning them side by side at a local audio store it was a fairly quick decision to go with the Westone IEMs. Through the years, I've purchased every new Westone flagship IEM and was very pleased to hear how the engineers at the company have been able to constantly improve the design and sound quality with every new release. At RMAF in Denver this year, I was able to audition their newest top of the line product, the new W80. I also got to finally discuss this product (and their previous offerings) with Karl Cartwright. Karl was involved with the design of all the great Westone IEMs I've owned through the past several years and getting his point of view on their designs was very revealing. Karl's enthusiasm for the new W80s really came through as his tour-de-force in the in-ear monitor realm and after a brief 15 minute audition I knew that I would love to be able to review them! A few weeks later they arrived at my office and I immediately started my review. Upon opening up the package, I could see that the quality of the packaging and artwork had come to a whole new level for Westone. Typically Westone's IEMs came in diminutive sized packaging, but the W80's packaging is truly substantial and one that truly represents a statement product like the 8 driver per-earpiece W80 flagship.
Only released this past October, the W80s are Westone's newest foray into the high end in-ear monitor market space. They pack a very impressive 8 armature drivers per earpiece (dual lows, duals mids and quad highs). What I find even more impressive is that the actual form factor of the W80s was smaller than their previous W60 flagship product (with 6 armature drivers per earpiece) and even my old Westone 3s (with 3 drivers per earpiece). How Karl and his team were able to cram a whopping 8 drivers into each tiny earpiece is a real engineering feat and I am so thoroughly impressed with this accomplishment. There were two other items that also grabbed my attention almost immediately: the oversized carrying case that easily allows one to bring along their portable player or portable amp/DAC and the most excellent ALO Audio "Reference 8" upgrade cable (also included with the W80s). Both items certainly make the W80 value proposition a very intriguing one for me. Firstly, the large carrying case offers a very versatile storage option that very easily allowed me to also include either my Astell & Kern AK240SS portable DAP or my Chord Mojo + all the required USB cabling. As well, fitting in an airplane adapter, charger, additional eartips, and the standard W80 headphone cable was a snap. And when sealed up, took up the same amount of space as my Bose QC35 noise cancelling headphones (which are still very portable in their own right). The ALO "Reference 8" upgrade cable typically would run buyers an additional $299.99 for this truly reference quality audio upgrade, but with the W80, they come as an added option and while I found the "stock" cable with mobile audio controls more than adequate, the Reference 8 was clearly the option that I settled upon for this review. Also I want to bring to your attention that Westone's unique customization J-clips initially brought out on the W60s thankfully continue with the W80s and you can select between Gold, Silver, Red or Blue for your earpieces to better suit your style and preferences.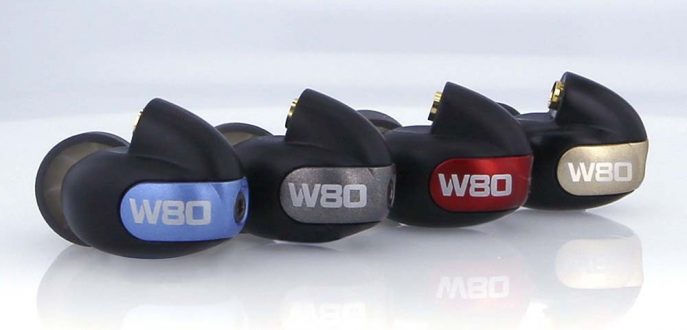 Also included with the W80 in-ear monitors is:
W80 Earphones
Large Luxury Case
Small Luxury Case
Westone by ALO premium cable
MFI cable with speaker and 3 button control
Cable management System made of foam
8 metallic J-clips (Gold, Silver, Red, Blue)
20 tips (10 foam and 10 silicone)
Hex Wrench
Earwax removal tool
Westone Cleaning micro cloth
Desiccant Pouch
As mentioned previously, the W80s pack an impressive 8 armature drivers per earpiece with dual low, dual mid and quad high drivers and all in a form factor that is slightly smaller than the W60 or even Westone 3! Included with these 8 drivers is an impressive 3-way crossover that makes the transition from bass-to mids-to treble seamless sonically speaking and offers an impressively balanced frequency response from 20Hz to 20kHz! The full list of specifications for the W80s is:
Sensitivity:111dB SPL @ 1mW
Frequency Response:5 Hz – 22 kHz
Impedance:5 ohms @ 1 kHz
Passive Noise Attenuation:Up to 35dB
Driver:Eight balanced armature drivers with three-way crossover
Cable:ALO Audio / MFi Replaceable
Warranty:2-year warranty
For the purposes of my review, I ran the W80s with my iPad Pro, iPad Pro + Chord Mojo and my Astell & Kern AK240SS portable DAP. I primarily used lossless music played from Tidal throughout my review, but I did also ensure to play some of my favourite high resolution (192kps and DSD) recordings through them to see how they could scale with better sources and to test the ability of the W80s to "data mine" these higher bit recordings for even more detail retrieval, tonality and transparency.
I literally tried every ear-tip provided, but in the end settled on a pair of Comply T-100 ear tips (w/ earwax guards) that I have in continual stock. I find the combination of comfort, noise isolation and transparency to be best with these eartips and in the end they continued to work best for my ears. Due to their very small form factor and light weight, these are among the most "portable" IEM I've come across. They almost disappear in your ears and with their extremely low mass, you very quickly forget that you have them on (if not for the music pumping into your head that is). I could literally wear them for hours on end while either sitting or walking around and never once would have a sense of discomfort or agitation. As well, with the Comply ear-tips, I found the noise isolation among the very best I've experience with a pair of universal in-ear monitors. It seems that the designers at Westone put a lot of thought into what makes for a great pair of IEMs and have used their years and years of experience and it all culminated in their new W80s!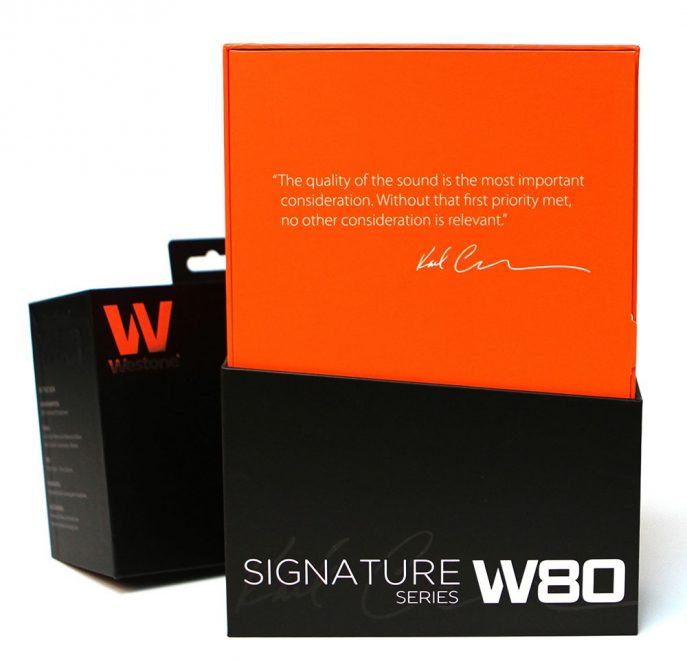 As soon as they arrived at my office, I plugged them into my iPhone 7 (w/ Lightning to Headphone jack adapter) and quickly settled on "Day Breaks" in Apple lossless by the venerable Norah Jones. Right from the album's title track "Burn" I was immediately gobsmacked by the W80's ability to cast an incredibly wide and deep soundscape. For being such tiny IEMs, the W80s sound B-I-G! In fact I would rate the W80s in the highest echelon of flagship IEMs with regards to sound staging. They are a large leap forward over their predecessor flagship W60s (still in the Westone product lineup) and other similarly priced flagship IEMs like the Shure SE846 or Sennheiser IE800. In fact, they bested many full sized headphones I have on had too and that says a whole lot for me! Beyond this outstanding soundstaging capabilities, Norah's vocals were truly inspiring when played through the W80 IEMs. I've always loved the way my previous Westone IEMs (W3, W40, W50 and W60) have portrayed female vocals and the W80s have retained that similar magic and added a touch of improvement to the micro detail retrieval that only makes the presentation that much more realistic. Every tiny breath Norah takes and the associated inner workings are all laid bare with the W80s. Bass, while a north of neutral, the bass presentation is very satisfying for those who appreciate deep bass that not only hits hard, but offers wonderful texturing and layering. Never sloppy, the lowest octaves on the W80s offered outstanding definition, control and detail. Conversely, the treble was classic Westone. Extended with a wonderful liveliness to it that really offers a sweet delivery that never came off as strident, nor excessive. And unlike some IEMs in this market space, the treble extension was a definite strong point for the W80s. You'll never find yourself missing out on cymbal energy and definition with these in-ear monitors. So right out of my iPhone 7 and Apple Lossless music, the W80s really hit all the right notes! For me this is very important as I do not want a pair of portable headphones or IEMs to really require a big and bulky (and expensive) stack (DAP, amp/DAC, etc…) to really sound good. And the W80s sounded brilliantly right out of my iPhone.
After many hours of playing these IEMs, I finally decided to plug them into my Astell & Kern AK240SS digital player (DAP). One of my favourite classical composers is Gustav Mahler. I have this Fourth and Fifth Symphonies in 256 DSD format. This was one area that I found the very open and airy soundscape that the W80s provided to be a real asset. Instead of the music emanating from inside my head as with most in-ear monitors, the music came alive and the "out-of-your-head" experience provided was really impressive. My wife happened to come into the room in the middle of my session and asked what I was listening to that caused me to be smiling so much. I didn't even realize that I was smiling, the W80's had me so captivated that I got lost in the music. Flutes played so effortlessly; with outstanding detail and shimmer. The brass sections were powerful and dynamic and the strings were simply quick and elegant. The added bass made each timpani strike seem as if it was right in front of me. But I just kept coming back to the expansiveness of the sound stage that was cast by the W80s. Simply the widest and deepest sound stage I've come across from any pair of in-ear monitors. If you are a fan of Sennheiser's full sized open-backed headphones the HD800 or HD800S and their incredibly open sound, but want a more portable option and still retain much of that presentation, the W80s are for you! Tonally they are quite different, but with regards to sound staging they are among the very best in their respective classes. Detail retrieval was also excellent and the overall presentation never came off as clinical, but very natural and transparent.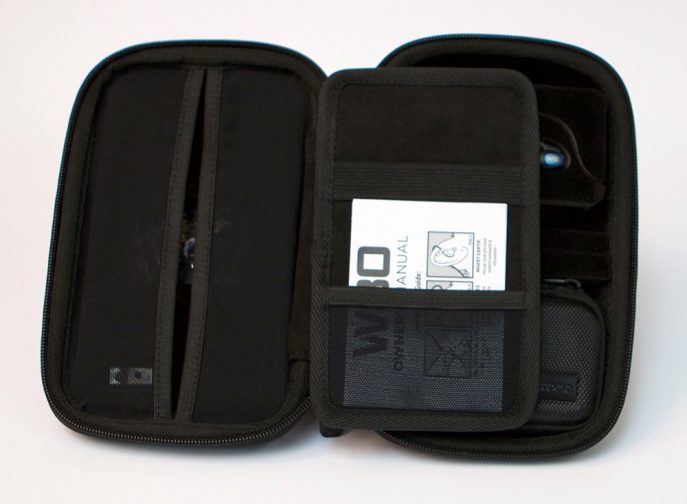 Rush's "Permanent Waves" is very much an undervalued album in their respective discography. I supposed being sandwiched in between their two classic recordings of "Hemispheres" and "Moving Pictures", I can understand how sometimes it gets lost in the mix. But right with the top two tracks of "The Spirit of the Radio" and "Freewill", this album is one of my favourites from our venerable local band here in Toronto. Here again the W80s really shone! Neil Peart's kick drum hit with energy and life and made it feel much more closer to being at a live concert with Rush than most IEMs I've heard (and I've been to several Rush concerts in my lifetime). As well, the bass notes were never overpowering, nor bled into the mid frequencies so as to distract from Geddy's legendary vocals or Alex Lifeson's epic guitar work. The treble too fit within this inspiring presentation with a sweet shimmer to Neil's cymbals that never came off as steely or excessive. It was slightly pushed back (as Neil sits towards the back of the stage) but still offered great presence and detail. I again found my head popping up and down with "Freewill" and it wasn't until half way through the song that I had actually noticed. The musicality that the W80s brought to this recording was an absolutely pleasure and their ability to retain a very high amount of technical accuracy helps make these IEMs very special.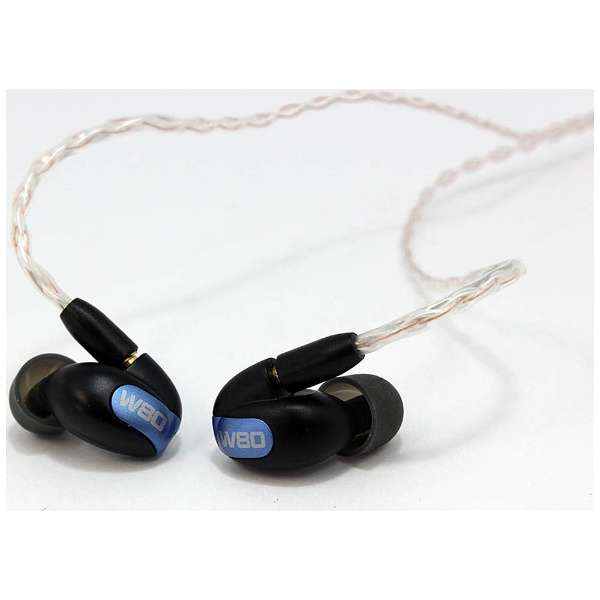 I was lucky enough to also receive Westone's new wireless cable that essentially turned the W80 IEMs into wireless in-ear monitors. The new Bluetooth cable (Bluetooth 4.0 with aptX® technology) very easily converts any Westone in-ear monitor into a wireless headphone. Simply replace the IEM cable with this one and you are off to the races! The key features of this new cable are:
Key Features:
Bluetooth 4.0 with aptX® technology
Up to 8 hours of battery life
MMCX Audio™ Connectors
The only MMCX connector built specifically for music ensuring a reliable connection everytime
IPX4 Sweat and water resistant
10 meter range
Lightweight at under .5oz
Removable Bluetooth cable compatible with many other MMCX earphones
Compatible with iOS, Android, and Windows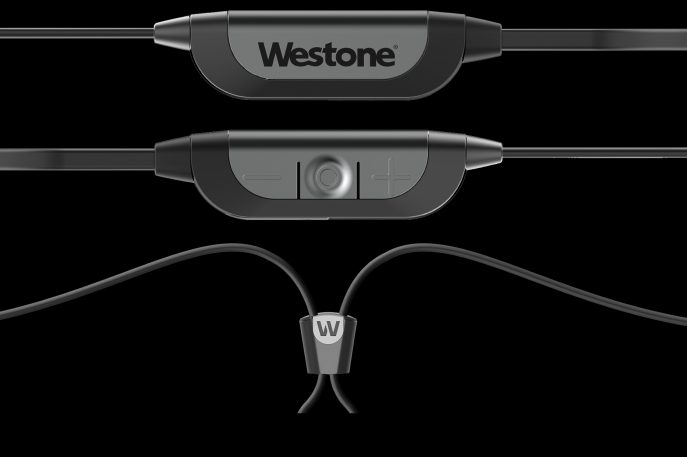 I put this cable and the W80s through its paces and found the Bluetooth to be truly excellent. It never dropped out and when using Apple Lossless music on my iPhone 7 and the sound quality was essentially the same as the standard cable that came with the IEMs. Yes, the ALO cable was the best of all three options in terms of pure sound quality, but that's not surprising with such a quality headphone cable. But what was surprising was just how well the Bluetooth cable performed and being able to "cut the chord" really transformed the W80s into an incredibly impressive on-the-go solution and all without having to give anything back in terms of sound quality. The cable is light and flexible and charged up in no time. The 8 hours of battery life was also equally impressive and if you have a set of Westone in-ear monitors that you use on the go, you really need to check out this Bluetooth cable!
Yes, they are pricey coming in at $1500 US, but what you get is a top flight portable audio package that enables you to take truly outstanding sound quality with you on the go, store all of your various devices (DAPs, DAC/Amps), cables, adapters and eartips in a very sleek setup. As mentioned earlier, don't let the small size of the W80s fool you; these IEMs sound big and compete with many open-backed full sized headphones I've listened to through the years. The engineering team at Westone put a lot of work into the design of the W80s and it really shows! They took the up most of care to ensure that while increasing the drivers from 6 to 8 per earpiece to not increase the size; in fact, the overall volume of the W80s was reduced. The sonic improvements in sound staging, clarity, definition and overall transparency really take the Westone brand to a whole new level. The added accessories of the larger storage case, upgraded ALO aftermarket cable (included) and the large array of eartips put the finishing touches on this tour de force product! If you are in the market for incredibly musical and detailed IEMs that make your music shine, offer outstanding comfort and isolation; look no further than the new flagship IEMs by Westone!