World Premiere Review! Vanatoo Transparent One Encore Satellite / Subwoofer System
Speakers for those who love music.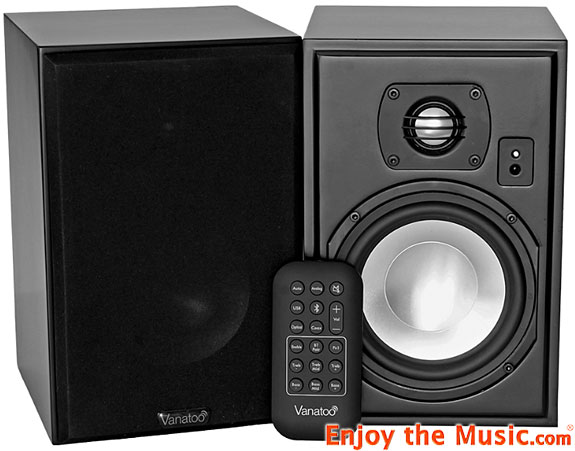 I have become increasingly impressed with the quality of truly affordable audio gear. The newly released Vanatoo Transparent One Encore qualifies under both the impressed and affordable category. There is a lot of technology and features crammed into a rather petite bookshelf speaker with a single cable running to the passive speaker. Within the active speaker is an amplifier, preamplifier, Bluetooth with AptX, active crossover for subwoofer output, DAC, remote receiver and, I'm pretty sure, a blender to make margaritas to enjoy while playing your tunes. Ok, maybe the blender was an exaggeration but these T1E's pack a lot of features and performance for a $599 product.
My first experience with Vanatoo was several years ago at the Capital Audio Fest. They were there featuring the prequel to the speakers under review. In a sea of speakers costing $2000 to $200,000, Vanatoo was a breath of fresh air, trying to offer a lot for a little; as opposed to offering a lot for a lot, or a lot for a whole lot. It was the kind of product that you heard, and then heard how much they were, and then began fighting that little logical voice in your head that prevents you from spontaneous purchases. So when my editor sent out the email blast asking who wanted to a World Premiere Review of Vanatoo's newest Mighty Mouse, I jumped at the opportunity.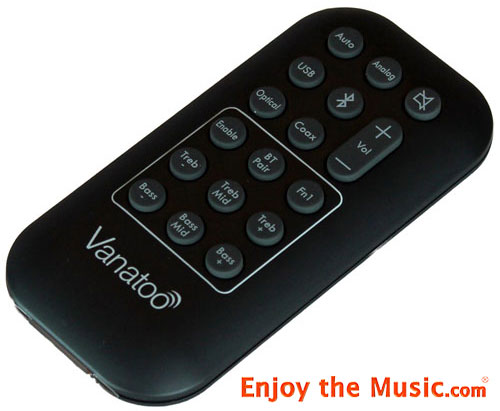 Impressive Parts Make the Whole
From the front, both speakers look like any other small, two-way bookshelf speaker measuring 10″ x 6.5″ x 8″ (HxWxD). They are finished with a matte black smooth textured shell and rounded edges. A magnetically adherent grill finishes the facade and gives it a fabricated with care but built for business appearance. I have been told a cherry wood laminate finish will be available as well. Front driver complement is a 1″ aluminum dome tweeter and 5.25″ aluminum cone woofer. There is a small remote receiver on the front as well as an LED to visually confirm the remote is working. The back of the speakers house a 5.25″ long throw passive radiator and allows the small T1E to reach down to 48Hz, although it gives the sense of going lower.
Now comes the interesting bits. The active speaker's back has so much more than just that large passive radiator. First is a single output for the six-meter cable that connects the active unit to the passive unit. Beside that is a switch that allows assignment of the active as either left or right to allow easy placement near your music and power source. There is also a hard-wired power cord with internal power supply; wall warts need not apply. Inputs for analog and digital sources abound including a single 3.5mm analog mini jack to run your favorite CD player or turntable / phono stage as well as USB, TosLink and S/PDIF 24-bit/96kHz digital inputs.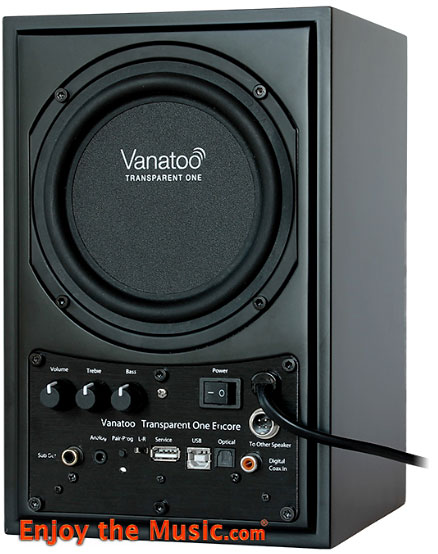 If that's not enough ways to insert music tab A into Vanatoo slot B then you can always transmit your tunes via Harald "Blåtand" Gormsson's favorite technology, and it is aptX compatible. And if 48Hz extension doesn't float your boat there is a subwoofer output. A USB slot is there for service and software updates should they become available. The back is rounded out with a power switch and knobs to control volume, bass, and treble. There are four Direct Digital Class D Topology amplifiers internally providing 100 Watts to each woofer and 20 Watts to each tweeter. This implements a DSP resolution of 24 bits at 48kHz and thermal, short circuit, over current protection.
The speaker allows to adjust between Flat Mode and Shelf Mode which changes the way the internal DSP processes to improve in-room response and subwoofer crossover output. It offers customizable configurations including adjusting LED brightness, bass response, subwoofer crossover, amp limiters, sleep setting, has auto-sensing inputs, and Bluetooth on/off. And it comes with a full function remote control so you can stick to your New Year's resolution of eating more and exercising less.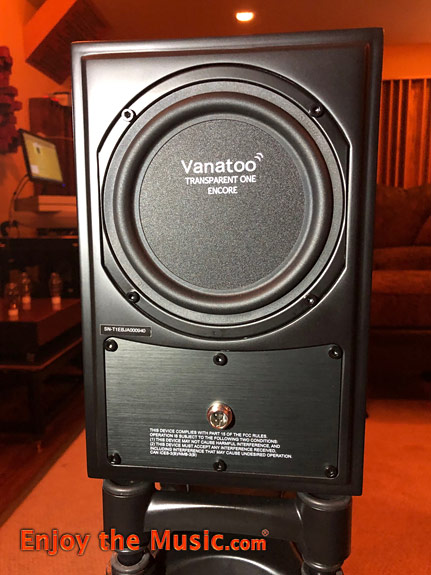 If your source is a computer, tablet, phone, TV, cable/satellite box, analog source or pretty much anything that plays music and outputs it through a cable or wirelessly then you can play said music through the T1E's. And to do so is remarkably easy. Setting the speakers up (can I call these "speakers" or is there a better nomenclature for these… maybe "Complete stereo in a box, just add music" would be more accurate) takes just a few minutes and the digital sources are recognized instantly and stay connected without issue. For those intimidated by technology, fear not. Although the T1E is chock full of features it's user-friendly and maybe ranks a 2 out of 10 on the digitally challenged scary meter.
The Sound
Man, that took a long time to just go through the features. But how do they sound??? Pretty damn good to be honest. Tonally they are correct and pleasing. That sounds like a strange statement but it's not considering that some affordable systems that do all of this get the tone all wrong. When listening to Natalie Merchant's "Peppery Man" on her album Leave Your Sleep [Nonesuch 522391-2], the vocals and guitar sound, quite simply, as they should. Considering the amount of processing and function crammed into a tiny little box this is quite an accomplishment. The high-frequency extension never left me feeling I was shortchanged and the bass extension was deep (to 48Hz) and had surprising punch and extension.
"Leave It" by Yes' 90125 [Friday Music AFRM 9012] is a reliable source for performer placement with its incredible opening harmony and electronically induced snare/gunshot. The recording is a bit hot, but it's a great track to suck you in and get your toes tapping. The T1E did a solid job of properly placing performers where they belonged and with proper height and width. The air between performers lacked what I would expect from more expensive speakers, but I was never disappointed after reminding myself of what I was listening to. Switching gears to Oscar Peterson Trio's "You Look Good To Me" [We Get Requests, Verve, AVRJ 8606-45] brought that beautifully recorded piano, an almost magical upright bass and drum kit weaving tapestries of acoustic complexity. The piano lacked true depth and complexity, as did the upright. The layers of majesty escape the T1E. But the drum kit conveyed a sense of rhythm that was hard to resist and dynamics were always on point. I kept having to remind myself that these were essentially entry level, all in one speakers.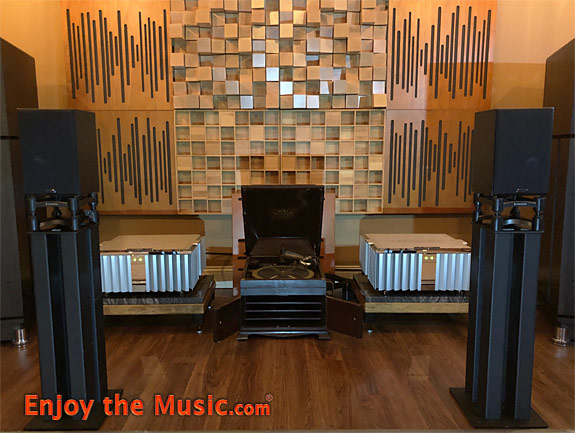 They did like placement on an actual bookshelf to utilize that room reinforcement. Mids were musical and engaging while not overly warm. I was stunned at the depth and width of the soundstage produced considering their size and, ummm, Swiss Army knife capabilities. Count Basie's band Live at the Sands [Mobile Fidelity AMOB401] had width and depth enough to permit proper instrument placement and spatial cues were well conveyed. Did I mention that vocals sounded correct and natural.
This is important as I see these speakers used with televisions where their primary role will be reproducing dialogue. I also see these being a fantastic choice for a simple bedroom, office, kitchen or dorm speaker where all you need to do is connect a computer or feed it music a'la Tidal or Qobuz via Bluetooth from your phone. And if you are wondering if they can play loud, that would be a very loud, yes they can. In fact, because of where they will likely end up and how they perform, these speakers dramatically increase your likelihood of jamming on your every readily available air guitar in your bedroom or family room, in your skivvies; consider yourself warned!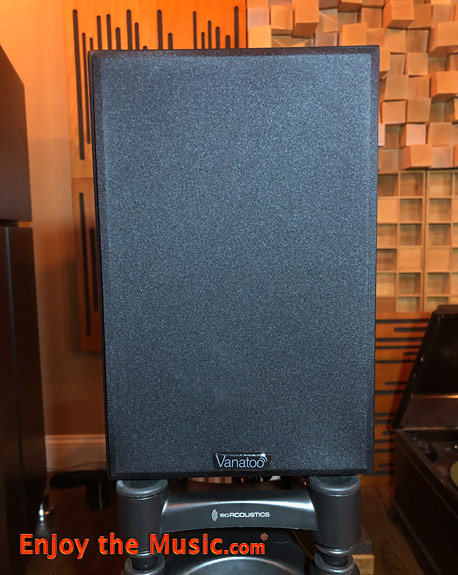 Just For Giggles
For sillies and giggles, I added a sub to the dedicated subwoofer output. It did exactly what I would expect it to do, and I liked it. If your implementation of the T1E allows for the addition of an inexpensive sub, do it; but it's just fine without. I am also obligated to say that the addition of a bass and treble knob was a welcome addition considering the variety of placement locations and room interactions these little guys will come up against.
As an aside, Vanatoo sent a set of IsoAcoustics desk/shelf speaker stands along and they do increase placement flexibility, tighten and deepen the base and widen the front soundstage. They also added a subtle additional sense of finesse and refinement. Can you live without the stands? Sure can. Will your wife hate the way they look? She sure will! But they do make an improvement.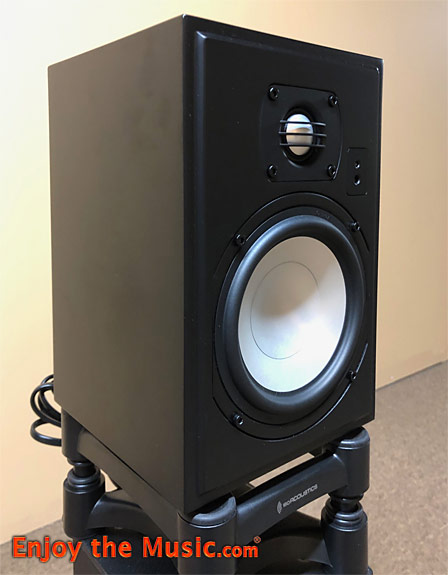 Conclusion
No, I am not raving about the Vanatoo Transparent One Encore's resolution or detail, complexity, texture or layering. Not that it doesn't do detail, texture or layering, it's just not its priority. Its priority is to put well-reproduced music where you are, simply and affordably, and get your toes tapping and your groove on. If you're the kind of person who feels that an audiophile review should use the word "audiophile", then I would call these entry-level Audiophile.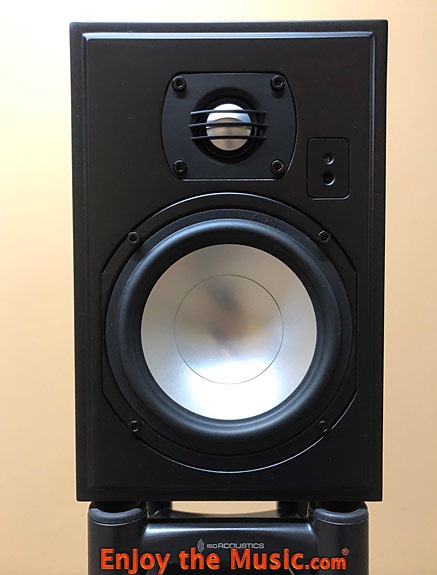 More importantly, I would call these music lovers speakers because they get the music where it needs to be at a level of quality never previously attainable in such a compact and elegant package. In fact, this pair will not return to Vanatoo and will reside in my kitchen for my wife and family to enjoy and fight over. I sense many a "Blåtand" battle in the future between my wife and children.
| | |
| --- | --- |
| Tonality | |
| Sub–bass (10Hz – 60Hz) | |
| Mid–bass (80Hz – 200Hz) | |
| Midrange (200Hz – 3,000Hz) | |
| High Frequencies (3,000Hz On Up) | |
| Attack | |
| Decay | |
| Inner Resolution | |
| Soundscape Width Front | |
| Soundscape Width Rear | |
| Soundscape Depth Behind Speakers | |
| Soundscape Extension Into Room | |
| Imaging | |
| Fit And Finish | |
| Self Noise | |
| Value For The Money | |
Check out Enjoy the Music!
See many great reviews by Enjoy the Music.com at this link.
Specifications
Type: Two-way bi-amplified active speakers
Drivers
5.25 inch aluminum cone woofer with 1.2 inch XBL magnetic motor for outstanding performance linearity
5.25 inch long-throw passive radiator 1.0 inch aluminum dome tweeter
Assisted passive radiator bass reflex system
8th-Order DSP derived Butterworth response at 48Hz 6th-Order DSP derived Linkwitz-Riley crossover at 2kHz
Frequency Response
Flat Mode: 48Hz to 20kHz (+/-3dB, -10dB at 40Hz)
Shelf Mode: Above with -4dB shelf between 48 Hz and 150Hz
Inputs
Bluetooth with aptX for wireless connection USB audio up to 24 bits at 96kHz
TosLink Optical: Up to 24 bits at 96kHz
Coax Digital: Up to 24 bits at 96kHz
Analog Conversion: 24-bit/48kHz
Amplifier Amd DSP
Direct Digital Class D Topology
100 Watts to each woofer, 20 Watts to each tweeter
DSP resolution of 24 bits at 48kHz
Thermal, short circuit, over current protection
Subwoofer Crossover
Flat Mode: 4th-Order Butterworth at 80Hz
Shelf Mode: 4th-Order Butterworth at 110Hz
Dimensions: 10.0″ x 6.5″ x 8.0″ (HxWxD)
Weight Shipped: 30 lbs.
Price: $599
Company Information
Vanatoo
Voice: (855) 771-1161
E-mail: info@vanatoo.com
Website: www.Vanatoo.com