SV-237MK II's Hybrid Design Represents the Best of Analog and Digital Performance
GRAND RAPIDS, MI, July 6, 2022 – Vincent Audio, a designer and manufacturer of elegant high-fidelity stereo and multichannel components, announced today announced the availability of the SV-237MK II, a long-anticipated update of the company's popular SV-237 hybrid integrated amplifier.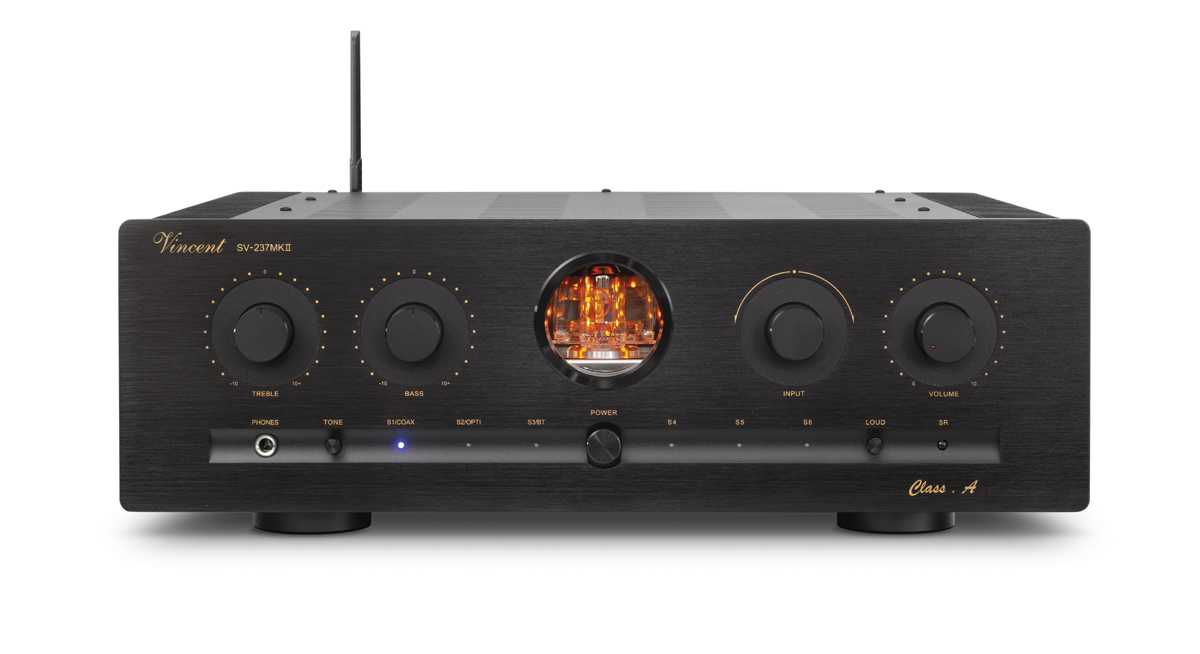 "The SV-237 is one of the most successful Vincent Audio models sold across the globe," says Steve Niemi, Director of Global Sales, Pangea Audio, LLC. "But, like all of the brand's products, the team is constantly looking for ways to make the best at a given price even better."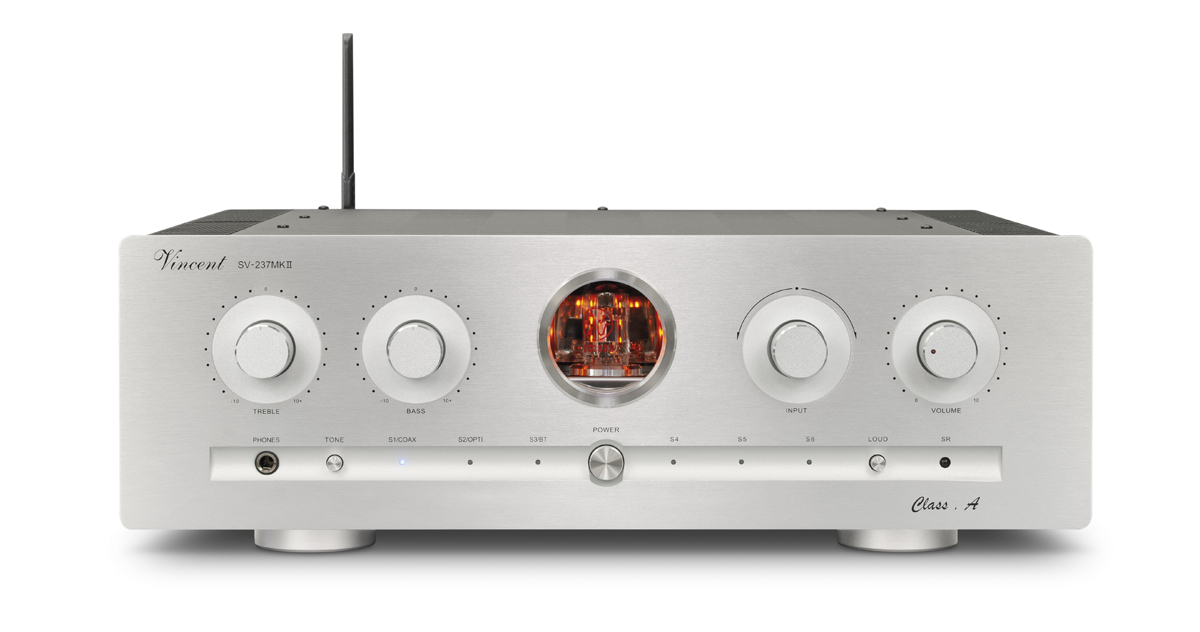 Available in both black and silver, the new SV-237MK II (MSRP: $2999.95) features the original model's exceptional hybrid design that is widely acknowledged as a standard-setting blend of both tube and solid-state sections. Its power rating of 8 Ohm: 2 x 150 Watt (RMS)/ 4 Ohm: 2 x 250 Watt (RMS) is powerful enough to drive two pairs of speakers without breaking a sweat.
New to the SV-237MK II is the addition of Bluetooth 5.0, allowing listeners to wirelessly stream high-resolution audio files to the integrated amplifier. In addition, the front panel received a cosmetic upgrade so that it resembles other models in the current lineup of Vincent Audio integrated amplifiers.
The SV-237MK II features the company's acclaimed hybrid design, offering the rich, natural-sounding audio associated with vacuum tubes while providing the power and control of solid-state electronics.
The SV-237 MKII delivers a full 10 watts in pure 'Class A' mode, giving instruments and vocals a warm, natural texture associated with solid-state electronics sold at a significantly higher price.
In addition to making analog sources sound their best, the SV-237MK II is up to date with a DAC that handles the latest high-resolution streaming formats, including WAV, FLAC, APE, LPCM and more.
The input selection includes three analog and two digital, with the latter connecting to a Burr-Brown PCM 5102 DAC that is specially designed to bring out the best in compact discs as well as WAV, FLAC, APE, LPCM, MP3, AAC, AC3, and WMA files. No matter the audio source, the SV-237MK II will handle it with ease, with full-range output that brings out the best in high-fidelity recordings.
For further information about Vincent Audio's SV-237MK II hybrid integrated amplifier, visit https://pangeaaudio.com.
# # #
SV-237MK II Specifications
Frequency response: 20 Hz – 20 kHz ±0.5 dB; 20 Hz – 50 kHz ±2 dB
Maximum output power at 8 Ohm: 2 x 150 Watt (RMS)
Maximum output power at 4 Ohm: 2 x 250 Watt (RMS)
Maximum output power Class A at 8 Ohm:2 x 10 Watt (RMS)
Input sensitivity: 300 mV
Input impedance: 47 kOhm
Total Harmonic Distortion: < 0.1% (1 kHz, 1 W)
Signal-to-noise ratio: > 90 dB
Dimensions: 16.8″ wide, 6″ high, 17″ deep
Weight: 45 lbs
About Pangea Audio Distributing, LLC
Pangea Audio Distributing, LLC is dedicated to bringing the world sensible audio at sensible prices. From cables to audio furniture, all Pangea Audio models represent the ideal combination of style, value, and reliability. For more information, visit www.pangeaaudio.com.