The first time I saw the Wells Audio Milo Headphone Amplifier, I was immediately struck by its unusual appearance. Part Art Deco Industrial, part High-Tech Modern it has an unconventional beauty all its own. And the beauty is not just skin deep.
Jeff Wells is an Audiophile/Audio Enthusiast/High-End Audio Dealer turned Audiophile Audio Designer/Manufacturer, bringing a passion to the art that can only be found in small boutique manufacturers, and the Milo reflects this. Proudly boasting on the front faceplate "Handcrafted in California", the Milo is a simple dual mono solid state amplifier design (mostly, the two amplifiers do share a single toroidal transformer). The unit I was provided with has a single set of single ended inputs, though balanced inputs are an available option at a slight price bump. For outputs you have both a ¼" single ended output and a four pin balanced output. Since there are not separate specs listed for the balanced output it can be assumed that the amplifiers are single ended, though with a 12 Watt output @ 32 Ω, this is hardly an issue (generally, all else being equal, single ended amplifiers are usually preferable to bridge amps anyway). Boasting a laser flat frequency response from 16 Hz to 30 kHz with only a half a dB deviation, the Milo offers what I would call an Audiophile sound signature. I hear you say, "What does that mean?" Well, audiophiles have a tendency to prefer speakers (as well as cables and cartridges) that fall out on the slightly bright side, trying to eke every bit of detail out of their recordings. To compensate for this, they want an amplifier that is slightly warm and very musical to take the edge off. This is one of the reasons that tube amps are so popular in the audiophile community.
Wells Audio offers a 12 dB attenuation option or a Khozmo stepped attenuator for those with high efficiency headphones.
Sonic Evaluations:
I burned the Milo in using the OPPO Sonica DAC and the MrSpeakers ETHER C Flow Orthodynamic headphones (using the MrSpeakers ¼" single ended DUM cable), so my first sonic impressions were made with this combination. The sound was rather spectacular, the Milo filling out and taming the Sonica's slightly thin and bright presentation. I found Billy Joel's "The Ballad Of Billy The Kid" (Piano Man – DSD) especially engaging, presenting a huge soundstage for the orchestral sections, placing Billy stage center in a large hall, the piano a little recessed from the vocals in line with the Bass, Drums, Harmonica and Guitar forward of the orchestra.
For more serious listening I switched over to my reference DAC the Questyle CAS192D, which I spent several days just listening to, to get a general sense of the Milo's habits, finding it a pleasant and versatile arbitrator of sound, working well with most any genre of music.
Opening with Eiji Oue and the Minnesota Orchestra performance of Stravinsky's "The Firebird Suite" (DSD), the cellos created a rich and lush reverberating environment over which the woodwinds wove a mesmerizing pastiche, the breath across the flutes clearly audible as was the air traversing the bodies of the reeds. The dynamics were epic as the crescendos of brass and percussion shook the room (I actually had to turn the volume down a little from where I would normally listen to it). The horns had that certain edge that makes them sound all the more real.
Since upper mids are the Milo's strong point, I decided it was time for some female vocals, so I selected "The Look of Love" as sung by Dusty Springfield backed by Herb Alpert & The Tijuana Brass (Casino Royale – DSD). The soundstage was at once both intimate and expansive, as if performing in a small very live club, the Upright Bass, Percussion, Guitar and Piano immediate, surrounding Dusty front and center, with Herb stepping up to take her place for his Trumpet solo. The transient response was startling, again you could hear the breath in the Trumpet, the piano both rich and delicate with heart of a Steinway Grand.
For a rock song, "The Song Is Over" (The Who – Who's Next – 16/44.1 kHz) offers some pretty extreme dynamics, and with Nicky Hopkins on Piano, John Entwistle on Bass and Keith Moon on Drums the three virtuoso leads provide plenty of intricate detail that can get blended together. Everything stood out, reaching for attention even during crescendo moments. The Milo rendered the Piano and Cymbals crisp with just the right amount of sizzle, without harshness, and offered up Daltrey's vocals honey sweet and robust as well as Townshend's singing Guitar licks.
Old recordings (I mean old recordings) from the forties and fifties are often portrayed as tinny, especially with the resolution of the large chorals in conjunction with full orchestra in large studio theaters, not so with the Milo, listening to Bing Crosby and "White Christmas" (The EP Collection – 16/44.1 kHz) the choir was rich and expansive despite the low resolution of the digital file, and Bing's baritone was glorious in all its vibrato.
Due to the Milo's liquid mid range, to test bass extension I turned to Dario Baldan Bembo's "Non Mi Lasciare" (70 ITALIA – 16/44.1 kHz) just to revel in his operatic voice. The subsonic bass was deep and powerful, the Snare and Cymbals shimmery, the Piano authoritative and the vocals mystical.
The Milo is a powerful time machine, I put on "DIY" from Peter Gabriel Plays Live (DSD) and was instantly transported back to 1982 for one of greatest concert experiences of my life, Jerry Marotta's staccato Percussion counter pointing Tony Levin on the Chapman Stick in a stadium sized sound stage, while Larry Fast laid a keyboard backdrop to Peter's vocal gymnastics, supported by David Rhodes on Guitar. Again, that little bit of edge that makes it all sound real was there, without being the least fraction fatiguing.
One of the problems with solid state amplifiers is that they produce Transient Intermodulation Distortion (TIMD) that can cover up micro detail, often reproducing it in high frequencies as sibilance, making prolonged listening very fatiguing. To prevent this, many high-end manufacturers forgo negative feedback altogether, which creates its own set of problems, including higher levels of Total Harmonic Distortion. Wells Audio doesn't really talk that much about their technique, but the Milo appears to produce extremely low if any levels of TIMD while maintaining low levels of THD as can be evidenced by listening to "Dance Anthem of the 80's" by Regina Spektor (Far – 16/44.1 kHz). Much of the percussion of this track is produced by the human voice emulating, among other things, a high-hat, and with the Milo you can clearly hear this and separate it from the actual high-hat sounds.
The Scoop:
Many manufacturers of solid state amplifiers claim to produce "tube like" sound, often doing horrible things to the tonal balance of their amplifiers while producing high levels of TIMD allowing their fans to hear things that aren't actually in their music. The Wells Audio Milo is one of the few to actually attain the musicality of a tube amp, capturing all of that amazing micro detail that transcends from simple music listening to true music reproduction, without rolling off the high frequencies and boosting the mid bass to create a warmer sound. It is fast and linear while at the same time very forgiving, meaning you can listen to low resolution material without having your head ripped off, and still enjoy all the advantages of high resolution music.
If I have any complaints, it is that 30 dB is too much gain for most headphones, so the volume control upgrade would be a must for me, as would the balanced input. Also, although the damping factor is pretty high, the bass still felt a little spongy to me at times, but I am a fanatic for tonality in my bass (they do offer a capacitor upgrade that may take care of this).
All in all, the Milo stands as one of the very best solid state amplifiers I have heard, and among my favorite amplifiers over all.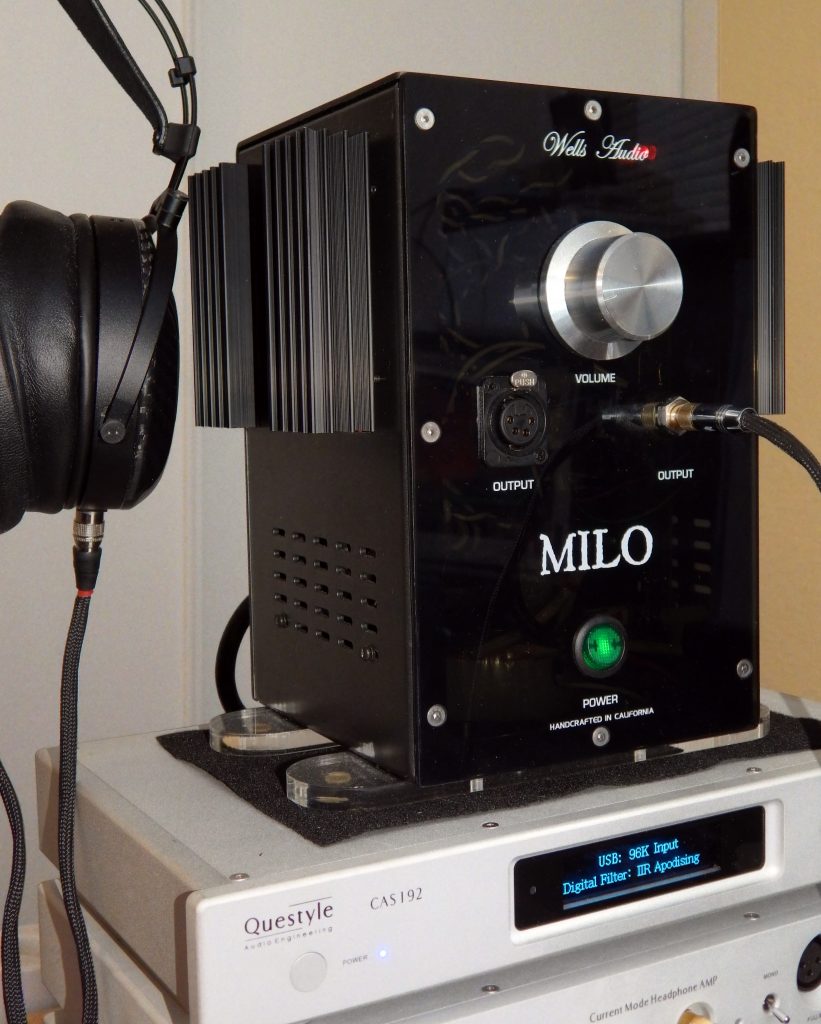 Price: $1,699
Technical Specs:
Output Power-18 watts rms into 8 ohms at 1kHz with no more than .015% THD-12 watts rms into 32 ohms @ .006% THD-10 watts @46 ohms @.005% THD
Frequency Response-+/- 0.25 db from 16Hz to 30kHz
Signal To Noise Ratio- -94db at full power
Input Sensitivity-0.72mV RMS
Gain-30db (12db attenuator available, see below)
Input Impedance-17k ohms
Output Impedance-0.1 ohms
Damping Factor-80, reference 8 ohms nominal
Power Consumption-42 watts @ idle, 145 watts @ maximum power
Inputs- 1 pair RCAs, 1 pair XLRs optional (add $200.00)
Outputs- 1 x 4 pin stereo balanced connector, 1 1/4″stereo plug
Operating Voltage-120 volt, 230 volt at 50 or 60 Hz
Shipping Dimensions-15″ x 12″ x 12″
Shipping Weight-10 lbs.
Dimensions-8″w x 7.5″d x 9.75″h