Westone Audio Pioneers at Mach Speed
The audio industry in recent years and decades has gone through massive change with newcomers and consumer audio joining the landscape to captivate the ears of fans old and new alike. Every year I attend CanJam, I would see companies who have just sprouted and pick at their tables to see what's new. But the one constant at these shows and in every audiophile's vocabulary is the idea of titans. Behind every new flavor headphone or In-Ear Monitor (IEM), is a question of how they stack up to the titans of our industry; the forerunners that have innovated and pushed further beyond to arrive at where we are at today. We're talking about Westone Audio (A Lucid Audio company) of course.
Just as how my colleague Kevin found himself sitting at the foot of almost half a century of history. I too am humbled by the history and depth with which Westone Audio's innovations have spread to consumer use today. Their site notes that Westone Audio was the first in 1989 to use Balanced Armature (BA) drivers in custom musicians' In-Ears. On top of that, Westone Audio has been a cornerstone collaborator with the likes of Shure and Jerry Harvey with Ultimate Ears in the 90s as they pioneered IEMs as we know them today.
Today we have with us the new MACH lineup. There are 8 universal IEMs in this series from the MACH 10 to the MACH 80 all utilizing Balanced Armature technology. Westone Audio has noted that the sounding of these IEMs were done as compliments of their CIEM (Custom In-Ear Monitors) ES lineup at each respective tier (MACH 50 voiced after the ES 50 for example).
With me here are the MACH 10 ($299), MACH 40 ($599), and MACH 50 ($799). My colleague Kevin in his review compared the MACH 70, MACH 60, and MACH 20.
The MACH 10 is a single balanced armature driver UIEM and is unique from the rest of the lineup in that it features a "dual diaphragm" on the same drive rod allowing for higher sensitivity. The MACH 40 and MACH 50 feature 4 and 5 BA drivers respectively both with a 3-way passive crossover. The MACH 10 to 60 lineup all feature the same outer shell and nozzle. For the purpose of this review, I will be utilizing the blue-ring deeper insertion tip found in the accessories bag across all three IEMs.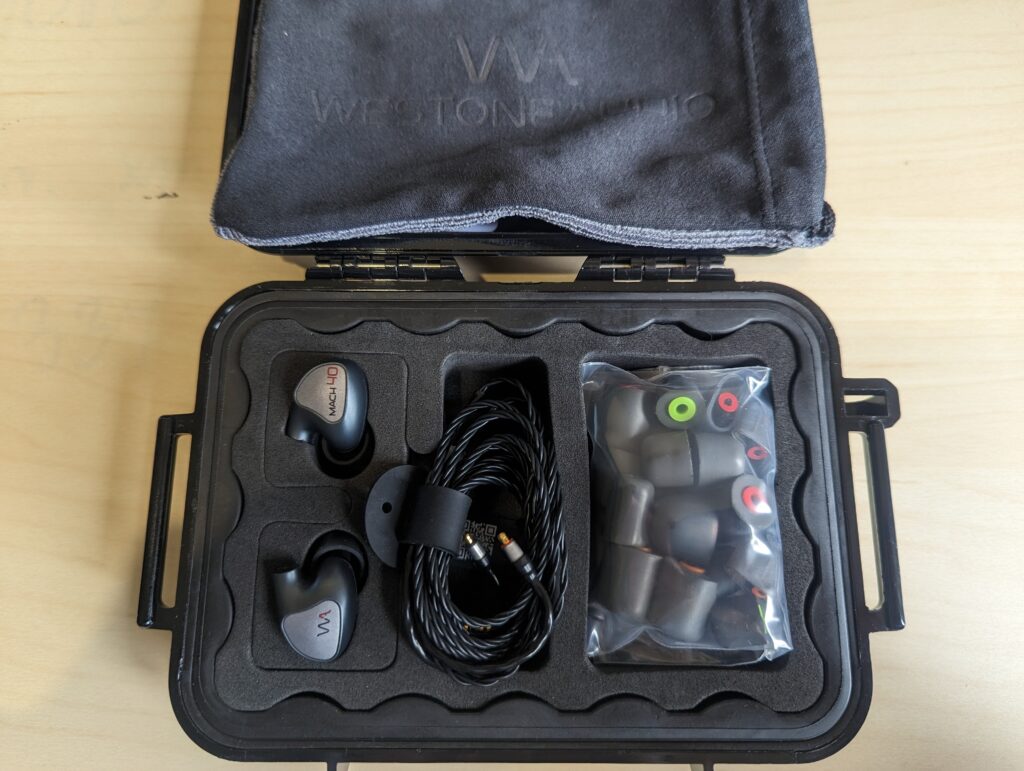 Unboxing and Build:
The MACH 50 and the MACH 40 came in the same Pelican case and included a bag of spare tips (5 sets of foam and silicone each), a soft cloth bag, a cleaning tool, a carabiner clip, rubber cable wrap, a sticker, and a registration card. The MACH 10 comes in a much smaller red unmarked hard case but otherwise includes the same accessories minus the case clip. The MACH 50 and 40 come with the "LINUM® ESTRON SUPERBaX™ CABLE" with only 0.75 Ohms of resistance, while the MACH 10 comes with the thinner "LINUM® ESTRON BaX™ CABLE" which uses silver plated copper. They all utilize the newer T2 cable connector. Your aftermarket 2-pin or MMCX connectors will not be compatible with these (sorry, but hey, buying new cables is always fun).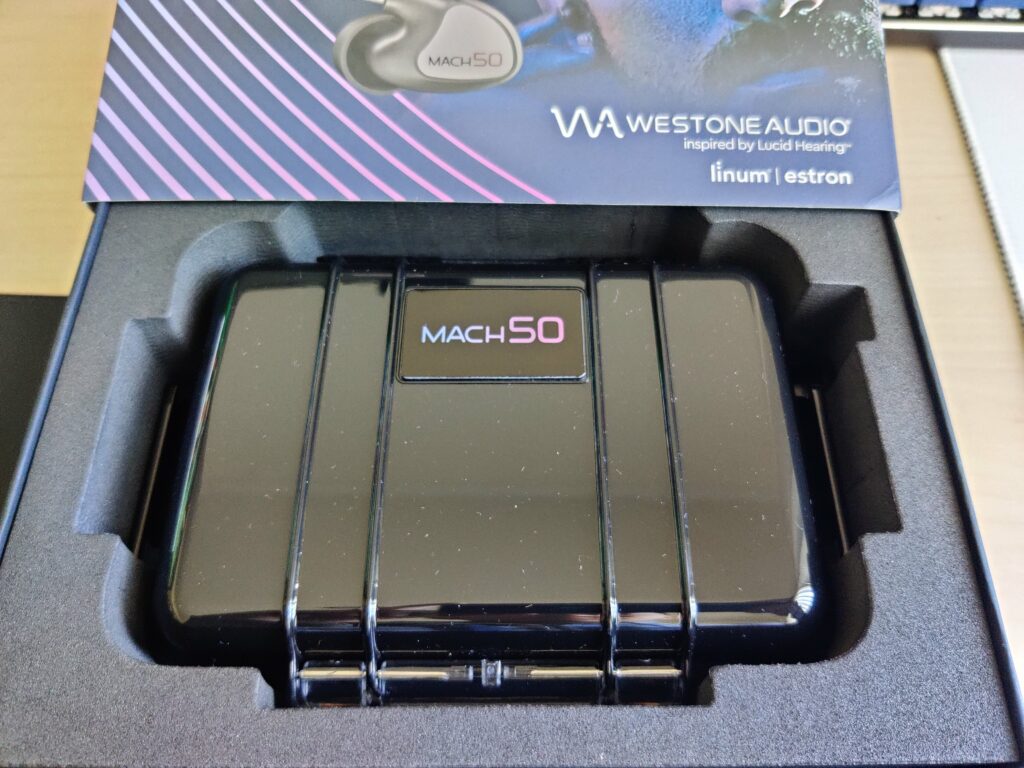 What stood out to me right off the bat was the lightweight shell and comfort that the MACH series offer. The driver shell housing sits as flat as a CIEM and the variety of tips provided are amongst the best I've seen come stock with a set of earphones. I liked how there were both deep and shallow ear tips. It's uncommon that you get a UIEM that is as comfortable and snug fitting as a CIEM but Westone has knocked it out of the park with this one. They're virtually undetectable once inserted and can withstand strenuous exercise without driver wobbling.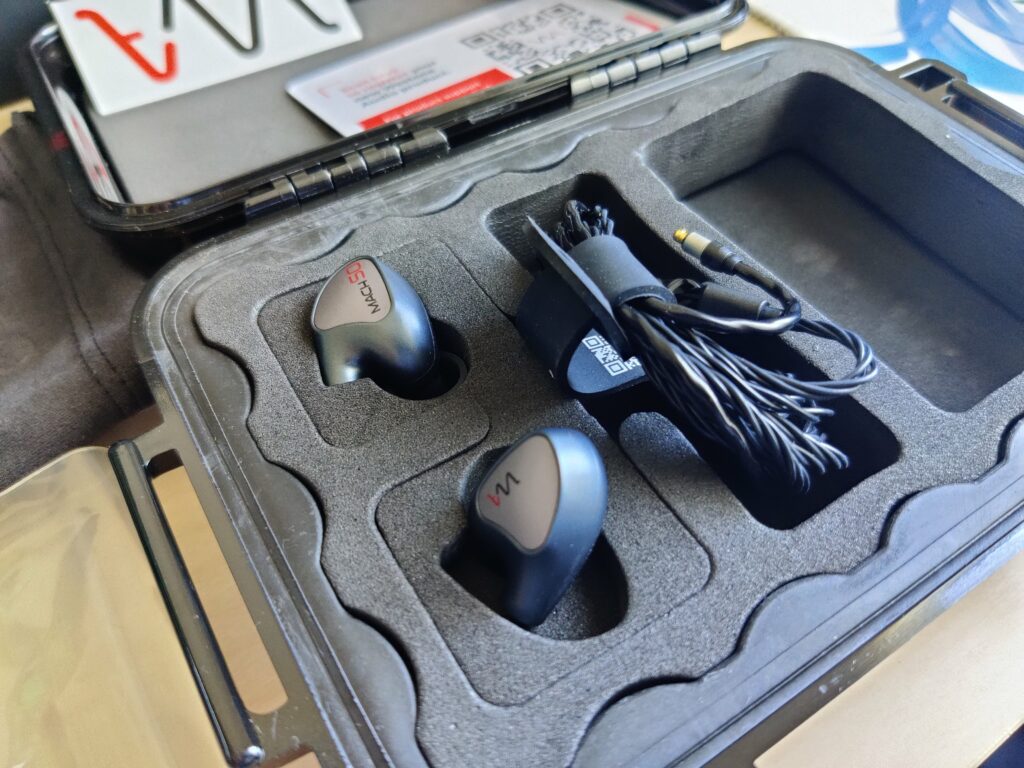 With the cable slider engaged, microphonics (sound of the cable noise as it rubs or moves around) is virtually gone with the MACH series. My only complaint is with the MACH 10 and its "ESTRON BaX" cable which is far thinner. The cable tends to tangle extremely easily and putting it away and taking it out later always involves untangling a mess no matter how careful you were at trying to keep it tidy.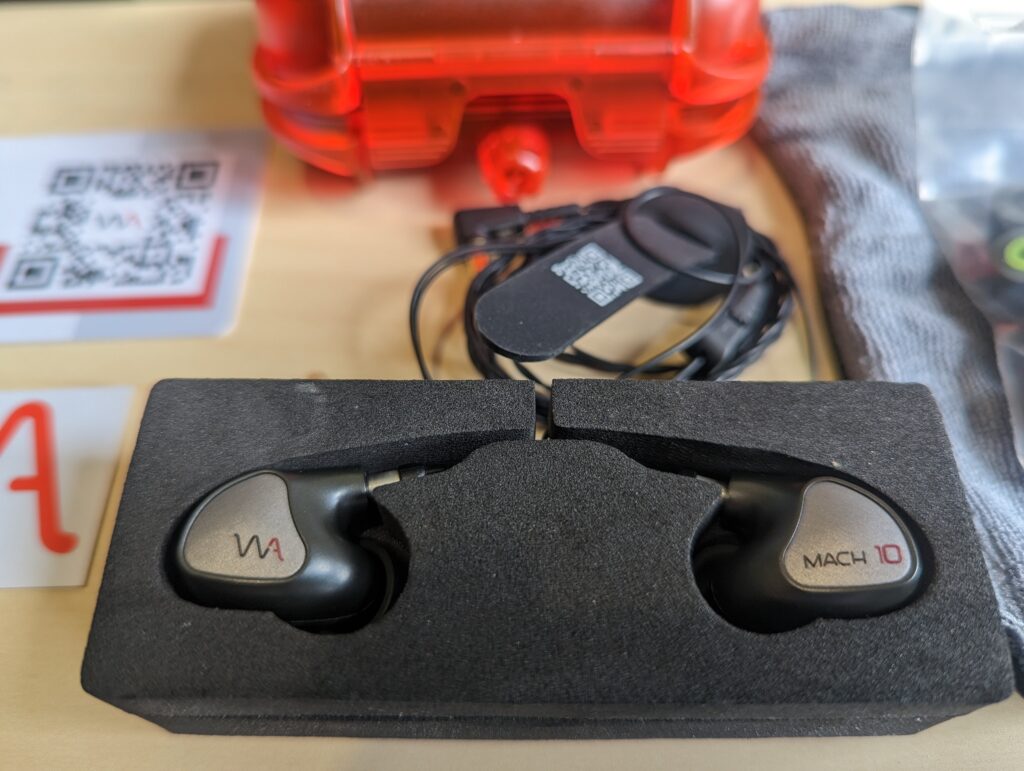 Sound Pre-Word
The MACH 10, 40, and 50 were evaluated over a month with both a desktop setup involving Hifiman and Burson DAC/Amps (R2R and Delta Sigma), and portably using a FiiO DAP. All units have been burned in for over 48 hours
Use scenarios for them involved critical desk listening, tv shows, movies, and competitive gaming. The variety of daily usage tasks were included to compare their aptitude with other media and how the IEM handles a typical workload.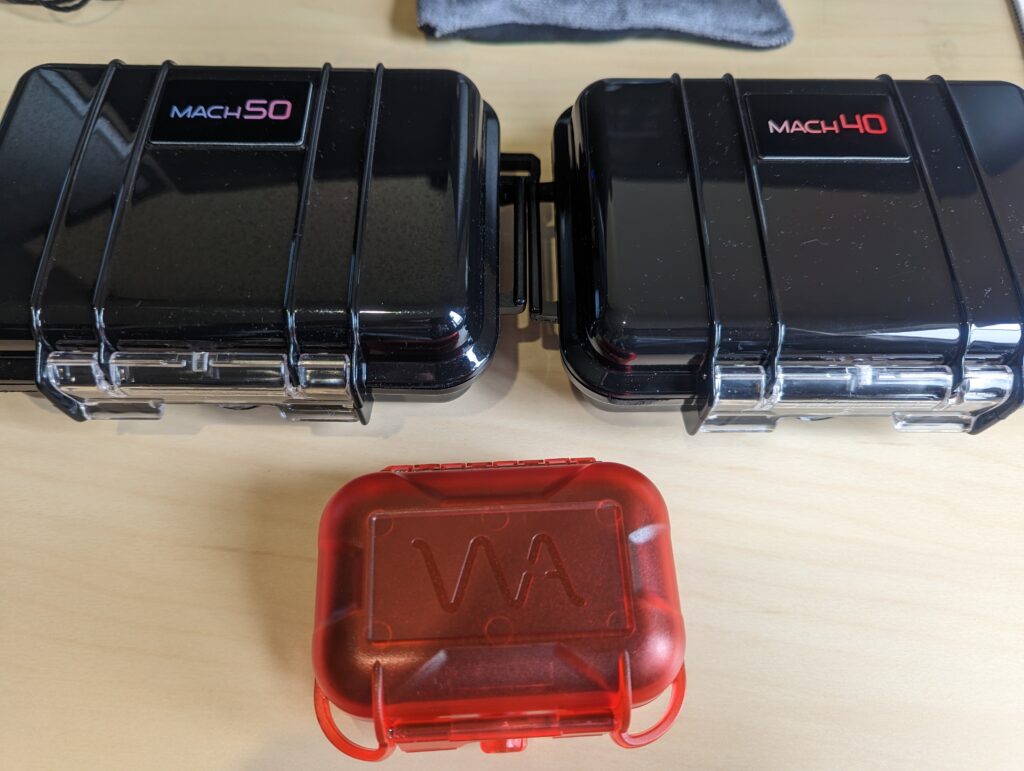 In general, I found all three IEMs to be tuned with care towards Westone Audio's target sound signature. The MACH series are not your typical Harman Curve sound-signature sounding earphones. Instead, they opt for more neutrality and flatness in the mid to lower range, as well as opting for prevalence in vocal isolated detail and an intentional smoothening towards the upper high range to reduce brightness which in turn lowers brilliance a bit. The MACH finds a nice middle ground between cold and warm but lean colder with a slightly dark background. There is not much of a focus on extending the soundstage and thus we get a standard sense of space and distance out of the IEMs which likely stems from Westone Audio's history of musician monitors which favor this setup.
MACH 10 ($299)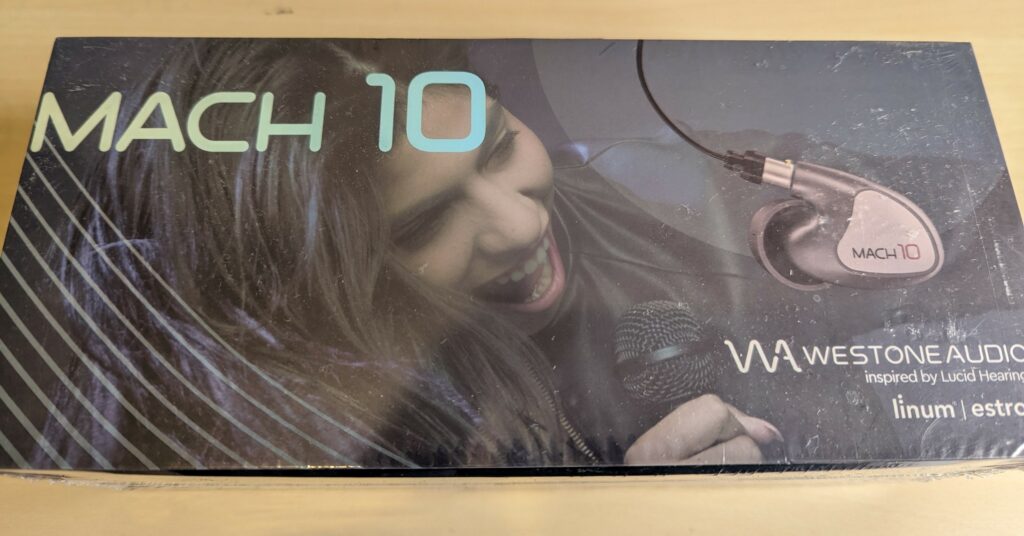 The MACH 10 features the warmest sound of the bunch with a fuller but less detailed mid-range compared to its bigger siblings. I found these to be very musical with a fun mid-range section that sounded good with EDM, classical, modern pop, and soundtracks. There is a sharp upper mid spike giving cymbals and instrument notes extra glisten to them and a more intimate vocal dip. The low-end was fairly flat but had enough bass impact for a satisfactory pairing with more modern songs.
Listening to "lovely (with Khalid)" by Billie Eilish played directly into the strengths of the MACH 10. I found Billie's soft-spoken vocals to pair well with the slight vocal recession and upper-mid sparkle that the MACH 10 brings to the table. The instrumentals enveloped the duo but are given their own separate room to shine while the main cast sings which is impressive given the single driver setup in this IEM.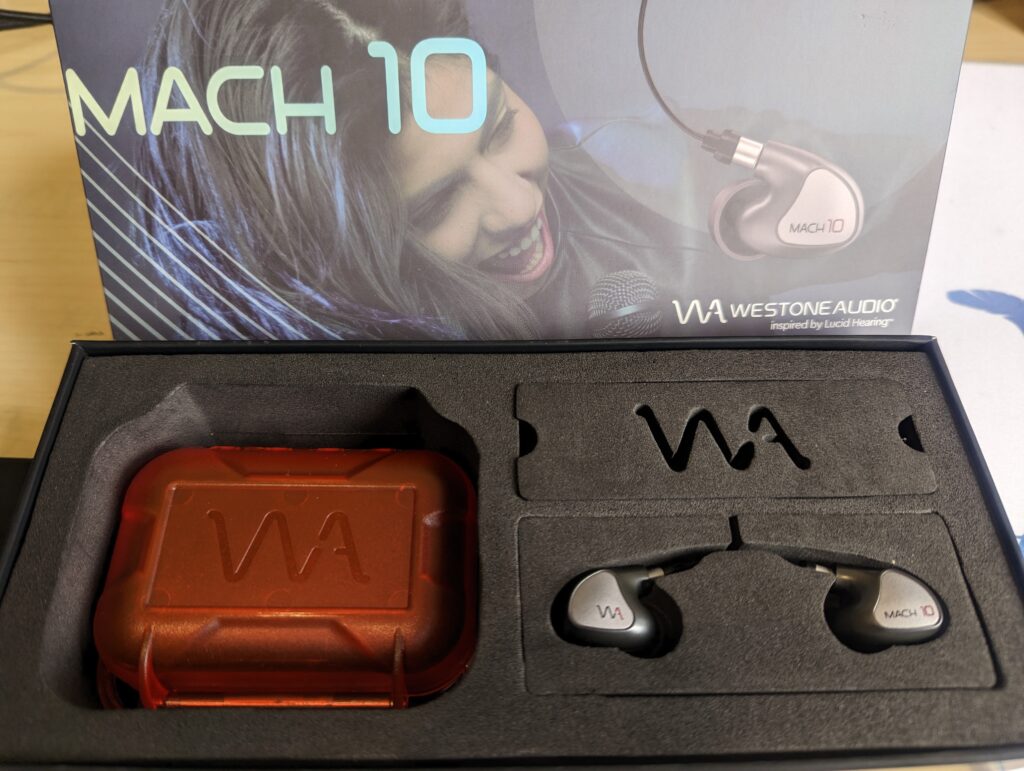 Diving more into instruments, I found the MACH 10 to please constantly with its separation like in "Get Lucky" by Daft Punk ft Pharrell Williams and Nile Rodgers. The vocalist's strong performance is backed with a solid bass line and electronic synth playing in the background. Like watching a burger get assembled, you can almost reach out and experience each instrument individually.
I'm quite pleased with what the MACH 10 brings to the table on a single BA driver. The sound is balanced and engaging and offers enough enjoyment across a multitude of genres. It's not for bass heads or those needing layers and layers of texture but starts the MACH lineup off with a sonic bang.
MACH 40 ($599)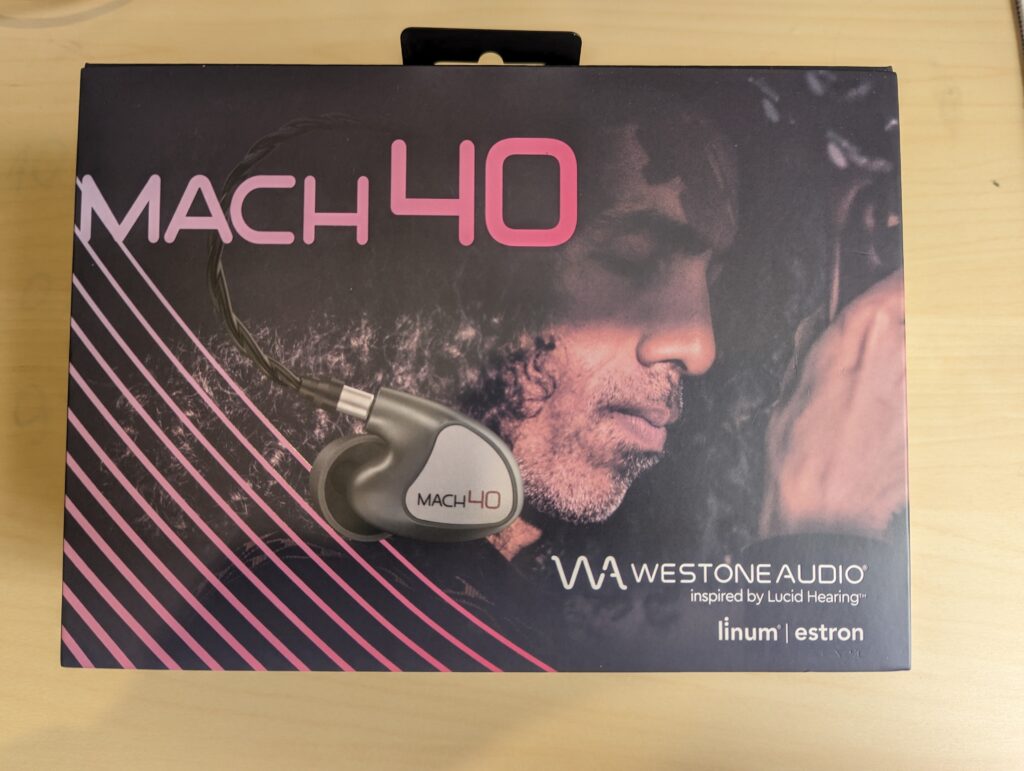 The MACH 40 finds itself as the most 'fun' of the bunch with a sound signature that is more V-shaped, recessed in the mid-range, and smoother across the board. I found it to be the best amongst the trio for daily driving in terms of using it for Netflix, daily listening, and Zoom. It has a smoky smooth sound with a darker background and finely tuned to eliminate harshness and brightness making it a phenomenal buy when it comes to endurance.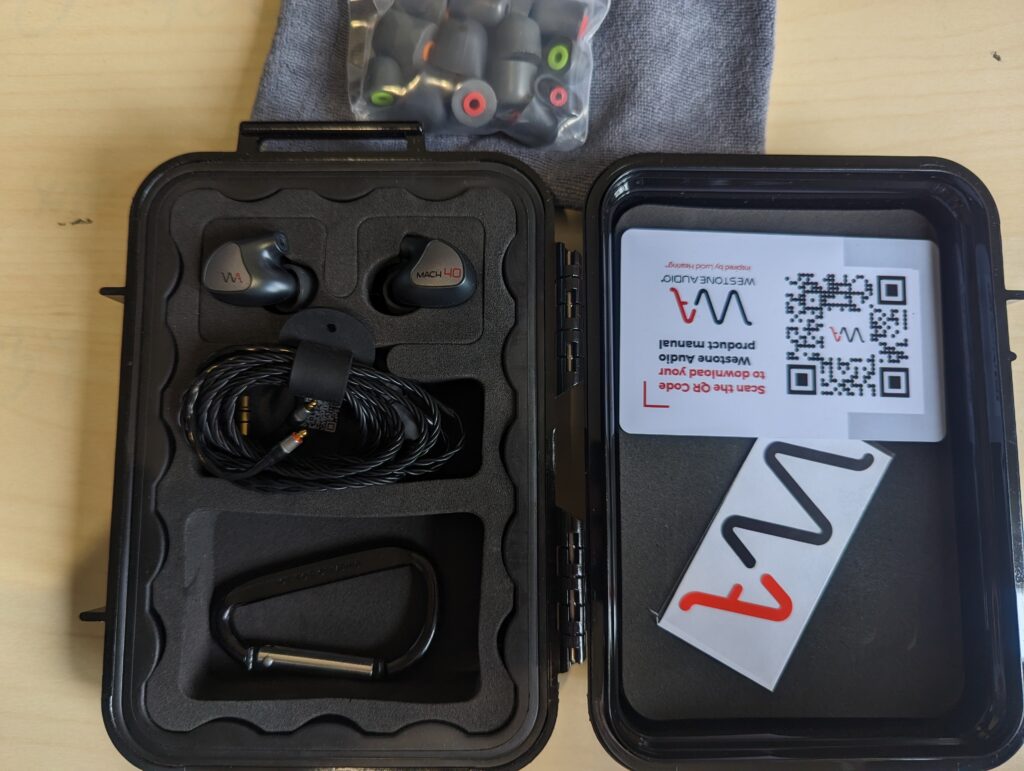 Being right in the middle of the pack, the MACH 40 might not be the first to pop out but Pop is a standout genre I found myself diving back into. Coming off the tremendous success of their album "READY TO BE", TWICE was my choice for a very modern commercial pop sound. Their new hit single "SET ME FREE" features a strong bass section, prominent vocals, and an ensemble cast launching from line to line. The bass of the MACH 40 was similar to that of the MACH 10 albeit with possibly a smidge more impact but overall still linear and allowing the bass to sound fast and satisfying with a punch that doesn't overstay its welcome. More interestingly, the vocals of the nine (yep 9!) singers were handled by the MACH 40 such that they held their own space. No matter how complex the compression of the surrounding generic pop backing got, you were always able to feel a bubble that wraps the vocals without muddying.
Like its siblings, mid-range micro-detail is one part that I did wish for more on. The vocals were liquid smooth, a bit too liquid. Westone Audio's tuning from my experience has prioritized this given their musician's background. People that love an overly smooth mid-range with a laid-back signature will flock to the MACH 40.
MACH 50 ($799)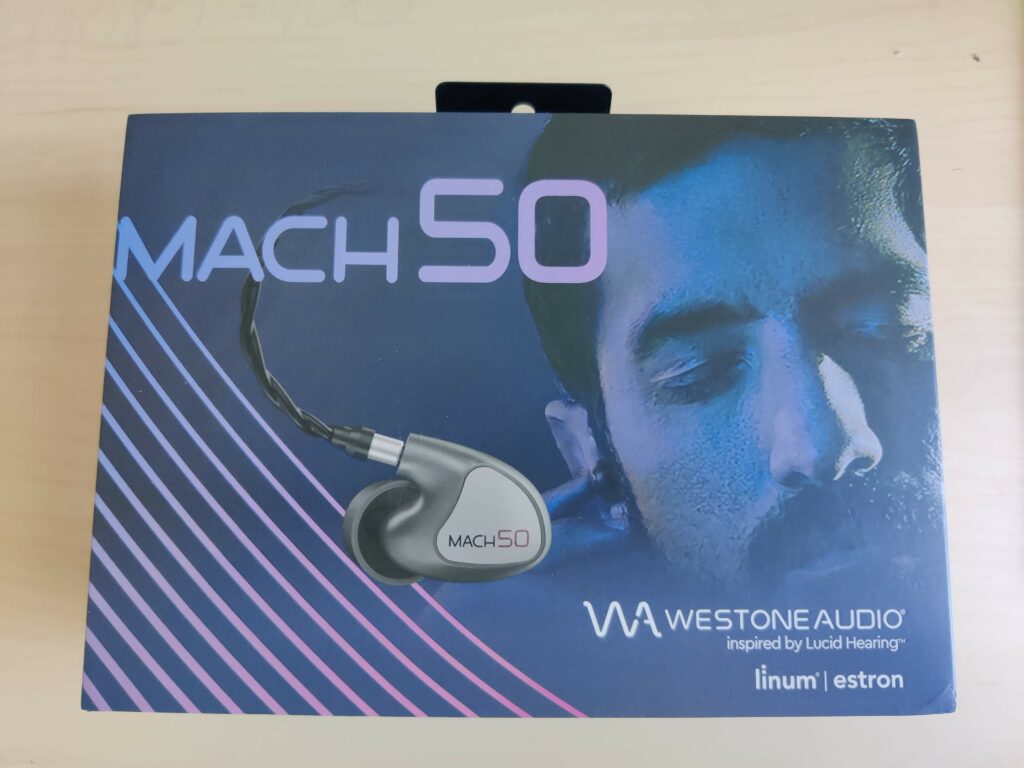 The added BA driver in the MACH 50 reaps dividends as it finds itself the most forward and active sounding of the bunch. Its mid-range is more forward than both the MACH 10 and 40 with the highest amount of detail and clarity yet. While the MACH 40 tended to smooth the edges on the upper edge of vocal brightness (like a hot knife to butter), the MACH 50s have sparkle at the edge of the vocal spectrum allowing for impressive vocals.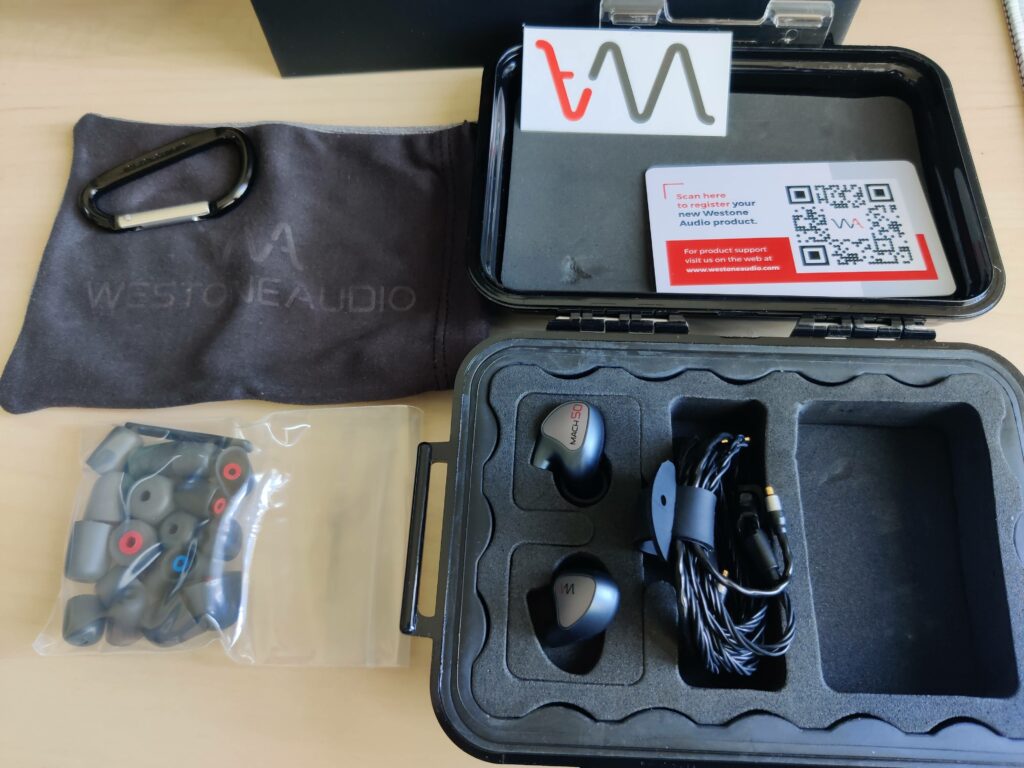 Listening to "Monochrome -Piano Ver." by Babymetal on THE FIRST TAKE I could not help but be captivated by Suzuka's (the lead singer) voice clarity and above all…extension. The MACH 50s have been tuned to the edge just before it can be considered bright or harsh. I found that the MACH 50s were performant enough that even as a listener, I could utilize them to gauge the signer's level in how well and stable she could hold notes and in every nuance she brought to the table. What I like most about this track is outside of the light piano track and backing vocals, it's as close a situation as a listener may find themselves in to an artist using In-Ear Monitors for their intended purpose. Except this time we are the silent watchful observer, using such creations to enjoy the performance on hand.
Conclusion:
Westone Audio brings an enticing set of IEMs to the market with their MACH lineups tuned after their ES CIEM siblings. The MACH UIEMs are more approachable and offer the famous Westone Audio sound signature that goes back decades and started off the boom we have today. I love how the lineup utilizes the same shell with the T2 connection standard allowing for the most seamless tip insertion I've used in ages. The MACH IEMs disappear into your ears like you were wearing customs.
Overall, Westone Audio has brought forth a competitive line of IEMs with technical performance to match their equally ambitious (MACH) name. They shatter the speed at which sound can go from sounding lifeless on your old set of earphones, to full of life when you equip the latest offerings from Westone Audio.
Specifications:
DC Impedance: 66 Ohms
Driver Config: Single full range BA Driver
Sensitivity: 103dB @1kHz
Freq Response: 20Hz-18KHz
AC Impedance: 30 Ohms
Driver Config: Four BA Drivers (3-way crossover)
Sensitivity: 100dB @1kHz
Freq Response: 10Hz-20KHz
AC Impedance: 32 Ohms
Driver Config: Five BA Drivers (3-way crossover)
Freq Response: 8Hz-18KHz