Westone is one of the oldest and most successful custom in ear monitor manufacturers in the audiophile world and it still has an impressive market share. Apart from audiophile products, the company offers custom monitors for stage musicians as well as military earpieces, hearing aids, and hearing protecting instruments.
The headquarters of Westone is located in Colorado Springs, but it has many distributors all over the world. Variphone is one of them and they are mostly active in European and Asian countries. According to my past and present experiences, Westone has one of the best customers service among the manufacturers. They usually reply to my mails in 24 hours and provide an excellent warranty process.
Build Quality and Accessories:
The reviewed ES60 is handcrafted with the body in precious copper metal and brushed metal W logo is put on the faceplate. There are many different and reliable options that can be used by an online customization tool in Westone website. This customization tool works efficiently and gives an appropriate look of the monitor.The body consists of two main materials; a semi-soft one is utilized for the canal part, while the shell is made by hard acrylic. Considering the semi-soft materialized canal, the monitor takes listener's inner ear shape. Overall craftsmanship is excellent and the comfort is really good for long term listening. However, the fit seems to have slightly oval and it takes some time that the ears fit it. ES60 has six balanced armature drivers and a 3-way crossover system. Also, it has two large acoustic hoses that make cleaning much easier.
The monitor comes with a chic, professional-look and orange Westone case in which there are cerumen removal tool, cleaning cloth, a bottle of oto-ease liquid that makes insertion easier, and the desiccant tool that consists of drying crystals. As we all know, Westone has changed the pin style of the stock cable. So, ES60 has detachable MMXC connectors and the new Epic cable has MMXC pins. I think that the new stock cable has been improved and it now has a better-looking Y splitter as well as a more durable and angled plug. The inside of the main case is covered with a high quality fabric, but its locks don't seem strong enough like a Pelican hard case.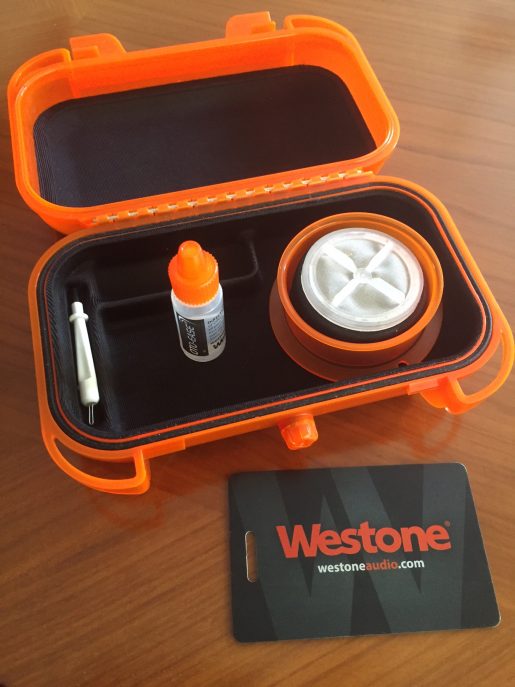 Sound:
Westone Elite Series ES60 is an open-toned sounding custom in ear monitor with the tonality that is slightly on the warm side of the neutral. It has a remarkable imaging and instrument separation with a very clean note releasing. The warmth is very well tuned; the monitor doesn't cause the presentation boring or closed.
The review is done with Lotoo Paw Gold and Tera Player as well as Westone Epic cable.
Low Frequency:
Sub-bass response is very fast and overall texturing is impressive with a successful hitting to depth ability. ES60 hits from a bit distant location and that increases the depth of the soundstage. Punches are not very grand, but they still create an acceptable dynamism and tightness. The sub-bass notes are quite natural with a slight coloration; they are not dry.
Mid-bass of ES60 sounds well controlled and it never tightens the stage even with bass heavy tracks. It gives a good weight to the whole spectrum, but it must be noted that ES60 is not for bass-heads. Also, the mid-bass has a good amount of resolution and detail. The energy emphasis between mid-bass and sub-bass can be considered in the balanced class.
Mid Frequency:
ES60 creates slightly open-toned notes, but it is still very natural, highly detailed, and transparent. It recreates details in a smooth way and the presentation is not fatiguing. Overall location of instruments in the midrange is a little bit distant to listener, but ES60 cannot be described as a V-shaped monitor, since lows and highs are not exactly dominant.
In addition, the average note thickness is on the thin side by a very small margin, but the presentation is not lean. ES60 provides very clear and black spaces between instruments by combining slightly thin note recreation and the location of the midrange. The overall resolution level is quite high and it uses a very wide band to recreate excellent lower harmonics and background nuances.
Upper midrange is a bit more open-toned than the rest of the mid frequency and there is sensitiveness to bad recordings/sibilance. However, this sensitiveness to sibilance is below acceptable levels and the presentation doesn't become fatiguing. Vocals are neither ''grand'' nor very close to listener. However, they have a neutral position with smooth, resolved, and three-dimensional notes.
High Frequency:
The treble seems to be more prominent than the midrange presentation due to the alive note structure. The overall tone is not bright, but they cannot be completely considered in the ''very forgiving'' class. Still, they are highly resolved and carry a very high amount of detail with good extension ability; they are not edgy and they are never represented with a metallic/sharp tonality. As for the speed, ES60 performs very strong and can easily handle fast metal tracks.
Soundstage and Separation:
The ES60 doesn't have a superbly wide stage, but its depth is impressive and there is a very good layering ability. It has a clear and a stable vocal position and preserves the depth and the space between instruments and vocals. The soundstage dimensions are good enough to create an airy image and the overall presentation is not congested. Indeed, ES60 has one of the best imaging that I have ever heard. Instruments are clearly three-dimensional and a listener can determine the exact place of them. ES60 has a quite stable and black background. Pursuant to imaging advantage, it has a very strong instrument separation.
Selected Comparisons:
Westone ES60 vs Spiral Ear SE5-way Reference: (1299 USD vs 1500 USD)
ES60 has a more neutral located presentation, while SE5 is mid-centric and closer to face in comparison. SE5 sounds a bit bolder and ES60 seems to be more open-toned in accordance with their treble presentation.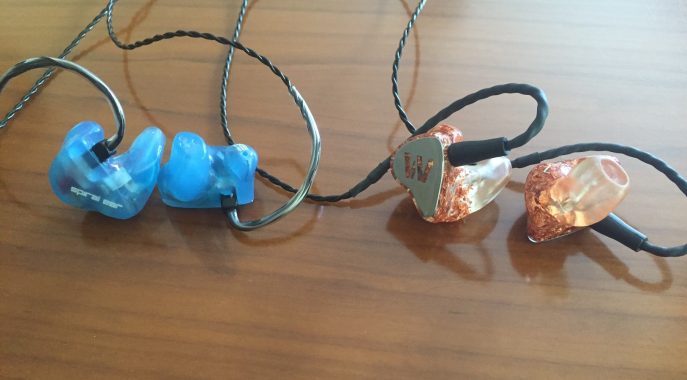 Low Frequency:
Sub-bass of ES60 is cleaner, but SE5's decay time is slightly longer. Both have fast sub-bass response, but ES60 provides more resolution and texture. On the other hand, SE5 has more emotional and slightly weightier hits, while ES60 recreates them in a kind of more technical way. Both have similar quantity in mid-bass region and they don't tighten the stage in bass heavy tracks. Lastly, resolution and detail levels are close in mid-bass region.
Mid Frequency:
SE5 has forward midrange and slightly more full-bodied notes, while ES60 performs a very little distant in comparison. In crowded tracks, SE5 seems to have congested placement and instruments are much closer to each other. On the other hand, ES60 keeps them more separated and eliminates a possible congestion. In addition, SE5 is a little better in terms of average note thickness.
Pursuant to mid-centric approach in comparison, SE5 seems to have better resolution by a very small margin; but they both have greatness in creating lower harmonics. However, ES60 betters SE5 in articulation of details. Also, both are quite transparent, but SE5 is smoother in upper midrange area. They both have very good vocals with similar amount of resolution, but SE5 is emotional here. In addition, ES60 tends to sibilance more due to the tonality difference in upper midrange.
High Frequency:
The treble notes of ES60 are significantly more prominent, but it has comparatively brighter tone. SE5 is closer to have a true tone, but notes are a bit edgy in the lower treble section. They both have a great speed and the extension levels are close, but ES60 articulates details more. As for the sensitiveness to bad recordings, ES60 is a little less forgiving in accordance with quantitative difference.
Soundstage and Separation:
ES60's soundstage is slightly wider with a similar amount of depth. However, the background is cleaner and clearer on ES60 in fast and crowded tracks, while SE5 slightly looses its depth feeling due to congestion in instrument placement. ES60 uses longer distances and airier spaces. Also, ES60 definitely betters SE5 in terms of imaging and provides a better instrument separation even they both have similar background blackness and stability. Lastly, ES60 provides an easier focusing in fast metal tracks.
Westone ES60 vs Rhapsodio Solar Custom Version: (1299 USD vs 1550 USD)
Solar sounds warmer with darker, bolder and weightier notes, while ES60 has a more neutral approach in comparison.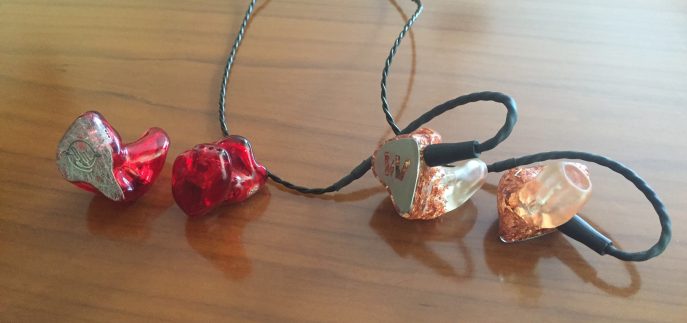 Low frequency:
Solar has more power and dynamism in sub-bass region, while ES60 provides slightly more resolution with tighter hits. Both have fast sub-bass presentation, but ES60 sounds a little more technical. Solar has significantly more quantity in mid-bass region that results in a thump, while ES60 has more control and resolution in this area. In this regard, Solar may tighten the stage in bass heavy tracks, but ES60 keeps providing clear and clean spaces between instruments. As for a recommendation, Solar may be a better choice for those who want to hear more bass on the entire spectrum.
Mid Frequency:
Solar has slightly hollow mids, while ES60 provides neutral placement in comparison. Solar may sound too bold in lower midrange; ES60 betters Solar in terms of creating both thin and thick notes well. In addition, ES60 is more transparent and resolving, while Solar seems to be veiled. They both are natural, but Solar has more full-bodied instruments. In addition, ES60 recreates lower harmonics better and articulates details more. In the upper midrange, Solar has brighter attacks in comparison, but they both tend to sibilance.
High Frequency:
Solar has slightly more bodied treble notes with similar amount of resolution, but ES60 sounds a bit cleaner and clearer in treble region. They both are fast and the resolution levels are close. On the other hand, Solar has more coloration, but both have natural presentation with similar transparency and cleanliness.
Soundstage and Separation:
ES60 has an airier and non-congested stage structure with significantly clearer spaces. They both have similar stage dimensions, but ES60 takes the depth advantage considering their mid-bass presentation difference. Also, Solar spreads significantly warmer air between instruments and that makes ES60 to have a better imaging and more neutral air between instruments. Due to the mid-bass thump, Solar looses stage depth, background cleanliness, and clarity; ES60 betters Solar with a clearer and cleaner background. However, blackness and stability levels are close.
Final Words:
Westone seems to prove that utilizing countless number of drivers is not the key point of tuning. I think that ES60 is a very strong sounding monitor that has stellar imaging and instrument separation as well as a very good lower harmonics creating ability. In addition, its comfort and craftsmanship is top notch. Please check Westone website and the link below to get more information about ES60.
Price: $1299 USD with the exception of the customization options.
Specs: Sensitivity 118 db, Impedance 48 Ohm, FR 8Hz-20kHz
https://www.westone.com/store/music/index.php/custom-series/es60-earphones.html