This is the Yo La Tengo I fell in love with. This is the band that wrote and played such amazing soundtrack-to-life songs, just like "The Fireside", a wondrous, hovering minimal guitar and atmospheric masterpiece. Listening to "The Fireside" reminded me of exactly that: Sitting around a campfire. The ethereal vibe of the tune helped me imagine the sparks flying off the flames and float up to the sky. Sounds like dirty hippie bullshit, but it's just how I felt and how I feel about this song. Since then, I've been waiting for an album stuffed with that vibe. In the ironically entitled Extra Painful record, I got what I wanted. There are some upbeat songs as well, but the flow is magically sustained throughout all 23 tracks. It's like one part Spiritualized, Mogwai, Mojave 3, and Washed Out – but even with all those comparisons, it's still stands out as distinctly Yo La Tengo. Yeah, I know, it doesn't make much sense, but try breaking down an abstract painting that you love to someone who's never even seen it. That's what it's like sometimes. Especially with a record like this, which is more about its mood than it's instrumentation. That term is so abused: mood music. Unfortunately it's also the best two-word description I can think of at the moment!
Regardless, remember how I referred to feeling like I was at a campfire while cranking "The Fireside"? Well, a huge portion of Extra Painful (really strikes me, as that title's so far from the feeling I experience when rockin' this record) is just chock full a' soaring guitars and tight/minimal percussion that seems to sit in the back of most of the tracks. This is the best kinda noise-pop: It's not merely noise (sorry, but some of you people in this genre should find other jobs – oops, well, I think so). Some of the tracks, like "Big Day Coming", sound like driving home during the sunrise after a long night out with a crew of your closest friends. Everybody's got a second wind, the sun is cresting over the horizon, and you all realize you've still got Sunday to chill out before the rat race starts again. Man that's a freeing sensation, and that's how I feel when cranking a majority of this record. There is some straight-up garage rock here too, like "From a Motel 6"; a nice diversion, and while the instrumentation is more aggressive, the vibe of the spacey vocals and distant percussion manage to keep the song within their surreal musical framework. It's perfect road-trip music. The kinds of tunes that come to mind when I'm contemplating terrific movie soundtracks, and watching the scenery change as my friends and I drive for hours – through a magnificent sunset. "From a Motel 6" – the title seemingly suggests that some (or maybe all) of this music was either recorded on the road – or recorded as a homage to life on the road. Either way, I fuckin' love the imagery, or, more accurately, I love the way the lyrics and sound blend so magnificently it triggers the most amazing visuals in my head.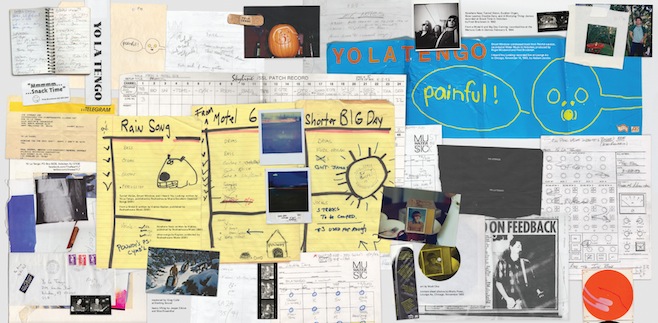 There are also a few ironic word-associations in their song titles – when compared to the kind of mood it puts me in. Even the title, as I suggested above, doesn't exactly scream mellow record (at least not to me, anyway). There are some strong guitar rifts and shreeky jams here, but they're the rhythmic exception. The flow of this record runs in complete contrast to the albums two title words: Extra Painful. I'd say, if anything, it's a little extra shoegaze, but I love that kinda sound. The sound that's great for almost anything because it just flows so well. True mood music. This is it. Yo La Tengo basically reissued a dual-LP set of my favorite type of music that this band performs (as they've been varied across a few records). For summer: This is the perfect LP to bring on day-drives and road-trips. It even sounds like summer, sometimes. Sounds corny I know – but I found that note in a journal I keep for spontaneous prose during music listening sessions. It happened again as I played the album(s) from start to finish I began to daydream about my teenage years. What a joy it was to be free of any type of domesticated adult crap (bills, mortgage, etc.). All we worried about daily was: "who's mom ain't home, how much weed do we have left, and where can we chill?" The airy guitar plucks and wispy vocals surrounded by this wavering synth line throughout "Nowhere Near (Demo)" are more moody than melodic. It's like the music playing in the films background where the protagonist is in a contemplative state, a calming scene. That's the soul of Extra Painful. It has some high-intensity moments, but they're always the result of a glorious musical ascent. If this music sounds like it would fit in your life, check it out now.
[Editor's Note: The 2xLP reissue includes beautiful gatefold packaging with rare photos, a reissue of a 7" single originally released in 1993, and a copy of a new issue of the Yo La Tengo Gazzette. The first LP is a direct reissue of the original album. The second LP contains 15 bonus tracks including live performances and demos. Mastered by Greg Calbi at Sterling Sound. The pressing is heavy and quiet and sounds fantastic.]