For about a year, Cleer has been showing their prototype for their intended entry into High-End Headphones, the Cleer Next Audiophile Headphone and have been wowing both the Press and discerning Listeners with their performance and value, and I am happy to announce that they are now available to the public. Coincidentally they are launching their Cleer Flow Wireless Hybrid Noise Cancelling Headphone which promises to raise the bar for both wireless and noise cancelling headphones.
Cleer Flow: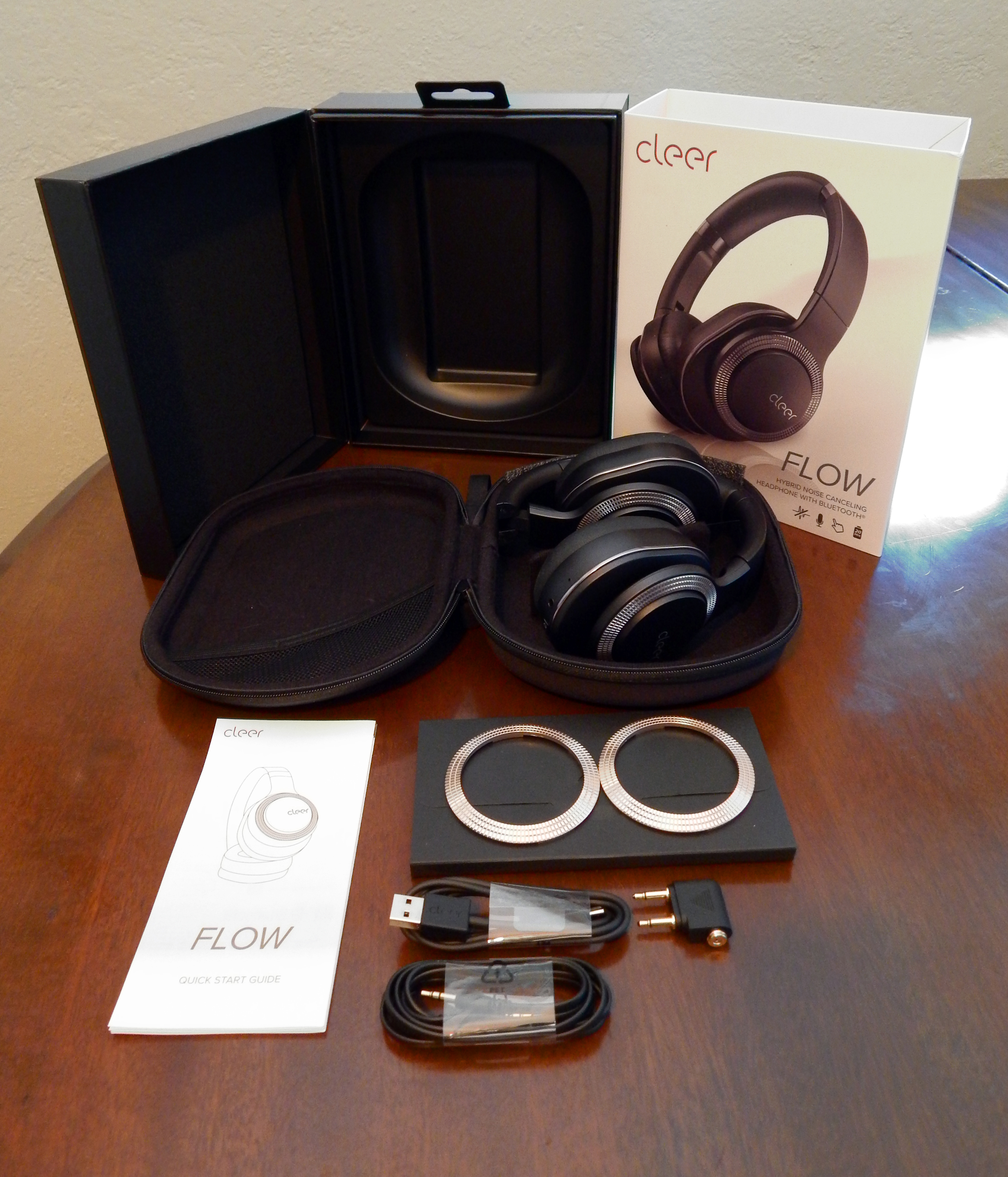 The Cleer Flow Wireless Hybrid Noise Cancelling Headphones are not just stylish and comfortable, well built, with attention to detail; they are replete with design features that make them ideal for their intended purpose. Starting with 40mm ironless drivers to produce "bold and articulate, Hi-Res sound", Bluetooth 4.2 with Near Field Communications (NFC) technology, a hybrid noise canceling system, a built-in microphone for use making phone calls as well as the Active Noise Cancelling and Ambient sound functions, touch controls for remote phone operation, volume, Ambient mode and ANC functions, a swivel folding design for extended comfort and flexible storage, up to 20 hrs playback with ANC and BT enabled, the ability to operated cabled as well as wirelessly, and for the designer in all of us, interchangeable deco-rings to customize the appearance of your headphones.
The packaging is upscale, coming in a black hinged box with an outer retail display picture sleeve, and includes a hard-shell carrying case, USB charging cable, 1.2m audio cable with 3.5mm connection, an airplane adaptor, along with the Quick Start Manual and a second pair of deco-rings.
Cleer Next: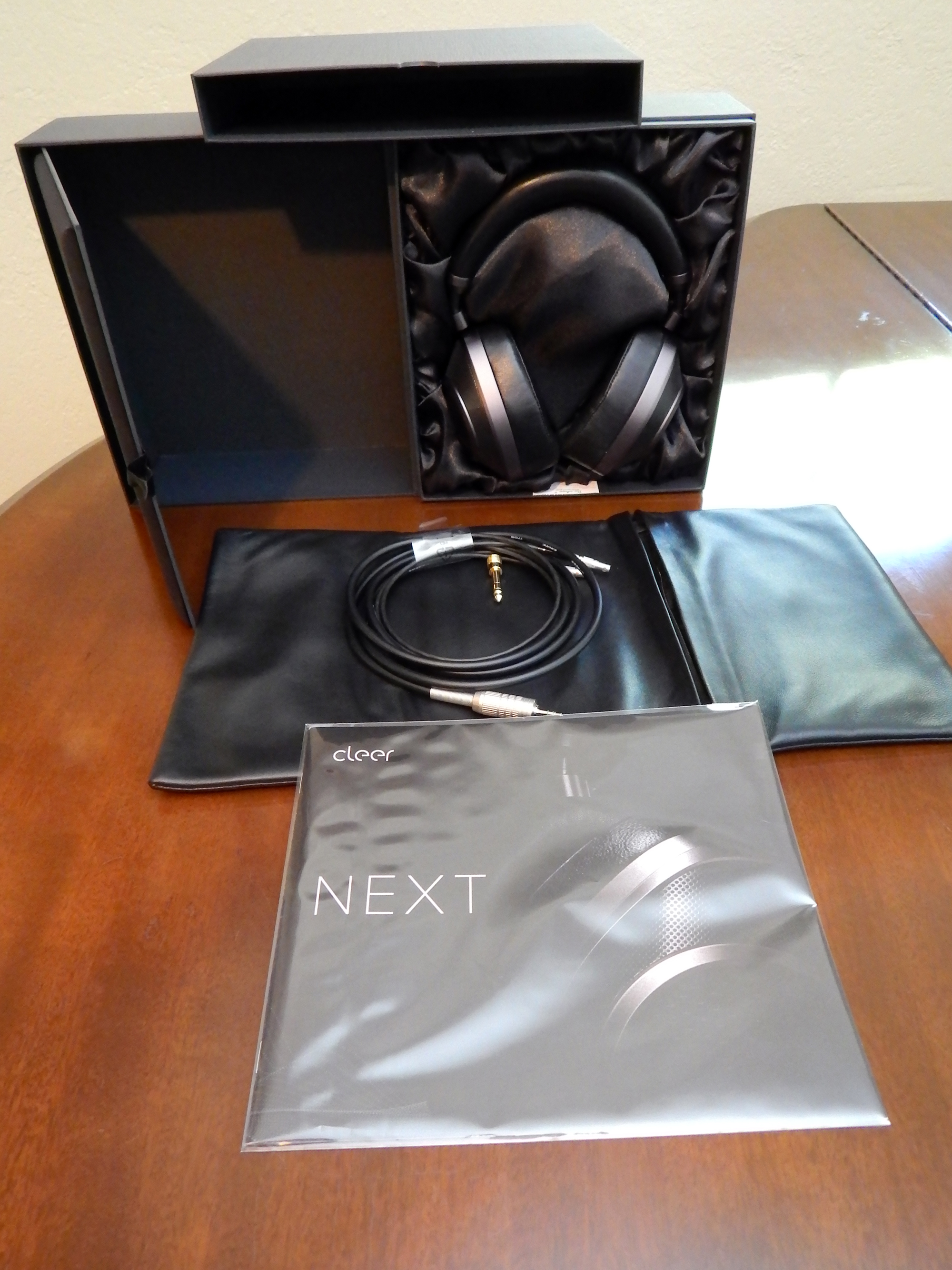 Like its name implies the Cleer Next Audiophile Headphone is a next-gen product designed in every aspect to be a level above the rest of the Cleer headphones. Just look at the list of features:
Lightweight, open, alloy structure for resonance-free listening (6061-T6 aluminum)
40mm ironless magnesium drivers for vivid and nuanced Hi-Res sound
3D earpads offer enhanced acoustic seal and long-term fit
Sheepskin and memory foam earpads provide luxurious comfort
Quad-core, four-conductor cable for efficient connectivity
LEMO® push-pull, self-latching connectors for solid connectivity
5m audio cable, ¼" audio adaptor, and carrying pouch supplied
Like the Cleer Flow, the Next comes in an elegant black hinged box with an outer retail display picture sleeve, but the similarity ends there, as the headphones are packed in a satin lined molded insert. Underneath a padded trap door you will find the owner's booklet in a re-sealable protective plastic sleeve (I say booklet instead of manual, because there really isn't much in the way of instructions needed for headphones and it is more a brochure than anything else) and an album style open-ended box containing the fur lined leather carrying pouch with a separate zippered compartment for the headphone cable. (Note: the cable is terminated with a hefty 3.5mm TRS with a ¼" TRS adaptor)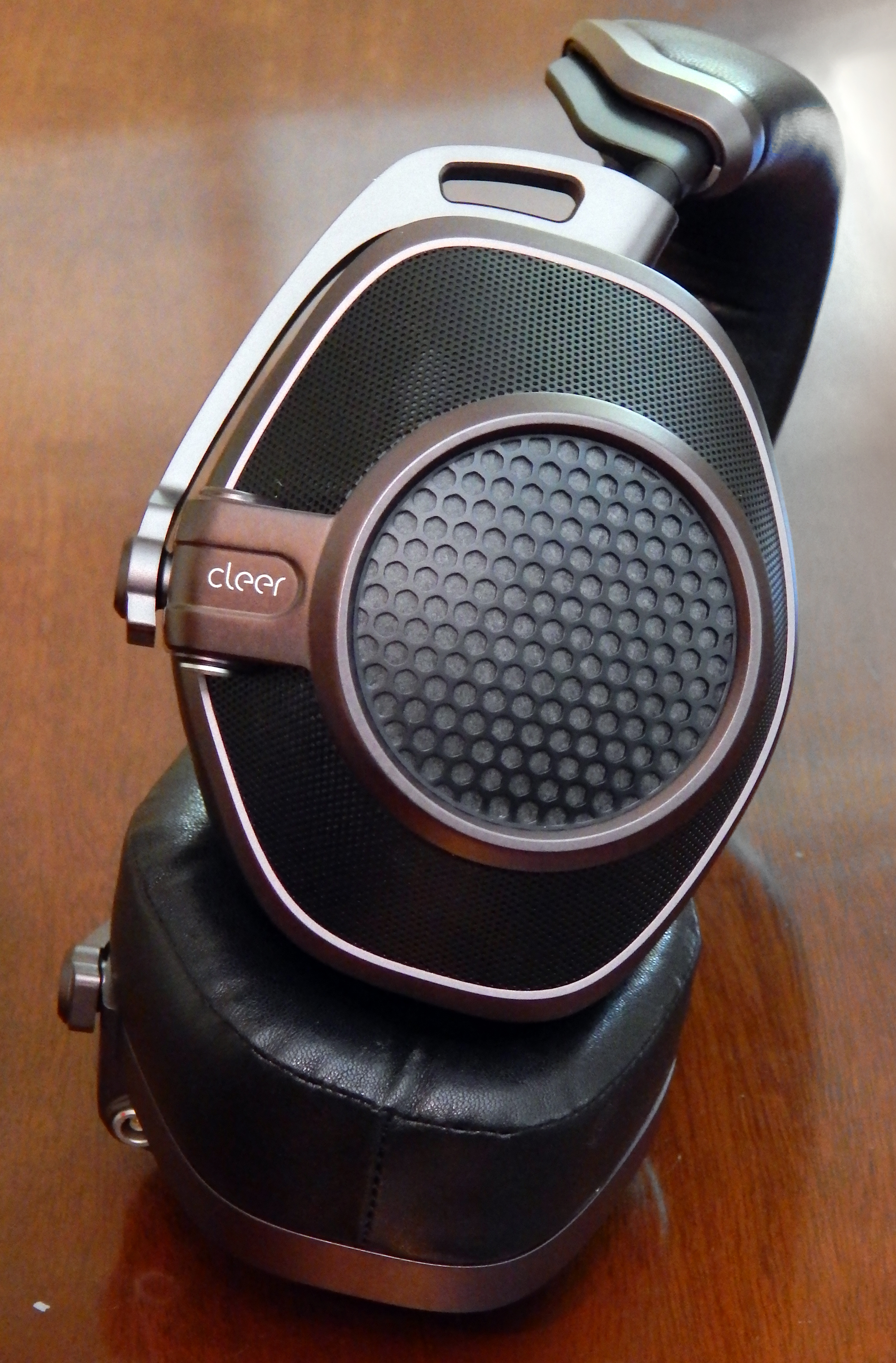 Performance:
I began my listening tests with the Cleer Flows. The isolation without the active noise cancelling is very impressive making the ambient sound functions understandable and necessary. There are three ambient sound settings, Ambient Normal (which feeds all external sound through the headphones via the microphone, allowing you to hear what's going while listening to music), Ambient Voice (employs shaped noise cancellation cutting out low frequencies while allowing voices to pass via the microphone while listening to music), and Conversation Mode, which mutes the music while maintaining the Ambient mode last selected. Then there is the Active Noise Cancelling, which is among the best I have heard, offering inky silence against which to listen to your music, or simply relax in peace. Volume control and track change are affected by running your finger over the surface of the left-hand ear cup (it takes a little practice to get used to) and stop, play, answer call, and hang up are activated by tapping the left ear cup.
The tonal balance to the music is consistent, whether listening with ANC on or off, or listening in Ambient mode, whether listening Bluetooth or cable, in fact there was little difference between listening Bluetooth or cabled from my phone, though listening cabled from my desktop system (Questyle CAS192D & CMA800R) did exhibit major improvements in resolution, soundstage and bass extension.
I picked "Can-Utility and the Coastliners" by Genesis as my reference because I have it on my phone as well as the computer for the desktop rig, and I was interested in how the Flows dealt with sub-bass. The mids and highs are warm with an immediate soundstage and there is a little bloom in the midbass, which will appeal to bass heads, but is not so pronounced as to blur the sound. All in all, a pleasant sounding headphone, that works with most music.
The range of the Bluetooth is epic, it worked all throughout my house (which my WiFi does not), and most of the people I talked to felt the sound from the microphone was clear. They were certainly more pleasant than my Bluetooth IEMs for making phone calls, both in comfort and sound, the musicality of the Flows taking the edge off the background sounds that many phones and Bluetooth headsets seem to amplify (especially painfully bright sounds), and the Ambient Voice mode reduced the inclination to shout into the phone by letting you hear your own voice while cutting back on the background noise.
Moving on, the Cleer Next was a whole different kettle of fish. I debuted the Next on the PS Audio Sprout100 and was startled by the realistic soundstage and dynamics as well as the natural tonal balance.
Switching to my desktop unit (Questyle CAS192D & CMA800R) I selected "Non Mi Lasciare" as performed by opera singer turned pop star, Dario Baldan Bembo and was treated to a huge soundstage with crisp and dynamic percussion. While not exceptionally deep the bass was full and rich, and the piano had a neutral Yamaha like timbre.
Dean Martin singing "Everybody Loves Somebody" presented a large hall atmosphere rather than small club, the upright bass natural and tight.
Pulling up the Eiji Oue and Minnesota Orchestra DSD version of Stravinsky's "The Firebird Suite", I noted how excellent the isolation provided by the Next was, blocking out almost all external noise. The soundstage was the widest I have heard with a dynamic headphone, though not quite as deep as I would like. While the strings were a bit on the soprano side the tonality was good, and instrument placement solid and the plucked cellos and bass were resonant and pervasive. Once again the dynamics were amazing with the tympanis being impactful and articulate.
Selecting the live version of "Sister Seagull" by Bebop Deluxe on the Questyle QP2R at medium gain, I was awarded with a "better than live", stage edge presentation. Of the different sources, I used this seemed to be the perfect combination of dynamics and musicality, each instrument standing out in its own personal virtuosity.
Since the Next was fitted with a 3.5mm connection, a stint with the phone was called for. Though not quite efficient enough to produce concert level volumes, David Bowie's live rendition of "Aladdin Sane" was energetic and exciting, with excellent bass response, and the Next's signature wide soundstage.
Conclusions:
Cleer has produced two very different headphones but each exceptional in its own way. In the Cleer Flow Wireless Hybrid Noise Cancelling Headphone, they have what I would call the perfect travel headphone, providing exemplary Isolation, Active Noise Reduction, Bluetooth connectivity and comfort with the added benefits of Ambient Sound bypass to make interaction with your environment easier, along with making use with a phone more pleasant, while at the same time exhibiting a musicality and tonal balance that improves the listening experience provided by the typical sources it is intended to be used with.
On the other hand, the Cleer Next Audiophile Headphone is a no holds barred performance headphone that rings true to its name. While not always forgiving, the Next exhibits a very natural tonal balance, with better than average dynamics, an enormous soundstage, notable isolation and comfort, and top of its class detail.
Both of these headphones are an extraordinary value and I have no qualms about recommending either of them, a definite thumbs up for Cleer!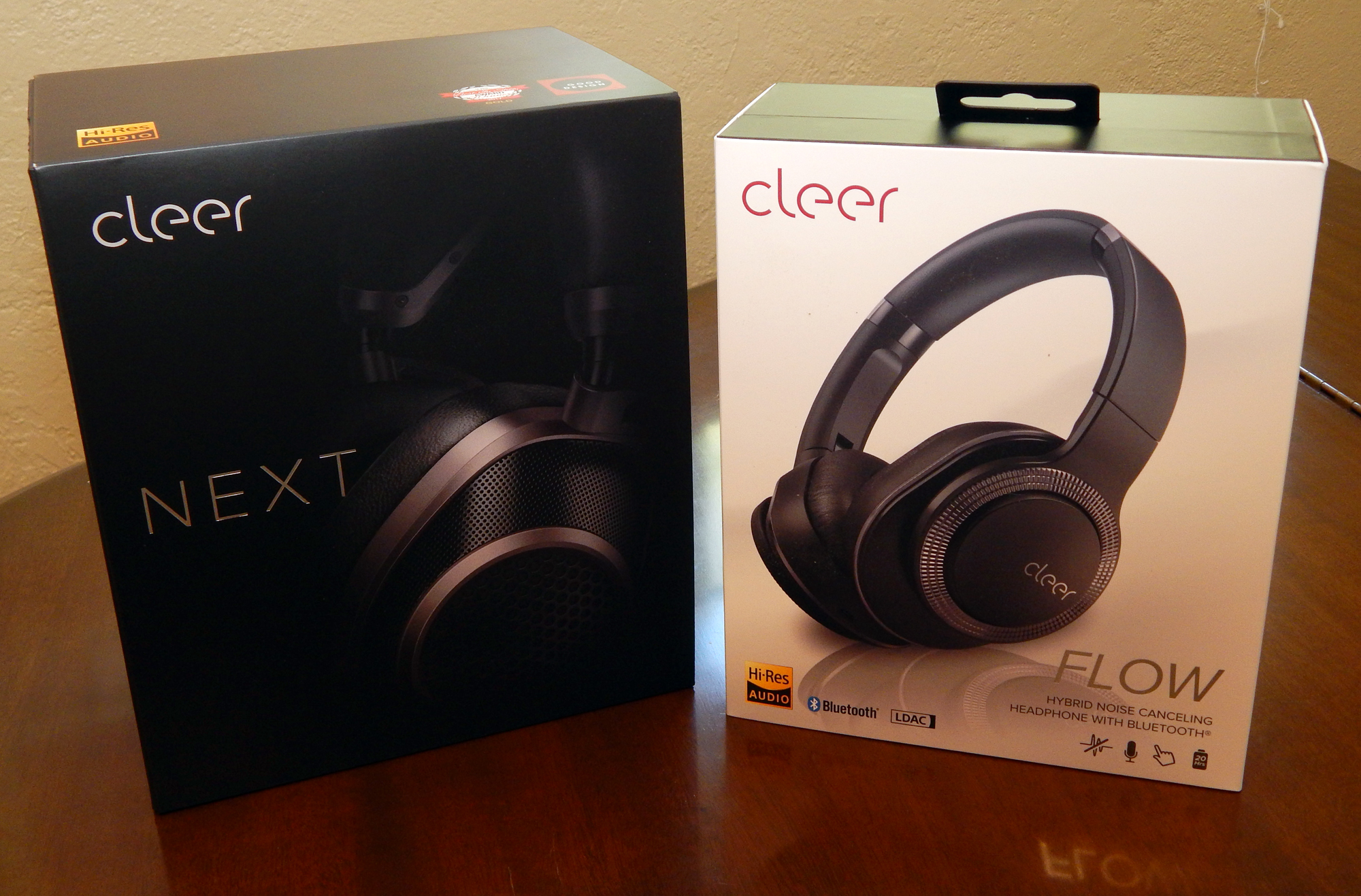 Price:
Cleer Flow – $279.99
Cleer Next – $699.99
Specifications:
Cleer Flow:
Driver Size: 40mm IronlessTM Driver
Frequency Response Range: 20 Hz – 40 kHz (Line in) / 20 Hz – 20 kHz (Bluetooth)
Connections: 3.5mm for audio, Micro USB cable for charging
Support: BT4.2, SPP v1.0, HFP v1.6, A2DP v1.3.1, AVRCP v1.6
Bluetooth Transmitter Frequency Range: 2.402-2.480 GHz
Bluetooth Transmitter Power: -6dBm to 4dBm
Bluetooth Transmitter Modulation: GFSK, TT/4, DQPSK, 8-DPSK
Battery: Rechargeable Lithium Ion rectangle cell (3.7V, 800mAh)
Playback Time (ANC&BT): Up to 20 hours
Cleer Next:
Driver Size: 40mm IronlessTM Driver with Magnesium Diaphragm
Frequency Response: 10 Hz – 45 kHz
Max. Power Handling: 90 mW / 1.2V (10% THD)
Optimal Power Requirement: 10 mW (0.4V)
Max SPL: 112dB / 1 kHz (1% THD)
THD: less than 0.3%/ 1 mW / 1 kHz
Impedance: 16 Ω
Weight: 395 g