Akoustiyx is a new IEM manufacturer based out of California and Tennessee, so new in fact that their website was still in construction at this writing. I met their CMO Rocky Sharma at RMAF and after being duly impressed with their product quickly agreed to review their IEMs. Expecting a small box with a pair of IEMs, imagine my surprise to receive their entire line up of five IEMs for my perusal. So I am now tasked with presenting you with due consideration of all five IEMs.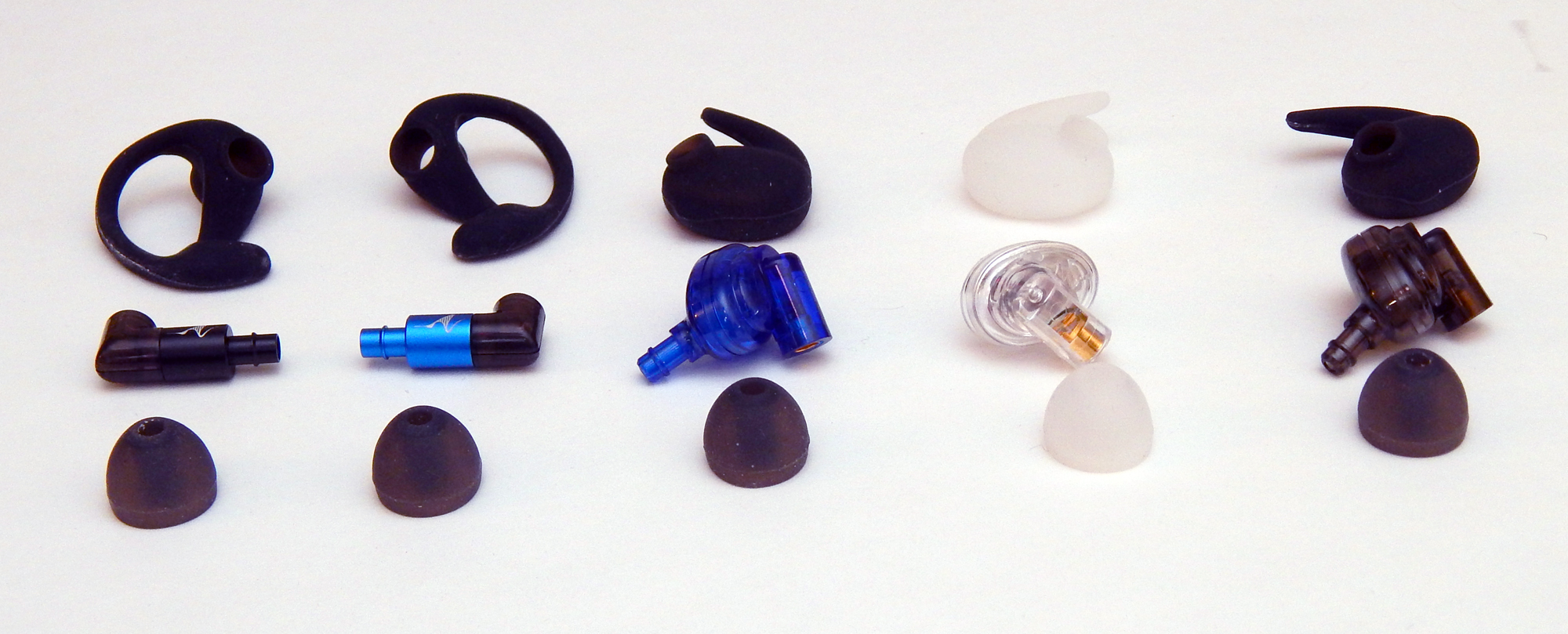 Akoustyx:
Manufactured in the US, they are designed in the Bay Area in northern California and tuned in Nashville, Tennessee. They currently produce two lines; the R1 Series, conventional polycarbonate oval bodied IEMs of medium size which come with a Freebit Ear-interface (a small rubber hook designed to hold the IEM in your ear) and the R2 Series, an aluminum alloy and polycarbonate micro bodied IEM that includes an EarLock retention kit which is a much more robust system designed to prevent the IEM from being dislodged even during vigorous activity.
All of their IEMs are fitted with gold plated MMCX connectors (which I feel are the best IEM connection out there), Proprietary tuned Balanced Armature drivers from Knowles, multi-braided Monocrystalline OFC cables with 3 button in-line control & mic and include both an assortment of silicone tips and Comply T100 premium earphone memory foam tips.
The R1 Series includes the R-110 fitted with a single Micro Reference Balanced Armature driver clocking in at a whopping 50Ω (fairly high for an IEM), the R-115 employing a solitary Extension Balanced Armature Driver (22 Ω), and is flagshipped by the Akoustyx R-120 Reference Dual Cross IEM sporting Dual Reference Balanced Armature Drivers (29 Ω), while the R2 Series are represented by the R-210 with the same driver complement of the R-110 and the R-220 Reference Dual Cross IEM which uses the same drivers as the R-120.
The packaging is a simple heavy duty blue box inside an outer blue picture box with the IEMs set in a foam insert and the padded cloth zippered coin purse style carrying case and selection of eartips and retention devices as well as the user manual in a separate compartment.
The R-110 are a transparent smoked grey in color, the R-115 are clear with white tips, the R-120 are transparent blue, while the R-210 are blue aluminum and transparent smoked grey and the R-220 are black aluminum with transparent smoked grey.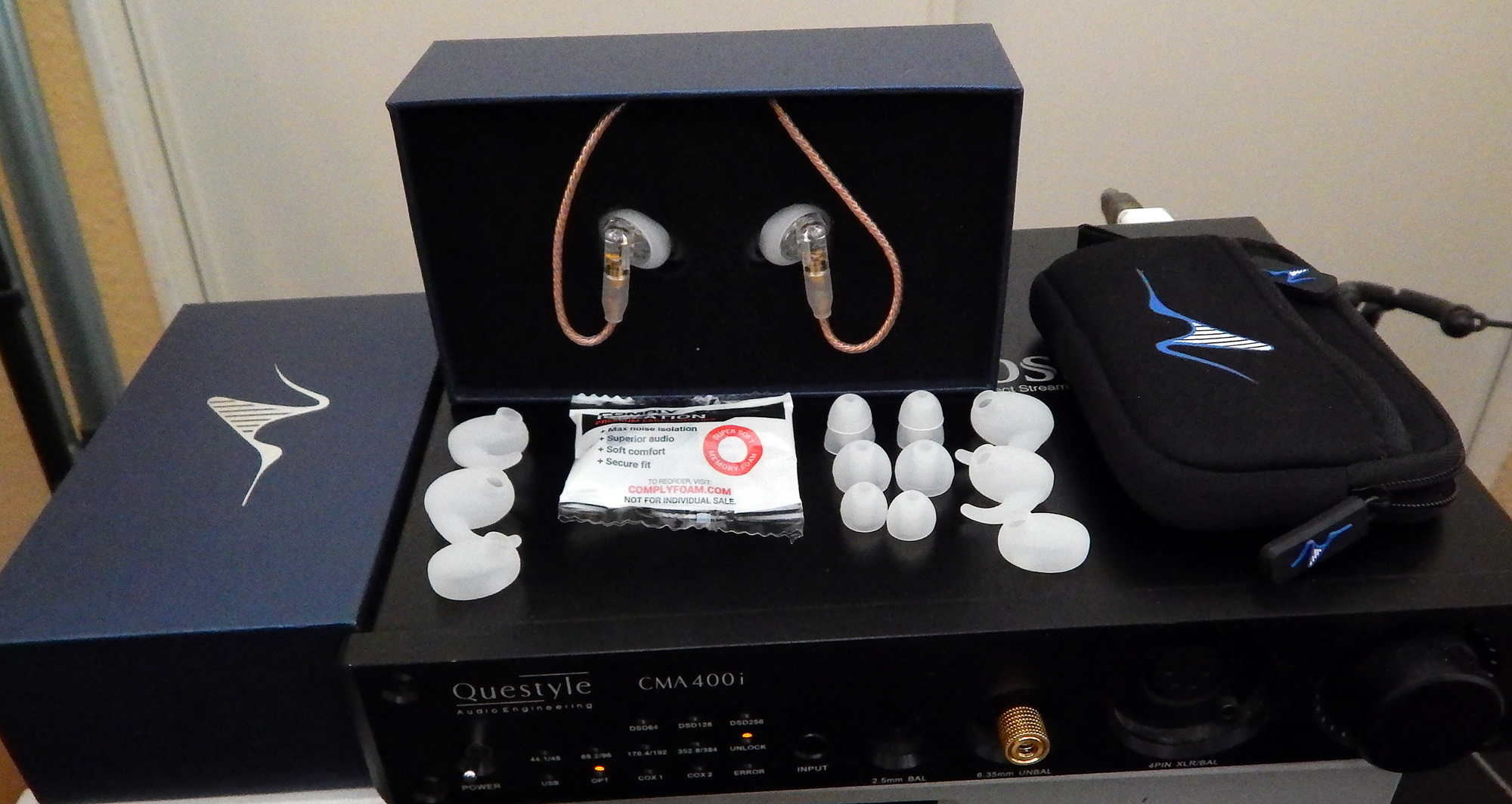 Sound Check:
All of my listening tests were performed using the Questyle Audio QP2R DAP, the Questyle Audio CMA400i DAC/Headphone Amplifier or my Samsung Galaxy J3 smartphone.
Starting with the Akoustyx R1 Series, the R-110 and R-120 have what I would call the "Studio Monitor" tonal balance, essentially a gentle rising curve starting around 100 Hz and going up to a peak in the high frequencies, with the R-110 experiencing a slight uptick in the bottom end. These should be popular for those that like the Sennheiser open-back sound. The R1 preferred the comply tips (this may simply be an aspect of how they fit my ears, but foam tips do seem to impart better bass) and the Freebit Ear-interface is easy enough to use and do make them more secure. The R-120 definitely offered a more refined sound and would be an appropriate choice for lovers of classical music as demonstrated by Dejan Lazić's performance of Beethoven Piano Concerto No. 4 in G major, op.58 (Richard Tognetti and the Australian Chamber Orchestra – DSD). The piano was crisp and lively, with the strings and woodwinds natural and concise. The soundstage was a medium sized slightly bright hall. Switching from the DAP to the desktop unit showed a marked improvement in the R-120 offering a larger soundstage, greater dynamics, and richer tonality.
The Akoustyx R-115 have a unique sonic signature among the Akoustyx IEMs, with a much warmer bottom end and a warm midrange, making them particularly desirable for vocal music such as "Dust Bowl Children" by Alison Krauss & Union Station (Paper Airplane – 24/96 kHz), or Dusty Springfield singing Burt Bacharach's "The Look of Love" (Casino Royale – 24/192 kHz) offering silky sultry vocals and deep and musical instrumentality. Their clarity and strong tight bass will also appeal to pop music fans. Their ease of drive makes them a good option for smartphone users as well.
I was taken completely by surprise by the R2 series, as they had the same driver complement as the R1 series I expected similar characteristics, but that could not be farther from the truth, with a more linear and natural tonal balance, with deeper bass extension and more musical high frequencies. Also, the longer body and the EarLock retention kit provide a much better and more secure seal, especially with the silicone tips (which I find to be more comfortable than foam tips).
The R-210 are the rock n rollers of the bunch, delivering much deeper and more pronounced bass than any of the others. They performed best with my subsonic test track "Can-Utility and the Coastliners" (Genesis – Foxtrot – 16/44.1 kHz) giving a reverberant and engaging rendition. "Eskimo Blue Day" from Jefferson Airplane's Woodstock Two (16/44.1 kHz) performance was recreated with the bass guitar brought up forward to be parallel with the guitar bracketing Grace Slick's passionate vocal. Like the R-120 the R-210 enjoyed the added current of the desktop rig providing a more airy experience.
The Akoustyx R-220 are similar in tonal balance to the R-210 with slightly less bottom end but a much larger soundstage, the largest of the Akoustyx line, case in point the haunting rendition of "Que Sera, Sera (Whatever Will be, Will be)" executed by Pink Martini (Sympathique – 16/44.1 kHz) was rendered more so, offering up a large hall feel.

Conclusion:
Akoustyx has hit the ground running with five high-performance IEMs that offer exemplary performance for their price point. Their goal appears not to be to hit multiple price points with varying levels of quality but to provide a grade A product for people with differing musical tastes, a goal which they hit squarely. Fans of open back headphones are going to love the R1 series, whereas those who prefer closed back will lean towards the R2 line.
I would recommend the R-120 for classical music enthusiasts, while the R-110 will probably appeal more to followers of vintage jazz. Smartphone users will probably want to look at the R-115 or R-210, though the R-220 does offer up a vast soundstage on the phone.
The R2 series do present a more universal appeal musically speaking, working well with all genres, and the standout models were the R-115, R-210, and R-220, though one couldn't go wrong with any of the Akoustyx IEMs. A discerning listener who likes to use different headphones for different styles of music might just want to get them all.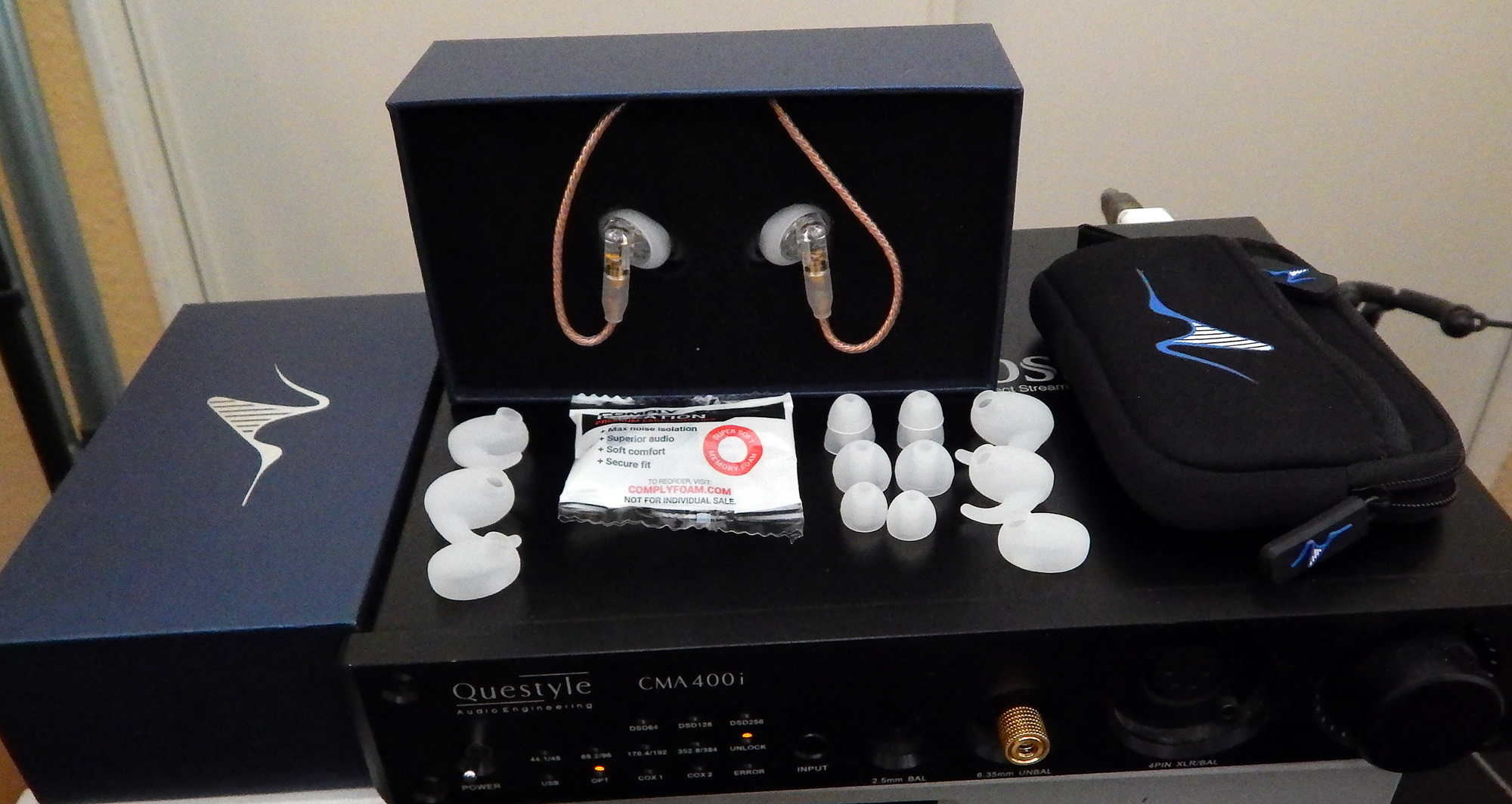 Price:
R-110: $99.99 USD
R-115: $119.99 USD
R-120: $169.99 USD
R-210: $99.99 USD
R-220: $199.99 USD
Specifications:
R-110:
Acoustic Signature Studio Reference
Color:
Main Body Carbon Haze
Silicon Accessories Carbon Black
Comply Foam Black
Driver: Micro Reference Balanced Armature
Impedance: 50Ω @ 1kHz
Sensitivity: 108dB
Freq. Response: 15Hz – 22,000Hz
Cable Length: 1.2M (4.0 ft)
Microphone: 4mm Omni Directional
______________________________________________________________________
R-115:
Acoustic Signature Stage Reference
Color:
Main Body Clear Ice
Silicon Accessories Frost White
Comply Foam Black
Driver: Solitary Extension Balanced Armature
Impedance: 22Ω @ 1kHz
Sensitivity: 114dB
Freq. Response: 15Hz – 22,000Hz
Cable Length: 1.2M (4.0 ft)
Microphone: 4mm Omni Directional
______________________________________________________________________
R-120:
Acoustic Signature Reference Dual Cross
Color:
Main Body Tech Blue
Silicon Accessories Carbon Black
Comply Foam Black
Driver: Dual Reference Balanced Armature
Impedance: 29Ω @ 1kHz
Sensitivity: 109dB
Freq. Response: 15Hz – 22,000Hz
Cable Length: 1.2M (4.0 ft)
Microphone: 4mm Omni Directional
______________________________________________________________________
R-210:
Acoustic Signature Studio Reference
Color:
Main Body Tech Blue
Silicon Accessories Carbon Black
Comply Foam Black
Driver: Micro Reference Balanced Armature
Impedance: 50Ω @ 1kHz
Sensitivity: 108dB
Freq. Response: 15Hz – 22,000Hz
Cable Length: 1.2M (4.0 ft)
Microphone: 4mm Omni Directional
______________________________________________________________________
R-220:
Acoustic Signature Reference Dual Cross
Color:
Main Body Tech Blue
Silicon Accessories Carbon Black
Comply Foam Black
Driver Dual Reference Balanced Armature
Impedance: 29Ω @ 1kHz
Sensitivity: 109dB
Freq. Response: 15Hz – 22,000Hz
Cable Length: 1.2M (4.0 ft)
Microphone: 4mm Omni Directional