Once upon a time, before there was Zoom, before there was Skype, before cell phones and the internet were common household items there were these things called Speakerphones that were a little box, usually made by a professional audio company, that sat in the middle of a conference table connected to a phone line that allowed one group of people to talk with another group speaking on a similar device sitting at a similar conference table at a remote location. The beyerdynamic SPACE Personal Speakerphone is one such device for the modern age. My first contact with beyerdynamic was as a microphone manufacturer, in fact, my "2011" and "The Next Album" albums were both recorded using exclusively beyerdynamic microphones. Since the technologies that make an exceptional microphone are similar to those that make up a headphone, it was of little surprise that beyerdynamic was also a world-class headphone. And by the same token, as a Pro Audio company that designs and builds specialized equipment for the music world as well as businesses in general, it is of no surprise that they would come out with the SPACE.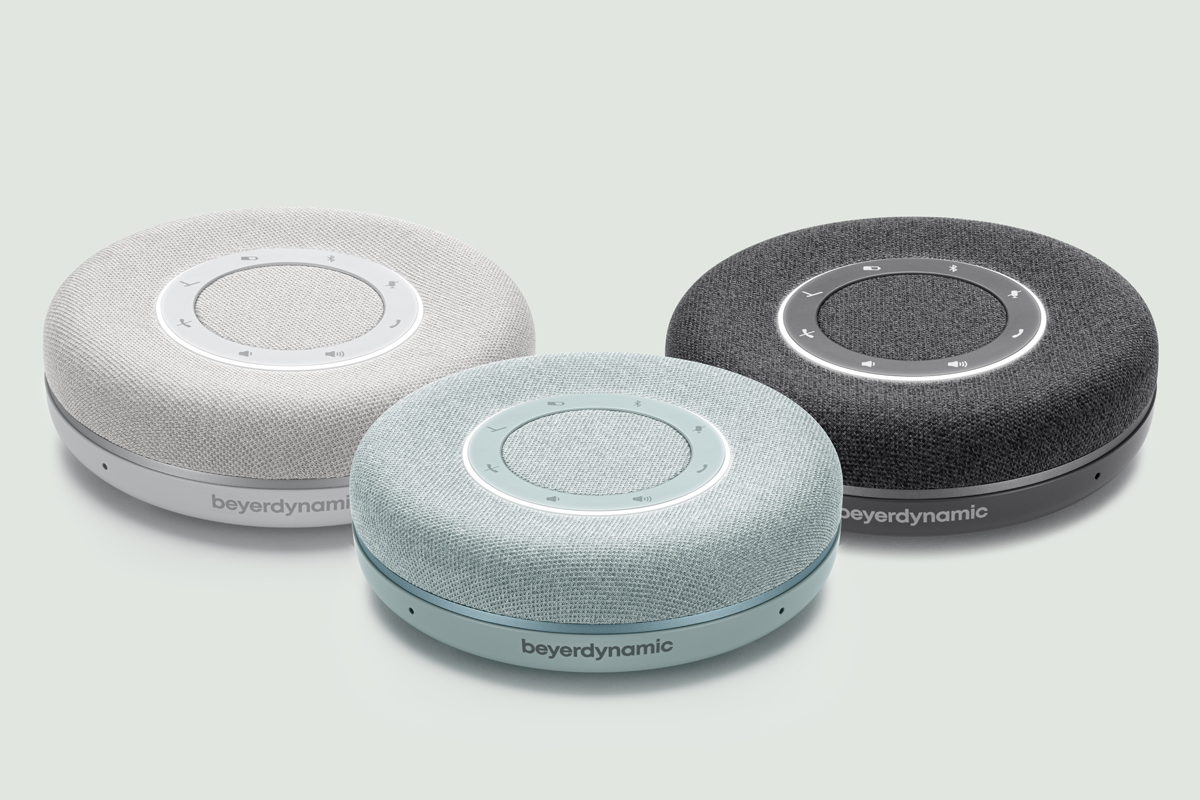 The beyerdynamic SPACE Personal Speakerphone:
There are a lot of Bluetooth speakers out there, but as they are primarily designed for music playback, it is rare for them to have microphones, plus their voicing is for music which can often reproduce the spoken word with less clarity. Of course, there are also devices like the Alexa that can connect via Bluetooth and accept voice commands, but their audio quality is poor at best. The beyerdynamic SPACE Personal Speakerphone incorporates the two concepts of being a Bluetooth speaker for music, and speakerphone functions into a single unit, which automatically changes the sonic profile between voice and music so you get the best of both worlds. The SPACE even uses True Wireless protocol to allow you to use two SPACEs to create a real stereo sound system. Another way to look at it is to think about your hands-free function in your car which due to comfort and ease of use is a far superior experience to using a Bluetooth headset.
Not only can two SPACEs be connected to a single source simultaneously, a single SPACE can also be to two sources simultaneously, say a tablet or computer to listen to music and a phone for phone calls. Phone calls will automatically take president over music, muting the music while the call is in progress. The SPACE can also be connected to your source device either via Bluetooth or USB-C.
To guarantee clarity the SPACE employs a unique 360º SMART MIC TECHNOLOGY utilizing four MEMS (microelectromechanical systems) microphones and offers full-duplex audio allowing users to speak and listen simultaneously and avoid having dropouts or cut-off voices which is especially important with multiple participants.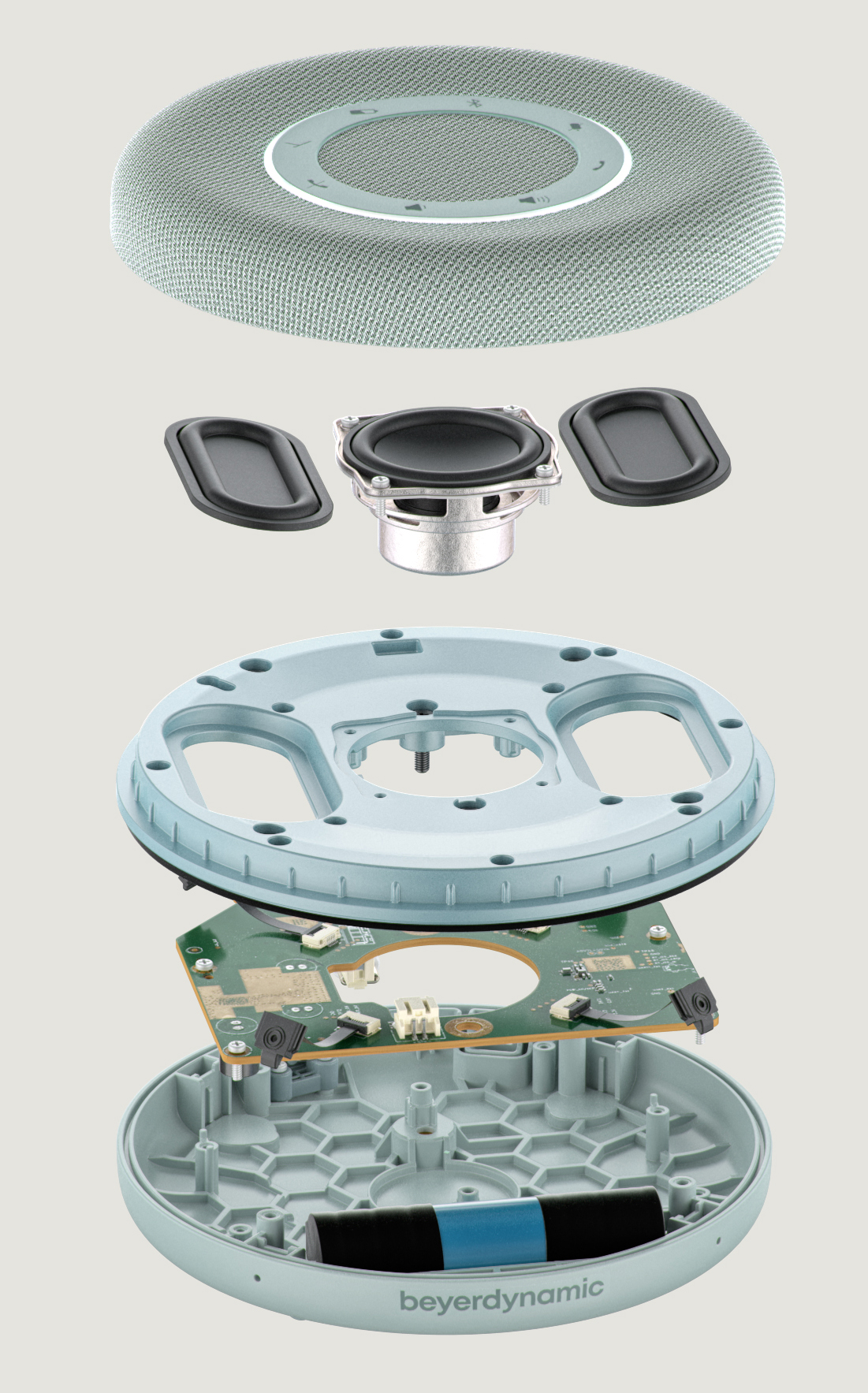 The speaker configuration consists of a central dynamic driver and two oval passive radiators. In appearance, the SPACE is a simple 5" (approx) disk available in three colors (Nordic Grey, Charcoal, and Aquamarine), covered in a high quality antibacterial textile fabric. There is an LED illuminated ring that surrounds the control panel and provides status information. There is a Kensington Lock port alongside the USB-C connector and tactile Power button, and on the bottom, there is a brass threaded mounting hole that matched up perfectly with my camera tripod. The control panel is a thin ring of touch-sensitive buttons (Multifunction, Mute [red LED display], Increase Volume [white LED display], Decrease Volume [white LED display], Hang Up [red LED display], Pick Up [green LED display], Battery Status [green, yellow, red LED display], Bluetooth [blue LED display]). For accessories, the SPACE included a USB-C to USB-C cable (in matching colors), a USB-C to USB-A adapter (also in matching colors) for which there is a small cubby in the bottom of the SPACE for storage of, a Cloth Carrying bag, and the operating manual.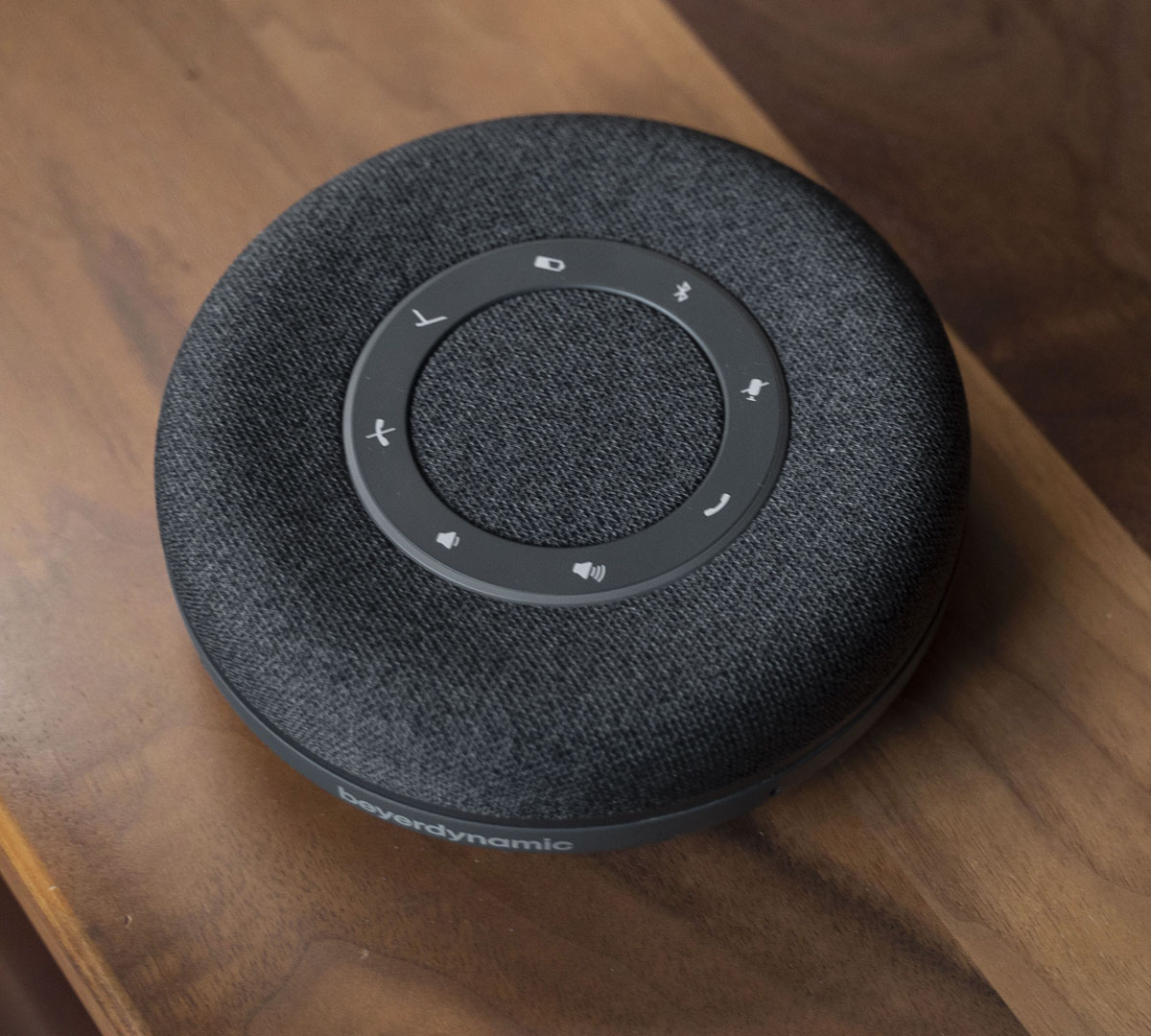 Living with the beyerdynamic SPACE Personal Speakerphone:
The beyerdynamic SPACE Personal Speakerphone I received as review sample came in Aquamarine which seems like an excellent color for office use. To test out the dual-source function I used my FiiO M11 DAP and my Moto G Power smartphone both connected via Bluetooth. This seemed to work seamlessly without a hitch. The Multifunction button does appear to only work with the device that is currently in operation and switching devices did require me to interact with the item in question except in the case of receiving phone calls; to make a call or access Google Now I had to activate the phone, and to go back to music I had to hit play on the M11 (hitting the Multifunction button caused music to play on the phone), but this is hardly an inconvenience.
While playing music the sound was quite pleasant, while not quite HiFi, especially since I only had one unit and stereo of course requires two, the bass response was strong enough that I could feel it through the desk upon which it was sitting. Attached to my tripod and set vertical it provided fairly good sound given the size and price point, not extremely loud, but certainly enjoyable. What it didn't do is sound tinny, harsh, or distorted as is the norm with such devices.
When it came to taking phone calls it was spectacular, being much clearer and natural sounding than my phone, whether via direct listening or speakerphone (which is my default), more so than even the hands-free in my car. And the same can be said for the reverse, I was told that the sound was much clearer than when I used the microphones in the phone itself or even through my Bluetooth headsets.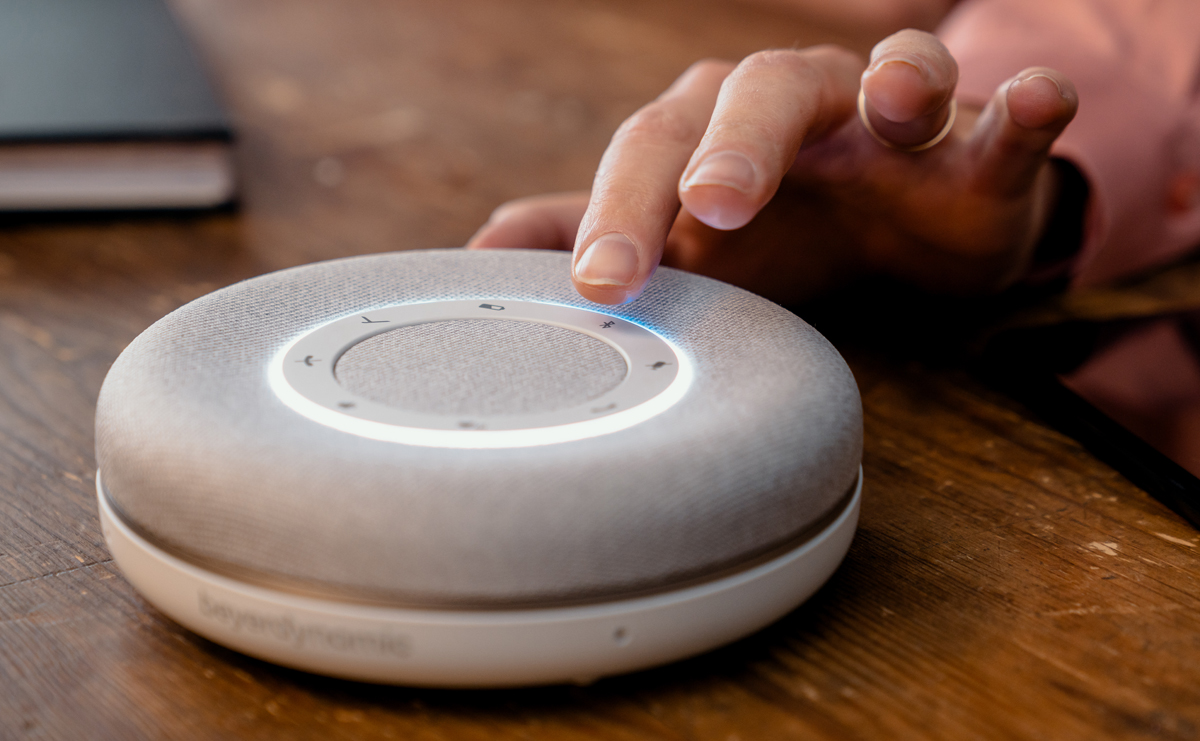 Conclusions on the beyerdynamic SPACE Personal Speakerphone:
The beyerdynamic SPACE Personal Speakerphone is a must-have for the office, having attempted conference calls on an unassisted cell phone, the ability to pick up a speaker regardless of where they are in relation to the SPACE coupled with the enhanced clarity of the voice coming in, it is a no-brainer. The convenience of hands-free operation around the house, seamlessly switching from playing background music to taking a phone call or call upon Google Now makes the SPACE a desirable toy to have around the home also. All I can really say is that it is exactly what you would expect from a world-class Pro-Audio company, bravo beyerdynamic, well played.
Manufacturer's Website: https://www.beyerdynamic.com/space
Price: $179