A couple of weeks ago, FiiO sent me a package with three items inside. Their new FiiO FH7 IEMs, their FiiO LC-4.4D 4.4mm to MMCX high-purity Monocrystalline Sterling Silver Litz IEM cable and their new FiiO M11 Android-based Lossless Portable Music Player. For the intervening time, while I finished up other reviews, I set the three to burn in running Qobuz on an endless loop. Now it is time to sit down and seriously spend some time listening to them, and first up to bat is the M11.
FiiO M11 Android-based Lossless Portable Music Player:
The FiiO M11 is a step up in features and performance over their previous players, just get a load of what it has to offer:
Samsung Exynos 7872 SoC – Flagship main chipset.
Two-way Bluetooth with LDAC – Transmission of all Bluetooth formats including SBC/aptX/aptX HD/LDAC/LHDC Bluetooth + reception of lossless Bluetooth supporting SBC and LDAC.
Numerous ways to output your music – Bluetooth / single-ended / balanced / line output / USB digital (including DSD128, Dop/D2P, and native DSD)/ coaxial digital.
Dual-band WiFi – 2.4GHz and 5GHz. (Supports WiFi file transfer)
High-performance audiophile DAC – Dual AK4493EQs in a balanced configuration driving dual OPA1642s as low pass filters and dual OPA926s as amplifier for a complete balanced circuit and a separate OPA1642 for the single-ended output.
High-res music formats supported – PCM up to 24/384kHz and native DSD256.
10 band dynamic EQ – +- 12dB manual plus 8 presets.
5.15-inch bezel-less touchscreen – 18:9 ratio, 720P resolution (1440×720/16.7M colors) with 10-point touch and gesture recognition.
Long battery life – 13 hours battery life, 1200 hours deep sleep standby time.
Copious amounts of RAM and storage – 3GB RAM+32GB storage as well as two micro-SD card slots supporting up to 2TB cards (4TB total expanded storage)
Symmetrical USB Type-C connector – With USB DAC and USB audio out functionality.
Open-source Android 7.0 Nougat – Supports any 3rd party apps.
All to DSD – Upconverts PCM to DSD2.8M (FiiO is the first to support this feature).
All major portable headphone outputs – 2.5mm/3.5mm/4.4mm.
Numerous ways to connect to your music – FiiO Link/AirPlay/DLNA/WiFi. The FiiO M11 can also operate as an Asynchronous USB DAC supporting up to 32/384kHz PCM.
Dual quick charging technologies – Quick Charge 2.0 + MediaTek Pump Express. (2.5 hours to full charge)
Dual Hi-Res Audio certifications – Hi-Res Audio and Hi-Res Audio Wireless certified.
Aluminum body with PET coated Glass back.
Not only can the FiiO M11 act as a Bluetooth Amplifier, it can pass through Bluetooth signals to an external DAC via its coaxial digital output.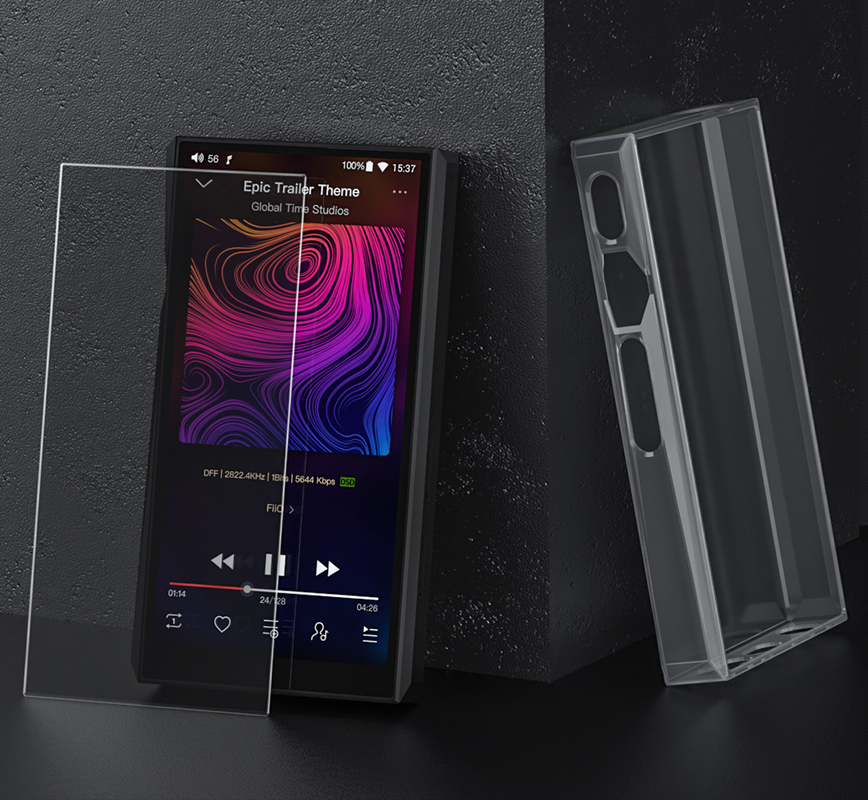 What You Get:
The FiiO M11 came in an attractive black magnetic clasp box with a slip-on black outer picture sleeve. Inside was the M11 in a heavy clear plastic skin with a 7H tempered glass screen protector pre-applied at the factory. The unit is black with a gold-colored tactile volume control and a faux carbon-fiber textured glass back. Size-wise, it is the same as the X7 Mark II and X5III though it is shaped slightly different so it might not fit in the same cases. (It is beveled on both edges, making it a slight challenge to get in and out of the plastic skin.)
There are two tactile buttons along with the volume control (pause/play switch and FF/RW toggle) on the left edge and the two micro-SD card slot on the right. On the bottom, you will find the 4.4mm and 2.5mm balanced outputs next to each other on the left, the USB Type-C connection in the middle and the 3.5mm (single-ended/coaxial digital/line output) output on the right. The power button is on the right top.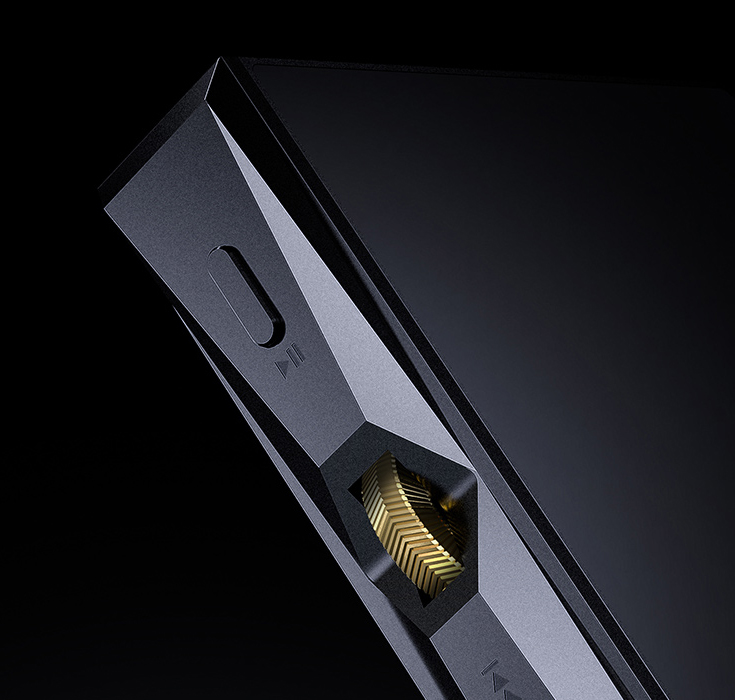 There was also a large black accessory box containing the manuals and warranties as well as the micro-SD card key, and a smaller black accessory box containing the USB Type-C charging cable and the coaxial digital output cable.
Boot-up takes about 15 seconds and displays a standard Android lock screen with the date, time, volume setting, charge level, WiFI, and update notices. If you have used a late model Android phone it will all look familiar to you. Swiping up brings up the root home screen which has the standard app icons at the bottom, in this case, "Settings, FiiO Music, Apps, ES File Manager, and Chrome Browser. Below that are the Return, Home and Open-Apps buttons. Swiping down from the top gives you the standard utility short cuts (Settings, Display Brightness, WiFi, Bluetooth, Output Select for the 3.5mm connection, USB DAC/Storage, Gain, Digital Filter, and AirPlay) and swiping to the left brings you to the secondary home screen which current houses ES Note Editor.
While most of your audio settings are in the FiiO Music App or the notification menu, the All To DSD function is accessed from the generic settings menu under Audios, along with the channel balance control, in-line remote and Bluetooth codec.
While in the FiiO Music App, swipe right from the left edge to access the settings menu where you will find the EQ, FiiO Link, and WiFi Music Transfer along with the other standard player functions.
The FiiO M11 listening experience:
It was easy enough to install Qobuz from the FiiO Market App store (labeled Applications) which I set to endless loop in the Qobuz playlists Jazz new releases and Classical new releases for burn-in. Rather than installing my test micro-SD card, I availed myself of FiiO's WiFi Music Transfer to quick and easily transfer my test tracks onto the player's internal memory.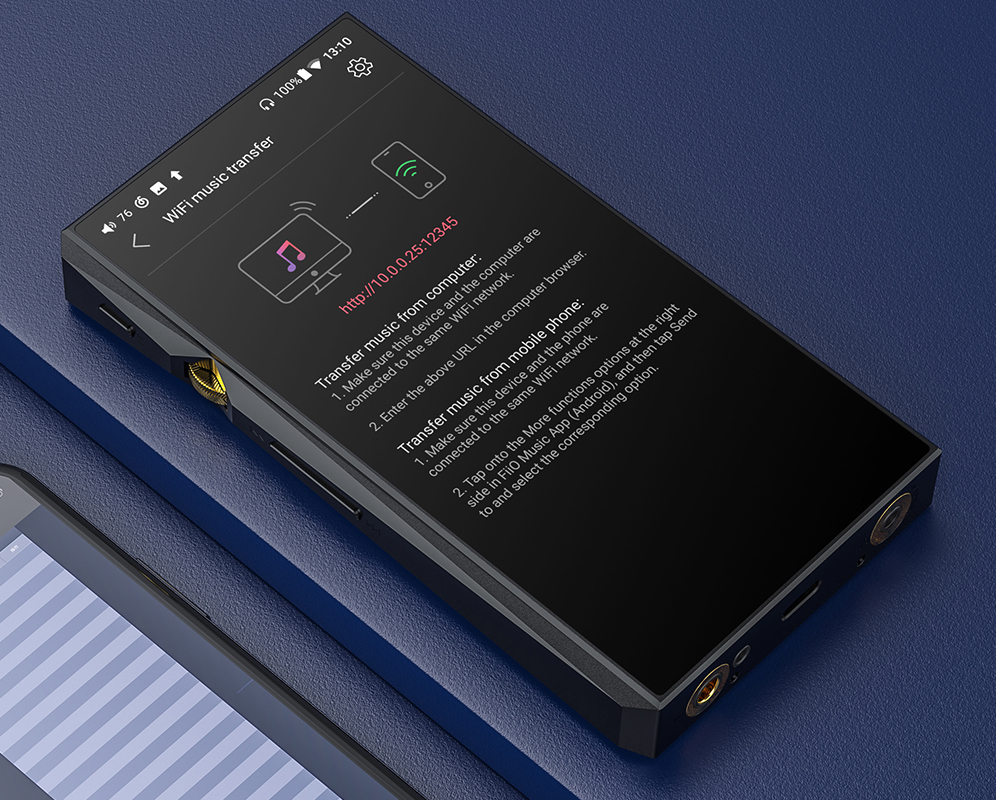 As is appropriate I began my listening using the FiiO FH7 IEMs with the FiiO LC-4.4D high-purity Monocrystalline Sterling Silver Litz IEM cable. I selected "Can't Get It Out Of My Head" by Electric Light Orchestra from their album "Eldorado" (24/192kHz). The opening piano was rich and full as were the backing strings as they faded in. The drums had snap and the cymbals were clear and precise providing sizzle without spit. The timbre of the instruments was fairly neutral offering up a wide and deep soundstage, with excellent placement and separation of the individual instruments.
Switching over to the MrSpeakers ETHER2 Planar Magnetic Open-Backed Headphones I was duly impressed by the power output of the FiiO M11, running in 'low gain' mode (using the balanced output) I was able to get plenty of volume out of these full-sized orthodynamics. Choosing The B-52s "Dance This Mess Around" (24/192kHz) from their eponymous debut album, I was treated to in-studio-live dynamics and a large dance club soundstage, with deep tight bass, crisp guitar, and chill-inducing vocals. As often happens with studio recordings the instruments were in the foreground with vocals a bit behind.
I moved over to the MrSpeakers ETHER C Flow 1.1 Closed Backed Planar Magnetic Headphones to listen to "The Firebird Suite" (Robert Shaw – Atlanta Symphony Orchestra – Stravinsky: The Firebird; Borodin: Music from Prince Igor – 16/44.1kHz). Though I had to turn it up most of the way, I was still able to listen in the 'low gain' setting. The crescendos were dynamic and punchy and the soundstage was huge giving a large concert hall performance, with plenty of depth. I chose to use this track, as it was 44.1, to test out the All To DSD function. So after selecting All To DSD in the settings menu, I restarted the track. Sure enough, it produced a more analog sound, subtle but definitely there. A slight increase to the air around the instruments, a slightly more realistic presentation of the resonances of the individual instruments, emphasizing their unique timbre.
To further explore the All To DSD I cued up Dario Baldan Bembo's "Non Mi Lasciare" to enjoy the velvety operatic vocals, rich and full piano, and deep and powerful subsonic bass.
To really put the FiiO M11's amplifier through its paces I connected up the Audeze LCD3 Planar Magnetic Headphones to the single-ended output and played "Hippo Stomp" by Steppenwolf  (Steppenwolf 7 – 24/192kHz). In 'high gain' three-quarters volume gave me live performance dynamics and volume. Even with the LCD3's more aggressive highs and heavy bottom end, the sound was musical and the clarity was exceptional.
For dynamic headphones, I selected the Spirit Torino Twin Pulse Isobaric Open Circumaural Headphone and put on the live version of "Godzilla" by Blue Oyster Cult (Extraterrestrial Live – 24/96kHz) and was immediately transported back to 1978 at the Forum where I saw them perform the song. The roar of the bass, growl of the guitar, the razor sharp edge of the leads, the snap and impact of the drums, the three-dimensionality of the keyboards and the space of the giant indoor stadium were all there.
So the question became with all of this power was the FiiO M11 quiet enough for IEMs? It was time to break out the Noble Katanas (the single most efficient IEMs I have heard). Opting for Weather Report's "Teen Town" (Heavy Weather – DSD) the noise floor was excellent, only noticeable when sound was completely absent (such as when in pause).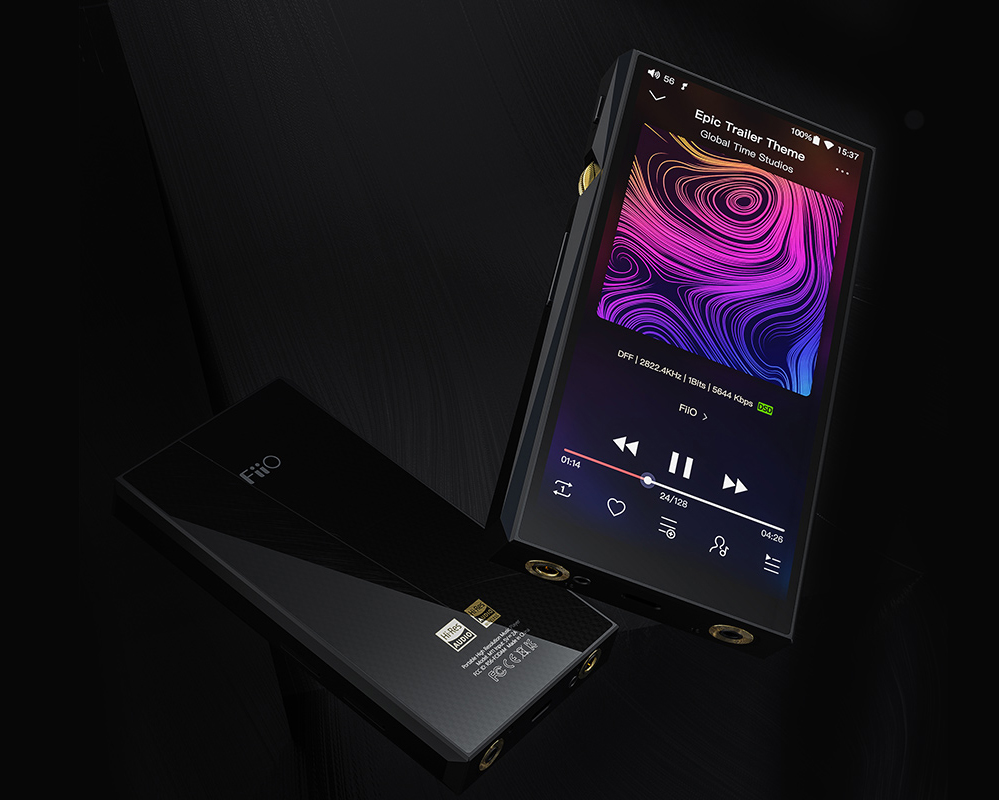 The FiiO M11 Android-based Lossless Portable Music Player The Sum Of Its Parts:
FiiO has hit a new high with its M11 DAP, operation will be second nature to any Android user who as experienced Nougat and the amplifier will easily drive almost any headphone that can accommodate either 2.5mm or 4.4mm balanced connections (it was an extremely wise decision to accommodate both connections as though the 4.4mm is more secure and offers better conductivity, most users will have 2.5mm and adapters are still rare and add a component in the chain). While the single ended output offers plenty of power, performance is slightly better with the balanced output.
The implementation of the dual AKM DAC chips is excellent (though it would be nice to see full implementation of the chip's capabilities, IE: 768kHz PCM & DSD512, there is very little software that supports those resolutions) especially in the All To DSD mode.
The sound of the FiiO M11 is very musical with excellent dynamic range and noise floor, offering a large soundstage and an image that doesn't waver. The clarity of the midrange is exceptional and the bass is tight and well controlled with good extension.
When it comes to functionality, the FiiO M11 is the most versatile portable music player I have encountered thus far, able to act wired or wirelessly, as both receiver and transmitter, supporting all the high-resolution Bluetooth Codecs, as well as WiFi streaming, it can take the place of a multitude of devices and serve each of those functions well. In fact, I cannot think of a product that is a greater value at this price point, highly recommended.
Price:$449.99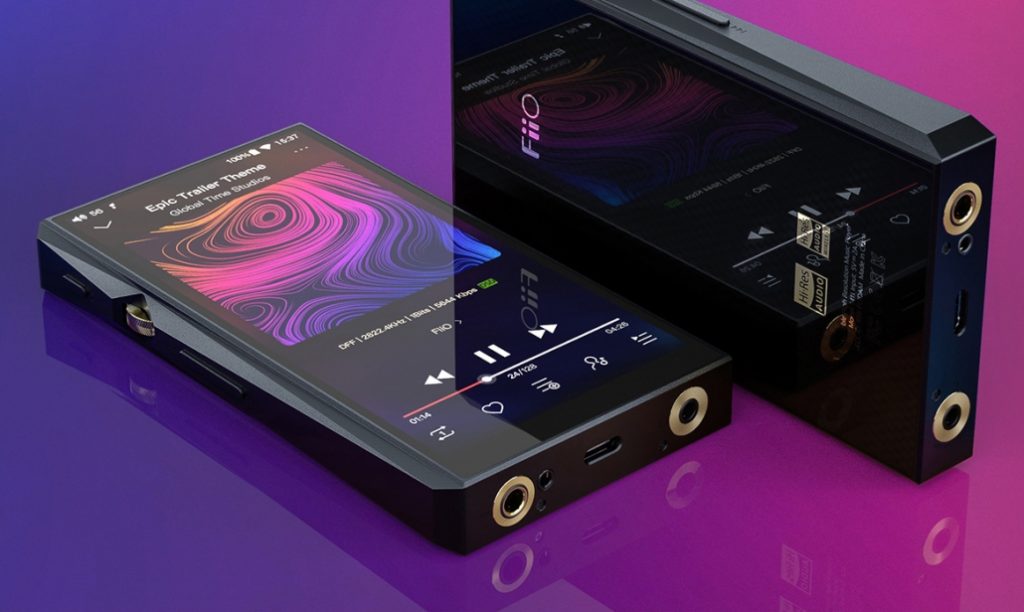 Specifications:
Main Unit
Name / Model No.
M11
OS
Customized Android7.0
CPU model
Exynos 7872 14nm
No. of cores
6
CPU operating frequency
2GHz(A73×2),1.6GHz(A53×4)
DAC
AK4493EQ×2
Keyboard
Virtual QWERTY keyboard
Input method
Multi-touch screen
Special features
Android 7.0,No SRC restriction,All to DSD,2.5+3.5+4.4 output,Gesture control
User interface
Customized/FiiO Music
Chips used
SoC: Samsung Exynos 7872,DAC:AK4493EQ*2,FPGA:A3P030,LPF:OPA1642×2,AMP:OPA926*2
Bluetooth chip:SAMSUNG S5N5C10B01-6330
Connectivity
WiFi
2.4/5G,WiFi transmission supported
Bluetooth
4.2
USB
TYPE C Two-way USB2.0
Bluetooth transmit
LDAC/aptX/aptX HD/SBC
HWA(LHDC)
Available when playing on M11 or using M11 as USB DAC
Bluetooth receive
SBC/LDAC (support in future firmware)
AirPlay
Supported
DLNA
Supports Windows for now, will support more in the future
FiiO Link
Supported
NAS
UPNP protocol supported
Display screen
Display size
5.15 inches
Number of colours
16M
Display type
IPS Hi-Res incell screen
Viewable angle
Full-view
Resolution
1440×720
Pixel density(PPI)
312
Touchscreen
10-finger multi-touch
Storage
RAM
3GB
ROM
32GB
Storage expansion type
Micro SD card
ROM available to user
About 25GB
Maximum storage expansion
Theoretically 4TB (dual micro SD card slot)
Buttons and ports
Buttons
Physical button+Side volume scroll+Touch screen
Button customization
N/A
Headphone out (PO)
3.5 mm headphone jack+2.5mm balanced headphone jack+4.4mm balanced headphone jack
USB
Two-way TYPE C USB2.0(Charging/Data transmission/USB DAC/USB Audio)
Line out (LO)
3.5 mm port(shared PO)
SPDIF output
3.5mm port(shared PO),DSD64/128,384kHz/32bit,DoP/D2P
General
Color
Black
Dimensions
70.5mm*130mm*15.5mm
Weight
About 211g
Volume control
120 steps
Recommended headphone impedance
16~150Ω (3.5mm headphone output)
Equalizer
10-band EQ (±6dB), 9 presets+custom preset
16~300Ω (2.5mm+4.4mm balanced output)
Treble control
N/A
Bass boost
N/A
Balance control
±5dB
Gain control
L/H
USB DAC
Asynchronous 384kHz/32bit
USB Audio
DSD64/128,384kHz/32bit,DoP/D2P/Native
Power specifications
USB power adapter
QC2.0/3.0 quick charger,PD2.0 charger,DC 12V/1.5A、9V/2A、5V/2A recommended
Battery capacity
3800mAh 3.8V Li-polymer battery supporting quick charge
Charging indication
Large charging icon shows on display when it's off, small charging icon shows on upper right of display when it's on
Charging time
<2.5h(DC 12V/1.5A) <3h(DC 5V/2A)
Battery indication
Yes (accurate battery % readings)
Deep sleep time
50 days
Battery Life & Test Conditions
3.5mm headphone output:>13h
Volume
60
Load
M3 open earbuds (27 Ω)
Screen
OFF
Test File
MP3 44.1kHz/16bit
EQ
OFF
All To DSD
OFF
2.5mm+4.4mm balanced output:>9h
Volume
49
Load
32 Ω
Screen
OFF
Test File
MP3 44.1kHz/16bit
EQ
OFF
All To DSD
OFF
Bluetooth output:>48h(LDAC)
Volume
60
Load
BTR3+FH1
Screen
OFF
Test File
MP3 44.1kHz/16bit
Others
Firmware Upgrade
Supports both via zip file and OTA
Font size
Supported
Clock Function
Supported
Third-party apps support
Supports any app
Line output specifications
THD+N
<0.001%(1kHz/10kΩ)
SNR
≥115dB (A-weighted)
Frequency response
10Hz~90 kHz(-3dB)
Noise floor
<6uV(20k low pass)
Channel separation
>108dB (1kHz/10kΩ)
Line level
1.95V (10kΩ)
Headphone out specifications 1(3.5mm port)
Output power 1
≥255mW(16Ω / THD+N<1%)
Output impedance
<1Ω (32Ω)
Output power 2
≥195mW(2.5V)(32Ω /THD+N<1%)
THD+N
<0.003%(1kHz/32Ω)
Output power 3
≥22mW(300Ω / THD+N<1%)
Separation
>72dB (1kHz/32Ω)
Frequency response
10Hz~90 kHz(-3dB)
Noise floor
<5uV(20k low pass)
SNR
≥118dB (A-weighted, 32Ω)
Headphone out specifications 2(2.5mm+4.4mm balanced output)
Output power 1
≥480mW(16Ω / THD+N<1%)
Output impedance
<2Ω (32Ω)
Output power 2
≥550mW(4.2V)(32Ω /THD+N<1%)
THD+N
<0.002%(1kHz/32Ω)
Output power 3
≥88.5mW(300Ω /THD+N<1%)
Separation
>107dB (1kHz/32Ω)
Frequency response
10Hz~90 kHz(-3dB)
Noise floor
<7uV(20k低通)
SNR
≥118dB (A-weighted, 32Ω)
File formats support
Lossless:
DSD:DSD64/128/256(".iso",".dsf",".dff"),dst DXD:352.8K APE FAST/High/Normal:384kHz/24bit(MAX) APE Extra High:192kHz/24bit(MAX) APE Insane:96kHz/24bit(MAX) Apple Lossless:384kHz/32bit(MAX) AIFF:384kHz/32bit(MAX) FLAC:384kHz/32bit(MAX) WAV:384kHz/32bit(MAX) WMA LOSSLESS:96kHz/24bit(MAX)
Lossy compression:
MP3,OGG,WMA,AAC…