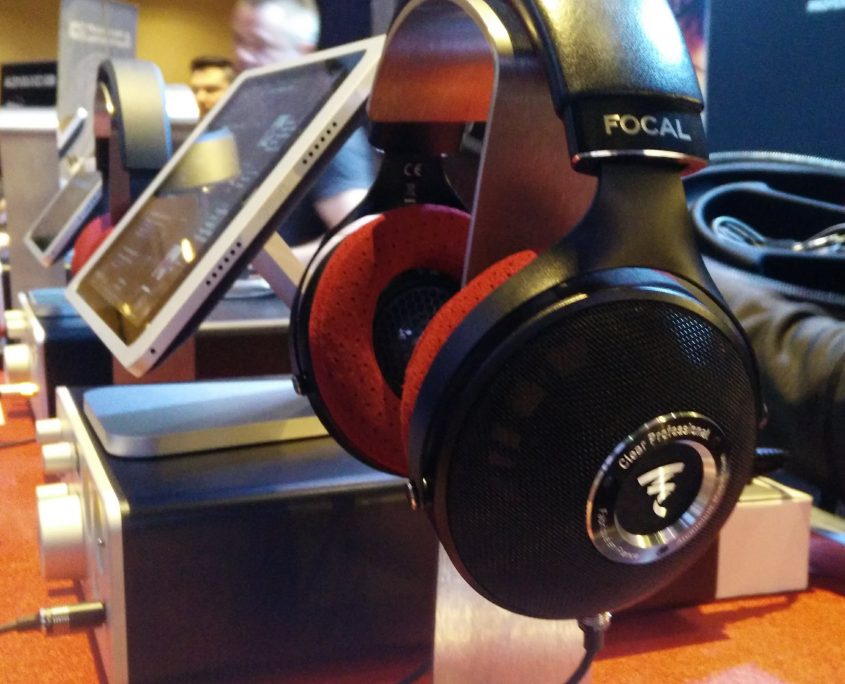 Focal:
Did you know that you pronounce "focal" like "So-Cal" and not like "focal point"? Stephan, the Focal representative pointed that out to me. That was the biggest mind eraser I had at the show. A word that I thought I knew was exploded into nothingness. Focal, this year, has the highly detailed and woody timbered Clear Pros ($1.7k) on display connected to a SPL amplifier. One look at the design and I could only say "WOW, Sexy". They also rock a low 50 ohm impedance, meaning you can use them with your phone or laptop.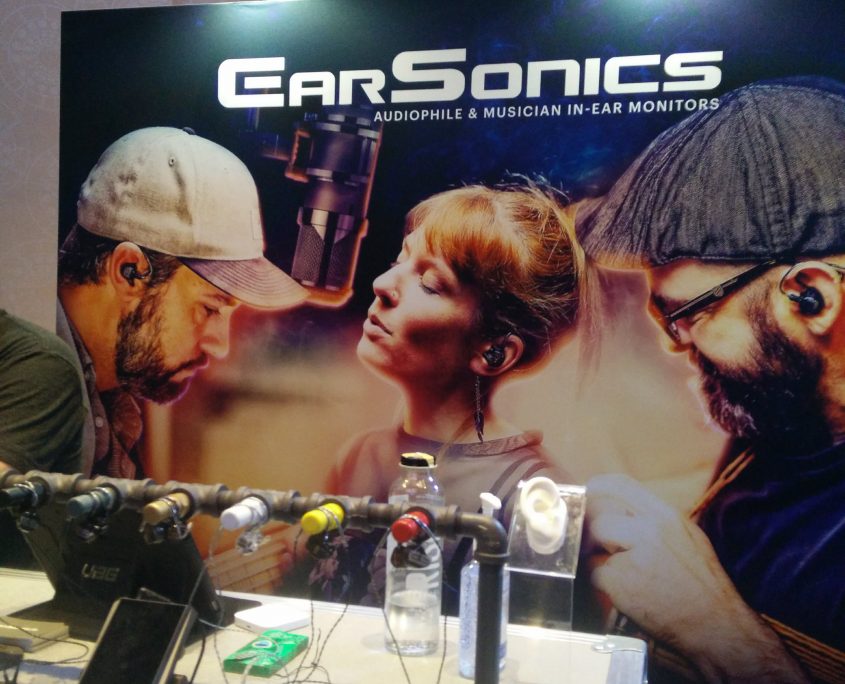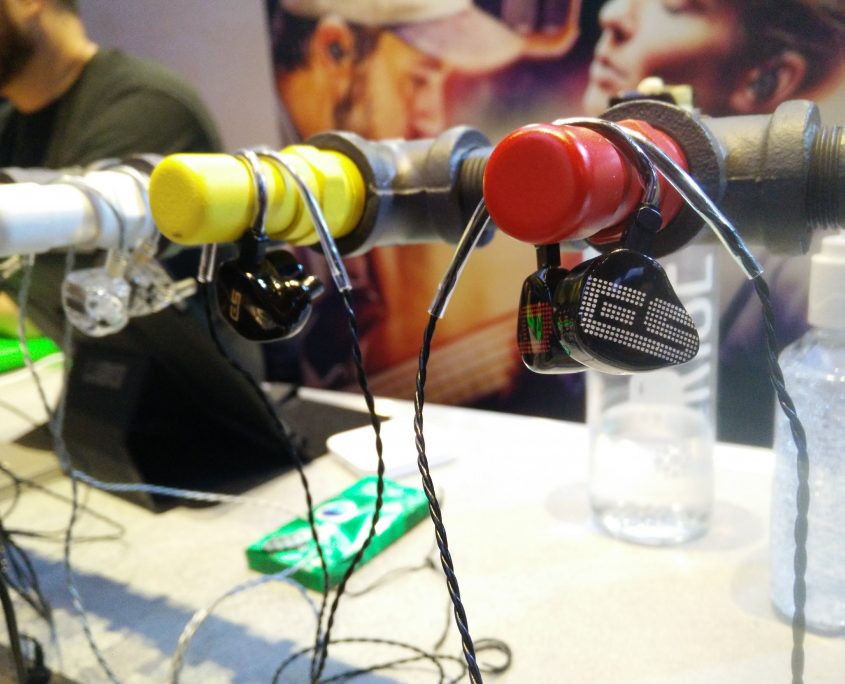 Earsonics:
Patrick from Earsonics was fantastic to give me a demo of their S-EM9 ($1,799) 9 driver IEMs, packing one low, four mid, and 4 high drivers in a three way crossover. The drivers are proprietary and built specifically for Earsonics by Knowles. Despite all the recent fad in moving to utilizing a secondary eardrum system or hybrid systems, Earsonics kept it classic and you know what? It sounds absurd for "just" being a standard multi driver balanced armature IEM. The S-EM9 had smooth and dynamic delivery with a definite affinity for vocals (Adele was a favorite) and a soft lower end. It hits the sweet spot between neutral and slight warmth.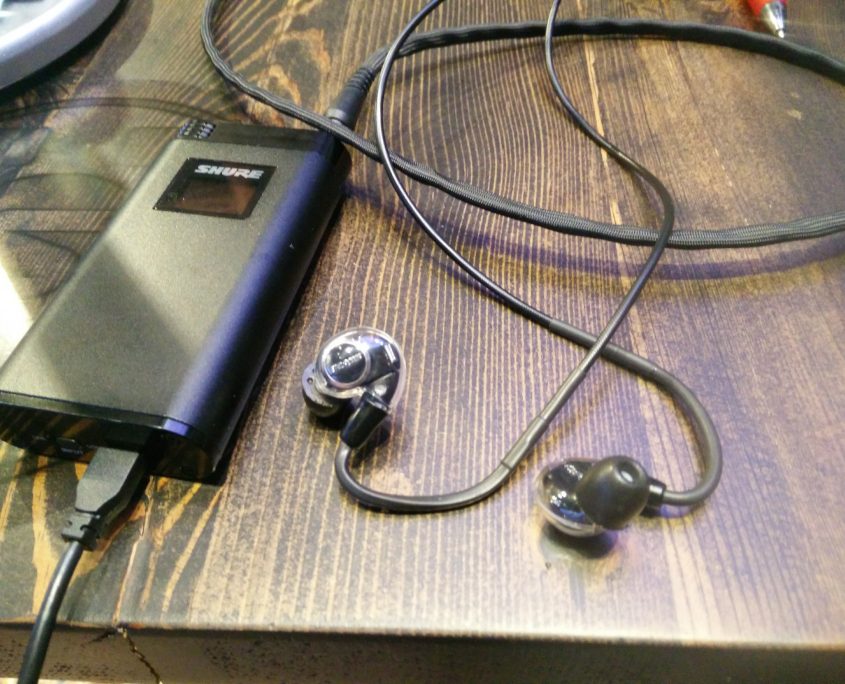 Shure:
I want to share that my first set of headphones upon joining Head-Fi were a pair of SRH 440s. Shure holds a place in my heart and seeing them live at CanJam evoked emotion with me as I walked towards them. Taking a line from Drake, I started from the bottom and now I'm back here again.
Shure provided me a demo of their KSE1500 Electrostatic Earphone System ($2,999) which includes a special portable amplifier with a built in 24/96 ADC/DAC. The sound was effortless, exact, and something otherworldly. I mean, it's literally an electrostatic headphone, the size of your pinky tip in your ear. Obviously, at the end of my demo, I couldn't help but deliver a well timed Shure joke ("You Shure about that?") that knocked their representative back and provided us both with a chuckle.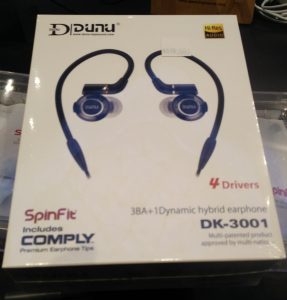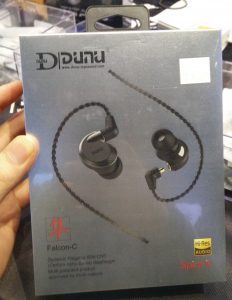 DUNU:
Dunu is a well known manufacturer from Asia that is known for delivering quality sound at bargain prices. They gave me a demonstration of their DK3001 ($479) and Falcon C ($220) earphones at the show. The DK3001 is a hybrid IEM with 3 BA (Knowles) and 1 dynamic driver with both SpinFit and Comply tips included. Falcon-C on the other hand is a dynamic driver IEM where the diaphragm drivers are made up of carbon nano-tubes. I was a fan of the Falcon-C for its thick bass and concise frontal vocals.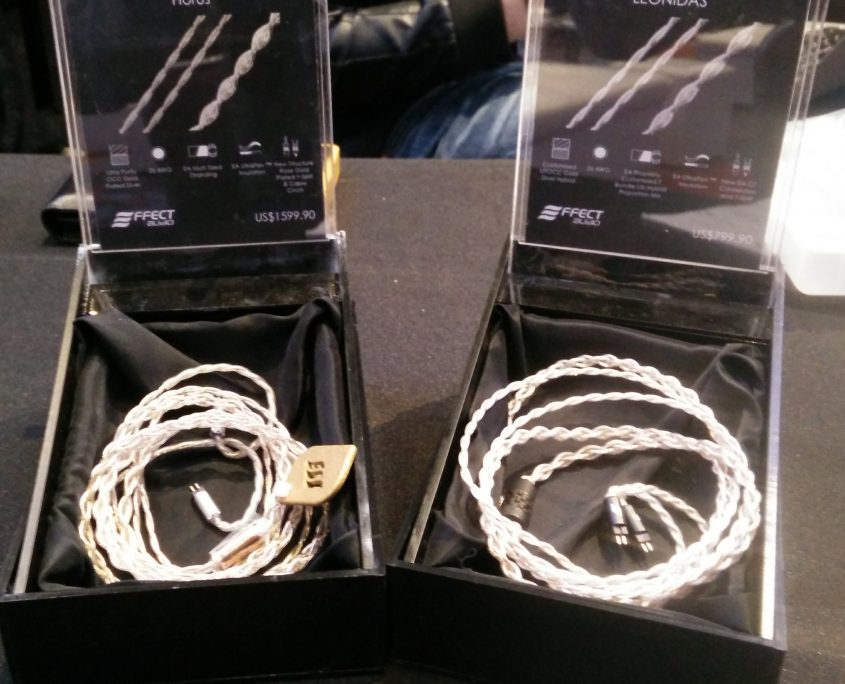 EFFECT Audio:
EFFECT Audio came to the show this year with their masterfully crafted earphone cables that provide "an audio experience like no other". The highlights at their booth were the Horus ($1,599) and Leonidas ($799). Horus is 26 AWG with "Ultra high strand counts" and "Ultra purity OCC Gold Plated Silver" as its main components. Whereas Leonidas uses a "Golden ratio of Ultra purity gold silver hybrid".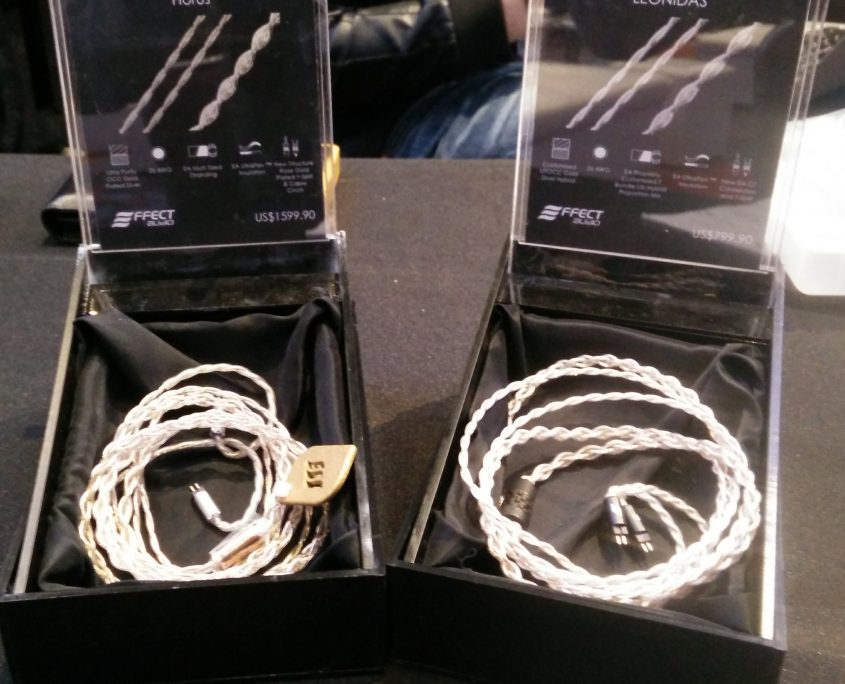 Westone:
Crystal at Westone gave me a demo of their W80 ($1499) and W60 ($999) IEMs. The W80's come with a $300 ALO Audio "Reference 8" cable as a bonus! The earphones are universal fit with interchangeable face-plates included in the massive case it comes in. They feature 8 BA drivers in a 3 way crossover with a dark sound mixed with a sound signature you could consider "intimate". I found it to be quite smooth and delicate sounding during my short demo with it. Read our review of the W80 here!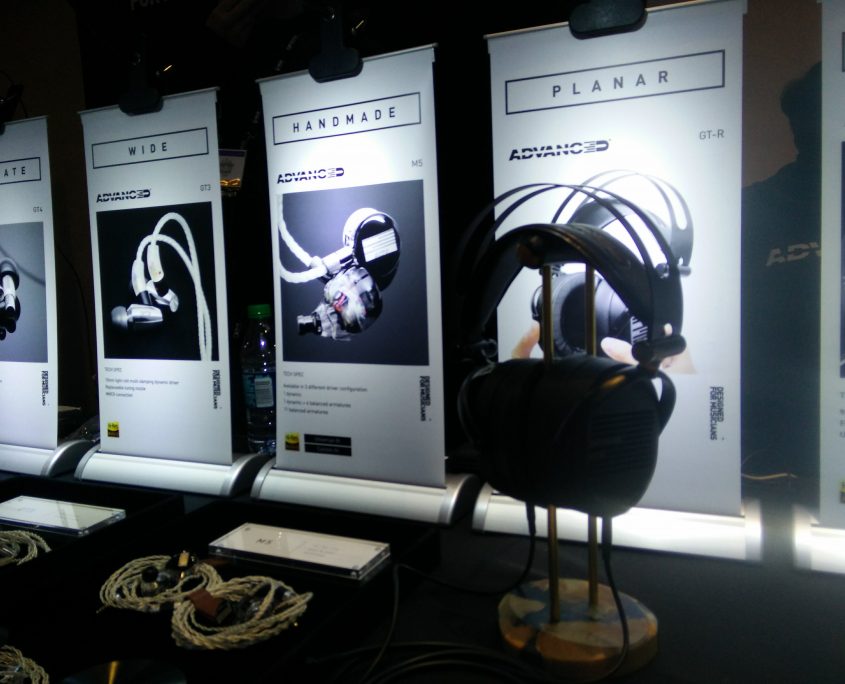 Advanced Sound:
Gotta go fast! Advanced Audio just came onto the show floor recently but they have already released a plethora of products! The majority of them are named after or referencing cars. Take for example the S2000 ($24.99), M4 ($39.99), Model 3 ($79.99), or the Evo X ($59.99) on their website! The highlight of the show was however their Alpha ($499); its a planar magnetic headphone with 96 mm drivers. The sound was clear and airy with very little color present.
And so ends my time well spent at CanJam Global NYC for 2018, looking forward to more surprises, and great times with my friends at next year's show.