CanJam Shanghai 2019 was an amazing trip for me. My first time in China and the international city of Shanghai was filled with both old Chinese architecture with the new modern city. The city is China's largest and has a population of 30 million people. The roads and infrastructure of the city were outstanding with high-speed bullet trains combined with modern and beautiful roads. The people in China are friendly and polite and go out of their way to make you feel at home. The City itself is clean and the shops and food were excellent especially in Old Shanghai.
CanJam Global's second show was packed with international and Chinese companies showing the best in personal audio products. Jude Mansilla and show producer Ethan Opolion did another outstanding job of presenting a spectacular show with over 70 companies exhibiting making this the largest CanJam in the world. The show was well attended both days with serious music lovers who were enthusiastic and enjoying the products that were being shown.
Anson Chan and his team offered outstanding support for the companies in attendance and the press felt very comfortable. Tom our Chinese interpreter and personal guide spoke English and made my journey to Shanghai exciting and was helpful in picking me up at the airport and getting me to the Marriott Hotel. The venue was a top tier experience with well-appointed rooms and outstanding service and food, the perfect venue for a CaJam event and one of the best hotels I have experienced at a show.
Thanks to our sponsors for the show which included Moondrop, SMSL, and Artvano who made my trip possible. The companies that sponsored this show made our coverage possible and we are excited to be working with them and they were gracious and hospitable and the CanJam Global team made me feel like family.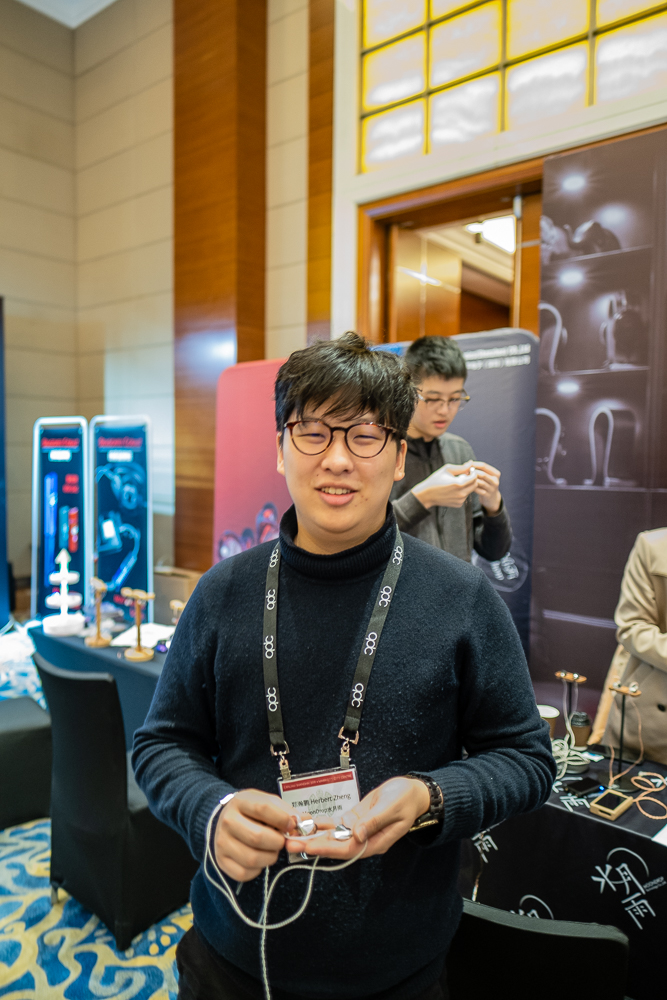 Herbert Zhang President of MoonDrop Technology Co. was showing a variety of IEM's that are sensational amazing product designs that are musical and creative.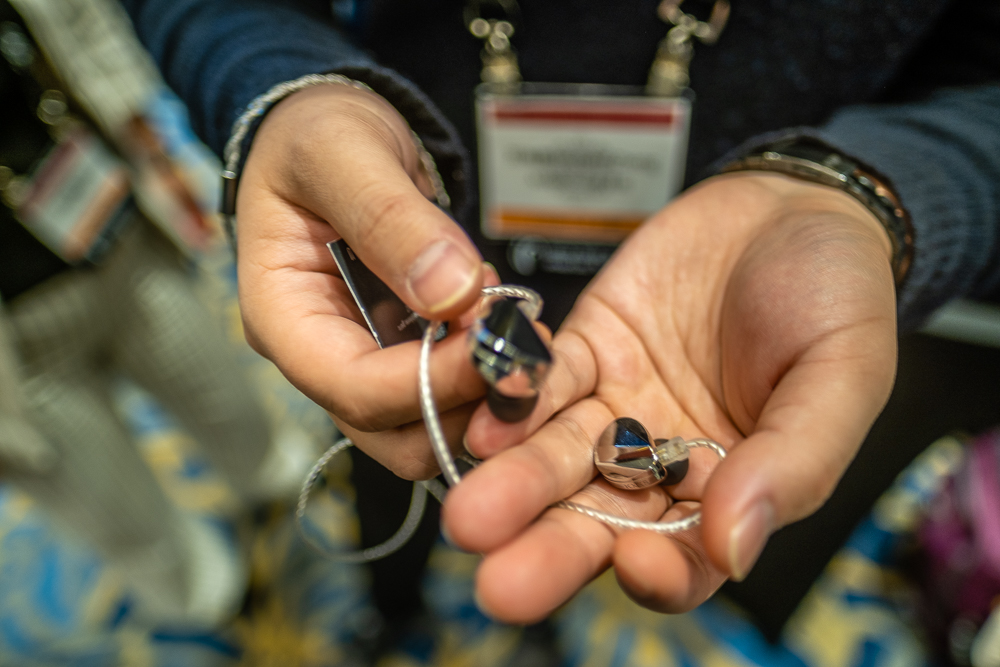 The single driver IEM was breathtaking. The sound was musical and sounded transparent with exceptional detail and priced at $199 is an amazing value. One of the nicer IEMs I have heard and uses only one driver. The midrange was clear and articulate with bass that was textured and loaded with detail in the upper frequencies. Herbert designed these to offer reference sound quality and they sure had my complete attention.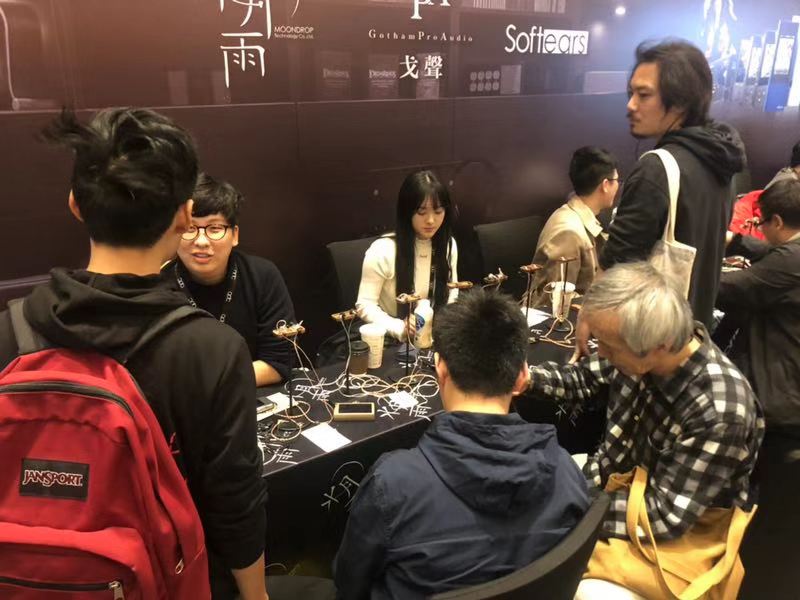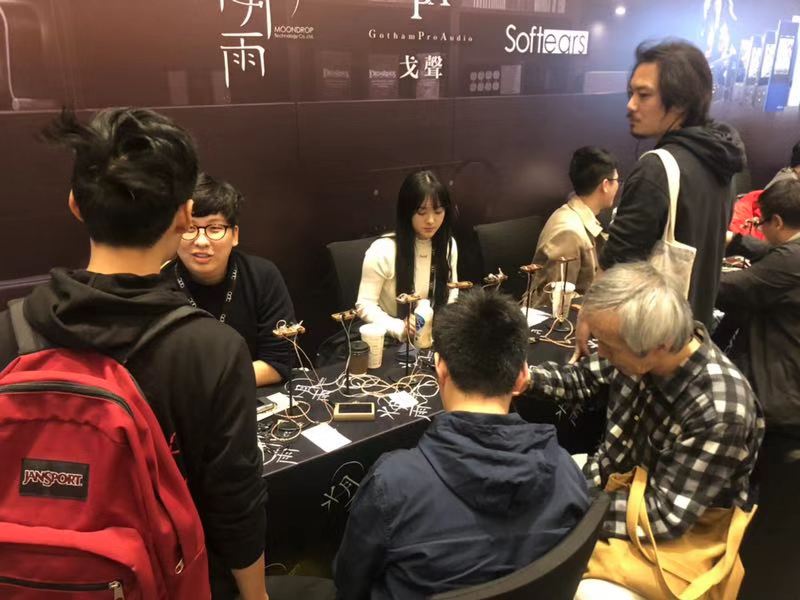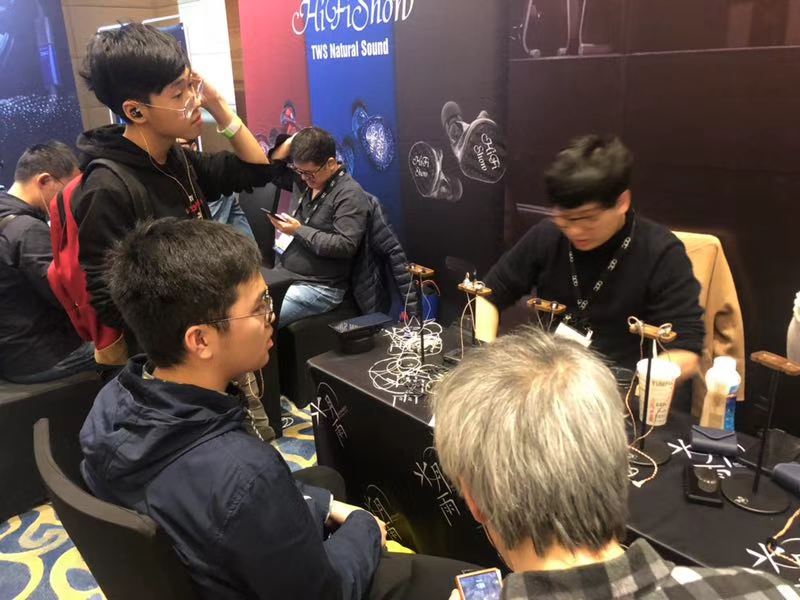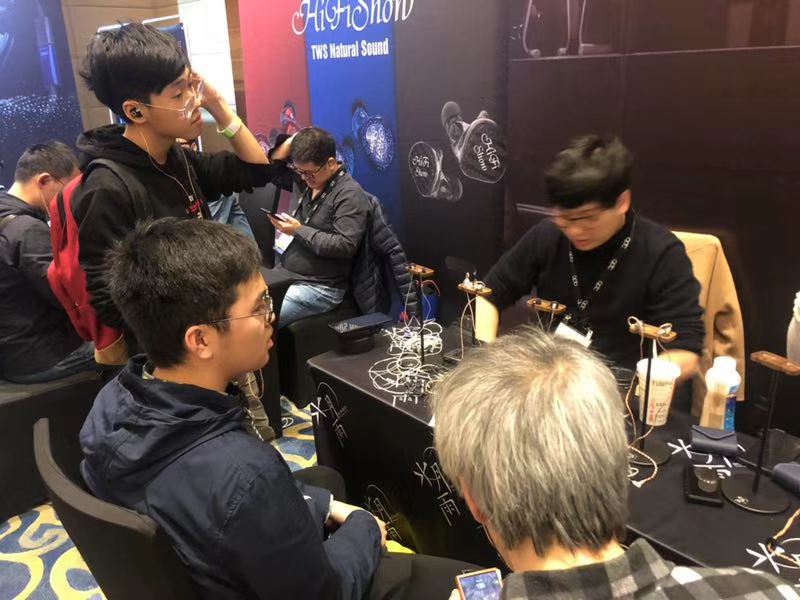 MoonDrop's booths were packed with listeners both days of the show. Herbert was busy answering questions and giving information to show-goers on his amazing ear speakers.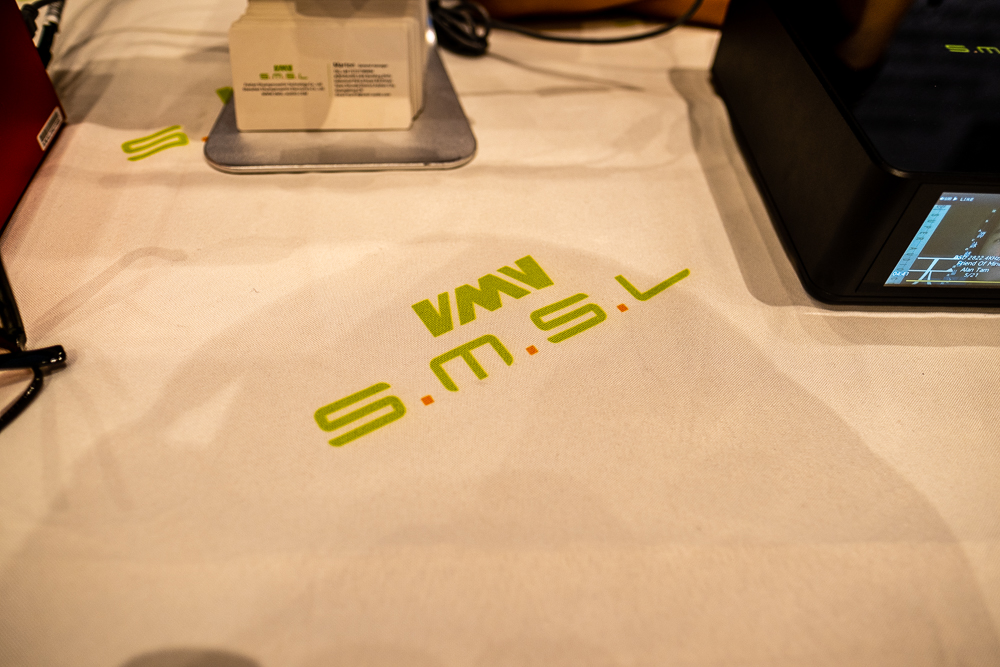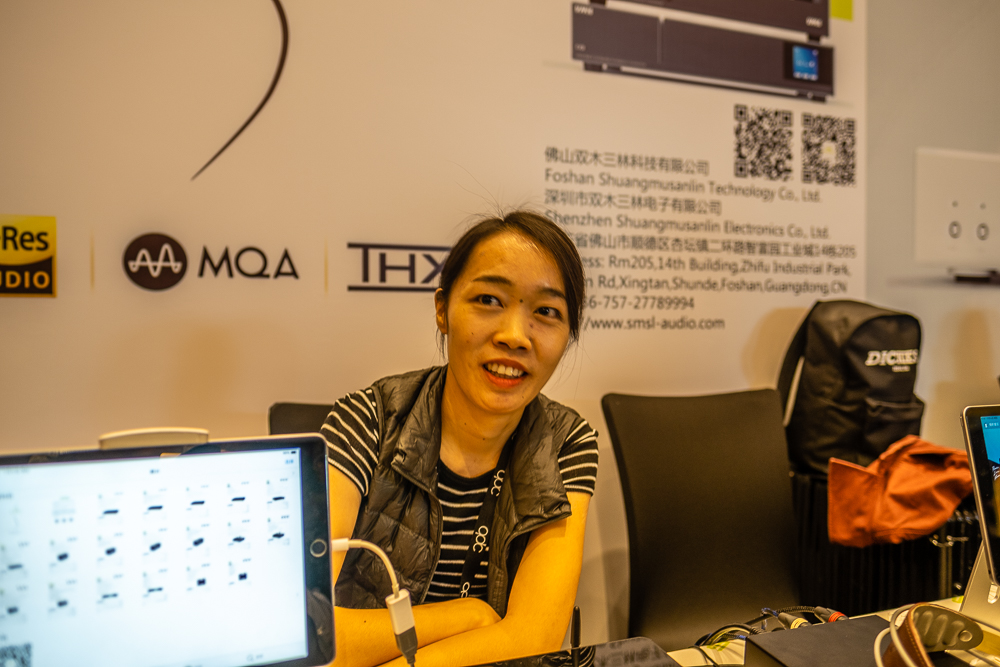 Kelly from S.M.S.L was explaining the technology behind S.M.S.L. outstanding amplifier/DACs all in one unit.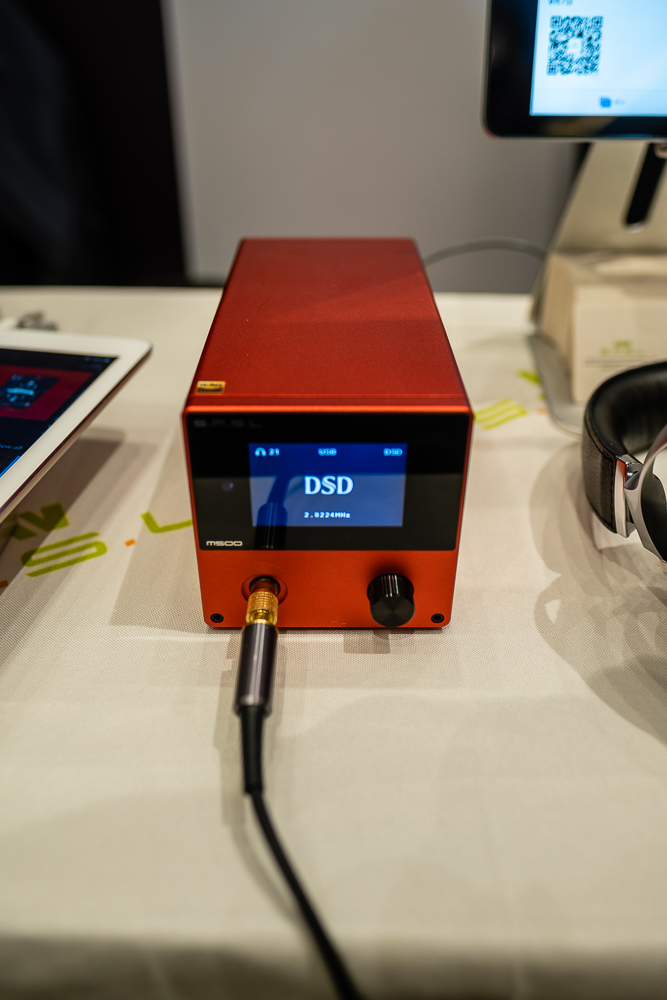 The SMSL M500 is packed with a terrific bunch of features. The small brick shape amplifier includes an MQA decoder that lets you listen to Tidal Master recordings and the sound is exceptional. I was impressed with the sound and the features packed into the product offered for only $399 US. It was one fo the best amplifier/DAC combo's at the Shanghai show and a huge overachiever at this price point.
XMOS XU-208, true 32bit audio processing, supports DoP and Native DSD, as well as sample rates up to 32bit/768kHz and DSD512;
All inputs support DSD streaming, including coaxial and optical (DoP64);
Built-in shielded, low noise power supply providing quality sound while improving power efficiency for lower power consumption;
Equipped with full-function remote control;
Ultra-low phase noise and optimized clock processing circuit are used to achieve ultra-low clock jitter;
The S.M.S.L M500 is an extraordinary value with reference-quality sound and built to last. The product would go well in any office and is offered in RED or Black. The Red makes this a striking conversation piece and would fit well on anyone's desk in either your home or office.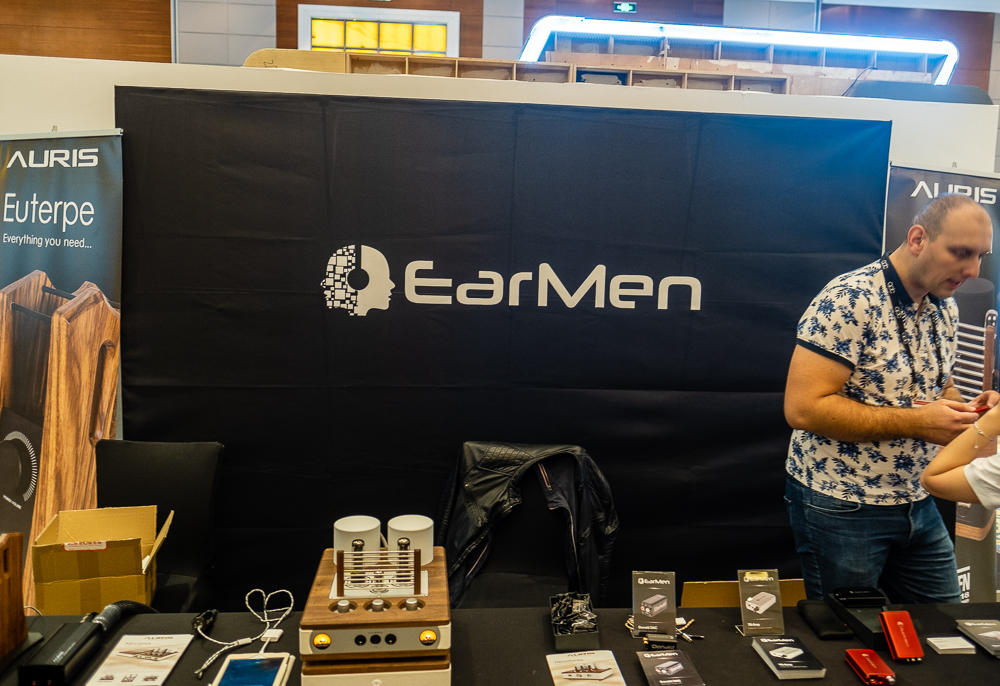 EarMen, the second company founded by Miki Trosic from Auris Audio, was showing their new portable amplifiers and DAC's.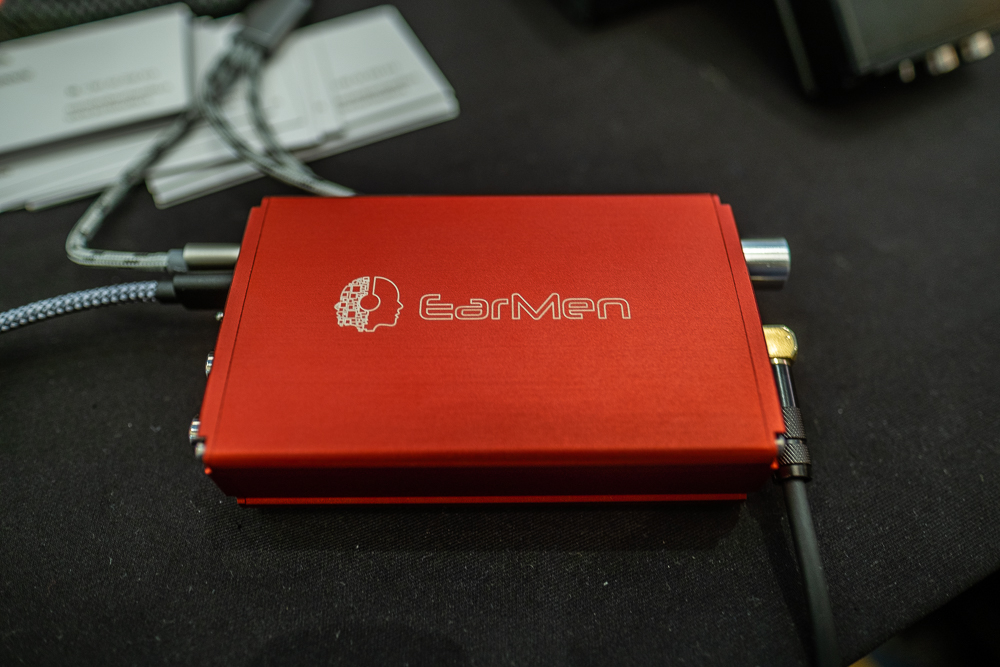 The TR-Amp is a solid-state amplifier that delivers exceptional transparency and sounded excellent with clarity and musicality that nailed instrument tonality while delivering jaw-dropping dynamics in a small package. The all in one unit includes the ESS 9018 DAC chip. The TR-Amp has an outstanding headphone amplifier and does DSD 256, PCM, and MQA. The sound is exceptional and offers the listener and outstanding listening experience for $199 US. Exceptional and I predict it will be a huge success and tremendous value.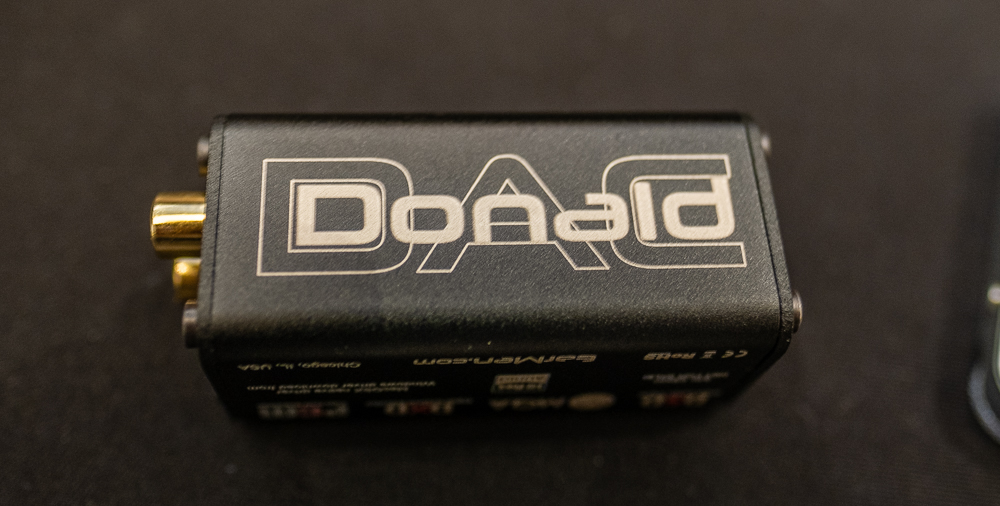 The Donald DAC is a portable DAC that uses the Cirrus Logic chipset. The DAC priced at US $99 is a statement from EarMen of what is possible in affordable products. The DAC does DSD256/128/64 and is capable of PCM up to 32/384 kHz. It includes RCA output and is offered at an incredible price with exceptional sound quality. Two outstanding products from the mind of Miki Trosic.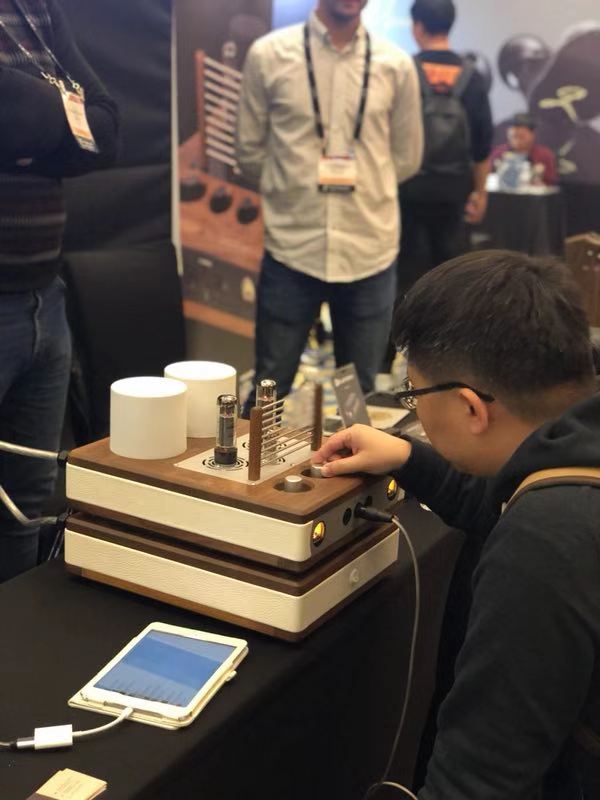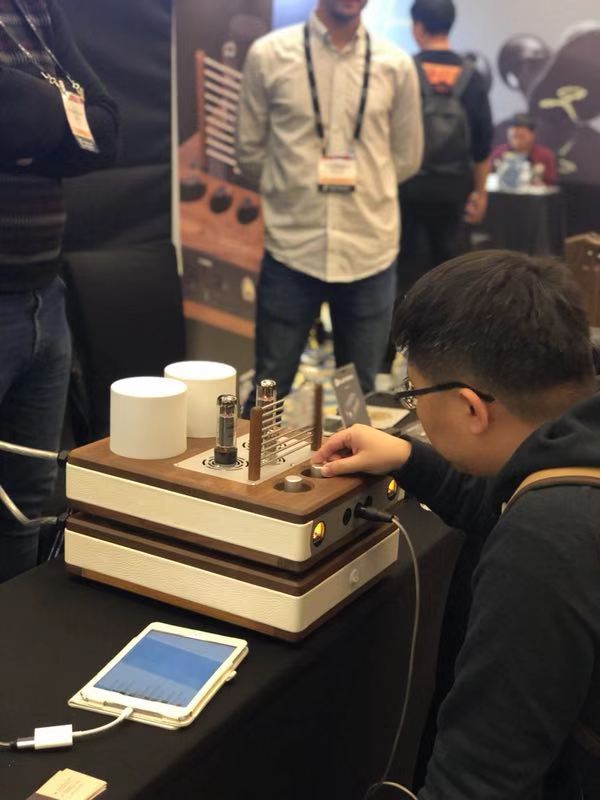 The Auris Nirvana offered at $5750 uses two EL 34 tubes to drive any headphone. The input selectors make it outstanding to match any difficult headphones. The sound is musical and reference-quality with no compromise in sound quality. The Nirvana is one of the best headphone amplifiers in the world and the striking wood design wrapped in leather makes this a conversation piece. The sound is exceptional and will get the most from any transducer currently in production. Made in Serbia and designed for the most discriminating listeners who want the best performance and musicality.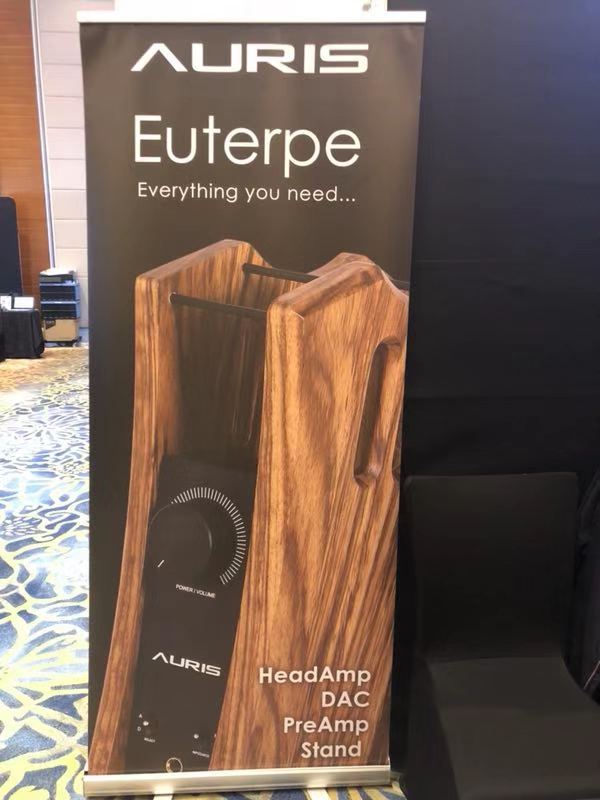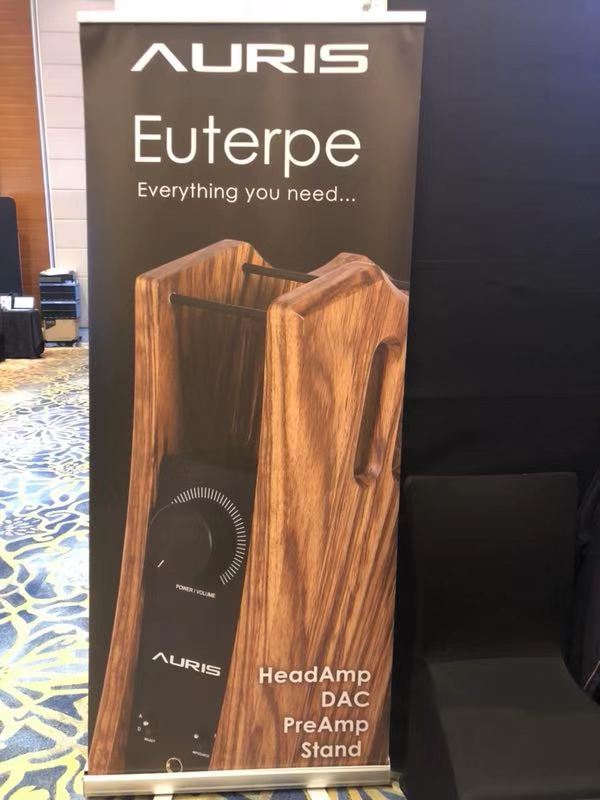 The Euterpe includes a world-class ESS Sabre DAC. The wood base can also hold your headphones on top when not in use. The Sabre DAC chip used is the highly regarded ESS 9018 which can convert DSD64, DSD128, and PC max at 32 bit/384kHz. ESS DACs are known for their inner detail retrieval, transparency, and musicality.
The separate included power supply has a switch in the rear to turn it on and off. The Euterpe also has a preamp which can be used in a HiFi system to drive amplifiers and work as the centerpiece to make your system come alive. Priced at $1699.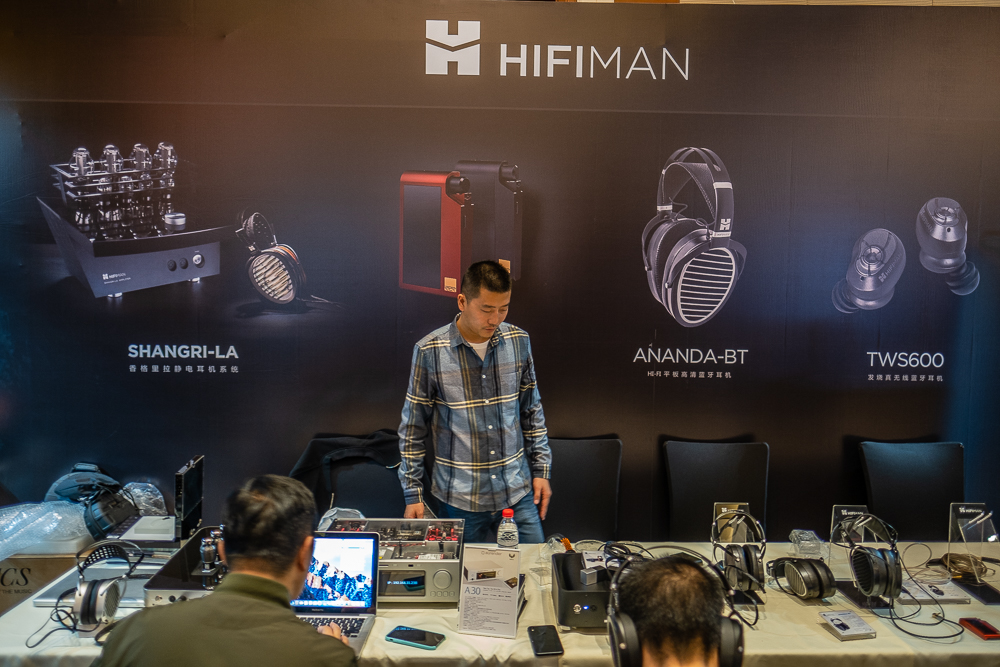 HiFiMan was showing their entire line of products. The TWS600 IEMs were introduced and priced at $199. The Headphone.Guru Wireless IEM of the Year is an exceptional design by Dr Fang Bian and the sound is dynamic and exceptional with terrific musicality.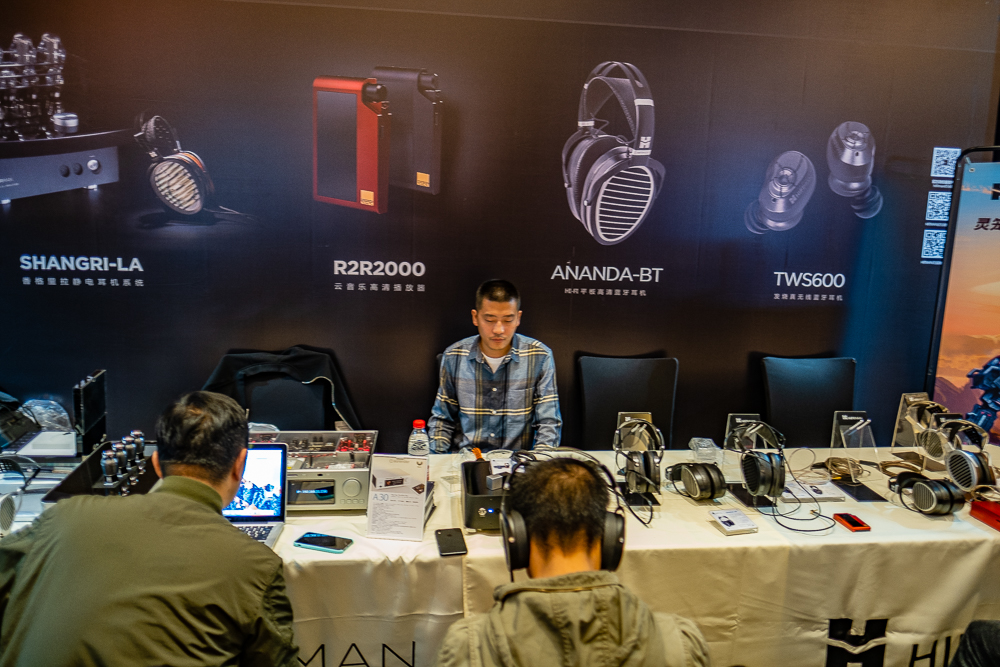 The Ananda priced at $999 uses their NEO Supernano diaphragm which is 80 percent thinner making it a fast and more musical design. The 103 dB efficiency makes it easy to drive using any portable player amplifier. Comfortable for long listening sessions with its lightweight contemporary design. The sound is pure HiFiMan with a musicality that punches way above its price point.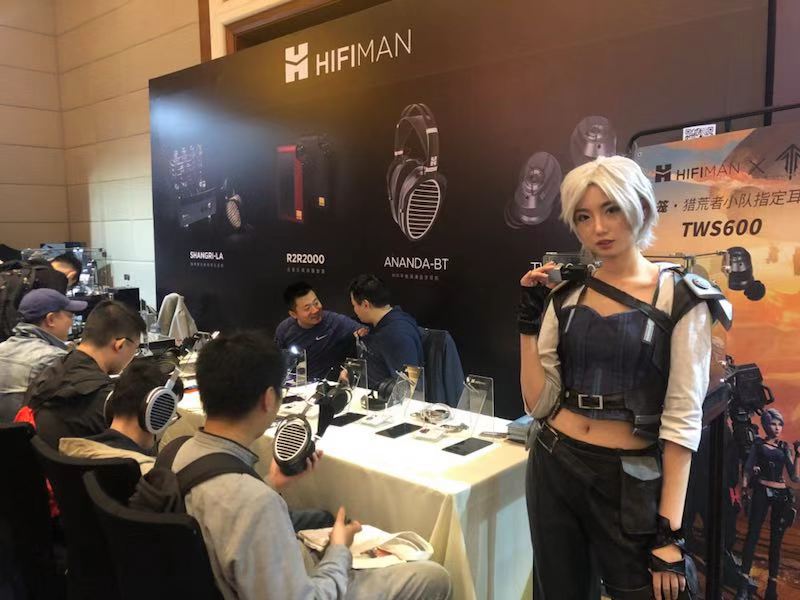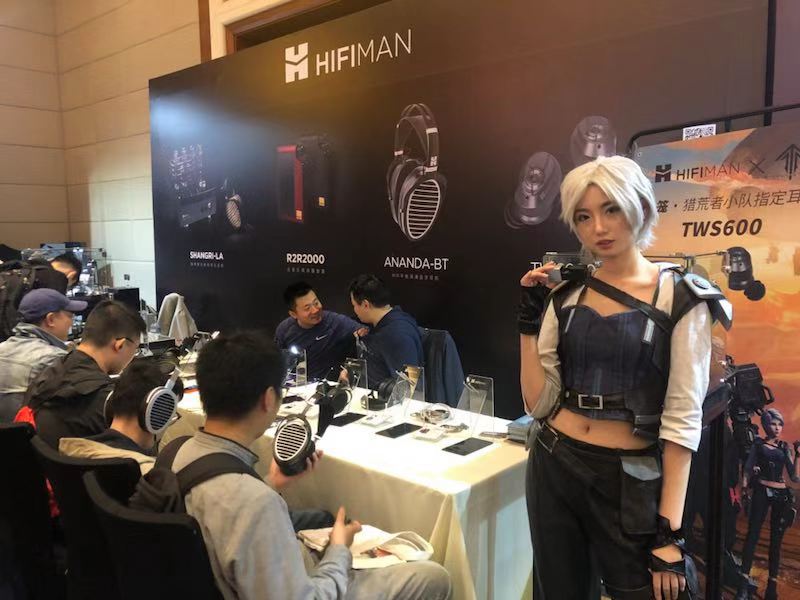 The HE1000se is one of the best headphones in the world. The soundstage is the widest and deepest of any headphones I have used. The dynamic design offers excellent textured bass and has that pristine upper treble extension HiFiMan is known for. Priced at $3500 it is a no-compromise design that offers both dynamics and musicality'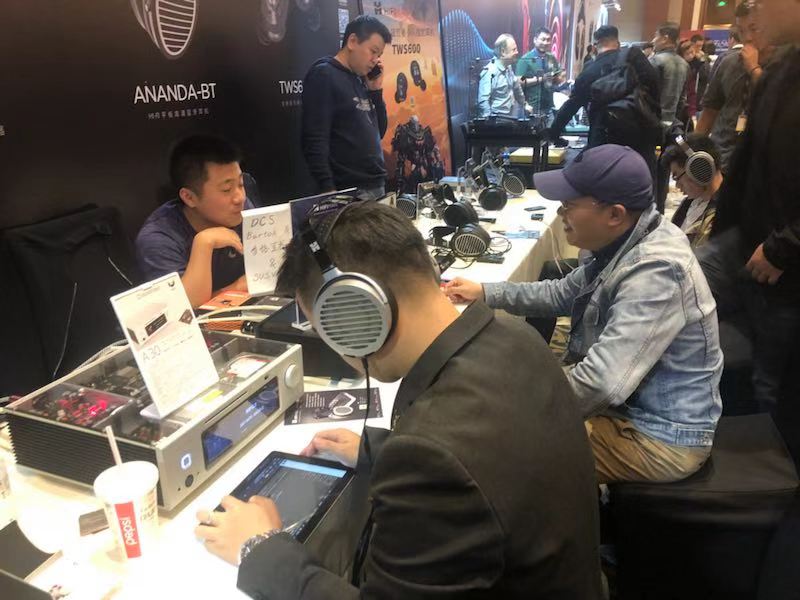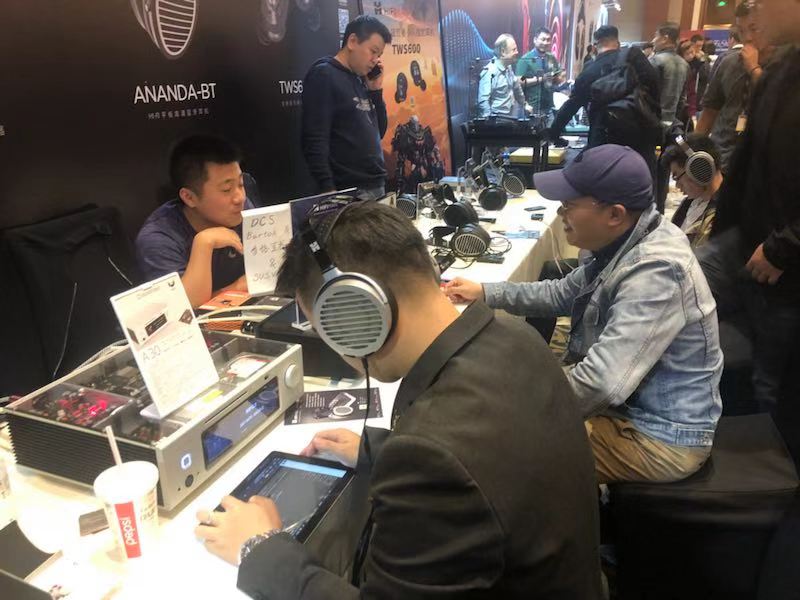 The top of the line Susvara offers some of the best transparency of any headphone currently in production. The demanding design works best with top tier sources and amplification and creates one of the best experiences in soundstage, transparency, and detail. Listeners who want the most from personal listening will appreciate the Susvara. Priced at $6000 US.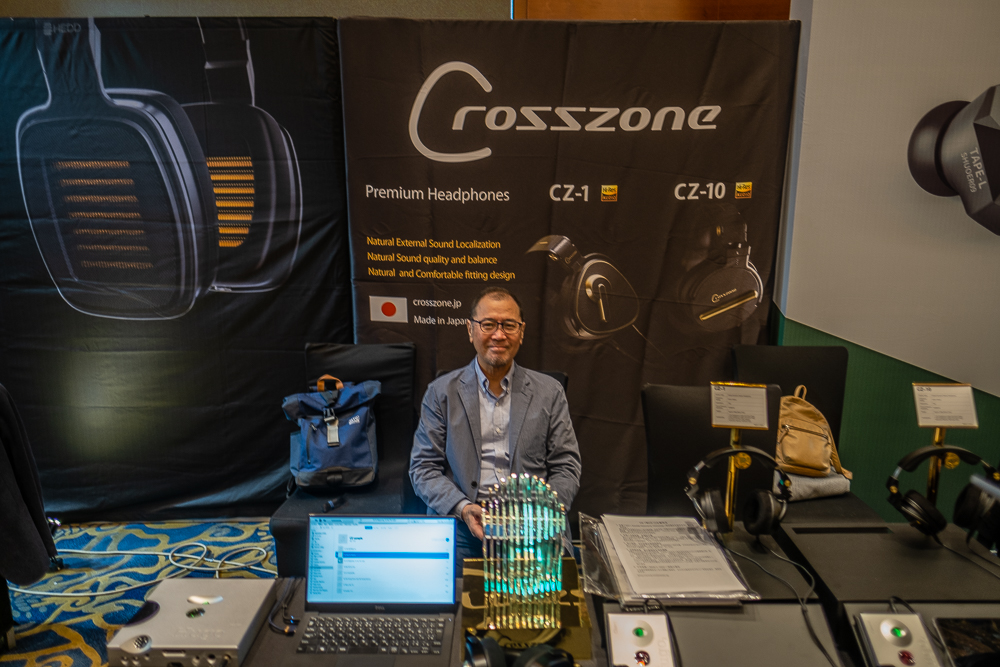 The Crosszone CZ-1 employs two drivers, a 23mm tweeter and 40mm woofer, for the direct signal, with an additional 40mm driver for the crosstalk and produces the rear wall reflections and timing corrections using acoustical chambers. The design is 97 dB efficient and made in Japan. The reference design priced at $2500 is unique offering exceptional transparency with good detail retrieval and designed to remove the room from your listening experience. The Crosszone CZ-1 is an exceptional transducer that will please anyone looking for the best sound without compromise.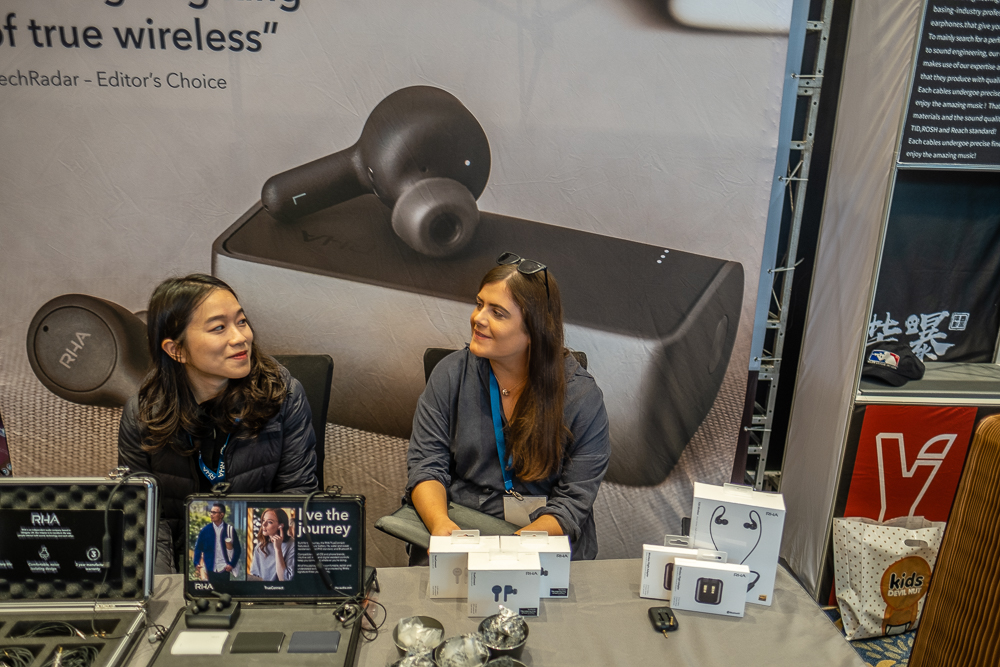 Rebecca Tobin made the trip from Scotland to show the RHA products. TrueConnect wireless earphones $169 were being shown and offer good value.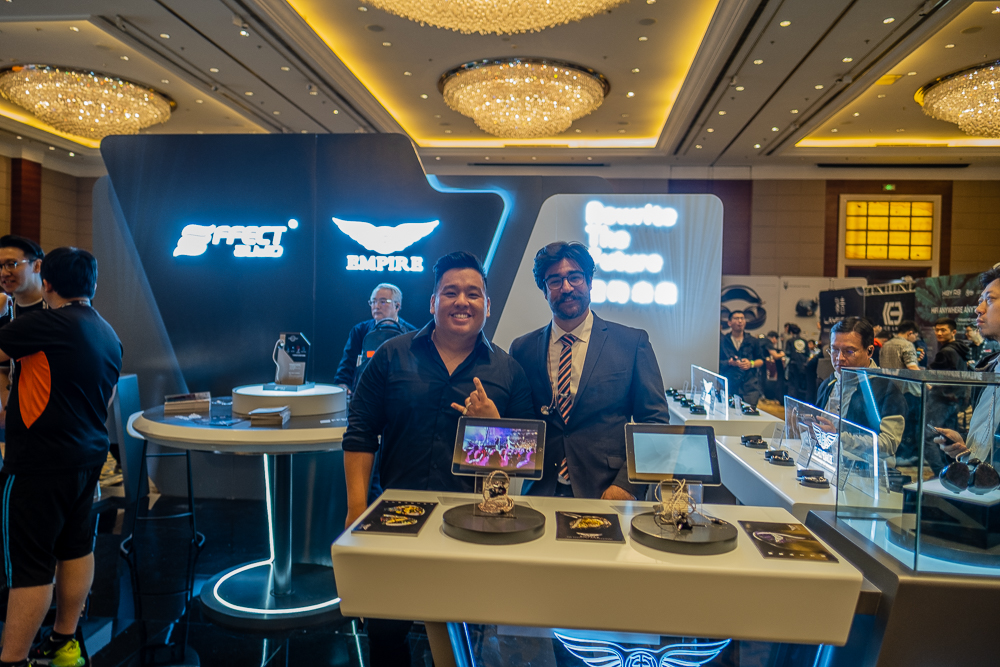 Jack Vang from Empire Ears was there sharing a custom-built booth with Effect Audio.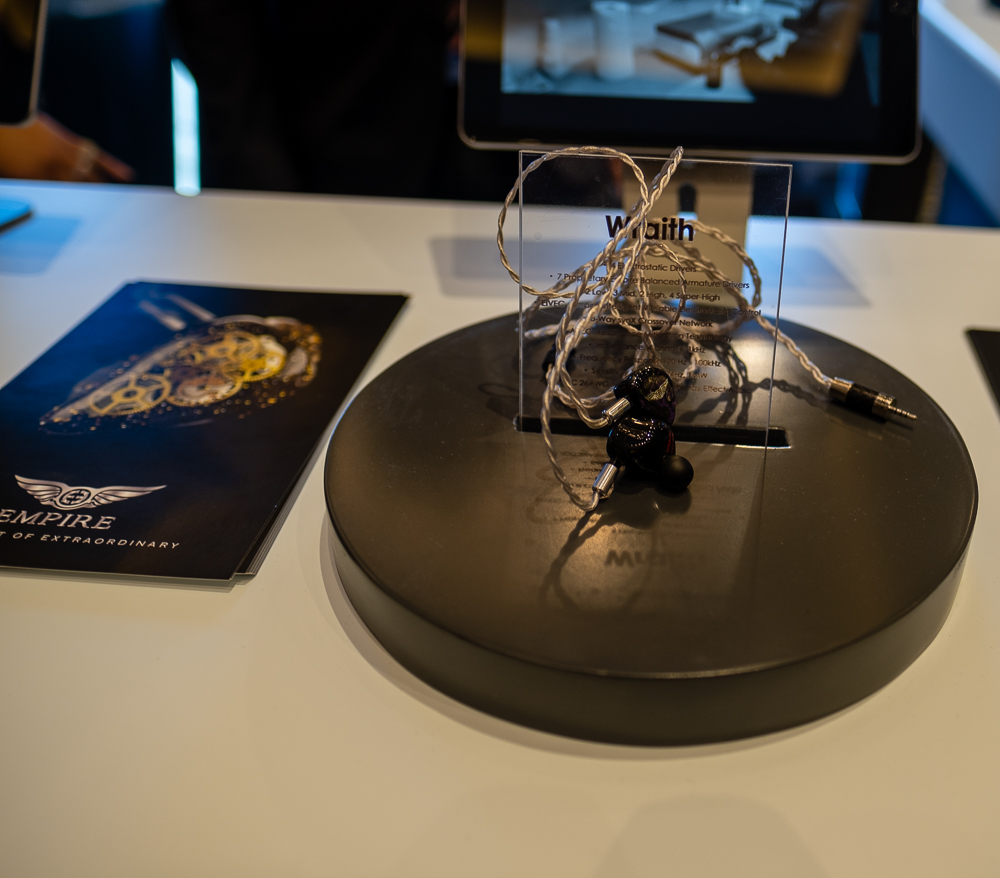 The Wraith priced at $3499 utilizes quadruple electrostatic driver in-ear monitor. The Wraith has 11 drivers four of which are EST drivers and 7 balanced armatures. The inner detail retrieval was excellent with an exceptional soundstage. The Wraith takes you to the front seat of the listening room and includes the Effect Audio Cleopatra cable standard.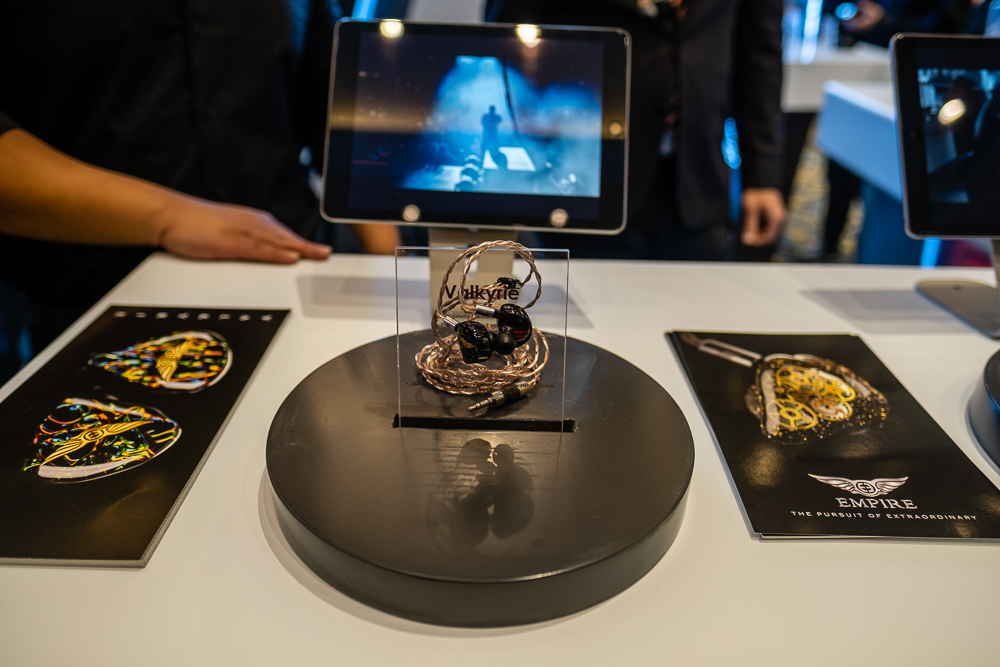 Shown Here with the Cleopatra Cable from Effect Audio of Singapore.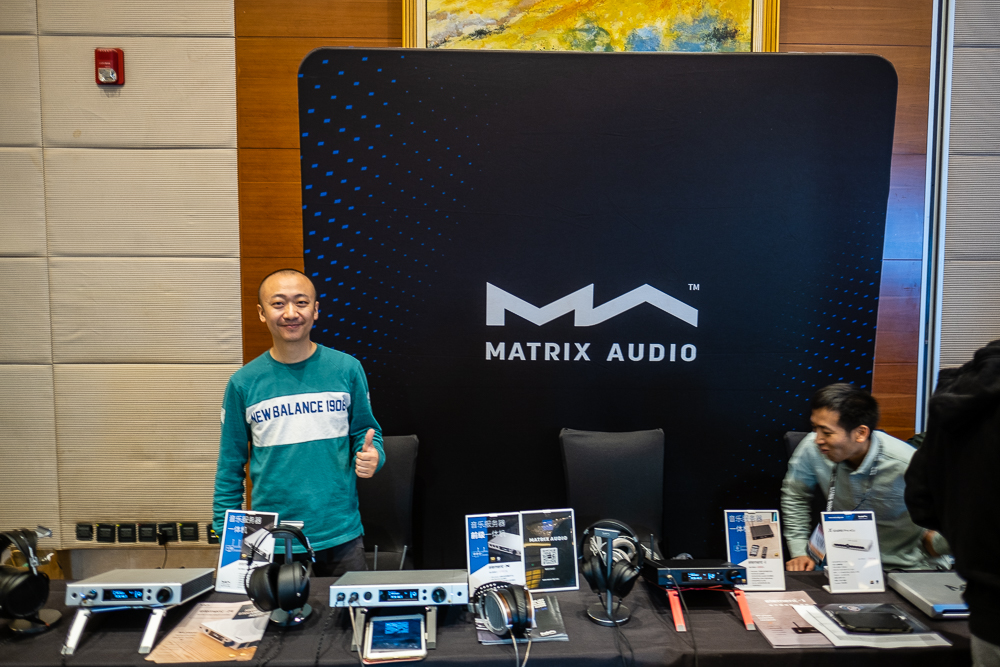 Matrix was showcasing their all in one digital solution. The price is starting at $1999 and includes an ESS Sabre Dac, Music Server and headphone amplifier. The unit has a built-in headphone amplifier and also includes a world-class DAC that can do DSD, PCM, and MQA and will use Qobuz, Tidal, and Roon easily. Outstanding products designed to provide high-quality sound and upgradeable with firmware.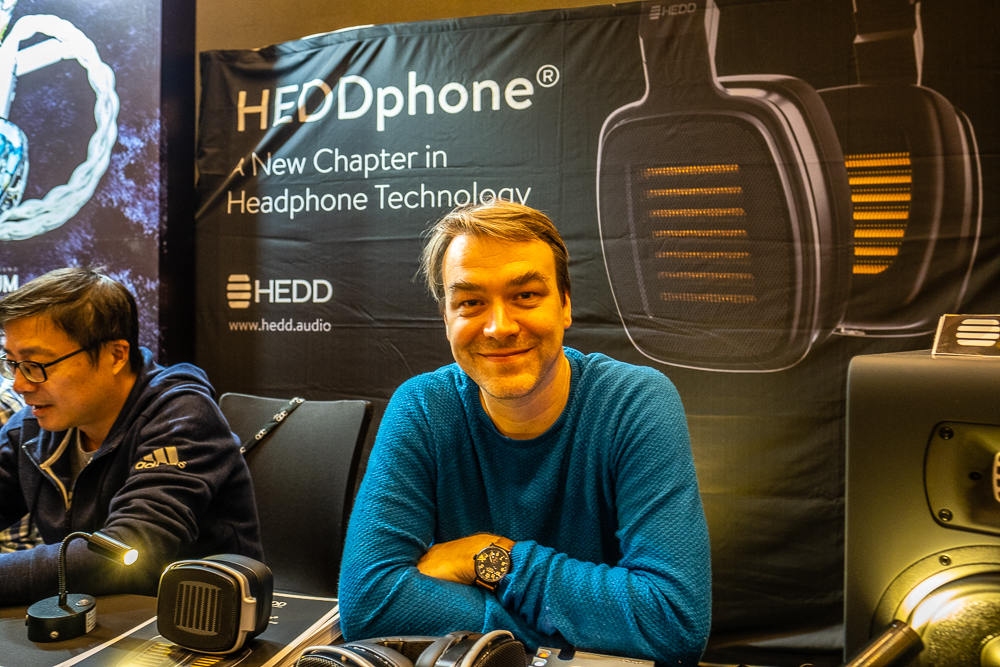 Dr. Frederick Knop CEO of HEDD which is located in Berlin was on hand to discuss his new air motion Headphone.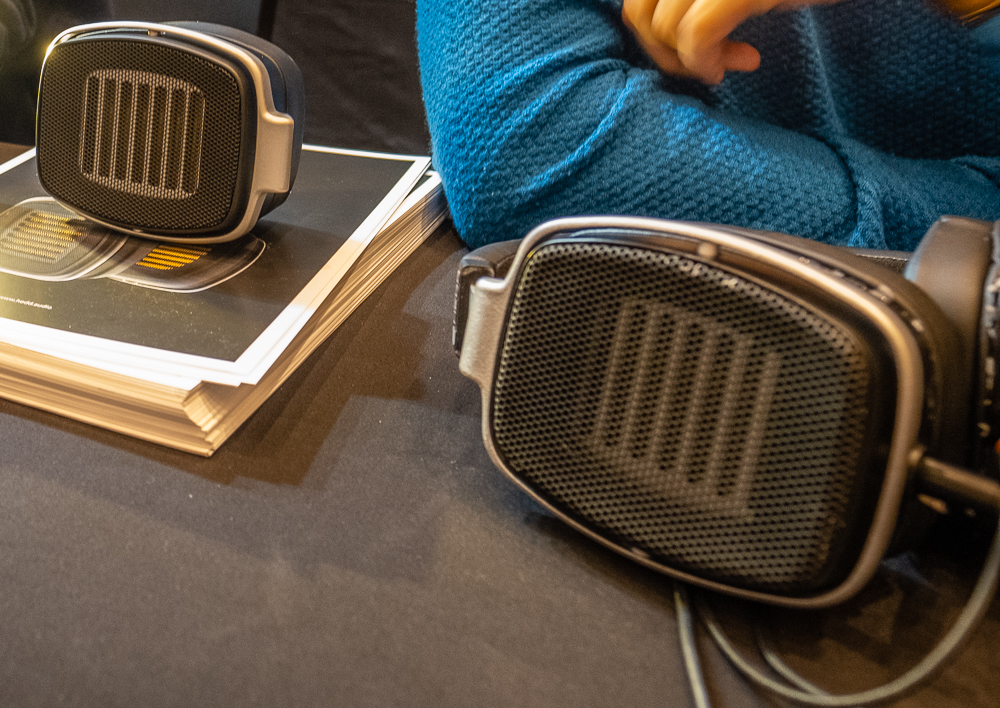 Now in production after years of research the HEDDphone is like a speaker on your head with the air motion technology. Dr. Knop is a musician by trade and developing Pro Audio speakers for musicians wanted to develop the worlds best headphone. The new HEDD is dynamic and sounds exceptional with outstanding transparency and the tonality of instruments sound lifelike.
The HEDD has deep-textured bass with a midrange that is so realistic you can feel the music as if you were at the event with an extended pristine treble that makes listening to saxophone and trumpets special with a soundstage you would hear in live performances. Priced at $1699 this exceptional headphone is sure to take the world by storm and is made in Germany.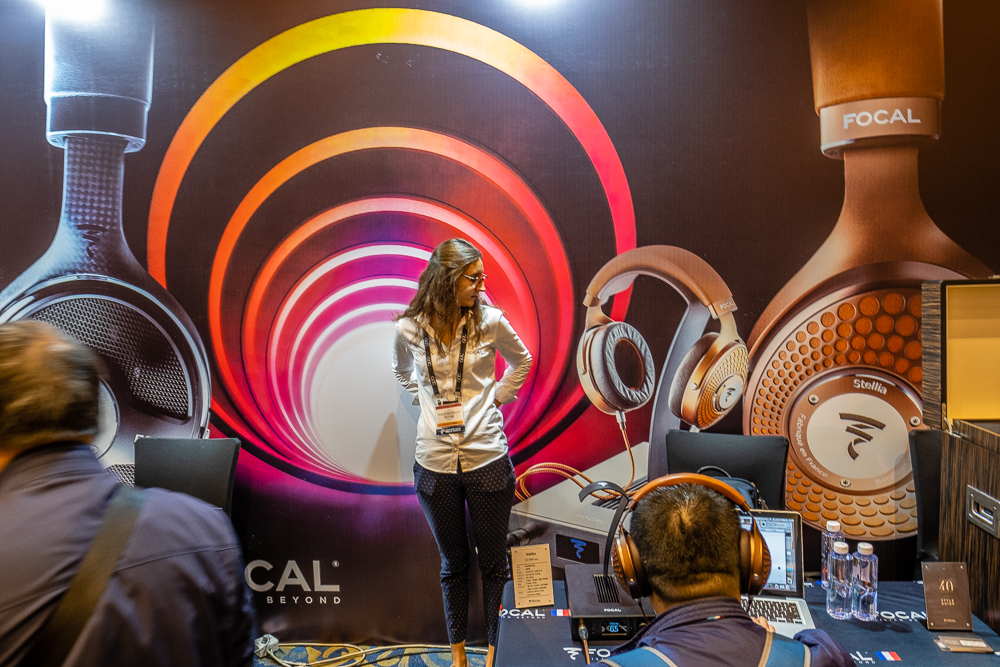 Focal was showcasing the Utopia and Stellia headphones and was busy at the booth showing their two flagships.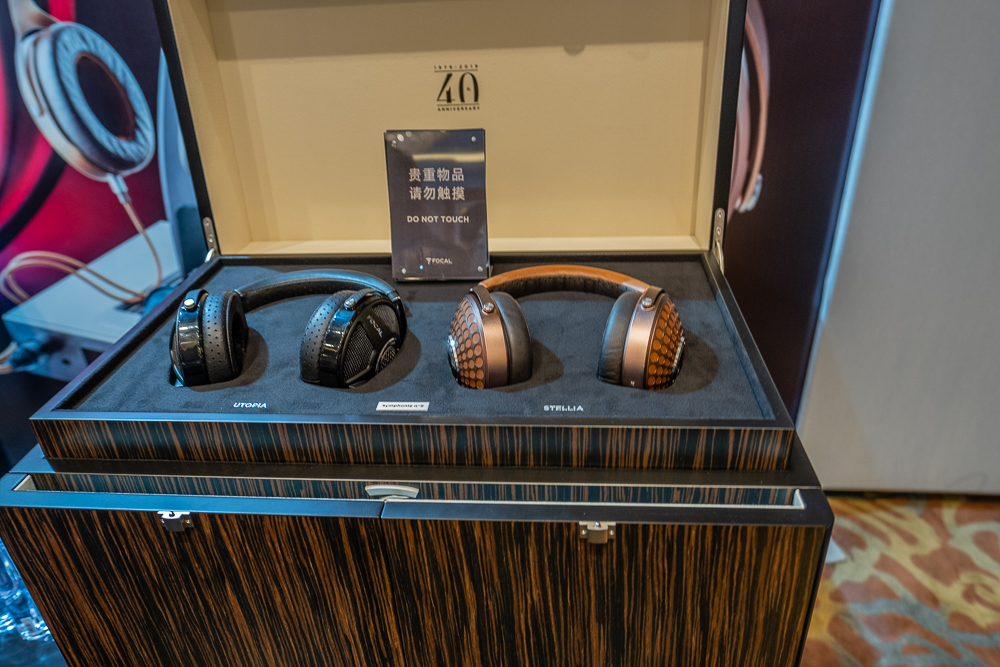 The Utopia priced at $4000 offers an open soundstage that is well defined and fully layered. The midrange is musical and takes the listener to the venue. The Stellia priced at $3000 US is basically similar to the Utopia but is a closed-back headphone that gives you most of the sound of the Utopia in a more personal closed design. Designed for music lovers both are some of the finest headphones manufactured in the world. My closed reference headphone is the Stellia and a Headphone.Guru Product of the Year.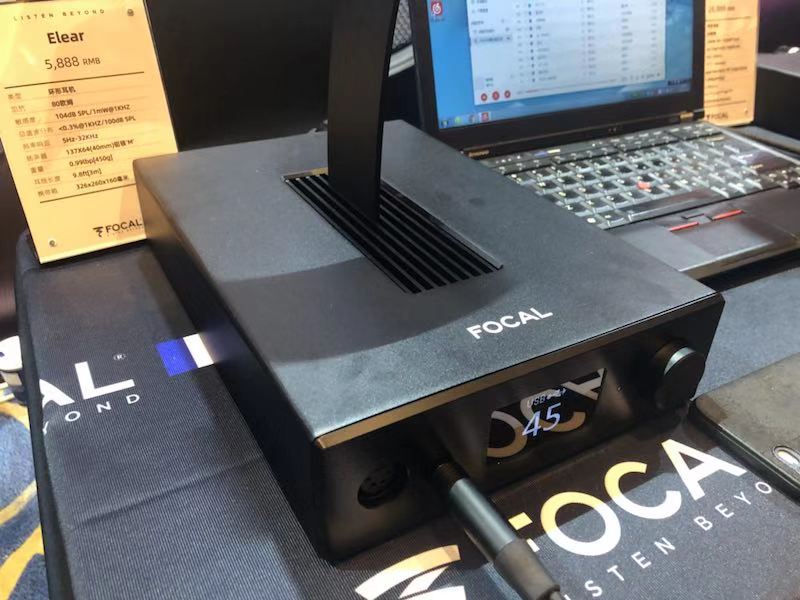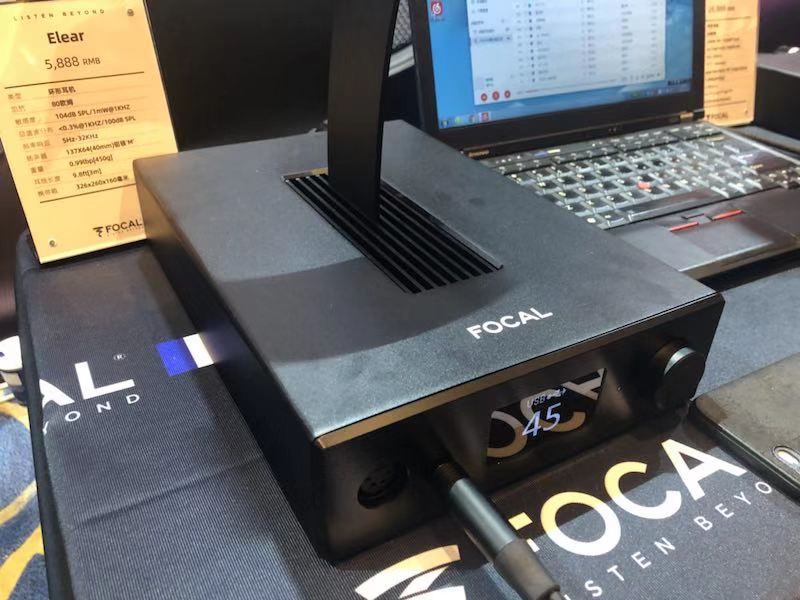 The Focal Arch is a world-class headphone amplifier that includes a high-resolution DAC. The all in one solution works well with any headphone and is designed and built for top tier performance.
Using two AK 4490 digital to analog converters it can process up to 384kHz as well as DSD 256. The amplifier is pure class A and designed specifically for headphones. The voltage, hybrid design allows the listener to select what is best for the headphone being used. Included is a stand that can hold the headphone when not in use. Priced at $2499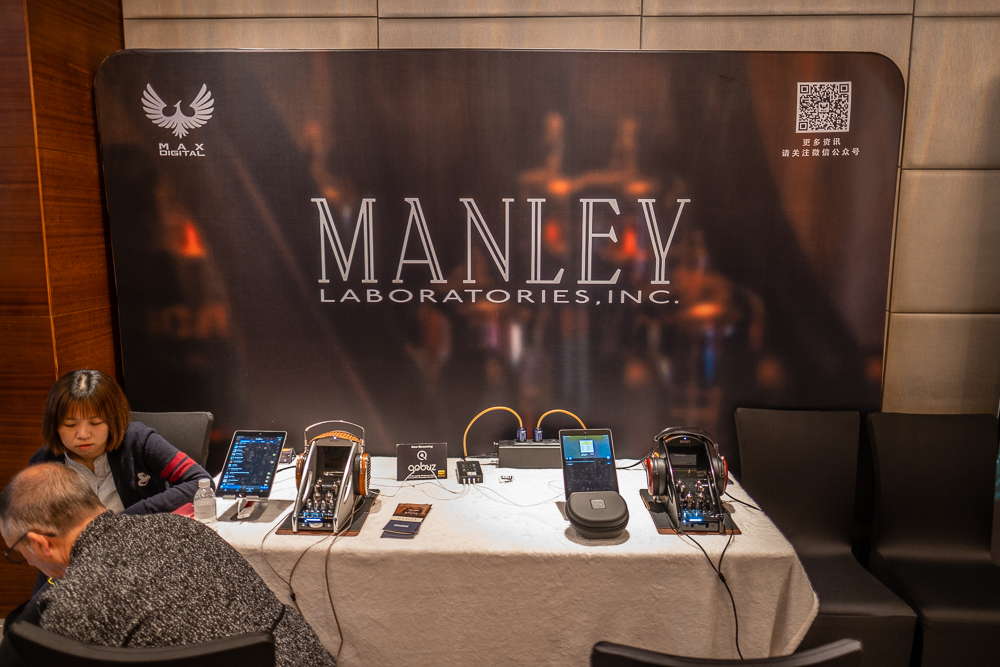 EveAnna Manley is one cool lady who gets it and understands what the music enthusiast wants in their products. The Absolute Headphone Amplifier is designed with 2 12AX7 and 4 6AQ5A (EL90) driver tubes. The Absolute has a triode Tube output stage and is switchable to single-ended or Push-Pull. The unit is also a preamplifier and offers 2 RCA inputs with one preamp output. The output is adjustable to 16, 62, and 200 ohms so it will accommodate most headphones.
The output and jacks are all rear designed making this an excellent choice for desktops and top of rack placement. The design took 5 years to develop and is one of the best designs released in 2019. The adjustable stages make listening to your favorite headphones tunable to your desired sound. Powerful and graceful the Absolute Headphone Amplifier by Manley is a total listening experience that is addictive and magical which earned it a Headphone.Guru Product of the Year award. Priced at $4500 US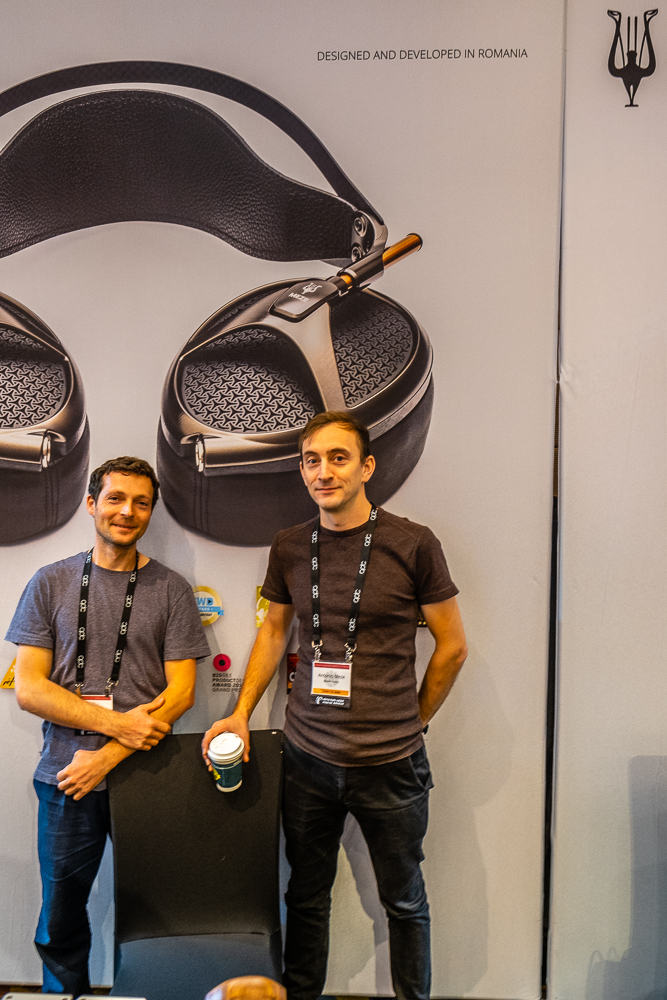 Antonio Meze was present to the right in this picture. Seeing Antonio is always a great experience knowing the man since he started developing the first Meze headphone design the 99 Classic.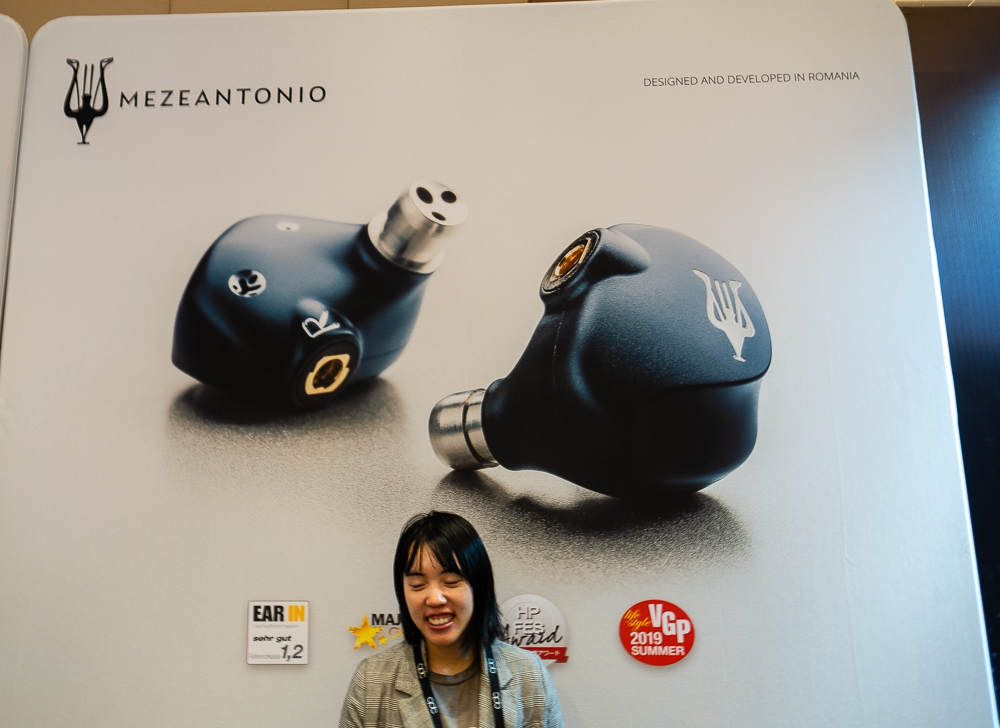 The new RAI Penta IEM 5 driver design offers a balanced and detailed sound with exceptional musicality. The hybrid technology delivers without any phase issues. The drivers work seamlessly and deliver exceptional tonality and are lifelike in delivery. Exceptionally priced at $1099 is another world-class design from Meze that needs to be heard to see what is now possible in in-ear monitor design. Headphone.Guru Writer's Choice Product of the Year.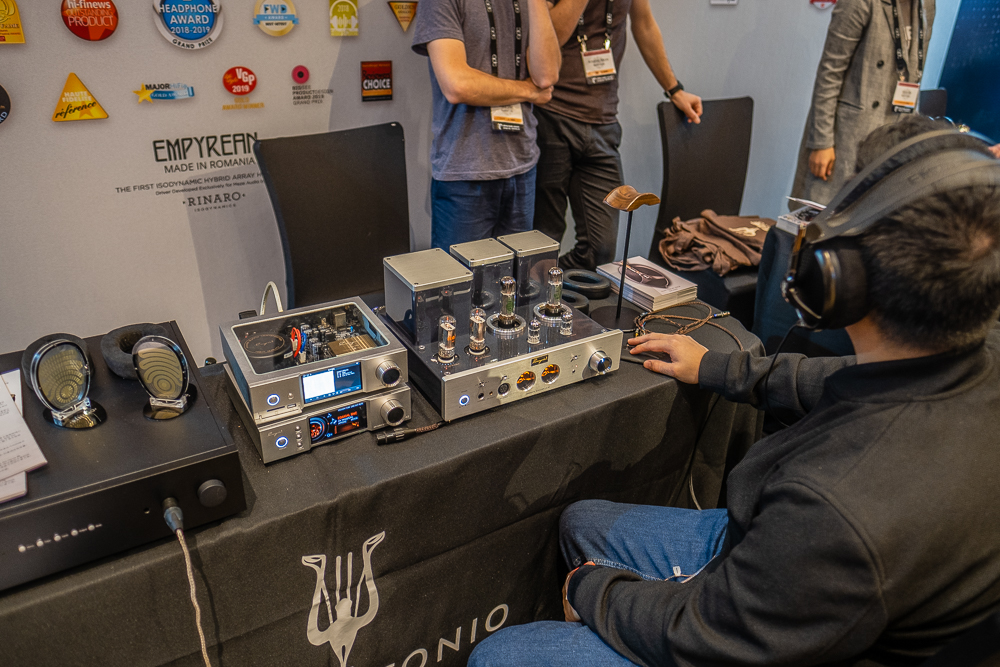 Antonio Meze has quietly been creating new designs that are sensational. The Empyrean Planar Magnetic design is the world's first Isodynamic Hybrid design, priced competitively at $2999 it offers top quality materials in a light and comfortable design which makes long listening sessions a total experience. Paired with this new Cayin EL 34 amplifier priced at $2000 US it was synergistic and exceptional and a must-listen for realistic music coming to life, earning Meze Audio a second Headphone.Guru Product of the Year award.