Musicians and regular attendees of CanJams will be familiar with the name Rupert Neve. Rupert Neve began designing custom mixing consoles for the music industry back in the 1960s and his current company Rupert Neve Designs continues in that tradition, building custom mixing consoles, microphone preamplifiers, equalizers and accessories for Pro-Audio. Fidelice is a new line of Reference Consumer Audio products created by Rupert Neve Designs with the intent of bringing studio-quality sound to the average music lover, and the Fidelice Precision Digital-to-Analog Converter is their opening salvo.
"As the Artists Intended" is a phrase bandied about a great deal in the audiophile community, but as the recording you are listening to was most likely created using Rupert Neve mixers and related equipment, it couldn't be more true than when applied to the Fidelice Precision DAC since you are essentially hearing it the same way that the musicians and producers heard it when they created it.
Fidelice Precision Digital-to-Analog Converter: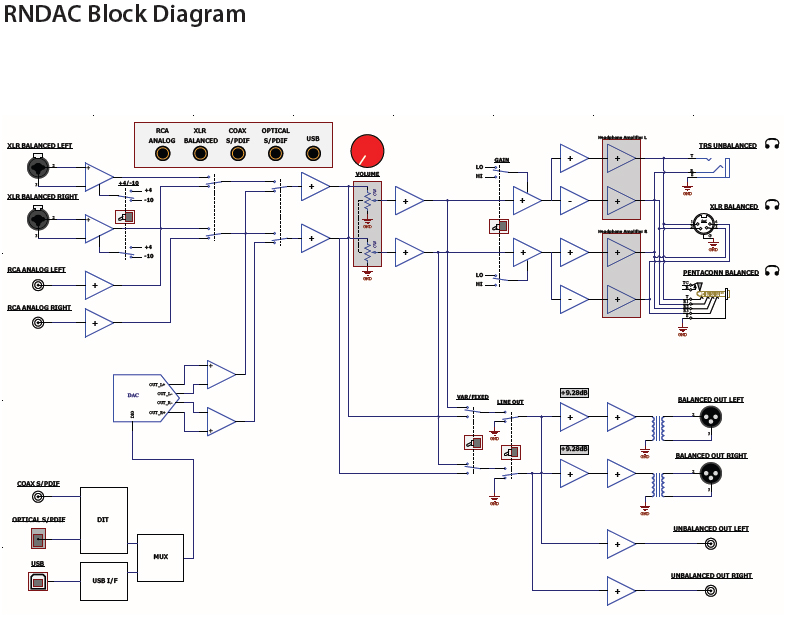 The Fidelice Precision Digital-to-Analog Converter is a full feature DAC with a built in Preamplifier and a separate built in Headphone Amplifier. As I have been preaching for the last several years, Rupert Neve embraces the concept that the most important part of a DAC is the analog section, and for this reason the Precision DAC is built around pure Class-A topologies. For the preamp outputs you have both single-ended RCA outputs and balanced XLR with a switchable variable output stage and separate amplifier sections incorporating transformer balanced XLR outputs similar to those used in their studio designs.
Likewise, in the Headphone Amplifier section, there is a full second amplifier dedicated to the negative feed of the balanced outputs providing a true push/pull amplifier configuration, as well as a switchable gain stage to affect high or low gain. The single-ended output is via ¼" TRS and balanced output has both four-pin XLR and TRRS Pentaconn connections.
For inputs you have two sets of analog inputs, one balanced and one single ended. The balanced input accepts either XLR or ¼" TRS (common in Pro-Audio) connectors and can be switched between +4dBu Nominal (common Pro-Audio level) and -10dBu Nominal (common in consumer audio). The single-ended input is RCA and -10dBu Nominal.
For digital inputs you have Coax and TOSLINK S/PDIF inputs capable of up to 24/192 kHz and USB able to handle 32/384 kHz and DSD512 (Windows OS only, MAC OSX = DoP128).
The appearance of the Fidelice Precision DAC is elegant in keeping with a reference product. The faceplate is trapezoidal with rounded corners. The case is 1/8" rolled aluminum with a triangular mahogany inlay in the top sporting Rupert Neve's signature cut into the surface. On the front panel you have a toggle switch for "Line Out" (ON/OFF does not affect headphone amp), a toggle switch for "Gain" (HI/LO), "TRS Unbalanced" output, "XLR Balanced" output, "Pentaconn Balanced" output, five lighted buttons for "Source" ("RCA Analog", "Balanced Analog", "Coax S/PDIF", "Optical S/PDIF", and "USB"), "PCM" and "DSD" lights (sample rate lights are directly below), and a large burgandy machined aluminum volume knob.
Two features of the back panel that have not yet been mentioned are the Micro-USB Firmware Update Port and a five switch dip-switch for the DAC Digital Filter Options and mode selection.
The Digital Filter modes are not necessarily what you are used to:
All switches up gives you Slow Roll-off, Standard Group Delay. This is the default and what the engineers at Rupert Neve prefer. Each switch affects a different characteristic and are interactive.
Super-Slow Roll-Off Filter
Short Group Delay
Sharp Roll-Off Filter
AKM DAC "High-Quality Sound" Mode (works with both PCM and DSD)
Low/High Pole DSD Filter (DSD only)
The first three filters are fairly standard and deal with what is known a pre-ring and post-ring (also referred to as pre and post echo). Essentially the Super-Slow Roll-Off Filter eliminates both pre-ring and post-ring but may reduce the perceived size of the soundstage. Conversely, Sharp Roll-Off enhances pre-ring and post-ring, artificially creating a larger soundstage (pretty much like adding reverb). Short Group Delay coupled with Sharp Roll-Off exaggerates the post-ring creating a beefier bass.
As to the AKM DAC "High-Quality Sound" Mode, I was unable to find any information as to its exact function, so that will have to be left to trial and error, but it is interesting that it works with DSD. And finally, Low vs. High Pole in the DSD filter should offer higher resolution performance with lower sample rate DSD in the Low Pole (slower roll-off) position.
Living with the Fidelice Precision Digital to Analog Converter:

Unfortunately, my time with the Fidelice Precision DAC was fairly limited, so I was unable to perform my usual 100 hour burn-in to optimize stability of performance, luckily, the review sample sent to me was the one they were using at the show, so it should be well burned in already.
I began my listening with the MrSpeakers ETHER2 Planar Magnetic Headphones and Ian Dury on Qobuz in low gain with the default filter settings via the single ended output. The sound was very musical with a large soundstage and strong bottom end, as exemplified by "This Is What We Find" (16/44.1 kHz – "Do It Yourself" – Ian Dury & the Blockheads)
Cueing up Nicky Hopkins on Qobuz and selecting "Acapulco 22" (16/44.1 kHz – "The Revolutionary Piano Of Nicky Hopkins"), I began to experiment with filter switches. The piano had a rich and delicate Steinway-esque quality. The AKM DAC "High-Quality Sound" Mode appeared to make the piano a little thinner, more brittle. I then switched to my preferred Super-Slow Roll-Off Filter and found the soundstage to be small theater which is fairly large for a 60's studio recording. In fact, some tracks came across positively huge.
In order to test the Low/High Pole DSD Filter I needed to switch over to JRiver where I chose Yes' "And You And I" from the DSD64 version of their "Close To The Edge" album. I also switched to the Balanced output via the 4 pin XLR. Channel separation was in keeping with the best dual mono systems I have listened to, the soundstage was large and the tonal balance was neutral with a possible peak in the upper midrange. During the close-mic'd passage of the second movement Anderson's voice was close and intimate, very much like listening to a soundboard. Switching to the High Pole took some of the edge off of the sibilants at the cost of overall detail though the effect was incredibly subtle.
Moving over to my reference Headphones the MrSpeakers ETHER C Flow 1.1 Planar Magnetic headphones I put on "The Firebird Suite" ("Stravinsky" – Eiji Oue – Minnesota Orchestra) to get a deeper picture of DSD performance. The noise floor was low enough that I could hear the base level of the recording, that subtle sound of a hall full of musicians and the unintentional little noises that cannot be helped. The timbre and tonality of the instruments was pitch perfect and the dynamics incredible. The soundstage was huge hall or open bowl with a real sense of space. The imaging was solid without drift and plenty of air around the individual musicians.
Plugging in my reference dynamic headphone the Spirit Torino Twin Pulse Isobaric Open Circumaural Headphone and putting on "The Look Of Love" (24/192kHz – "Casino Royale" – Burt Bacharach with Dusty Springfield plus Herb Alpert & The Tijuana Brass) I was treated to stage side seats in a huge night club with Dusty just inches away, sexy and intimate bracketed by the piano, drums and upright bass, the saxophone back a little with Herb on trumpet and the string section.
To give the Pentaconn connection a workout I pulled out the FiiO FH7 IEMs. Though not quite geared to the high efficiency of IEMs, as soon as I started up Rush's "Best I Can" from "Fly By Night" (24/96 kHz), it was rock & roll heaven. Real snap to the percussion and bass and amazing dynamics, with rehearsal hall acoustics.
Fidelice Precision Digital-to-Analog Converter Conclusions:
True to its name and heritage, the Fidelice Precision Digital-to-Analog Converter gives you a true right out of the mixing board experience well deserving of the moniker Reference. The sound is so sweet and pure that you will find it hard to care about the digital filter options. While a bit more aggressive than to my particular tastes, it is certainly in league with the desire to produce a studio sound and much more musical than a great deal of the reference DACs I have listened to. The soundstage is large by resolution rather than artifice, and when the recording is close so is the soundstage.
The Fidelice Precision DAC absolutely gives you what you put into it, it is not going to pretty up and gloss over bad recordings, but it is more than capable of pushing headphones to give their all. I was never even tempted to take it out of the low gain setting, except for a quick noise floor test with the Spirit Torino Twin Pulse headphone, where at full volume in high gain there was dead silence, while with signal it would be difficult to listen at over half volume. I can comfortably say that you would be hard pressed to find a headphone that the Fidelice Precision DAC could not drive easily.
Unlike many DAC/Headphone Amplifiers that claim to be Preamps, the Fidelice Precision DAC actually offers quality analog inputs and one of the Fidelice sister products is a high-performance phono stage making for the complete audiophile package. I definitely feel able to recommend this product to audiophiles, musicians, and members of the music industry who know what the music is actually supposed to sound like. As the Artists Intended indeed.
Price: $4,995 USD
SPECIFICATIONS:
CONNECTIONS
Analog Inputs: XLR Balanced, RCA unbalanced
(+4 /-10dB operating levels switchable on the rear panel)
Digital Inputs: Coax S/PDIF, Optical S/PDIF, USB (Mac / PC / iOS / Android)
Analog Outputs: XLR balanced (fixed or variable), RCA unbalanced (fixed or variable)
Headphone Outputs: TRS unbalanced, 4-pin XLR balanced, Pentaconn balanced
Firmware Update: Micro USB
Balanced XLR Input to Balanced XLR Output (FIXED Volume)
Source Z = 40 Ω Balanced with 30 ft Output XLR
Input Impedance: 10 kΩ
Output Impedance: 40 Ω
Maximum Input Level (+4dBu Selected): +23.5 dBu
Maximum Output Level: +21.3 dBV
Noise @ FIXED Volume (10 Hz – 22 kHz BW): -101.2 dBV typical
Frequency Response (5 Hz to 116 kHz): +/- 0.1 dB typical
THD+N (@1 kHz): 0.0005% typical (10 Hz to 22 kHz)
Unbalanced RCA Input to Unbalanced RCA Output (2V RMS Redbook)
Source Z = 470 Ω Unbalanced
Input Impedance: 10 kΩ
Output Impedance: 33 Ω
Maximum Input Level: +19.2 dBV
Maximum Output Level: +19.2 dBV
Noise @ FIXED Volume (10 Hz – 22 kHz BW): -109 dBV typical
Frequency Response (5 Hz to 112 kHz): +/- 0.1 dB typical
THD+N (@1 kHz): 0.0003% typical (10 Hz to 22 kHz)
Balanced Input to Unbalanced Headphone Output
Source Z = 40 Ω Balanced
Input Impedance: 10 kΩ
Output Impedance: 0.01 Ω
Maximum Output Power: 1W into 16 Ω
Noise @ Max Volume (10 Hz – 22 kHz BW): -98.2 dBV typical
Frequency Response (5 Hz to 200 kHz): +/- 0.2 dB typical
THD+N (1W into 36 Ω Load @1 kHz): 0.003% typical (10 Hz to 22 kHz)
THD+N (1W into 16 Ω Minimum Load @ 1 kHz): 0.006% typical (10 Hz to 22 kHz)
DIGITAL PATH SPECIFICATIONS
Coaxial S/PDIF Input to Balanced XLR Output
(FIXED Volume, 192 kHz SR)
Noise (10 Hz – 22 kHz BW): -96.2 dBV typical
Frequency Response (5 Hz to 23 kHz): +/- 0.1 dB typical
Passband (0.5 Hz to 90 kHz): -3dB typical
THD+N (@1 kHz): 0.0004% typical (10 Hz to 22 kHz)
Coaxial S/PDIF Input to Balanced Headphone Output
(192 kHz SR)
Output Impedance: 0.02 Ω
Maximum Output Power: 1W into 16 Ω
Noise @ Max Volume (10 Hz – 22 kHz BW): -89.2 dBV typical
Frequency Response (5 Hz to 20 kHz): +/- 0.1 dB typical
Passband (0.5 Hz to 90 kHz): -3dB typical
THD+N (1W into 16 Ω Minimum Load @1 kHz): 0.008% typical (10 Hz to 22 kHz)
Coaxial S/PDIF Input to Unbalanced RCA Output
(FIXED Volume, 192 kHz SR)
Noise (10 Hz – 22 kHz BW): -107 dBV typical
Frequency Response (5 Hz to 20 kHz): +/- 0.1 dB typical
Passband (0.5 Hz to 90 kHz): -3dB typical
THD+N (@1 kHz): 0.0004% typical (10 Hz to 22 kHz)
Coaxial S/PDIF Input to Unbalanced Headphone Output
(192 kHz SR)
Output Impedance: 0.01 Ω
Maximum Output Power: 1W into 16 Ω
Noise @ Max Volume (10 Hz – 22 kHz BW): -95.2 dBV typical
Frequency Response (5 Hz to 20 kHz): +/- 0.1 dB typical
Passband (0.5 Hz to 90 kHz): -3dB typical
THD+N (1W into 16 Ω Minimum Load @1 kHz): 0.006% typical (10 Hz to 22 kHz)
POWERING
Operating Mains Voltage: 100-240VAC, 50/60 Hz
AC Power Consumption: 45W Max