When I met with HELM Audio at CanJam SoCal 2019 and they asked if I would be willing to review their new Bluetooth IEMs, the HELM Audio TW5 True Wireless Headphones, I was more than happy to comply. You see, HELM Audio may be a new company but the people behind it are mainstays of the Personal Audio Community. Founded in 2017 their mission statement says it all:
"OUR MISSION
HELM believes that nothing should come between you and your music. Through cutting edge craftsmanship we deliver transcendent clarity, connectivity and comfort.
OUR COMMITMENT
Crafted by artists, producers, musicians, and techies with a promise to create headphones that inspire passion by delivering every nuance the artist intended while maintaining the freedom of cutting-edge mobility, functionality, and affordability."
I was late to the cell phone market as a consumer (oddly enough in the early 80's I was the first dealer to sell Motorola cell phones), buying my first Blackberry in 2007 when I became the US Technical Services Manager for Halcro Audio. On the other hand, I almost immediately embraced Bluetooth as the only way to make cell phone use tolerable, so over the last 12 years I have owned and used a lot of Bluetooth headsets. Until I started writing for the Personal Audio community I pretty much eschewed stereo headsets, in much the same way that I have preferred to not use smartphones as musical sources, other than for review testing (it is a combination of the low quality provided by streaming services, the massive amount of bandwidth required to use them, and the relatively marginal sound quality offered by most Bluetooth headsets weighed against ready availability of high quality DAPs, IEMs and a very large music database). That being said, over the last three years, I have reviewed a lot of Bluetooth headphones and IEM's, and Bluetooth 5.0 was the primary motivation for my having purchased my Essential PH-1.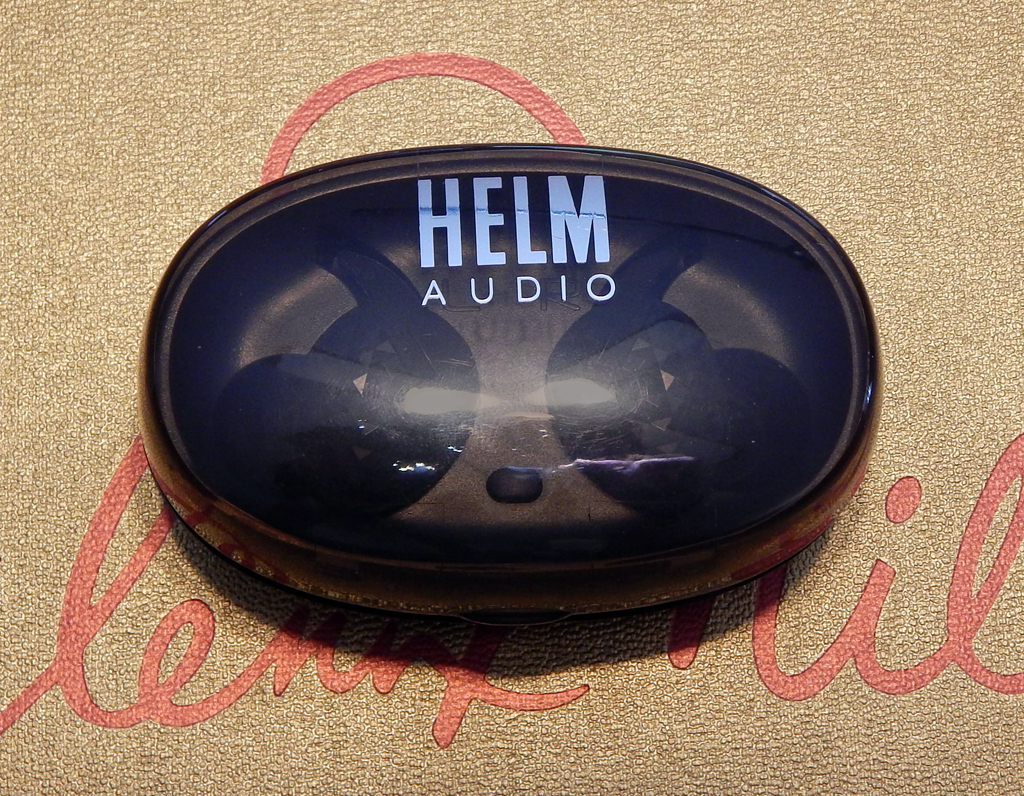 The HELM Audio TW5:
The HELM True Wireless 5.0 with Qualcomm® aptX™ Audio Technology has quite the list of features:
Qualcomm® aptX™ Audio Technology
Pick Up & Play with Auto-Pairing and Auto Charging.
6-8 Hours Play Time and 30 Extra Hours of On-The-Go Charging with the Portable Charging Case.
Secure Comfortable Fit for an Active Lifestyle with Incredible Noise Isolation that is Perfect for Working Out and Traveling.
Rain, Sweat, & Mud Approved with IPX4 Water Resistance.
Industry Leading Range of up to 60ft.
Smart Buttons & Dual Mics for Making Calls & Activating Your Favorite Voice Assistant. Calls are in stereo on both earpieces.
TRUE sound quality, featuring proprietary high-powered rare polymer and alloy enhanced drivers that deliver commanding bass, captivating mids, and crystal clear highs with an ultra-realistic soundstage.
The TW5s came in a small black box (about the size of a business card cubed). Inside was the elegant charging case with the TW5s safely tucked inside, a charging cable, a selection of 3 pairs of silicone tips (in addition to the pair installed already) and the manual.
It has been a while since I have used a Bluetooth headset that required a charging case, but this one had a kink that made it more than worth the hassle, to wit, a built-in battery that maintains the charge on the TW5s when not in use while on the road. No more having to deal with a bunch of chargers and cables to make sure all of your devices are fully charged (well at least one less). A simple press of a button on the charging case tells you how much charge the battery has left via four LED lights.
The HELM Audio TW5s themselves, are a small black pod, about the size of the last joint on your finger with a sturdy plastic case and a soft silicone overcoat with a silicone ear stay that makes them incredibly comfortable to wear, and a diamond textured surface with a single button for; answer, pause/play, activate/deactivate Siri/Voice, and turn earpiece off, and on the right earpiece it is used for volume up/down while on the left earpiece it is used for track advance and return.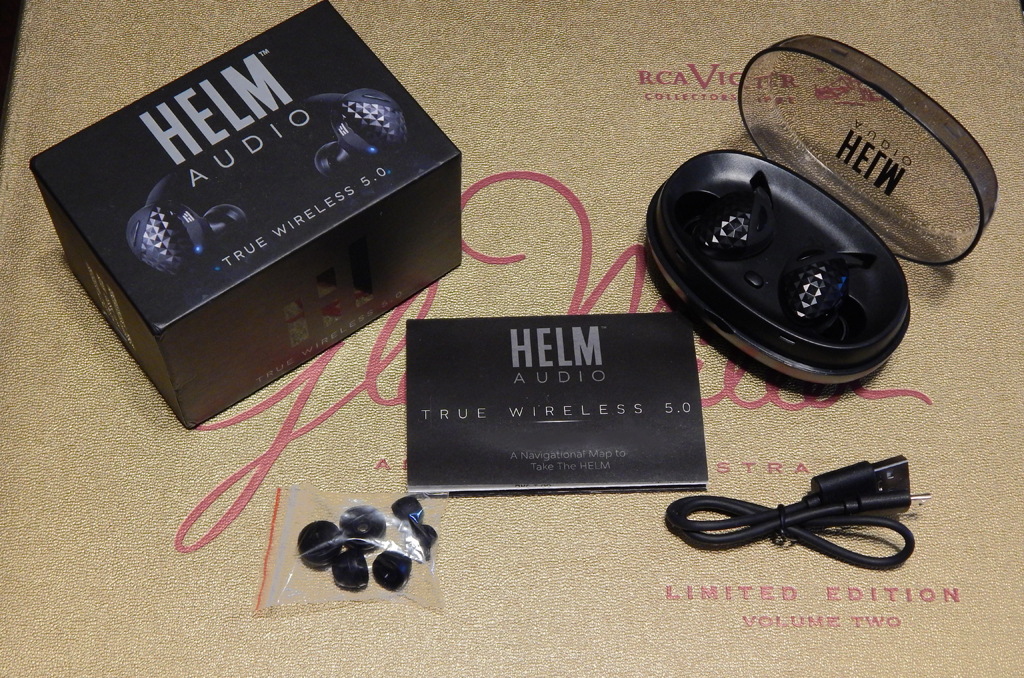 Living with the HELM Audio TW5:
Pairing the HELM Audio TW5s was mindlessly simple. After charging up the case, I simply removed the earpieces, secured them in place, listened for the voice prompt and performed a Bluetooth search on my Essential phone, selecting "HELM True Wireless". That was it. Moreover, anytime I took them out of their case, they instantly connected, making them the most responsive Bluetooth headset I have ever used. Conversely, they instantly disconnect when placed back in their case.
Responding to a prompt that was thrown up by the HELMs, I was able to set the TW5's as a "Trusted Device" (and subsequently my other Bluetooth devices – a feature I have been trying to find since I got the phone), so that I am now able to use the hands free functions of the phone.
Though a little larger than what I currently use (both of which have external DAC/Amps on a cord, one has the batteries in the IEMs but the DAC/Amplifier and microphone in a small module on the cable that connects the two earpieces, the other has the DAC/Amplifier, batteries, and microphone in a flexible collar horseshoe) the comfort level of the HELM Audio TW5s was extremely high. In fact, I was able to take them out of the charger as is (with the default tips) and get an instantaneous seal and secure fitting with the ear-tab.
I was surprised to find that I didn't get as much isolation as I usually do with IEMs, which is actually a good thing in something you use with your phone. With my current units, I only put them in my ears when I am talking on the phone, and let them dangle otherwise. With the HELMs, I could simply leave them in and still carry on conversations and be aware of my environment (though there is a limit to how long I can wear universal IEMs). The negative side of this was on my first day out with the TW5s, there was music playing on an intercom system that could only be blocked out with volume.
As an experiment, I tested the TW5s with a pair of Dekoni tips to see if I would get more isolation and achieved a completely different sonic signature, which means the tips are definitely part of the design sonically (I'll get into more detail later).
As a source I used my Essential PH-1 and my FiiO M11 both running Qobuz as well as preloaded test files.
The range with the TW5s was amazing, I could literally go anywhere in my house (which is a little over 100 feet line of sight, my office being at one end of the house) and had to go outside to actually lose connection (the outside walls appear to block more signal than internal walls). Furthermore, they would instantly reconnect as soon as I was in range (though my phone has an auto-pause function requiring me to hit play on the TW5 to resume playback).
True to their claims on their website, the HELM Audio TW5s produce a prodigious amount of bass. So much so, I had to lower the listening levels below what seemed normal or suffer fatigue over long listening sessions. Let me be clear, this was due entirely to the copious amounts of bass and not any noise, harshness or distortion.
Inspired by a passage from one of Bowei's reviews, I put on the live version of "Hotel California" (16/44.1 kHz – Qobuz) from the Eagles' "Hell Freezes Over". Several years ago when selecting tracks for a demonstration, we discovered that there was a bending of the conga note at the beginning that was not reproduced by all DACs, Amplifiers, and Headphones, so I wanted to know if the enhanced bass of the TW5s would draw it out or smear it over. It was definitely there as was an unexpected sense of space. The presentation was intimate and close in a large hall. Overall the tonal balance was fairly natural with better than average resolution.
Clearly geared towards contemporary music, I decided to give the HELM Audio TW5s a workout with "Baby(fet. MARINA & Luis Fonsi)" (16/44.1 kHz – Qobuz) by MARINA. I would like to say that it was like being in a small club, but in reality it was more like being in the studio, again with a great feeling of space. The vocals were clear and proximate, the bass beat pulsating and driving while the percussion maintained snap.
To see if the HELMs could handle classical music I fired up the FiiO M11 and selected "La Bohème – Act 1 – "Che gelida manina"" (24/96 kHz) from "Pavarotti 24 Greatest HD Tracks" and was treated to box seats at Disney Hall. The TW5s had no problem lovingly reproducing the dynamics of the performance or giving a realistic tonality to the orchestra.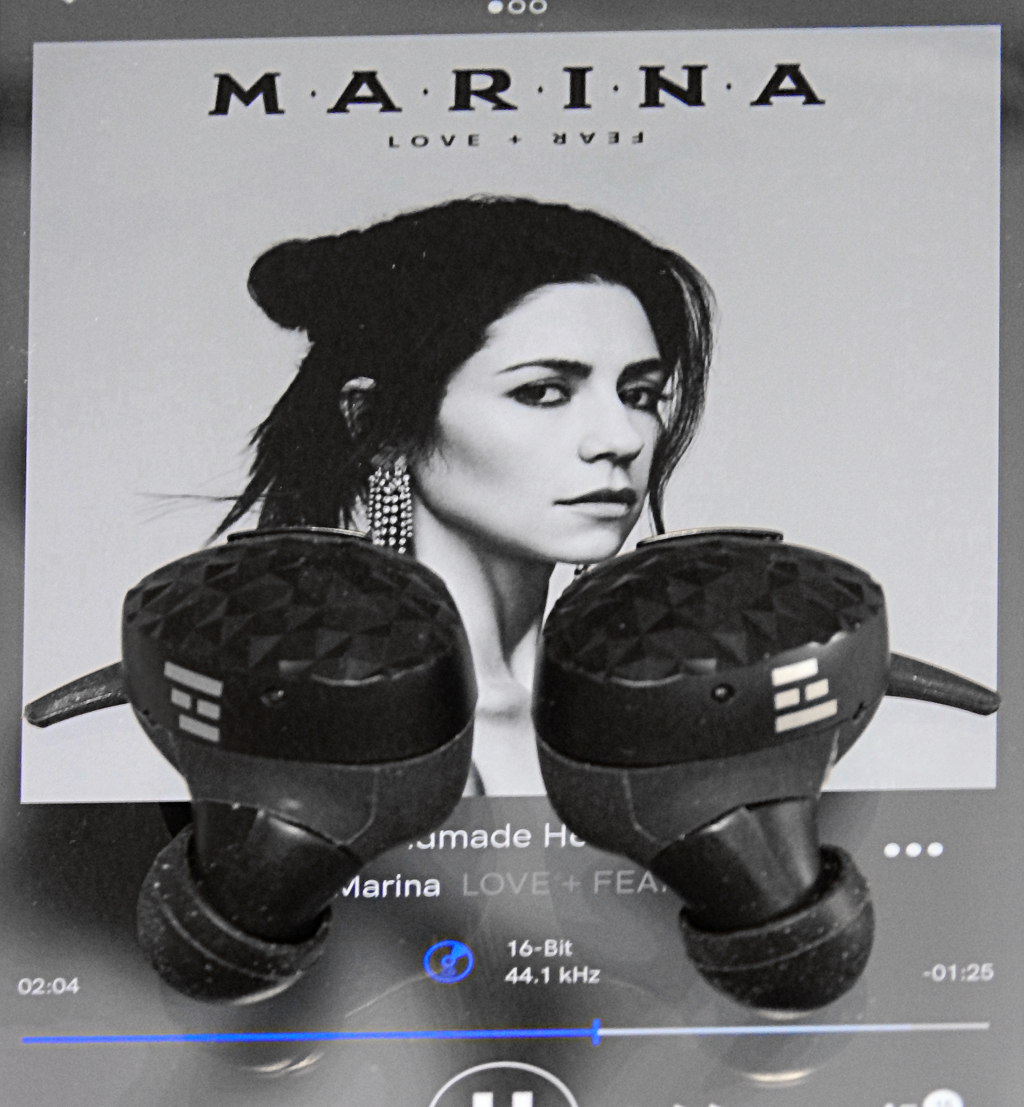 The HELM Audio TW5 Conclusions:
Once I figured out that the way to open the case was to press the sides of the transparent cover rather than lift the tab, I thoroughly enjoyed my time with the HELM Audio TW5.
As an IEM the HELM Audio TW5s compete solidly with any in the $200 price range. As a wireless IEM, they are amazing, with unbelievable range, instantaneous lock, great battery life, ease of use, solid fit, long term comfort, and good sound. As a Bluetooth headset for the phone, I did get some complaints about the mic sounding distant and not particularly loud.
They are a bass-head's dream but work well with most types of music with the caveat that with tracks that are unintentionally bass heavy it might get to be a bit much. On the plus side for those who don't like that much bass, I found when fitted with foam tips the bass volume dropped off radically creating a more neutral sound.
All told, I would have no problems recommending the HELM Audio TW5 to anyone who is interested in True Wireless IEMs.
Price: $129.99 USD
| | |
| --- | --- |
| Specifications: | |
| Product Name: | HELM TW5 True Wireless Headphones |
| Type: | Wireless In-Ear |
| Wireless Range: | 60+ Feet |
| Bluetooth: | Bluetooth V 5.0 |
| Wireless Type: | EDR+Bluetooth |
| Music Play Time: | 6-8 Hours |
| Charging Time: | 1.5 Hours |
| Play Time With Case: | 30–40 Hours (Based on Volume Level) |
| Sensitivity: | 88+/- 3dB |
| Resistance: | 16 ohms |
| Standby Time: | 100 Hours |
| Water Resistance: | IPX4 |
| Driver Type: | Dynamic |
| Microphone: | Yes |
| Smart Button Control: | Yes |