Welcome back for part two of our HeadAmp product comparison series, this time we will be looking at the iFi iDSD Diablo Portable DAC/Amp with the Meze ADVAR IEM, and then contrasting that with the iBasso DX320 Reference DAP and the Meze ADVAR to see what you give up to save a third of your money.
The Meze ADVAR IEM: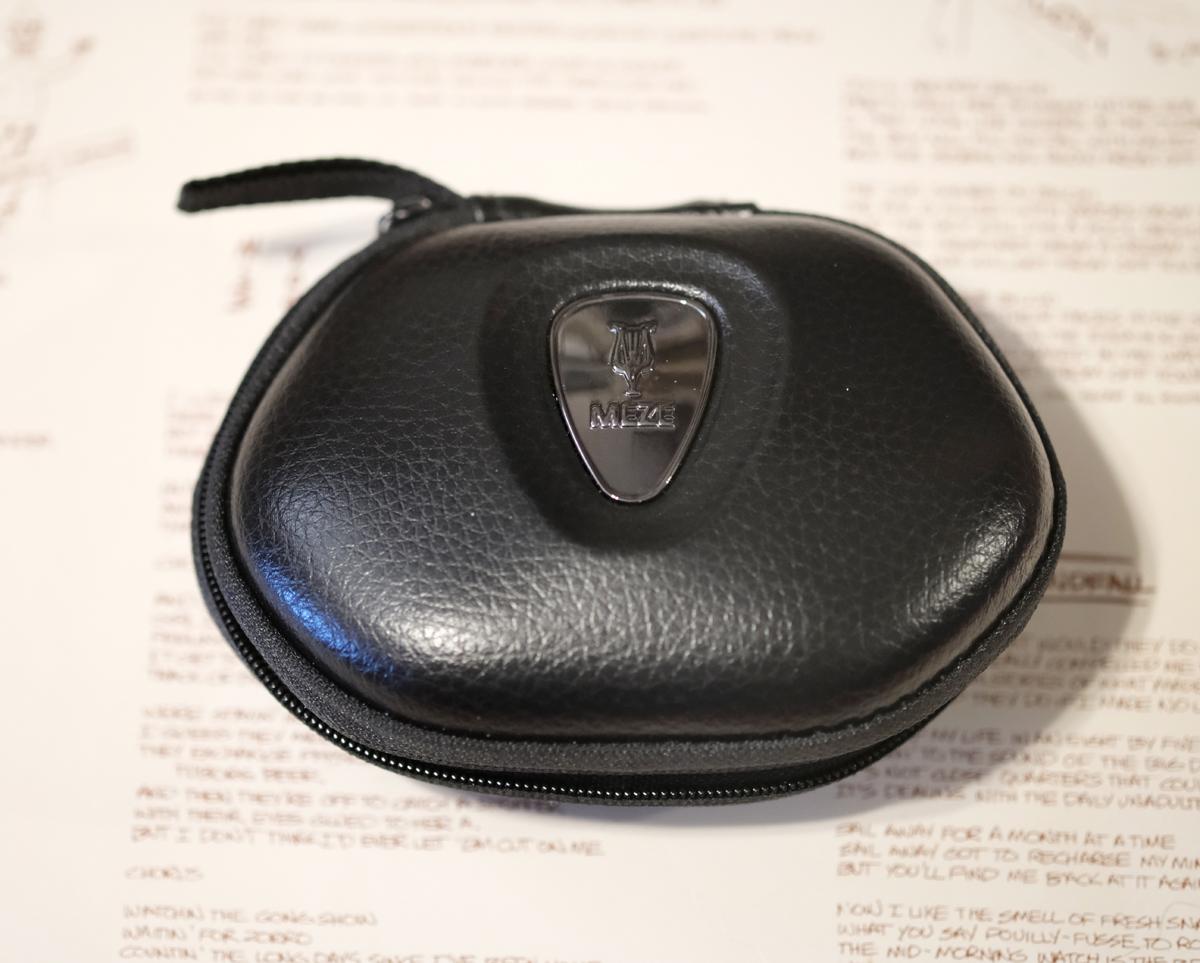 To recap what we already know about the Meze ADVAR IEM, the ADVAR employs a 10.2mm Dynamic Driver with a frequency range of 10Hz to 30kHz. The aesthetic of the ADVAR was inspired by Romanian Folk Lore, an ADVAR was a talisman of sorts and the symbol of the "absolute" meant to bring blessings to those who wore it. Meze says they drew from natural patterns, "With a form inspired by the rounded surfaces of raw Hematite, with intricate curves that were sculpted with care, the stainless steel shell features an ergonomically contoured design".
For accessories the ADVAR comes with an attractive hard shell case, a clever MMCX removal tool (with attached keyring), 5 pairs (SS, S, M, L, LL sizes) Final Audio Type-E ear tips, an MMCX SPC 1.2 m cable to 3.5 mm gold plated jack, a Cleaning tool, and a User manual.
Sonically, the ADVAR offers a large open airy soundstage with a strong solid deep bottom end. The tonal balance is fairly neutral with a slight emphasis to the bass and a dynamic, crisp, detailed flavor to the high frequencies.
Price: $699
https://www.headamp.com/products/meze-advar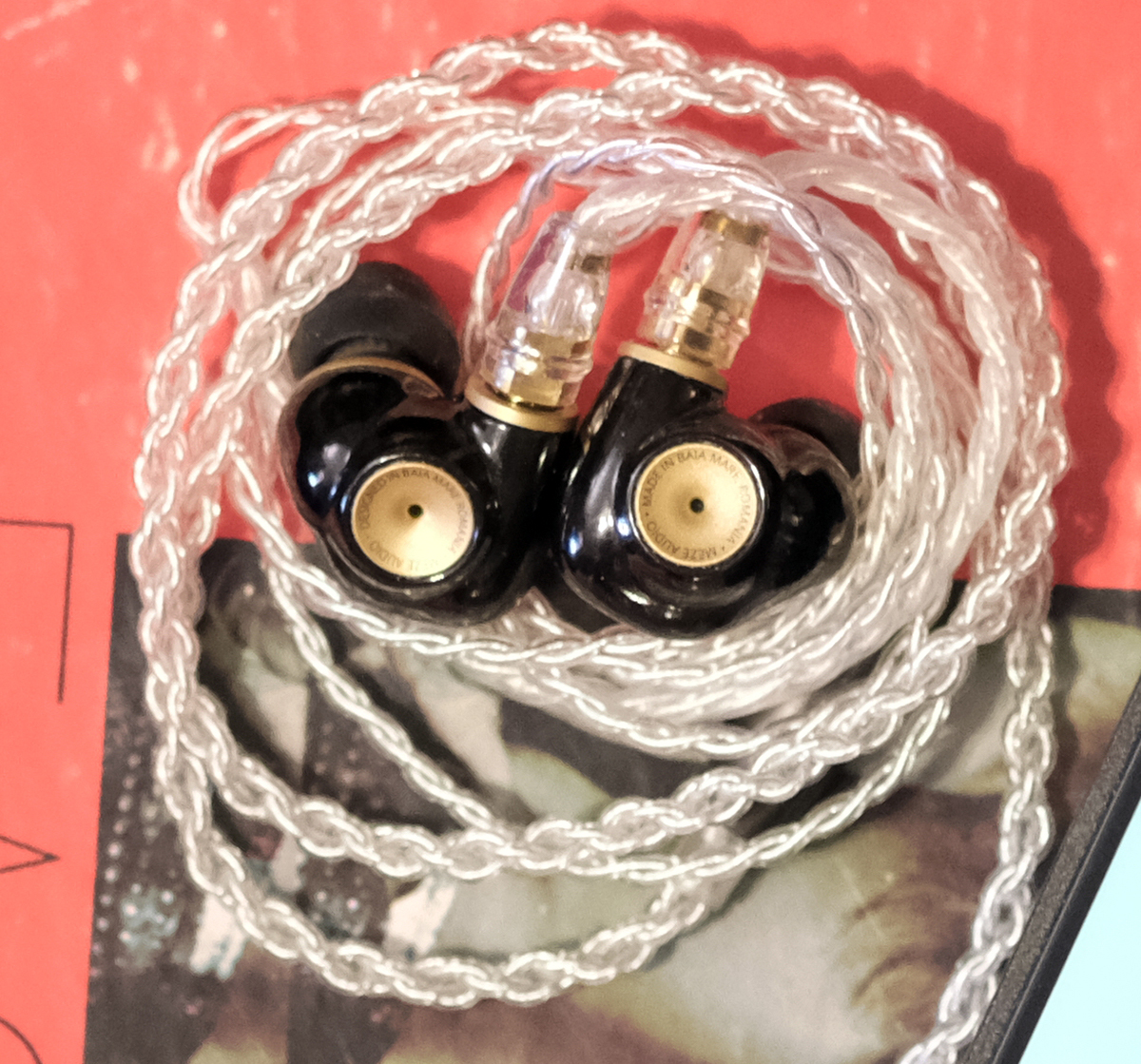 TECH SPECS
Driver: 10.2mm Dynamic driver
Frequency Range: 10 Hz – 30 kHz
Impedance: 31 Ω
SPL: 111dB/mW
Distortion: <1% at 1kHz
Stock cable: braided cable made of SPC (silver plated copper) custom wires ending in gold plated 3.5mm
Upgrade cables (available separately):
MMCX SPC cable to balanced 2.5 mm gold plated
MMCX SPC cable to balanced 4.4 mm gold plated
Materials: Solid stainless steel chassis produced by metal injection molding, with CNC finishing
Finish: High-gloss Black Chrome plating on main shell
iFi iDSD Diablo Portable DAC/Amp: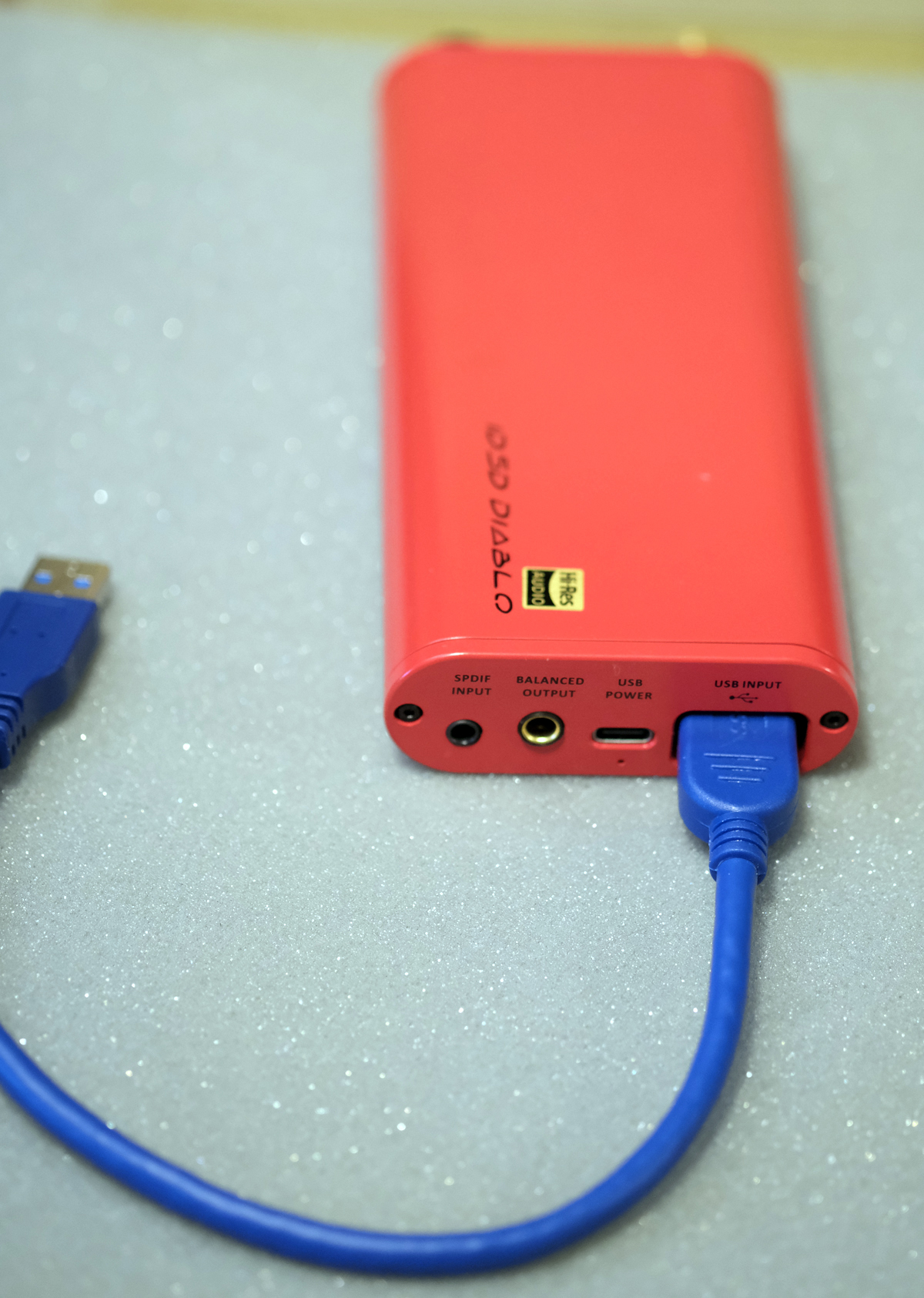 The iFi iDSD Diablo is designed to be the flagship of iFi's line of portable DAC/Amps sacrificing features, like Bluetooth or sonic tailoring, for performance.
The Diablo uses two Burr-Brown DAC chips and the new 16-core XMOS chip to process the data received via the USB and S/PDIF digital inputs, giving the Diablo up to PCM 768, DSD 512, 2xDXD decoding, while both PCM and DSD remain 'bit-perfect'. Full MQA decoding is also provided.
A balanced, differential analog circuit design is employed to reduce noise and cross-talk within the signal path by fully separating the left and right channels. iFi's PureWave balanced, symmetrical dual-mono topologies with short, direct signal paths have been implemented to further refine the performance.
To reduce the undesirable aspects of 'negative feedback' iFi has created a feedback system they call OptimaLoop which entails using multiple optimized feedback paths for different functions rather than a single global loop.
While battery provides a cleaner DC power source the voltage needs to be stepped up from 3.7V to +/- 15V, to achieve this iFi uses a step-up converter running at 1.2MHz – a frequency far beyond audibility that is easier to filter than a typical switch-mode supply, enabling high linearity and ultra-low noise. High-bandwidth power supply circuity is dedicated to each critical part of the iDSD Diablo's design, with independent linear regulation delivering excellent PSRR (Power Supply Rejection Ratio) performance. The headphone amp stage eschews IC regulators in favor of Panasonic OS-CON capacitors, delivering 2320uF between them. The DAC section benefits from an ultra-low-noise regulator with additional passive filtering, reducing high order harmonic distortion and, in turn, jitter. Even the USB input stage benefits from dedicated regulation and multi-stage filtering, and the microprocessor control circuitry (often a local source of digital noise) has separate regulation, also.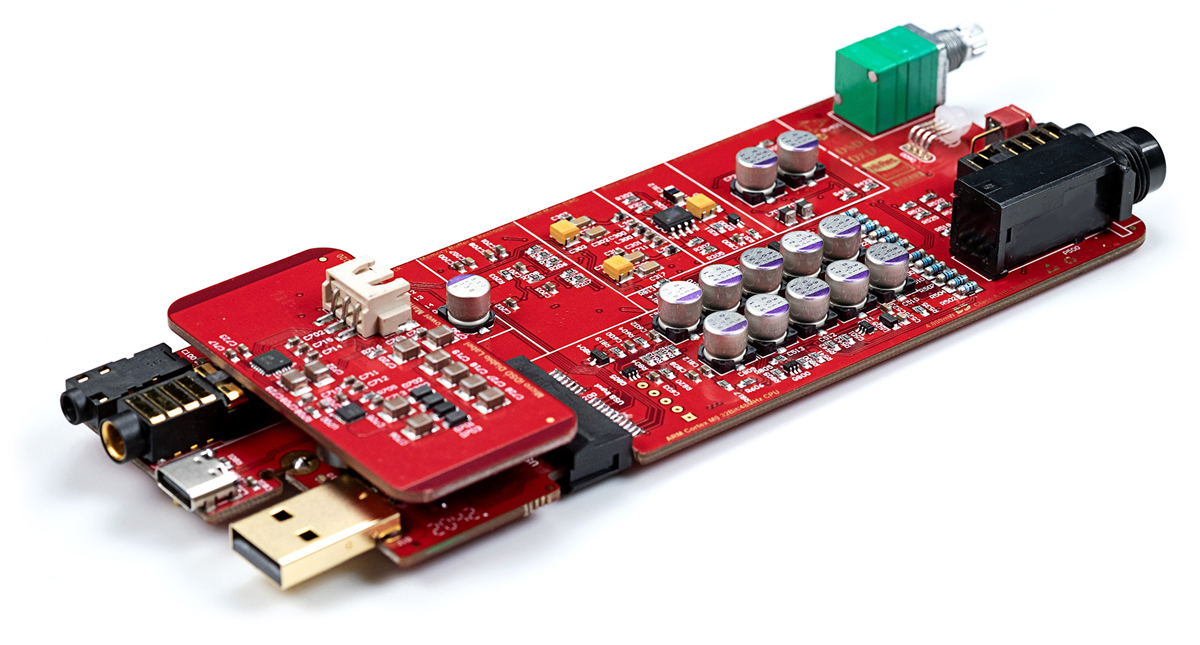 To tame the Diablo's epic 5 Watts of power (5,000mW) iFi offers three gain settings which they have labeled Eco (low), Normal (med), and Turbo (high).
The appearance of the Diablo is minimalist with a nod towards auto racing (much like the gain designations) in that it is a 6.5″ (including the power/volume knob) Ferrari red flattened tube (2.8″ x 1″) with black accents
At the front of the unit, alongside a standard 6.3mm TRS single-ended headphone socket, resides a 4.4mm TRRRS Balanced output, the aforementioned gain switch, and the power/volume knob.
At the back are two digital audio inputs: USB-A (featuring a USB-A 'male' connector, rather than a typical 'female' port for greater mechanical integrity) and a S/PDIF socket that accepts both electrical and optical signals, the former via a 3.5mm connector and the latter via a supplied adapter. A separate USB-C charging port is also provided, along with a 4.4mm TRRRS Balanced output to connect to an external amp (4.4mm TRRRS to two male 3-pin XLRs cable is provided).
For accessories the Diablo comes with a unique reinforced cloth zipper carrying bag that has openings at both ends so the Diablo can be operated from inside the bag, there are also user-configurable dividers with velcro attachments, a high-current filtered charger/power adapter, a USB-A 'male' to USB-A 'female" cable, a USB-A 'male' to USB-C cable, the above mentioned 4.4mm TRRRS to two male 3-pin XLRs cable, a 6.3mm TRS to 3.5mm TRS adapter, and a 3.5mm TOSLINK adapter, along with the manual and warranty card.
Price: $999
https://www.headamp.com/products/ifi-idsd-diablo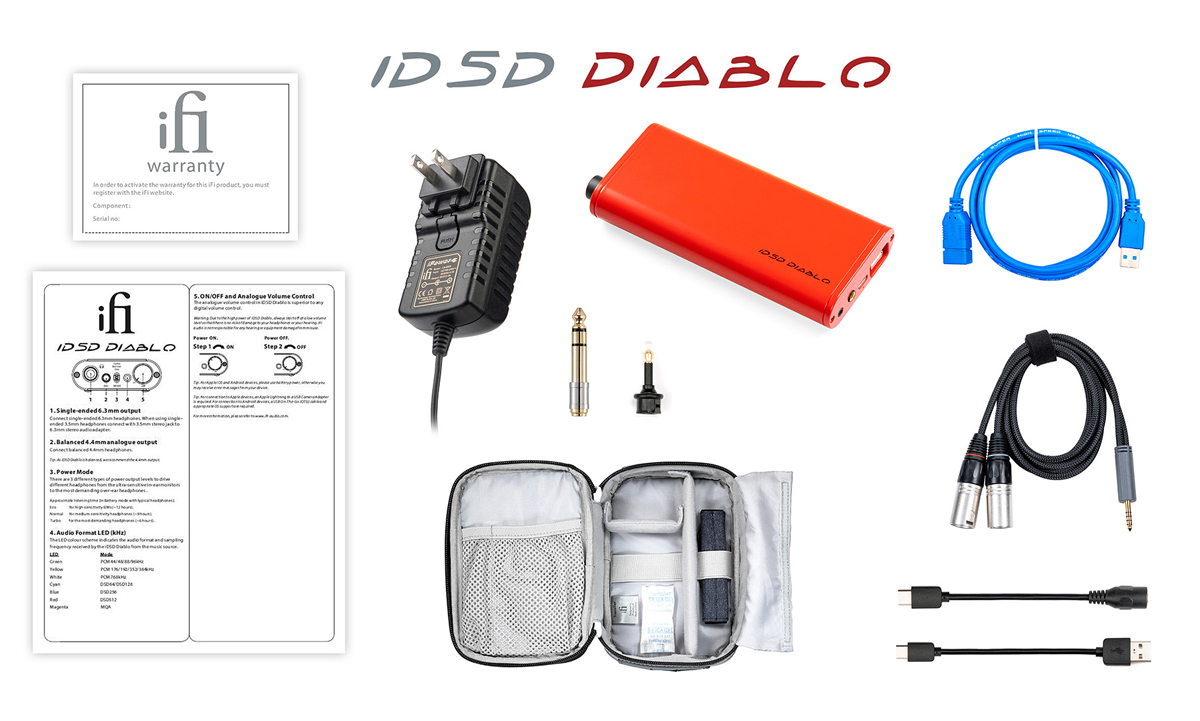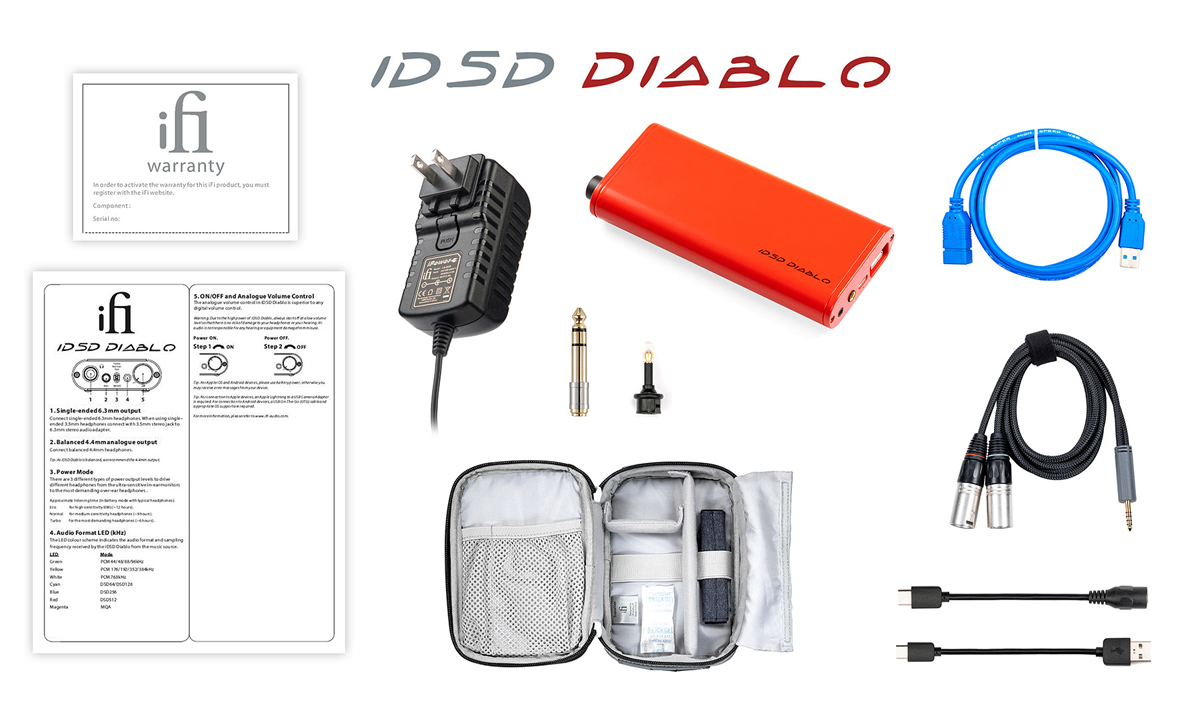 Digital Inputs
USB 3.0 type 'A' (USB2.0 compatible)
S-PDIF (3.5mm coaxial/optical)
Formats supported
DSD512/256/128/64
Octa/Quad/Double/Single-Speed DSD
DXD (768/705.6/384/352.8kHz)
Double/Single-Speed DXD
PCM (768/705.6/384/352.8/192/176.4/
96/88.2/48/44.1 kHz)
MQA (Decoder)
Frequency Response
10Hz-80kHz(-3dB)
SNR
Balanced
S-E
-120dB
-114dB
Dynamic range
Balanced
S-E
120dB
114dB
THD + N
Balanced
S-E
0.002%
0.001%
Headphone Max Output
Balanced

S-E
>19.2V/611 mW (@ 600 Ohnn)
>12.6V/4,980 mW (@ 32 Ohm)
>9.6V/153 mW (@ 600 Ohm)
>8.8V/2,417 mW (@ 32 Ohm)
Fixed Audio Output
Balanced 4.4mm
Power consumption
Turbo
Normal
Eco
12W
5W
2W
Battery
Lithium-polymer 4800mAh
Power System
Charging via USB-C (iFi iPower included)
BC V1.2 compliant up to 1900mA charging current
Dimensions
166 x 72 x 25 mm
6.5″ x 2.8″x 1.0″
Weight
330g (0.73 lbs)
Warranty period
12 months
*Specifications are subject to change without notice.
The Listening Experience:
My first observation, and complaint really, about the iFi iDSD Diablo is their choice of the USB-A "male" connection for the digital input. While they provide a cable for use with a computer which makes the Diablo a good companion for a laptop, I can't help thinking that the primary use case is going to be with a tablet or smartphone which would require a special cable that most of us are not likely to have in our collection of cables, and due to the case design may require trial and error to get one that fits. In my mind, a USB-C would have been a much more appropriate choice. The second thing I noted was that while the noise floor is sufficiently low for use with IEMs, even in low gain via the single-ended output there was very little subtlety to the volume control being an almost all-or-nothing proposition at the bottom of the range.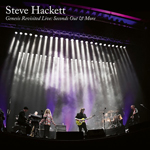 I began my listening tests with Steve Hackett's "Genesis Revisited Live: Seconds Out & More (Live in Manchester, 2021)" (24-bit/48kHz – Qobuz). The soundstage was large with solid deep bottom end but with a definite emphasis to the upper mids and highs. As one would expect there was plenty of dynamic range lending a live feel to the performance. While the bass was deep and well-controlled it lacked a little bit of that live resonance, on the other hand, the percussion had snap and impact. The piano on "Firth of Fifth" had a crisp Yamaha feel to it, lively and rich.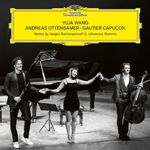 The combination of the Diablo and ADVAR served classical music well as evidenced by Yuja Wang, Andreas Ottensamer, and Gautier Capuçon's performance of "Clarinet Trio in A minor, Op. 114 (Johannes Brahms)" ("Works by SERGEI RACHMANINOFF & JOHANNES BRAHMS" – 24-bit/96kHz – Qobuz). The cello was rich and full, the piano strong and authoritative, and the clarinet was sweet and musical with only the occasional slip into abrasiveness, once again in a huge soundstage.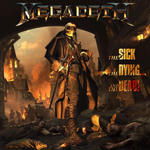 I can't say that I was ever a Megadeth fan, but the Diablo seemed to call out for it when I was searching new releases on Qobuz ("The Sick, The Dying…And The Dead" – 24-bit/48kHz – Qobuz). The guitars were bright and dynamic and energetic, the drums exhibiting pop and thump. The vocals were clear and enunciated.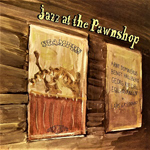 For a jazz track, I decided to switch to my regular test list and select "Take Five" from "Jazz at the Pawnshop" ( Arne Domnérus, alto sax, clarinet; Bengt Hallberg, piano; Lars Erstrand, vibes; Georg Riedel, bass; and Egil Johansen, drums) then realized Qobuz probably has the high-rez version which I don't, and sure enough they have it 24-bit/88.2kHz. One could easily imagine themselves sitting next to the performers in the small club, piano slightly to the right, drums slightly to the left, and sax in the middle, with vibes over by the piano.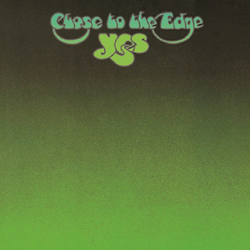 To test DSD I selected "And You And I — I. Cord of Life, II. Eclipse, III. The Preacher the Teacher, IV. Apocalypse" from Yes' "Close To The Edge". The soundstage was very personal in-studio, while as before the emphasis appeared to be on the upper midrange, with deep but deemphasized bass.
On the other hand my MQA test track Hoff Ensemble: Jan Gunnar Hoff, Audun Kleive & Anders Jormin performing "Innocence" from "POLARITY — an acoustic jazz project" presented a huge soundstage though the image wandered a bit.
To compare to the iBasso DX320 Reference DAP I started with the Hoff Ensemble track. The musicality was off the charts, to begin with. The soundstage was more airy, more textured, with a more solid and natural image, the musicians simply stopped wandering and you could locate the instruments in space. The tonality was more pleasant, warmer in the midrange.
Yes had that same intimate in-studio feel, but with more air, more presence, more space, and more of the room, along with less distortion in the guitars.
This was further reinforced with "Take Five", a larger more airy, and exceedingly more musical experience.
Conclusions:
The iFi iDSD Diablo is an excellent value in a portable desktop DAC/Amp and definitely delivers on what they were going for, which is a brute force high-powered solid-state sound. While not an ideal choice for IEMs, it worked well with the Meze ADVAR, providing musicality and a huge soundstage with exceptional bass control. Ironically, with its rock & roll look and feel, the Diablo worked best with classical music and offers a live music presentation with all music.
When comparing to the DX320, if anything I am more impressed with the performance of the iBasso than I was when I reviewed it, it is truly a reference quality DAP with a musicality that makes double the investment well worth it. Add on top of that that the DX320 is a DAP rather than just a portable amplifier, it offers the benefit of being a complete music server and not dependent on an outboard source. On the flip side, the Diablo has almost three times the power which can be make-or-break with some hard-to-drive headphones. Of course, with IEMs the iBasso has a clear advantage, though truth be told, the noise floor of the iFi was amazing. As a final note, battery life on the iBasso is significantly longer, the Diablo runs quite warm and burns through battery even when idling.