Paul Klipsch was probably the first audiophile speaker manufacturer. While others such as Electro-Voice, Altec Lansing, JBL and others were producing innovative designs, they were all driver manufacturers looking for enclosures to showcase their products, Paul Klipsch was a music lover with very exacting standards for sound, who decided the only way to get what he wanted was to design it himself. Many of his original designs are still in production to this date, including; the Klipshorn, the Heresy, the Cornwall, and the La Scala. His passion for audio was also expressed in print, through his pen name Gadfly Hurtz, though admittedly he often used the press platform to point out the shortcomings in other people's designs. (Fun fact, those $50K + horn speakers you see at all the HiFi shows, all owe some of their design to Paul Klipsch's original designs)
Paul's memory is kept alive by the Klipsch Heritage line of speakers, and in honor of that Klipsch has released the Klipsch Heritage HP-3 Headphones. I must say that the Klipsch Heritage HP-3 Headphones represent the single most impressive personal audio item I have received to date. When I opened the door to accept delivery, I was greeted with a box that was larger than that of the Schiit Yggy (which is a sizable piece of gear). I admit, knowing that it contained a pair of headphones, I was confused. Had they sent me a case of headphones? When I opened the box, inside I found nested in packing, another box. And inside that box, I found an elegant and well made wood and glass display case. Carefully removing the copper seal and opening the magnetically secured top of the display case I discovered two drawers. Believing the smaller drawer underneath to contain the headphone cable, I pulled that out first to discover a custom made headphone stand, along with the two separate headphone cables (both single ended with 3.5mm termination, 1.37 meters and the other 2 meters, though the dual standard 3.5mm mono connectors mean that sourcing a balanced cable should be no problem), a custom 3.5mm to ¼" adaptor, a manual booklet and a certificate of authenticity.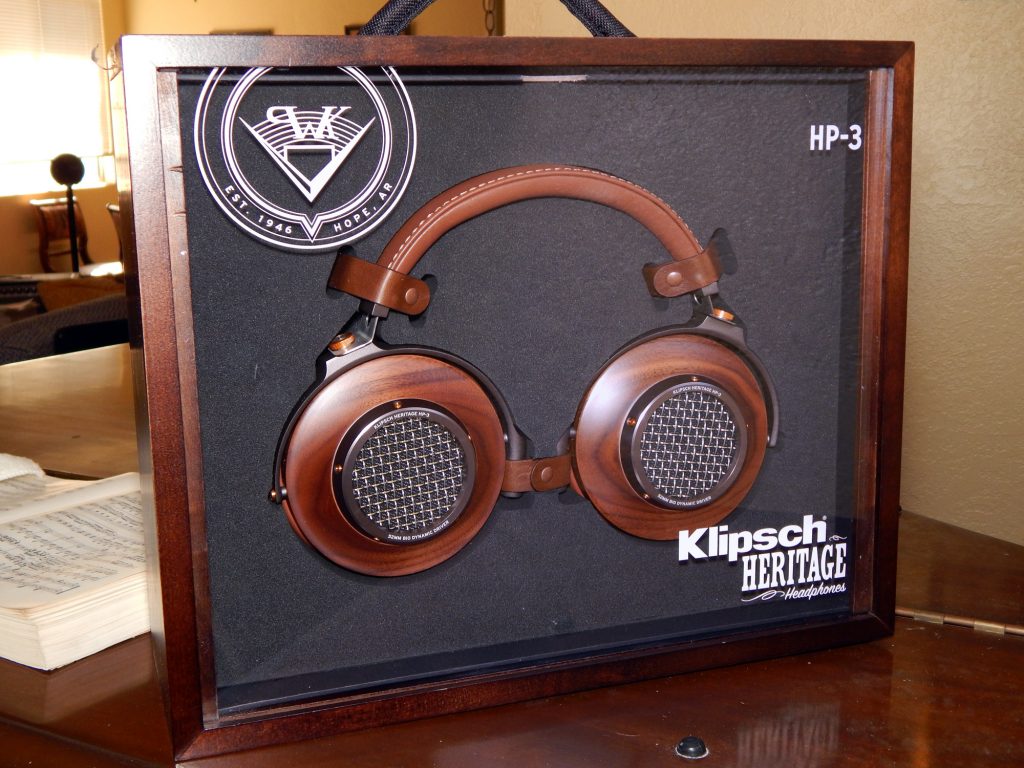 Pulling out the Headphone drawer, the HP-3s were not simply wire tied in place, but were secured with three leather straps employing snaps as releases. As to the headphones themselves, the construction quality was both beautiful and epic, made of wood, die-cast steel, sheepskin, cow hide, machined aluminum and copper, evoking a truly classically vintage HiFi aesthetic. The sheepskin ear cushions are held in place with magnets, insuring easy removal should the need arise. Mine are walnut, but they are also available in ebony and oak.
On the technical front, the HP-3s employ a Triple-vented semi-open design with Free-Edge 52mm Bio Dynamic Drivers producing more than one tesla of magnetic flux density, using a proprietary mixture of biocellulose and inorganic fiber with urethane rubber surrounds to create a driver that stays solid and rigid with a piston like movement, in order to allow the biodynamic drivers achieve incredible levels of balance and control throughout the full frequency spectrum.
Listening:
Given the Heritage theme and the fact that this is meant to be a reference headphone, I began my listening tests with vinyl, to wit the VPI Player Turntable with built in headphone amp. Putting on Triumvirat's "A Cold Old Worried Lady" from their Old Loves Die Hard and I sat back to enjoy. Jürgen Fritz's Steinway Grand Piano was full bodied with excellent attack and delay and the strings were rich and commanding, while Barry Palmer's vocal was silky and emotion filled. The soundstage was intimate with a parlor like immediacy.
Wanting to connect with the spirit of Paul Klipsch, I broke out Phil Harris' That's What I Like About The South for a sound contemporary with the Klipshorn itself. Listening to "The Thing" was like being transported to an art deco ballroom with Phil at the mic and the orchestra behind. The horn like tonal balance of the HP-3s did enhance rather than cover up the deficiencies of the recording, despite the rather warm bottom end displayed when playing more modern pieces. So too with vinyl in general, they brought out the vinyl noise as well as the pops and clicks that are a given with the media.
Selecting one of my standards "Can-Utility and the Coastliners" (Foxtrot – Genesis), I was floored by the pervasive and lavish bass. This was the sound that Klipsch became famous for. Again the vocals were close and personal while the orchestrations were painted on a large canvas enveloping the audience. Switching to my desktop rig, the Questyle Audio CAS192D/CMA800R Current Mode DAC and Headphone Amplifier, with the 16/44.1 kHz digital copy of the same track, trading noise floor and dynamic range for that silky analog feel, the experience was pretty much the same. Extremely dynamic, with the growl of the bass guitar taking center stage, while the other instruments floated around Peter's voice. The drums had real impact and there was a splash to the cymbals.
"The Firebird Suite" (Eiji Oue – Minnesota Orchestra – Stravinsky – DSD) was rendered with a conductor's podium soundstage, extremely wide and enveloping, with impact and laudable dynamics. The horns had an especially realistic timbre, and the strings were lively. Placement of the instruments was solid and three dimensional. Most notable was the resonance of the theater enrichening the lower frequencies.
Never before have I experienced that edge of the stage live performance presentation listening to "Eskimo Blue Day" by Jefferson Airplane (Woodstock II – 16/44.1 kHz). Usually there is a dip in the energy as the drums kick in, not so with the HP-3s, while the first couple of beats of the kick drum are still a little soft, they clearly sound natural and reflect the gentle muting of an open venue. Each note of the bass guitar is clear and reverberant. You feel bracketed by the bass and rhythm guitar, with the lead guitar slightly behind and Grace front and center.
Pulling out the Questyle QP2R, I scrolled to Celebrity Skin's cover of "S.O.S." (Good Clean Fun – 16/44.1) and again I was treated the dynamic range and excitement of a live performance, bringing up images of the last time I saw them perform at LA Live several years back.
The HP-3's performance screamed out for pipe organ, so I played "Koyaanisqatsi" by Phillip Glass (Koyaanisqatsi – 24/96 kHz), which pushed me to switch up to medium gain, to revel in those earth shaking bass pedals.
As with any headphone that comes equipped with a 3.5mm, I felt compelled to connect to my Samsung Galaxy J3. Cuing up Suzanne Vega's live performance of "Luka" (Live at Montreux 2004 – 24/48 kHz), I was overwhelmed by the richness of the sound, the bass once again playing a starring role, complementing Suzanne's vocal and explosive guitar style, both intimate and expansive.
My Take:
The Klipsch Heritage HP-3 Headphones are everything you would expect from a reference headphone produced by a company with Klipsch's pedigree. They are definitely a look into the limits of dynamic driver headphones, producing extreme dynamic range with epic concert levels of bass, without compromising the tonal balance of the low mids, mids and highs. If you are familiar with Klipsch's Legacy speakers, you will know what to expect from the HP-3s as they have truly captured that big horn sound. While not forgiving of certain recordings, they appear to work well with any source and are efficient enough to run off a phone or one of those tweaky "high end" DAPs that usually require an external amplifier.
If you love that front row, edge of stage experience, then the HP-3s are probably the headphone for you. Definitely a win in my book.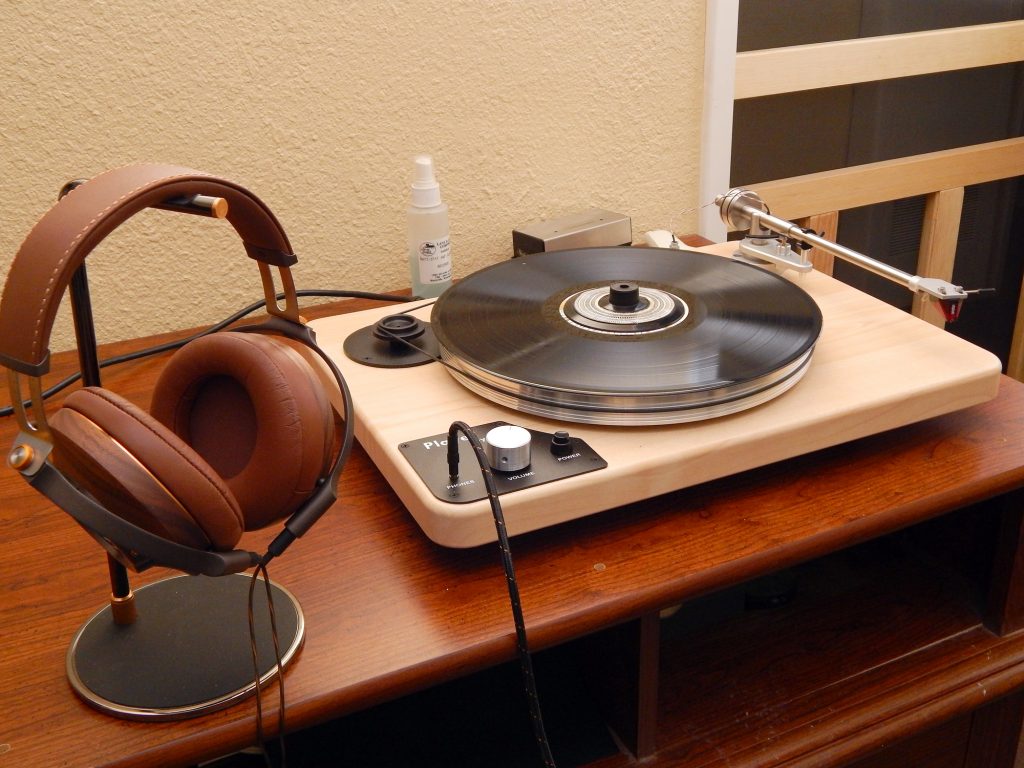 http://www.klipsch.com/products/hp-3-headphones
Price: $1,199.00 USD
SPECIFICATIONS:
STYLE – Semi-Open Over-Ear
DRIVER DESIGN – Free-Edge Biodynamic
DRIVER COMPONENTS – Full Range KG-520 DRIVER DIAMETER 52 mm
FREQUENCY RESPONSE – 5Hz-45kHz
SENSITIVITY – (1MW) 98 dB
POWER HANDLING – 1,800 mW
IMPEDANCE – 25 Ohms
INPUT CONNECTIONS – 3.5mm
PRODUCT DIMENSIONS – 7.87" (200mm) H x 10.24" (260mm) W x 1.97" (50mm) D
BOXED DIMENSIONS – 12.2" (310mm) H x 14.65 (372mm) W x 5.28" (134mm) D
PRODUCT WEIGHT – .97 lbs. (440g)
BOXED WEIGHT – 10.58 lbs (4.8kg)
COLORS – Ebony, Walnut, Oak
INCLUDES • Heritage HP-3 Headphones • 1.37m Cable • 2.5m Cable • 1/4" Adaptor • Headphone Stand