Two years ago I wrote my first article for Headphone.Guru, my coverage of CanJam SoCal 2016, and at that show, Dan Clark (of MrSpeakers) first showed his prototype electrostatic headphone. For me, it was the most exciting thing at the show, and I immediately put in for a review sample. At every show I have attended since then, he has shown an improved version of that original headphone, and now I have a production sample of that headphone in my hand along with the epic HeadAmp Blue Hawaii Special Edition Tube Hybrid Electrostatic Headphone Amplifier.
To say that I am an electrostatic headphone fan is to make a gross understatement. Since acquiring my first pair circa 1974, electrostatic headphones (and loudspeakers) have represented the "Holy Grail" of audio reproduction for me. Due to the extremely low diaphragm mass (there is no voice coil to add weight) and the fact that motive energy is applied to the entire surface of the diaphragm, electrostatic drivers achieve speeds and phase coherency not found in other driver technologies, which translates into extreme accuracy and detail. But there is a caveat, due to limited diaphragm travel, electrostatics have limited dynamic range and low bass response. This is the issue that Dan set out to overcome with the VOCE and everything I have heard so far, says he has achieved it. For the technobabel as to how he has achieved it, I'll quote the MrSpeakers website:
"VOCE is MrSpeakers' electrostatic headphone. VOCE is designed to deliver exceptional sound and to be compatible with all Stax Pro (580V) bias amplifiers. VOCE's key features include: 1) 88mm driver for extended and rich bass that extends down to 10Hz 2) Super-thin metal stators for enhanced resolution 3) Custom round, flexible and microphonic-free silver-plated copper cable terminated with a machined Teflon and aluminum plug. The cable is also user-detachable from the headphone for simpler maintenance (note: this is not for daily cable changes) as well as the option to use 3rd party cables. 4) Convenient and attractive storage box with built-in headphone stand 5) All metal construction, less than 330gr for extended comfort 6) Tuning filters for customized listening experience 7) Field-serviceable driver module 8) Fully dust-sealed drivers."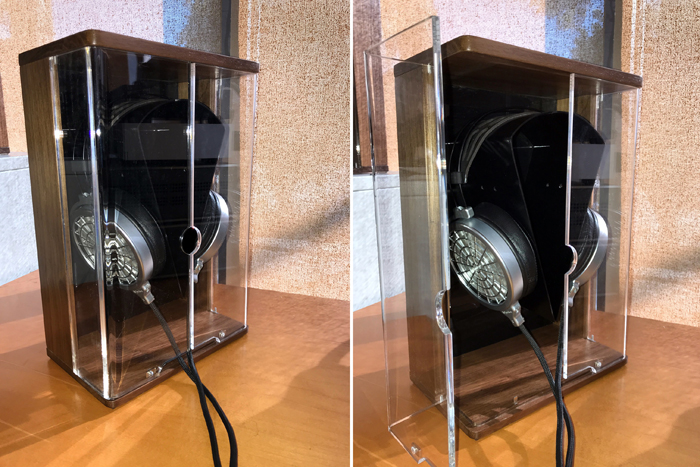 The Blue Hawaii:
Electrostatic headphones require a separate bias voltage, which means they require a special amplifier (or an energizer which allows use of a conventional amplifier), and the Blue Hawaii is simply the best I have heard for this purpose. The sound achieved during my listening tests for this review is a product of both the amplifier and the headphone so it is important to know what the Blue Hawaii brings to the table. I have listened to the VOCE prototypes on several different electrostatic amplifiers all selling for over $5,000, and I have listened to both the Stax SR-009 (which I have also heard on several amplifier combinations) and SR-007MK2 on the Blue Hawaii, so I have a pretty good idea of what makes it special.
The Blue Hawaii is unique in the world of hybrid amplifiers in that it has a low noise dual JFET front end and a tube (4 EL34s) output (most of the hybrids I am familiar with have tube front ends and solid state outputs) the results of which is a very linear but musical headphone amplifier. How the Blue Hawaii compares to the other electrostatic headphone amplifiers that I have listened to is both improved phase coherency and linearity (which means more resolution and detail with a larger more airy soundstage), a more natural tonal balance, deeper bass response (very unusual for a tube amp, which tend to be voltage devices rather than current devices), better dynamic range and noticeably more power (which is important for the VOCE which sacrifices efficiency for dynamic range and bass response).
The Synergy:
To perform my listening tests, I decided to use a range of sources to give a complete picture of the soundscape, including; a VPI Player Turntable (with built in phono preamp), the Schiit Yggdrasil Analog 2 Bit Perfect Multibit DAC, the Questyle Audio CAS192D Current Mode DAC which uses the Wolfson chip, the Questyle Audio CMA400i which uses the AKM chip and the FiiO X7 Mark II which uses the Sabre DAC chip.
I can think of only one word to describe my experience listening to vinyl through the Blue Hawaii/VOCE system; Magical! In terms of soundstage, imaging and musicality it was the best I have ever heard through headphones. Okay, the Ortofon cartridge is a bit bloomy in the midrange and lacks the authority in the bottom end I was looking for when listening to Tonio K.'s "Trouble" (amerika), but it made for a very realistic and lifelike rendition of "Low Spark of High Heeled Boys" by Traffic from their live On The Road album.
The London Festival Orchestra was portrayed lovingly while listening to "THE AFTERNOON: Forever Afternoon (Tuesday?)" from Moody Blues' Days of Future Past, but it was time to switch over to a source more accessible to personal audio enthusiasts, so I bid a fond farewell to vinyl and hooked up the Yggy.
Though not as honeyed as the vinyl, the Yggy had a much more linear tonal balance, meaning the mids were more natural and the bottom end was a lot more robust. Again, the soundstage was like nothing I've heard before with headphones. "Sister Seagull" from Bebop Deluxe's Live In The Air Age (44.1 kHz) was like being in a box seat at the Hollywood Bowl or a large stadium concert with a full three dimensions of image.
With a high resolution 24/192 kHz file the realism just became better. Dusty Springfield and Herb Alpert appeared to be in a large nightclub lounge during their performance of "The Look of Love" (Casino Royale) with Dusty's vocal intimate and sexy. To be honest, the horn section at the end of the song always sounded a bit canned, but not so with this set up, the brass was real and dynamic without being harsh or grating. And the upright bass sounded like an upright bass, in the room with you, not run through a stage amp. It was really hard to put it down and move on to the next selection.
Switching to my reference DAC the Questyle CAS192D, I noted that while the Yggy had slightly better resolution with PCM tracks and a warmer bottom end, the Wolfson was a bit more analog sounding (especially with DSD files), with a mellower high end. Both exhibited a huge hall soundstage while listening to "The Firebird Suite" (Robert Shaw – Atlanta Symphony Orchestra – Stravinsky: The Firebird; Borodin: Music from Prince Igor – 16/44.1 kHz) reminiscent of Disney Hall. Again the tonal balance was phenomenal and the instrument placement precise, with plenty of air around the instruments.
Picture yourself at Carnegie Hall, thirty feet from the performers on stage, the hall dead silent apart from the occasional throat clearing, as Harry Belafonte, backed by a couple of acoustic guitars and an upright bass, begins singing "Sylvie" (Belafonte At Carnegie Hall: The Complete Concert – DSD) and you have the precise experience of this system as I had felt it. The same went for Chic Corea and Bobby McFerrin perfoming "Armando's Rhumba" (Rendezvous in New York – DSD), the delicate and rich overtones of the Steinway in the large concert hall very evident and dynamic.
While the AKM was a little harder sounding and lacked a bit of the resolution of the more expensive DACs, the tonality was the same as the Wolfson (owing in general to the same amplifier design and tuning), listening to Yes's "And You And I — I. Cord of Life, II. Eclipse, III. The Preacher the Teacher, IV. Apocalypse" (Close to the Edge – DSD) was a transformative experience. The VOCE/Blue Hawaii ensemble gives you back exactly what you feed it.
By the time it came for the Sabre DAC there was very little more to be learned (though I did use it for my initial tests as it was quick and easy to set up), I decided to follow through and run the gambit. While not as organic sounding as the others, it was in no way disappointing taking in "Man On The Moon" by R.E.M. (The Best of R.E.M. In Time 1988-2003 – 24/192 kHz).
As a slight addendum, MrSpeakers provides a tuning filter kit which tames the upper mids without obscuring the detail, which is quite handy if you are using one of the harder DACs like the Sabre or for listening to strident or harsh recordings.
The Takeaway:
While it didn't quite have the focus and depth of field of an audiophile two channel loudspeaker system, that is the closest comparison to listening to MrSpeakers VOCE Electrostatic Headphones through the HeadAmp Blue Hawaii Special Edition Electrostatic Headphone Amplifier, regardless of source, and it didn't require thousands of dollars worth of room treatment and tens of thousands of dollars worth of loudspeakers and electronics. Would it benefit from a more expensive front end? No question, but even the $800 DACs gave a musical experience that was almost impossible to put down. Is it the system for everyone? Alas no, if you're looking for that Hip Hop Club sound, unless it is in the recording itself, you're not going to get it. But if you want to hear what the people who attended the recording heard (not through the mixing board, but in the room with the musicians), this is the closest you're going to come. And at a cost significantly lower than any real competitor.
I kinda skipped over my usual appraisal of appearance and build quality so I'll put it here. If you haven't seen a Blue Hawaii then you've missed out, sexy is the only word for it, and I got one with the new Champagne finish which is gorgeous. The build quality is second to none, using the best quality parts; the spiked feet and separate power supply with a humongous umbilical cord speak loudly of their dedication to sound quality. As to the VOCE, they share the same unmatched build quality of all MrSpeakers products, and retain an elegance and intelligence of aesthetics that must be seen.
If you have the true heart of an audiophile, you owe it to yourself to give the HeadAmp Blue Hawaii Special Edition Electrostatic Headphone Amplifier and the MrSpeakers VOCE Electrostatic Headphones a listen.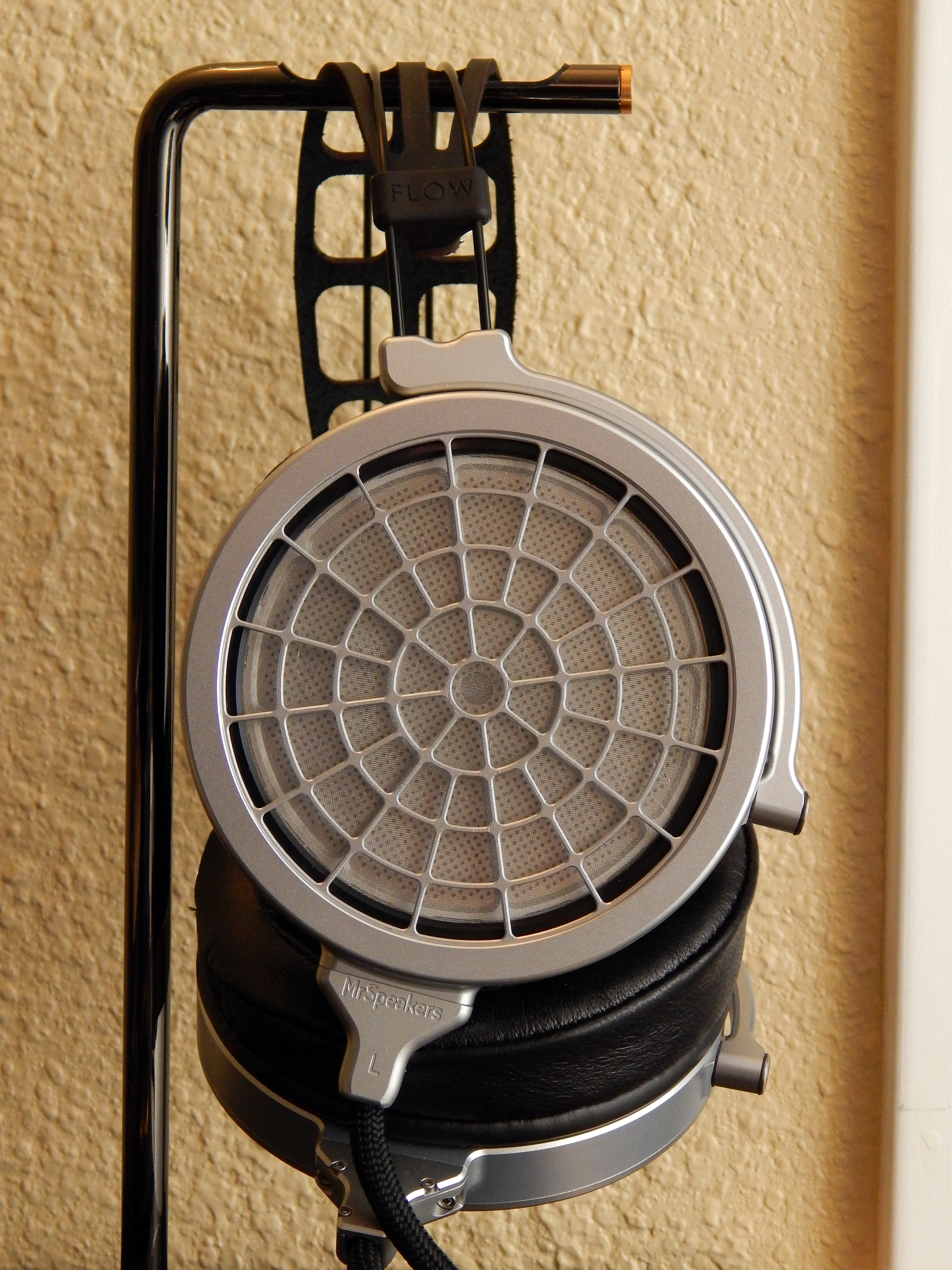 https://www.mrspeakers.com/headphones-14/voce.html
Price & Specifications:
VOCE: $2,999.99 USD
VOCE is designed and built in San Diego, CA and comes with the following innovative features:
Super-large 88mm diaphragm for extended low frequency output
2.4 micron driver, optimized for stability and resolution
Fully dust-shielded driver
Ultra-thin metal stators for superior sound
MrSpeakers' signature NiTinol memory metal headband for exceptional comfort, light weight and durability
Detachable* custom fabricated silver-plated copper cable that is non-microphonic, round and super-supple, yet low capacitance
Proprietary machined Teflon amplifier plug with machined aluminum housing, gold plated solid copper pins and a machined aluminum headphone connector**
580V "Pro-bias" compatible for use with any Stax-pro compatible amplifiers
Italian Napa leather ear pads
Vat-dyed US made leather headband
In the spirit of avoiding waste and making packaging functional, our attractive shipping box is actually a hardwood headphone stand and case which serves as a stylish and functional way to store a VOCE (or any) headphone.
Box features include:
Real walnut hardwood
Hinged clear acrylic front doors with magnetic fasteners
A built-in integrated headphone stand
A convenient front-slot for the cable so the headphones may be left plugged-in while stored
Blue Hawaii SE: $5,799.00 – $6,879.00 USD
Electrical
| | |
| --- | --- |
| Type | Low noise dual JFET input; 4x EL34/6CA7 vacuum tube output |
| Frequency Response | 5Hz-20KHz +/- 0.3dB |
| THD | 0.003% @ 1KHz/100VRMS |
| Crosstalk | |
| Gain | 54dB (500x) |
| Input Impedance | 50K ohm |
| Output Voltage | 1600V peak-to-peak |
| Line Voltage | 100V, 115/120V, 230/240V |
| Power Consumption | 180W |
Mechanical
| | |
| --- | --- |
| Inputs | 1 XLR, 2 RCA |
| Outputs | 2 Teflon Stax Pro Bias (580V) headphone jacks, 1 XLR/1 RCA loop output |
| Dimensions – Amplifier | 15.5in [394mm] W x 13.5in [343mm] D x 8.5in [216mm] H (with tubes installed) |
| Dimensions – Power Supply | 7.7in [195mm] W x 12.5in [317mm] D x 4.5in [114mm] H |
| Weight – Ampifier | 14lb [6.4Kg] |
| Weight – Power Supply | 17lb [7.7Kg] |
| Power Cable | 4ft [1.2m] (connects power supply to amplifier) |