When I first heard Audeze's new iSINE20 in-ear headphones at RMAF in Denver last year, I was astounded at just how big they sounded and reminiscent they were of their venerable full sized LCD-2 headphones! I was floored at how these substantially smaller in-ear headphones could portray such a full and enveloping sound, but be so darn small and light? I previously thought that there was no way around the magnet structures of planar magnetic headphones and that "large and heavy" was par for the course. Well, it appears that this assumption of mine was a fallacy. The designers at Audeze, never to let the grass grow under their feet, have been busy developing planar magnetic drivers that could be miniaturized into an in-ear monitor. Now while the iSINE20 are likely the largest in-ear headphones I've come across, when compared to their LCD series of headphones, they are considerably smaller, lighter and infinitely more portable. So to say I was excited to be reviewing this outstanding new product; it would be a substantial understatement.
Very similar to the portable on-ear SINE headphones, the iSINE20 in-ear monitors come in an impressive package. As I mentioned during my review of those on-ear headphones (https://headphone.guru/the-audeze-sine-portable-headphones-with-cipher-lightning-adapter-brilliant-on-the-go-sound/), the iSINE20 come with equally remarkable packaging that really showcase the product so very well. Right out of the box, the quality and workmanship of the iSINE20 really shines through. Not only are they great to look at, but they are very light and barely noticeable in your ears as a result. There are several accessories that are included to help you get the right fit. Both EarHooks (over ear hooks) and EarLocks (in-ear locks) are included to help keep the iSINE20s in place while you use them. While I found that the EarHooks offered the best stability, I actually settled for the latter EarLocks as I found them the easiest to use and fit in the travel case. Also included is a wide assortment of ear-tips to allow the user to find their best "fit". After trying every one, I actually settled for the pre-installed ones as they offered the most consistent fit for me.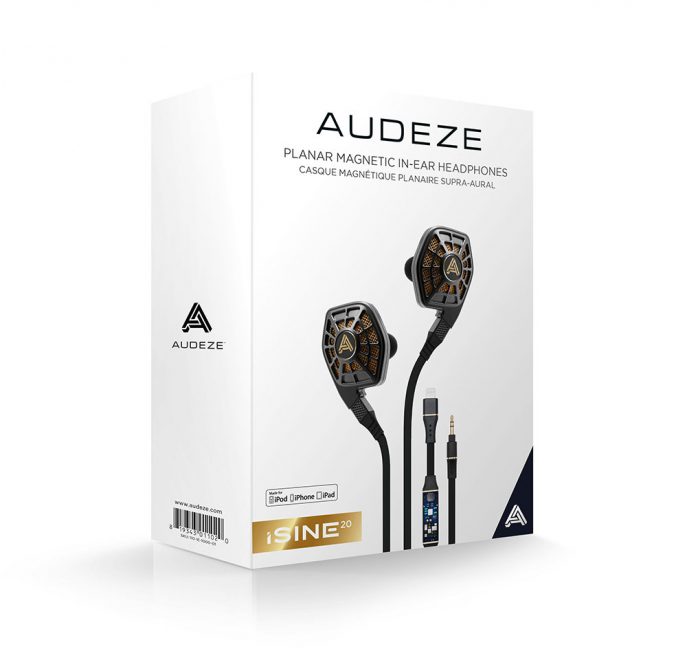 As mentioned, the iSINE20 are still planar magnetic headphones. But unlike most other planars, these come in at an incredible 20 grams! That the designers at Audeze managed to miniaturize to this level is a truly impressive engineering feat. Also incorporated is the Fluxor technology included in their full sized LCD lineup of headphones. This allows for nearly double the magnetic driving force of their ultra-thin diaphragms (with patented Uniforce voice-coil technology). The resulting levels of distortion (Total Harmonic Distortion) come in at a ridiculously low level (less than 0.1% at high volumes) and offers a truly clean and transparent presentation. Also included as an option is the Cipher cable with included headphone amplifier, digital-to-analog converter and DSP for an extra $50. And if you're an Apple user (iPhone, iPad, etc…), I strongly suggest you consider this option for the improved sonic performance gained without the need to carry a high end DAP or portable amplifier/DAC separately from your iDevice.
The full specifications for the iSINE20 are:
Specifications
| | |
| --- | --- |
| Style | In-ear, universal fit |
| Transducer type | Planar magnetic, semi-open |
| Magnetic structure | Fluxor |
| Magnet type | High-grade neodymium |
| Diaphragm type | Ultra-thin Uniforce |
| Transducer size | 30mm |
| Maximum power handling | 3W |
| Maximum SPL | >120dB |
| Frequency response | 10Hz – 50kHz |
| THD | <0.1% @ 100dB |
| Impedance | 24 ohms |
| Cable type | non-microphonic |
| Dimension | 31mm x 35mm |
| Weight | 11g (per side) |
Features
Planar magnetic drivers for better dynamics and frequency response
Premium materials for style and durability
Sleek contemporary design by DesignWorksUSA a BMW group company
Ear hooks and Earlocks for long listening comfortability
Audeze Technology
Fluxor magnetic arrays
Uniforce diaphragms
Package Includes
Certificate of authenticity
User guide and warranty
1.5m audio cable, 1/8" stereo plug input to 2-pin plug output
1.5m Cipher cable, Lightning plug input to 2-pin plug output
For the purposes of this review, I used both the included Cipher Lightning cable/adapter straight out of my iDevice (iPhone 7 and iPad Pro) and I then switched over to the included standard headphone cable and used these in-ear headphones with my Chord Mojo portable amplifier/DAC and Astell & Kerns AK240 digital audio player (DAP).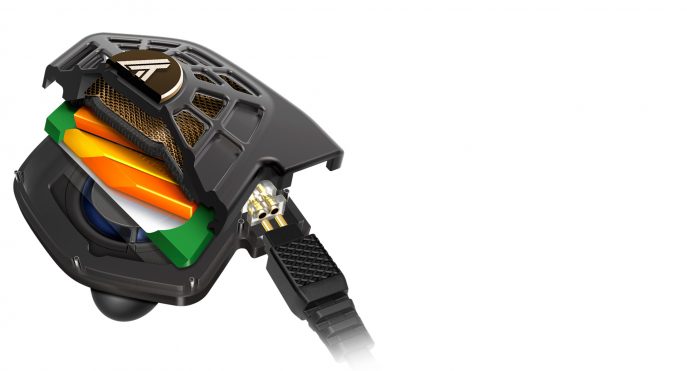 As soon as I opened up the packaging, I could tell that a lot of thought and care went into both the design and manufacture of these in-ear headphones. They do catch you a bit off guard due to their large size, but once you settle in with the fit and accessories, they feel like any other IEM that you would use. But sound wise, boy is there a real difference! This is one of only a few times I've ever plugged in an in-ear monitor and heard such a B-I-G sound that it truly rivaled a full sized pair of headphones. Oh, and those other IEMs cost northward of $2000! So coming in at only $599 US, the iSINE20 caught me off guard yet again for their immense sound staging capability. They were like mini-LCD-2 headphones that you could take with you on the go. Now while these are "open-backed" in-ear headphones, I actually liked this feature when using them for walks or puttering around the home. I was able to hear background sounds that allowed me to more safely do my thing and not have to worry about not hearing an approaching car or truck. But if you're after the utmost in noise isolation, say for flying or in an office space, then I would suggest a more traditional in-ear monitor.
My first critical listening experience was with my iPad Pro and Tidal Master/HIFI. I used both the Cipher Lightning cable and the standard supplied headphone cables (with a 1/8" TRS plug). Being a long time trumpet player (in excess of 35 years), I selected the classic "Tutu" by the one and only Miles Davis. Speaking of "Tutu", Headphone.Guru's own Jason Miles actually worked with the legend himself and wrote a very interesting article here: https://headphone.guru/making-miles-davis-tutu-pt-2/.
Initially I started off with the Cipher Lightning Cable. As soon as I plugged it in, I was asked to install the Audeze App from the Apple App Store. About 30 seconds later I was off to the races. Setup was a snap and as soon as I selected "Tutu", the sound I heard was very much in line with a full sized pair of open-backed over-ear headphones. This is not an exaggeration either, while considerably smaller than any full sized headphone that I know of, the wall of sound that emanates from these IEMs will simply astound you. The sound signature is very much in line with the LCD series of headphones by Audeze. That is to say, ruler flat from 20Hz up to 1kHz and then a slow push back of the treble to account for the close proximity of the drivers to the listener's ears. What is produced is a wonderfully rich, clean and transparent sound that is very easy to listen to for long periods of times. Miles' trumpet tone and timbre was spot on with this pairing; the overall sound quality was simply breathtaking. Bass dug down to the lowest depths of my hearing levels and offered a wonderfully layered and rich presentation that was never bloated, nor overdone. The mid-section flowed from the bass in perfect unison; with neither range overtaking the other. The resulting sound was incredibly clean and natural and bested so many other in-ear monitors costing 2-3 times more. As previously mentioned, the treble range follows the Audeze formula of pushing it back slightly to account for the close proximity of the drivers to the listener's ears. And I am a big fan of this sound signature as it offers a fatigue-free presentation by eliminating the treble spikes and ringing that many other in-ear and full sized headphones can include. The treble is certainly not "rolled-off" as say with the Shure SE535 IEMs, but rather nicely extended, but in a very natural proportion to the mids and bass.
As I mentioned, the sound-staging capabilities of the iSINE20 really impressed me! From the first time I plugged them in, I was taken aback at just how expansive and real the corresponding image was. I would say that they are in the ball park of highly respected full-sized headphones like the venerable Audeze LCD-2 or Sennheiser HD650. Now considering the obvious size differences, this is quite the engineering accomplishment by the designers at Audeze! Detail retrieval was also truly excellent! These in-ear headphones capture everything; the good, the bad and even the ugly in the recording. Thankfully the Tidal Masters version of "Tutu" had very little ugly going on. I could hear everything from the tiny breaths that Miles would take just before blowing into his horn to the smallest audible nuances of the shimmer on the cymbals. Just a surreal and immersive experience!
I then switched from the Cipher Lightning cable to the standard headphone cable and plugged the iSINE20 directly into my iPad Pro's headphone output. While they still sounded stupendously good, the final levels of refinement, spatial clues and overall transparency did take a step back. So if you have an iPhone or iPad, I strongly recommend that you consider the Cipher Lightning cable option. The improvements in sound quality are very real and you won't have to sacrifice much in terms of portability due to the sleek design of this cable.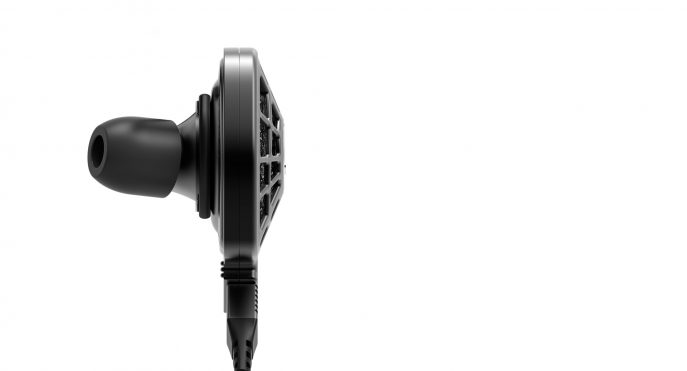 With the standard headphone cable still on the iSINE20 in-ear headphones, I decided to plug them into my Chord Electronics Mojo and use this portable headphone amplifier/DAC in-between the iSINE20s and my iPad Pro. I am very happy to report that the iSINE20s responded accordingly with a bump up in sonic improvements over the iPad Pro alone. In fact, these IEMs sounded a tad bigger out of this setup over the previous two. The drivers on the iSINE20 did respond to improvements in the upstream amplification and sources by continuing to scale to even higher planes! In fact, I could conceivably foresee that this setup could be a very satisfying end-game setup for someone looking to have a portable audio system that isn't too big and bulky and doesn't cost an arm and a leg.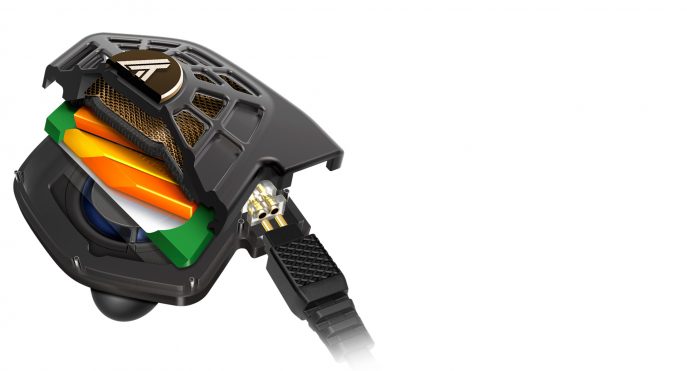 Listening to Metallica's "Enter Sandman" was a pure joy! Lars' drum beats at the beginning of the track really brought a big smile to my face as the waves of the bass poured over me and really drew me into this hard rock classic! The Guitar work was crisp, clean and filled with energy. James Hetfield's vocals were as profound and as life-like as I've ever heard from any portable setup. In short, these in-ear headphones truly rock! The frequency response is just a pleasure to enjoy for long periods and the level of transparency and clarity offered by the iSINE20s is outstanding!
The only difficulty I had with these IEMs was trying to get the over-ear hooks to work with the provided travel case was a bit too difficult for me. Luckily I actually preferred the supplied in-ear locks with the iSINE20 and getting this pairing to work with the travel case was no problem at all.
Overall I absolutely love the iSINE20 in-ear headphones. Offering Audeze's first in-ear experience in such a revolutionary planar magnetic product is quite an impressive engineering feat. The resulting sound quality is something that has to be experienced to be believed. If you thought you had to sacrifice sound stage and imaging with a portable product without spending north of $2000 US; well, that has now changed! This is simply the best value for a portable pair of headphones/IEMs that I've come across and if you don't require noise isolation due to their open-back design, I can think of no better option! Well done Audeze!