Selected as our "DAC of the Year for 2017", the Chord Hugo 2 continues to build on a very popular predecessor, the Hugo. I purchased my Hugo 2 towards the end of the summer last year and have used it for many hours both as a home desktop setup and as the source/amplifier of my portable rig. I've put this unit through its paces and then some; especially when compared to the time I've had with it and the Hugo 2 still continues to put a smile on my face now many months later. This little wonder can literally do it all; it can serve as a digital-to-analog converter for your home system (headphone or speaker) or alternatively you can simply pick it up and take it with you as a portable DAC/amplifier. While on the go, you can simply pair the Hugo 2 with your mobile device or iPad via USB and feed it all the music you have on hand. For my portable use, I paired the Hugo 2 with the FiiO X5 Mk3 portable DAP as a source. With two 200 Gb microSD cards, I have literally hundreds of albums with me regardless of where I am and with up to 7 hours of battery life, more than enough for even the longest flights I've taken since purchasing it. While at home, the new "desktop mode" of the Hugo 2 allows for full operation as a system DAC that I used primarily with my headphones on hand, but also as a source to my HeadAmp GS-X Mk2 desktop headphone amplifier.
The Chord Hugo 2 has taken the audio world by storm since its release and picked up right where the Hugo left off. While I was always impressed with the Hugo, I felt the slightly treble tilted tonality held it back from true greatness. Well, I am very happy to say that the Hugo 2 has improved the frequency response to a level that only the Chord DAVE bests for transparency and the ultimate in neutrality. Last year, I reviewed and auditioned three brilliant full sized desktop digital to analog converters (Schiit Yggdrasil, Benchmark DAC3 HGC and Kitsune Holo Spring Level 3 DAC) and while I still hold them in very high regard, I still found that the Hugo 2 outperformed them in regards to detail retrieval, tonal balance and overall clarity. Quite the impressive feat for what Chord describes as a "transportable" unit. You literally can have your cake and eat it too with this unit! Tap count has now almost doubled from 25,000 to a whopping 49,000 as a result of the the new Artix 7 FPGA when compared to the Chord Hugo and Hugo TT. With 4 digital inputs (2 x coax, optical, USB and Bluetooth) and full support up to an impressive 768 kHz, the Hugo 2 really has it all for your audio needs for many years to come.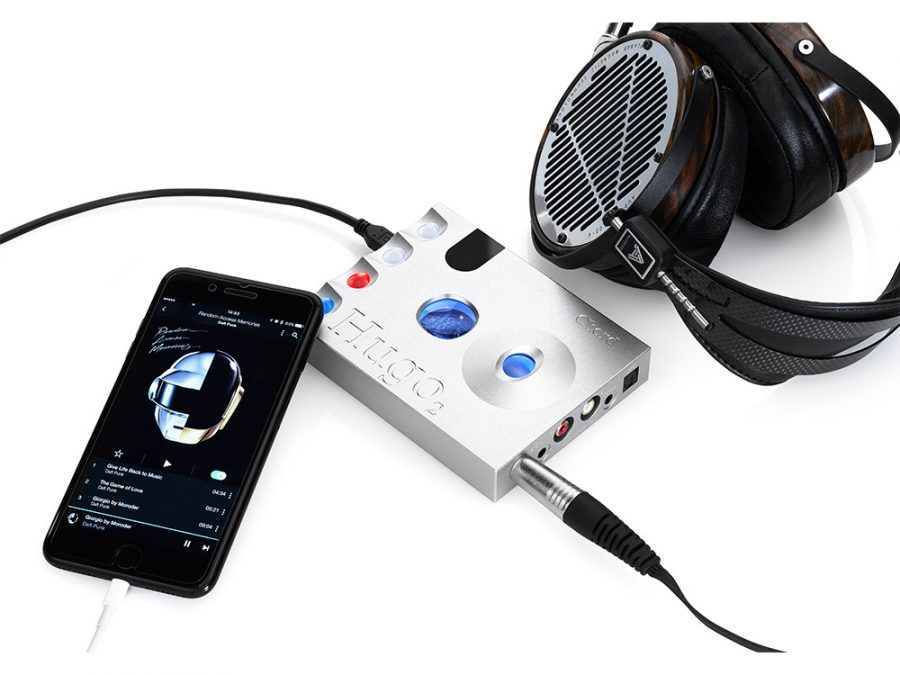 Here is a full list of the specifications for the Hugo 2:
Chipset: Chord Electronics custom coded Xilinx Artix 7 (XC7A15T) FPGA
Tap-length: 49,152
Pulse array: 10 element pulse array design
Frequency response: 20Hz – 20 kHz +/- 0.2dB
Output stage: Class A
Output impedance: 0.025 Ω
THD: <0.0001% 1 kHz 3v RMS 300Ω
THD and noise at 3v RMS: 120dB at 1 kHz 300ohms 'A' weighted (reference 5.3v)
Noise 2.6 uV 'A' weighted: No measurable noise floor modulation
Signal to noise ratio: 126dB 'A' Weighted
Channel separation: 135dB at 1 kHz 300Ω
Power output @ 1 kHz 1% THD: 94mW 300Ω
740 mW 32 Ω
1050 mW 8 Ω
Weight: 450 g
Dimensions: 130 mm (L) x 100 mm (W) x 21 mm (H)
Boxed Dimensions: 220 mm (L) x 122 mm (W) x 85 mm (H)
Battery: 2x Rechargeable custom Enix Energies 3.7v 9.6Wh Li-ion (lithium-ion (2600mAh) batteries*
Tap length filter: 49,152 – 10 element Pulse Array design
Play time: In excess of seven (7) hours
Charging: Nominal four (4) hours via Micro USB at 1.8amps (fast charge) – Nominal eight (8) hours at 1amp (slow charge)
Connectivity (input): Micro USB (White): 44.1kHz – 768kHz – 16bit – 32bit
Coax via 3.5mm Jack (Red): 44.1kHz – 768kHz – 16bit – 32bit
Optical (Green): 44.1kHz – 192kHz – 16bit – 24bit
Connectivity (input wireless): Bluetooth (Apt X) (Blue): 44.1kHz – 48kHz – 16bit
Connectivity (output): 1x ¼" jack headphone output
1x 3.5mm jack headphone output
1x stereo (L & R) RCA output
PCM support: 44.1kHz, 48kHz, 88.2kHz, 96kHz, 176.4kHz, 192kHz, 358.8kHz, 384kHz, 717.6kHz, and 768kHz.
DSD support: Native playback supported. DSD64 (Single) to DSD512 (Octa-DSD)
Volume control: Digital, activated in 1dB increments. Last known state saved upon shutdown, with exception of line-level mode
Line-level mode: Activated via dual press of middle 'Source' and 'Crossfeed' buttons. Line level = 3v via all outputs. Reset by power cycle
Power saving mode: Auto-shutdown after ten minutes of input inactivity
Driver support: Driverless with Mac OS X and Linux, driver required for Windows OS
Price: $2379 USD
For the purposes of this review, I used the Hugo 2 in both desktop and portable operation. My sources feeding the Hugo 2 for desktop mode were through my Cambridge Audio 850C Azur CD player (over my Audioquest Vodka toslink cable) and through my Apple iMac (7th Generation; 27") via my Audioquest Coffee USB cable. For portable operation, I primarily used my Moon Audio Black Dragon miniature coax cable from my FiiO X5 Mk3 player. Having so many months behind my belt with the Hugo 2 was a real advantage that I normally don't get with many of my reviews, so I wanted to be sure that I was thorough and exhaustive in terms of putting this unit through its paces.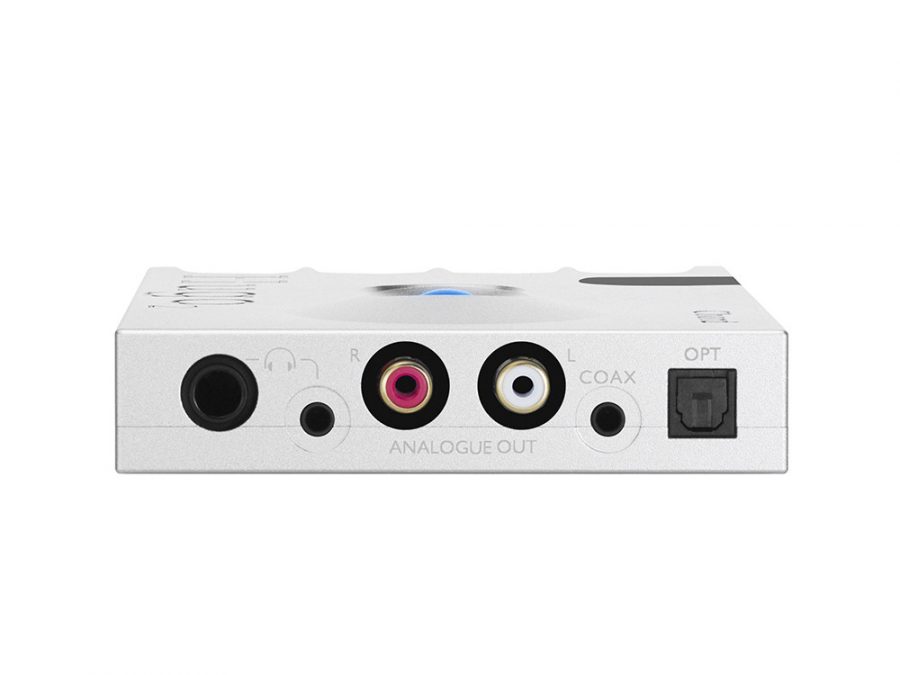 For the first part of my comments, I will stick to using the Hugo 2 as desktop solution as both a DAC (feeding my HeadAmp GS-X Mk2) and DAC/Headphone amplifier. I first directly plugged in the incredibly transparent Focal Utopia headphones. These headphones are a revelation of both your source music, but also the rest of your upstream gear (DAC, CD player, amplifier, etc…). I immediately selected my DSD version of Shelby Lynne's "Just a Little Lovin'" on my iMac (using Audirvana 3). Right from the title track "Just a Little Lovin'" I was immediately drawn into this recording. The amazing coherence of the overall presentation from the bass through the mids and treble was just so spot on that I was amazed at how something that was designed to also be transportable could be so darn transparent. I've always considered the Focal Utopia headphones to be the most "neutral" pair of headphones I've heard and when played through the Hugo 2, that naturalness and flat frequency response was so very well propagated that after a few months listening to this pairing, I could wholeheartedly recommend the Hugo 2 as an "endgame" setup for these headphones. Throw in the saved desk space and the option to take this little player with you, it's really a win-win proposition. Shelby's vocals were simply outstanding and as good as they've ever sounded with these truly transparent headphones. I never once felt that the Hugo2 was "holding back" the Utopias. Bass notes were solid, clean, tight and very well defined. Conversely, treble was extended, natural and never strident. Simply one immensely coherent audio picture was portrayed with this setup! Sound staging was also equally impressive. Both wide and deep, the sound scape put forth really did the Utopia headphones justice! I've owned many DACs over the years and most recently a few great DSD-capable DACs this past year and while they were all much larger desktop solutions, I felt that the Chord Hugo 2 was the most balanced and transparent unit in my possession (save for of course my newly acquired flagship from Chord: the DAVE).
After a few weeks using the Chord Hugo 2 as al "all-in-one" solution, I then used a pair of Kimber Red Dawn RCA cables and fed out the analog signal to my HeadAmp GS-X Mk2 headphone amplifier. For this session, I used Audeze's brilliant flagship headphone the LCD-4. I previously reviewed this great headphone here: https://headphone.guru/the-audeze-lcd-4-update-the-best-just-got-better/. They are definitely one of my favourite headphones of all time. Straight out of the Hugo 2, I found these power hungry headphones couldn't really hit their full stride so I thought it best to use them with the GS-X Mk2 desktop amplifier to power them.
Well, if anyone is looking for a truly transparent and dynamic desktop DAC, the Hugo 2 should definitely be one of your top options. Over the past few years, I've reviewed and owned many really impressive DACs that I would still wholeheartedly recommend, but in the end the significantly smaller sized Hugo 2 has come out on top for me. In fact, only my recently acquired Chord flagship DAC: the DAVE has surpassed this brilliant little wonder. No proper review of mine would be complete without at least one Rush album to put the item reviewed under the microscope. As a result, I selected "Hemispheres". Released in 1978, this classic rock album has it all; from the unique track "Trees" about the competition of small saplings with great oaks to the guitar classic "La Villa Strangiato". With the added power from the GS-X Mk2, the Hugo 2 was able to really shine with the Audeze LCD-4s. The smallest and most nuanced inner workings of the recording were all laid bare with the Hugo 2. The ability of this DAC to dig down deeper than most desktop units into a recording and portray them in such a life-like manner really impressed me. Geddy Lee's vocals; while certainly unique, was portrayed with such realism and detail that I felt I was back in Maple Leaf Gardens in the late 1980s listening to my favourite local band. At the same time, Neil Peart (the greatest living drummer in my humble opinion) sounded so true to life that I had a smile on my face for pretty much the entire album. The thump of his bass drum certainly hit hard, but what equally impressed me was the high level of detail of the reverberations that the Hugo 2 was able to convey. Many previous DACs seemed to only gloss over this at best, but Chord's little wonder captured them with such realism and clarity that really left me completely impressed! Sound staging was also a very strong area of the Hugo 2, the band's presence on the stage was brilliantly put forth and locating Geddy, Neil and Alex was quite easy to do in my mind's eye based on the transparency of this DAC. This was simply one of the best times I've had with a Rush album!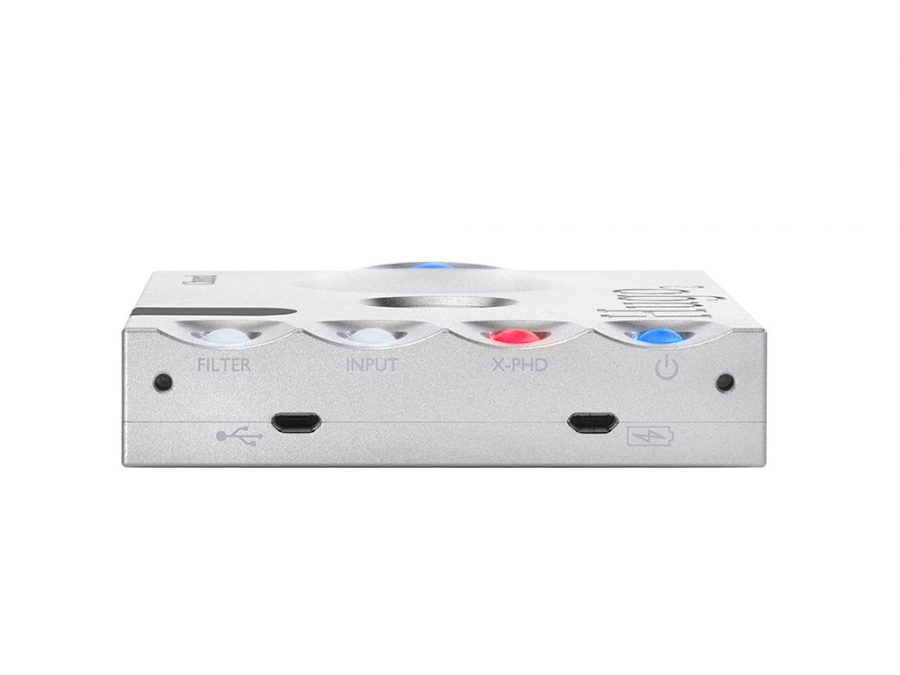 Finally, I wanted to take the Chord Hugo 2 out with me and use it as a transportable setup for our late summer vacation to New York City this past August. For this, I used my FiiO X 5 Mk3 (reviewed here by our own Gary Barker: https://headphone.guru/fiio-x5-3rd-gen-digital-audio-player-performance-can-afford/) as a digital portable player and fed the digital signal via SPDIF into my Hugo 2. With me, I brought both the newly released Audeze LCDi4 (reviewed here: https://headphone.guru/the-audeze-lcdi4-in-ear-headphones-simply-the-best/) and the Empire Ears Zeus –XR ADEL in-ear monitors. The former I used for listening in our hotel room and the later were ideal for the flights in and out of LaGuardia International Airport. This portable stack of the FiiO X5 Mk3 + Hugo 2 was in one word: majestic! As I noted in my LCDi4 review, when played with the Hugo 2, this combination is as good as any full sized desktop setup that I've heard through my many years in audio. KD Lang's "Hymns from the 49th Parallel" in 192kps was simply awe inspiring with both the LCDi4 and Zeus –XR ADEL in-ear monitors. The Hugo 2 had plenty of juice on hand to drive the somewhat more power hungry LCDi4, but still quiet and nimble enough to hand the very efficient Zeus –XR IEMs. These are my two favourite in-ear headphones and when coupled with the Hugo 2, both hit their full stride and offered incredibly detailed and transparent sound quality. KD's vocals are legendary and when heard through the Hugo 2, they become even more legendary. Everything from the slight vibrato to the fluidity of her voice was spot on. The folks at Chord Electronics have really hit the nail on the head with regards to the tonal balance, clarity and overall dynamics with the Hugo 2.
So here I am about 3 months into my Chord Hugo 2 ownership and I am still one very happy camper! This little unit has served as an excellent desktop DAC/amplifier for literally all of my headphones and IEMs, but has also performed gallantly as the guts of my portable setup too! While harder to drive headphones like the Audeze LCD-4, Abyss Phi, or Hifiman Susvara headphones will likely require a dedicated (and quite powerful headphone amplifier), I can't think of any other pair of headphones that the Hugo 2 won't drive without breaking a sweat! Throw in truly world class transparency and tonal balance and leading edge detail retrieval, the Hugo 2 is a slam dunk in my books! It certainly is a most worthy selection for Headphone.Guru's DAC of the Year in 2017 and I highly recommend you give this little wonder a try – you will not be disappointed!