When I first was introduced to the world of Empire Ears back in 2016 at Rocky Mountain Audio Fest (RMAF), I was floored with both their beautiful build quality and most importantly their incredible sound and transparency. I was lucky enough to review their flagship Zeus IEMs here: https://headphone.guru/the-empire-ears-zeus-adel-in-ear-monitors-a-new-standard-in-portable-transparency/ and I was absolutely floored with their incredible detail extraction, clarity and dead neutral tone. When I had the opportunity to review their Valkyrie custom in-ear monitors, I leapt at it! As impressed as I was with the build quality of the Zeus IEMs, the newer Valkyrie really takes things to a whole new level. The audio cable is incredibly flexible and the carbon fiber around the 3.5mm TRS plug really is the perfect final touch on this brilliant new design. Equally impressive is the new Pandora metal case, which is fit for high-end jewelry and getting the IEMs to sit inside is easier than the previous Aegis case. Finally, the shell housings have also stepped up a notch or two. The build quality is truly outstanding and very much deserving of the $1,599 US price tag.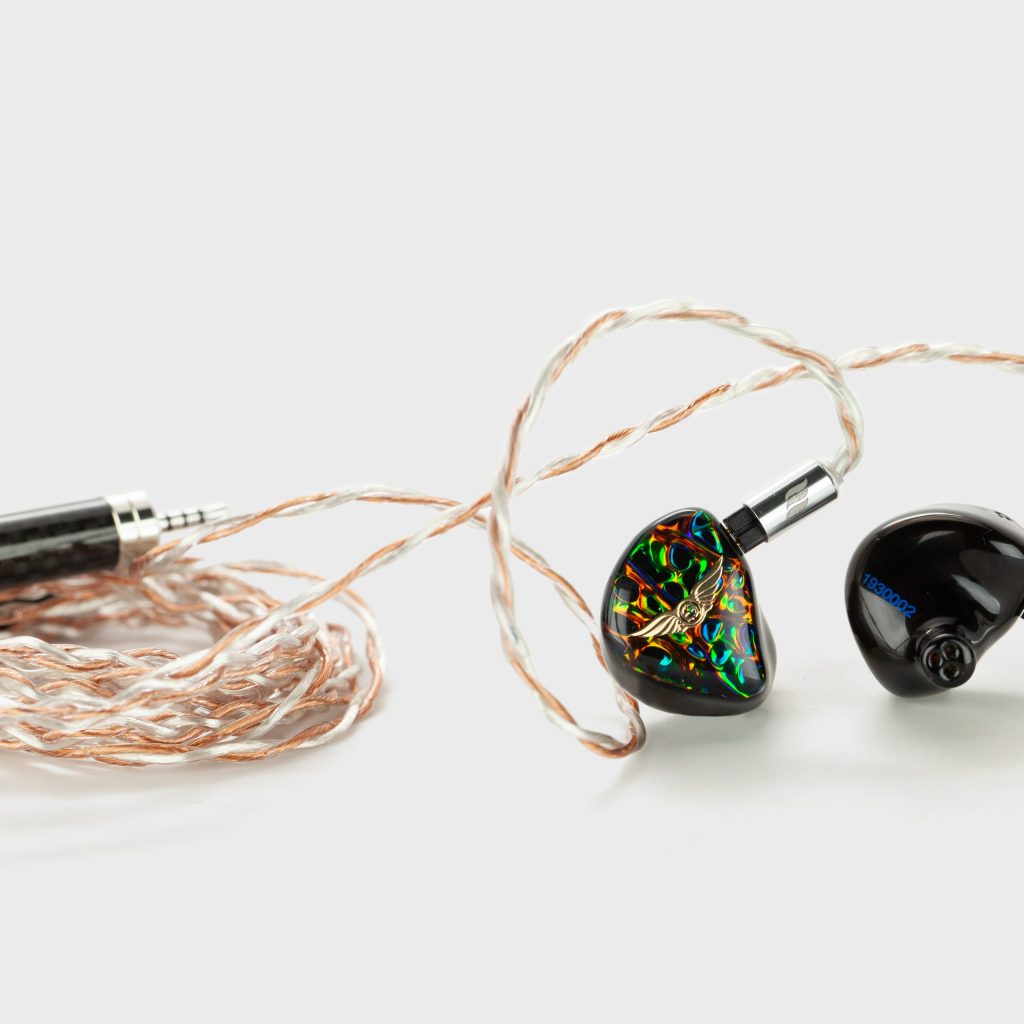 Utilizing a proprietary triple driver setup, each IEM features a "Weapon IX" subwoofer for the lows, a balanced armature driver for the mids and an electrostatic driver for the highs. This Tribrid driver setup is controlled via Empire Ears 4-way synX crossover network; including their newly developed "Empire Intelligent Variable Electrostatic Control" technology for a seamless sound signature across the audio spectrum. And after a brief listen, I was certainly very impressed with the level of clarity and transparency that these in-ear monitors had to offer, but more on that later. Here is a list of the specifications:
| | |
| --- | --- |
| Drivers: | 3 Propriety Drivers, Tribrid Design Lows: Weapon IX subwoofer Mids: Balanced Armature Highs: Electrostatic Driver |
| Crossover: | 4 – Way synX Crossover System |
| Impedance: | 3 ohms @ 1 kHz |
| Frequency Response: | 4 Hz – 100 kHz |
| Sensitivity: | 96 dB @ 1kHz, 1mW |
| Cable: | 26 AWG UPOCC Litz Copper / UPOCC Silver Hybrid Cable, Handcrafted by Effect Audio |
| Accessories: | Valkyrie In-Ear MonitorsEmpire Pandora CaseEmpire Cleaning ClothEmpire Cleaning Tool |
| Price: | $1,599 |
While most IEMs that utilize balanced armature drivers due to their small footprint and high efficiency, they can suffer from resonant behaviours that can result in undesired distortion and treble peaks. The Valkyrie, however, utilize their newly developed A.R.C technology, which is used to mitigate resonances within the IEM shells. Furthermore, Empire Ears utilize a Ferrofluid element between the magnets and armature to mitigate these peaks by providing improved damping and in turn eliminate the need for a damping screen in the port tubes. A.R.C. effectively increases the mass of the components that it is applied to; including each driver, crossover and sound tube. This gives the internals in the IEM a higher degree of solidity as a dampener to absorb any undesirable resonances instead of just reflecting them out of phase. The resulting sound has substantially increased clarity, deeper bass and overall IEM efficiency.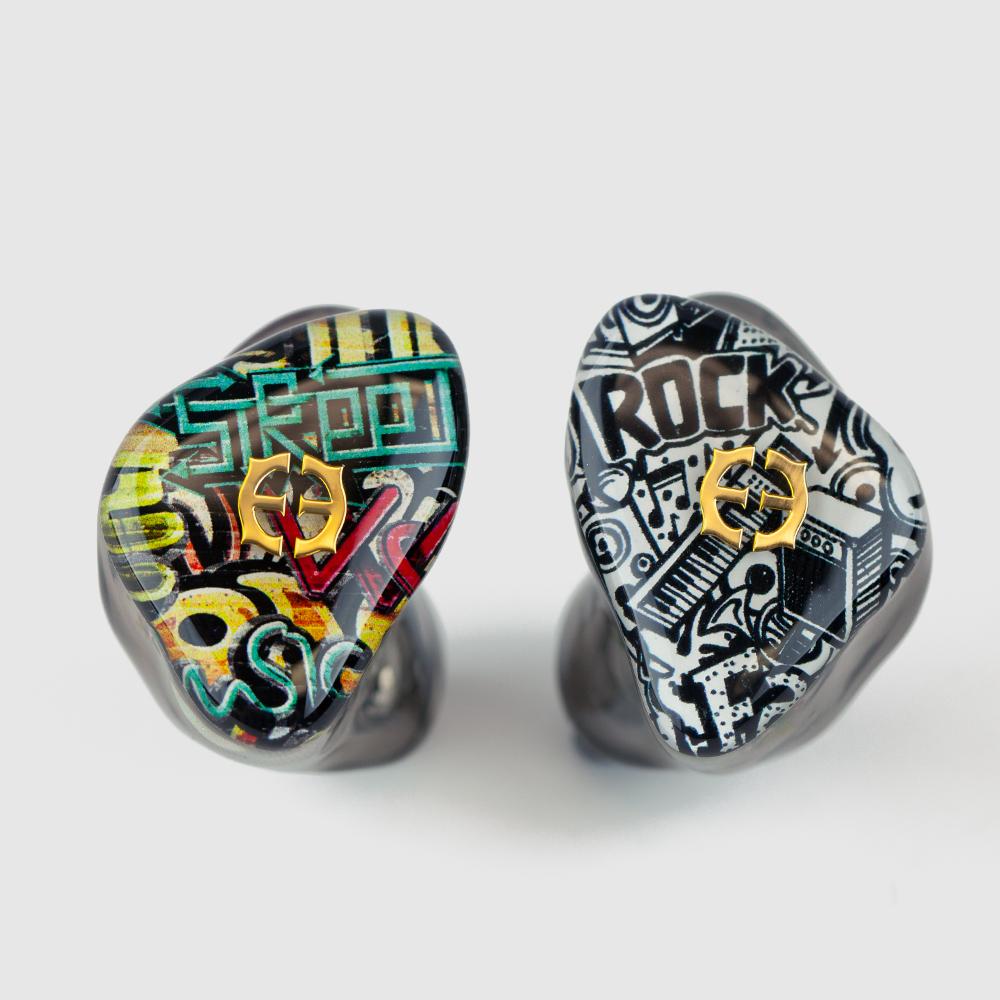 For my first serious sit-down, I quickly decided upon using my FiiO M11 Pro DAP (digital-to-analog player). A few seconds later, I opened my Qobuz App and quickly settled on a favourite test album of mine: "Hymns of the 49th Parallel", which is the brilliantly recorded sixth studio album by Canada's own k.d. lang. If you love female vocals this recording is one of my most favourite of all time. Not only is she a Canadian treasure, her musical talents are recognized all around the world. This album is a great collection of songs from many other famous Canadian songwriters from Neil Young to Leonard Cohen and Joni Mitchell. Right from the start of the Toronto-born Neil Young's "After the Gold Rush" I could tell that I was in for a fantastic ride! The Valkyrie's do deviate their sound signatures from what I consider the "dead-neutral" portrayal of the Zeus models by offering a more fun and engaging representation. Bass notes hit definitively harder with a more apparent punch and heft. I actually prefer this presentation for most genres of music and with this album; I felt that the music was more engaging and satisfying. k.d.'s vocals were just beautiful and when Leonard Cohen's classic "Hallelujah" started up, I was in complete musical ecstasy. If you haven't heard this rendition of this standard, please do yourself a favour and give it a thorough listen. You WILL become a fan of Ms. lang almost instantly and if you're really lucky and own these IEMs, please for all that is good in this world, stop what you're doing and listen to this track with these incredibly transparent and revealing in-ear monitors! Simply put, this is one of the most enjoyable experiences I've ever had from any portable setup with this track (and album). The added bass and treble sparkle offer a very pleasing and easy-to-listen experience that will have you smiling from ear to ear! One final comment with this recording, I found that the Empire Ears' Valkyrie's imaging and sound staging well above average for in-ear monitors. The sound did not seem to emanate from deep within my head but offered a mental image that came from around my head. This was very much a welcomed surprise as I tend to not expect much from IEMs in this regard.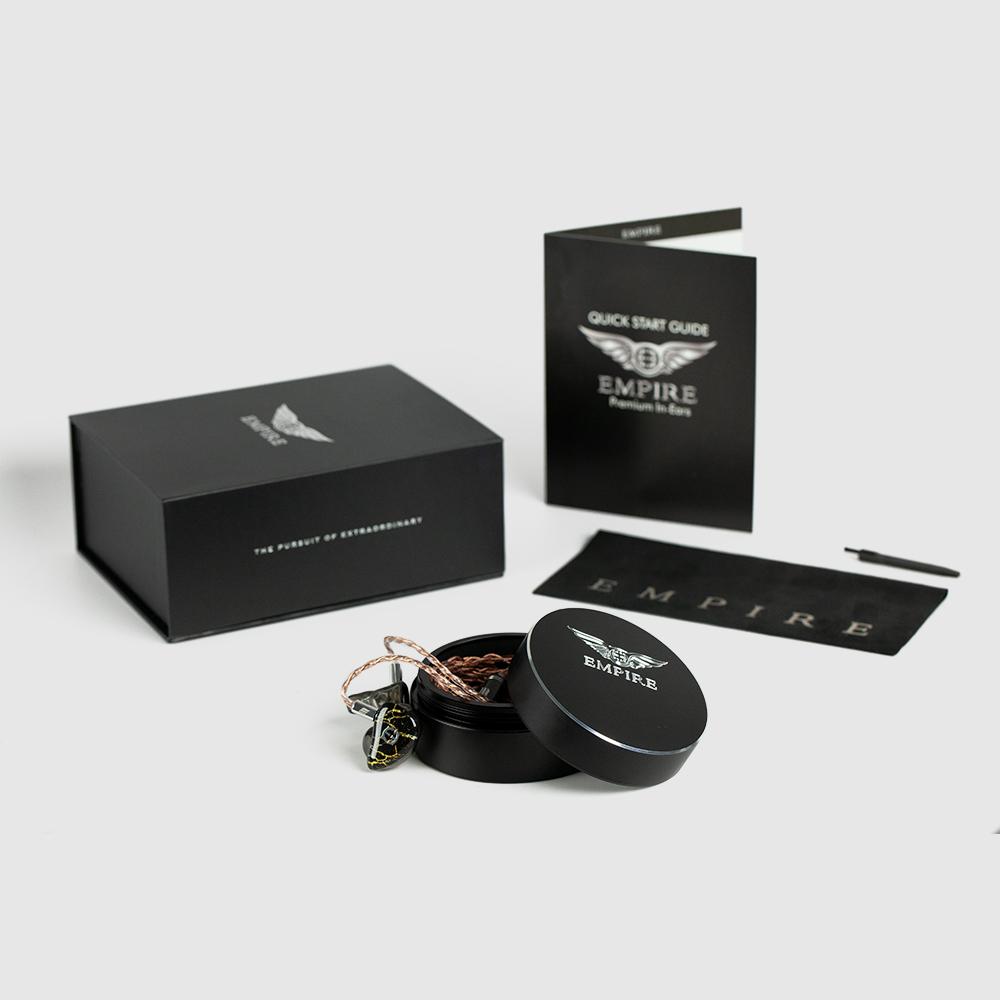 I then decided to try these very impressive in-ear monitors with my Chord Hugo 2 with my iMac as the source via USB (Audioquest Carbon) and a particular favourite DSD classical recording of "Pictures at an Exhibition" written by Modest Mussorgsky in 1874. This is a standard for me to test how a pair of headphones or IEMs can reproduce the proper tonality of the many different instruments on this beautiful work, portray spacing, separation and sound-staging and finally keep up with the complexity of the many different movements. As soon as the trumpets started with the first movement, I could tell immediately that their tone and timbre were spot on as portrayed through the Valkyrie IEMs. I've played trumpet for almost 40 years and know the sound of this instrument more than my own voice at times and the ability to hear it almost perfectly reproduced through a portable set of in-ear monitors had the hairs on my arms stand up to full attention. This was truly an experience that I've only really had with one other pair of IEMs, the Zeus –XR by Empire Ears. What was, however, different was that the timpani and various other percussion instruments offered a more visceral feel with the added bass. In the end, I found this presentation with classical music so very satisfying and enjoyable that I think I might prefer the Valkyrie's representation overall for this added benefit. Instrumental separation and clarity came with world-class transparency and I can easily say that these are right there with the very best in-ear monitors that I've ever heard, but cost almost 1/3 – 1/2 as much! They offered an ability to cast both a deep and wide mental image which were equally impressive and if you are a fan of orchestral music, these IEMs were made for you!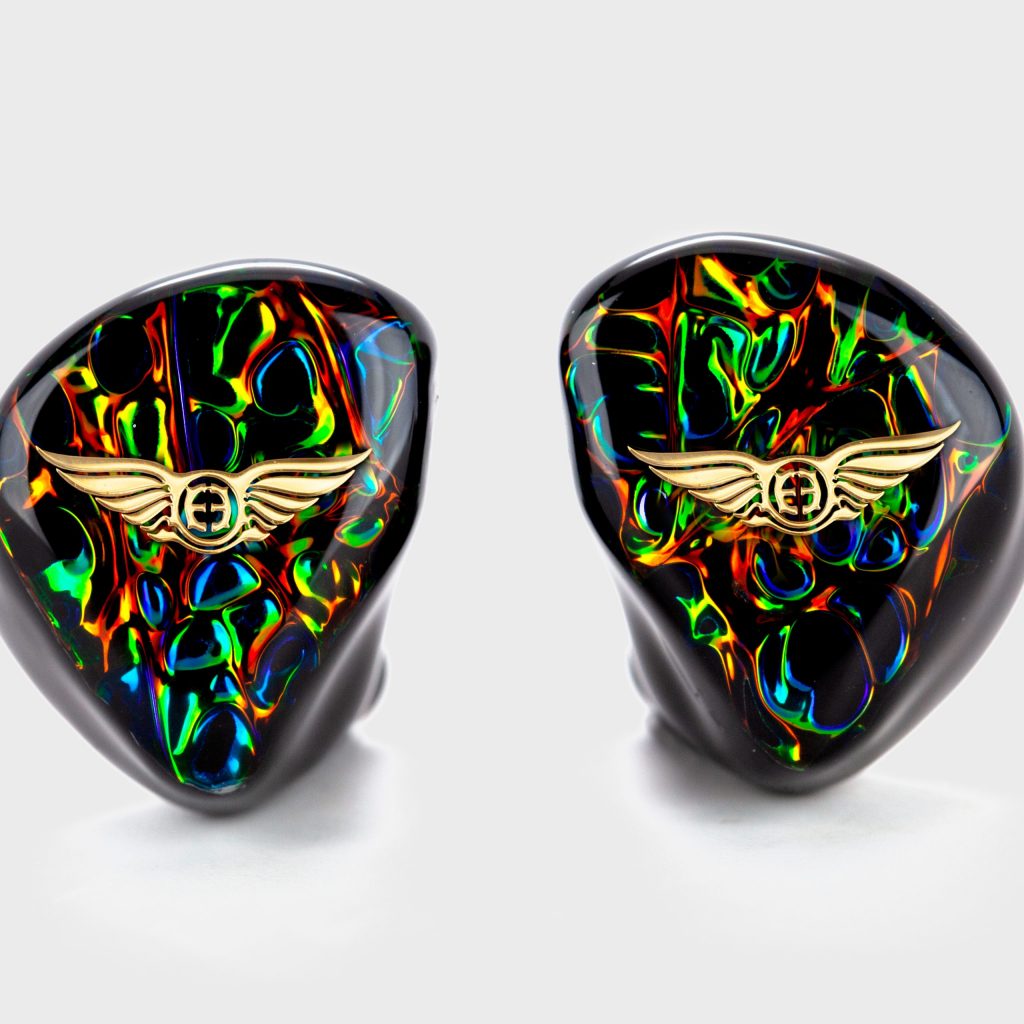 I then wanted to test these in-ear monitors with the best upfront source I had ever heard to hear how they scaled with improved gear. I quickly found my 1/8" to ¼" adapter and plugged them into my Chord DAVE ($10,588 USD). Reviewed here by our own Frank Iacone: https://headphone.guru/the-chord-dave-digital-or-analogue/; this is the best measuring DAC I've yet to come across. With ridiculously low distortion (under 130dB), this is the most transparent and true-to-life sounding digital-to-analog converter that I've experienced. I settled upon the 50th-anniversary edition of "Abbey Road" by the Beatles again through Qobuz. As soon as "Come Together" started up, I knew that I would be in for a real sonic treat! As impressed as I was with the transparency and detail extraction of these IEMs, things sounded to have kicked up to another level when I got the Chord DAVE involved. George Harrison's vocals for "Something" transported me to 1969 to Abbey Road Studios as every nuance and detail of his voice were all laid bare. My favourite Beatle was at his very best with this setup and I was absolutely floored with the level of transparency and clarity that these IEMs had to offer. Conversely the acoustic guitar from "Here Comes the Sun" offered an equally impressive sense of realism that it literally sounded as if my 15-year-old daughter was playing it on her Taylor guitar right in front of me. Every detail and string pick could be easily detected with such an incredible life-like sense that really set these IEMs apart from so many others that I've heard and owned through the years. In the end, I can very happily report that YES, the Valkyrie IEMs do have the ability to scale to incredible heights if you're willing to put in the effort and investment.
I am in love! These in-ear monitors by Empire Ears have really turned up the dial to 11 on their already outstanding build quality from previous generations. Everything from the audio cable and Pandora case to the IEMs themselves really pops and are worthy of the $1,599 US price tag. Couple that with an incredibly engaging sound that offers oh so satisfying bass, a very pleasing treble sparkle and a mid-range that competes with the very best in-ear monitors out there and I say you have a win-win proposition from Empire Ears. Simply put, if you are in the market for a world-class pair of IEMs and don't mind breaking the bank, the Valkyrie MUST be on your shortlist to consider!