I've been a huge fan of HeadAmp's products. Simply put, they make some of the best headphone amplifiers around. I find their products to be incredibly transparent and revealing through their upmost attention to maintaining a high degree of transparency. I've owned many of their products through the years, from the (now discontinued) GS-1, Pico, GS-X and their current flagship dynamic headphone amplifier the GS-X Mk2 ($2999 – $3199) has sat in my audio system for several years now. Throw in their world famous Blue Hawaii Special Edition electrostatic headphone amplifier ($6799USD), HeadAmp truly has some of the very best options for powering your favourite headphones. For those of you on a budget and don't want to spend several thousands of dollars, the newly updated Gilmore Lite Mk2 is just what you've been looking for! Based on many similar design elements that Dr. Kevin Gilmore has used previously in the GS-1 and GS-X MK2, the Gilmore Lite Mk2 brings you a much more affordable, but still incredibly powerful and transparent product to drive pretty much anything you can throw at it!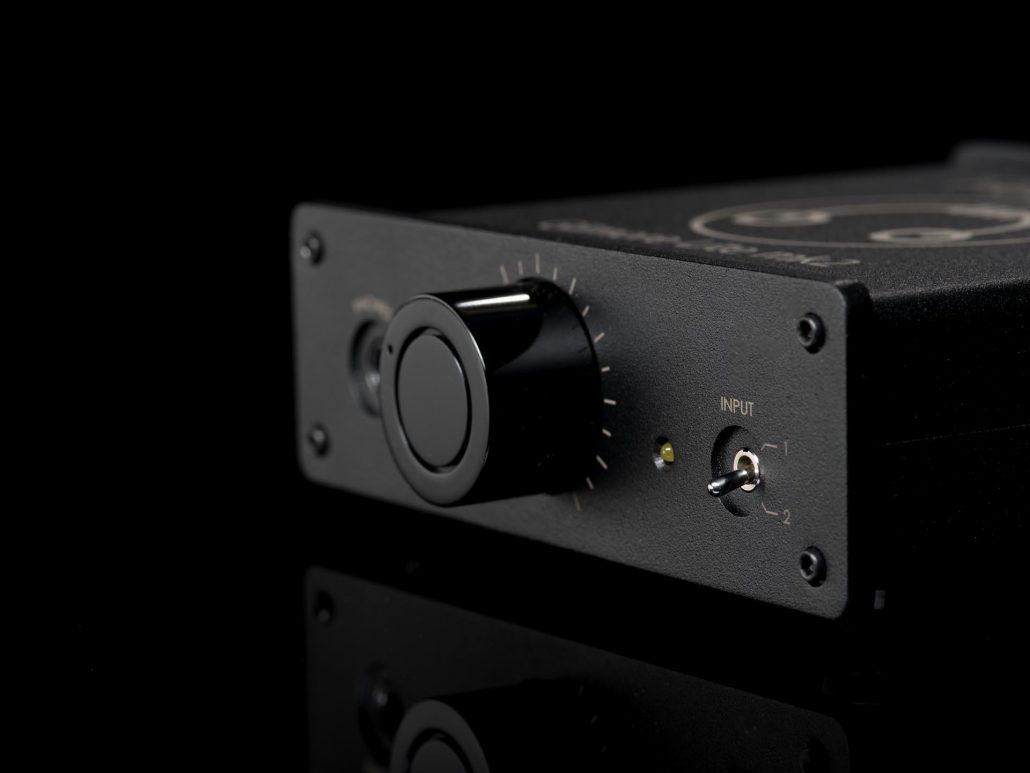 A lot of attention to detail went into this iteration of the Gilmore Lite, everything from the silky smooth volume control to the beautiful gold lettering on the black background really looks great! The transparency that you'd expect from a Kevin Gilmore design is all there, and with the Mk2 version you get an impressive 1.5 W of power to drive almost anything you can throw at it. If you're looking at driving power hungry orthodynamic headphones like the Audeze LCD-4, JPS Labs Abyss-Phi or Hifiman Susvara, I would suggest you seriously consider looking at HeadAmp's balanced GS-X Mk2. With more than 5W on tap, you should literally have all of your bases covered. Otherwise, the Gilmore Lite Mk2 could drive every other headphone that I threw at it without breaking a sweat. The small size will fit into even the smallest of spaces; so if your desktop real estate is limited, you shouldn't have any issues with the Gilmore Lite Mk2.
The full specifications for the Gilmore Lite Mk2 are:
Electrical
| | |
| --- | --- |
| Type | Low noise JFET input; Pure Class A bipolar transistor output |
| Frequency Response | 10Hz-90KHz +/-0.2dB |
| THD+N | <0.006% |
| Total Drive Power | Max 1.5W |
| Gain | 7.5X (16.5dB) |
| Input Impedance | 50K ohm |
| Output Impedance | <1 ohm |
| Line Voltage | 100V, 115/120V, 230/240V |
| Power Consumption | 10W |
Mechanical
| | |
| --- | --- |
| Volume Control | Alps Blue Potentiometer |
| Inputs | 2 sets RCA jacks |
| Outputs | 1 6.5mm headphone jack, 1 set RCA active-preamplifier jacks |
| Dimensions – Amplifier | 5.75in [146mm] W x 6.75in [171mm] D x 2in [51mm] H |
| Shipping Weight | 4lb [1.8Kg] |
My prime sources to feed the Gilmore Lite Mk2 were the Chord Hugo 2 (via RCA) and Chord DAVE (also via RCA). I threw all of the headphones and in-ear monitors I had on hand, but quickly settled on a few that particularly mated well with this amplifier: the Sennheiser HD800S, Hifiman HE1000 V2 full sized open-backed headphones and Audeze LCDi4 in-ear headphone.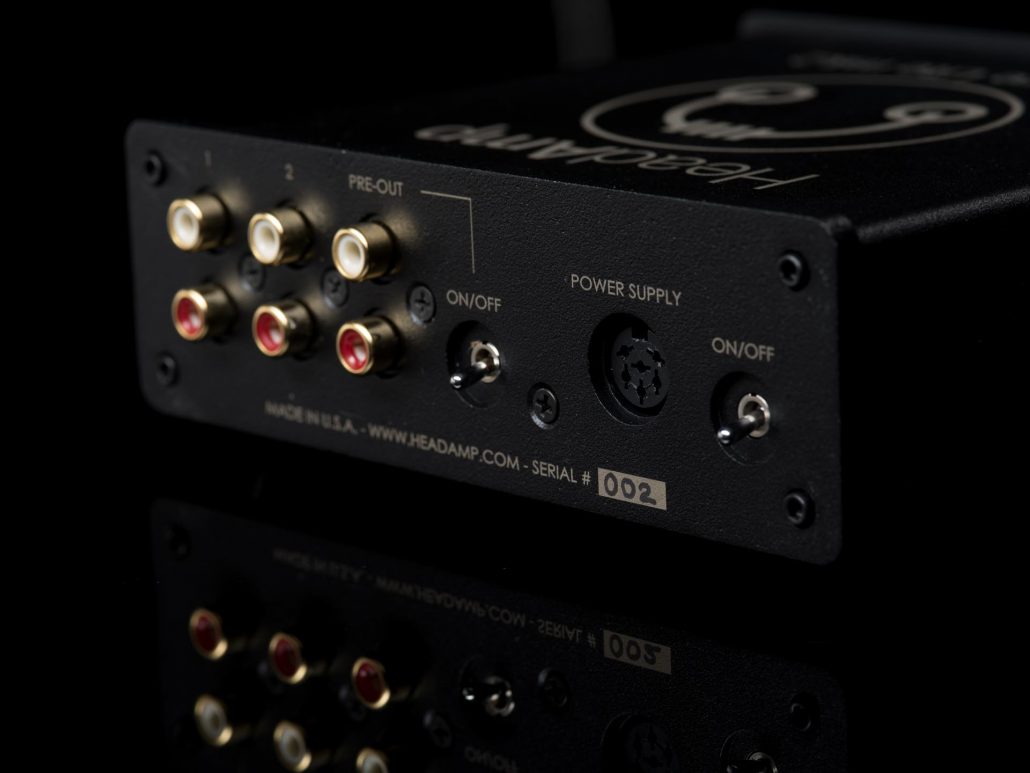 After approximately 75 hours of burn-in with various sources and headphones, I settled on the Sennheiser HD800S headphones and the Chord Electronics DAVE. My source was my 2016 iMac and Audirvana. "Pictures at an Exhibition" by Modest Mussorgsky has been a classical music favourite of mine since I was introduced to it in high school by an overly zealous music teacher looking to expand our musical horizons. This particular DSD version by Pierre Hétu and The Orchestre Mondial des Jeunesses Musicales is a fantastic rendering of this epic work. Now I am very familiar with this work and the HD800S + Chord DAVE / GS-X Mk2 combination, but I was very curious to see how the Gilmore Lite Mk2 would fare in comparison. Costing 6 times more, the GS-X Mk2 is one of the very the best solid state amplifiers that I've heard and is my gold standard for testing both headphones and upstream gear due to its extreme level of transparency. Well, I am extremely happy to report that the Gilmore Lite Mk2 continues in the same tradition! The level of clarity really struck me right from the offset. Sound staging and detail retrieval were simply magnificent. Sure, the GS-X Mk2 is able to extract just about everything thing there is on this recording, the Gilmore Lite Mk2 offers a very similar approach. I've used the phrase "wire with gain" when it comes to Gilmore designed amplifiers and this new small wonder continues in that tradition. The bass notes hit and then decay with near perfect timing; never lingering more than called for. If you're looking for a warmer sounding amplifier with a romantic bloom, I'd suggest you look elsewhere and possible a tube based setup. However, if fidelity is what you're after and you're on a budget, I can't think of a better solution.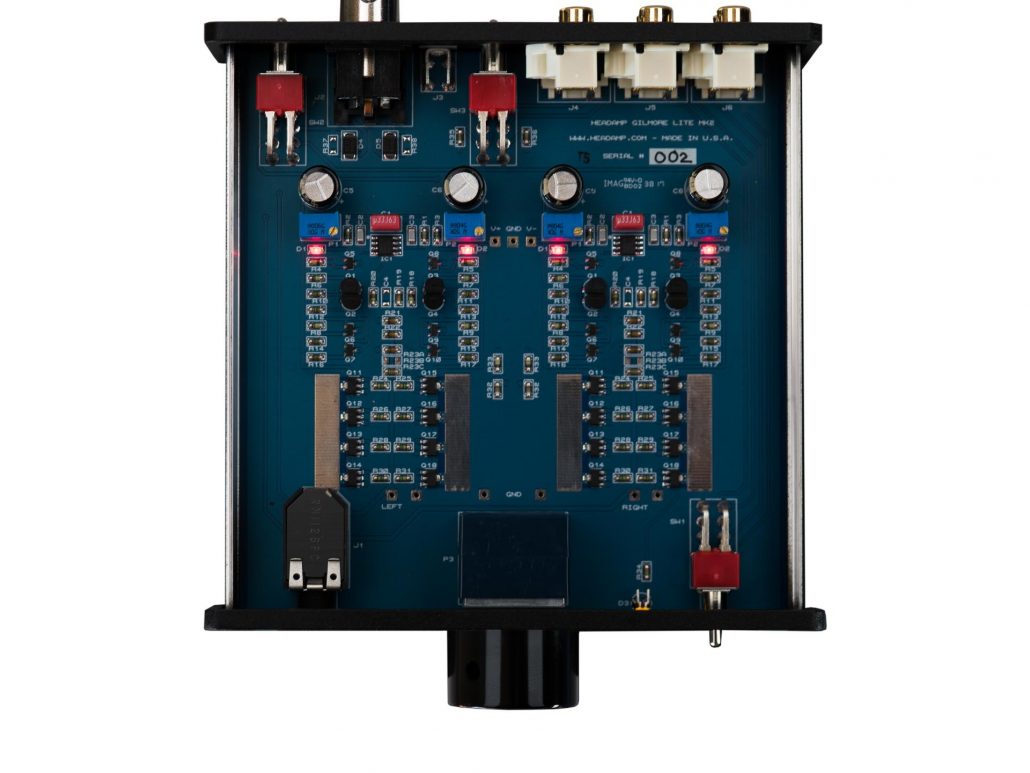 Along with the excellent detail retrieval of the string instruments and outstanding tonality, the Gilmore Lite Mk2 offers an almost holographic experience when it comes to sound staging. This little amplifier sounds B-I-G and deep. I was floored on the level of performance from this amplifier and throw in the very affordable price point, the value proposition was simply a no-brainer for me. I never once felt that the Sennheiser HD800S headphones were held back with this amplifier. If you really want to hear what these headphones are about, the Gilmore Lite Mk2 will let you hear just that. It won't introduce its own colouration or character into the mix, but instead let you open a window into your music!
"Quiet Nights" is one of my favourite albums by Diana Krall. This recording offers Diana's unique take on many bossa nova classics from years gone by and really stands out for me for its great music and sound quality. As soon as I plugged in my LCDi4 in-ear headphones by Audeze, again I was almost immediately welcomed with the holographic sound staging that the Gilmore Lite Mk2 portrayed. These have to be the biggest sounding in-ear headphones I've heard and as soon as I plugged them into this amplifier, they really hit their stride. When listening to Diana's rendition of "The Boy from Ipanena" it transported me to the recording studio and the instrumental separation and imaging really took these world class in-ear headphones to another level! In fact, I was so impressed with this level of transparency that I was very much reminded of the Gilmore Lite's bigger (and significantly more expensive) brother, the GS-X Mk2. While there is an almost 6X price difference between these two impressive amplifiers, the performance differences were certainly not as vast. But if you're looking for the last word on amplification, the GS-X Mk2 is definitely one of the very best out there, but for a fraction of that cost, you can get yourself a truly world class experience with these IEMs! Diana's vocals were upfront and incredibly clear. The smallest nuances and vibrato within her singing were all laid bare with this magnificent combination! The Gilmore Lite Mk2 is one nimble amplifier that was able to mine the recording for even the smallest details and bests many amplifiers I've experienced costing over $1000. It is simply that good! I never once felt that I wasn't getting all that I could from the LCDi4 with this amplifier.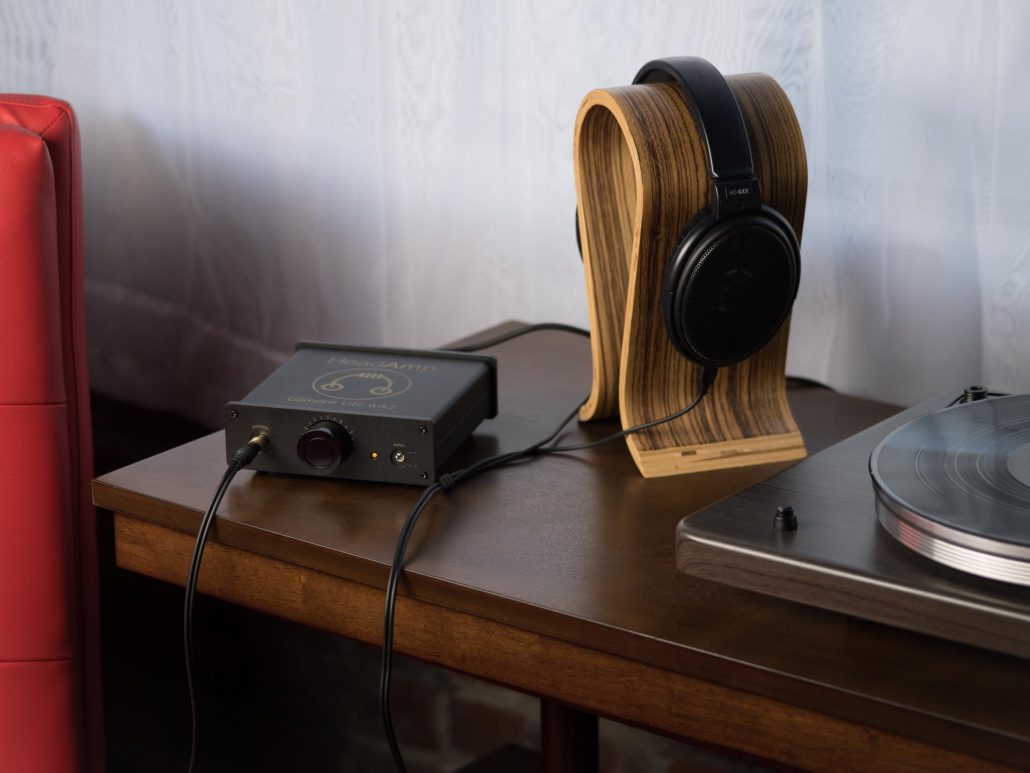 Finally, I wanted to throw a pair of orthodynamic headphones at the Gilmore Lite Mk2. I find orthodynamic headphones benefit quite a bit from a good amount of power behind them in order to fully hit their stride. The Audeze LCD-4 and Abyss Phi headphones seemed a bit too demanding for the 1.5W of the Gilmore Lite Mk2, but the more efficient Hifiman HE1000 V2 headphones seemed to fit the bill almost perfectly! Arcade Fire's Grammy award winning album "The Suburbs" was my selection with these headphones. With a lot of different instrumentation (from drums, to guitars and fiddles), Arcade Fire's music really has a lot going on and without a proper setup, this recording can come off as a bit smeared together. My source was the Chord Hugo 2 using RCA outputs to feed the Gilmore Lite Mk2 amplifier. Well, the words "crystal clear" popped into my head right from the title track: "The Suburbs". Everything from the tonality of the piano to the vocals and percussion were perfectly rendered with the upmost in transparency. For more complex works like "Empty Room", this combination hit all the right notes and I felt that the Gilmore Lite Mk2 was certainly able to keep up with this very demanding and revealing $4000 pair of headphones; certainly high praise for a $499 amplifier! The dead flat frequency response of the GS-X Mk2 was all there; as was a holographic soundstage. Now if you're looking for the absolute best in these characteristics, then the GS-X Mk2 would be at the top of my list to procure. But if you're on a tighter budget and want to hear what your headphones are truly all about, you need to try the Gilmore Lite Mk2!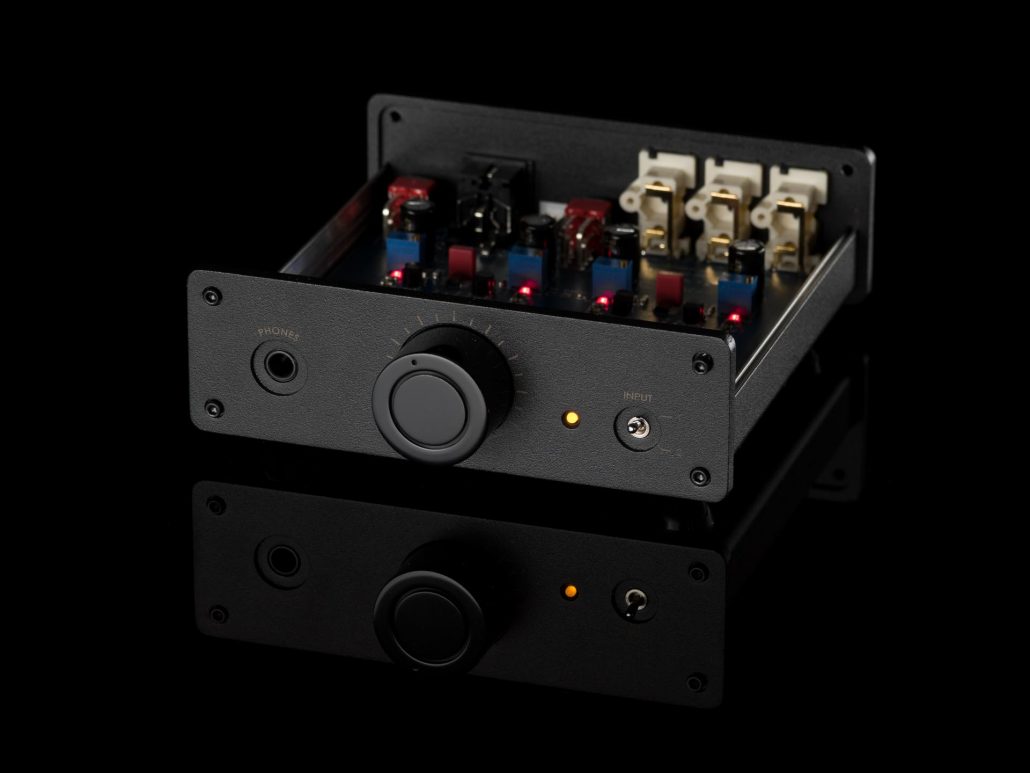 I loved my time with this incredibly transparent and neutral amplifier. Those looking for a tube-like sound with warm over-tones, should look elsewhere. But if you're in the market for a revealing amplifier that will just "add gain" to your source and drive pretty much any in-ear monitor or full sized headphones (except for maybe the most power hungry like the Hifiman Susvara or the other 2 mentioned in this review), I wholeheartedly recommend you check out HeadAmp's return of a classic – The Gilmore Lite Mk2! You will not be disappointed as the price-to-performance ratio is among the very best I've come across. While small, this unit sounds quite big and offers incredible detail retrieval, imaging and overall clarity. It is like a microscope into your favourite recordings and will have you re-listening to some of your standards just to hear what you've previously missed. I am really glad that HeadAmp has brought back this venerable classic; it's definitely one of my favourite amplifiers in the sub $1000 market space!