I've been a huge fan of HeadAmp's products for pretty much a full decade. Everything from their now discontinued GS-1 to their flagship GS-X had me eagerly anticipating purchasing a unit of my own in order to hear my favourite headphones sound at their very best. So when I was presented with the opportunity to review their newly released GS-X mini balanced headphone amplifier/pre-amp, I could barely contain my excitement to hear what HeadAmp had come up with next! Being a massive fan of their GS-X Mk2, the GS-X mini continues in the same tradition by offering a truly beautiful product with some of the best build quality around! Instead of two separate pieces (a power supply and separate amplifier), the GS-X mini contains everything you'll need in one unit. The faceplate; like the GS-X Mk2, is available with several colour options that you can customize to best fit your liking. The particular unit sent to me was "Satin Grey" and I absolutely love the look of this amplifier as it sits on the shelf directly above my main "go to" DAC, the Chord DAVE.
Setup was a flash and a new huge update is that the GS-X mini does not require a balanced source to run in balanced mode! Many similar headphone amplifiers require both balanced inputs and outputs to run in balanced mode, but this new innovative design of using a special variation of their renowned GS-X Mk2 amplifier, the GS-X mini forgoes the input requirement of balanced inputs which in turn should be a huge benefit for those who are quite happy with their non-balanced sources! This new design does not however compromise your listening experience from your high-end headphones as they will always enjoy the benefits with a balanced amplifier; even if your DAC/source isn't balanced. So for this review I primarily used my Chord DAVE with its RCA (unbalanced outputs) to feed the GS-X mini as the DAC designer Rob Watts has typically recommended this configuration for using the DAVE.
The full specifications for the GS-X mini are:
Electrical Specifications
Output Power
4W @ 50 ohms
Gain
Varies with volume setting, L – 3X, H- 10X
Line Voltage
100V, 115/120V, 230/240V
Power Consumption
30W
Mechanical Specifications
Volume Control
ALPS Blue Potentiometer or DACT 24-step attenuator
Inputs
1 XLR, 1 RCA
Outputs
4-pin XLR (balanced), 1 x ¼" TRS (stereo), 1 XLR/RCA active pre-amp outputs (switchable)
Dimensions
11.375 in. x 10.25 in. x 2.0 in. [289mm x 260mm x 51mm]
Weight
5.5 lbs. [2.5 Kg]
Price
Option 1: w/ ALPS Potentiometer – $1,795 US Option 2: w/ DACT 24-step attenuator – $1,995 US
For this review, I wanted to throw several different headphones and drive requirements at the GS-X mini to see how it could handle them. As a result, I settled upon the newly released RAD-0 by Rosson Audio Design (https://www.rossonaudiodesign.com/shop), the harder to drive Hifiman Susvara headphones (https://store.hifiman.com/index.php/susvara.html) and the 300 ohm Sennheiser HD800S flagship dynamic headphones (https://en-us.sennheiser.com/high-resolution-headphones-3d-audio-hd-800-s).
First up, I decided to select the newly released flagship RAD-0 headphones from Rosson Audio Design. Rosson Audio Design is a company started by one of the founders of the world-renowned Audeze Headphones – Alex Rosson. I will be reviewing these headphones separately in the short term, but I wanted to make sure that I included them with the GS-X mini as I found the synergy between these two components simply outstanding! For this critical listening session, I decided to go with Tool's latest release "Fear Inoculum". After an incredibly long 13 year long absence, Tool is back in a big way with their latest release and if you're a fan of the band, I highly recommend you pick this album up! For this session, I used my personal digital download from hdtracks.com (96/24). Right from the title track "Fear Inocolum", this combination grabbed my attention! Simply put, I was absolutely floored with just how transparent, balanced and energetic the music was presented! I couldn't believe just how impressive the drive and detail extraction from this recording was! The bass drums hit with authority but still offered a life like presentation that put me front and center with the band. The GS-X mini added a hint of warmth and meat on the bone so to speak when compared to its bigger brother the GS-X Mk2; while the latter seemed to be a tad more transparent and open sounding. Vocals were upfront and grabbed your focus from the outset and I found the treble very well extended and detailed without any hint of stridency. Back to the bass, it hit hard, fast and detailed, but never lingered beyond what the recording called for. The final thing that really put a massive smile of my face was the ability of this combination to cast both a wide and deep sound stage and when coupled with the incredibly balanced sound signature, the GS-X mini / RAD-0 combination offered one of the very best experiences I've ever had with Tool!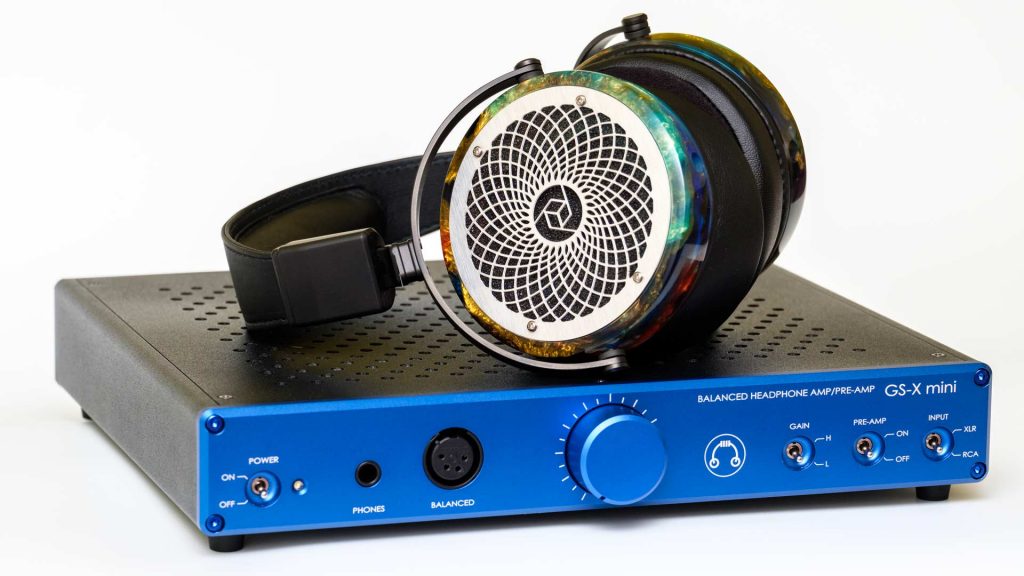 A few days later, I decided to change things up a bit and go with the Hi-Res stream of Mozart's "Don Giovanni" by Carlo Maria Guilini via Qobuz. For this selection, I used the venerable Sennheiser HD800S flagship dynamic headphones. I've always loved these headphones with classical music due to their speed, clarity and expansive sound staging capabilities. From the first Act, I was immediately astonished with the absolute drive and control of the HD800S's drivers that the GS-X mini provided. The speed and tactility of such a complex recording was never held back with this setup and this amazing amplifier not only maintained a stellar level of clarity and instrumental separation, but it added a much needed ethereal experience that added a more organic and musical experience that the HD800S lacked with many other top flight solid state amplifiers. I typically prefer these headphones with tube amplifiers for this very reason, but the GS-X mini offered a more analog experience that brought these headphones to a whole new level with a solid state amplifier. The stringed instruments sounded incredibly detailed and particularly quick, but with a richness that I wasn't familiar with from these headphones. The ability to approach the speed and transparency of the flagship GS-X Mk2 amplifier, but offer a warmer and slightly more musical presentation was quite the experience. While the GS-X Mk2 offered slightly better clarity and sound staging, I think I might prefer the GS-X mini's overall presentation with these headphones. There certainly is no wrong answer here, but I was certainly surprised just how well the GS-X mini excelled with these rather picky headphones.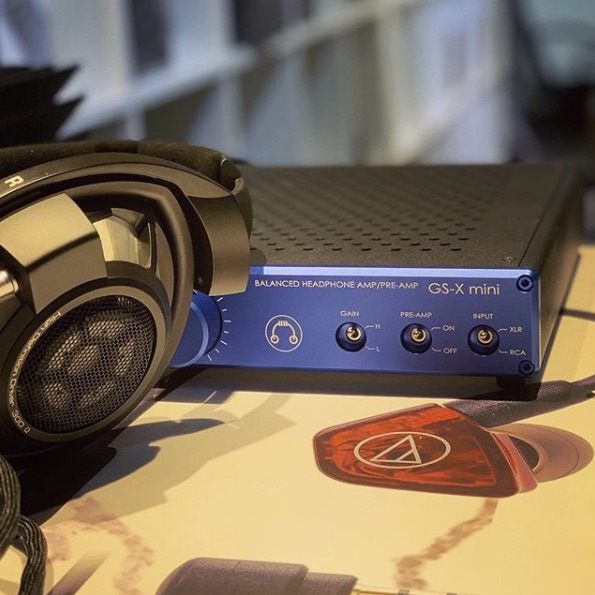 Finally, I decided to revisit an old standard of mine: Eric Clapton's "MTV – Unplugged". I love all things Clapton (and Cream for that matter) and his MTV Unplugged special from 1992 is truly a classic showcase of this legend's ability to play the guitar and perform. For this CD (using my Cambridge Audio 840C cd player –> Audioquest Diamond Toslink –> Chord DAVE), I used my harder to drive Hifiman Susvara headphones and the GS-X mini. In between the headphones and GS-X mini, I used the most excellent Cardas Clear balanced headphone cable (4 pin XLR termination). I quickly realized that High Gain was ideal for these more power-hungry headphones (83 dB/mW) in order to get them to play at sufficient SPL levels. Throughout this album, the GS-X mini fully drove these planar magnetic headphones without even breaking a sweat! Knowing that I had 4W of power on tap to drive these babies was comforting as I've found many other desktop amplifiers (in the 1W and less range); though powerful enough for most headphones, seemed to run out of steam with the Hifiman Susvara. Right from "Signe" and "Before You Accuse Me", I was in audio heaven with this setup! The dynamics, punch, detail and controlled presentation was simply the best I've ever heard this recording sound! The GS-X mini added a touch of warmth to the presentation that the GS-X Mk2 didn't seem to offer and overall while very close tonally, I think I might prefer the mini's tonality a bit more. However, in terms of speed, detail and overall transparency, the GS-X mini's bigger brother does pull away. But in the end, I was still very impressed with how well the GS-X mini held its own against both the GS-X Mk2 and Benchmark HPA4 (two amplifiers costing almost 2X that of the mini). Sound staging with this setup put me on the set with Mr. Clapton with a very welcome and enveloping experience that made it seem as if I was there! I still remember enjoying this when it was played on MuchMusic (Canada's MTV) in the early 90s and with the HeadAmp GS-X mini + Hifiman Susvara headphones, I was there again, but this time the experience was so revealing and life-like, I had goose bumps!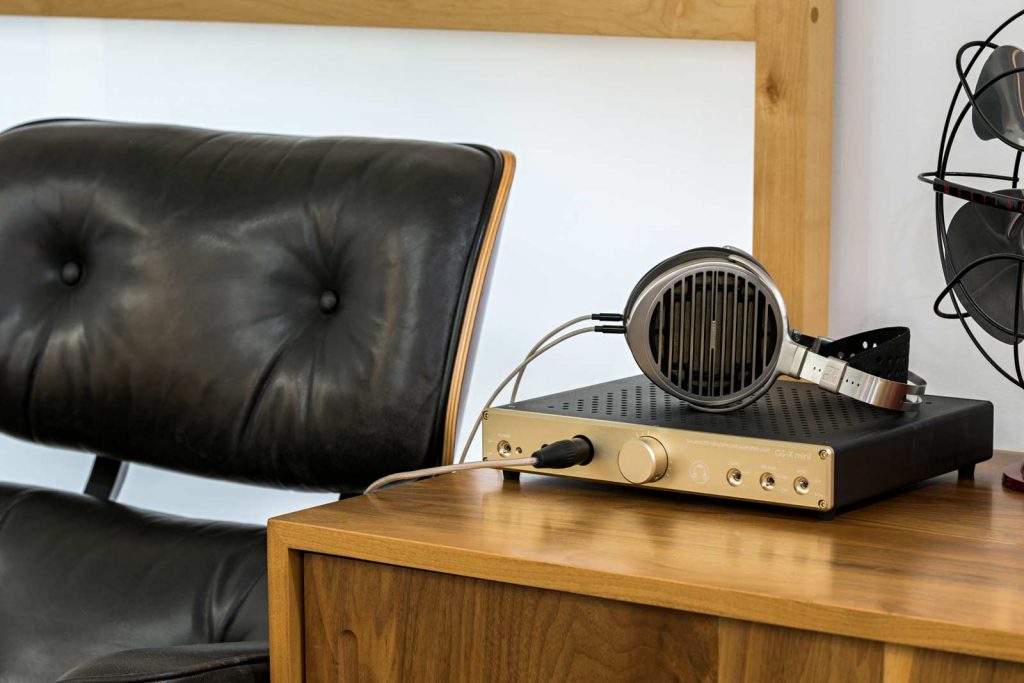 Whether you love the musical and analog sound of tube-based amplifiers or are a fan of the convenience and clarity offered by solid-state amps, the new GS-X mini has all of your bases covered! It won't break the bank coming in between $1,795 and $1,995 US like so many top flight headphone amplifiers, nor will you have to update your DAC to fully balanced in order to get the most out of your unit. I just loved this amplifier! Everything from its exquisite build quality and design aesthetics to the very musical sound signature that just seemed to dig down deep into whatever recording I threw at it and pull out the smallest details and nuances that other gear would only gloss over. The added bonus of knowing that you have a whopping 4 W on tap to drive pretty much any headphone you can throw at it, but still maintain a completely black background with even some of the most sensitive headphones or in-ear monitors around. If you are in the market for an endgame amplifier to drive your flagship headphones, look no further than HeadAmp's new GS-X mini; you will not be disappointed!