The 2020 COVID-19 crisis has put us all in isolation, separated from friends and family, and left many for want of entertainment, not to mention what it has done to the Personal Audio community which is by and large made up of small privately-owned manufactures. Dan Clark and Andy Regan of Dan Clark Audio have decided to stand up to the challenge by not only staying in business while practicing proper social distancing and protecting the health of their employees but also offering relief to their fans and customers by offering the Hel Yeah Home Office, Gaming, Video and Music Bundle! and supporting the Personal Audio community at large. To achieve this, they have partnered up with Schiit Audio and Antlion Audio to put together a complete package for "Zooming" online with friends and family, online interactive gaming and of course listening to film and music, all for less than the price of a pair of headphones!
Hel Yeah Home Office, Gaming, Video and Music Bundle!:
The Hel Yeah Home Office, Gaming, Video and Music Bundle! consists of a pair of Dan Clark Audio AEON Flow (Closed or Open) Orthodynamic Headphones ($799) including their custom travel case and personal tuning kit, a Schiit Hel High Power Dac/Amp For Gaming, Music, And Communications ($189) and an Antlion Audio 3.5mm ModMic Uni microphone ($49) all for the low price of $649.99.
Dan Clark Audio AEON Flow Closed / Open Orthodynamic Headphones: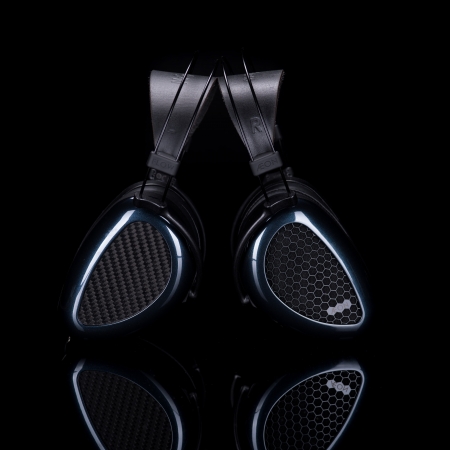 I don't know if Dan and Andy sent me the AEON Flow Closed-back Headphones with the Bundle! because they knew it was my preferred sound or if it was because they knew I already had the AEON Flow Open-back Headphones or if it was pure random happenstance, but as it stands it means I have both to test the Bundle! with. For my money, not a lot has changed in the headphone world since I first reviewed the MrSpeakers (now Dan Clark Audio) AEON Flow Closed-back Headphones here and the AEON Flow Open-back Headphones here, well actually a lot has changed, there have been a bucket load of new and exciting headphones since then, but what hasn't changed is that the AEON Flow whether closed or open represent the best value in sound quality out there and if I didn't already have the ETHER C Flows and the ETHER2s they would be my first choice in a headphone purchase given you can get the sound signature of both for the price of one, though sadly the Corona Virus outbreak has robbed me of the opportunity to hear the new AEON 2 headphones which promise to produce sound even closer to my reference headphones.
For those who haven't had the chance to read my previous reviews, the AEON headphones employ Dan Clarks unique V-Planar Drive and Trueflow technologies, producing a planar magnetic headphone that approaches an Electrostatic on speed and detail while maintaining a dynamic range that will rival many dynamic headphones with an efficiency that allows them to be driven by portable devices including cell phones. The carbon fiber capped ear-cups are ear shaped rather than round and about two thirds the size and mass of their big brother the ETHER. They use a NiTinol "memory metal" and leather strap adjustable headband with a single anchor point on the ear-cup. The earpads are a thick flat leather pad similar to those used on the ETHER headphones, but again ear shaped. The DUMMER (Distinctly Un-Magical) dual-tip (1/4″ and 3.5mm) headphone cable is fitted with quick release SN-8-4 BNC connectors (my personal favorite in headphone connections which combine secure connection with ease of use) and is light and flexible with a sound quality that will match many aftermarket cables. All in all, the build quality and comfort are exemplary, while the design is elegant and functional. The AEON Flow Closed came in an elegant black magnetic clasp box, which contained Dan Clark Audio's signature leather hard shell travel case and the AEON tuning kit which allows you to tune the sound to your individual preferences.
Schiit Hel High Power Dac/Amp For Gaming, Music, And Communications: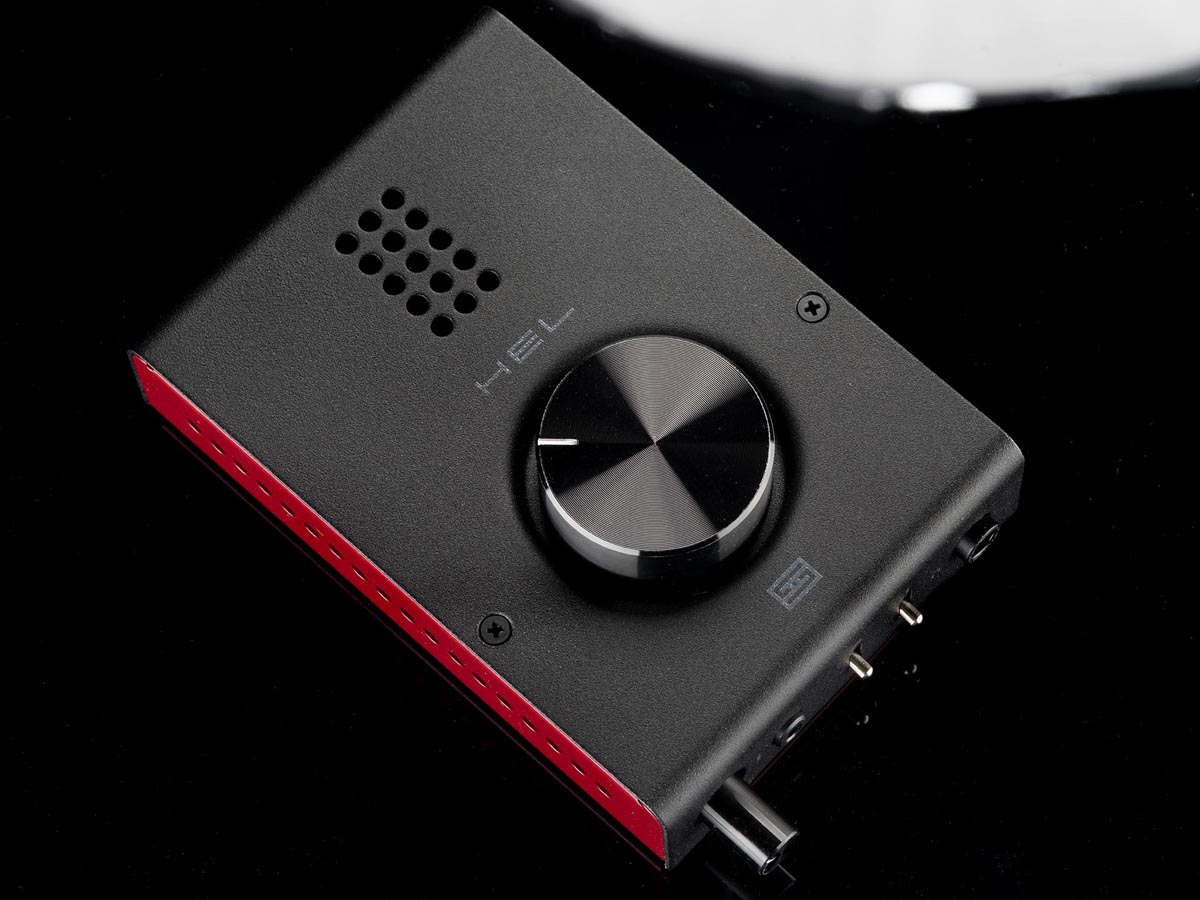 When it comes to value you're going to be hard-pressed to beat Schiit. Like Dan Clark Audio, Schiit is a local Southern California based company, that, like Dan Clark Audio, not only designs but builds all of their products here in California, using to the extent possible locally sourced components (some things just aren't made in the USA, and some foreign-made components are just better). The Schiit Hel High Power Dac/Amp For Gaming, Music, And Communications (say that three times fast) doesn't incorporate Mike Moffat's legendary Multibit DAC circuitry (since it sells for less than the DAC module itself, it is hard to expect otherwise), but it does use what I believe to be the most musical DAC chip available the AKM AK4490 with a custom TI OPA1662-based filter stage. The Hel is a USB only digital device, but it does have an analog input for other sources along with an analog preamp out to drive powered monitor loudspeakers.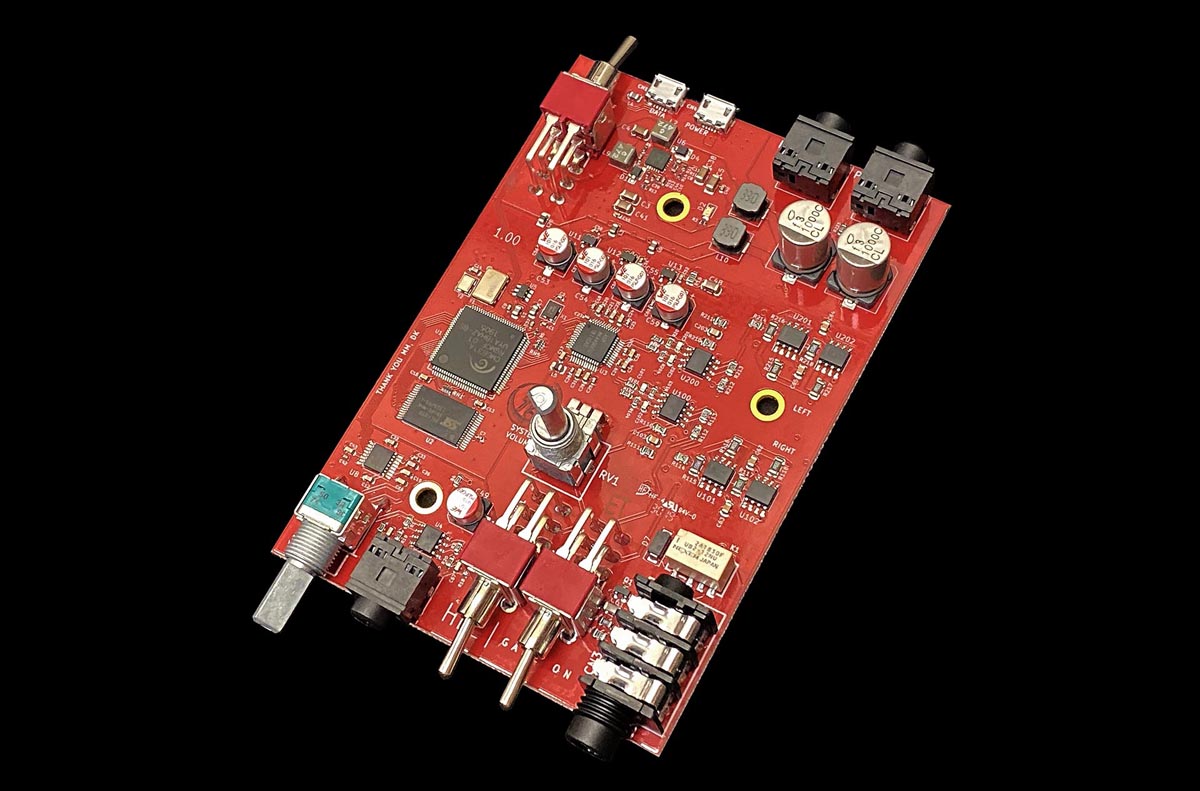 While the Hel has the signature Schiit rolled aluminum chassis, its look is stunningly original, I especially like its lurid red and black color scheme. Size-wise it is about on a par with your average DAP with a large knob set in the top, so it retains the appearance of a computer accessory rather than an audio component, which I believe is the whole point.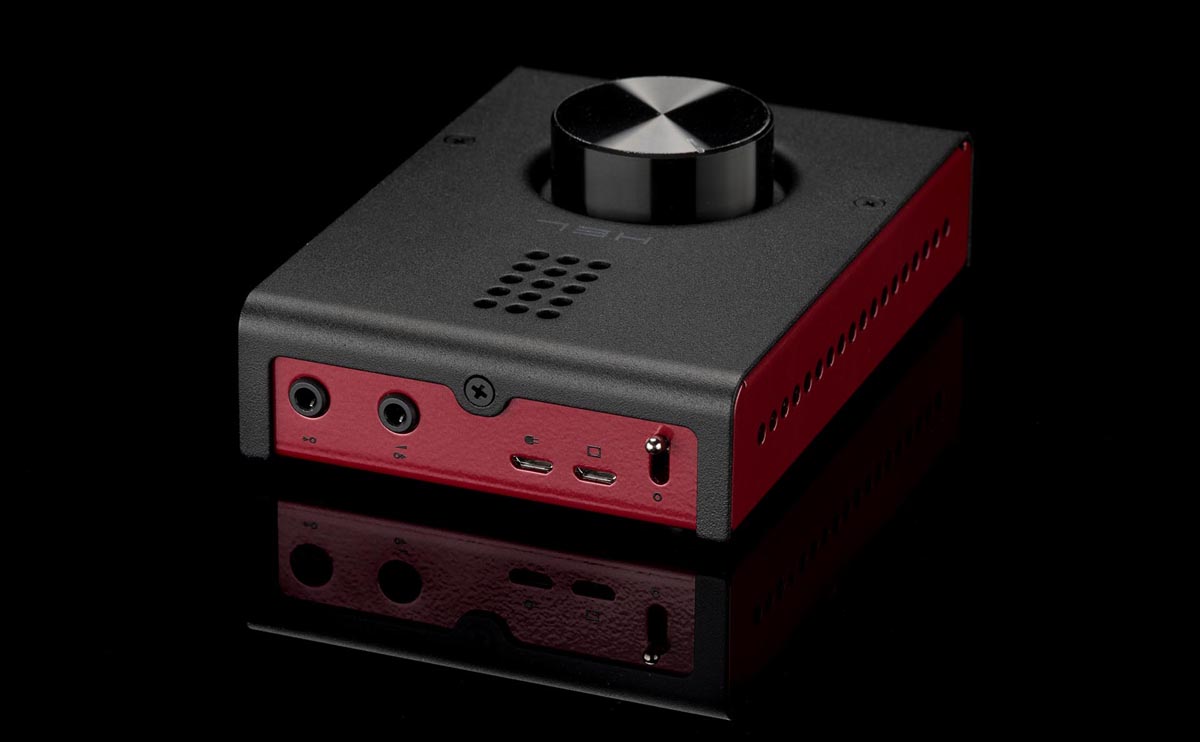 On the back, you will find along with the power switch and the 3.5mm TRS analog input and output two Micro USB connections, one for the digital signal from your computer, tablet or other USB source and the other for the provided 2.1-watt power supply (you definitely want to use the provided power supply, I tried using an alternate that was already connected with less than optimal results). If you turn it around to the front you will see the ¼" TRS headphone jack, a gain switch, a source switch, and then the feature that makes the Hel truly unique a 3.5mm TRS microphone input and input level control. On the top is a huge knob that is the volume control.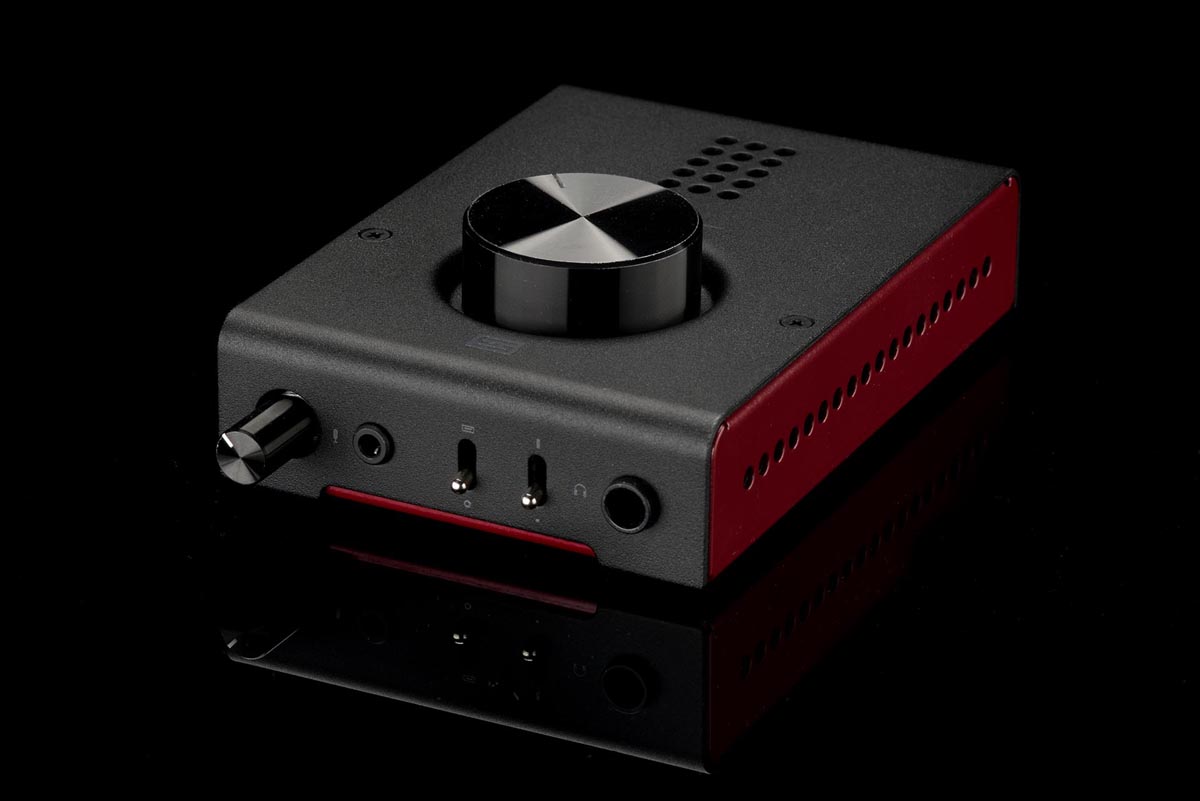 For accessories, the Hel came with two USB A to Micro USB cables, a gold plated ¼" TRS to 3.5mm TRS adaptor, and a 3.5mm TRRS (female) to two 3.5mm TRS (male) adaptor for use with headphones that have a built-in microphone.
Antlion Audio 3.5mm ModMic Uni Microphone: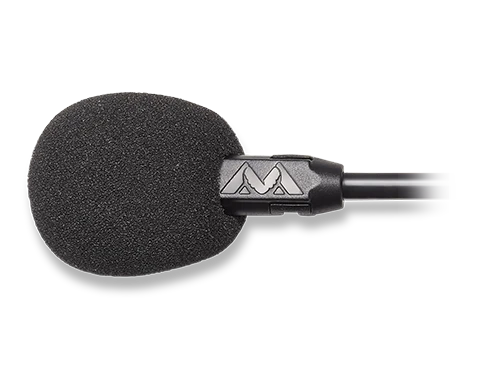 A name that was admittedly new to me was Antlion Audio. Based out of Portland, Oregon, Antlion Audio is the brainchild of James "Jimmy" Console, M.D. who invented the ModMic. The Antlion Audio 3.5mm ModMic Uni Microphone is a noise-canceling cardioid voice microphone designed specifically for computer gaming that incorporates Antlion Audio's patented ModMic magnetic clasp system allowing it to be permanently mounted to any headphone yet remain removable for convenience. One of the nice things about the magnetic clasp system was that it was notched so that it could be pivoted 90º when you simply wanted it out of the way or removed completely if you just wanted to listen to music. The boom is 5" long and rigid yet bendable so that it can be oriented near your mouth, though they caution against placing it directly in front of your mouth to avoid percussive blasts. There is a unique bend in the boom that prevents cable torque so once adjusted, the boom stays in place. The cable is 7' in length with toggled mute switch about 10" from the microphone and comes equipped with a handy Velcro cable tie and a removable foam windscreen. For accessories, the microphone came with a very nice hardshell zippered travel case, a spare mount, two extra adhesive pads, an alcohol wipe, and five cable clips that were the perfect size for the Dan Clark Audio DUMMER cable.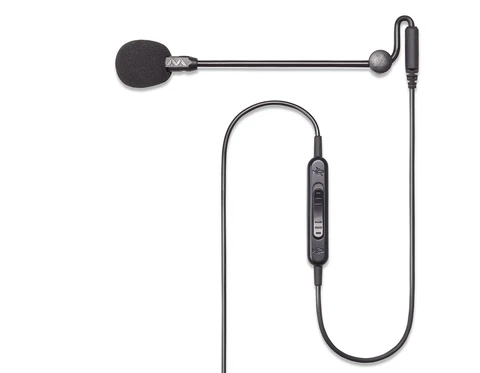 Living with the Hel Yeah Home Office, Gaming, Video and Music Bundle!:
Upon receiving the Hel Yeah Home Office, Gaming, Video and Music Bundle! I set it to burning-in for several days while I wrote the preceding descriptions using my 1000 track Qobuz playlist purposely created for that use.
Okay, I have to confess that I am not a hardcore gamer and I don't indulge in MMORPGs at all, but to test the microphone I felt I needed to simulate that environment, so I booted up a session of Counter-Strike on YouTube, turned up the speakers and did some recording. As a musician, I am always a bit skeptical of microphones that cost less than an arm and two legs, but I was really impressed by the performance of the Antlion Audio ModMic. Not only did it suppress the background noise, my voice was clear and natural, easily able to cut through the noise of the game when running simultaneously. As a microphone preamp, the Schiit Hel was fantastic with more than enough gain for even low sensitivity recording mics.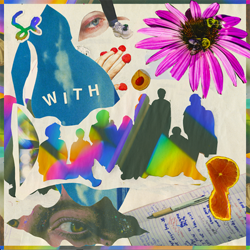 Which brings us to the sound of the Dan Clark Audio AEON Flows with the Schiit Hel. I started my listening tests with the Closed-back AEON Flows as that was what was sent to me for this review. I began the session with the Hel set to low gain given the AEON's high efficiency and selected Sylvan Esso's new live album "With" on Qobuz. The bass on "Wolf" was lush and authoritative and the piano was rich and natural though clearly run through the PA system. Sylvan's vocal was emotional and seductive. The saxophone had a deep didgeridoo quality with flute-like highs. The soundstage was large and spacious with live performance dynamics.
Selecting "La Bohème: Act 1 – "Che gelida manina"" as performed by Luciano Pavarotti ("Pavarotti 24 Greatest" – 24-bit/96kHz) to see how well the Bundle! handles Orchestral music with operatic vocal, I was treated to an immersive expansive soundstage and incredible musicality. The resonant reflection of Pavarotti's dynamic peaks off the theater walls was palpable and tear-inducing extending well beyond my ability to listen (volume-wise) without distortion or breakup, and this all on low gain with the less efficient of the two headphones.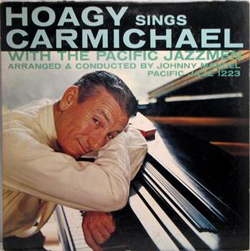 Even low-resolution 16-bit/44.1kHz recordings were treated with an organic and rich presentation as exhibited by Hoagy Charmichael's "Lazy River" from "Hoagy Sings Carmichael" which had a dynamic stage side live taste, the timbre and tonal balance of the horns spot on.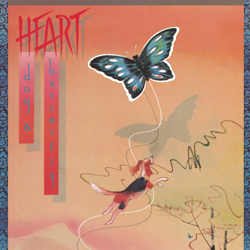 Switching to the Open-back AEON Flows for a little rock & roll, I cued up my favorite Heart song "Mistral Wind" ("Dog & Butterfly" – 24-bit/192kHz). The bass was lush and impactful without being boomy and Anne's vocal was heart-rending. The kick drum had a physical thump which is as real as you can get with headphones. Every detail was clear, dynamic, and exciting while remaining above all musical.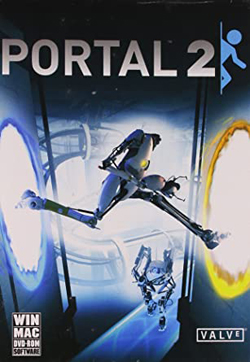 Obviously this review wouldn't be complete without a little gaming so I launched "Portal 2" for my daily session. For those unfamiliar, this is a game where sound is often the only clue you have to the solution of the puzzle (not unlike many first-person shooters) and the Bundle! made it a breeze to pinpoint audio clues in a sonically VR world. I think many will prefer the Open-back AEON Flows for gaming, giving that extra oomph to gunshots and explosions though the Closed-back go a little deeper in the subsonic, gaming is like film, you want larger than life, and this system really delivers.
Conclusions on the Hel Yeah Home Office, Gaming, Video and Music Bundle!: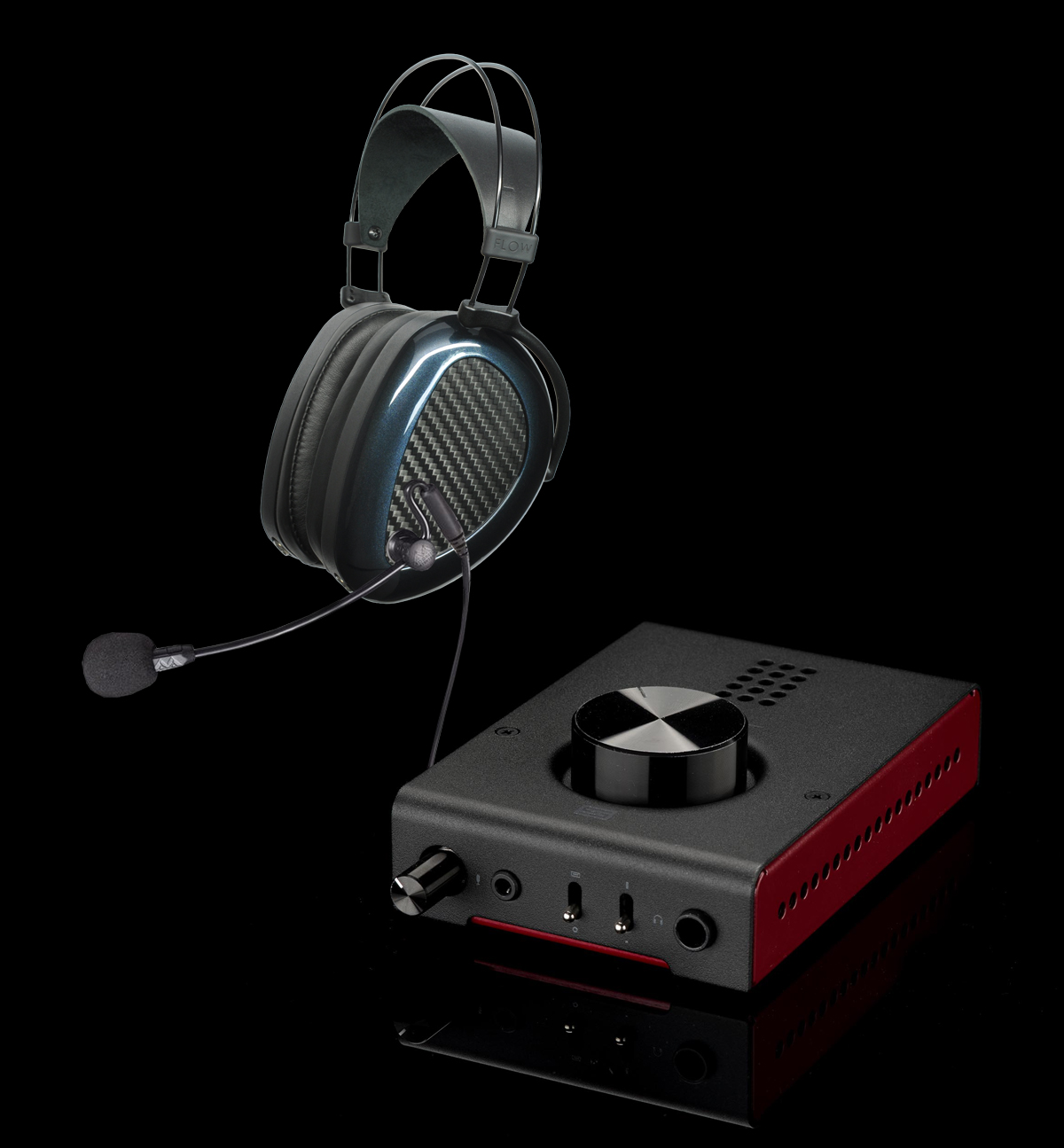 I won't pretend that I was surprised that this marriage of two of my favorite Personal Audio manufacturers was spectacular, I really got nothing more than I expected, though, on the other hand, I got nothing less either. Often anticipation spoils the delivery, but not so in this case. I suspect those unfamiliar with Dan Clark Audio or Schiit Audio will be overwhelmed with how good a $650 system can sound. This system gives you everything you would demand from a $1,500 system (other than access to sample rates over 192kHz, which in Schiit's philosophy are superfluous due to the dearth of actual software recorded in those sample rates) in sound quality, dynamic range, tonal balance, detail, imaging, soundstage, and musicality.
While this may not be a reference quality system, it is close enough that most won't care, and for the gamer, it is just what the doctor ordered, Okay, for everyone sequestered in their homes during this crisis it is just what the doctor ordered, whether you game, listen to music or watch movies. Both thumbs up!
Price: $649.99
Manufacturer's Website: https://danclarkaudio.com/bundles/hel-yeah-home-office-gaming-music-and-video-bundle.html
Specifications:
Dan Clark Audio AEON Flow Closed:
Frequency response: Yes (sorry, this specification is abused to the point of silliness, so we don't publish one)
Efficiency: 92dB/mW
Weight (without cable): 340g
Cable: Dual entry
Dan Clark Audio AEON Flow Open:
Efficiency: 92dB/mW
Weight (without cable): 321gr
Detachable 2m premium dual-entry cable with 3.5mm and 1/4″ termination
Impedance: 13 ohms
Frequency Response: Yes*
Schiit Hel High Power Dac/Amp For Gaming, Music, And Communications:
Frequency Response: 20Hz-20Khz, +/-0.3db
Maximum Power, 16 Ohms: 1200mW RMS
Maximum Power, 32 ohms: 1000mW RMS
Maximum Power, 50 ohms: 650mW RMS
Maximum Power, 300 ohms: 200mW RMS
THD: <0.0015%, 20Hz-20KHz, at 1V RMS
IMD: <0.0015%, CCIR
SNR: >108db, A-weighted, referenced to 1V RMS
Crosstalk: >-80dB, 20Hz-20KHz
Output Impedance (headphones): 0.25 ohms
Output Impedance (line out): 75 ohms
Input Impedance (rear 1/8″ jack): 10k ohms
Gain: 1 (0dB) or 5 (14dB)
USB Receiver: C-Media CM6631A
DAC: AKM AK4490 with TI OPA1662-based filter stage
Sample Rates and Bit Depths:
Playback: 16/44.1 to 24/192 supported without drivers on Windows 10, Mac, Linux, Android (UAC 2 device)
Input: 48kHz
Output Stage: TI OPA1688 (4 amp stages per channel)
Power Supply: Via USB, with +/- 12V rails via high-current dual-polarity switching regulator, with inductor filtering and local regulation
Power Consumption: 2.5W typical
Size: 5 x 3.5 x 1.375" (including knob)
Weight: 13oz
Antlion Audio 3.5mm ModMic Uni Microphone:
Microphone Pattern: Uni-Directional
Frequency Response: 100Hz – 10kHz
Sensitivity:-36±3 dB
Impedance: 2.2(Max) kΩ
S/N Ratio: 67(Min) dB
Maximum Input Sound Pressure Level: 110(Max) dB
Standard Operating Voltage: 3.0 Vdc
Operating Voltage Range: 1.0~10 Vdc
Cable Length: 2 Meters
Termination: 3.5mm TRS jack