This is my third and final review in my series of comparison reviews with the Meze ADVAR IEM sponsored by HeadAmp, possibly saving the best for last the EarMen Angel Portable DAC/Amp. At $799 the Angel is the least expensive of the trio of sources we have looked at, but given the providence and my past experience with EarMen, I have high expectations for the Angel.
The Meze ADVAR IEM:
To once again recap what we already know about the Meze ADVAR IEM, the ADVAR employs a 10.2mm Dynamic Driver with a frequency range of 10Hz to 30kHz. The aesthetic of the ADVAR was inspired by Romanian Folk Lore, an ADVAR was a talisman of sorts and the symbol of the "absolute" meant to bring blessings to those who wore it. Meze says they drew from natural patterns, "With a form inspired by the rounded surfaces of raw Hematite, with intricate curves that were sculpted with care, the stainless steel shell features an ergonomically contoured design".
For accessories the ADVAR comes with an attractive hard shell case, a clever MMCX removal tool (with attached keyring), 5 pairs (SS, S, M, L, LL sizes) Final Audio Type-E ear tips, an MMCX SPC 1.2 m cable to 3.5 mm gold plated jack, a Cleaning tool, and a User manual.
Sonically, the ADVAR offers a large open airy soundstage with a strong solid deep bottom end. The tonal balance is fairly neutral with a slight emphasis to the bass and a dynamic, crisp, detailed flavor to the high frequencies.
Price: $699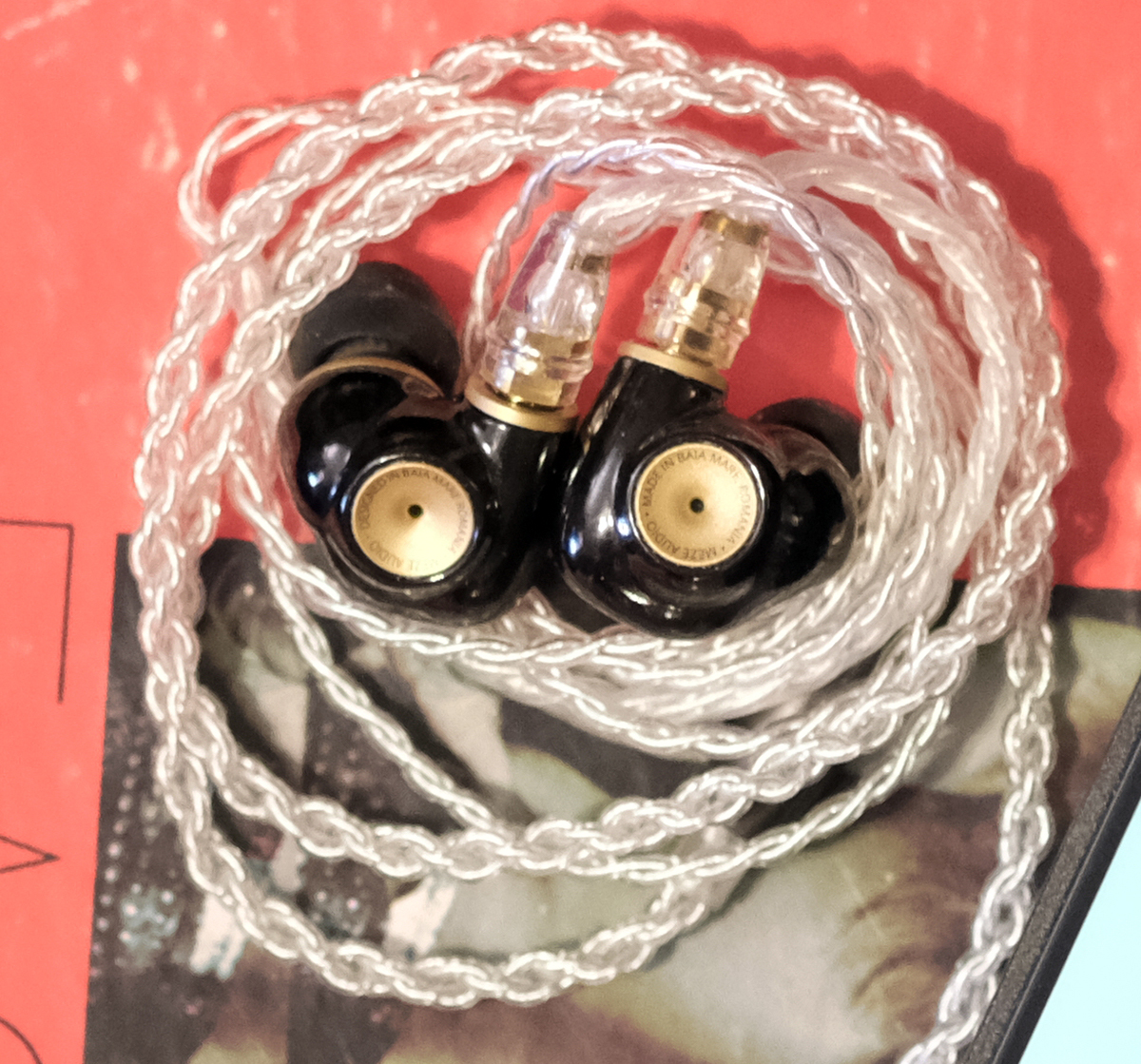 TECH SPECS
Driver: 10.2mm Dynamic driver
Frequency Range: 10 Hz – 30 kHz
Impedance: 31 Ω
SPL: 111dB/mW
Distortion: <1% at 1kHz
Stock cable: braided cable made of SPC (silver plated copper) custom wires ending in gold plated 3.5mm
Upgrade cables (available separately):
MMCX SPC cable to balanced 2.5 mm gold plated
MMCX SPC cable to balanced 4.4 mm gold plated
Materials: Solid stainless steel chassis produced by metal injection molding, with CNC finishing
Finish: High-gloss Black Chrome plating on main shell
The EarMen Angel Portable DAC/Amp: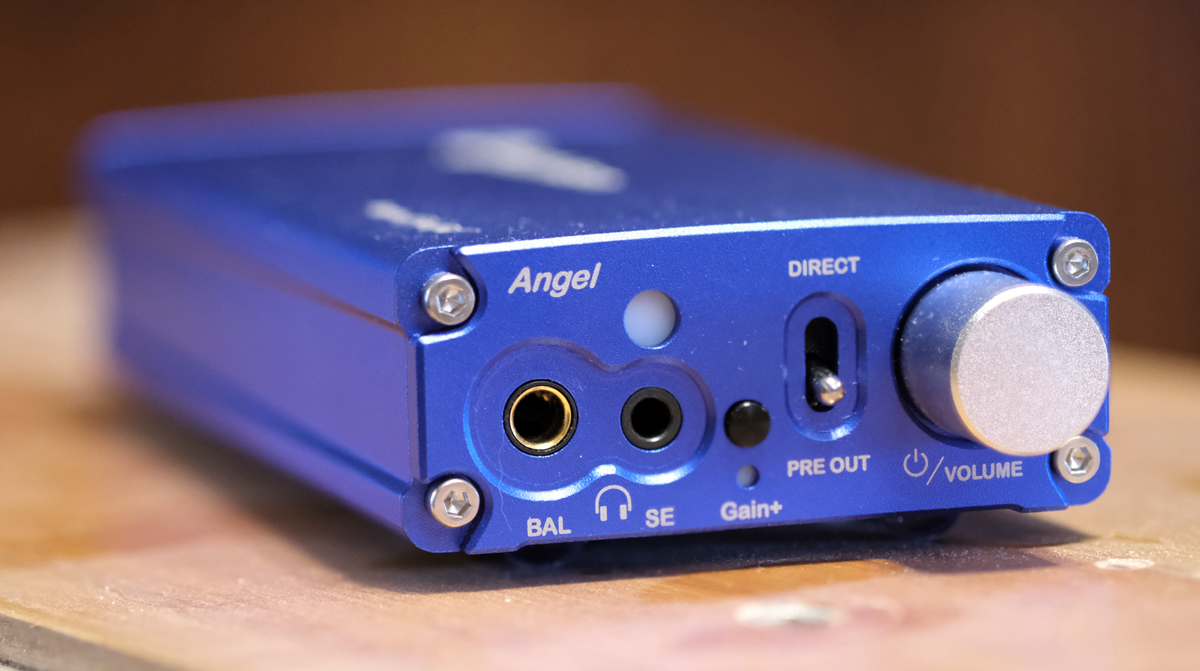 Based in Chicago, designed and engineered by Milomir "Miki" Trosic, founder of Auris Audio, manufactured in Europe, and described by EarMen as a reference portable device, the Angel is a Portable Fully Balanced Hi-Res DAC/ Headphone Amplifier with a Preamp Out option equipped with a 2-cell battery (2x3000mAh) for long playtime, with a less than 3 hour charging time as well as separate DATA and USB Charging ports to allow charging while playing.
For DAC the EarMen Angel uses ESS DAC ES9038Q2M which has great SNR and THD + N characteristics compared to its competitors, along with the newest XMOS USB receiver which is capable of decoding up to 32-bit/768kHz PCM, DSD256 via DoP, and MQA Studio.
The EarMen Angel is a fully balanced device from the DAC all the way to the headphone output. Designed for purity of signal path there are no additional capacitors or other components that would introduce distortion. Since noise floor is key to audiophile sound, EarMen employs an ultra-low noise linear power supply producing an amazing 120dB of dynamic range.
In appearance the Angel is a long thin Blue Aluminum block, 6″ x 1.05″ x 2.6″. On the front panel, you have a 4.4mm TRRRS balanced output, a 3.5mm TRS single-ended output, an indicator light, a "Gain +" button (below that is a small hole for the reset button), a "Direct/Pre Out" toggle switch (for use as a DAC only), and the Volume/Power knob (push and hold for power on/off). On the back panel you have two USB-C ports one for DATA and one for Charging, a 3.5mm Coax/TOS S/PDIF In, a 3.5mm TRS single-ended line output, and a a 4.4mm TRRRS balanced line output.
Price: $799
Manufacturer's Website: https://www.headamp.com/products/earmen-angel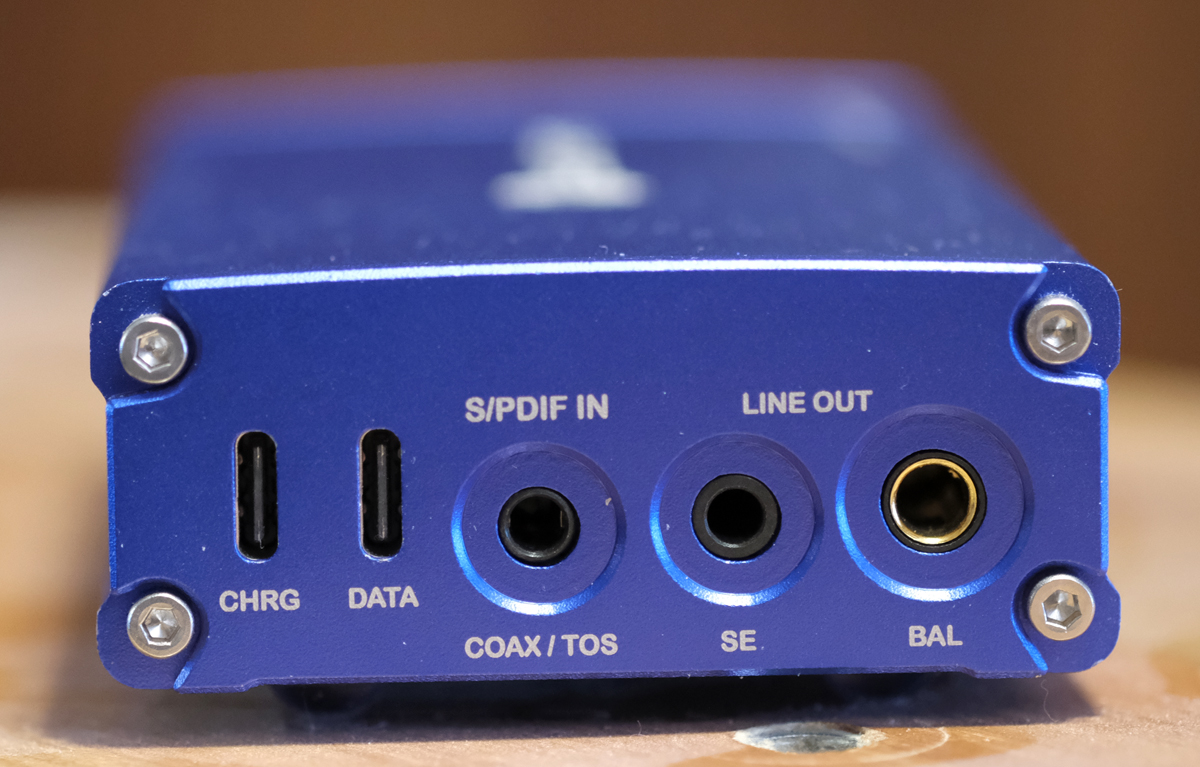 Specifications
Inputs
| | |
| --- | --- |
| USB C | DATA |
| USB C | Charging |
| S/PDIF | COAX/TOS |
Outputs
| | |
| --- | --- |
| Single End | 3.5mm |
| Balanced | 4.4mm |
Audio Formats
| | |
| --- | --- |
| DSD | DoP 256 / 128 / 64 Native DSD 512 / 256 / 128 / 64 |
| DXD | 768 / 705.6 / 384 / 352.8 kHz |
| PCM | 768 / 705.6 / 384 / 352.8 / 192 / 176.4 / 96 / 88.2 / 48 / 44.1kHz |
| MQA Hardware Decoder | MQB/MQA Core, MQA, MQA Studio, MQA Auth |
Headphone Single-end output with Gain+
| | | |
| --- | --- | --- |
| | USB input | S/PDIF input |
| Output Level | 7.2Vrms 0dBFS | 7.2Vrms 0dBFS |
| THD+N | 0.004% | 0.004% |
| SNR | >120dB | >120dB |
| | A-Weighted | A-Weighted |
| Freq. Response | ±0.2dB | ±0.2dB |
| DNR | >120dB | >120dB |
Headphone Fully Balanced output with Gain+
| | | |
| --- | --- | --- |
| | USB input | S/PDIF input |
| Output Level | 8.5Vrms 0dBFS | 8.5Vrms 0dBFS |
| THD+N | 0.002% | 0.002% |
| SNR | >119dB | >119dB |
| | A-Weighted | A-Weighted |
| Freq. Response | ±0.2dB | ±0.2dB |
| DNR | >119dB | >119dB |
Line Single-end output
| | | |
| --- | --- | --- |
| | Direct Out | Pre Out |
| Output Level | 1.5Vrms 0dBFS | 7.2Vrms 0dBFS |
| THD+N | 0.005% | 0.004% |
| SNR | >120dB | >120dB |
| | A-Weighted | A-Weighted |
| Freq. Response | ±0.2dB | ±0.2dB |
| DNR | >120dB | >120dB |
Line Fully Balanced output
| | | |
| --- | --- | --- |
| | Direct Out | Pre Out |
| Output Level | 3Vrms 0dBFS | 8.5Vrms 0dBFS |
| THD+N | 0.003% | 0.002% |
| SNR | >119dB | >119dB |
| | A-Weighted | A-Weighted |
| Freq. Response | ±0.2dB | ±0.2dB |
| DNR | >119dB | >119dB |
Dimension
| | |
| --- | --- |
| L x H x W | 152 x 27 x 66mm / 6″ x 1.05″ x 2.6″ |
| Weight | 340 gr / 0.75 lbs |
The Listening Experience: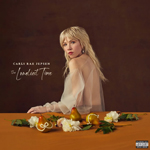 Departing a little from my methodology used in my previous two reviews, curious to see the limits of the EarMen Angel, I plugged in my Dan Clark Audio EXPANSE headphone via the 4.4mm balanced output and cued up Carly Rae Jepsen's "The Loneliest Time" (24-bit/48kHz – Qobuz) on Qobuz. The bass was tight and strong, extremely well controlled, and there was plenty of power to bring out the full dynamics of the piece, allowing me to turn it up to club levels of volume before I pushed it into the red. Were it not for the autotune I could almost like the album as presented by the Angel/EXPANSE combination.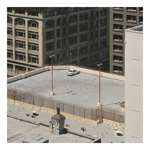 Switching to the ADVAR connected via the single-ended output, my first test was zero signal noise floor, even maxed out in "Gain +" it was dead silent lending credence to the claimed 120dB dynamic range. Turning off "Gain +" and turning the volume way down I put on "The Car" (24-bit/44.1kHz – Qobuz) by the Arctic Monkeys and discovered that the volume was still too high causing me to quickly turn it down further. "Sculptures Of Anything Goes" revealed an incredibly musical and dynamic experience with a very realistic and natural tonal balance, with deep rich precise bass.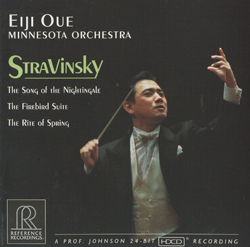 To test out DSD I selected Eiji Oue and the Minnesota Orchestra's performance of "The Firebird Suite" ("Stravinsky" – DSD). The dynamics were breathtaking, the noise floor so low that you could easily hear the base noise of the recording, again making me turn down the volume a couple of times because I underestimated the dynamics of the piece. The image was solid with lots of air, and the soundstage was huge and three-dimensional. The impact of the tympani coupled with the horns during the crescendos was palpable. The speed and detail were startling and the timbre of the instrument was so true to life.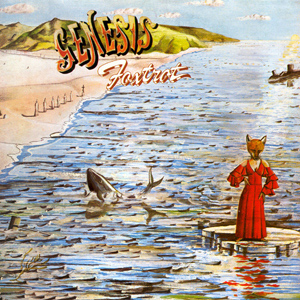 For a sense of the depth of the bottom end, I put on my sub-sonic test track, "Can-utility And The Coastliners" ("Foxtrot" – Genesis – DSD). Peter's vocal was intimate and natural, and the bass was resonant and full, with crisp musical percussion and a certain musicality and excitement to the midrange.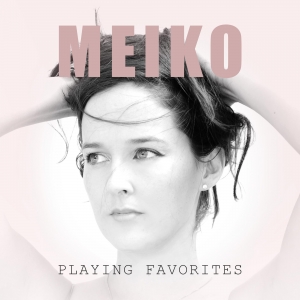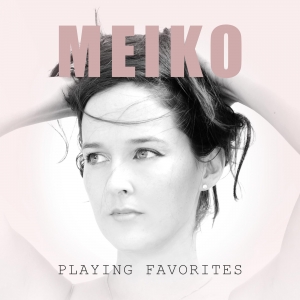 The LED indicated MQA Studio when playing Meiko's performance "Crush" ("Playing Favorites" – 24-bit/176.4kHz – MQA), all I can say is that the sound was expansive.
The sound of the Angel was so good that I had to go back and do a direct comparison to the iBasso DX320 using the MQA track. While the DX320 was a little more resolute, the Angel had a lot more dynamics, especially in the bottom end, adding a touch more excitement to the presentation.
Conclusions on the EarMen Angel Portable DAC/Amp & Meze ADVAR IEM:
The combination of the Meze ADVAR and the EarMen Angel was a wonder to behold, musical and dynamic with a large soundstage and a very accurate tonal balance, a true audiophile experience. In fact, the EarMen Angel is one of those magical DAC/amps that I think would work well with almost any headphone reflecting heavily the talents of its creator and echoing the performance of its much bigger brother the Auris.
As to the experience of doing a comparison review, it was eye-opening, introducing me to four amazing products, each exceptional in its own way. Those who love the Meze sound will adore the ADVAR which is a world-class product delivering on everything its maker promised. When comparing the iBasso DX320 to the EarMen Angel, sonically they are on an even keel, each leaning into its specific focus. The DX320 is an incredible value when one considers all that it can do, and in the long run, I think it is the more desirable product as it is the complete package and doesn't require an external computer whether that be a phone, tablet, laptop, or desktop unit. On the other hand, the Angel costs half as much money and can be used with existing equipment. The iFi Diablo is a special case for those who really need that extra punch delivering twice as much power as either the EarMen or the iBasso. As life would have it, all four products get a hearty recommendation from me, two thumbs up.