A year and a half ago when I first saw the Echobox Explorer, I immediately put in for a review sample. It was clearly something special, from the elegant flask shaped wooden body (in a market dominated by plastic, aluminum and glass) to the choice to use classic "Burr Brown" DAC chips, Echobox set out to make a budget DAP that stood out from the crowd. So finally my review sample arrived, and it was well worth the wait. The fit and finish of the product is exemplary, in short it is a beautiful device belying the modest price tag. It offers the flexibility of an open source Android 6.0 platform, with Echobox's own excellent music player as well as a TIDAL app, complete with a 3 month trial subscription. WiFi, Bluetooth and DLNA Wireless connectivity are supported, along with 64 GB of internal storage and microSD card slot for expansion, so you can stream music from your NAS, home server or the internet as well as carry an extensive library with you on the road. For outputs you have the 3.5mm headphone, plus a 3.5mm line out, an optical output and micro USB.
While the performance and build quality are stunning for a first effort, it does have its foibles. While included, the Android music player (labeled "Music") is not compatible with the Explorer. On the other hand, the Echobox music player (labeled "USB Audio Player Pro") is wonderful, allowing you to connect to not only on board files, but to stream from a DNLA network or via TIDAL or other internet radio or streaming services. Neither the name nor the Icon would lead you to believe this to be the default player app, but it is definitely the preferred app. Also, there is no app store, but rest assured most Android apps can be downloaded from the internet and will run, though there is obviously no vetting process, so it's a matter of trial and error (apps looking for specific smartphone functions may not work).
Package:
I did not get my Explorer directly from Echobox, so I didn't go though the normal unwrapping process that you do when you first get an item. Instead, after a couple weeks of experiencing the unit, I had to go back and go through the packaging to reconstruct what it was originally like. It came in a nice simple black box with an outer picture sleeve. Inside there was the paperwork including a TIDAL card with the 90 day trial code, a USB cable with a reusable Velcro tie, and a nice leatherette protective cover. They are available in for different woods (Mahogany, Maple, Ebony and Zebra Wood), mine came in Zebra Wood. Available separately, you can get a matching wood dock that lets you connect to your computer to use as a desktop DAC via the line out or a desktop music server via the optical output or Bluetooth to an outboard DAC.
Operation:
Using the Explorer is pretty straight forward, though like many of these units more thorough documentation as to the software is desirable. There is only one physical button on the Explorer which acts as both Volume control and Power/Wake-up switch (by depressing it), all other functions are operated from the touch screen. Like most android devices, after boot up (or Wake-up), you need to swipe up to exit the lock screen, though you can access basic player controls from the lock screen if the player is running. On the home screen there are three icons at the bottom of the screen; a left facing triangle (back), a circle (home, below which there is second home button which is visible with the main screen off), and a square (this brings up running apps). Above the home button is the apps button. The primary app you want is the USB Audio Player Pro (UAPP) which is orange with a right facing triangle and a USB icon. I moved this to the home screen by simply holding it for a couple of seconds. Basic Android functions like WiFi and Bluetooth can be accessed by swiping from the top of the screen, but most of the player settings are accessed from inside the USB Audio Player Pro app. Inside the USB Audio Player Pro app, next to the speaker icon at the top is three dots, touch that to access the player settings. There is a red circle with a note icon overlapping several horizontal lines, this takes you to the source menu which contains choices for; Database (music that has been loaded into the player's library), Folders (basic folder search), Network (I assume this is to access a NAS directly rather than through UPnP/DLNA), Shoutcast radio (a rather endless selection of internet radio stations), UPnP/DLNA servers (for connecting to a NAS or Computer via UPnP or DLNA), Qobuz (a streaming service), TIDAL, Other radio stations (internet stations you enter manually) and three selections for the Android data base (this will only be populated if you load the database using the Android app which I don't recommend) sorted by Artists, Albums or Playlists.
The Music Database can be organized by Artists, Album Artist, Albums, Playlists, Tracks, Genres or Composers. There is also a search function. You can create a queue of desired songs for immediate playback or create playlists for future listening. I also noticed that when listening to music through a DLNA server (JRiver) I was able to use the playlists housed there.
Sound:
As I used Shoutcast radio for burn in, my first listening tests were done with that, through the MrSpeakers AEON Flow Open headphones, and was pleasantly surprised by the musicality of internet radio played through the Explorer. It was neither grainy nor harsh. Though I did have the volume set fairly high, there appeared to be enough power to easily drive the AEONs.
Switching over to DLNA I brought up Blue Man Group's performance of "Baba O'Riley" (The Complex Rock Tour Live), the bass was rich and warm and the presence was lively while not bright or edgy. Playing the track directly from the player rather than over the network did offer a bit more air and musicality, as well as more gain.
I should point out that switching radio stations, or tracks on the network did involve a bit of a delay which made network playback suboptimal. This did not occur with files stored locally on the player or MicroSD card.
For IEM playback I selected my pair of prototype Echobox Nomads as this will probably be the IEM of choice to use with the Explorer. Choosing a 24/192kHz version of Burt Bacharach's "Casino Royale Theme" featuring the outstanding horns of Herb Alpert & the Tijuana Brass (Casino Royale). As can be expected, there is a bit of synergy between the two products putting forward a spritely and dynamic presentation, with a large soundstage and a bit on the tenor side.
Cuing up "Lucky Man" by ELP (Emerson, Lake & Palmer – 24/96kHz) I was once again provided an open, spacious and airy experience with extremely tight bass and plenty of dynamics. Greg Lake's epic guitar overlays and lush voice were ethereal presented against a black background.
For critical listening I moved to my reference IEM's the Nobel Katanas, put on "The Firebird Suite" (Eiji Oue & the Minnesota Orchestra – Stravinsky – DSD). The soundstage was large and well focused with excellent tonal balance and dynamics.
Conclusion:
No one will be disappointed with the Echobox Explorer as a DAP or even as a music server. The USB Audio Player Pro is fairly intuitive once you realize that it is meant to be the default player. The DAC works well and the amplifier sits at the top of the chip based models. It should drive most IEMs and the more efficient headphones without needing or desiring an external amplifier. I didn't use any of the soundscaping software such as the EQ or Crossfeed, because that isn't really my thing, but they are there for those who want a different sound. I did use the 12 dB Replay Gain Compensation with the AEONs. There is also a selection of volume steps between 20, 40, 50 and 100 steps, depending on how much fine tuning you want in your volume control.
While I believe there is room for improvement on the software side, it is an excellent first effort, and for the money a great value. It is definitely a piece which you will be proud to show off.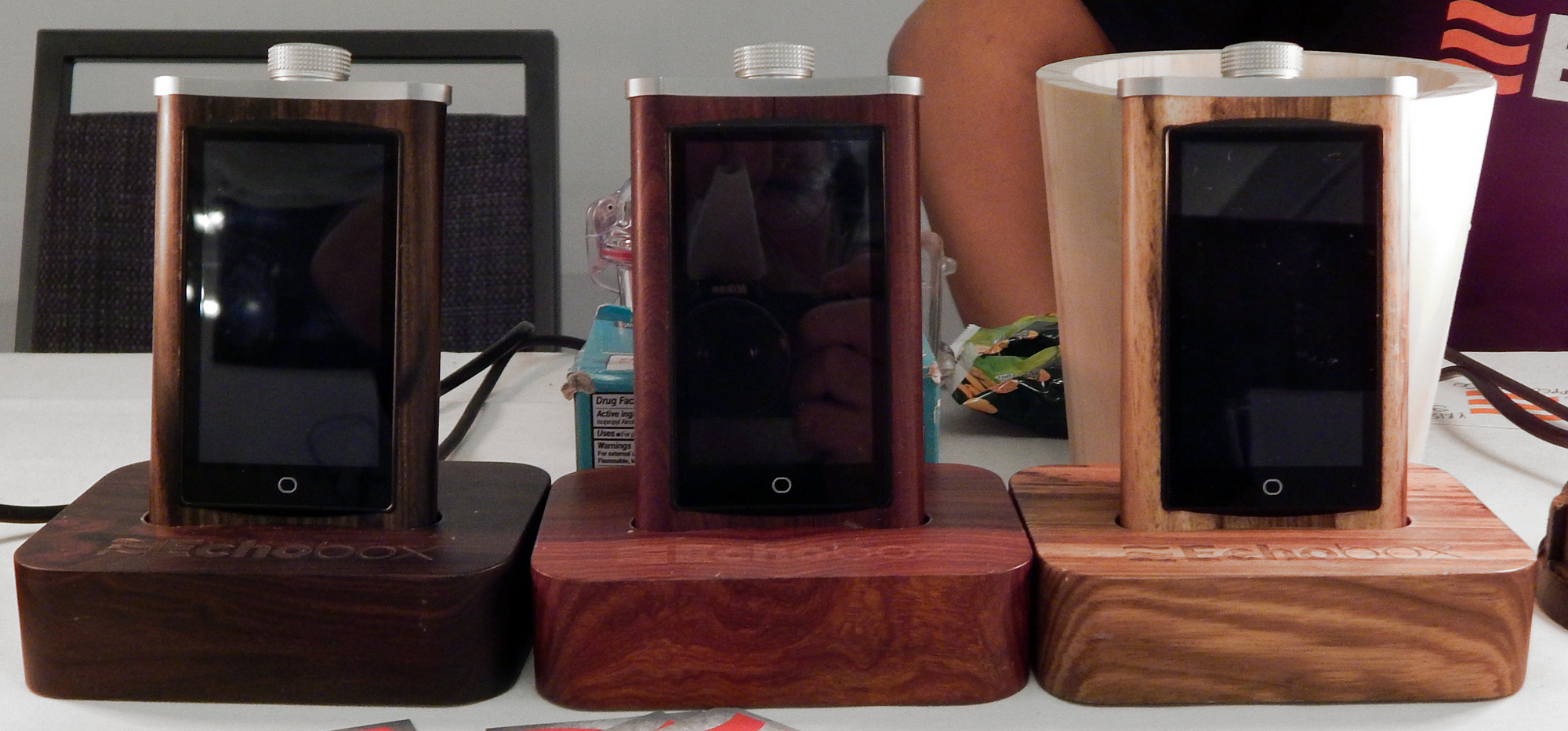 https://echoboxaudio.com/products/explorer
Price: $599 USD
Explorer Specifications:
DAC: Texas Instruments Burr Brown PCM 1792 -24/192k Capable, All PCM Formats; DSD Support (DSD To PCM Conversion)
Power: Texas Instruments TPA6120A2 300MW/channel @ 32 ohms, SNR 128DB
Output Impedance: Less than 1 ohm @ 16 ohms
Output: 3.5mm stereo, mini TOSlink optical out
OS: Stock Android 6.0 Marshmallow
Processor: Rockchip RK3128 quad core
Processor @ 1.3 GHz
RAM: 1GB DDR3
Memory: 64GB internal, Micro SD slot
Battery: 4,000 MAH lithium-ion
Screen 3.5″ LCD
Construction: Genuine Wood (Maple, Zebra Wood, Mahogany, Ebony)
Machined Aluminum
Connectivity: Micro USB 2.0, WIFI (802.11 ABGN), Bluetooth (4.1), DLNA
Playtime: 8 Hours
Charging Time: 5-6 hours with DC5V,2A input