About a year ago I received a pair of Echobox Nomad IEM prototypes for review. Almost as I was getting ready to put pen to paper, I received an urgent missive from Sam McKinney of Denver, CO based Echobox saying no, no, no, hold off on the review, he was changing the design. So over that year Sam has been bouncing around the world developing new products and improving old ones, and I went about business as usual, and though I used them for several reviews of other products, I never finished the review of the Nomad prototypes. Along comes CanJam SoCal 2018 and I met up with Sam again and in casual conversation mentioned that I never actually received the production versions of the Nomads, and within a week of the show they arrived.
The Echobox Nomad, the flagship IEM for the Echobox line, is a step up from their popular Finder IEM, but they share basic technologies; IE: they both use solid Titanium housings for extreme durability and predictable control over internal acoustics. They also both use PEEK (Polyether Ether Ketone) diaphragm dynamic drivers. And they both offer Signature Echobox AFT (Acoustic Filter Tuning), a system of three sets of filters to allow fine tuning to personal tastes. What the Nomad adds to the equation, other than superior performance is the addition of MMCX connectors to allow easy replacement and upgrade of the cable (one noticeable change between the prototypes and the production models was, in fact, the cable, which is significantly more flexible than the original).
The Package:
The Echobox Nomad IEMs come in a simple black box with Echobox embossed on the cover, inside an outer white retail display picture sleeve. Included in the box you will find the Nomads and an MMCX cable fitted with a microphone and controller for either Android or iPhone, as well as the zippered clamshell carrying case containing two styles of silicone tips in two sizes, a pair of two flange silicone tips, a pair of three-flange silicone tips, and the Echobox AFT replacement filters set in a rubber platform, plus a pair of Comply Medium T-400 Isolation Series tips. The Nomads themselves have an attractive simple teardrop shape with textured lines cut into the titanium (the prototypes were smooth) and a flat black rubber coating on the ear side for added comfort. Unlike many budget IEMs, the Nomads incorporate a plastic ear-hook outer sleeve into their cables, improving fit and comfort, while providing strain relief on the cable.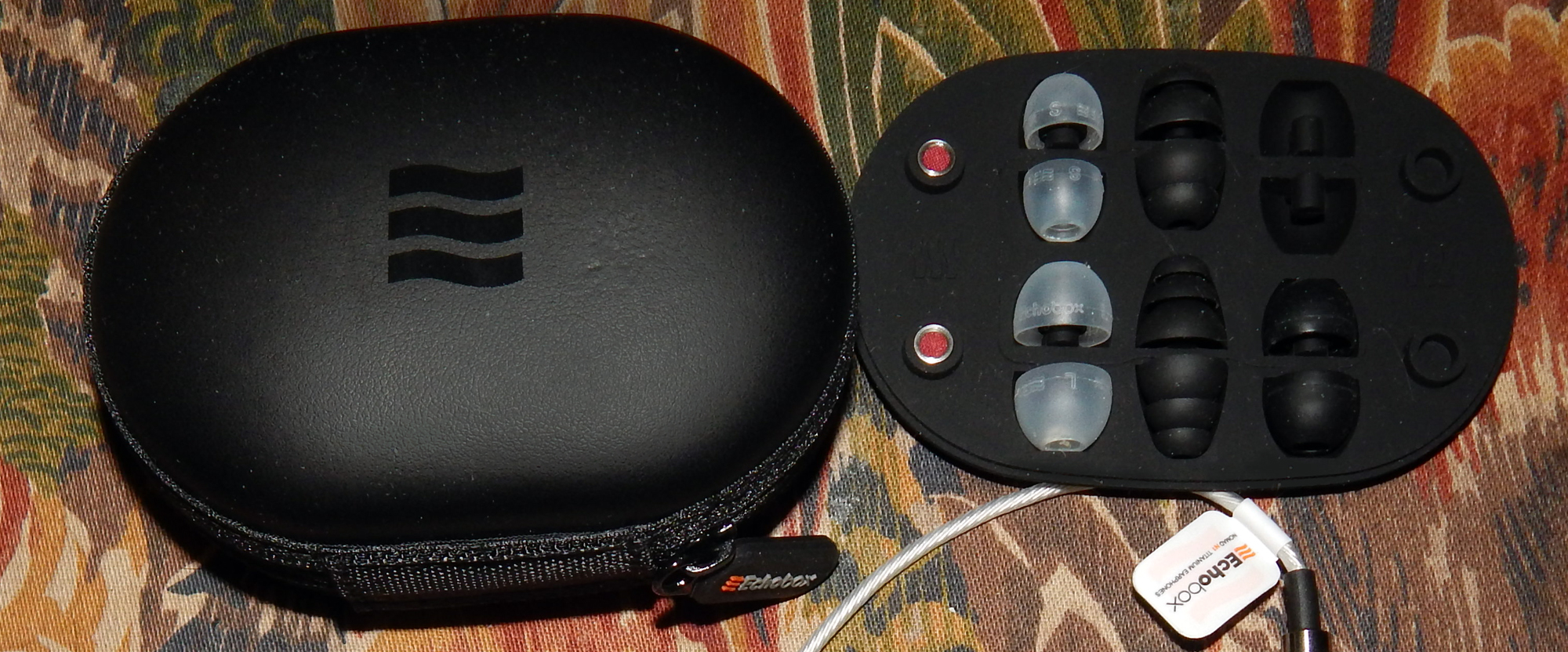 The Experience:
I began my listening tests by connecting to my reference desktop system (Questyle Audio CAS192D Current Mode DAC and CMA800R Current Mode Headphone Amplifier) and going through the different silicone tips until I achieved the best seal and then tested the filters for the best tonal balance and simply listened to random music for a couple of days. My initial choice was the small black tips with the black filter (black for bass, white for neutral, red for treble). I am not a big fan of foam tips because I have problems getting a seal with them due to the weird shape of my ear canal, but for some IEMs, they can make a huge difference in sound, so I decided at this point to give the Complys a shot. The nice thing about Comply tips is they hold their shape well, so it is a matter of rolling them in my fingers until they are as small and long as possible, then sticking them in my ear and holding them in place for a couple of minutes until they expand completely creating a seal. The difference was instant and overwhelming and forced me to switch to the white filters, as the bass was overly heavy, much like the spate of "subwoofer" IEMs I experienced at CanJam SoCal.
Having tuned the Nomads in so to speak, it was time to pop them into the Echobox Explorer for my initial impressions, as this was the obvious intended source for the Nomad IEMs.
Stanley Jordan's solo guitar for "Eleanor Rigby" (Magic Touch – 16/44.1 kHz) was expansive, portraying a performance in a large hall. Crisp and lively, accented by the occasional chimes and woodblock percussion, you could easily picture the former street performer standing before you.
But lest you think it all glitz and no body, I put on "Non Mi Lasciare" as sung by opera singer turned pop star Dario Baldan Bembo (16/44.1 kHz). The opening piano was rich and full, and the organ pedal bass accompaniment was vibrant and dug deep into the subsonic realm, while vocals came across with heartfelt emotion, not exactly honeyed but not abrasive either. Again the soundstage was much larger than one would expect from an IEM in this price range. The cymbals had a bit of splash, but not offensively so, and the drums were impactful and well controlled.
Sensing that the Nomads to be a true Rock IEM, I selected "Black Magic Woman" (Santana – DSD). The bass guitar resonated against a background of snappy percussion and keyboards, with Carlos' epic guitar leads bright and exciting in the distance, while Gregg Rolie's vocal was rendered velvety and seductive in the foreground. The soundstage exhibited depth as well as width.
To step things up, I connected to the Schiit Vali 2 with the Schiit Modi Multibit as source and chose a 24/96 kHz vinyl rip of Robert Shaw and the Atlanta Symphony Orchestra performance of "The Firebird Suite". It was a perfect combination, the musicality of a tube amplifier with the detail of the Modi Multibit and the linearity of the Nomad IEMs. It was box seats at Disney Hall, excellent dynamic range with solid instrument placement and real punch to the kettle drums, and fine tonal balance and detail.
For fun, since Echobox is marketing the Nomad as a gaming IEM, I launched Portal to see if they provide a true immersive experience. Locating objects strictly by sound was a cinch, and there definitely was a sense of environment.
As with any IEM with a phone control and microphone, no test of the Nomad would be complete without a stint in the smartphone. Though not exactly forgiving, they worked well with the phone, though I found myself returning to the black filters with the silicone tips to take a bit of the edge off. Providing a real feel of space, especially with live recordings like Melanie's Woodstock delivery of "Birthday of the Sun", the Nomads were more than efficient enough to run without an external amplifier.
The Sum Total:
Value is the key word when considering the Echobox Nomad, presenting the soundstage, tonality, and detail one would expect from a much more expensive IEM. While well matched to the Echobox Explorer, they easily scaled up to higher resolution desktop rigs and performed passably with smartphones and streaming music. Though I'm not a heavy gamer (Portal is pretty much my limit), I can see how they would enhance the reality of virtual reality.
Versatility is a major plus for the Nomad, with the selection of filters and tips; you can achieve a sound that would please most listeners, whether you are into bass heavy hip hop or solo acoustic blues guitar, or even the occasional action film. The Echobox Nomad is definitely a winner and deserves a full thumbs up recommendation.
Price: $399 USD