At $2,749 the iFi Pro iDSD 4.4 is rather inexpensive for a reference DAC with many other offerings running between $10K and $15K, but in all other respects, it certainly fits the bill. Being designed as a Pro-Audio piece, as well as consumer, it offers decoding of DSD 1024 as well as such exotic options as AES/EBU digital input and Atomic Clock external sync, but what truly sets it apart is the ability to choose between J-FET solid-state or triode tube analog stage.
Established in 2012 and based in Southport, UK iFi is a forward facing company who strives to remain on the bleeding edge of technology while providing significant improvements to sound at an affordable price. Because of this, they produce a lot of ancillary products, two of which will be used in this review; the iFi iPurifier3 and the iFi DC iPurifier2, because every bit of noise reduction that takes place outside of the analog signal path means lower noise floor and higher resolution with no degrading compromises (as long as current availability is not reduced).
iFi Pro iDSD 4.4: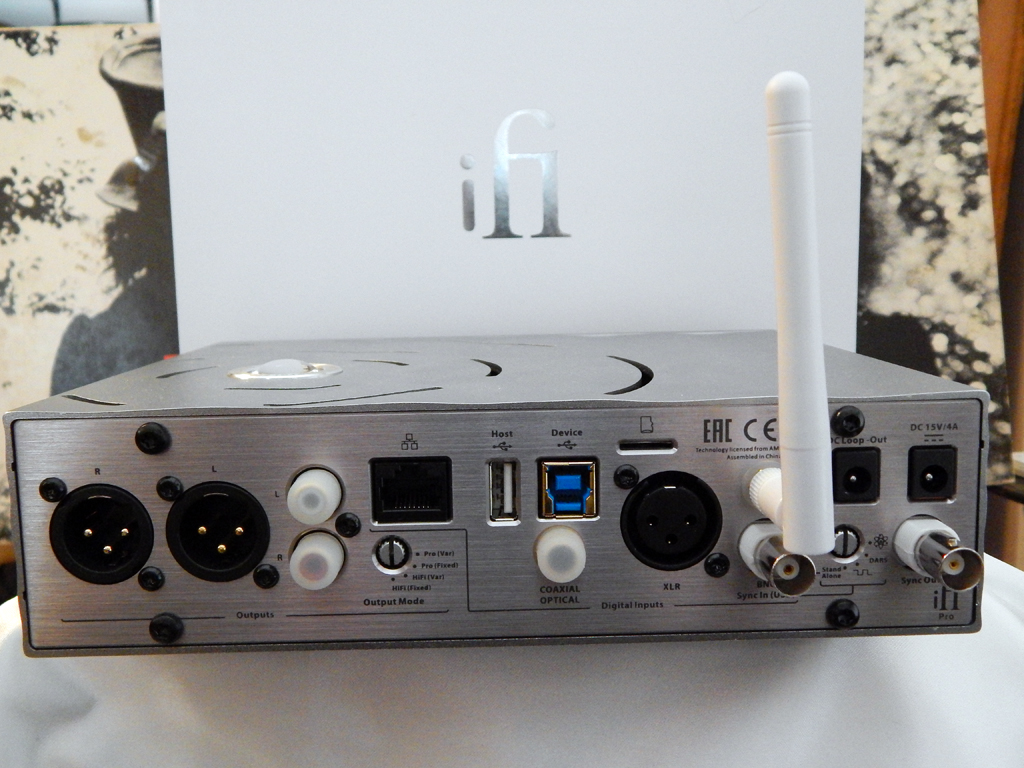 Ok, the list of features for the iFi Pro iDSD 4.4 is fairly long, so bear with me:
Employs XMOS XU216 X-Core 200 Series 16-Core processor
Decodes all available sample rates up to 49.152MHz (768kHz PCM and DSD 1024)
Handles bit depth up to 32 bit
MQA decoding
2 quad stacks of bit-perfect DSD & DXD Burr-Brown DACs in a Custom "Interleaved" configuration (a total of 8 pairs)
DSD1024 remastering handled by Crysopeia® FPGA
Data is sent to the Memory Buffer from all inputs. Here it is de-jittered to eliminate any transmission of source jitter to the DAC output. The data from the Memory Buffer is further re-clocked by the low-jitter Global Master Timing® clock, which also drives the X-Core 200 and FPGA.
AES/EBU digital input
Clock Sync output with four selectable Clock Options: Atomic Clock (external clock), DARS (external clock), 10MHz (internal or external clock), or Standalone (no external clock)
Built-in Streaming of Qobuz, Tidal and others (controlled via MUZO Player App on Android or iOS device)
Direct connection of NAS (via Ethernet), USB hard drive, or Micro SD Card (controlled via MUZO Player App on Android or iOS device)
Wireless DLNA/Airplay/Ethernet Hi-Res Playback
WPS wireless router sync
Five Digital Filter options: Bit-Perfect/Bit-Perfect+/Gibbs Transient Optimised/Apodising/Transient Aligned
Fully discrete passive LC analogue filtering
Zero Jitter Memory Buffer
The amplifier audio circuit is fully discrete, fully-balanced with either tube or J-FET input switchable, bipolar second stage and MOSFET-buffered bipolar Class A Power stage.
All Class-A Analog sections for both J-FET and Triode Tube
Switchable Analog stage between Solid-State J-FET and Triode Tube
Both Single-Ended and Balanced Line Output
Line Output Switchable between HiFi Fixed (4.6V / +15.5dBu Balanced Output; 2.3V / -10dBu Single-Ended Output), HiFi Variable, Pro Fixed (10V / +22dBu Balanced Output; 5V Single-Ended Output), and Pro Variable
Separate input circuits for tube and solid-state.
Switchable Loop Gain and Negative Feedback for tube amp (Tube+)
Three switchable gain levels: 0dB, +9dB, +18dB
All inputs are galvanically-isolated (including USB). The USB input section has its own separate power management system with multiple regulators and filtering operating from the galvanically-isolated voltage generated to power this section.
A Japan Alps rotary volume potentiometer, audio-grade ELNA Silmic capacitors and a bank of ELNA Dynacaps 'super capacitors'
External Power Supply for better isolation
Incoming DC is converted to a high-frequency waveform and then rectified and filter by a choke input capacitor filter
Both ¼" and 3.5mm TRS single-ended headphone outputs. Choice of 4.4mm or 2.5mm TRRS balanced headphone outputs.
OLED display
Remote Control
As with most iFi products, the appearance of the iFi Pro iDSD 4.4 is elegant, simple, compact and unique. The chassis is heavy gauge aluminum with a wavy surface and circular vents center on a small lens in the top (right rear corner) for the tubes. The front panel houses the power button, a large input select knob, a smaller filter select knob (push for WPS) below which is the amplifier select switch, the OLED display, the 3.5mm single-ended headphone output, the gain switch above which is the ¼" single-ended headphone output, the 4.4mm balanced output, a large volume knob (which automatically returns to the last listening volume when turned on), and the remote eye.
The back is a little more complex with the Balanced (XLR) and Single-Ended (RCA) Line Outputs, the Line Output Selector, Ethernet Port, USB Host Port (for External Hard Drive or Pen Drive), Coaxial/Optical Digital Input, USB Digital Input, Micro SDHC Card Slot, XLR Digital Input, Wi-Fi Antenna, BNC Digital Input, Clock Sync Mode switch, BNC Clock Sync Output, DC Loop Out Supply (to run other iFi devices), and 15V/4A DC input.
Lastly, before we get to actual testing, there is one more feature that I haven't actually covered, and that is there are three different modes for digital processing:
Direct – Bit-Perfect: No processing for DSD or PCM (PCM is non-oversampled)
PCM – Upsampling: PCM is up-converted to 16xPCM (705.6/768kHz) with a choice of five digital filters (No processing for DSD): Bit-Perfect: No Digital Filter; Bit-Perfect+: No Digital Filter, SINC roll-off is corrected; Gibbs Transient Optimised: Minimum Filtering, no pre-ringing, minimal post-ringing; Apodising: Modest Filtering, no pre-ringing, modest post-ringing; Transient Aligned: Maximum Filtering, maximum pre-ringing, maximum post-ringing
DSD – Remastering: All incoming audio (except DSD512) is converted to either DSD512 or DSD1024 (as selected) using the above selected filter.
Living With The iFi Pro iDSD 4.4: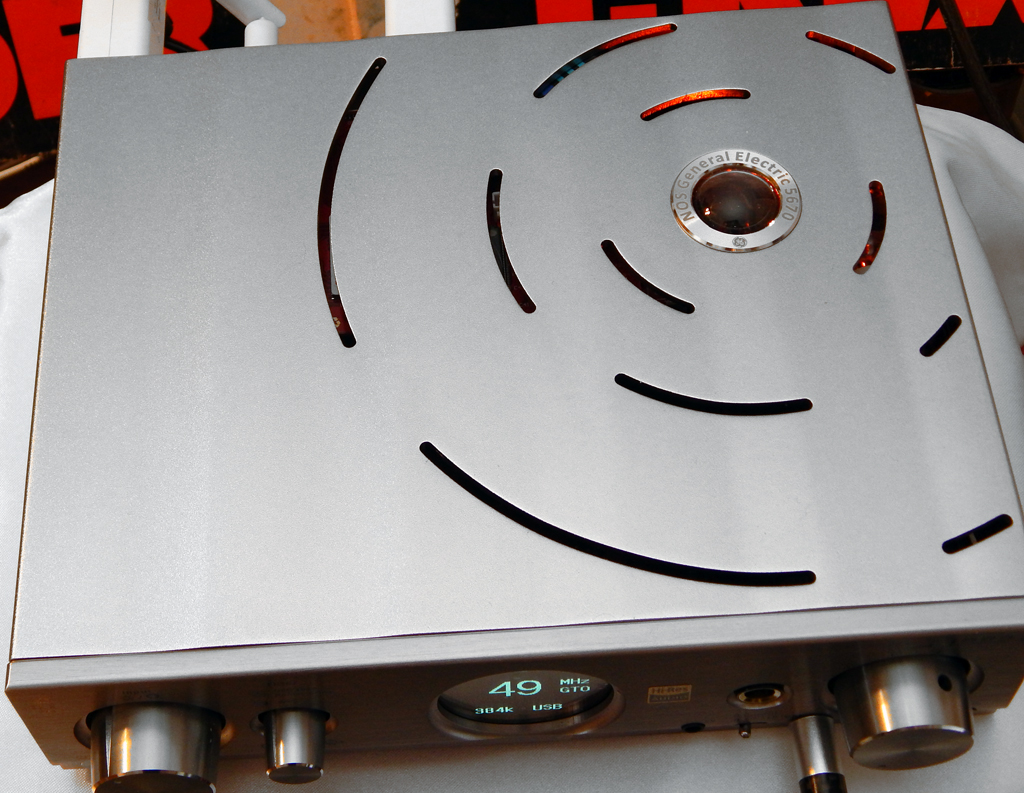 I usually don't talk about packaging with components, because, well they usually come in a box with foam inserts and that's about it. Not so with the iFi Pro iDSD 4.4. It came in a virtual Russian doll of nested secret compartments, boxes and accessories. When you first open the elegant white box with an embossed silver iFi logo and outer picture sleeve you find the iFi Pro iDSD 4.4 nestled in simple foam enclosure as you would expect, but once you pull the unit out, you discover a secret compartment below that is subdivided into three separate compartments, one of which houses the user manual (and warranty card) and the other two contain plain white boxes imprinted with the iFi logo (white on white). In the larger of the two you find the power supply and power cord, and the other contains a USB 3 cable, a set of RCA interconnects, an optical cable adapter and the WiFi antenna.
Burn-in introduced the interesting question of how best to accomplish it, especially considering that there were two separate amplifiers. I began by connecting to WiFi (WPS made this almost instant) and Ethernet, then installing MUZO on my FiiO X7mkII and streaming Qobuz Playlists, but finally settled on simply running the S/PDIF out of the X7mkII into the iFi Pro iDSD 4.4 as requiring less monitoring. With burn-in and the intervention of RMAF, the iFi Pro iDSD 4.4 was my primary DAC and Headphone Amp for several weeks, thus we became fast friends.
I started my critical listening with my MrSpeakers ETHER2 Orthodynamic Headphones and Qobuz. I want to talk about the digital filters first. Usually the effect is rather subtle, not so with the iFi Pro iDSD 4.4, there was a clear sonic difference. While Gibbs Transient Optimised was the most musical to my ears of the basic filters, the DSD – Remastering took the sound to a whole new level as exemplified by Ian Stewart's "Rap City in DA Nile (feat. Mr Lif)" (16/44.1kHz – Ian Stewart & Jackson Whalan – "These Aren't The Words You're Looking For…."). Everything just opens up, tighter focus on the individual instruments.
Even tracks originally recorded in DSD simply had more air and a more liquid sound. Even in the solid-state mode the midrange was honeyed listening to "Dear Diary" by The Moody Blues (DSD – "On The Threshold Of A Dream"). The timbre of the instruments was so natural you could easily differentiate between the Mellotron and the real flute playing in conjunction. Same was true of the acoustic guitar and bass guitar picking out the same bass line. The soundstage was large studio with closed mic'd instruments.
The musicality of the DAC with the solid-state amplifier was such that there was very little expected change switching over to the tube amp. I don't think I've heard a more realistic soundstage presentation than that presented by "Everybody Loves Somebody" (Dean Martin – 24/96kHz – "Everybody Loves Somebody"). Following the suggestions of the manual (listening volume should fall in the mid-volume range), I set the gain to +9dB. The dynamic range was amazing in a large hall atmosphere. Dean's voice caressed me with that deep baritone burr, and the strings were rich and full, while the backup chorus was angelic.
Changing over to my reference headphones the MrSpeakers ETHER C Flow 1.1 Planar Magnetic Headphones and the balanced output to enjoy "The Firebird Suite" as performed by Robert Shaw and the Atlanta Symphony Orchestra (16/44.1kHz – "Stravinsky: The Firebird; Borodin: Music from Prince Igor") I experimented with the "Tube+" mode, but quickly retreated to the chill inducing standard tube mode as there was plenty of power to run the ETHER Cs and the experience was simply magical.
To check out the performance of the iFi Pro iDSD 4.4 with dynamic headphones I plugged in the Spirit Torino Twin Pulse Isobaric Open Circumaural Headphone and set the gain back to 0 and cued up Meiko's MQA cover of "Zombie" (16/44.1kHz MQA – "Playing Favorites") and was transported to spacious theater, the cello resonant and thick.
I next connected the iFi Pro iDSD 4.4 to my reference amplifiers (2 Questyle CMA 800 R Current Mode Headphone Amplifiers in full balanced mono mode feeding the ETHER Cs) and put on "The Song Is Over" (DSD – The Who – "Who's Next"). Whether in solid-state or in tube mode, this was one of the most musical DACs I have tested though frankly I can't think of a situation where I would use an external headphone amplifier as the iFi Pro iDSD 4.4 had no problem driving anything I connected to it.
The iFi Pro iDSD 4.4 Conclusions:
The iFi Pro iDSD 4.4 hits on all cylinders. As a DAC it is unparalleled in versatility and sound to my ear. The fact that it offers a triode tube analog section as well as a separate Class A discrete solid-state analog section puts it in a class by itself. As a DAC by itself, I would have no problem using this as a reference DAC, it is exceptionally musical, with an excellent but realistic soundstage, and it handles all existing digital formats. It has a wide range of digital filter options allowing the user to tailor the sound to their specific tastes, but no setting in my experience was particularly harsh or grainy.
As a headphone amp, it leaves little to be desired also, again offering the option of tube or solid-state, providing sufficient oomph to drive just about any headphone, so unless you are looking for a particular color to your music, it is a one stop shop at a fairly reasonable price.
Manufacturers Page: https://ifi-audio.com/products/pro-idsd/
Price: $2,749
Specifications:
Sample rates:
PCM up to 768kHz
DSD up to 49.152MHz (DSD 1024)
DXD and double-speed DXD (2xDXD)
Inputs:
USB (required for DSD, DXD and sample rates above 192KHz)
AES3 (XLR – single link)
S/PDIF (coaxial/optical combo)
BNC multifunction (S/PDIF in or sync input)
Outputs:
Balanced XLR at 4.6V (+15.5dBu – HiFi) or 10V (+22dBu – Pro)
Single-Ended RCA at 2.3V (HiFi) or 5V (Pro)
Headphones 6.3mm & SE 3.5mm Jack at 0.55V/2.1V/5V
Headphones BAL 2.5mm/4.4mm Jack at 1.13V/4.6V/10V
Headphones out 1,500mW RMS X 2 @ 64 ohm, 4,000mW max. 2 X @ 16 Ohm
Headphone Output Impedance:
Single-Ended (S-BAL): < 1 Ω
Balanced: < 2 Ω
Volume control:
Balanced (6-gang) Alps potentiometer, motorised with IR remote control
XLR/RCA outputs can be selected as fixed level or adjusted
6.3mm headphone jack is always adjusted
Other Functions:
Various digital and analogue filters can be selected for DSD and PCM up to 384KHz
PCM Filters:
Bitperfect 44.1 – 192kHz, always used for 352.8 – 768kHz
Bitperfect + 44.1 – 96kHz
Gibbs Transient Optimised 44.1 – 384kHz
Apodising 44.1 – 384kHz
Transient Aligned 44.1 – 384kHz
DSD filters:
fixed 3rd order analogue filter @ 80kHz with correction for DSD's -6dB gain
Gain (headphone section):
user-selectable: 0dB, 9dB and 18dB
Dynamic range:
119dBA (solid-state, PCM, -60dBFS)
Output power
Pro iDSD 4.4mm socket. (16 Ω, balanced/single-ended): >4200mW /1>1,575mW Pro iDSD 2.5mm socket. (16 Ω, balanced/single-ended): >4000mW /1>1,500mW
Output voltage
(600Ω, balanced/single-ended): >11.2V / >5.6V
Input voltage (Pro iDSD):
DC 9V/6.7A – 18V/3.35A
Input voltage (iPower+):
AC 85 – 265V, 50/60Hz
Power consumption:
< 22W idle, 50W max.
Dimensions:
213 (l) x 220 (w) x 63 (h) mm