My first two channel Pre-Amp (until the 80's I was a multi-channel enthusiast) and my second two channel Pre-Amp were both PS Audios (I made the step up from the stereo model to the dual mono dual chassis model – both had outboard power supplies – which I used until the early 90s when I switched up to my current tube Pre-Amp) the latter of which is still in use by a close friend in their system, so when I was given the opportunity to review the PS Audio Sprout100, I jumped at it. Back in the early 80's when I was introduced to PS Audio, they were the budget audiophile's dream, producing extremely high performance products at a reasonable price, with the new PS Audio Sprout100 nothing has changed, for $599 you get an audiophile quality Integrated Headphone Amplifier, with a built in DAC, Phono Stage, Bluetooth Receiver and 100 Watts (at 4Ω) of speaker level output, in other words, a complete, compact, audiophile entertainment system (with remote control) sans speakers, headphones and turntable. In fact my only disappointment was the lack of PS Audio's signature DSD DAC, opting instead for the highly respected and very popular ESS SABRE32 Ultra ES9016 DAC chip (there is only so much you can do for $600).
The PS Audio Sprout100-What You Get:
The PS Audio Sprout100's attractively elegant machined bead-blasted aluminum and (real) walnut chassis is a compact 6.2" wide, 1.9" high and 8.2" deep. There are two knobs on the front along with the ¼" single ended headphone jack, one for input select (Bluetooth/Digital/Analog and Vinyl – switching between USB and TOSLINK is effected by connecting and disconnecting the USB) and one for volume/power/bass boost (one quirk of the Sprout100 is that it defaults to bass boost and the bass boost switch does not work with headphones plugged in – meaning you have to unplug the headphones to turn it on or off, though it is easy to determine the state by the color of the LED which is white for bass boost and blue for bass boost defeat). My one real complaint about the Sprout100 is the volume control, which might be an issue for others also, as the change incremental is very small, leading to a lot of turning to effect noticeable change, thought the volume control on the remote is very responsive therefore ameliorating the problem somewhat. The volume control does have a memory (as long as the power is not interrupted), which may or may not cause concern while switching from headphone to speakers and back depending on the relative efficiency vis-à-vis between the headphone and speakers in use.
On the back you have the right and left speaker outputs in the form of simple holes for banana plugs (which are provided for bare wire and spade use, and are equipped to accept banana plugs themselves for bi-wire configurations), a single subwoofer output (RCA), turntable ground, Phono input (RCA), Analog Out (RCA), Analog Input (RCA), USB Input, Optical Input (TOSLINK), The Bluetooth Antenna, and the Power connection.
Apart from the Gold Banana Speaker connectors and the 6' power cable, the Sprout100 came packaged with a ¼" to 3.5mm TRS adaptor, and a very nice aluminum remote control (Power, Mute, Volume) which appears to be magnetic.
For features, the Sprout100 incorporates a JFET moving magnet phono stage with a passive RIAA curve equalization circuit, the ESS SABRE DAC which works in conjunction with the USB, TOSLINK and Bluetooth digital inputs, a 100WPC ICEpower Class D amplifier for excellent loudspeaker performance, a Mono Subwoofer output (connecting a Subwoofer defeats the Bass Boost function), the afore mentioned Bass Boost, Remote Control and Bluetooth input, and a Discrete Zero Impedance Headphone Amplifier implementing a 1,300 volts/microsecond slew rate via PS Audio's Z Feedback topology.
The Tire Hits The Road:
I Burned in the PS Audio Sprout100 using my 1MORE Triple Driver Over-Ear Headphones (because I felt they could use a few more hours burn in) and my first impression of the Sprout was of a pleasant forgiving amplifier with that warm slightly rolled off sonic signature one finds in many headphone amplifiers designed by non-audiophiles to emulate what they think is the "Tube" sound. Then later reading through the manual I discovered that the Sprout100 defaulted to Bass Boost On. Back at the dawn of history, integrated amplifiers used to come with what was called a "Loudness" control. This was a slight bass boost designed to compensate for the acoustical effect that our ability to perceive bass drops off quickly (relative to midrange and treble) as volume decreases for listening at low levels (that is until the disco era co-opted it for use as a general bass boost), the Sprout100's bass boost is a little more subtle than that was, and makes for a great way of limiting the slight thinness and harshness of sound associated with inexpensive headphones and speakers.
Without the Bass Boost, the 1MOREs delivered a very neutral yet musical tonal balance with a large sound stage as was evidenced by the reproduction of Lee Ritenour and Dave Grusin's performance of "Romanian Folk Dances" (Two Worlds – 16/44.1 kHz), the piano rendered rich and full, the violin and acoustic guitar robust and sweet, giving a small hall recital feel to the recording.
Stepping up to the MrSpeakers AEON Flow Open Planar Magnetic Headphones the Sprout100 kept up with the move to the higher resolution headphones, providing a larger soundstage, tighter bass, natural and honeyed vocals, and excellent instrument placement and isolation, making "The Ballad Of Billy The Kid" by Billy Joel (Piano Man – DSD) an engaging and pleasurable experience.
So too did the Sprout100 find the increased power necessary to bring the MrSpeakers ETHER C Flow Orthodynamic Headphones to their full potential, with plenty of dynamics, bringing a live at the bowl vibe to "The Firebird Suite", clearly able to tackle the subtle tonal changes necessary to individualize the instruments, and exhibiting the current and control to give the tympanis their due.
Taking up the unstated challenge of PS Audio's Z Feedback topology, despite the lack of multiple gain settings, I broke out the Noble Katana Custom IEMs to see if the Sprout100 had the noise floor to deal with even the most sensitive IEMs, and it passed with flying colors, falling in line with the top three desktop amplifiers I have found in this regard, though I was certainly glad for the overly sensitive volume control listening to The Who's "The Song Is Over" (Who's Next – 16/44.1 kHz) as normal listening level volume was only about 6 clicks from full mute.
To explore all aspects as to headphones available I took my first listen of the Cleer Next Open-Backed Dynamic Headphones post burn in, selecting Sarah Brightman's performance of "Think of Me" (The Phantom of the Opera (Original Cast Recording) – 16/44.1 kHz) and was treated to startling performance in clarity, dynamics, soundstage and tonality.
Time came to move the Sprout100 to my sound room to connect to loudspeakers and turntable, which was a pretty easy exercise given the Sprout100's size. Though I have quite a few speakers to choose from, I chose to use my high end pair (these are not branded as they were designed and built by me) specifically because they are not easy to drive and I use a subwoofer for frequencies below 50 Hz, which let me try the sub out.
Now I have quite a bit of history with ICEpower amplifiers and though they are not my first choice in amplification, they are able to deliver audiophile quality sound and the PS Audio Sprout100 is no exception. Using my phone via Bluetooth as source, I was treated to that amazing depth of field that only two channel audio is capable of, presenting a realistically deep and wide soundstage. Listening to Suzanne Vega sing "Luka" from her Live at Montreux 2004 recording was like being in the audience.
Switching to vinyl was a whole new level of engagement, and the phono stage respectably reproduced high resolution analog with a tonal balance that was true to the digital recordings of the same material. To say that it sounded much better than the CD versions is to ignore the advantages of digital and focus on the musicality of analog, but the experience was glorious.
I listened to the Days of Future Past album (Audiophile quality Japanese pressing) through both the speakers and the Ether C Flows and was happily impressed by both with the headphone amp scoring as a little more musical and dynamic, but the speaker presentation offering a more natural soundstage.
The Ball of Wax:
I began this review by stating that PS Audio was once considered the poor man's budget audiophile gear, and the PS Audio Sprout100 continues that tradition without reservation. Providing a large soundstage with excellent dynamics, a great tonal balance and musicality sufficient to tame the occasionally edgy SABRE DAC chip, while able to drive anything from the most sensitive of IEMs to reference quality planar magnetics, the Sprout100 has earned a place as one of my three favorite DAC/Headphone Amplifiers under $1,000, and is only bested by the Modwright/Oppo DAC, as an ESS based DAC.
The addition of a phono stage and the ICEpower amplifier make it an unparalleled value. In fact, if someone were to come to me and say they had a $5,000 budget to put together a home audio system, I would tell them to spend $1,500 on headphones, $1,500 on speakers, $1,000 on a turntable, then buy the Sprout100 to run it and spend the rest on cables (though it might be a challenge to find $1,500 speakers to match the performance of the PS Audio).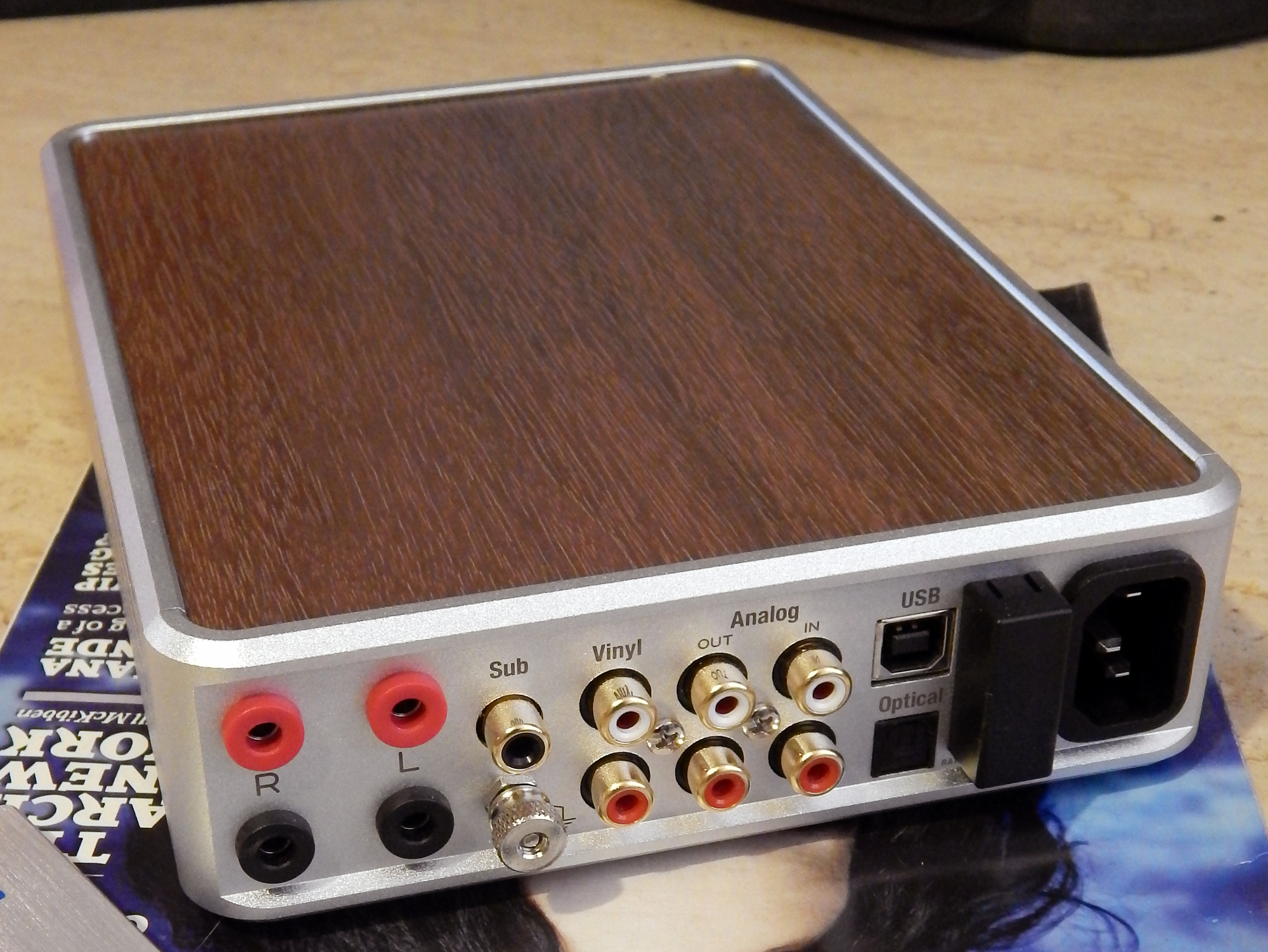 Price: $599 USD
Specifications:
| | |
| --- | --- |
| Physical | |
| Unit Weight | 2.9 lbs [1.3 kg] |
| Unit Dimensions | Width 6.2″, Height 1.9″, Depth 8.2″ (chassis only, not including knobs) or 9.2" (including connectors and knobs) |
| Shipping Weight | 5lbs [2.2 kg] |
| Shipping Dimensions | Width 10.5″, Height 5″, Depth 14″ |
| Power requirements | |
| Voltage Options | 100-240 VAC, 50-60Hz, Auto-Detect |
| Power Consumption | 280W Maximum |
| Mains Power Input | IEC C14 |
| Phono Audio Input | |
| Connector | 1 Stereo Pair, Phono RCA |
| Cartridge type | Moving Magnet |
| Cartridge Output | 3mV-10mV (5mV recommended) |
| Cartridge Loading | 47KΩ (100pF) |
| EQ Type | RIAA |
| Gain | +40dB |
| S/N ratio | >84dB A-weighted (analog output) |
| Analog Audio Inputs | |
| Connector | 1 Stereo Pair, Line Level RCA |
| Maximum Input level | 2.1VRMS (+6.44dBV) |
| Input impedance | 10KΩ |
| Analog Audio Output | |
| Connector | 1 Stereo Pair, Line Level RCA |
| Output level, maximum | 3.0VRMS (+9.5dBV) |
| Output Max Gain (using Analog Inputs) | 8.45dB |
| S/N ratio | >105dB (3VRMS ref) |
| THD (Analog) | <0.01% (1VRMS, 1KHz) |
| S/PDIF Digital Input | |
| Connector | Optical (Toslink) |
| Format | PCM (96KHz max), 24 bits |
| USB Input | |
| Connector | USB "B" Type |
| Format | PCM (384KHz max), 24 bits, DSD64 (DoP), DSD128 (DoP) |
| Transfer mode | Asynchronous |
| Bluetooth | |
| Antenna | Built in |
| DAC | Uses Sprout's built in asynchronous DAC over S/PDIF (ESS Sabre 9016 DAC) |
| Stereo Power Amplifier Output | |
| 8Ω loudspeakers connected | 50 watts per channel, both channels driven |
| 4Ω loudspeakers connected | 100 watts per channel, both channels driven |
| THD (Speaker Output) | <0.01% (1W, 1KHz into 4Ω) |
| Frequency Response | +/- 1dB (1VRMS out, 20Hz – 20Khz into 4-8Ω) |
| Signal to Noise | >100dB at max power into 4Ω |
| Headphone Output | |
| 32Ω headphones connected | 500mW |
| 300Ω headphones connected | 125mW |
| THD | <0.01% (1KHz, 50mW into 32 Ω) |
| Signal to Noise | >105dB at max power into 300Ω |