Meze Rai Penta
MSRP: $1099 USD
Technical Specs:
Driver: PENTA-HYBRID DRIVER
(4 x Customized Balanced Armature and 1 x Dynamic
Driver working harmoniously together)
Frequency Range: 4Hz – 45kHz
Impedance: 20Ω
Sensitivity: 110dB SPL/1mW Sensitivity
Max Input Power: 30mW
Distortion: <1%
Stock cables: MMCX connector ending in 3.5mm, Rhodium-plated
Upgrade cables: MMCX connector ending in
2.5mm TRRS balanced and 4.4mm balanced as extra accessories
Warranty period: 2 years
This month I'm reviewing a beautiful pair of Meze Rai Penta IEM's. I received a pre-release pair as a review set and was able to put them through the paces for a month. Before going into the review I'd like to give a little background of Meze Audio.
They are a high-end audio manufacturer out of Romania. They have had enormous success with their beautiful "99 Classics" in hand-polished walnut and their "99 Neo" line. Their foray into the high-end came with the fantastic sounding and equally expensive planar magnetic Empyrean that sent a message…
Meze is here, and they're here to stay.
Antonio Meze, a designer, founded the company in 2011 in Baia Mare, Romania. His concept is simple, beautiful sounding headphones made with cutting edge technology. He researched, learned, and experimented before coming up with the first of the stellar lineup, the 99 Classics. After they launched it seemed as if everyone on Head-fi.org either had a pair or wanted a pair. They have a huge following there and it's well deserved.
I first came in contact with Meze at the 2016 NYC CanJam. I was working the convention for a manufacturer and ran across a really nice guy named Mircea who shared some of the same tastes in music as myself and he invited me to his booth. "Meze Audio?" I asked him, "what's that mean". He then told me the story of Antonio Meze and the lineup. I sampled the Walnut 99 Classics and bought them on the spot. Fast forward a few years, and another couple of shows where we've run into each other and here we are today.
The Rai Penta is their top of the line in-ear monitors that were introduced in 2018. They are a 5 driver IEM that features four customized balanced armature drivers and one dynamic driver working flawlessly together to produce an amazing sound experience. These IEM's feature what Meze calls Penta Hybrid Technology. According to their website, this technology allows them to deliver harmonized sound frequencies without the problems of phases overlaying each other. The sound goes from the drivers through chambers CNC'd into the aluminum and out through the ear nozzles instead of using some manner of plastic tubing. In recent times some testers have had an issue with the harmonics bleeding within the plastic tubing.
Below is an image of the Penta Hybrid Technology.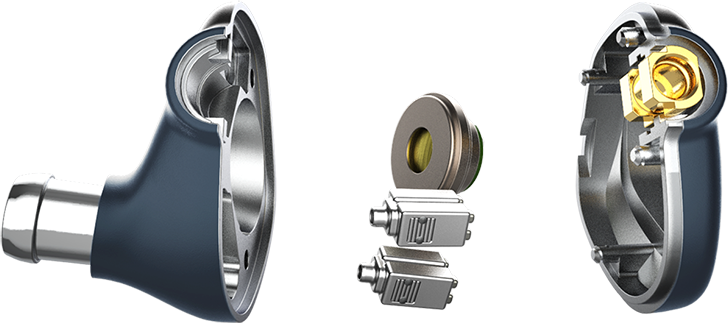 Speaking of the anodized shell, I have to mention that these monitors are absolutely beautiful. I test a lot of IEM's and I have to say, without a doubt, that these are the most comfortable and beautifully simplistic IEM's I have tested to date. The rounded shell is smooth with a curve that fits perfectly in my conch. The CNC aluminum shell is emblazoned with the Meze logo and they use standard MMCX cables. They feel great in the hand AND in the ear.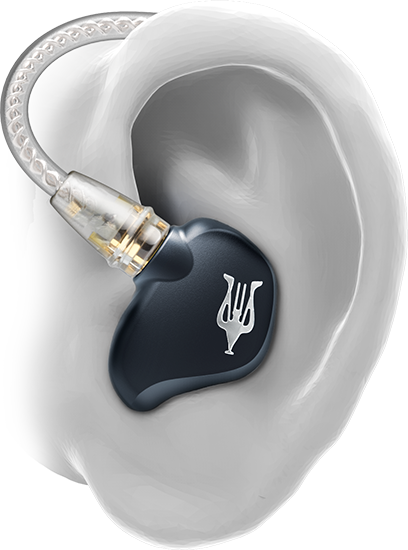 As you can see in the visual, the ergonomic shape is brilliantly designed to fit in just about anyone's ear comfortably. The solid aluminum body is milled with air chambers designed to perfectly deliver sound directly into your inner ear. This is accomplished by their PES System (Pressure Equalization System).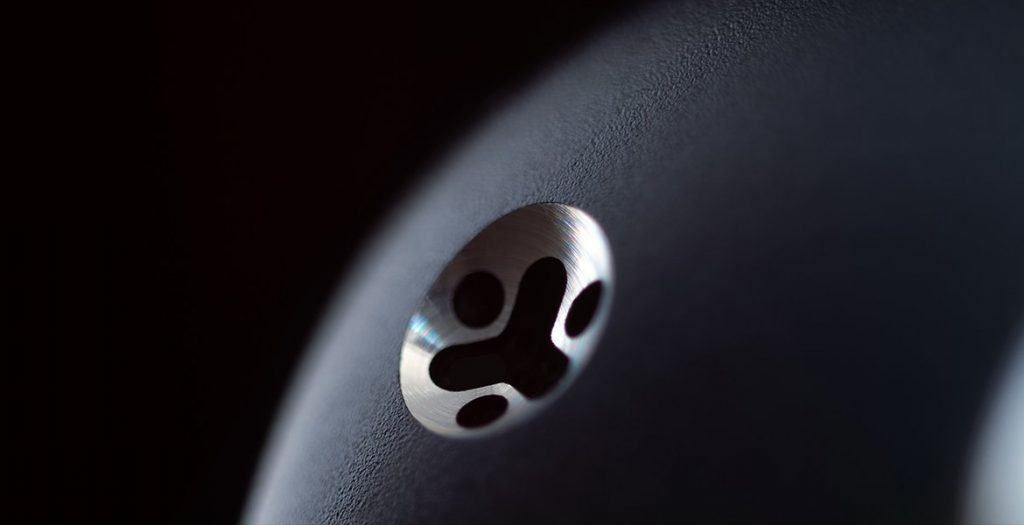 The Rai Penta has a low impedance of 20Ω which allows them to sound beautiful with just about every portable source out on the market today without hissing or noise filling the black spaces in your music tracks. According to Meze, these drivers are meticulously tuned to provide a super high-resolution response with a frequency range of 4Hz to 45kHz. Visually and physically beautiful, these were a pleasure to get to test.
The MMCX cable they come with is a high-quality silver-plated copper cable consisting of four wires, each with 20 strands of pure silver Litz. The included cable is terminated in a 3.5mm plug and the connectors are very well made to provide a lifetime of listening pleasure. As an aside, Meze also offers a balanced 2.5mm and balanced 4.4mm cable as an option.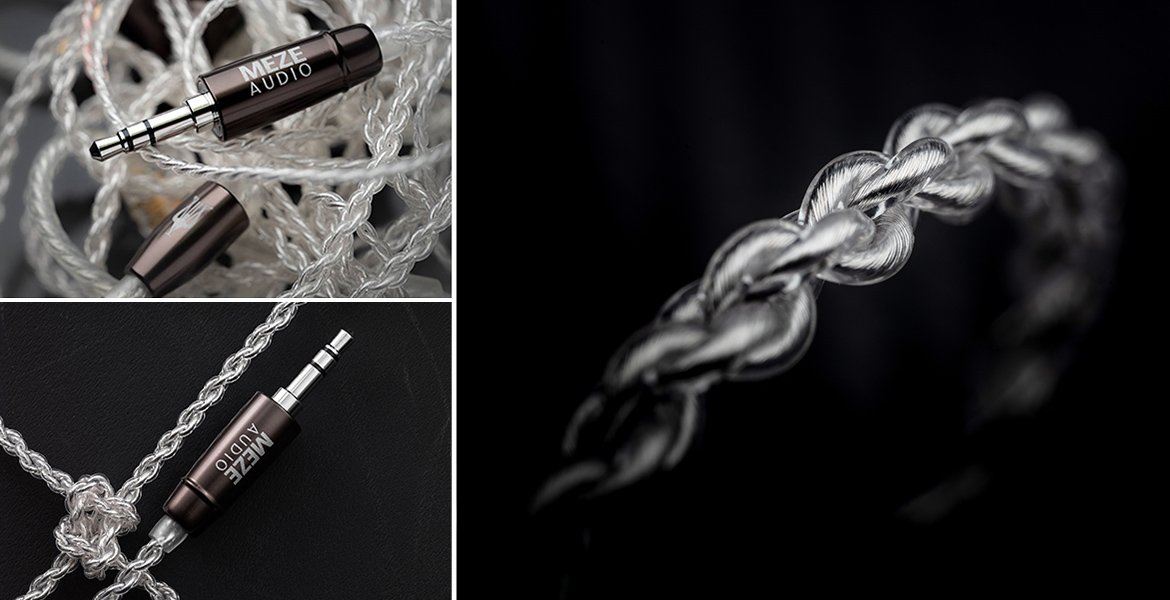 For this review, I am using an iBasso DX220 on high gain, a volume level of 40, and the equalizer off. My standard Test Music microSD card is loaded with high-resolution FLAC files of the genre's I listen to the most, classic rock, classical, acoustic rock, EDM, and country. After the initial test, I put the IEM's through their paces with a batch of DSD512 files.
To start, I have to say that the clarity and tone of these IEM's are pretty amazing. When listening to the Allman Brothers Band, "Midnight Rider", the soulful notes are carried forward behind the signature guitar lick beautifully. You can hear the background bongo's and second acoustic guitar playing even after the electric guitar begins the first solo of the song. I'm thinking to myself, WOW, great start!
Moving on through a few songs, I ended up on Carly Simon's, "Nobody Does It Better". The classic James Bond song from the movie with the same name. The blending of the full orchestral symphony with the drums and piano combined with her angelic voice took me to another place. Remembering the movie scene where Mr. Bond is chatting while looking at the Great Pyramid of Giza brought a huge smile to my face! The sound coming out of these little IEM's is blowing me away, and I'm only 20 songs in! When the brass section in the song came in, my eyes popped open. It was like I was feeling the blast right in my face. Again, WOW.
After that, I figured it's time for "Stairway to Heaven", the classic Led Zeppelin song. Jimmy Page's guitar during the intro and the flutes were magical and when Robert Plant began singing, I was pulled into the studio with them. When listening to John Bonham's drumming, it is difficult to resist finger tapping. During the big solo, it was as if Page's monitor was right in front of my face. Again my eyes popped open with Plant's, "And as we wind on down the road…" My god, his voice is ridiculous. It was like listening to the song for the first time in years. That's the emotion that these IEM's brought out. I often use this song to determine the quality of sound coming out of headphones and IEM's. The separation of instruments along with the harmony can tell a lot about the tuning of whatever I'm using to listen to at the time. These are beautifully tuned and I have nothing but appreciation for the Meze engineers.
What I began to notice are the tightness of sound and absolute clarity. The highs were brilliant without being shrill, the mids come out with distinction, and the bass gives a welcome beat with an extra oomph that was surprising and pleasant. These are exceptional sounding IEM's and I was thoroughly enjoying them.
Another song of note was when I changed it up to some EDM. I played Don Diablo's, "Never Change" and was so engrossed in the song that I didn't notice my wife come home from work until she scared me by sticking her face into mine! These things are so clear and precise it's as if I'm in the studio, with full-size cans on, playing with the mixing board!
These IEM's are definitely one of the most versatile that I've had the pleasure of testing recently. Every music genre I throw at them, they play flawlessly. Every note, whether it's coming from a Steinway piano, or electric guitar sounds incredibly tight, and fast. The bass is punchy, and to me sounds like there's an extra bump in its delivery. Once I began to really formulate an opinion on these, I decided to go a little heavier with my music tastes. Read that as bring on the AC/DC and Metallica! I use these two bands for my heavier tastes because their songs are iconic and classic as well as heavy. The Rai Penta played both "Hell's Bells" and "Enter Sandman" like a champ. Before moving on to some classical tracks I had to play, "For Those About To Rock" by AC/DC. It was absolutely the right thing to do, as before the first line was out, my eyes were closed and I was singing along, loudly. There was no blurring of instruments here whatsoever. Angus Young's lead guitar was distinct against his brother Malcolm Young's' rhythm guitar and Brian Johnson's iconic voice. Yeah, my wife was NOT happy about this song playing, at ALL.
In her words, "the neighbors can hear you, and your voice sucks." LOL
Yeah, whatever…
I decided to pull it in with some of my favorite classical music tracks. Beethoven's, "Bagatelle in A Minor (Fur Elise)" sounded beautiful with every note resounding clear and precise. Bach's, "Air on a G String" is one of my favorite pieces ever, and listening to it on the Rai Penta was amazing. The beautiful intro just brought me joy and again the separation of instruments was sublime. A few more songs flew by and the one I remember most fondly is Pachelbel, "Canon in D". The song was evocative of the best of classical music all wrapped up in one precise dance of notes. Amazing.
I ended my two weeks of listening pleasure with Queen's, "Bohemian Rhapsody". I always use this as my last track because of the complexity of the song. So far these IEM's have performed beautifully and they did not disappoint with Queen. Freddy Mercury's voice, piano, and harmonization with the other members' voices were just stellar. There really isn't anything else to say about how the song sounded. It just sounded fantastic, classic, haunting, and beautiful. Now I had two weeks to write it all up…
Conclusion
It's been a long couple of weeks that flew by listening to the Rai Penta's. I smiled more than I have while listening to music in a long time. Often I had to stop tracks just to process how great they sounded. This is not normal for me, I usually approach testing headphones and monitors with one track after the other, a few times taking notes. This was different, very different. I became attached to these and started going off book. That is a rabbit hole for a reviewer and something I really refrain from doing. Going off your set playlist and just throwing random songs at something may seem innocent enough, but in reality, it makes your brain spin with either pleasure or changes your opinion of the item completely. Not so in this instance. I was happily going from genre to genre, from FLAC to DSD to Qobuz, enjoying the heck out of these.
I place these in my highest category, Pretty Awesome. You get a fantastic bang for your buck with these IEM's. To summarize, the tone, bass, clarity, precision are all hitting above their weight class. The fit is probably the best universal I have ever put inside my ears, and they were so comfortable that I fell asleep on my side while wearing them. I highly recommend these IEM's.
Thanks for reading.