How much do you have to spend to get an Audiophile quality DAC? Apparently, $99, enter the Schiit Modi 3. A replacement for both the Modi 2 and Modi 2 Uber, the Modi 3 is a significant enhancement over Modi 2, offering 3 switchable digital inputs including Optical and Coax rather than just USB, a premium AK4490 D/A converter with active filtering and 24/192 capability, a dual rail power supply and full 2.0V RMS DC-coupled output, with the capability of being powered by USB or with an external power supply (5V wall power supply and USB Micro cable are provided). In addition, Modi 3 is the first Schiit product developed using new investments in Audio Precision and Avermetrics test equipment, which has helped it to be the best-performing DAC Schiit has ever offered, when using conventional metrics. A full APx555 report is provided in the product specs.
It is no secret that Mike Moffat, Schiit's Co-Founder and chief digital designer doesn't like Sigma/Delta DACs, and for good reason, Sigma/Delta's +1/-1 math creates a sort of fuzzy logic approach that approximates the points on the sine wave rather than providing the bit-perfect approach of the multibit DAC, but Mike also recognizes that if you want to produce a DAC at a significantly lower cost than a multibit, then Sigma/Delta is the way to go.
The appearance of the Schiit Modi 3 is tiny elegance deploying the Schiit signature minimalistic rolled aluminum styling, with a single source switch and power light on the front and a set of RCA single-ended outputs along with a coaxial, a TOSLINK, and a Micro USB digital input and a separate Micro USB power input for when the unit is not connected to a computer.
One interesting aspect of the Micro USB power input is that it let me connect the Modi 3 to a portable cell phone charger, essentially making the Modi 3 into a portable DAC for use with an OTG smartphone or tablet or a DAP with optical, coaxial or USB digital output, and a portable amplifier.
The Audition:
For my listening sessions, I used the MANLEY Absolute Headphone Amplifier (Class A Triode Tube), the Questyle Audio CMA 800R Current Mode Headphone Amplifier, and the Quad PA-ONE+  Triode Tube Headphone Amplifier, driving the MrSpeakers ETHER C Flow 1.1 and ETHER2 Orthodynamic Headphones as well as the Audeze LCD3 Planar Magnetic Headphones. While these playback systems may not be what one would normally use with a budget hundred dollar DAC they are if anything more revealing and less forgiving than systems in the price range of the Schiit Modi 3, and it serves no one to look at a product through a dirty lens simply because it is a less expensive offering and likely to be used in cheaper systems.
As signal source, I used the DeadBeeF music player on my Linux Box (computer) via USB and the Questyle QP2R DAP via optical.
Overall the basic sonic profile of the Schiit Modi 3 is what you would expect from the AKM AK4490, arguably the best Sigma/Delta DAC chip available, while not as resolute as the Modi Multibit, extremely musical and analog sounding. While listening to the solo piano of Artur Pizarro performing Beethoven's "Moonlight Sonata" (Artur Pizarro – Beethoven piano sonatas – "Piano Sonata No. 14 in C sharp minor, Op. 27/2 'Moonlight' – I. Adagio sostenuto" – 24/96 kHz) the warm and crisp piano notes were separated by abyssal silences and presented in a medium sized recital hall. While I felt the warm musicality of the ETHER2 headphones best mated with the Modi 3's signature, it was equally happy with the tube and solid state amps never becoming harsh or blurred while providing excellent dynamics.
The horns of Herb Alpert's Tijuana Brass performing the "Casino Royale Theme" by Burt Bacharach (Casino Royale – 24/192 kHz) were smooth and musical while at the same time dynamic and punchy with excellent and solid instrument placement. Dusty Springfield's voice singing "The Look of Love" from the same album, was honeyed seductive and intimate in a small jazz club soundstage.
The subsonic bass was deep, tight and well controlled, listening to "Can-Utility and the Coastliners" (Genesis – Foxtrot – 16/44.1 kHz) while detail and air were maintained rivaling the high-resolution recordings.
For a more modern recording, I chose Beck's "Paper Tiger" from the album Sea Change (24/88 kHz) again the sound was dynamic musical and engaging, with a large soundstage and intimate vocals. The overall presentation was haunting with the interplay between the bent guitar notes and orchestral interludes as well as the phase shift and delay cycles applied to the vocals.
Just to cover all bases, I put on a live recording of the Blue Man Group performing "Baba O'Riley" with vocals and violin provided by Tracy Bonham. Each of the five percussionists was clearly defined on a stage in a huge auditorium as were the two guitars, with Tracy's voice heart-rending a dozen feet from the listener.
The Gist:
Like most Schiit products the Schiit Modi 3 is an incredible value and provides performance equal to products several times their price. It is smooth and detailed with a flat tonal balance and natural timbre to instrumentation.
Is it the best DAC out there? No, for $150 more you can get a Schiit Modi Multibit and get a real glimpse into what has made Mike Moffat a household name among digital audiophiles for over three decades. It is not even the best implementation of the AKM DAC if you want to spend eight times as much money or more there are some truly wonderful world class and reference-quality DACs based on the AKM. That being said, and on the other hand, the Modi 3 is a musical and analog sounding DAC that I doubt even the most tainted audiophiles would be disappointed by, even when matched with high end, high-resolution playback systems.
While some may balk at the inability to deal with higher resolution formats, software in those formats is still a rarity, even in the studio, and the real test of a DAC is how it handles low-resolution formats such as 16/44.1 and the Schiit Modi 3 does this masterfully. As I said at the onset of this article, "How much do you have to spend to get an Audiophile quality DAC? Apparently $99."
http://www.schiit.com/products/modi-1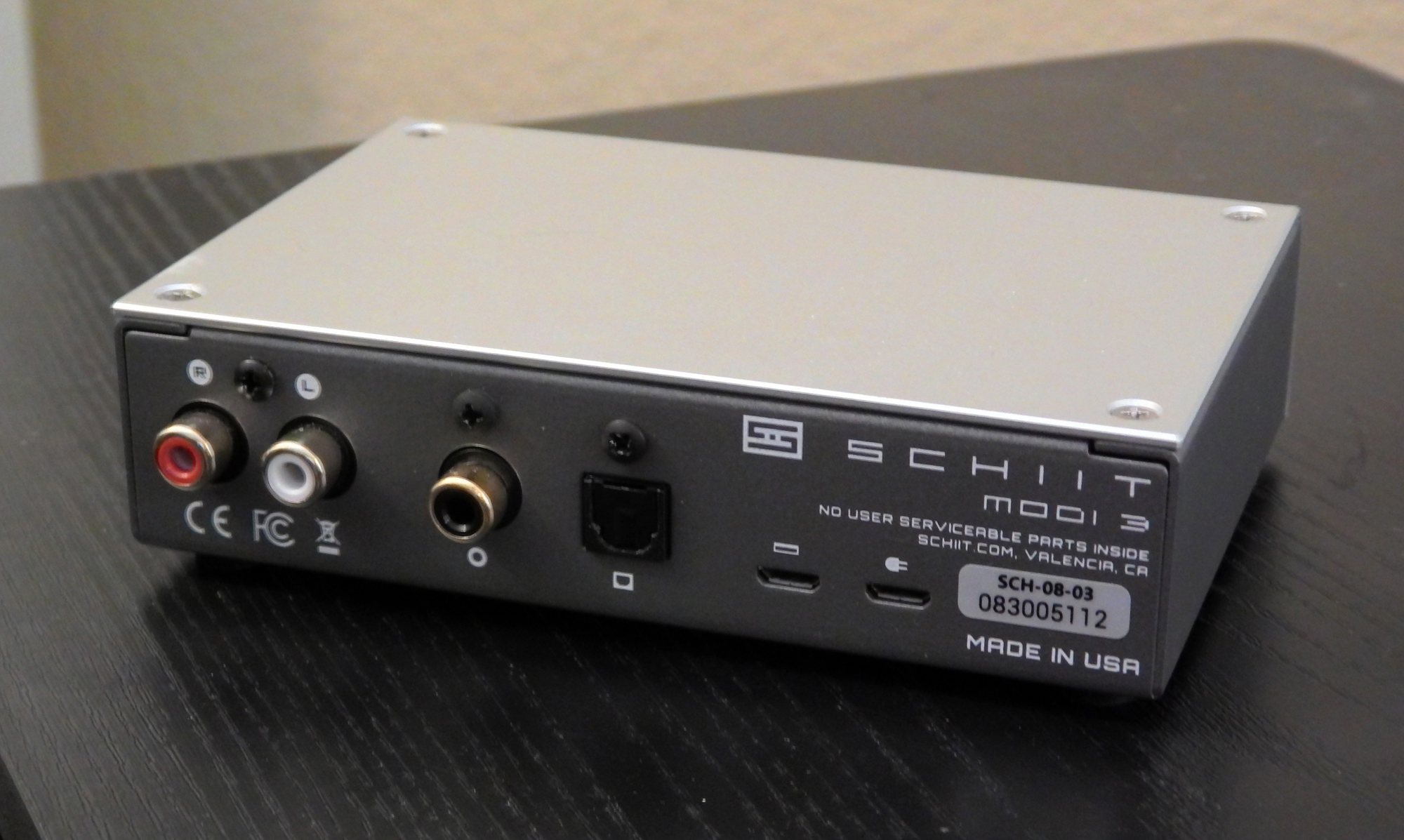 Price: $99 USD
Specifications:
Inputs: USB, Toslink SPDIF, Coaxial SPDIF
Sample Rates and Bit Depths: 16/44.1 to 24/192 via USB, Coax, and Optical
Input Receiver:
USB: C-Media CM6631A
SPDIF: AKM 4113
D/A Conversion IC:
Modi 3: AKM AK4490
Modi Multibit: Analog Devices AD5547
Analog Summing, Active Filtering:
Modi 3: Based on OPA1662 with precision thin-film resistors, DC coupled
Modi Multibit: Based on AD8512 with precision thin-film resistors, DC-coupled with DC servo
Output: RCA (single-ended)
Output Impedance: 75 ohms
Frequency Response: 20Hz-20KHz, +/-0.25dB
Maximum Output: 2.0V RMS
THD:
Modi 3: <0.001%, 20Hz-20KHz, at max output
Modi Multibit: <0.006%, 20Hz-20KHz, at max output
IMD:
Modi 3: <0.001%, CCIR
Modi Multibit: <0.007%, 20Hz-20KHz, CCIR S/N: >104dB, referenced to 1.5VRMS, unweighted
Crosstalk: -80dB, 20-20kHz
Power Supply:
Modi 3: USB powered with +/-5V switching rail generator; auxiliary USB power input for 0mA USB power draw devices (like phones and tablets)
Modi Multibit: Included 16VAC wall-wart with 100% linear power supply
Size: 5 x 3.5 x 1.25"
Weight: 1 lb
All measurements performed with Audio Precision APx555.