I have told this story many times but in the early 1970s, I owned a pair of STAX II headphones which totally changed the way I looked at headphones, providing sound unmatched by other headphones and most loudspeakers of the time. But, the allure of loudspeakers and their three-dimensional image soon relegated headphones to use in the studio, but I never lost my love of electrostatics. Fast forward to 2014 and my entry into the world of Personal Audio I soon discovered that to achieve the sound I was looking for in an electrostatic headphone it would cost upwards of $10,000 which left me in the world of Planar Magnetics which could approximate that sound for only a fraction of the cost. Now Woo Audio has made affordable Electrostatic sound a reality with a new variant of their extremely popular Woo Audio WA7 Fireflies Tube Amplifier; the Woo Audio WA7e DAC/Tube Electrostatic Headphone Amplifier.
The Woo Audio WA7e DAC/Tube Electrostatic Headphone Amplifier:
Based on the wonderful WA7 DAC/Tube Headphone Amplifier the Woo Audio WA7e DAC/Tube Electrostatic Headphone Amplifier is a 5.25" cube though the top 1.75" is composed of a glass tube cage to both protect the tubes and add a touch of elegance and unmatched beauty to Fireflies. On the front is a single volume knob and the Electrostatic Headphone connection, and on the back is a USB-Type B digital input, an RCA analog input, a switch to select between RCA and USB, a Pre-Out switch (On/Off), a 3.5mm single-ended preamp output, a 4.4mm balanced preamp output, a power switch, and a power receptacle.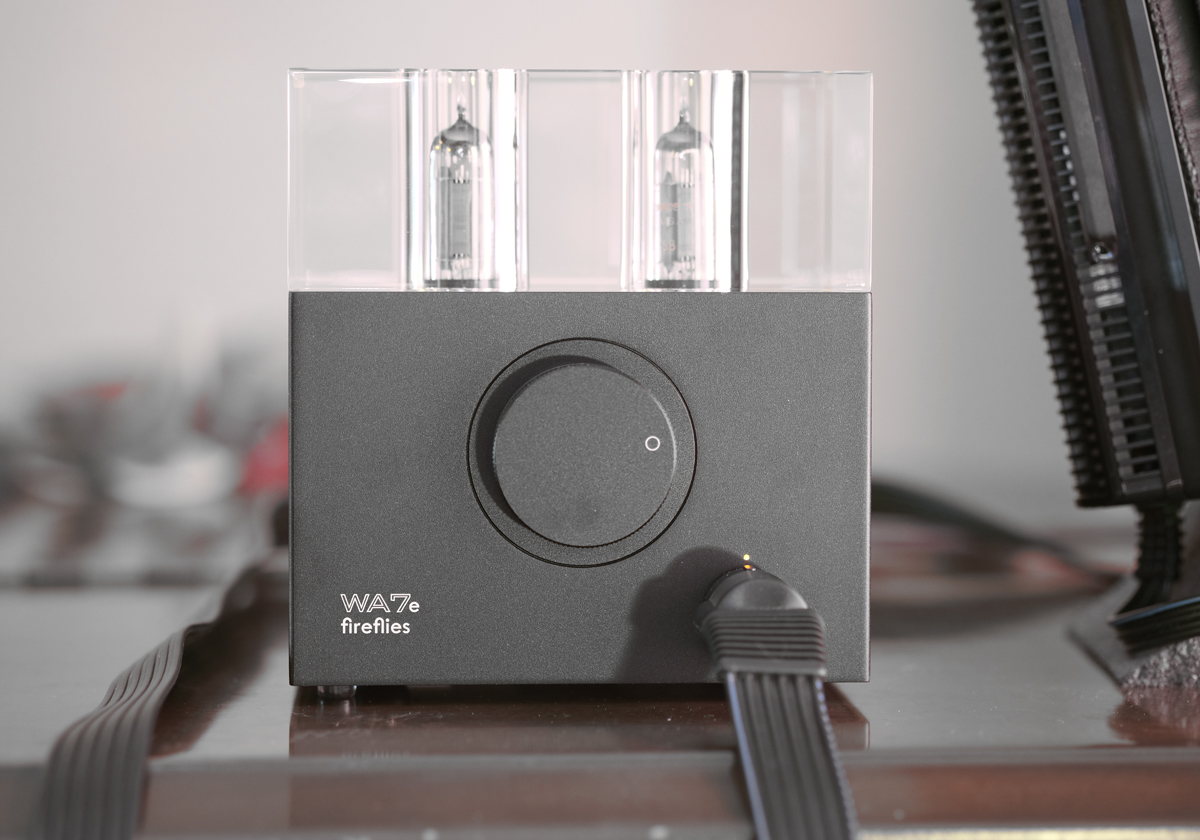 Employing the ESS SABRE DAC chip, the WA7e is a fully balanced dual 12AU7/5963 tube electrostatic headphone amplifier with a 580v bias voltage. As a specific note on the side of quality design and production Woo use a genuine, Japan-made, Pentaconn™ 4.4mm connector which is significantly higher quality than aftermarket 4.4mm jacks other manufacturers use, and the USB connector on WA7 is orange color because it is a high-retention USB which is significantly higher quality and has better contact points with USB cables than standard USB jacks. The long list of features is below:
580v Electrostatic headphone compatibility
Compatible with electrostatic headphones from Audeze, STAX, HiFiMan, Dan Clark Audio, and others
Compatible with Apple iPhone/iPad, Android devices, Mac and Windows computers, how-to video
Tubes: 12AU7 / 5963 driver tubes, self-biasing
Premium Polytetrafluoroethylene (PTFE) tube sockets
ESS SABRE Audiophile DAC up to 24-bit/384kHz PCM, and up to DSD256 (11.2MHz)
XMOS xCORE-AUDIO asynchronous USB compatible with PC, Mac, Android, and iOS devices (with Apple CCK or Android OTG adapter), how-to video
High-retention USB connector x 1
RCA analog Input x 1
Frequency response: 15-40kHz, -3dB
Signal-to-noise ratio: 100 dB
Tube preamplifier function (PRE-OUT):
– 4.4mm (5-pole) by Pentaconn by NIPPON DICS balanced pre-out output (recommended)
– 3.5mm (1/8") stereo pre-out
Anodized aluminum chassis, available in midnight black or platinum silver
External dimensions with glass: 5.25″ (H) x 4.8″ (W) x 6″ (D)
Weight: 9 lbs (4.1kg)
Internal linear power supply
Operating AC voltage: 115v – 230v (voltage below 115v requires step up transformer)
Designed and assembled in New York, USA
Three-year limited warranty
As a bonus, a USB-Type C to USB-Type B cable is provided.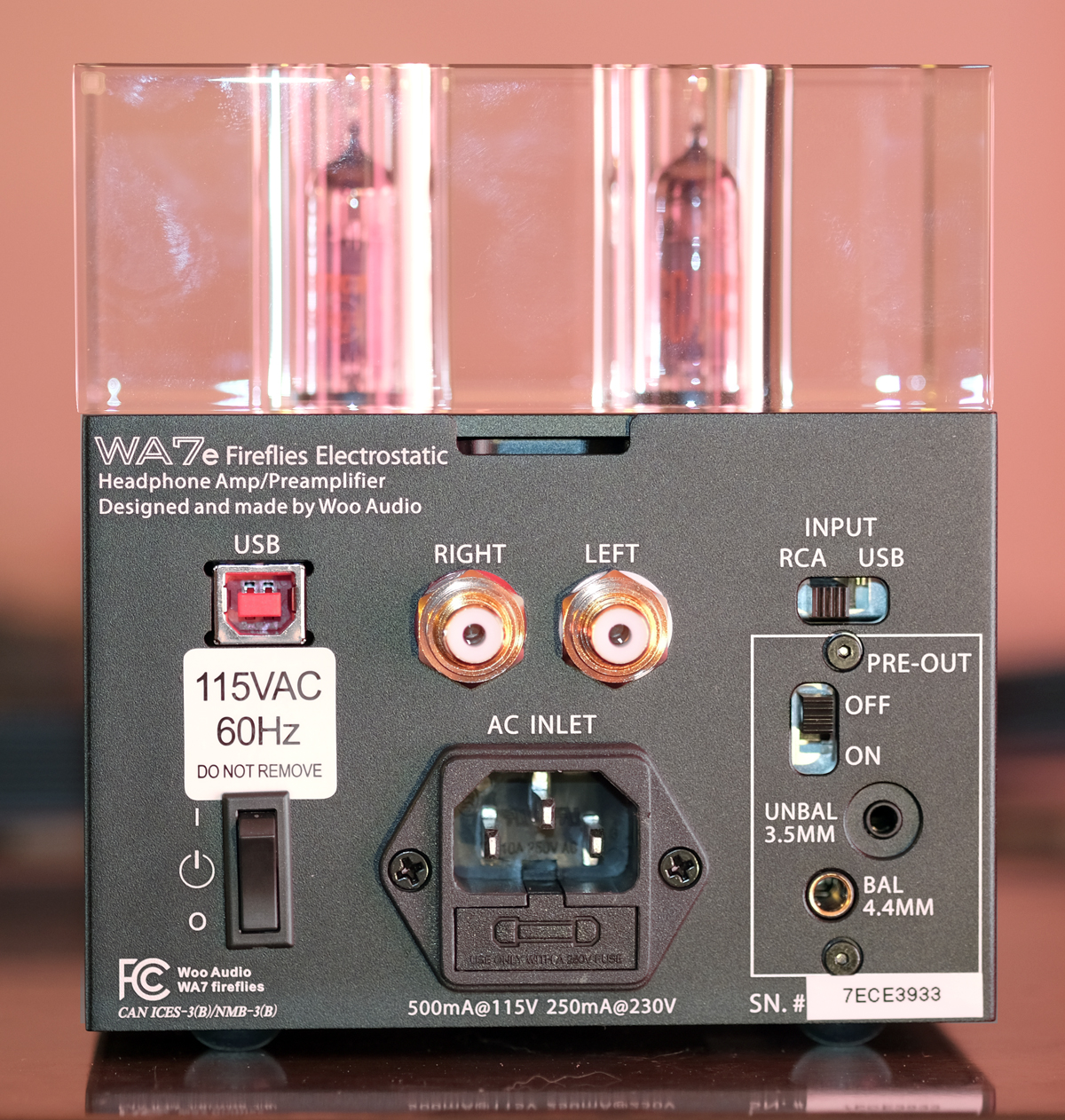 Living with the Woo Audio WA7e DAC/Tube Electrostatic Headphone Amplifier:
Woo Audio sent me a pair of STAX SR-L300 Limited Electrostatic Earspeakers ($899) to use with the Woo Audio WA7e DAC/Tube Electrostatic Headphone Amplifier which seems like a perfect match and ideal for maintaining reasonable system cost (only 800 SR-L300 LTDs were produced but it uses the same driver as the SR-L700 MK2 which can be purchased from the Woo Audio website HERE). Power was provided via Black Dragon Power Cables from my Core Power Technologies A/V Equi=Core 1000 and I ran the supplied USB cable from my FiiO R7 Music Server.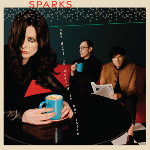 Launching Qobuz I began with the Sparks' new album "The Girl Is Crying In Her Latte" (24-bit/48kHz – Qobuz). The Mael brother's brand of Pop Electronica was well served by the combination of the Lambda and the Fireflies, producing quick solid bass in a huge three-dimensional soundstage. The original STAX Lambda truly earned the title "Earspeaker" being the first headphone to address depth of field, and the SR-L300 LTD employing STAX's top-of-the-line Lambda Multi-Layer Elect Rode (MLER) driver definitely lives up to its potential.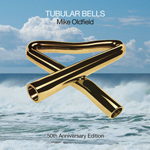 I decided to follow up Sparks with Mike Oldfield's 50th Anniversary Edition of "Tubular Bells" (24-bit/44.1kHz – Qobuz) the epic recording where Mike performed on over 30 instruments, most acoustical, with a reported 274 overdubs, making for one of the most complex recordings of all time which highlighted the incredible speed of the WA7e / STAX combination not to mention the fully authentic timbre and tonal balance of the instruments. Again the soundstage was vast, despite the often intimate mic placement, the Fireflies was able to capture the distant walls of the studio. The musicality was jaw-dropping which is quite the accomplishment with the SABRE DAC which can often be very sterile and analytical. The tubular bells at the end of track one had such depth and texture it was quite unbelievable, and the overall presentation was ethereal. The acoustic guitar at the end was as if it were in the room with me, and all of this from a basic 44.1kHz recording, it was time to move to something higher resolution.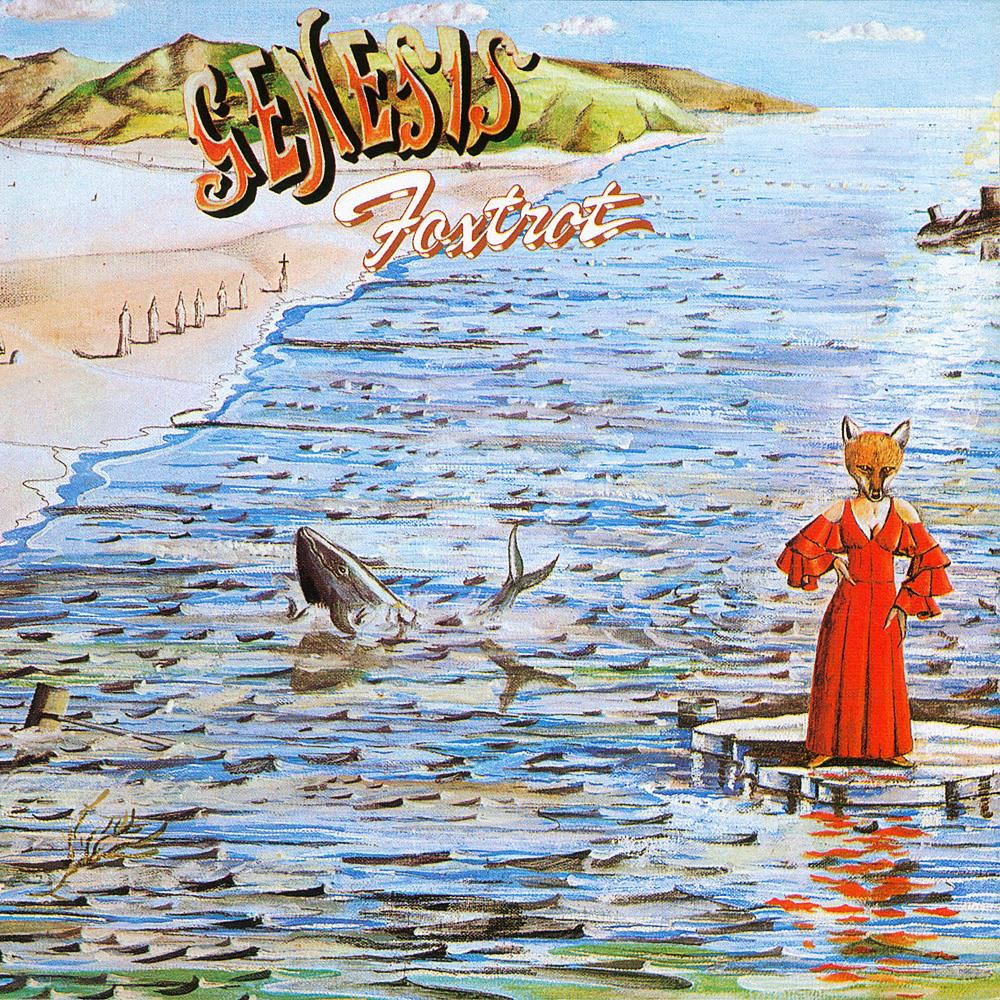 Queuing up my sub-bass test track "Can-utility And The Coastliners" by Genesis ("Foxtrot" – DSD) I was pleased to find that detail scaled up to match the source material. The sub-bass was deeper and more robust than most open-backed planar headphones, and the percussion was exceedingly tight. Likewise, the dynamic range was far in excess of what one would expect from an electrostatic headphone.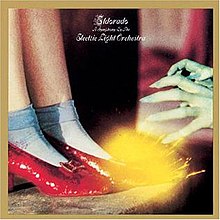 This was further supported by Electric Light Orchestra's "Can't Get It Out Of My Head" ("Eldorado" – 24-bit/192kHz) which was so lush and musical that I had to listen to it several times. The piano was natural and rich and the percussion had snap, impact, and texture.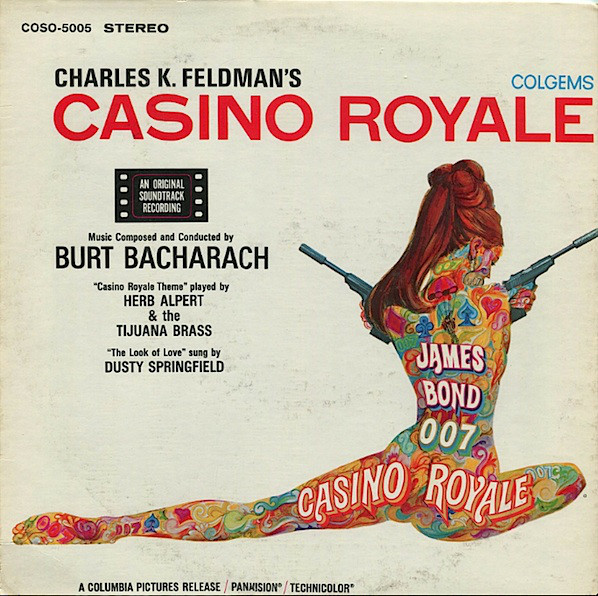 Herb Alpert & the Tijuana Brass' horns on Burt Bacharach's "Casino Royale Theme" ("Casino Royale" – 24-bit/192kHz) were spritely and realistic yet lacked any harshness and again the percussion had an in-room feel. The strings gliding into the roll on the marimba were awe-inspiring.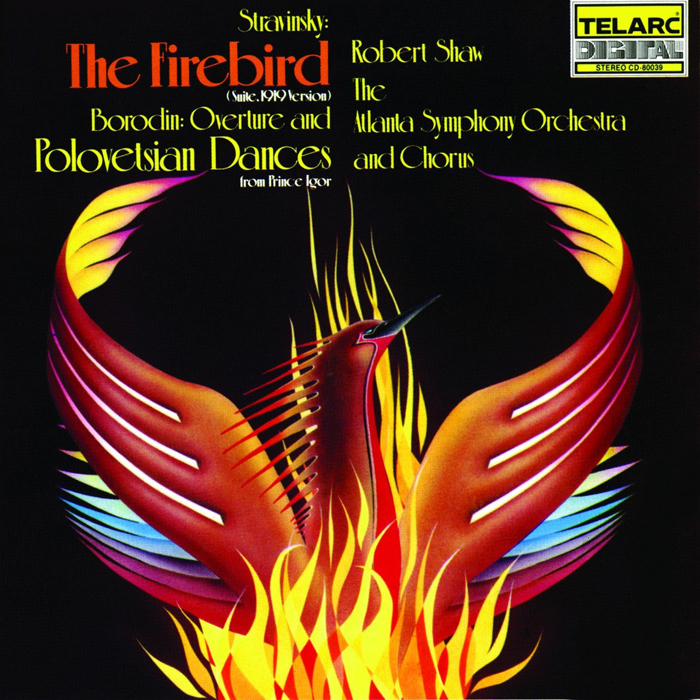 Of course, you cannot review electrostatics without a dip into classical, and for this, I picked my favorite rendition of "The Firebird Suite" ("Stravinsky: The Firebird; Borodin: Music from Prince Igor" – Robert Shaw conducting the Atlanta Symphony Orchestra – 24-bit/96kHz vinyl rip). The WA7e passed what I call the "chill test" with flying colors, rendering the most subtle of timbre differences between instruments. The hall was vast and airy, plenty of space separating the musicians.
Conclusions on the Woo Audio WA7e DAC/Tube Electrostatic Headphone Amplifier:
If you are looking for a reference quality audio system for less than $3,000 you need look no further than the Woo Audio WA7e DAC/Tube Electrostatic Headphone Amplifier with the STAX SR-L300 Limited Electrostatic Earspeakers and you'll have plenty of money left over for accessories like line conditioners and power cables or an inexpensive computer to use as music server, or for those who like to experiment, a little tube rolling. For those who believe they don't like electrostatic headphones, you owe it to yourself to audition the WA7e/SR-L300 LTD combination to find out what it's all about. You'll experience none of the usual complaints of "too bright", "no bass", "no dynamic range", "not loud enough", or even "too expensive". Simply put, at $2,300 it is the best system I have heard under $3,000, so for a little more than the cost of an entry-level reference headphone you can have it all.
For those who don't love the SABRE DAC, I did experiment with the analog input using my Audio-gd R2R-1 DAC and the WA7e scaled up nicely with a higher resolution source, of course, this would also apply to vinyl or reel-to-reel.
My final thought is this, like its brother the WA7 Fireflies, with a huge three-dimensional soundstage, a linear tonal balance down to 15Hz, natural timbre to the instruments, the speed and detail of an electrostatic, with plenty of dynamic range the Woo Audio WA7e DAC/Tube Electrostatic Headphone Amplifier punches way above its weight class.
Price: $1,399
(STAX SR-L300 Limited Electrostatic Earspeakers: $899)
Manufacturer's Website: https://wooaudio.com/amplifiers/wa7e-fireflies-electrostatic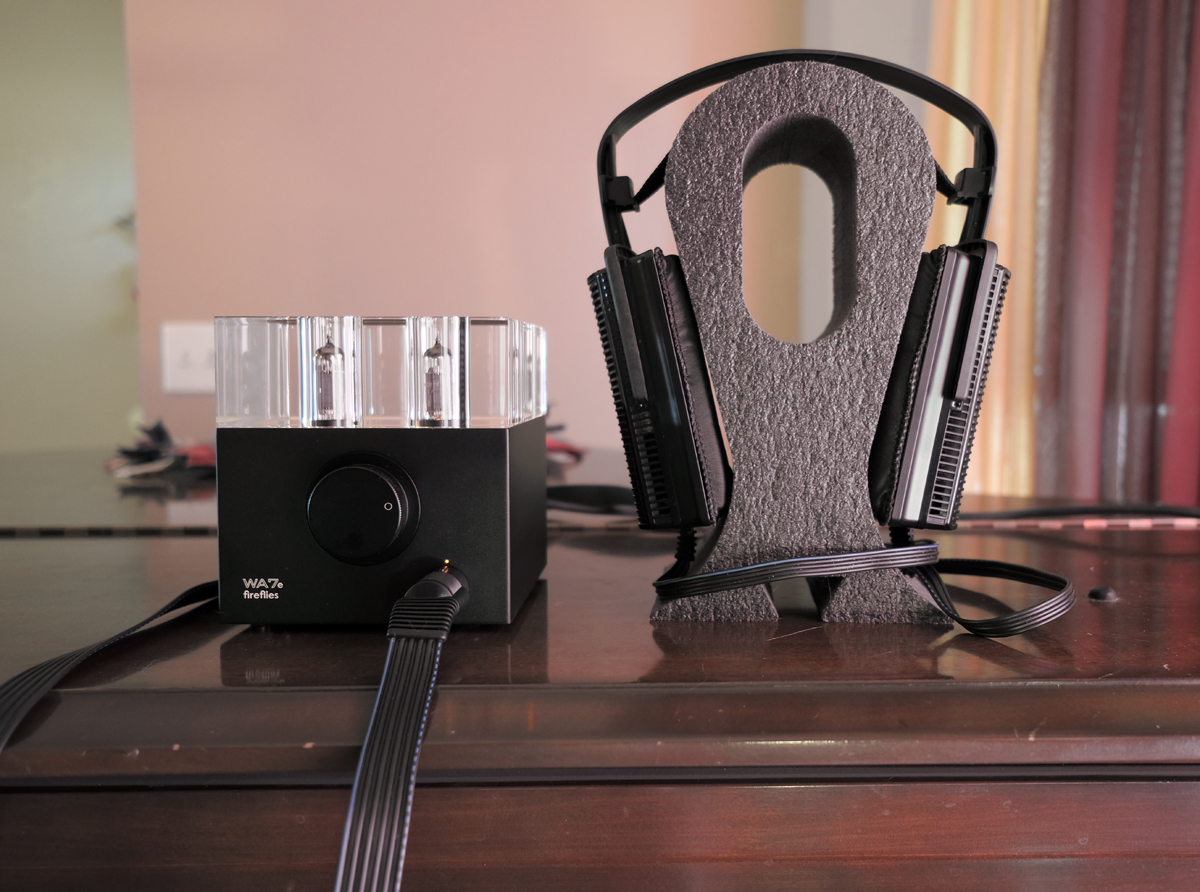 Features / Specifications :
• Compatible with 580V bais electrostatic headphones
• Compatible with Apple iPhone/iPad, Android devices, Mac and Windows computers
• Tubes: 12AU7 / 5963 driver tubes, self-biasing
• ESS SABRE Audiophile DAC up to 24-bit/384kHz PCM, and up to DSD256 (11.2MHz)
• XMOS xCORE-AUDIO asynchronous USB compatible with PC, Mac, Android and iOS devices
• High-retention USB connector x 1
• RCA analog Input x 1
• Frequency response: 15-40kHz, -3dB
• Signal-to-noise ratio: 100 dB
• Tube preamplifier function (PRE-OUT): 4.4mm (5-pole) by Pentaconn by NIPPON DICS balanced pre-out output (recommended) 3.5mm (1/8") stereo pre-out
• Anodized aluminum chassis, available in midnight black or platinum silver
• External dimensions with glass: 5.25″ (H) x 4.8″ (W) x 6″ (D)
• Weight: 9 lbs (4.1kg) • Internal linear power supply • Voltage [factory preset]: 115V or 230V
• Balanced electrostatic headphone with 580V bias
• Unbalanced 6.3mm headphone output
• Balanced 4.4mm pre-amp output
• Unbalanced 3.5mm pre-amp output
• USB-B digital input x1 • RCA analog input x1
• Industry standard IEC C13 AC power cord inlet
•Three (3) year limited warranty