For quite some time now I have been using my FiiO M11 as my music server for burning in products and more recently since I changed computers, for running my reference system as my tube amp picks up noise from the computer's USB out. The drawback of this is the M11 is not a desktop device so it doesn't have a direct power-in (meaning I can either use the single USB port to charge or drive my DAC, but not both at the same time), and it is not fully ergonomic for desktop use. Enter the new FiiO R7, a fully functional streaming music server that can run on either AC or DC, has two USB ports (so I can connect to my hard drives and DAC at the same time), its own ES9068AS DAC built in, connected to two THX AAA 788+ Headphone Amplifiers for both single-ended and balanced output either to headphones or via the preamp outputs (both single-ended and balanced) to an external amplifier/speaker system, as well as Bluetooth wireless in and out, and WiFi, it is the solution to all of your home audio needs. Add to this FiiO's forthcoming SP3 amplified speakers and you have a full compact music system that can fit on your desk.
Versatility appears to be FiiO's primary focus aside from basic performance in the design of the R7, their list of features is as follows:
A full range of inputs and outputs to cover any use case including balanced and single-ended outputs for both preamp and headphone (which features 1/4″ TRS single-ended, 4.4mm TRRRS balanced, and 4-pin XLR balanced headphone outputs), as well as, USB Type A, USB Type C, Optical & Coaxial S/PDIF in and out, Bluetooth in and out, WiFi, Ethernet, and even an SD Card slot on the digital end
Four output modes (Headphone Only, Preamp Out Only – adjustable volume, Line Out Only – fixed volume, Headphone and Preamp Out – adjustable volume)
Eight Operating Modes (Android Mode, Pure Music Mode, USB DAC Mode, Bluetooth Receiver Mode, AirPlay Receiver Mode, Roon Ready Mode, Coaxial/Optical Decoding Mode)
Bluetooth 5.0; supports reception of SBC/ AAC/LDAC; supports transmission of SBC/AAC/aptX/ aptX HD/LDAC/LHDC
ES9068AS DAC in conjunction with a pair of THX AAA 788+ headphone amplifiers
4th-gen FPGA with phase-locked loop clock tech+2 femtosecond crystal oscillators
Five gain levels (low/medium/high/over-ear headphone/enhanced over-ear headphone) with 3.6W power output
Premium components
DC/AC dual power supply design
power stabilization and filtering in part due to each stage of the audio circuit employing ultra-low-noise LDOs for voltage regulation
Portrait media streaming
Snapdragon 660+Android10
Customizable RGB lights
Personalized screensaver
Exclusive DP mode – Allows for connection to an external display
Compatible with Bluetooth remotes and keyboards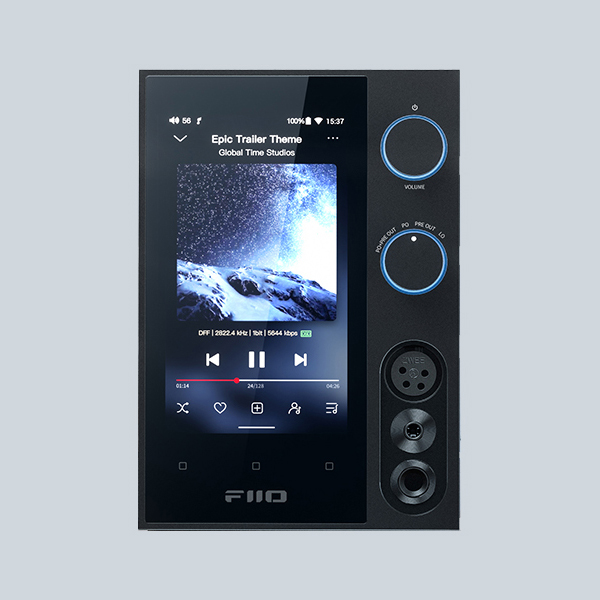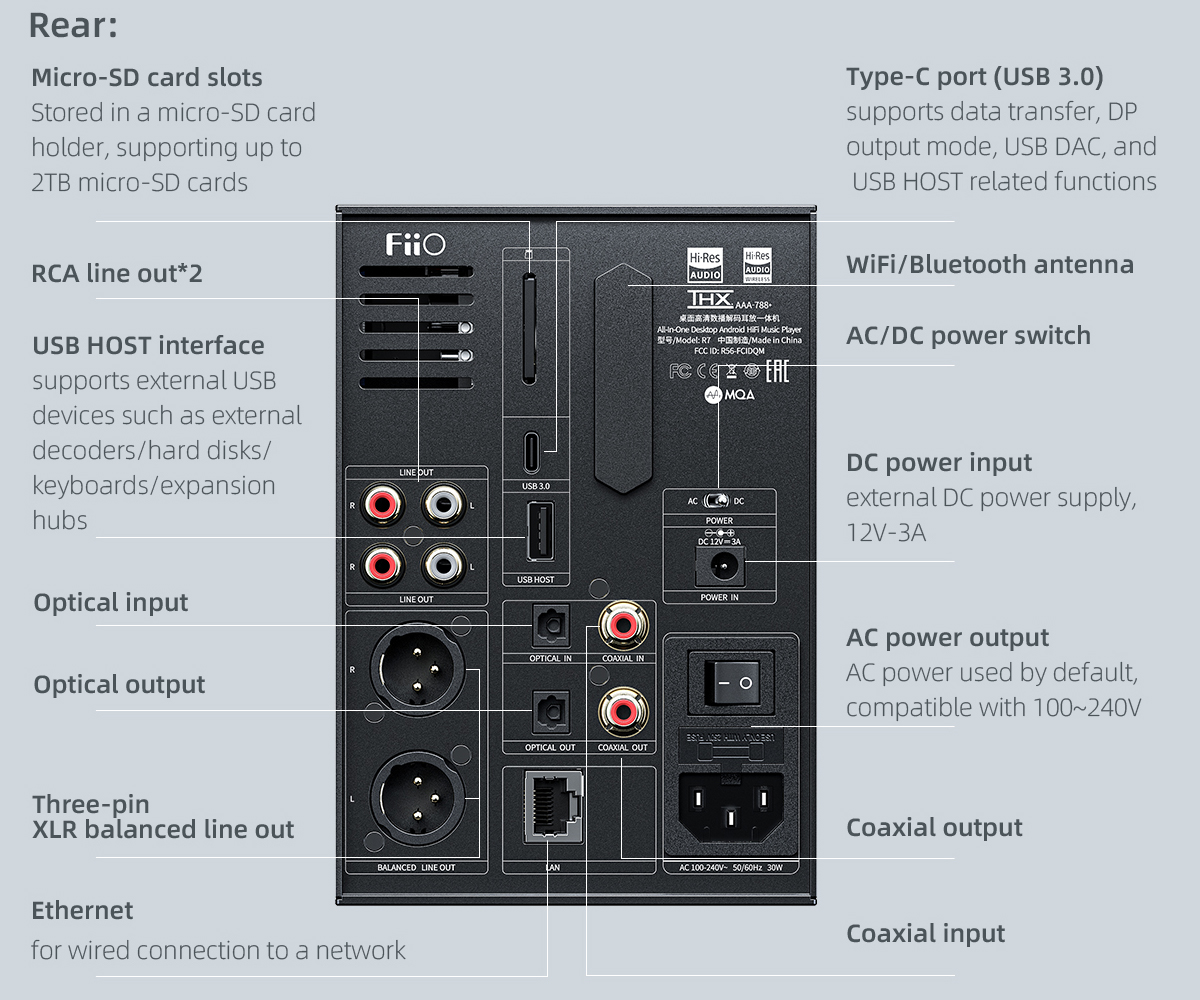 The FiiO R7 also comes with a host of accessories:
①Power cord*1
②USB data cable*1
③Flat base*1
④Angled base*1
⑤Quick start guide*1
⑥Dustproof plug*2
⑦Double-sided tape for base*4
⑧Warranty card*1
⑨MicroSD card holder*1 (inside the unit)
⑩Fuse*1+6.35mm adapter*1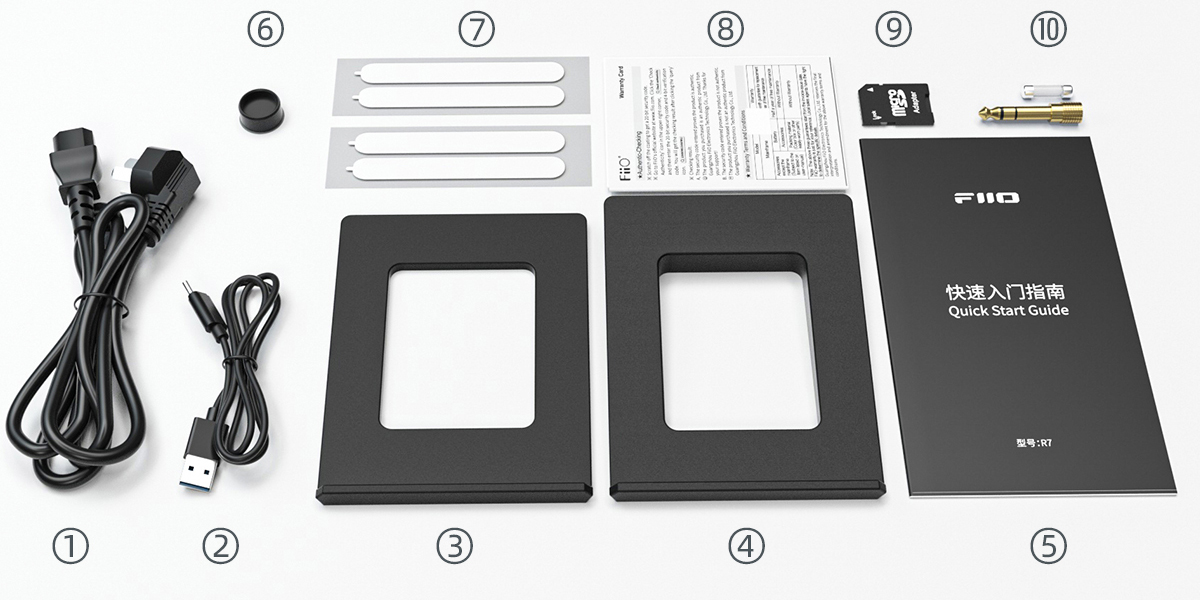 Living with the FiiO R7 Music Server/Streamer/Headphone Amplifier:
Set up of the FiiO R7 Music Server/Streamer/Headphone Amplifier was fairly simple, I at first connected via ethernet, but decided to switch to WiFi since my ethernet was needed elsewhere and I wanted to set up the R7 farther than the CAT 6 cable would reach. I used the foot that leans back slightly but so no reason to permanently secure it using the adhesive strips. I connected the power to my Core Power Technologies A/V Equi=Core 1000 via a Black Dragon Power Cable, installed Qobuz, and inserted my "Test List" microSD card into the SD card adaptor to transfer the files to the internal memory, then set the R7 to burn in using my FiiO FH9 IEMs connected via 4.4mm TRRRS and my Qobuz burn-in playlist. Just a quick note here, the power button needs to be held for several seconds before it will turn on, it is not a simple click.
My first serious listening of the R7 was as a music server for my Westone Audio MACH series review for which it served spectacularly (my new computer sends a noise over the USB that is picked up by my reference tube amplifier) whether connected via S/PDIF or USB. Up to this point, I have been using my FiiO M11 DAP for this purpose which has the drawback of only one USB port so I can either charge or play but not both simultaneously, needless to say from now on the R7 will act as my signal source as it works better than my computer for said purpose.
As a music server, the R7 is ideal, the FiiO Music App is simple and intuitive, and for those who want remote control with streaming integration, it is Roon Ready. While the display is not tablet-sized, it is as large as any I have seen on any music server (all of which cost exponentially more) equipped with one, and a larger screen can be attached via USB. The only missing component is the Remote Control which I presume FiiO will release at some future date along with the matching speakers.
Since I burned it in with the FH9s I figured that was as good a start as any for my listening tests. Pulling up "Hans Zimmer Live" (24-bit/48kHz – Qobuz) on Qobuz the sound was dynamic and exciting, yet musical without any harshness. The transient response was epic, and the soundstage was huge.
To get a better sense of the timbre and tonal balance I switched over to "Bach Stage" by Francesco Tristano Schlimé, Léo Margue, and the Bach Stage Ensemble. Once again the hall was very live and the performance spritely and dynamic, yet above all musical and not fatiguing. The timbre of the instruments was natural and well-balanced.
My next step was to switch to my Dan Clark Audio EXPANSE Open Back Planar Headphones to listen to Jacob Collier's cover of "Moon River" ("Djesse Vol. 2" – 24-bit/96kHz – Qobuz) an artist I was introduced to at FLAX 2023 and was happy to find that I could drive them to an acceptable level in low gain. High gain (which is really the median gain setting) gave the comfortable headroom to bring out the full dynamics of the THX AAA amplifier and offered a slightly smoother performance when pushed. Once again there was a great feeling of space and the imagining was wonderful.
To check DSD performance I selected "Peel The Paint" by Gentle Giant ("Three Friends" – DSD64), dynamic and musical with that slightly analog feel you get with DSD. The bass was strong and the vocals realistic.
While the FiiO R7 appeared to be able to push my HIFIMAN HE6se Planar Open Back Headphones with no problem in high gain, I decided it would be best to test them in the ultra high gain mode as these are my hardest to drive headphones. Taking this opportunity to test the bottom end I selected my sub-bass test track "Can-utility And The Coastliners" (DSD) by Genesis from their "Foxtrot" album. The sub-bass was strong and well controlled though the R7 did lean a little into the HE6se's extreme high-end reproduction causing me to turn the volume down a touch, as this is an extremely dynamic song probably for the best. Detail was excellent, Peter's vocal was up front and personal while the band was in an expansive soundstage.
Switching to a headphone more in the price range of the FiiO R7, my HIFIMAN DEVA Pro Planar Open Back Headphones to test the MQA with Meiko's cover of "No Rain" ("Playing Favorites" – 24-bit/176.4kHz MQA) and true to form the soundstage was a large empty hall with the acoustic guitar, upright bass, and Meiko's vocal up close and personal. For comparison, I switched the DEVA Pro to Bluetooth using the HIFIMAN Bluemini R2R. While the Bluemini R2R was able to make up for the loss of resolution with musicality, there was no question that the wired performance was slightly superior.
As a final test I hooked up my Dan Clark Audio AEON Open Planar Magnetic Headphones to the single-ended output switched back to low gain and put on "No Sugar Tonight" (The Guess Who – "American Woman" – DSD) and discovered quickly that since the best sound is around 100 on the volume control (it goes up to 120) that super High gain worked best in single-ended mode. Switching back to balanced it was definitely more musical in balanced which is an indication of how well the amps are matched.
Conclusions on the FiiO R7 Music Server/Streamer/Headphone Amplifier:
To begin with, the FiiO R7 Music Server/Streamer/Headphone Amplifier is one of the best DAC/Headphone Amplifiers I have heard, in no small part due to being a music server it eliminates the computer and USB cable from the equation, both of which contribute to the end product and not in a good way, computers are not designed as audio devices it is simply a byproduct of their base function. As a music server, the R7 is stellar. FiiO's music app/GUI has been well-developed over the years, is intuitive and functional. The only flaw I can see is that streaming is not integrated and requires running a separate app, but for those where that is an issue, they can always opt for using Roon. As stated above, it will now be a permanent part of my reference system going forward, and that is about as high praise as I can give.
As to versatility, I cannot think of a use case it does not have incorporated, but I suspect it will be used mostly for its primary design use which is as a compact desktop music player, though I do look forward to the release of the matching speakers at which time I will probably do a follow-up review as a complete compact sound system.
Congratulations FiiO, I can easily say that this is my favorite product you have produced so far, two thumbs up.
Price: $699.99
Manufacturer's Website: www.fiio.com
Specifications:
Name/model
R7
Hardware solution
Soc: Snapdragon 660, DAC: ES9068AS, AMP: THX AAA-788+ * 2,
USB: Snapdragon 660
Working mode
Android mode/Pure music mode/USB DAC mode/Bluetooth receiving mode/AirPlay mode/COAX mode/OPT mode/Roon Ready
Color
black
Weight
≈1282g
Dimension
≈110x134x160mm
Volume control
Knob
Screen
4.97 inches (720 * 1280) full-fit screen
Internal storage/Free space (ROM)
64GB/≈46GB
RAM
4GB
Gain
Ultra high/Super high/High/Medium/Low
Memory card
Single SD card expansion, theoretically supports up to 2TB
Recommended headphone impedance
PO: 16 ~ 150Ω
Channel balance
L20~ R20 (0.5dB per level)
BAL: 16 ~ 300Ω
Buttons and ports
Button
Volume knob (it has button's function)*1
Output selection knob (similar to button's function)*1
USB
Type-C (USB3.0) * 1
USB A (USB2.0) * 1 (data transfer)
DC power in port
Φ 6.2mm DC socket
Toggle switch
DC/AC switch
Balanced output ports
Standard 4.4mm * 1
4-cores XLR * 1
Phone out port
Standard 6.35mm
Balanced line out ports
3-cores XLR * 2
Single-ended line out ports
RCA* 2
OPT input port
Standard TOSLINK
COAX input port
RCA
OPT output port
Standard TOSLINK
COAX output port
RCA
Network port
100M Ethernet port
Features
WiFi
2.4GHz/5GHz, DLNA, AirPlay, WiFi music transmission,Roon Ready etc.
Bluetooth Emission (5.0)
AAC/SBC/aptX/aptX HD/LDAC/LHDC
Bluetooth receiving (5.0)
SBC/AAC/LDAC
FiiO Link
WiFi and Bluetooth control for Android, WiFi control for iOS.
MQA
8x decoding
All to DSD
√
Max sampling rates
USB DAC: 384kHz/32bit; DSD256 (Native)
Bluetooth codec indicator
(knob light)
Blue: SBC
Local decoding: 384kHz/32bit; DSD256 (Native)
Cyan: AAC
USB Audio:768kHz/32bit;DSD512(DoP/D2P/Native)
Yellow: aptX HD
COAX IN: 192kHz/24bit
White: LDAC
OPT IN: 96kHz/24bit
Orange: LHDC
COAX OUT: 384kHz/24bit; DSD128 (DOP)
OPT OUT: 192kHz/24bit
EQ
10-segment dynamic EQ (±12dB), 8 preset EQ, custom EQ,PEQ supported.
Sampling rate indicator
(knob light)
Blue: lossy
Operation modes
Support gesture operation, two-button navigation, three-button navigation
Cyan: SQ
Screen saver
√
Yellow: HR
Firmware upgrade
√ Local upgrade, OTA upgrade
Green: DSD
Double-click to wake up
√
Magenta: MQA
Power parameters
Power supply
DC 12V/3A OR AC 100-240V~ 50/60Hz
Audio parameters
Phone out performance parameters (6.35mm, USB DAC/OPT/COAX, Ultra high)
Output power
L+R≥1850mW+1850mW (16Ω,THD+N<1%)
Output impedance
< 0.5Ω
L+R≥1250mW+1250mW (32Ω,THD+N<1%)
Crosstalk
≥77dB
L+R≥160mW+160mW (300Ω,THD+N<1%)
Peak voltage
18Vp-p
SNR
≥ 124dB (dbA)
THD+N
< 0.0005% (1kHz / -8dB@32 Ω)
Frequency response
5Hz~ 50kHz: attenuation < 1dB
Noise floor
< 4uV (dbA)
20Hz~ 20KHz: attenuation < 0.3dB
Phone out performance parameters (6.35mm, USB DAC/OPT/COAX, Super high)
Output power
L+R≥1450mW +1450mW(16Ω,THD+N<1%)
Output impedance
< 0.4Ω
L+R≥750mW +750mW(32Ω,THD+N<1%)
Crosstalk
≥73dB
L+R≥80mW+80mW (300Ω,THD+N<1%)
Peak voltage
14Vp-p
SNR
≥ 124dB (dbA)
THD+N
< 0.0005% (1kHz / -6dB@32 Ω)
Frequency response
20Hz~ 80kHz: attenuation < 1dB
Noise floor
< 4uV (dbA)
20Hz~ 20KHz: attenuation < 0.3dB
Line out performance parameters (RCA, USB DAC/OPT/COAX)
THD+N
<0.0005%(1kHz/-0dB@10KΩ)
SNR
≥ 118.5dB (dbA)
Crosstalk
≥112dB
Noise floor
< 2.7uV (dbA)
Frequency response
5Hz~ 80kHz: attenuation < 2dB
Line out level
2.2Vrms
20Hz~ 20KHz: attenuation < 0.1dB
Balanced phone out performance parameters (XLR4/4.4mm, USB DAC/OPT/COAX, Ultra high)
Output power
L+R≥1000mW+1000mW (16Ω,THD+N<1%)
Output impedance
< 0.5Ω
L+R≥3650mW+3650mW (32Ω,THD+N<1%)
Crosstalk
≥116dB
L+R≥630mW+630mW (300Ω,THD+N<1%)
Peak voltage
39Vp-p
SNR
≥ 122dB (dbA)
THD+N
< 0.0005% (1kHz / -8dB@32 Ω)
Frequency response
20Hz~ 50kHz: attenuation < 2dB
Noise floor
< 7.5uV (dbA)
20Hz~ 20KHz: attenuation < 0.3dB
Balanced phone out performance parameters (XLR4/4.4mm, USB DAC/OPT/COAX, Super high)
Output power
L+R≥800mW+800mW (16Ω,THD+N<1%)
Output impedance
< 0.5Ω
L+R≥3000mW +3000mW(32Ω,THD+N<1%)
Crosstalk
≥116dB
L+R≥320mW+320mW (300Ω,THD+N<1%)
Peak voltage
27.7Vp-p
SNR
≥ 122dB (dbA)
THD+N
< 0.00048% (1kHz / -6dB@32 Ω)
Frequency response
5Hz~ 80kHz: attenuation < 2dB
Noise floor
< 7.5uV (dbA)
20Hz~ 20KHz: attenuation < 0.3dB
Balanced line out performance parameters (XLR3, USB DAC/OPT/COAX)
THD+N
<0.0005%(1kHz/0dB@10KΩ)
SNR
≥ 125dB (dbA)
Crosstalk
≥121dB
Noise floor
< 2.5uV (dbA)
Frequency response
20Hz~ 50kHz: attenuation < 2dB
Line out level
4.5Vrms
20Hz~ 20KHz: attenuation < 0.1dB