CanJam NY is one of my favorite shows to attend every year. Going home to my hometown is always exciting for me as it brings me back to the times when I was younger and growing up. New York has changed in many ways over the years and I knew this would be one of the hardest shows for me to do because of the heartbreaking loss my wife Paula and I had experienced when our daughter Michelle passed away Thanksgiving morning.
Many show vendors and attendees know this was also Michelle's favorite show. She loved coming to shows, listening to new designs, and in some instances even modeling headphones. Her favorite times were seeing people she knew from the years of attending NY meets with me and also she loved NYC and adopted it as her second home.
Jim Moulton and his lovely wife sponsored our show coverage for this year along with the folks at Headfi.org, who showed strong support for me and my family during this difficult time. I would like to thank the Moultons, Jude Mansilla, and Ethan Opolion for all the love and support we received from the community. Our show coverage is dedicated to Michelle Iacone our daughter who lives with us in spirit and is inspiring me to write this report.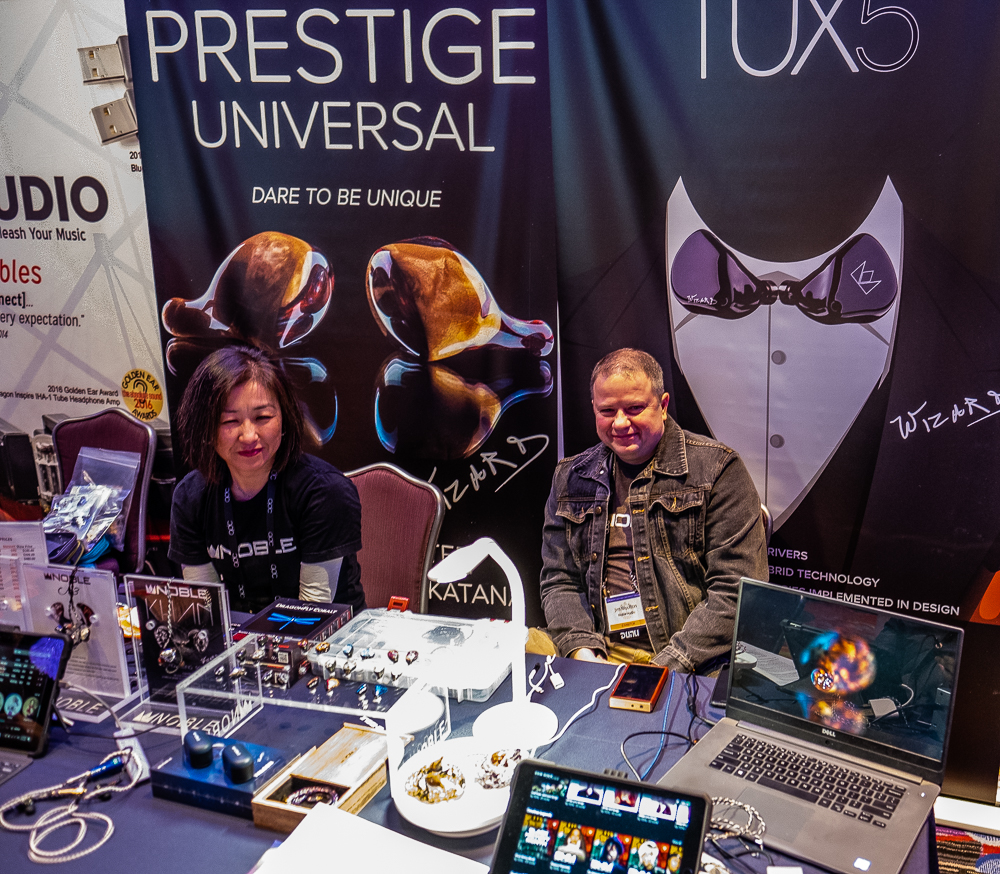 Jim Moulton and his lovely wife were on hand working the booth. Jim's dedication to Noble's growth and exciting new products that are created by the "Wizard" John Moulton. Noble has stepped up to the next tier with exciting electrostatic hybrids that have unequaled transparency in IEM musicality. The Noble team continues to build new designs, I tried to get a sneak preview to the new prototype, but Jim told me it was still not ready, so I have to wait to review a pair.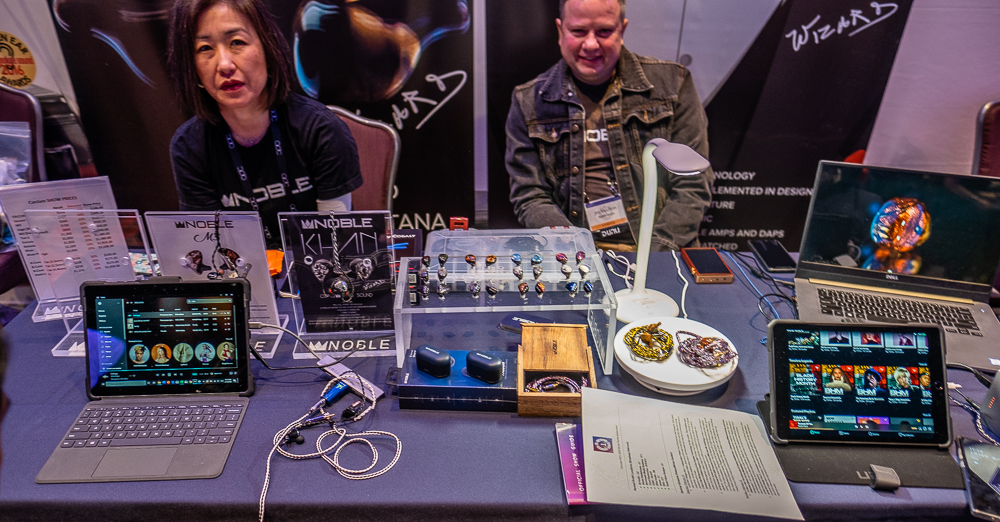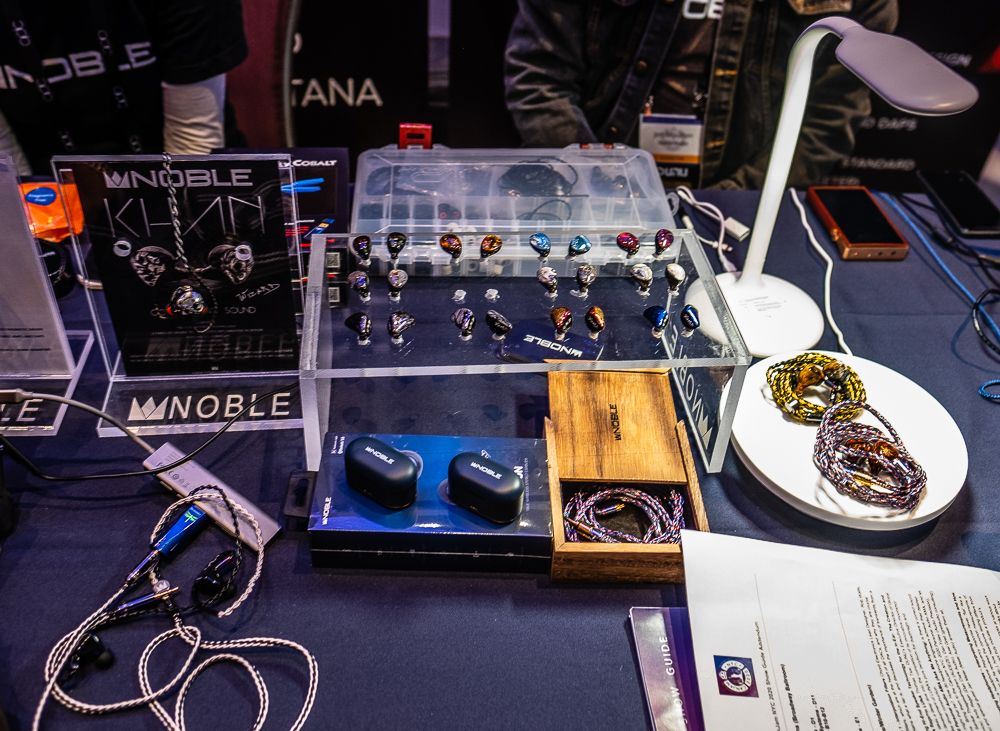 The Noble Encore Brass limited edition has a brass faceplate with 18K gold overlay. The beautiful rose design, which priced at $2,600, is limited in production to only 150 pairs. The Encore features proprietary Noble drivers that have a very accurate tonal balance and make listening more transparent with unequaled musicality. Made in California by hand, these are a sure bet collectible that will sell out quickly, so if you want one order before they not available anymore.
The Khan, which I have reviewed, earned our coveted IEM of the Year award and ranks up there as one of the best I have heard in IEM universal designs. The tri-level architecture Noble used brought outstanding definition in the midrange and treble region which integrated seamlessly with outstanding bass that presented one of the most out of my head experiences with a defined and wide soundstage exhibiting exceptional tonality of instruments. Listen to the mighty Khan and experience a new listening adventure in personal listening.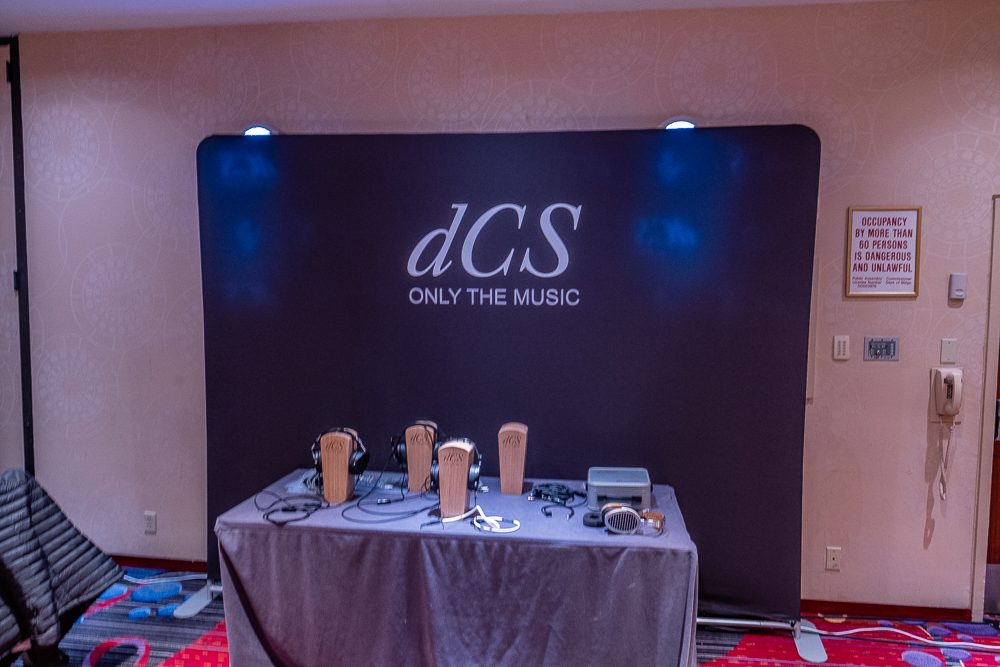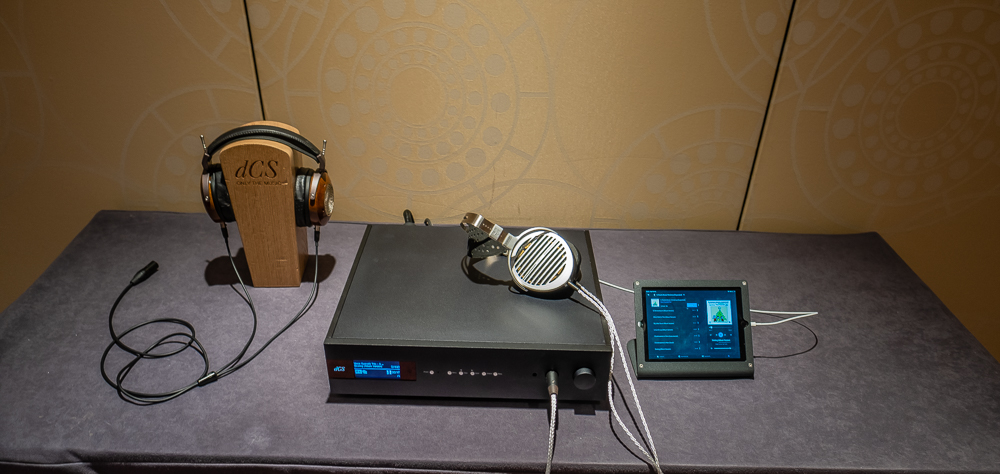 dCS, known for its world-class Ring DAC technology, was showing the new Bartok. Priced at $15,000, it is designed with three separate products combined in one chassis. The preamp DAC feature uses the same Ring DAC technology used in the mighty Vivaldi system.
The music server in the Bartok is silent and streams all of the available streaming services flawlessly. The Roon Library integration is first-rate and the neutrally balanced Headphone amplifier is able to drive any headphones on the planet except for electrostatic designs. The neutral sound provides outstanding transparency and has no coloration in the sound. The amazing Bartok was our overall Product of the Year winner for 2019.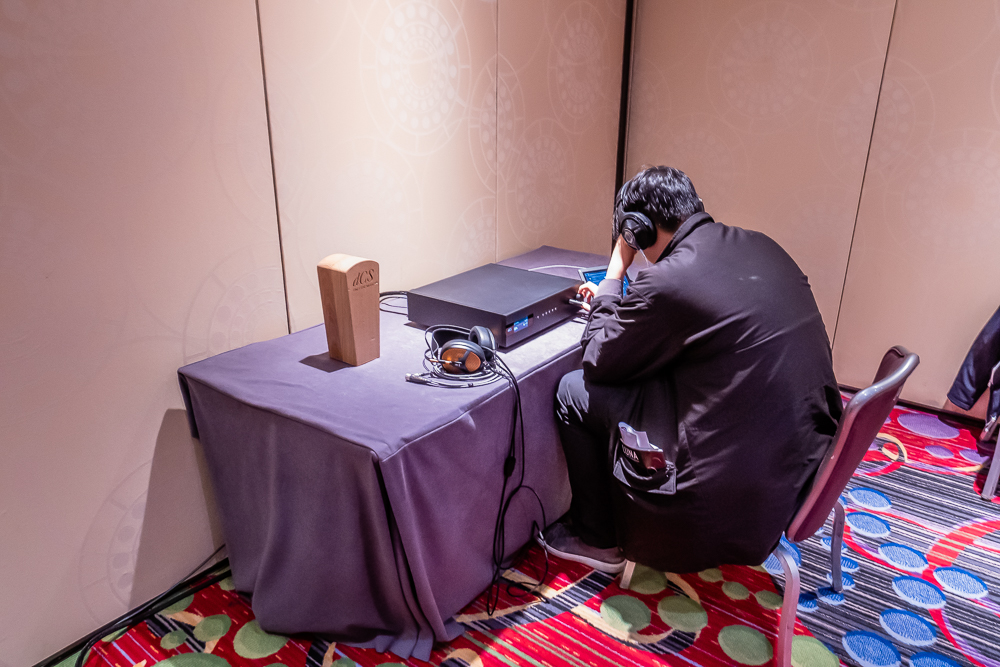 HeadFi.org member listening with the Focal Utopia and below with the HiFiMan Susvara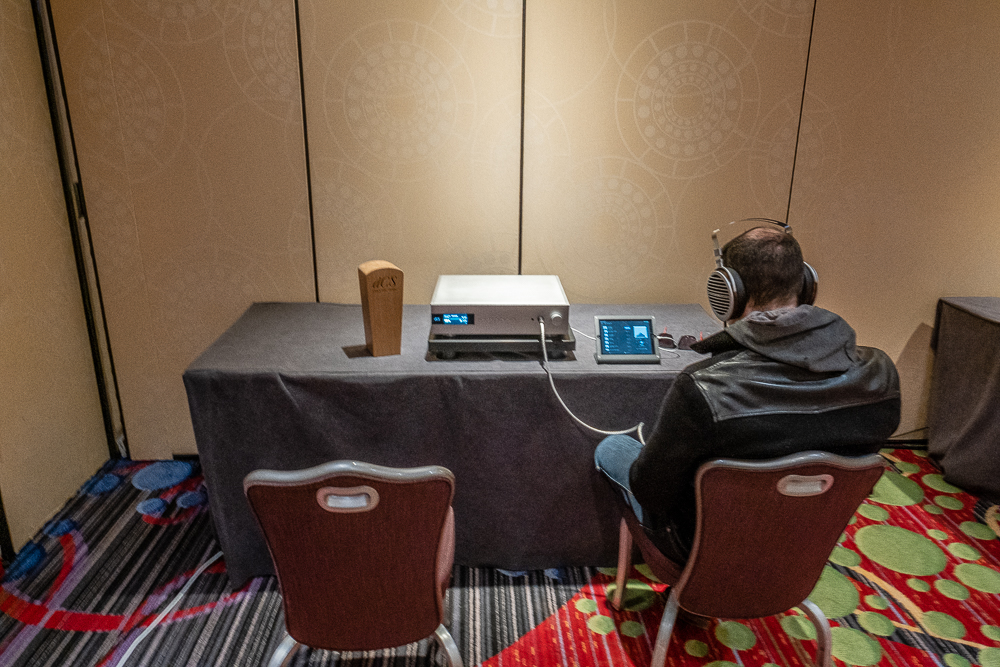 It is very enjoyable for me at shows to watch Headfi.org listeners get absorbed with new world-leading products. Listening for a long period of time to the Bartok at two different stations the listener was impressed with the sound of both the Focal Utopia and power-hungry Hifiman Susvara. Two different transducers, with different impedance loading, were being driven easily with the Bartok's magnificent headphone amplifier.
I thought he was going to ask Steve Smith if he could arrange a cot for an all-night session as he loved the Bartok sound and was inspired by the performance and musicality from both world-class headphones. The Bartok masterfully delivered the best each transducer had to offer.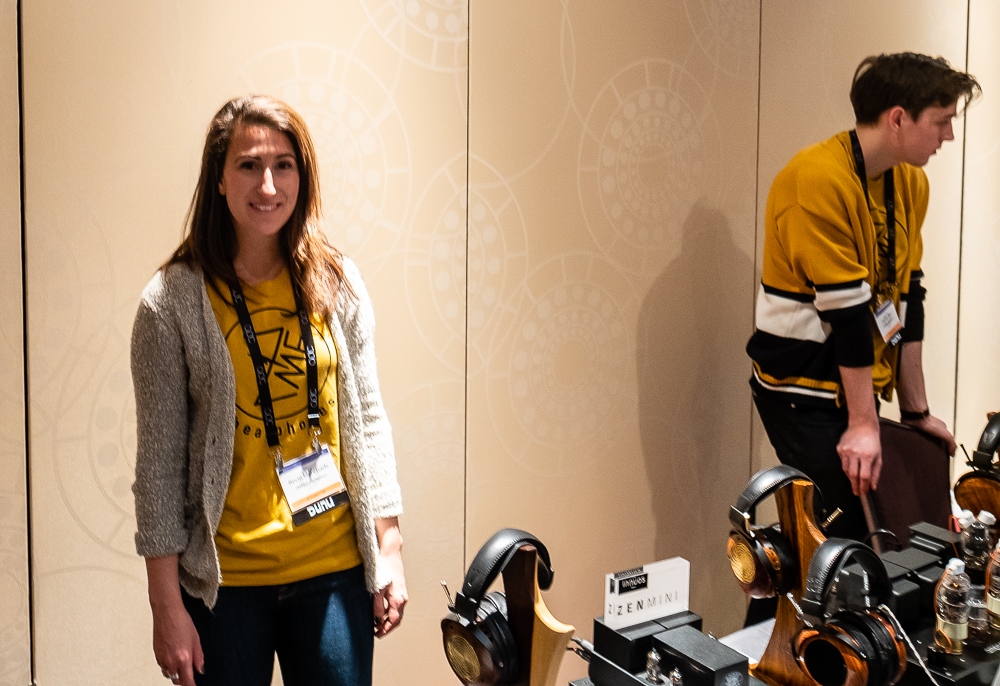 Bevin always poses for a picture for our magazine and this was the first time ZMF showed in a private room with their successful creative designs designed and built by her husband Zak. Two of my favorite people, whom I respect for their hard work and dedication to making some of the best wood designs in headphones offered today.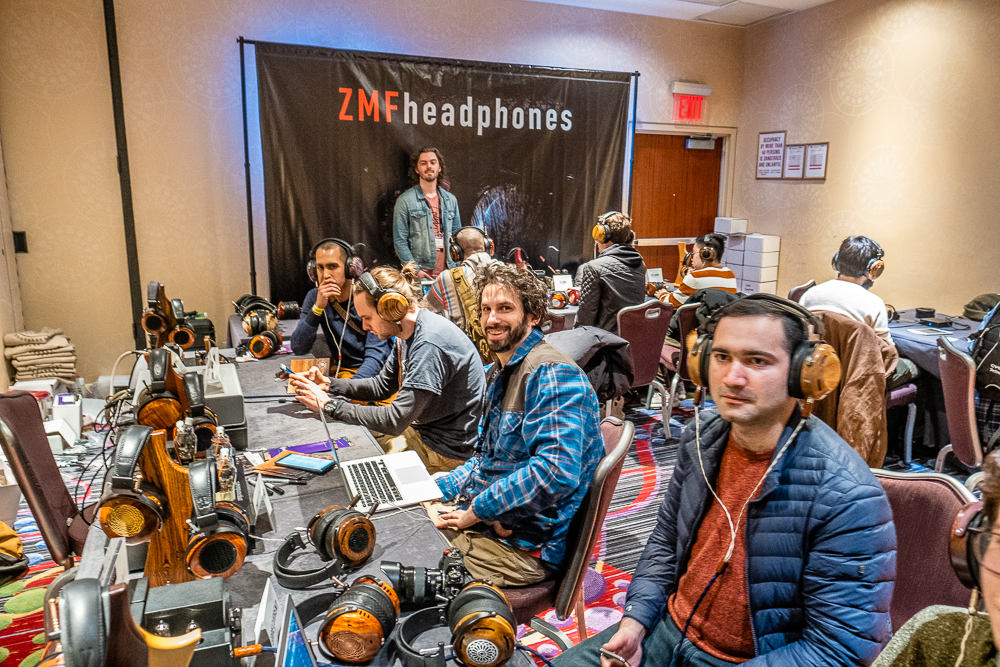 Zak had a big smile on his face and for good reason. The room was packed no matter what time I passed by or was in it. Hardly any open listening stations, the entire room was loaded with listeners and members who were excited to hear the ZMF headphones. The Vérité closed design starts at $2,499 and is custom-designed. The Monkeypod wood comes from South America and the current wait time to get a pair of this astonishing design is 3-5 weeks. The sound is reminiscent of their open design but brings thunderous bass and musicality rarely found in a closed design making the listening experience more personal. The Vérité is another magnificent design from the folks at ZMF.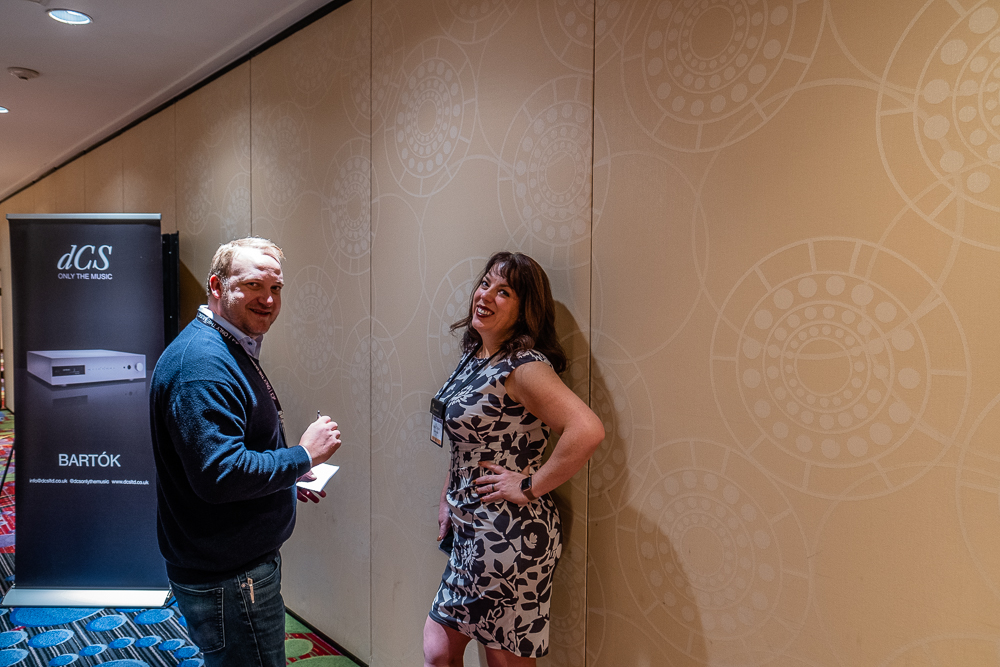 The beautiful Angela Cardas Meredith socializing in the hall. Angel and Josh are terrific people that Paula and I love dearly. Please stay tuned for our coverage in upcoming CanJam reports of this show for the exciting new Clear power chords and award-winning headphone cables from Cardas.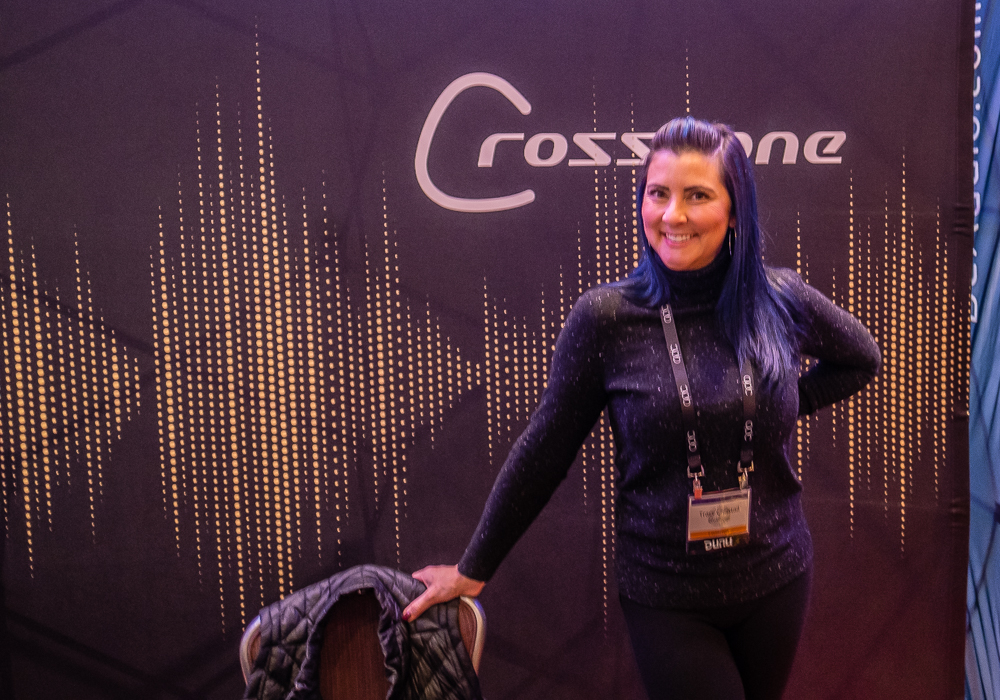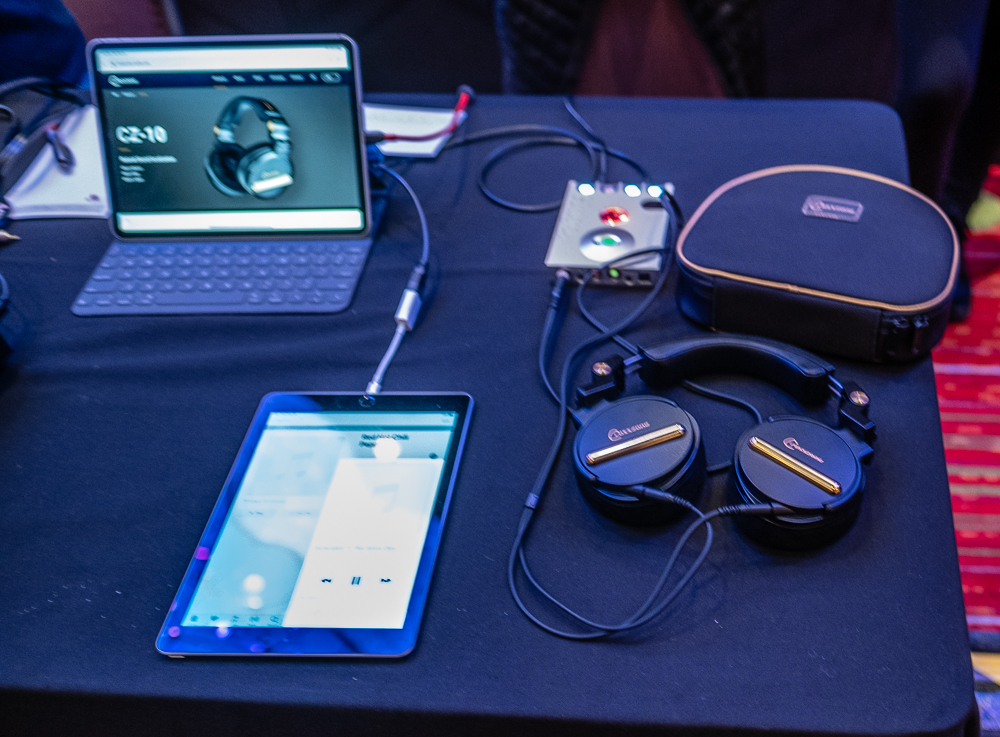 Crosszone of Japan was showing its high-quality headphone design. Pictured is the Z10, a unique design that incorporates crossfeed into the design and makes the sound musical and more accurate in presentation The 99dB sensitivity makes this easy to drive reference closed design that has an excellent range of 20-40kHz. The balanced design offers musicality and exceptional sound in the midrange with excellent bass and pristine treble. Use of all high-quality parts including high-quality cables makes this a must-listen-to design. The impressive specifications for this design are available on the home company webpage.
Prices for the Crosszone CZ-1 available at Moon Audio in the US and Canada start at $2,199.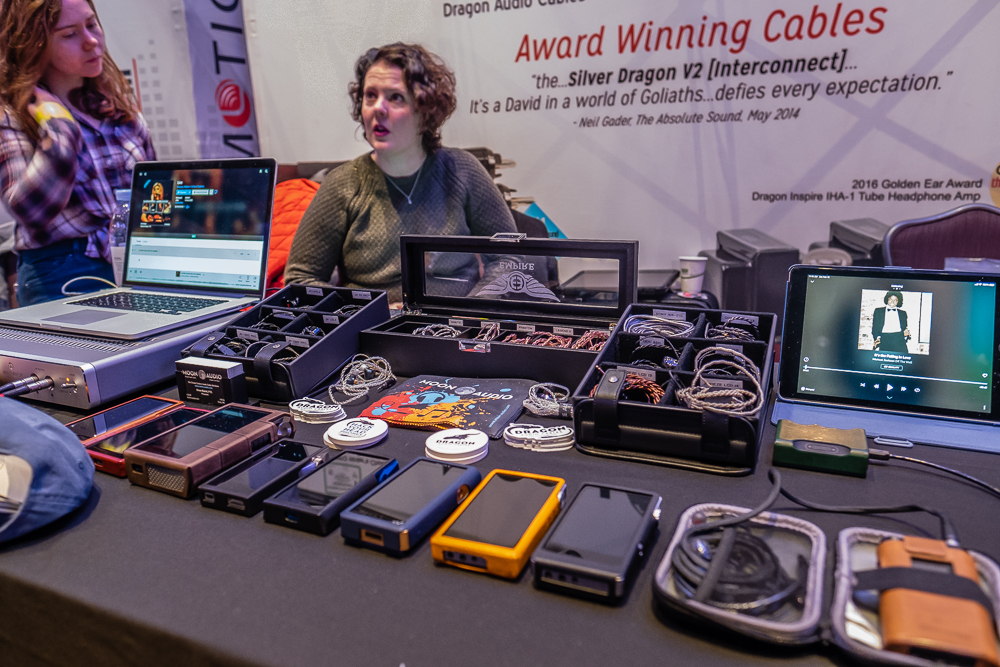 Nichole Baird was present, along with her husband Drew Baird and their three beautiful daughters to help with the Moon Audio booth.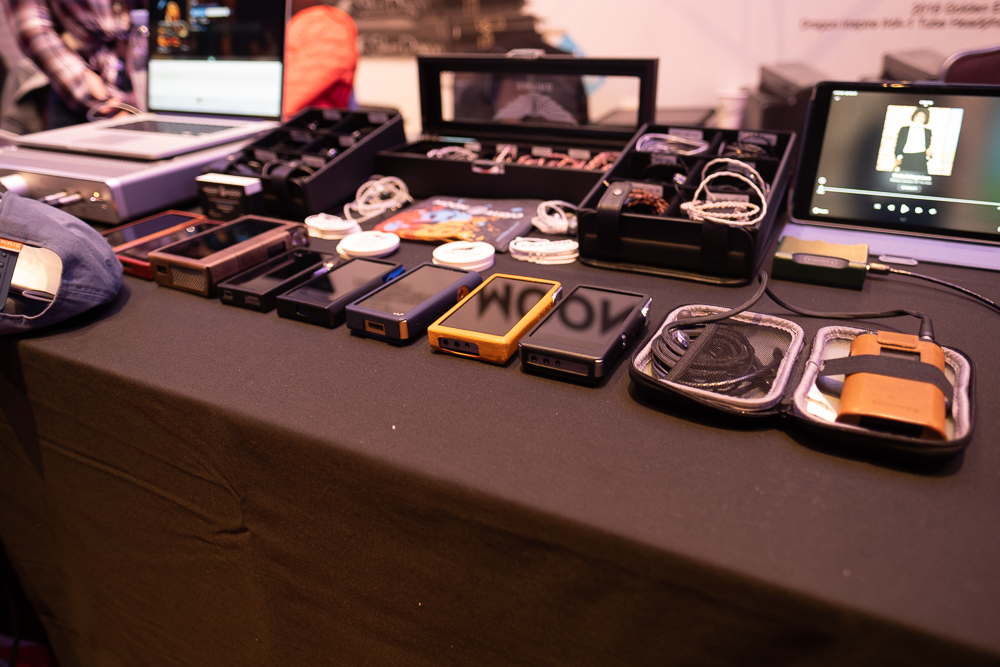 Drew was showing world-class IEMs from different companies including QDC the largest manufacturer of IEMs in China. The QDC 8SH has 8 micro balanced armature drivers and three sound channels incorporated in a three-way crossover circuit. These music-lover IEMs bring unparalleled sound and isolation for an immersive experience. Included in the $1,450 price is a Black Dragon custom cable designed by Drew Baird, a cable known for its musicality, with the ability to extract more detail including pristine treble and bass extension while showcasing the 8SH's amazing midrange transparency and unique musicality.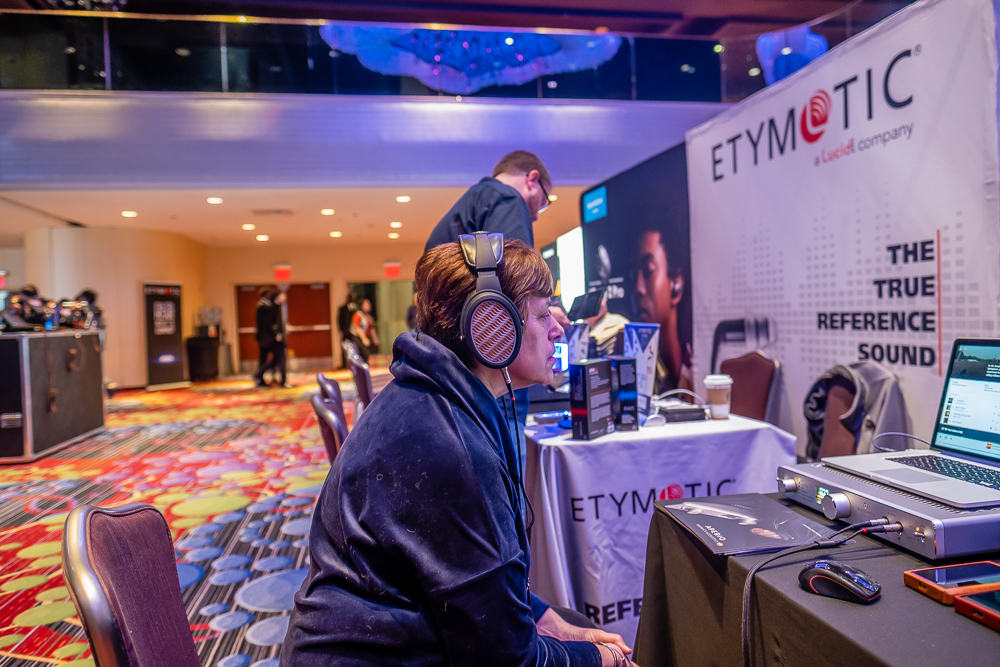 Managing Director of Headphone.guru, my beautiful wife Paula was enamored with the Warwick Acoustics APERIO Electrostatic headphone system. Paula found the sytem to have exceptional clarity while listening to female vocals and was impressed with the overall sound including the pristine treble reproduction.
The entire system, priced at $24,000 US, includes a magnesium-injected headphone that is a full range electrostatic design. The APERIO has a world-class netwok DAC that can decode virtually all music formats up to 386kHz, as well as an outstanding preamp that can be connected to an entire HiFi system, while the programable DAC feature, allows for lifetime upgrades making your investment future proof.
Stay tuned for a full review upcoming shortly with all the technical information that makes this sytem a rare one of a kind electrostatic design. Built-in Cambridge England and designed for a lifetime of musical enjoyment, my personal review time with the APERIO was impressive indeed.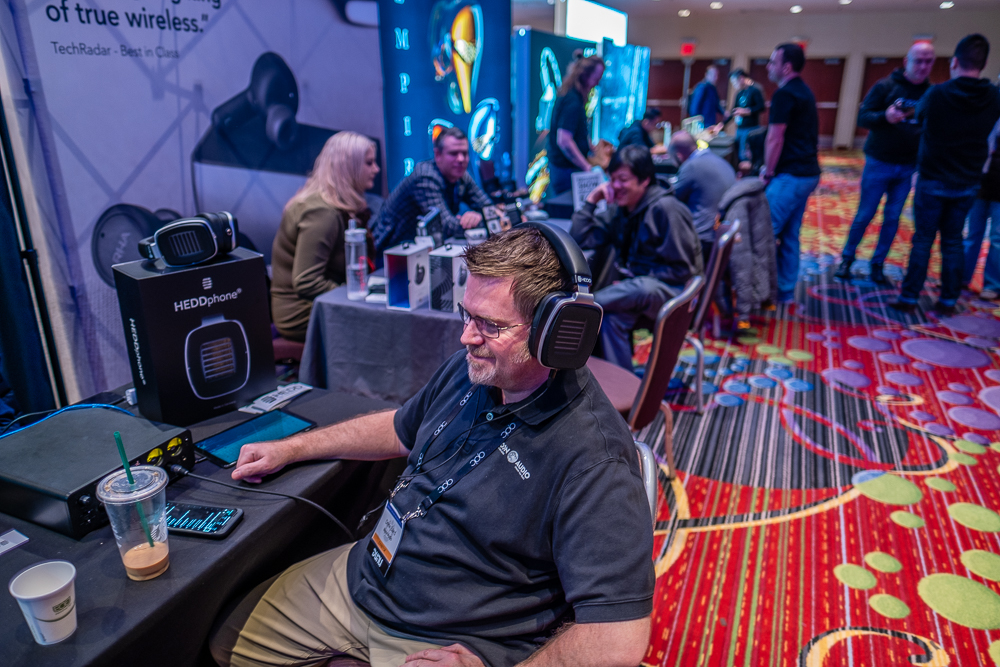 Drew Baird, CEO of Moon Audio, auditioning the new kid on the block, taking the community by storm, the HEDDphone an Air Motion Transformer design done right.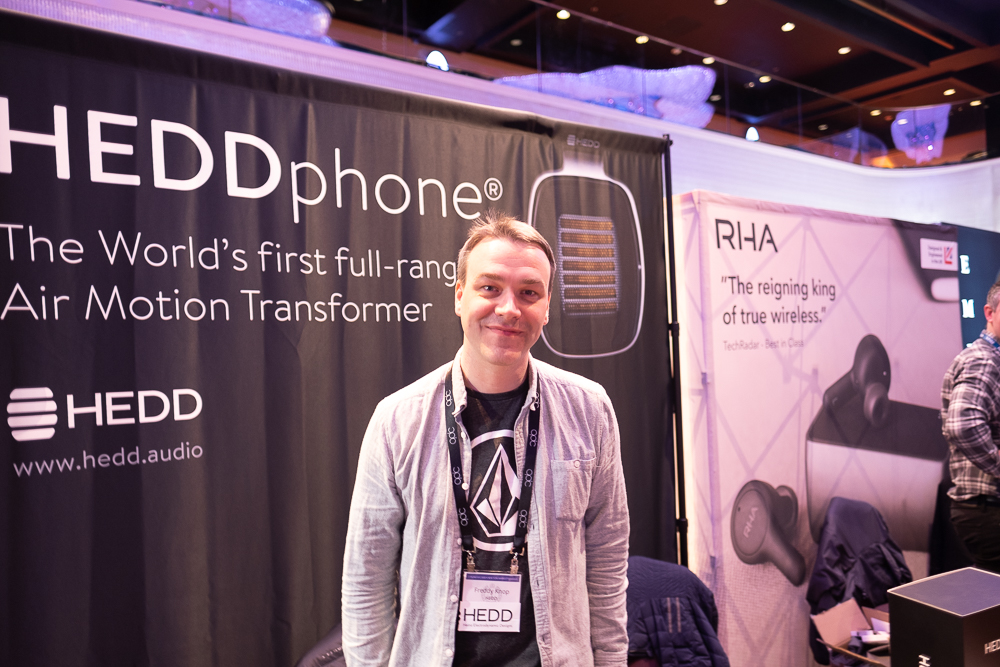 The Air Motion Transformer, an electrodynamic transducer that moves significant amounts of air much faster than common voice coils, took years to develop seamlessly into a full-range driver that HEDD was able to incorporate into a headphone.
The transducer is able to move 4 times more air than any other design and allows for more detail from a recording to be extracted. Listening to the HEDDphone was impressive with the transparency of the midrange along with exceptional and pristine treble extension and world-class bass. The HEDDphone is a serious product at a reasonable price that will create the ultimate experience in personal audio.
Lee Shelly's coverage continues tomorrow in Part 2.