Miki Trosic of Auris Audio fame has decided to ply his innumerous talents to the portable audio market and the result of this is EarMen. Though based in Chicago, all EarMen products designed and engineered by Miki are built in Europe "to ensure the highest standards in production quality". The two products that were sent to me for review were the EarMen Donald DAC and the EarMen TR-Amp. While the product names indicate a sense of humor on the part of their designer (possibly political in nature), pun-ish monikers aside, the EarMen products are serious audio products.
Though, when I received them I thought they were meant to operate together, I quickly discovered that although the Donald DAC is a standalone DAC for use with any amplifier via single-ended (RCA) outputs, the TR-Amp is a battery-powered portable DAC/Amplifier for use with smartphone, tablet, or computer.
EarMen Donald DAC: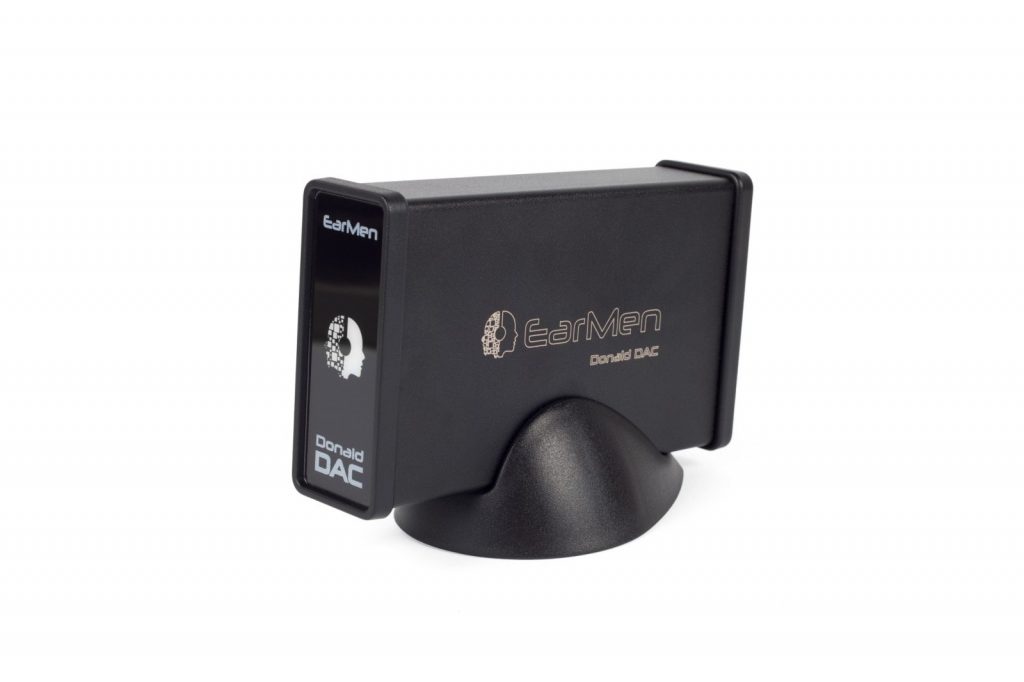 As mentioned above the EarMen Donald DAC is a standalone portable digital to analog converter designed to be connected to any integrated amp (an amplifier with volume control) or receiver via single-ended RCA outputs and using a smartphone, tablet, or computer as source via USB-C. Built around the Cirrus Logic CS43198 DAC chip, it is able to decode PCM up to 32-bit/384kHz as well as DXD (24-bit/352.8kHz), DSD256 (11.2MHz) and MQA. To assure positive connectivity an XMOS 200 series USB controller is employed. And as a further enhancement, it has a separate USB-C power port if you don't want it to burden the battery of your smartphone, tablet, or laptop computer.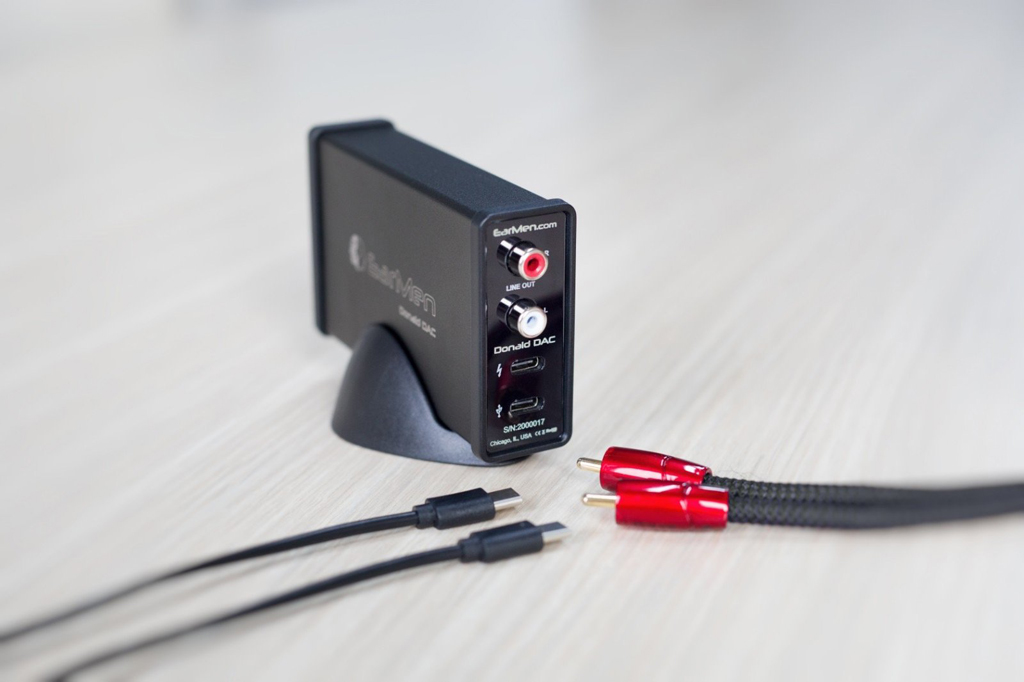 In appearance, the EarMen Donald DAC is a tiny elegant black metal box about the size of a pack of cigarettes (can I say that without offending anybody?). The connections, consisting of two USB-C ports and a pair of RCA jacks, are all on one end of the unit while the other end has the display light. It also comes with a form-fitting teardrop-shaped removable stand so it can sit neatly next to your system.
Fit and finish on the Donald is top-notch easily competitive with the best of Japanese manufacturing. Best of all, this affordable little beauty is available from our good friends at Moon Audio (Link) for only $99 USD.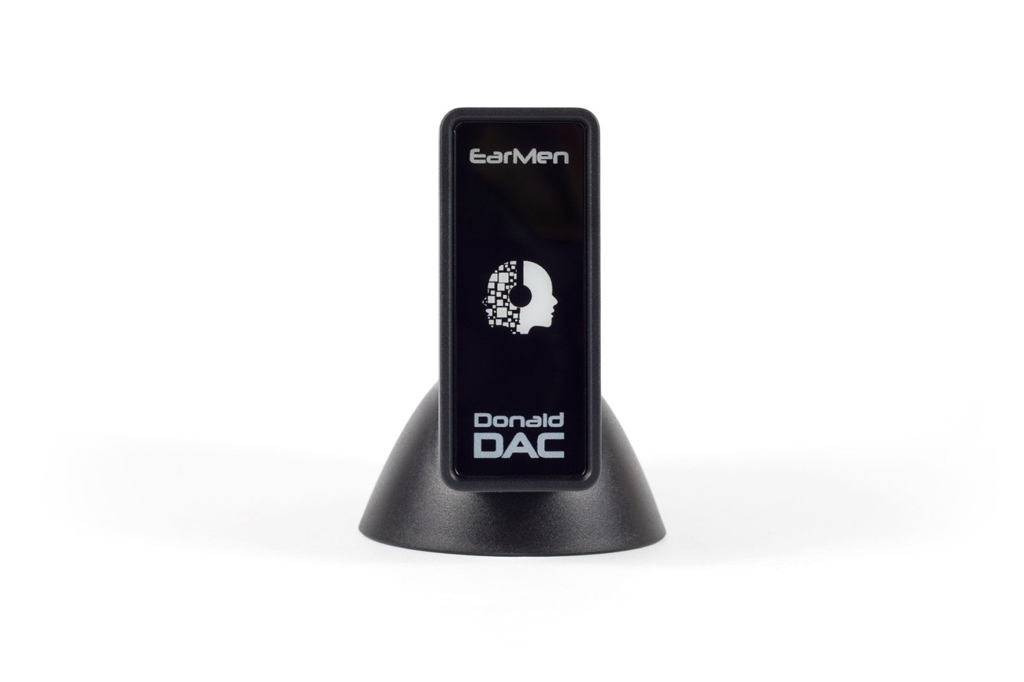 Technical Specs
Supported formats:
PCM 384kHz/32bit, DSD256, DXD, MQA Rendering
DAC: 32-bit Cirrus Logic CS 43198
USB: XMos 2XX
Input: USB-C – DATA/Power Supply
USB-C – External Power Supply
Output: RCA
Dimensions: L * H * W (mm) 114 x 80 x59
EarMen TR-Amp: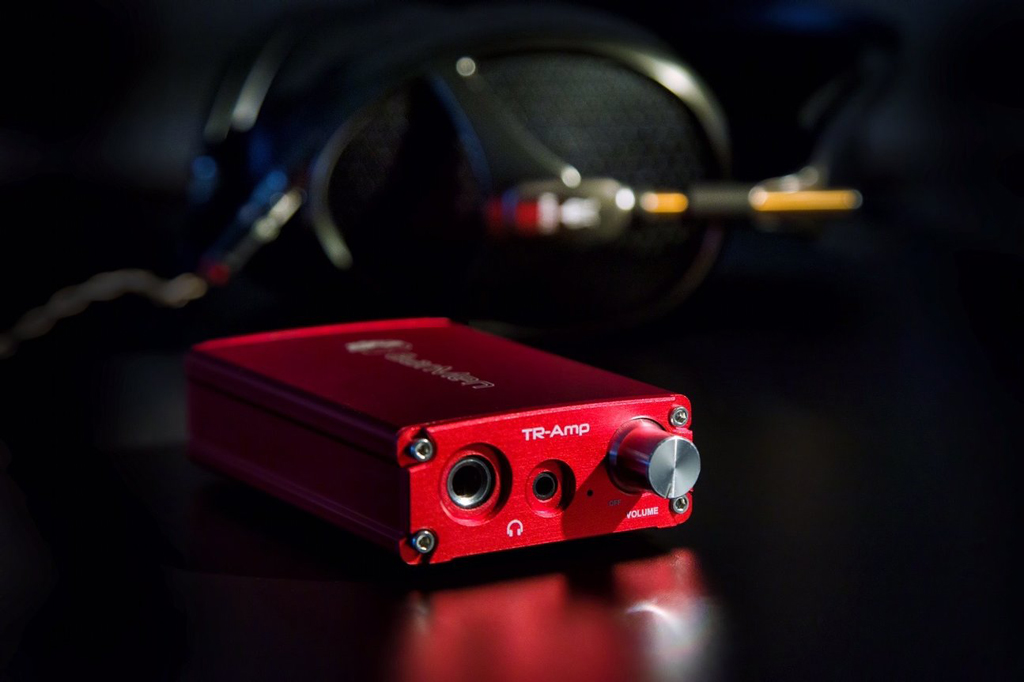 The real gem of this review is the EarMen TR-Amp. Its list of features is fairly hefty for such a tiny box:
NEW ES9038Q2MSABRE32Reference DAC Industry's highest performance 32-bit mobile audio DAC with unprecedented dynamic range and ultra-low distortion
Texas Instruments High Fidelity TPA6120 current-feedback AB amplifier architecture delivers high bandwidth, extremely low noise, and up to 128dB of dynamic range
Super Low ESR tantal capacitors in power supply
Able to decode PCM up to 32-bit/384kHz, Native DSD128, DSD256 via DoP, MQA
3700mA battery with up to 10h of music enjoyment
Separate DATA and Charging USB type C ports allow you to use it all day long in your system
Analog volume control for Preamp and Headphone amp
Double Enjoyment with 2 pairs of headphones simultaneously
Analog switch for Direct DAC or PreAmp function
ALL METAL CNC milled aluminum housing, eliminates external noise sources
Includes a high-level EarMen shielded female USB-A to USB-C Adaptor
Another cigarette box sized brick, this little brute has quite a lot of weight to it and the fit and finish of its machined-aluminum bolt-together casing speaks of serious high-end. On the front end, you will find the Volume control, a ¼" TRS single-ended output, a 3.5mm TRS single-ended output and the indicator light (six different colors depicting the unit's current state). The back end sports two USB-C ports (one for data the other for charge/power), a toggle switch to switch between fixed and variable output ("Pre Out"/"Direct"), and a pair of single-ended (RCA) line outputs.
The review sample I received included the aforementioned USB-A to USB-C cable and a heavy-duty rubber belt strap for tying it to a like-sized source device, and came in black, though our friends at Moon Audio (Link) also offer it in red.
Price: $249 USD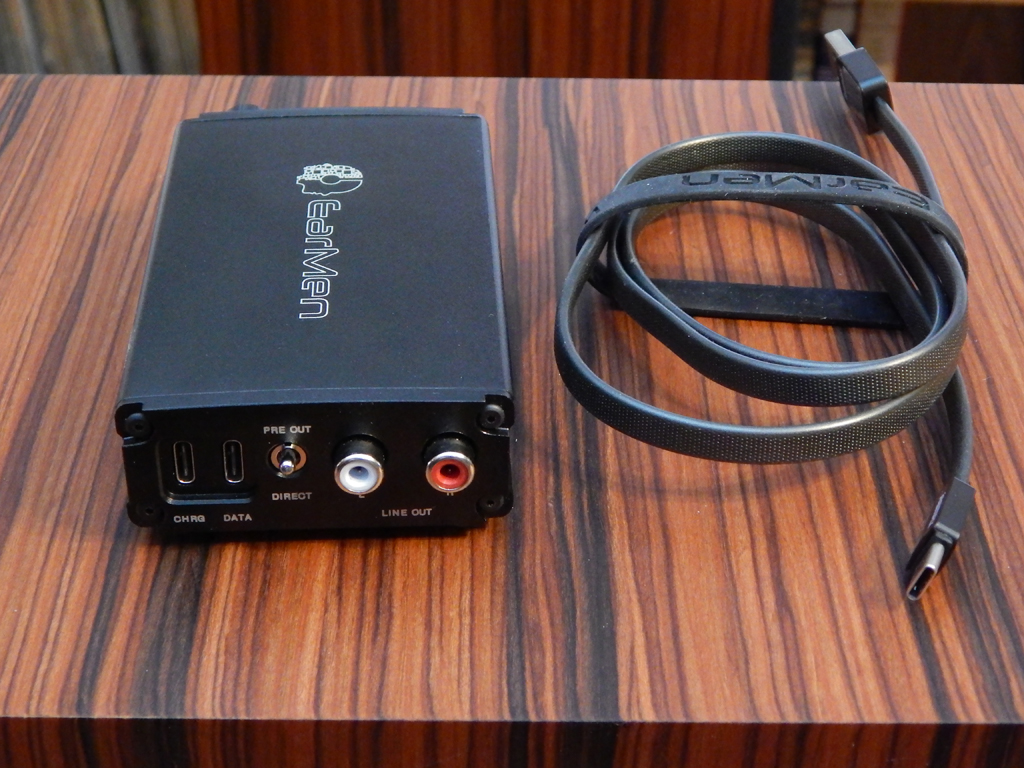 Technical Specs
PCM 32-bit /384kHz
DoP DSD256
Native DSD128
MQA rendering
+128dB SNR A-Weighted,
-112,5dB THD+N,
400mW into 16 Ohm
The Puddin':
Since it was self contained and therefore required less set up, I began my listening tests with the EarMen TR-Amp, using Qobuz on my Essential PH-1 smartphone as source connected with standard USB-C to USB-C cable, and the obvious first choice for such a device in headphones were my MrSpeakers (Dan Clark Audio) AEON Flow Open-Back Orthodynamic headphones. I should note, there was no drama, just plug and play.
The review samples I received did not come directly from EarMen and were therefore already open, though I don't know how many hours were on them. Since I was on deadline, I went directly to testing without my usual burn-in time. Regardless, the sound was surprisingly musical, especially given the analytical aspects of ESS Sabre DACs.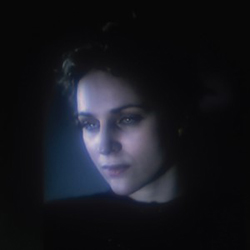 My opening selection on Qobuz was the Agnes Obel album "Myopia" (24-bit/44.1kHz), the sound was ethereal, clear, and magical. The opening track "Camera's Rolling" features a rich and haunting piano accompanied by a chorus of voices with Agnes center stage. Soon a plethora of unusual percussion adds to the mix, including tubular bells of some kind, supplemented with solo violin. The soundstage was huge and three dimensional, much larger than one would expect from a product in this price range. "Broken Sleep" offered up bass in the form of plucked strings and bowed cello, it was tight, resonant, and impactful.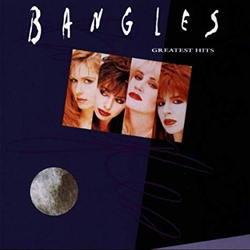 I don't have a software player on my phone that will handle DSD, so I switched over to my FiiO M11 DAP, again connected via USB-C, a brief pop-up asking for permission to connect to the EarMen was all that was required. Cueing up the Bangles' "If She Knew What She Wants" (DSD – "Greatest Hits") the indicator light switched from green to cyan to indicate DSD and I was off to the races. The tonal balance was neutral to warm in keeping with the AEON's basic sound signature. Again the soundstage had good depth and width, the guitars were crisp and the bass tight and fast. The vocals were sweet and honeyed which is the whole purpose of the song.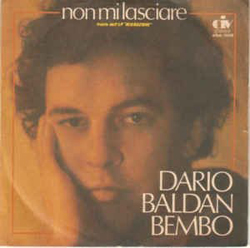 Figuring it was time to give the EarMen TR-Amp a little bit more of a challenge I stepped up to the MrSpeakers ETHER C Flow 1.1 Planar Magnetic headphones (about 10 dB drop in efficiency) and opted for one of my sub-bass tracks "Non Mi Lasciare" by Dario Baldan Bembo (16-bit/44.1kHz). The bass was deep and full, and the operatic vocals were dynamic and musical.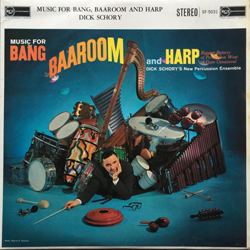 As an extreme test I hooked up the HiFiMan HE6se Planar Magnetic Headphones, probably the hardest to drive headphones available and put on "April in Paris" as performed by Dick Shory's New Percussion Ensemble (DSD – "Music for Bang, Baaroom and Harp"). Though not an ideal pairing, at full volume there was amazingly musical sound, with exceptional dynamics, if not overly loud.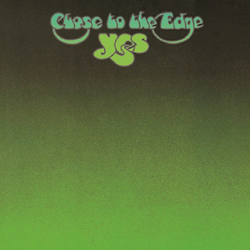 Which brought me to my final test for any portable device, my magnificent Noble Katanas, which sit at the extreme opposite end from the HE6se in that they are hard to drive because they are the most efficient headphone I have come across, which demands an extreme noise floor, putting the rated 128 dB SNR to test. Playing first silence, then Yes' "And You And I" (DSD – Close to the Edge"), the EarMen TR-Amp was dead silent, with an amazingly quiet noise floor. Overall the sound was musical, expansive, dynamic, and detailed, with the huge soundstage I had become accustomed to, and that same deep extended bottom end I noted with the ETHER C Flows.
Lest you think I forgot, it became time to hook up the EarMen Donald DAC. For this test I used my reference amplifier the Questyle CMA 800 R, with a 2 meter Cardas Iridium Power Cable and a pair of 1 meter Cardas Iridium Interconnect, and the MrSpeakers ETHER C Flow headphones, so we are talking about 100% the sound of the DAC here.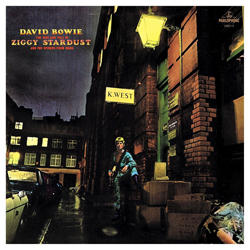 Given a different amplifier, and completely different DAC chip, one can expect to get a vastly different sound, so I was taken completely by surprise to hear that same stadium-sized soundstage listening to "Lady Stardust" (24-bit/192kHz) from David Bowie's epic "The Rise and Fall of Ziggy Stardust". If Bowie had ever performed at the Hollywood Bowl this is what it would have sounded like. The piano was crisp and bright without any harshness or distortion. The placement of instruments was picture perfect, which is quite the accomplishment with a studio recording. The bass and percussion had real snap. And all of this from a hundred dollar DAC.
Conclusions on the EarMen Donald DAC & TR-Amp:
The EarMen Donald DAC is an excellent DAC for a hundred dollars and a great addon to an inexpensive receiver or integrated amp that doesn't have a built-in DAC. There are quite a few headphone amplifiers in the under $500 price category that could be greatly enhanced by the Donald. But, as I mentioned at the start, the real diamond here is the EarMen TR-Amp. It should easily dominate the under $500 market for amps, without even considering the wonderful DAC that is built-in. It is musical, with a rarely matched noise floor, great dynamics, a razor flat tonal balance, and a glorious soundstage. Miki has knocked it out of the park this time, as with is legendary Auris products.
I would happily recommend either of these products in a heartbeat, though for only a little over twice the price, the TR-Amp is well over three times the product. The TR-Amp was straight plug and play, and worked flawlessly every time, with any format, there are even drivers for my old Windows box. The Donald was a little more finicky, though certainly not as demanding as some.
And again, the amplifier in the EarMen TR-Amp is mind-boggling, able to drive most everything I threw at it, with musicality. Though I didn't have space for every headphone in my collection, I did concentrate on the more difficult ones. A perfect match for the EarMen TR-Amp, in my mind, though I don't have a pair to test with, would be a pair of the New Dan Clark Audio AEON 2 either the open or closed depending on your preferences, but I am sure that it would bring out the most in even less expensive headphones. As to IEMs, I can't think of a single one that couldn't be brought to its full potential with the TR-Amp. A definite two thumbs up for the EarMen Donald DAC and TR-Amp.
Manufacturer's Website: https://earmen-shop.com/