Since its inception the portable headphone amplifier has been the cornerstone of Personal Audio, and FiiO has been no stranger to the portable headphone amplifier market. Hence it is no surprise that to follow up the introduction of their new IEMs and the upgraded versions of their famous DAP models, that they would release a new Flagship Bluetooth Portable DAC/Headphone Amplifier, the FiiO Q5. And versatility is the name of the game. Not only is it aptX Bluetooth compatible, it is able to accept digital signals via USB (with up to DSD 256 and PCM 32/384 kHz support), Apple Lightning, WM-Port, S/PDIF via optical or coaxial connection and of course analog signals as well. The Q5 uses the same Amplifier Modules as their much lauded X7 Mark II, meaning you have an amplification option for almost any application and is both MFi and Hi-Res Audio Certified. The Q5 DAC boasts dual AK4490EN DAC chips with dual OPA1642 low pass filters, while USB input is handled by an XMOS XUF208 microcontroller for added stability and reliability. To insure high performance and extended battery life, the Q5 employs seven independent power supply circuits. So as to avoid noise and insufficient charging power via the USB from your audio source, there are separate micro USB ports for digital signal and charging.
The Package:
The FiiO Q5 came in an elegant black box with an outer retail display picture box. The unit itself is breast pocket sized, about the size of a small cell phone and twice the thickness (if you are familiar with X7 Mark II, it's profile is based on the amplifier module, making it slightly smaller in height and width than the X7 Mark II, but the same thickness). It is beautifully machined from aluminum with a "polyurethane leather" panel on the backside to protect both the finish and whatever surface it is laid upon. On the left side along with the USB charging port and small hole for the reset button, are three tactile buttons; previous track, pause/play/Bluetooth (on/off/pair), and next track/input (optical/coaxial/line). On the bottom you have the USB data port along with the single ended and balanced outputs (this may vary slightly with other amp modules, it comes with the same AM3A module as the X7 Mark II). The right side houses the volume control knob, power button (with built in indicator light) and DSD indicator light. On top there is a gain switch (hi/low), a bass boost switch, the combination optical/coaxial/line input port and the line output port. And the face is smooth and blank except for a small slot between the body and amplifier module for the multi-color indicator light (white: USB input, green: line input, purple: optical input, yellow: coaxial input, blue: Bluetooth input, red: battery status). For accessories it came with a nice mesh fabric carrying pouch, a Lightning to micro USB cable, an USB to micro USB cable, a coaxial (RCA) input adapter, an optical input adapter, a 3.5mm stereo to 3.5mm stereo cable, two long rubber straps, two short rubber straps, a silicone non-slip mat, a Torx screwdriver (for changing amp modules) with a supply of spare module screws, and a handy indicator light cue card, basically everything you need to use the Q5 except for a source and headphones.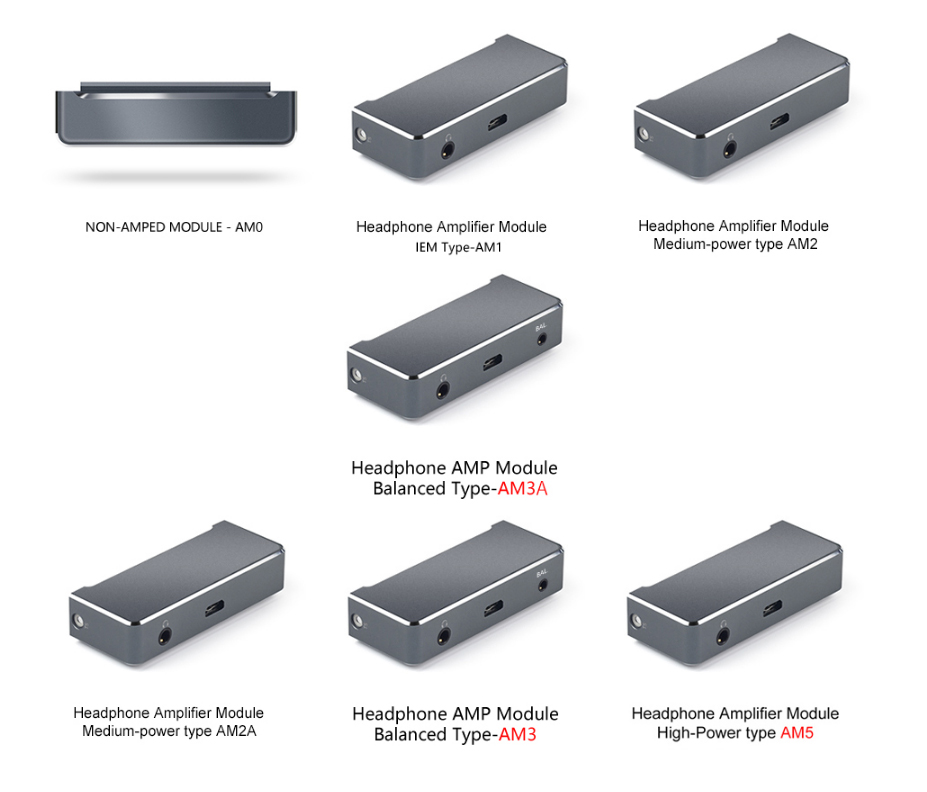 The Experience:
Installing drivers to work with Windows was incredibly painless, I simply downloaded them from the FiiO website, ran the setup.exe and when I plugged in the Q5 it connected immediately. They also offer a download of foobar2000 with instructions of how to set it up, but I use JRiver as I find it sounds better (weird but true), and it was simply a matter of going into the settings and selecting the FiiO, making sure the DSD bitstreaming was on and I was good to go.
Connecting to the phone was also glitch free, I just put the Q5 into Bluetooth mode and looked for it on the phone, a simple tap and I was connected.
I began my sound checks using my MrSpeakers ETHER C Flow Orthodynamic headphones connected to the single ended output. The sound via Bluetooth was astonishingly good, much better than one should expect. I was able to get good volumes in the high gain mode (I ran at a little over half volume). Listening to The Who's "I Can't Explain" (The Ultimate Collection – 16/44.1 kHz) the attack on the percussion and guitar was succinct and crisp and the bass guitar was rich and full. The soundstage was small club.
Switching to the MrSpeakers AEON Flow Opens, which I felt to be a more practical match for the Q5 budget wise, I compared the Bluetooth output to the analog output of the phone through the Q5 using a 24/48 kHz recording of "Wallflower (Instrumental)" by Peter Gabriel and his New Blood Orchestra from the album New Blood. Via Bluetooth the soundstage was immediate but large and the tonality was rich and full, offering a feeling of front row box seats in a theater with good acoustics. The piano was powerful with a deep Kimball piano sound. Direct from the line out of the phone the tonality was a lot thinner, but offered a deeper soundstage. Engaging the bass boost (which is more of an upper bass & lower midrange boost) brought the tonality more in line with that of the internal DAC via Bluetooth.
The optical input produced a more resolute representation of 16/44.1 kHz with a more spacious soundstage. The bass on Jean-Luc Ponty's "Mirage" (Enigmatic Ocean) was tighter but still rich and full and the violin was sweet and musical.
Moving up to the USB input it was time to compare the single ended to the balanced outputs. Cuing up "And You And I — I. Cord of Life, II. Eclipse, III. The Preacher the Teacher, IV. Apocalypse" off of Yes' Close to the Edge to take full advantage of the DSD, there is no question that the Q5 would make an excellent budget desktop DAC/amp, especially considering that you can charge while playing, though you should get slightly better performance running off the battery. I was treated to an in studio performance with lifelike tonality, and a warm musicality. Yet when using the balanced output it was like moving from the studio to a concert hall, with greater dynamic range, a larger soundstage, and better stereo separation. The tonality seemed a bit more relaxed, but I did notice, oddly enough, a slight reduction of bass extension, though not likely to be of concern for most listeners.
Breaking out the 1MORE Dual Driver IEMs I was reminded of why they are my favorite budget IEM. Seu Jorge's silky basso voice was rendered with spine tingling texture while he sang his rendition of "Life on Mars" (The Life Aquatic Studio Sessions – 16/44.1 kHz).
The Takeaway:
As I've mentioned before, FiiO's AM3A amplifier module pretty much represents the pinnacle of what a chip based solid state amplifier can achieve and matched to the Q5's excellent dual AKM DAC it provides a rich and rewarding audio experience. The FiiO Q5 Flagship Bluetooth & DSD-Capable Portable DAC/Headphone Amplifier never faltered regardless of source or headphone and showed epic versatility well worth the modest price. While it would never replace a high-end DAP, it is a first rate choice for those who rather enhance their smart phone's capabilities or just want a low cost portable desktop unit for use with a laptop or tablet.
http://www.fiio.net/en/products/83
Price: $349.99 USD
Specifications:
Model
Q5
Color
Titanium
Weight
About 195g
Dimensions
About 124mm x 64mm x 16mm
Audio Input
Standard 3.5mm Port (Shared Line / Coaxial/ Optical in)
Digital Coaxial Input Port
Standard 3.5mm Port (Shared Line / Coaxial/ Optical in)
Digital/Optical Input Port
Standard 3.5mm Port (Shared Line / Coaxial/ Optical in)
USB Port
11-pin Micro USB at the bottom side, for data exchanging and charging5-pin Micro USB on the left side, for charging only by default(Can be interchanged via App)
Analog Input port(LO)
Standard 3.5mm stereo jack
Headphone Output Port
Standard 3.5mm stereo jack
Balanced Output Port
2.5mm port
Recommended Headphone Impedance
16~150Ω(PO)16~300Ω(BAL)
Channel Balance
0.1 dB
Gain
Yes(High/Low)
Bass Boost
Up to 384kHz/32bit supported
Volume Control
Potentiometer(ADC Sampling)
Power Supply
DC5V 2A (Recommended)
Battery Capacity
3800 mAh
Charge Time
≤3.5 h (DV5V 2A,USB port on the side)
Battery Life
>25 h (AUX IN)
>10 h (USB IN)
>10 h (OPT IN)
>10 h (COAX IN)
>10 h (Bluetooth IN)
Charging Indicator
Red light flashes when being chargedRed light goes off after fully charged
Low Battery Warning
Red light flashes twice every 3 seconds
Bluetooth
Bluetooth 4.2, supports aptX, AAC, SBC
MFi
Yes
Sampling Rate Supported Up to
384kHz/32bit(USB IN)
192KHz/24bit(COAX IN)
96KHz/24bit(OPT IN)
DSD Support(USB IN)
DSD64/128/256
Chips Used
DAC: AK4490EN * 2 , USB: XMOS XU208 , Bluetooth: CSR8670 , LPF:OPA1642×2,Volume IC:NJW1195 OP+AMP:AD8620+OPA926
Line output specifications
THD+N
<0.001% (1 kHz/10kΩ)
SNR
≥115 dB (A-weighted)
Frequency Response
5 Hz~90 kHz(-3dB)
Channel Separation
>97 dB (1 kHz)
Line level
1.8 Vrms
AM3A Headphone out specifications (3.5mm headphone out jack)
Output Power 1
≥230 mW(16Ω / THD+N<1%)
Output Impedance
<1.4Ω (32Ω loaded)
Output Power 2
≥160 mW(32Ω /THD+N<1%)
Channel Separation
≥73 dB (1 kHz,AUX IN)
Output Power 3
≥24 mW(300Ω / THD+N<1%)
THD+N
<0.001% (1 kHz)
Frequency Response
5 Hz~50 kHz(-3dB)
Peak Output Voltage
>6 Vp-p
SNR
≥115 dB (A-weighted)
Max. Output Current
150mA (For reference)
Max. Input Level
3.8 Vrms
Balanced headphone out specifications (2.5mm TRRS headphone out jack)
Output Power 1
≥470 mW(16Ω / THD+N<1%)
Output Impedance
<2Ω (32Ω loaded)
Output Power 2
≥440 mW(32Ω /THD+N<1%)
Channel Separation
≥99 dB (1 kHz,AUX IN)
Output Power 3
≥93 mW(300Ω / THD+N<1%)
THD+N
<0.001% (1 kHz)
Frequency Response
5 Hz~50kHz(-3dB)
Peak Output Voltage
>10.5 Vp-p
SNR
≥115 dB (A-weighted)
Max. Output Current
150 mA (For reference)
Max. Input Level
3.8 Vrms