Back when I reviewed the HIFIMAN DEVA Pro Headphones & Bluemini R2R DAC I was completely floored by the sound of HIFIMAN's HYMALAYA R2R DAC chip, so when I was approached with the opportunity to review the HIFIMAN EF600 R2R DAC & Headphone Amp fitted with the HYMALAYA Pro (two in fact) along with the wonderful HIFIMAN AUDIVINA Closed-Back Planar Magnetic Studio Headphones, I jumped at the chance.
As a musician who has had to mix all of my own recordings, I can attest that the mix is only as good as the playback system. If your headphone emphasizes one particular frequency, then instruments that operate in that frequency are going to be suppressed, and likewise, if your headphone lacks speed and detail, then instruments with sharp transients will be over-emphasized in the recording. The same goes for soundstage, the soundstage in a studio recording is artificial as most instruments are recorded using a single microphone or are plugged directly into the mixing board and are therefore mono, so placing that instrument properly in space requires an extremely accurate playback system. Of course, another significant factor is isolation, your headphone needs to block out external sounds that might influence the mix. To hit this mark HIFIMAN has introduced the HIFIMAN AUDIVINA Closed-Back Planar Magnetic Studio Headphones.
The HIFIMAN AUDIVINA Closed-Back Planar Magnetic Studio Headphones:
To achieve reference quality sound HIFIMAN has combined the acoustical properties of wood with their cutting-edge Planar Magnetic drivers in a package that is not only beautiful but extremely ergonomic and comfortable to facilitate those long hours of listening that are required in a professional environment.
They start with HIFIMAN's critically acclaimed Acoustically Invisible Stealth Magnet which reduces wave diffraction turbulence of the sound waves as they pass through it greatly reducing distortion. To this, they add their NEO "supernano" Diaphragm (NsD), which is less than 2 microns thick, resulting in a faster more detailed response. Next comes the curved resonance chamber whose design was inspired by the highly respected acoustic architecture of the Bayreuth Festival Theater in Germany which features multi-stage attenuation as the sound takes a circuitous route through the chamber thus creating an extremely wide soundstage that is usually associated with open-backed headphones with the full range frequency response of a closed-back design.
The AUDIVINA uses the same ergonomically designed metal and perforated leather headband as their top-of-the-line models and Earpads made from an eco-friendly, silky leatherette material with high-tech fabrics.
The look of the HIFIMAN AUDIVINA is unique in the HIFIMAN lineup as it employs an oval wood Earcup.
What came as a surprise is that the HIFIMAN AUDIVINA comes with three headphone cables, a 3m 4-pin balanced XLR cable, a 3m 6.35mm TRS single-ended cable, and a 1.5m 3.5mm TRS single-ended cable.
The HIFIMAN EF600 R2R DAC & Headphone Amp: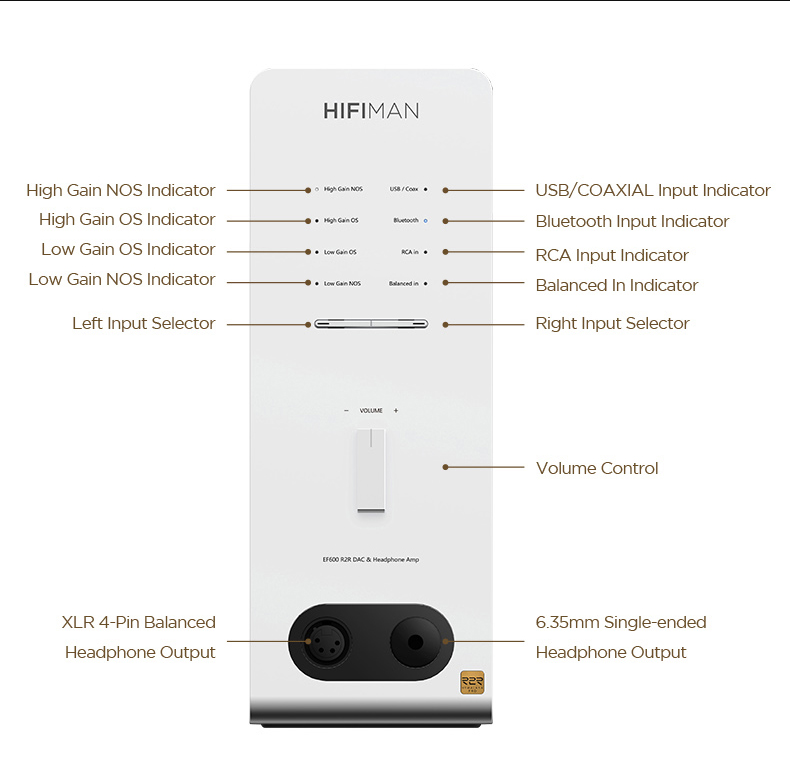 The HIFIMAN EF600 R2R DAC & Headphone Amp is part of HIFIMAN's reference line. Taking a fully balanced dual mono approach the EF600 uses two HYMALAYA Pro R2R DAC chips and a four-channel volume attenuator. Showing their dedication to top performance HIFIMAN employs Oxygen-Free Copper in the EF600's toroidal transformer.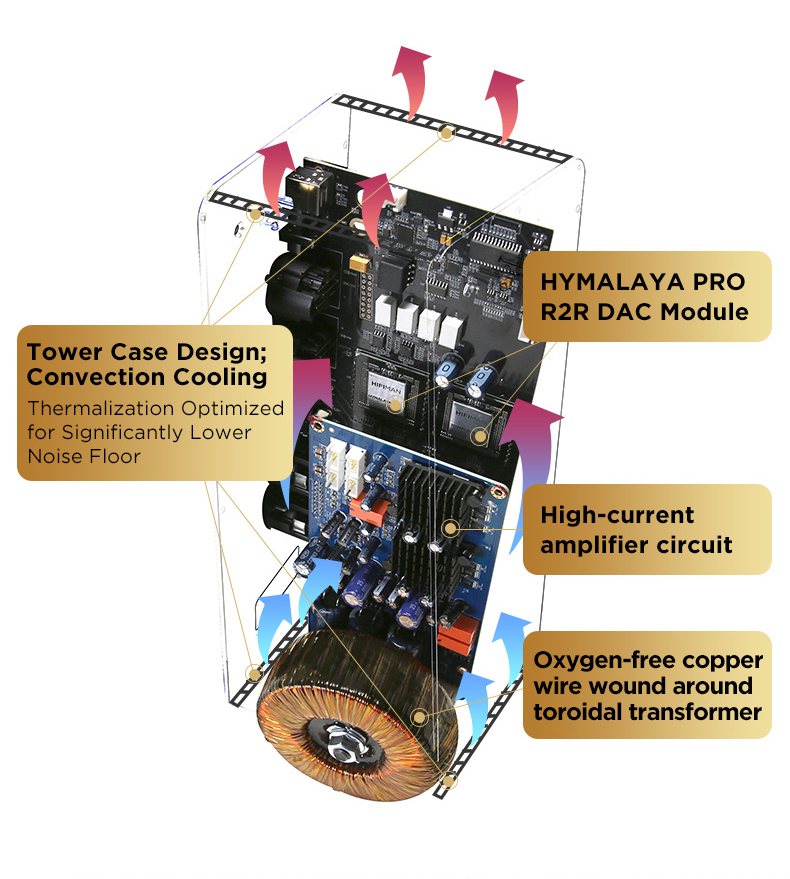 For features the HIFIMAN EF600 R2R DAC & Headphone Amp offers:
Fully balanced dual mono architecture.
Dual HYMALAYA Pro R2R DAC chips with 118dB SNR & 131±3dB channel separation
Switchable Non Oversampling support up to 32-bit/192K PCM and DSD256
High-Resolution Bluetooth Wireless Audio supporting LDAC, aptX HD, aptX, AAC, and SBC
Oxygen-Free Copper wire wound toroidal Transformer
High-current amplifier circuit
Tower Case Design with Convection Cooling
Elegant, Bauhaus-style Industrial Design with built-in headphone stand
USB-B and USB Type-C digital inputs
Coaxial S/PDIF digital input
Balanced 3-pin XLR analog inputs and pre-amp outputs
Single-ended RCA analog inputs and pre-amp outputs
4-pin XLR balanced headphone output
¼" TRS single-ended headphone output
Switchable dual voltage AC 115V/AC 230V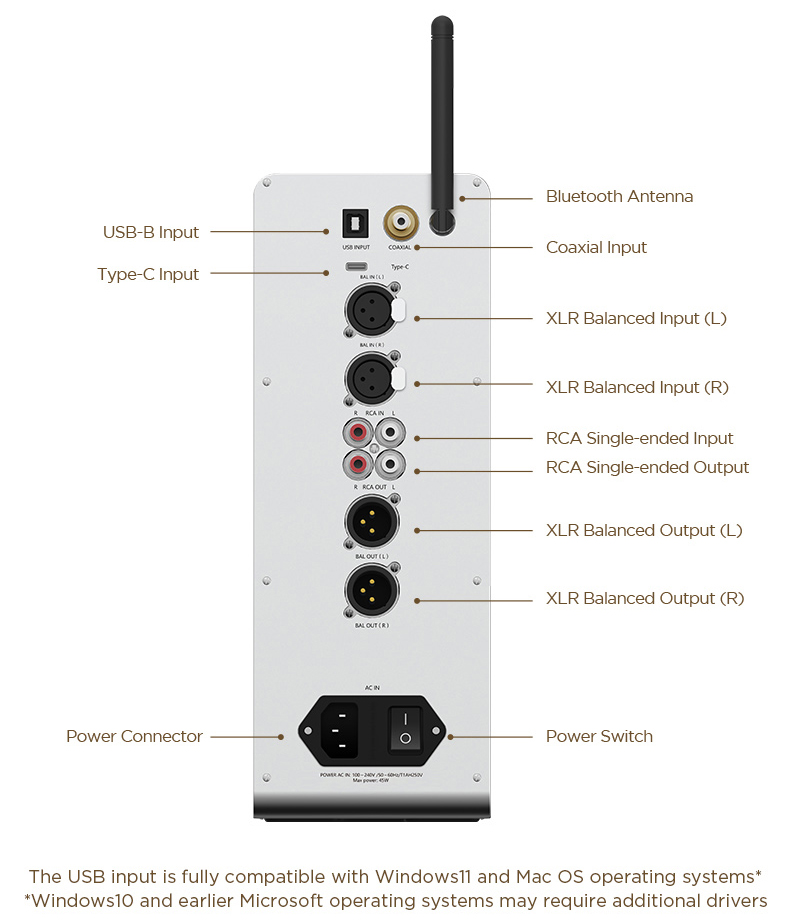 Living with the HIFIMAN AUDIVINA Closed-Back Planar Magnetic Studio Headphones & HIFIMAN EF600 R2R DAC & Headphone Amp: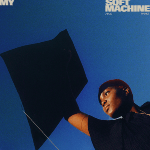 My original intent was to review the HIFIMAN AUDIVINA Closed-Back Planar Magnetic Studio Headphones with the HIFIMAN EF600 R2R DAC & Headphone Amplifier but the EF600 was back ordered due to high demand so it arrived a week later so I began my listening tests of the AUDIVINA with my reference system which consists of a FiiO R7 Music Server, LSA VT-70 Tube Integrated Amp, Audio-gd R2R-1 DAC, Black Dragon Cables, and Core Power Technologies A/V Equi=Core 1000 (I used the R7 by itself to burn in the AUDIVINA with the balanced cable, and the new FiiO M15S [subject of a future review] to burn in the single-ended cable). Per usual I started with New Release tracks on Qobuz, to wit, "My Soft Machine" (24-Bit/44.1kHz – Qobuz) by Arlo Parks. Immediately noticeable was the clarity and AUDIVINA's ability to highlight the slightest nuance, be it a quiet ride cymbal in the background or some other obscure percussion instrument despite an overwhelming bass track.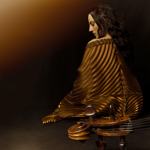 Switching to Maya Beiser's "Infinite Bach" (24-Bit/48kHz – Qobuz), the solo cello performance was set in a vast hall, and the timbre of the cello was natural, rich, and tuneful.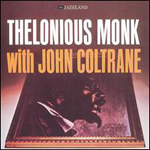 As this didn't tell me enough about the tonal balance I moved on to "Thelonious Monk with John Coltrane") (24-Bit/192kHz – Qobuz) and once again the soundstage was vast. The overall tonal balance was neutral flat with a slight emphasis on the extreme top end. The piano had weight on the bottom end with a crispness to the upper registers. The reproduction of both the piano and the tenor sax was blisteringly fast enunciating every note no matter how speedy the performance. The upright bass had that just right volume you would expect from an unamplified acoustical instrument, and as with the other instruments, tight and realistic. The same could be said for the drums, palpable and precise.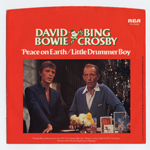 Swapping out the R2R-1 and VT-70 for the HIFIMAN EF600 R2R DAC & Headphone Amplifier, using the balanced output I set it to "Low Gain NOS" (Non Oversampling). Since I had been using my HiFiAudio.Guru playlist to burn in the EF600 (https://open.qobuz.com/playlist/10673532) I decided to stick with that and pick a song at random which turned out to be "Peace On Earth/Little Drummer Boy" (24-Bit/96kHz – Qobuz) as performed by David Bowie and Bing Crosby. The synergy between the AUDIVINA and the EF600 was epic, providing a vast soundstage with a solid three-dimensional image of an enveloping orchestra and a natural musical presentation of the instruments not to mention their voices.
The perception of musicality smoothing out the hot high end continued as I listened to several random selections, with solid tight bass, snappy textured percussion, and realistic vocals as well as nice depth of field. It is rare that I would pick a solid-state amp over tubes, but this is one of those rare cases where the match between electronics and headphone is so perfect that any other system just won't do.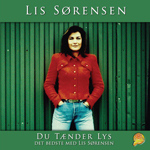 I performed some quick comparisons of the OS vs NOS using Lis Sørensen's "Brændt" ("For Fuld Musik: Du Tænder Lys Det Bedste Med Lis Sørensen" – 16-Bit/44.1kHz – Qobuz)and I found the NOS to be smoother and clearer. This held true for other higher-resolution tracks also.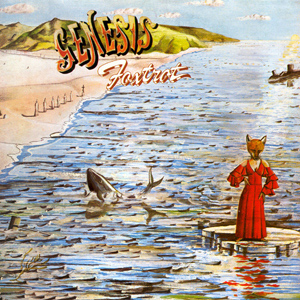 The ring of the triangle for "Can-utility And The Coastliners" by Genesis ("Foxtrot" – DSD) held longer than I ever remember it doing and the sub-bass was excellent.
To test Bluetooth I connected to my Motorola Moto G Power phone via LDAC and queued up "Tchaikovsky: The Tempest, Francesca da Rimini, The Voyevoda, Overture and Polonaise from 'Cherevichki' (Qobuz Edition)" (BBC Scottish Symphony Orchestra, Alpesh Chauhan conducting – 24-Bit/96kHz – Qobuz) and the results were spectacular. A large soundstage, fantastic dynamics, pinpoint imaging, and natural timbre to the instruments.
I made a final test using my Audio-gd R2R-1 via the balanced inputs on the EF600 which, as one would expect from a DAC that costs more than the entire DAC/headphone amplifier, was a little higher resolution than the built-in R2R DAC clearly demonstrating that the balanced inputs are well worth having for use with analog sources.
Conclusions on the HIFIMAN AUDIVINA Closed-Back Planar Magnetic Studio Headphones & HIFIMAN EF600 R2R DAC & Headphone Amp:
The HIFIMAN AUDIVINA Closed-Back Planar Magnetic Studio Headphones and HIFIMAN EF600 R2R DAC & Headphone Amp are everything promised and more, the synergy between these two products is simply jaw-dropping and I can't see myself listening to the AUDIVINA with anything other than the EF600. Likewise, I experimented with other headphones, specifically the HIFIMAN HE6se and the Dan Clark Audio ETHER C Flow, but neither performed as well with the EF600 as the AUDIVINA. That being said, the EF600 seems to be ideally tailored to HIFIMAN headphones and would be a good match with anything from the DEVA to the SUSVARA.
If you are looking for that studio sound, with solid bottom end, extreme detail on the top, and a huge soundstage, then the HIFIMAN AUDIVINA and HIFIMAN EF600 are a perfect choice, and at a combined cost of less than $2,800 a bargain as well.
Price:
HIFIMAN AUDIVINA: $1,999
HIFIMAN EF600: $799
Manufacturer's Website:
https://hifiman.com/products/detail/332
https://hifiman.com/products/detail/331
Specifications:
HIFIMAN AUDIVINA:
Frequency Response: 5Hz-55kHz
Sensitivity: 97dB
Impedance: 20Ω
Weight: 470g
HIFIMAN EF600:
Signal to Noise Ratio: 118dB(A Weighted)
Channel Separation: 131dB±3dB THD+N ( Line out ) : 0.0014%(-8dB)
Max Power Output:5.12 WPC@32Ω balanced/1.8 WPC@32Ω unbalanced
Codecs: AAC/SBC/aptX/aptX-HD/LDAC
Weight:~2.86kg (including Bluetooth antenna)
Dimension: see below graphic for all details