I'll admit that Sendy Audio is new to me, though they have been around for a few years and have built up quite a following, so it was with great anticipation that I accepted our good friend Walter Liederman of Underwood HiFi's (www.underwoodhifi.com/) offer to send me a pair of Sendy Audio Peacock Planar Magnetic headphones for review.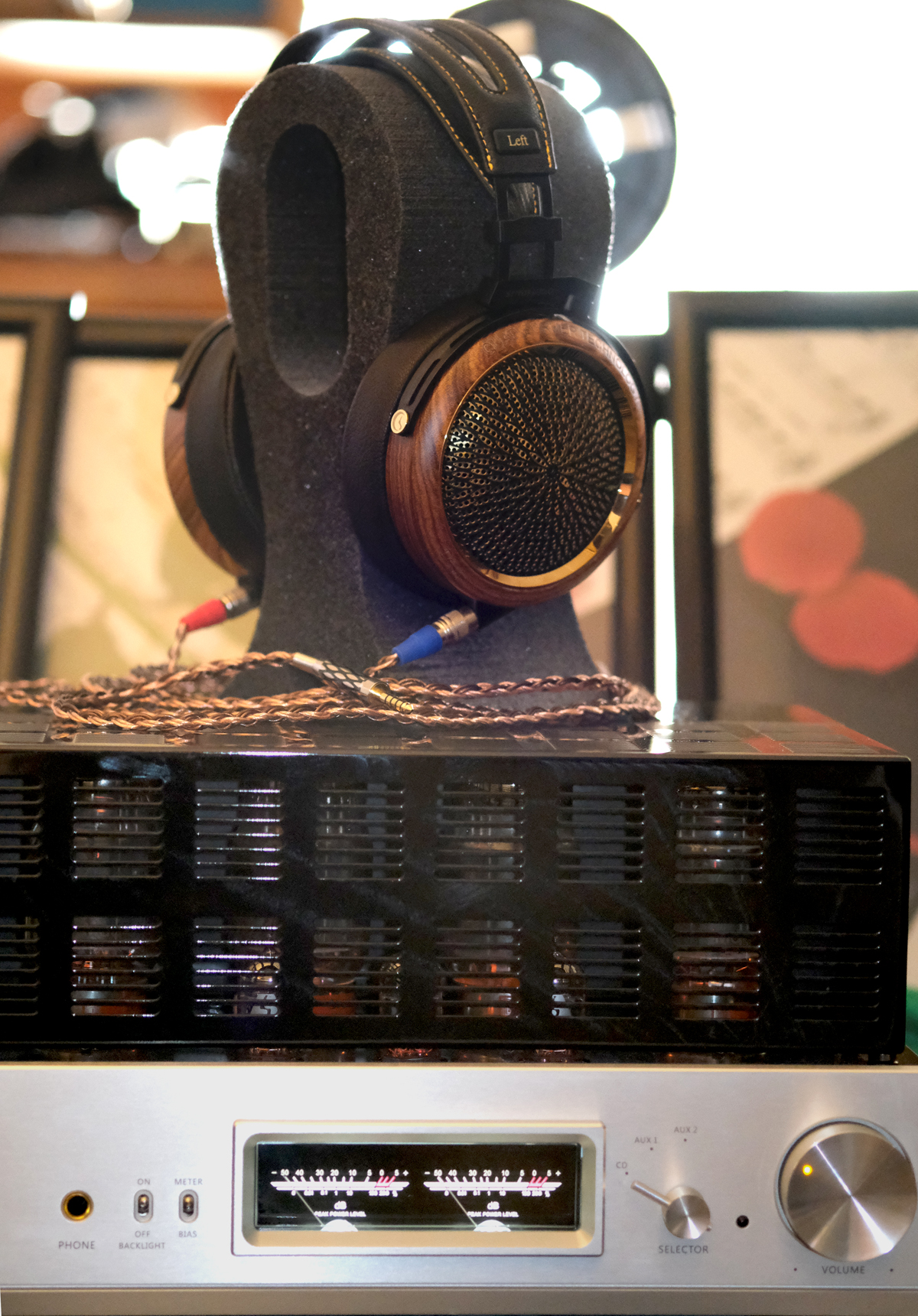 The Sendy Audio Peacock Planar Magnetic Headphone:
My first impression upon opening the outer shipping box containing the Sendy Audio Peacock was one of elegance and refinement. This began with the heavy cardstock dual-layer display box, and continued with the heavy brown leather and bronze hard shell carrying case, the hemp accessory bag, the cable and cable adaptors, and ended with the headphones themselves, lovingly crafted from hand-finished woods, leather, and metal with gold accents. I was especially pleased to note that they used the same SN-8-4(P) connectors on the cables that Dan Clark Audio uses, which is my favorite overall, and went on to find that their earpiece gimbal assembly also closely resembles Dan Clark's designs.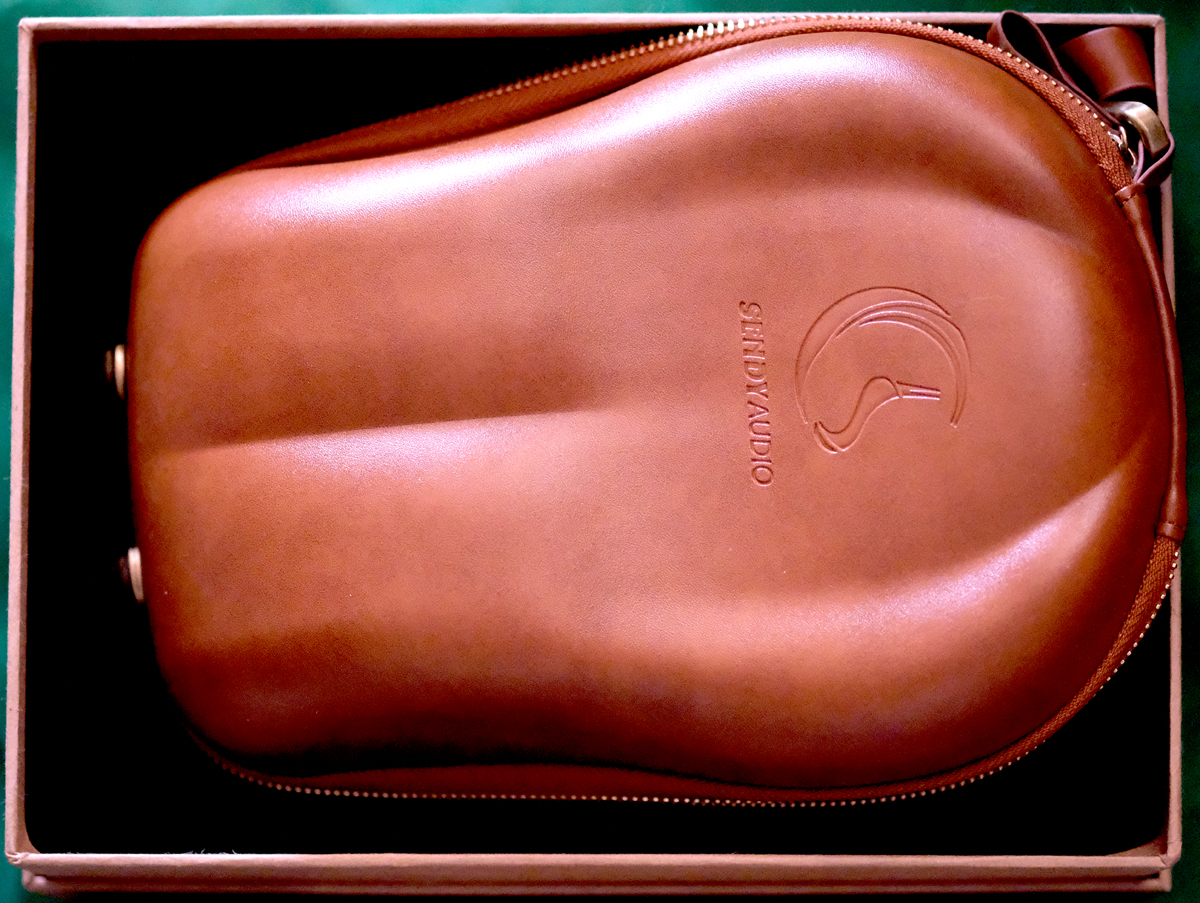 The build quality and machining appear to be top-notch, including the use of screws for critical and non-critical parts (like the headband leather) rather than rivets or glue. Despite the fact that the cable connections aim forward making left and right obvious, the earcups are clearly marked "Left" and "Right" on both the outside and inside leaving no doubts, unlike many headphone manufacturers whose markings are hard to find or simply not there as they don't seem to care which is which.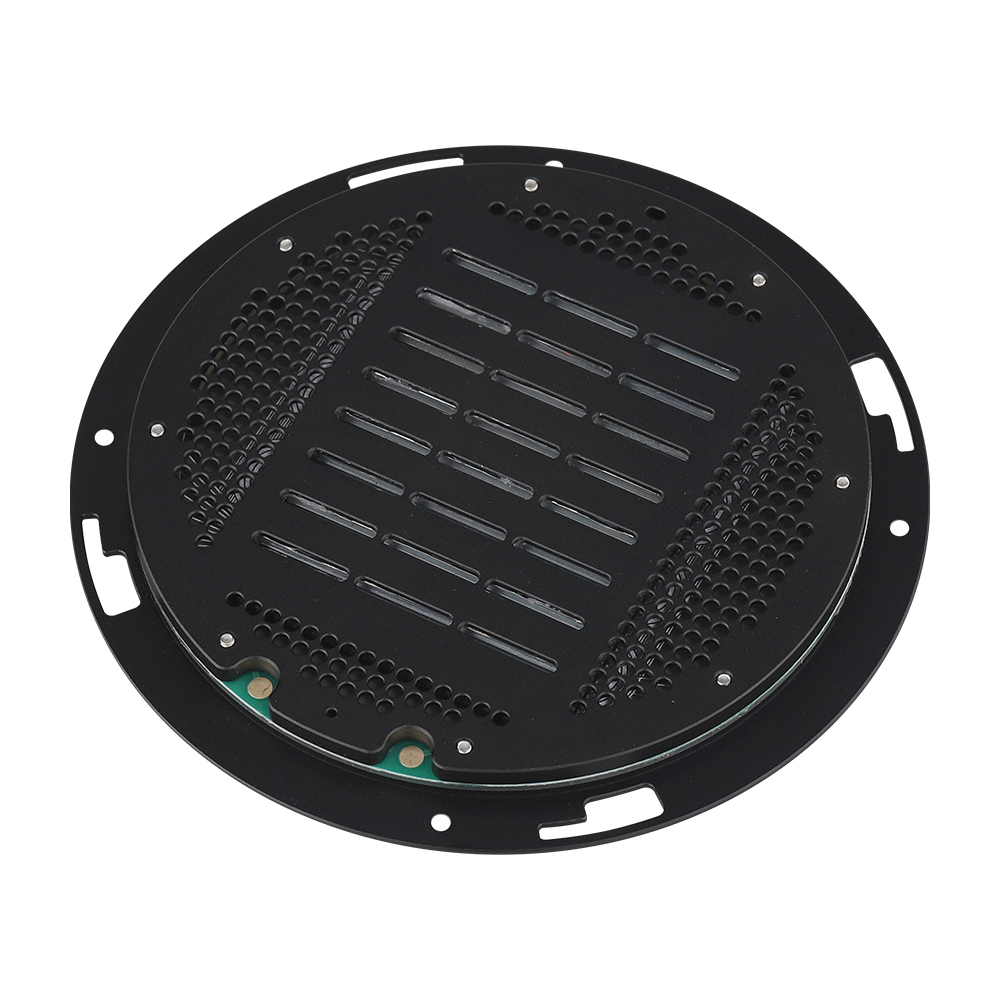 The Sendy planar magnetic drivers employ QUAD-FORMER Technology (the planar magnetic driver is composed of two coils on each side of the diaphragm for a total of four between two sets of magnets) which provides a more balanced propulsion across the whole of the diaphragm for greater speed and accuracy. The 88mm diaphragm is made of an ultra-thin and high rigidity composite material, which ensures that the high frequencies are bright and transparent without harshness, offering a high-frequency extension to 40KHz producing a wide and natural sound stage.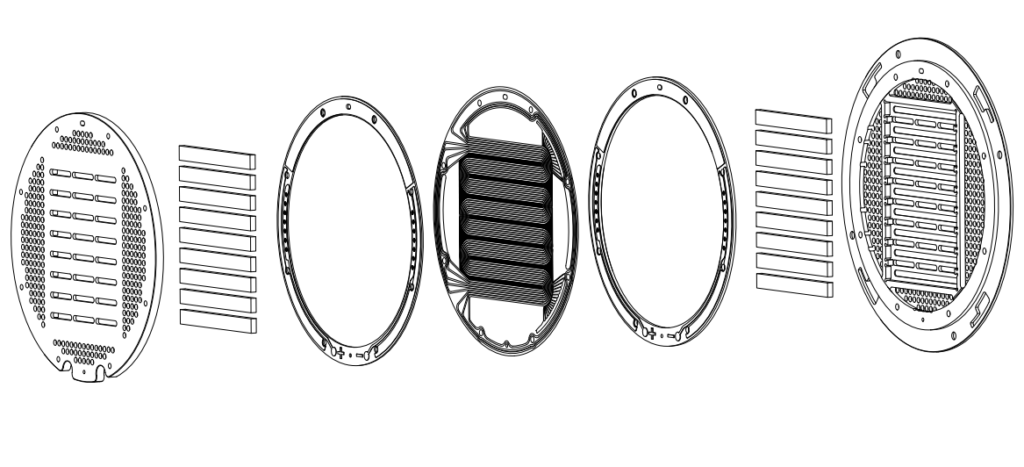 The driver housing is made of aviation aluminum material with precise CNC machining with the precise placement of the holes determined by hours of testing and experimentation to maximize linearity and uniformity of production.
Gold color embroidery thread and soft goatskin are combined together to create an ergonomic and comfortable headband with a unique and exquisite design. The detachable earpads are also made from goatskin incorporating a memory-foam interior to produce an ergonomic and special-shaped earpad that matches the ears perfectly and prevents sound leakage.
The headband brackets and gimbals are made of aviation aluminum for high strength, durability, and low weight.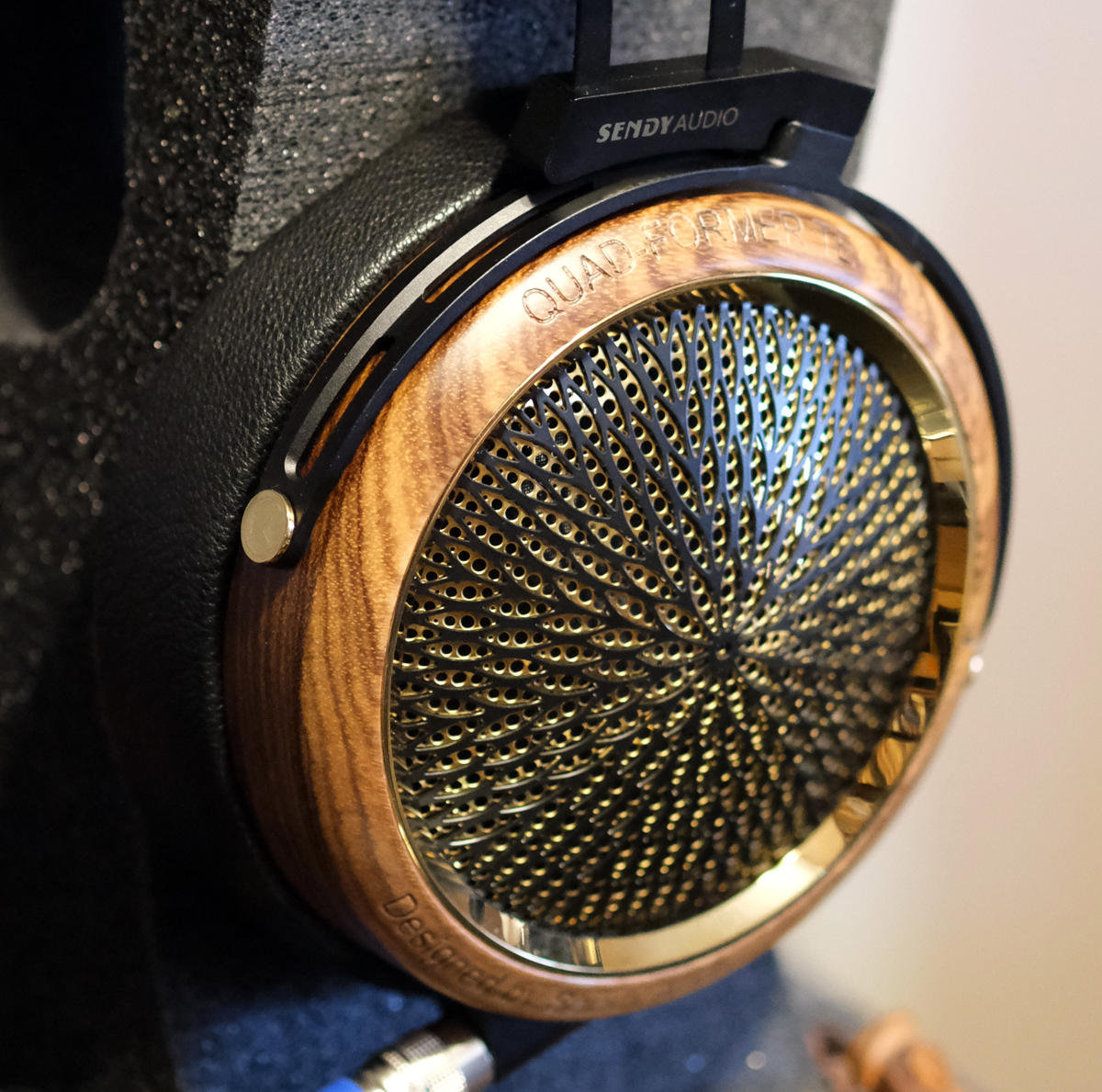 The peacock design of the earcup grill that lends the headphone its name not only provides a stunning appearance but is actually fine-tuned to control the backpressure thus giving the headphone its sonic profile.
It is also noted that all of the gold accents are in fact 24K gold plated.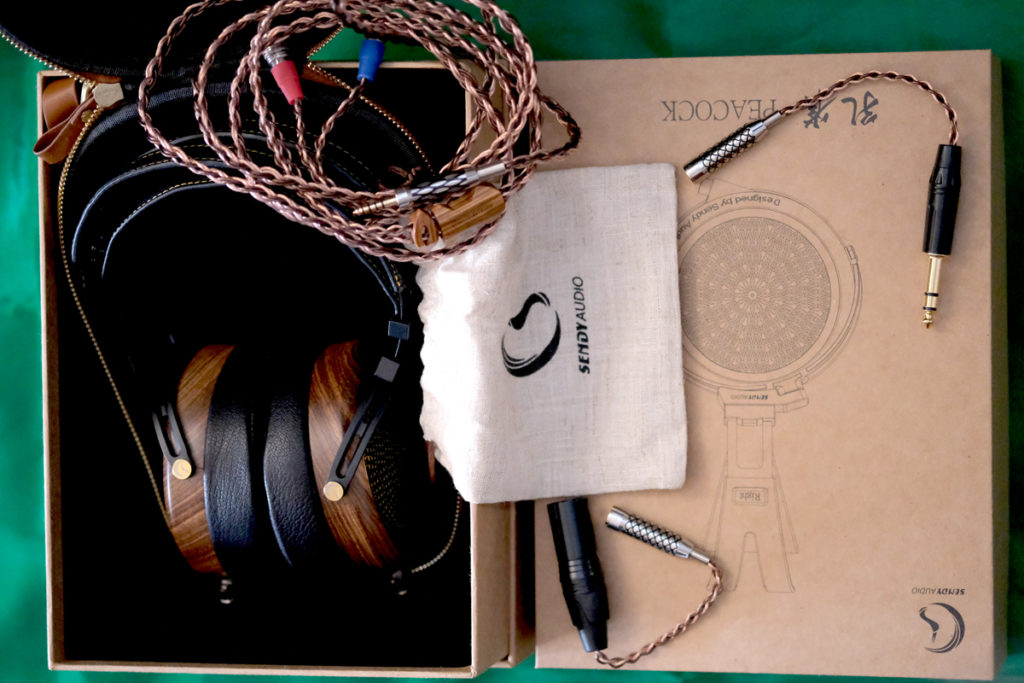 The approximately 7-foot headphone cable is constructed of 8-core 6N OCC braided cable and terminated with a 4.4mm TRRRS balanced connector and 8-core 6N OCC braided cable adaptors with connections for 6.35mm and 4 pin XLR are provided as well.
Living with the Sendy Audio Peacock Planar Magnetic Headphone:
I received the Sendy Audio Peacock headphones just before I had to leave for AXPONA, and I received the Questyle Audio M15 inline DAC/Amp at the same time so despite being assured that the Peacock and been pre-burned in for me, I set them aside to be burned in together using my FiiO M11 DAP as music server playing my Qobuz burn-in playlist, which means they have quite a few hours on them for my listening tests.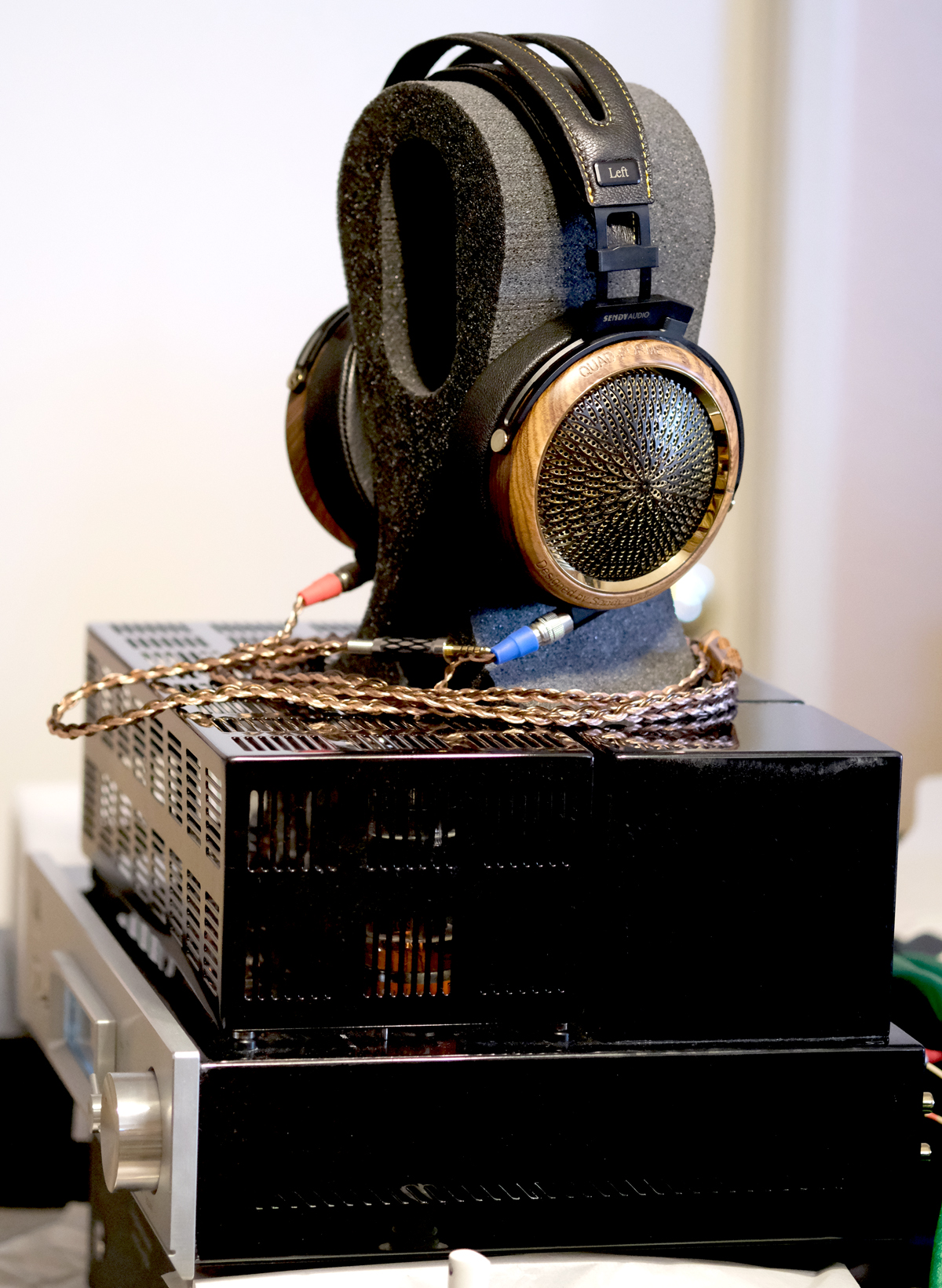 For my first listen to the Peacock I decided to use my current favorite budget-priced tube headphone amplifier the LSA VT-70 Tube Integrated Stereo Amplifier/Headphone Amplifier. For source, I used the Audio-gd R2R-1 FPGA PCM/DSD DAC connected via a pair of Black Cat Cable SilverStar 88 Flatwave single-ended interconnects which I also received recently and had burning in on the system. Per usual power was supplied through the Core Power Technologies A/V Equi=Core 1000 through Cardas Iridium power cords and a Cardas Clear USB cable was used from the signal source.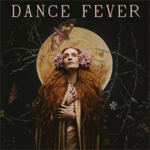 Beginning with "King" from Florence + The Machine's new album "Dance Fever" (24-bit/96kHz – Qobuz) the sound was rich and powerful with very natural vocals, piano, and harp, with excellent dynamics. The soundstage was wide with the bass upstage and the singers, percussion, and other instruments behind. For the final verse, Florence moved up close and personal for a more intimate presentation, while the musicality remained constant throughout.
Ever since I reviewed the LSA VT-70 I have wanted to do a follow-up review using KT88s, and thanks to Frank Iacone, I was given a set of Gold Lion Genelex KT88s to try out (review pending). I was not sure there would be a big difference with headphones, but the truth is that they upped everything to eleven, making the Sendys smoother and tighter.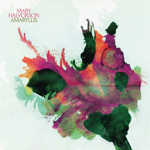 Next up on the roster was "Amaryllis" (24-bit/96kHz – Qobuz) by Mary Halvorson. This blend of vibes, trumpet, trombone, guitar, bass, and drums in interwoven melodies and lead lines typified by the opening track "Night Shift" was lovingly rendered by the Peacock with extreme musicality, and delicate, intricate detail. There was no blur or harshness despite the competition of the plethora of sounds. The upright bass was especially real sounding in a large open soundstage.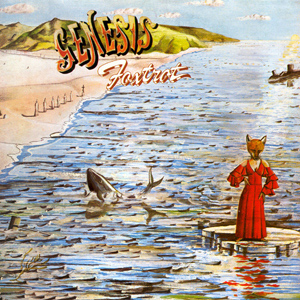 To test the tonal balance with a focus on the subsonic bottom end I put on "Can-utility And The Coastliners" by Genesis ("Foxtrot" – DSD). The sub-bass was deep and meaty with excellent body, while the overall tonal balance was linear and heavily reflected the musicality of the amplifier.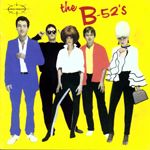 Switching to the iFi Pro iDSD in solid-state mode listening to "Dance This Mess Around" by the B-52's ("The B-52's" – 24-bit/192kHz) showed that despite their musicality the Peacocks give you back exactly what you put into them and don't qualify as what I would call a forgiving headphone that glosses over the blemishes in the music or amplifier. Switching to tube mode revealed a marked improvement in sound, with solid thumping bass, crisp guitar, snappy impactful percussion, and dynamic tactile vocals in a large in-studio experience.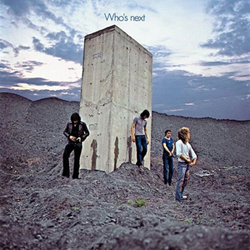 Now was time to step back to the first source mentioned the FiiO M11 DAP, to see how the Sendy stood up to a lower resolution source. Like the iFi Pro iDSD in solid-state mode, the sound was still musical with excellent bass and tonal characteristics, but the upper midrange was a little harder sounding as evidenced by The Who's "Song is Over" ("Who's Next" – DSD). The soundstage had good depth and width, and the piano had a sprightly robust note to it.
As a final test, I swapped out for my reference system with the R2R-1 driving the Manley Absolute Headphone Amplifier, and cued up my primary classical test track (having wanted to leave the best for last) Robert Shaw and Atlanta Symphony Orchestra's performance of Stravinsky's "The Firebird Suite" ("Stravinsky: The Firebird; Borodin: Music from Prince Igor" – 24-bit/96kHz vinyl rip). While the Peacock did bring out the vinyl noise a tad, the reproduction was stellar with a large front row soundstage, and realistic timbre from the instruments. Notable was a passage that transitioned from violin to oboe, to flute, to English horn, back to flute, to piccolo, back to flute, and so forth ending with oboe then silence launching into the first crescendo. The dynamics were spine-tingling and the detail was unbelievable.
As a side note, it was suggested to me that they sound best when moved as far forward on your head as comfortable, as this moves the soundstage forward creating a more three-dimensional image and I found this to be the case during my listening tests.
Conclusions on the Sendy Audio Peacock Planar Magnetic Headphone:
After several hours of listening, I find the Sendy Audio Peacock Planar Magnetic Headphone to be a spectacular sounding headphone with deep rich bass, extended high frequencies, and a laid-back midrange that is totally revealing of the source and electronics. While I suspect solid-state fans will love this headphone, it truly sings with tubes, and seemed a perfect match for the LSA VT-70, especially when I switched over to KT88s, though there was no question that the Peacock ramped up easily to the Absolute.
While there are several headphones for just a few hundred dollars more that can equal the Sendy, the presentation and craftsmanship of the Peacock catapults it into the realm of headphones costing two to three times as much. If you are in the market for a reference headphone, you would do yourself a great disservice to not give the Peacock a listen. Heartily recommended.
Price: $1,499 USD
Manufacturer's Website: https://www.underwoodhifi.com/products/sendy-headphones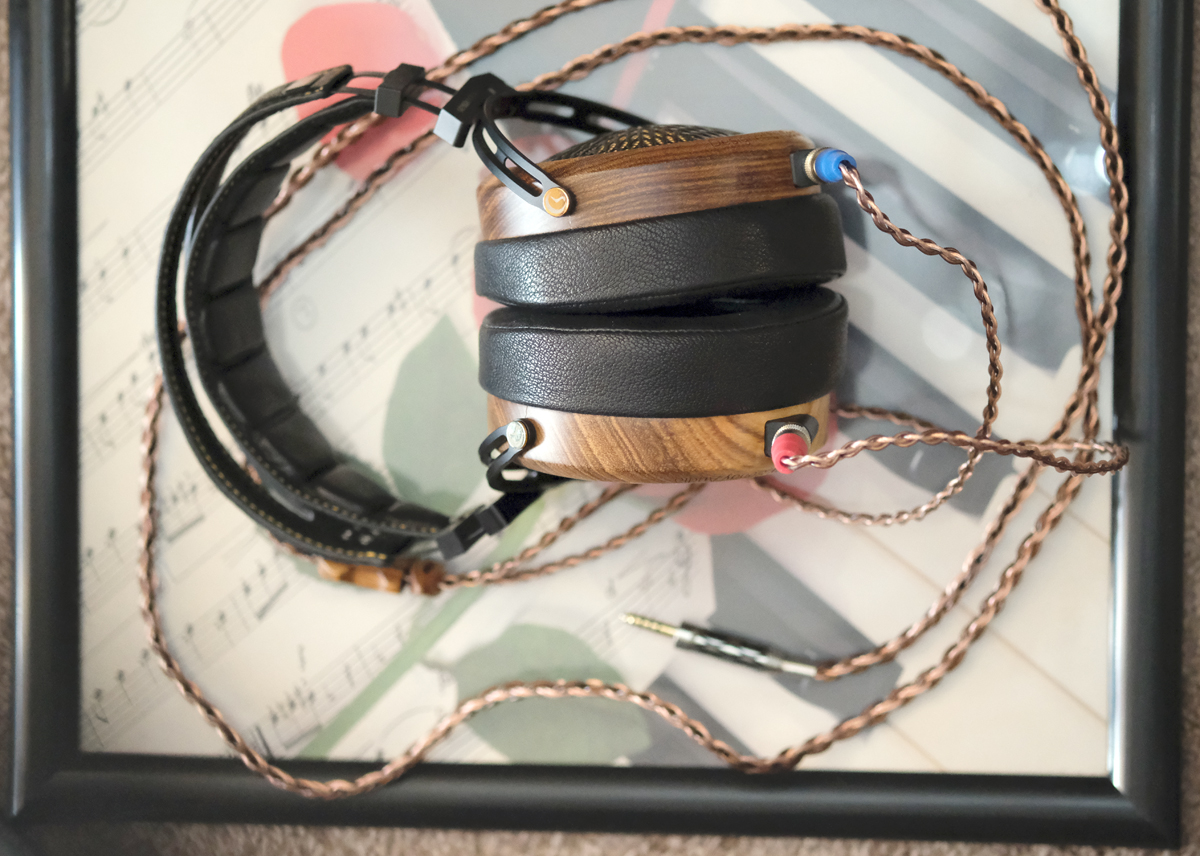 Specifications:
Transducer Size: 88mm
Impedance: 50 Ohm +/- 15%
Sensitivity: 103dB +/- 3dB
Weight: 578g
Style: Open back
Transducer type: Planar magnetic
Frequency response: 20Hz-40kHz
Cable length: 2m
Connector: 4.4bal