When I first started out in the world of personal audio over a decade ago, FiiO was just in its infancy with a small handful of products; mostly portable headphone amplifiers costing less than $100 (heck, many cost under $40). It offered outstanding value for easy to drive headphones and as a gateway drug for the bigger more serious players like Astell & Kern. Well, fast forward to 2019 when FiiO released their flagship level DAPs (digital-to-analog players) the M11 (previously reviewed here: https://headphone.guru/fiio-m11-android-based-lossless-portable-music-player/) and the M11 Pro. Needing an upgrade to my trusty FiiO X5 Mk3, I quickly zeroed in on the M11 Pro as a potential solution. But as soon as I opened the package I purchased for this review, I could tell that the folks at FiiO were now playing the big leagues. The M11 Pro is just absolutely stunning! Everything from top-shelf materials to the large LCD screen and ultra-responsive Android-based GUI (graphical user interface) just exuded flagship-level appearance and performance. This is one beautiful DAP that you can really appreciate holding in your hand. I suppose my only disappointment was that the protective leather case offered in the M11 wasn't included with the M11 Pro. Thankfully that case is separately sold and fits perfectly on this upgrade. Here are some of the key differences between the M11 and M11 Pro:
DAC chip upgraded to AKM4497 vs. AKM4493
Battery capacity up to 4370 mAh vs. 3800 mAh (though total battery life is 9.5h vs. 12h)
Internal Storage: up to 64Gb vs. 32Gb
Distortion: <0.001% improved from <0.002%
Amplification: FiiO has employed the THX-AAA chipset in the M11 Pro vs. the M11 OPA926*2
The upgrade to dual AKM4497EQ DAC chips; along with the THX-888 upgrade in amplification are key to lowering the level of distortion and maximize transparency. In my opinion and budget, the M11 Pro coming in at $649 US hit the nail right on the head. Playing up to a whopping PCM 384 kHz and native DSD256, the M11 Pro can play any high-resolution music you can throw at it (and then some). The total list of product specifications can be found below:
Specifications:
CPU
Samsung Exynos 7872
DAC
AKM4497EQ*2
USB DAC
384kHz / 32bit
DSD
Native DSD256
Display Size
5.15 inches and 312PPI (high pixel density) 1440*720 high resolution
USB Type
Type C USB2.0
Weight
232g
Charging Time
<2.h (QC2.0, 18W Fast-charging)
Battery Capacity
4370mAh
Battery Life
9.5 hours
Output Power
Single-ended: 200mW (32Ω) Balanced: 550mW (32Ω)
Frequency Response
5Hz – 85kHz (-3dB)
SNR (Signal to Noise Ratio)
< 118dB (A-weighted)
Noise Floor
Single ended: < 3µV (A-weighted) Balanced: < 4µV (A-weighted)
Memory
RAM: 3Gb Internal: 64Gb External: microSD up to 2TB expandable * 1 slot
Output Impedance
<1.1 Ω (32 Ω)
THD + N
<0.00084% (A-weighted)
Peak Output Voltage
11.87 V (p-p) in balanced mode
For my first critical listening session, I decided to use my most demanding portable headphones. I consider the Abyss Diana V2 (along with the Diana Phi) to be among the very best portable headphones one can own, but from a pure driving point of view, they do require a good amount of power to truly sound their best. My Apple iDevice alone or when paired with a small-ish portable headphone amplifier typically leaves me wanting for more with these headphones as I know what they are capable when listening to them on my desktop rig(s). I quickly swapped in my balanced 4.4mm balanced Diana cable and plugged them into the M11 Pro. I decided to select my Qobuz app and settled on "Take Five" by the Dave Brubeck Quartet and hit play. Right from the outset, I could tell that I would be in for a real treat. This portable pairing literally had me smiling from ear to ear. The dopamine production in my brain felt that it was off the charts! The notes seemed to dance all around me effortlessly and it almost seemed that I had my old Stax SR-009 electrostatic headphones on; except with a depth and authority to the bass notes that the Stax setup (driven by a KGSSHV amplifier) failed to do. Everything from the incredible detail and shimmer to the cymbals to the heft and weight of the stand-up bass transported me to to the west coast in the 1950s when this legendary Californian smooth jazz album was recorded. The M11 Pro was more than up to the task to offer enough power to drive these headphones to a level that I was completely satisfied with and never once felt that I was making a sacrifice in sound quality for the benefits of portability. The tonality of Dave Brubeck's piano was equally satisfying and this combination never failed to put a smile on my face from beginning to end!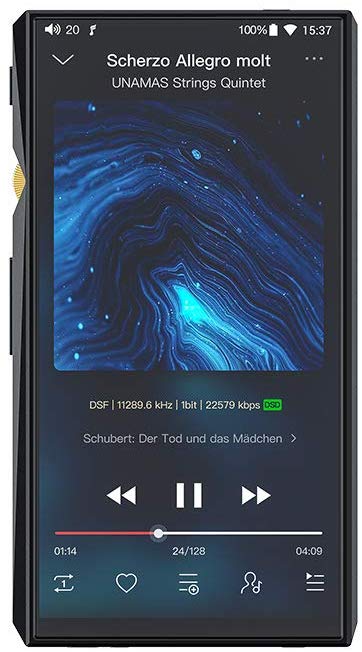 I then wanted to try my newly acquired Focal Stellia closed-back headphones with the M11 Pro. While not as hard to drive from an amplification point of view as the Diana V2, the Stellia offer an incredible ability to dig in deep into a recording and pull out some of the finest amounts of detail compared to most other flagship full-sized closed-back headphones. In fact, I would very favourable compare these to the Focal Utopia with outstanding tonality and sound staging; something very hard to do with a closed-back headphone. Using the supplied Focal 3.5 mm cable, I plugged in the Stellia headphones and selected "Distortion of Love" by Patricia Barber. I have a DSD version of this album that is one of my favourite test tracks to hear how a DAC can perform with this higher resolution format. Again, the M11 Pro was not just up to the task, but excelled with this setup. The Focal Stellia and M11 Pro combination was inspiring and breathtaking. Personal audio just doesn't get any better. Patricia's sultry vocals were on full display with the first track "Summertime". The M11 Pro offered incredible transparency and a life-like performance that was so very satisfying. In fact, this setup rivalled many full-sized desktop rigs I've listened to through the years. With plenty of head-room and drive, the M11 Pro took a solid grasp of the Stellia's drivers and the bass notes hit with a good amount of weight and body, but still came off as incredibly well controlled and detailed. Talk about having your cake and eating it too! I would describe the M11 Pro's sound signature as very balanced and neutral with a very satisfying and musical presentation that never came off as dry or sterile. This setup just pulled you in and wouldn't let you go. In fact, when I was done, I decided to replay the album one more time. If you're looking for a killer on the road setup, the FiiO M11 Pro can certainly push even some of the most revealing and transparent headphones like the Focal Stellia and Abyss Diana V2 to their sonic limits.
Finally, I decided to use my beloved Empire Ears Zeus –XR Adel in-ear monitors. I absolutely love these IEMs and I find them incredibly revealing of upstream sources. I will be reviewing the more recently released Valkaryie IEMs shortly, but so far, I am enthralled with their musical presentation. The good folks at Empire Ears really know great sound! For this critical listening session, I decided to use the newly released posthumous album by the legend Leonard Cohen: "Thanks for the Dance". I have always found these IEMs as close to dead-neutral as I've ever come across and when played through the FiiO M11 Pro I was immediately greeted with a balanced and transparent sound signature with a hint of warmth and sweetness. Just a beautiful pairing! The noise floor was as quiet as I've come across with these very sensitive IEMs and almost completely black and as soon as the music from "Happens to the Heart" started to play, I could tell that I would need to strap in for a wild performance. The dynamics and resulting punch and clarity were off the charts! Leonard's vocals were both upfront and especially detailed. While certainly not the greatest vocalist on the planet, Leonard's lyrics and passion were perfectly portrayed with this setup. I found the bass so very satisfying with both outstanding definition and quantity. I am not a bass head by any means, but I do appreciate a solid foundation to the music and a setup deficient in this area can really throw off a recording. Conversely, the treble offered an amazing level of detail and clarity without a hint of excessive brightness or stridency. Each musician was placed in a distinct spot in my mind's eye without any blurring whatsoever. Lesser upstream sources in the past have seemed to blend the players together somewhat, but the M11 Pro drew a distinct line for each person.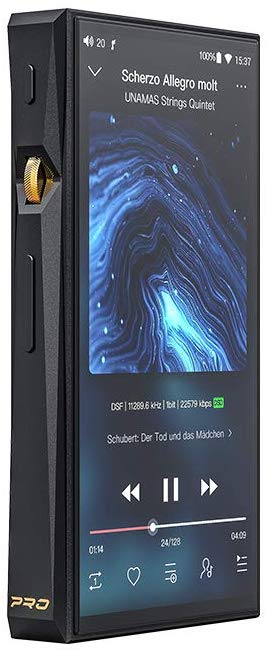 The M11 Pro has truly impressed me. It has passed the put your money where your mouth is test as I ended up purchasing the review sample and I couldn't be happier! The build quality is truly flagship worthy when compared to other DAPs in this marketspace. FiiO has continued to progress as a company and while they still offer some outstanding entry-level products, they can now claim to be in the high-end space with this amazing player. It's ability to play almost any level of PCM or DSD digital files you may have is equally impressive; especially considering I know of several flagship desktop DACs that can't play the same offering. With a very detailed and balanced sound, the M11 Pro will work with any genre of music that you can throw at it. Furthermore, I found it powerful enough to drive my power-hungry Diana V2 headphones, but still nimble enough to make my Empire Ears Zeus IEMs shine! The ability to add up to a 2 Tb micro-SD card will allow you to take literally all of your music with you was the final straw that had me completely sold! Highly recommended!