I received four pairs of Westone Audio's new Universal In-Ear Monitors for comparison and review, the Westone Audio MACH 10, MACH 20, MACH 30, and MACH 80 IEMs. While I have been a fan of Westone Audio for at least a decade, this was my first opportunity to give them a serious listen and perform a review. For those unfamiliar, Westone Audio was one of the first if not the first to manufacture custom IEMs for the music industry back in the far-off world of the 1980s, and was one of the first to develop custom Balanced Armature drivers for said purpose. Since being purchased by Lucid Audio in 2020, Westone Audio has launched an all-new line of IEMs, tapping Lucid's other holdings, including Etymotic Research for the latest technologies to remain one of the premier Universal and Custom IEM manufacturers.
The Westone Audio MACH series is their premium Universal line of BA driver based IEMs designed to be the universal equivalent of their popular ES line of custom IEMs with the voicing tuned to match the ES IEM of the same designation (EG: the MACH 80 is voiced to match the ES 80), with the model number indicating the number of drivers (EG: 10=1, 20=2, 30=3, and 80=8). They appear to share a common housing, and the MACH 10, 20, and 30 use the same LINUM® ESTRON BaX™ T2 Cable consisting of very thin and ultra-strong silver-plated copper cable and include the same packaging and accessories (5 pairs foam eartips, 5 pairs silicone eartips, an impact resistance monitor vault (3.5″x2.75″x1.5″ approx.), and a Westone Audio cloth bag), whereas the MACH 80 employs a LINUM® ESTRON ULTRABaX™ T2 Cable, a no-compromise quad-twisted cable with a super low impedance of .6 Ohms, and includes a crushproof, watertight and dustproof Case from Pelican™ (7″x4.5″x2″ approx.), and the same 5 pair foam eartips, 5 pair silicone eartips, and Westone Audio cloth bag.
All four of the IEMs are fairly high impedance falling between 66Ω (for the MACH 80) and 96Ω (for the MACH 20, the MACH 10 comes in at 80Ω, and the MACH 30 is 91Ω).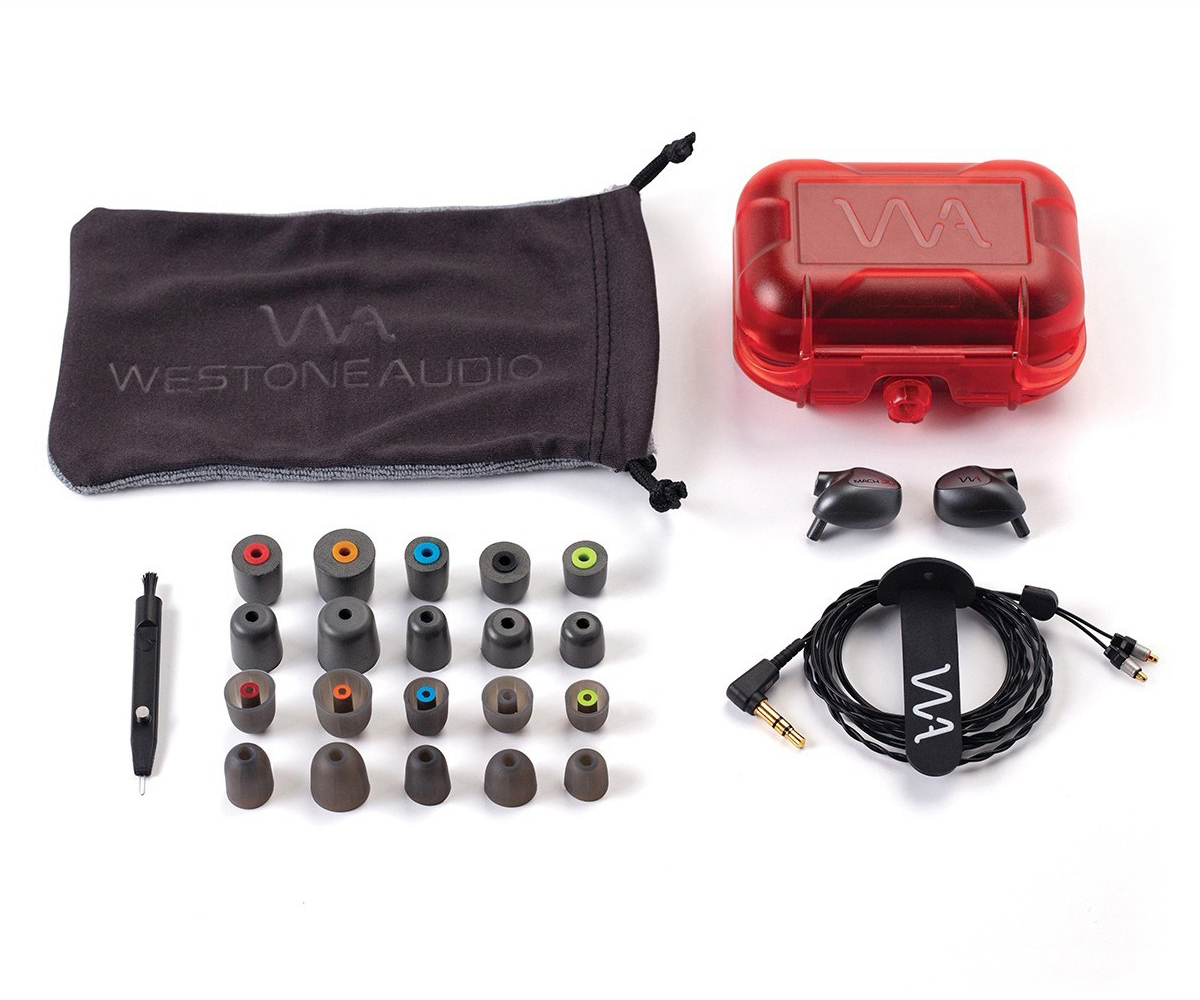 As to the driver complement, the MACH 10 uses a unique single dual diaphragm full-range BA covering 20Hz – 18kHz. The MACH 20 covers the same bandwidth with two BAs one covering the low frequencies, the other covering midrange and highs which has the added benefit of making the MACH 20 7dB more efficient. Adding a three-way passive crossover to the mix, the MACH 30 employs separate BAs for low, mid, and highs offering the same 110dB efficiency as the MACH 20 as well as the same 20Hz – 18kHz bandwidth.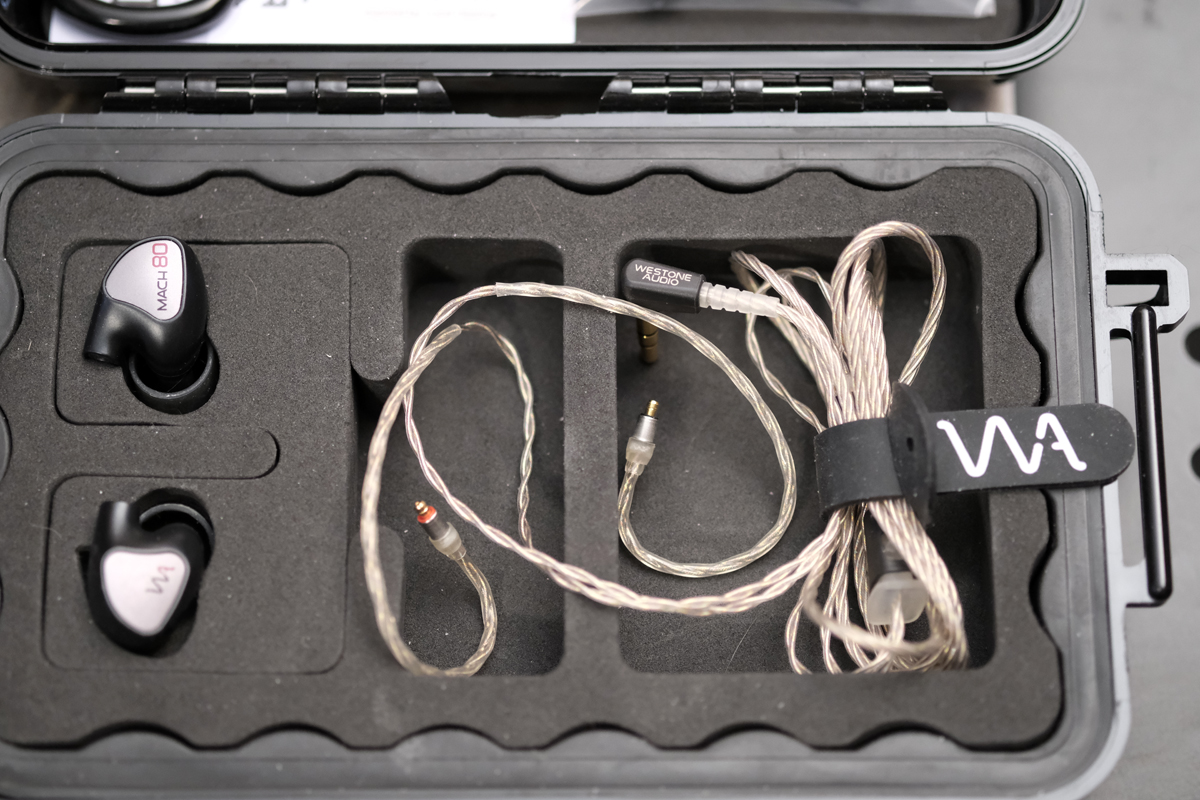 As the flagship of the line the MACH 80 features dual low-frequency BAs, dual midrange BAs, and quad high-frequency BAs with a 3-way passive crossover. Since so many drivers obviously draw more power the sensitivity drops down to 104dB, but the bandwidth is increased to 5Hz – 22kHz.
Living with the Westone Audio MACH 10/20/30/80 In-Ear Monitors:
As per usual, I burned in the Westone Audio IEMs using my FiiO M11 DAP running Qobuz. For my listening tests, I switched to my Schiit Audio VALI 2++ Tube Hybrid Amplifier fed by my Questyle M12 In-Line DAC, connected to my Core Power Technologies A/V Equi=Core 1000 via Black Dragon Power Cables.
Starting with the MACH 10 I noted that right and left are delineated by a red or blue (respectively) W on the earpiece and a corresponding ring on the cable connector. Starting with the silicone tips as this is my preference comfort-wise, I donned the IEMs, looped the cables over my ears, and slid the cable sinch into place since the cable is so thin and has no hardened wrap around.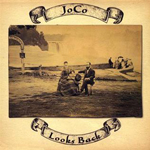 Booting up Qobuz, I did a search for one of my favorite artists, Jonathan Coulton, and selected "JoCo Looks Back" (16-bit/44.1kHz – Qobuz) which is a collection of his most popular hits. Despite the high impedance and relatively low efficiency (as compared to the MACH 20 & 30) the VALI 2++ in low gain had no problem driving them to loud levels with only a quarter turn on the volume control. The tonal balance was basically neutral with a slight weight to the midrange and solid bottom end, providing a dynamic exciting presentation as evidenced by listening to "Skullcrusher Mountain", bringing to mind the many times I've seen him perform live. The vocals were clear and intimate in an immersive soundstage.
Since some IEMs prefer foam tips I gave them a try, first choosing the blue tips because they were longer and the short silicone tips were a little difficult to seat, then switching to the red (also longer) when I couldn't get a seal. Interestingly there was very little difference in sound, prompting me to switch back to the silicone tips, this time selecting the red deeper tips at which time I realized the foam tips did give a slight mid-bass bump.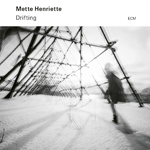 Cueing up "Drifting" by Mette Henriette (24-bit/96kHz – Qobuz) solidified my previous impressions putting forth delicate piano and soulful saxophone in a large soundstage.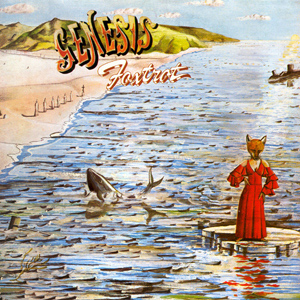 As a reference test to compare the tonal balance and bass extension of the different models I chose "Can-utility And The Coastliners" ("Foxtrot" – Genesis – DSD – JRiver) which brought out the midrange lean of the MACH 10 revealing a little less sub-bass extension than I would normally prefer but the performance remained musical.
Switching to the MACH 20 what I expected was a heavier bottom end, but what I got was a deeper bottom end with a brighter high end and a more dynamic presentation.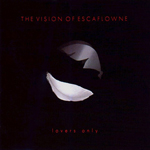 Returning to Qobuz I looked up Yoko Kanno and began listening to "The Vision of Escaflowne – Lovers Only" (16-bit/44.1kHz – Qobuz). "Yakusoko was Iranai" offered some lovely female vocal backed by rich dynamic piano in a very intimate club-like venue, followed up with electronic strings, synth, and female choral which offered a great sense of space. The monastic choir of "The Vision of Escaflowne (Take2)" continued that feeling of vastness.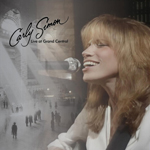 Carly Simon's "Touched By the Sun" from "Live At Grand Central (Live At Grand Central, New York, NY – April 2, 1995)" (24-bit/48kHz – Qobuz) had all of the dynamics and excitement due a live performance in a huge hall with a section A depth of field. When the drums kicked in for "Anticipation" the impact was palpable.
The MACH30 was a major step up in musicality, offering more texture and a warmer midrange. There was a greater richness and presence with weight to the percussion and body to the guitar along with solid bass. Touching upon my reference track, Peter Gabriel's vocal was more intimate and grandiose. The sub-bass was stronger and more defined.
Going over the previous tracks, I found the sound to be fuller, more robust with wonderful musicality. Acoustical instruments were simply on a whole other level of realism.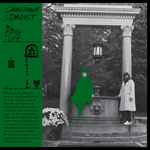 On the other hand, rock and roll was almost too heavy on the bottom end as I noted listening to "Smalltown Stardust" from King Tuff's eponymous album (24-bit/44.1kHz – Qobuz), but they were perfect for Jazz as evidenced by Lakecia Benjamin's "New Mornings" ("Phoenix" – 16-bit/44.1kHz – Qobuz).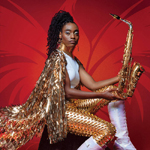 Which brought us up to the MACH 80. Unlike the lower models, the higher-end cable did come with molded ear hooks incorporated into the design making them much easier to put on. Clarity was the word of the day for the MACH 80 and resolution with a return to a more linear tonal balance.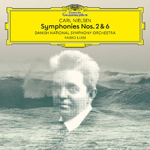 As one would expect, the MACH 80 truly shined with classical music as was proved listening to "Carl Nielsen: Symphonies Nos. 2 & 6" (24-bit/96kHz – Qobuz) as performed by the Danish National Symphony Orchestra conducted by Fabio Luisi. The soundstage was massive and the imaging laser precise, with each instrument in its place surrounded by a bit of air. The timbre was natural leaning slightly into the strings.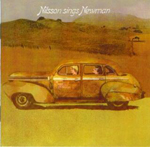 Switching to my reference system consisting of an LSA VT-70 Tube Integrated Amp with Gold Lion KT88s, Audio-gd R2R-1 DAC, Black Dragon Cables, and Core Power Technologies A/V Equi=Core 1000 with a FiiO R7 (review pending) acting as music server the MACH 80 soaked up the added resolution presenting a glorious sound, Harry Nilsson singing Randy Newman's "Cowboy" ("Nilsson sings Newman" – 24-bit/96kHz) was inches away in a gigantic hall. The musicality of the pure tube amp made up for the slightly analytical nature of the MACH 80 causing me to listen to several old favorites just for the pleasure of it.
Conclusions on MACH 10/20/30/80 In-Ear Monitors:
Spectacular values at each of their individual price points, the Westone Audio MACH series IEMs are definitely a must-hear to anyone looking to upgrade their current IEM. The standouts are the MACH 30 and MACH 80 and I can't help but think that the passive crossover has a lot to do with this significant ramp-up in tonal balance and musicality.
The MACH 30 is the way to go if you want something that is a little more forgiving of your source material and playback system, I would have no real problem listening to my smartphone or an inexpensive DAP with these. They are also for those who want a little more punch in their bottom end, and reproduce what I think of as a fun sound.
On the other hand, the MACH 80 are the true audiophile's choice and matched with high-end electronics provide an experience second to none.
In sum, Westone Audio's new elite line of universal IEMs is everything you would expect and desire from one of the oldest IEM manufacturers. A definite two thumbs up.
Price:
MACH 10: $299.99
MACH 20 $399.99
MACH 30 $499.99
MACH 80 $1,599.99
Manufacturer's Website: westoneaudio.com
Specifications:
MACH 10:
DRIVERS: Single Balanced-Armature Driver
FREQ RESPONSE: 20Hz – 18kHz
SENSITIVITY:  103dB @1kHz
IMPEDANCE:  80 Ohms @1kHz (66 Ohms DC)
MACH 20:
DRIVERS: Dual Balanced-Armature Drivers
FREQ RESPONSE: 20Hz – 18kHz
SENSITIVITY: 110dB @1kHz
IMPEDANCE: 96 Ohms @1kHz (44 Ohms DC)
MACH 30:
3-way Passive Crossover
DRIVERS: Three Balanced-Armature Drivers
FREQ RESPONSE: 20Hz – 18kHz
SENSITIVITY: 110dB @1kHz
IMPEDANCE: 91 Ohms @1kHz (41 Ohms DC)
MACH 80:
3-way Passive Crossover
DRIVERS: Eight Balanced-Armature Drivers
FREQ RESPONSE: 5Hz – 22kHz
SENSITIVITY: 104dB @1kHz
IMPEDANCE: 66 Ohms @1kHz (106 Ohms DC)