FiiO is one of the most productive manufacturers in Personal Audio creating a steady stream of new products, each an incremental improvement on a previous product (except in the cases where it is a groundbreaking entry into a new category or application). They are a reviewer's dream because there is always a new FiiO when everyone else has gone dry (which explains why we do so many FiiO reviews), in fact, there are so many FiiO introductions that we are forced to pick and choose. There is of course one constant with FiiO products that makes them a pleasure to test and that is excellent craftsmanship and extreme value, generally clocking in at a fraction of the cost of competitors, often with superior performance. This month's entry into the mix is the FiiO FH5s BA/Dynamic 4 Driver Hybrid IEM.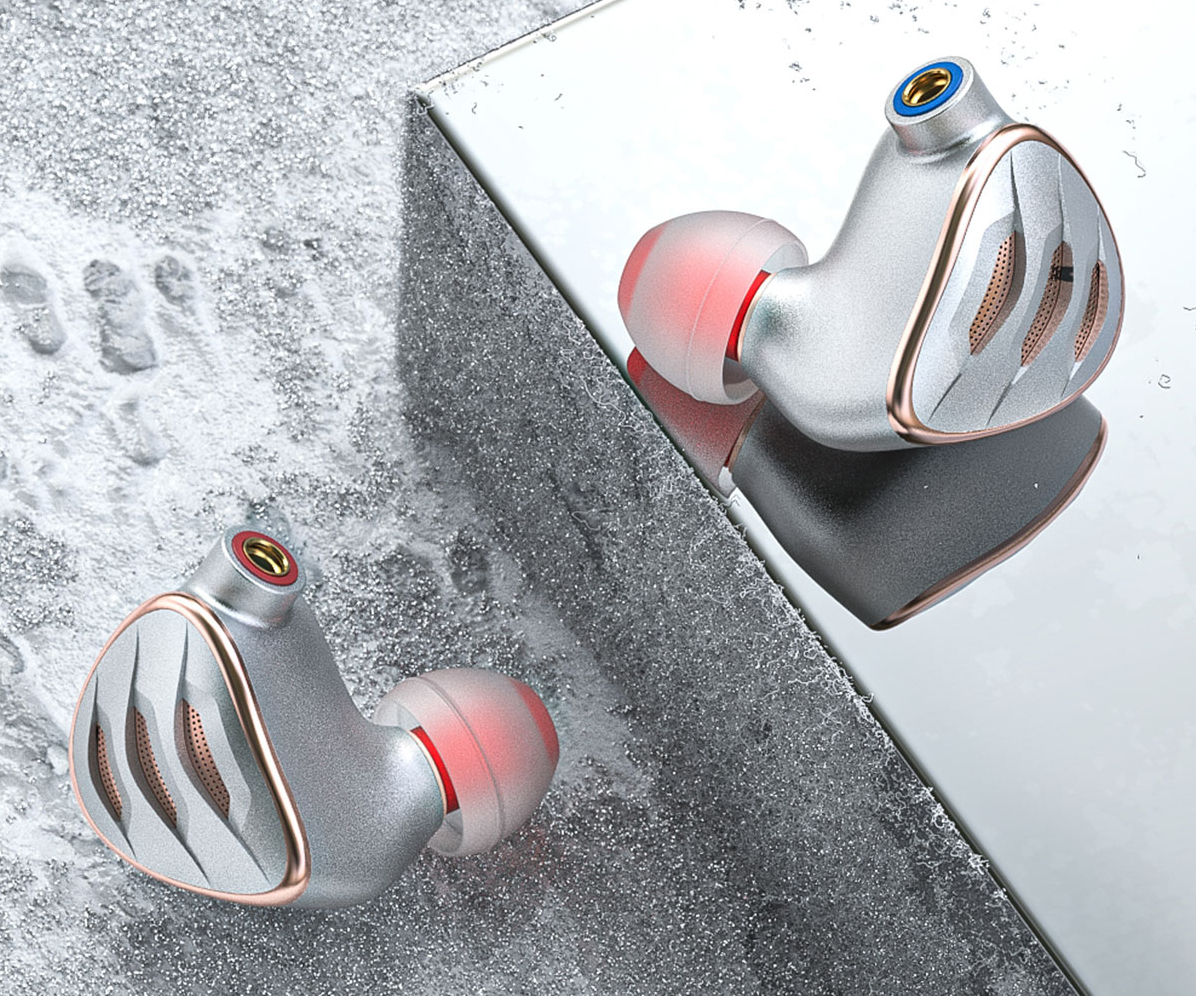 FiiO FH5s BA/Dynamic 4 Driver Hybrid IEM:
Despite sharing the same moniker the FiiO FH5s is not an improved version of the FH5, but instead, a completely new model with a very different design, involving two Knowles TWFK-30017 Balanced Armature Drivers, one 12mm Beryllium-plated Dome with PU (Polyurethane Polymer) gasket Dynamic Driver and one 6mm Beryllium-plated Dynamic Driver, essentially a sub-bass, bass, midrange/tweeter driver configuration offering a linear frequency response of 10Hz – 40kHz.
The FH5s employs a semi-open TRISHELL Acoustic Design 5-axis CNC machined aluminum-magnesium alloy shell, body, and front cover solidly fixed together at three points to greatly reduce excess resonance and distortion.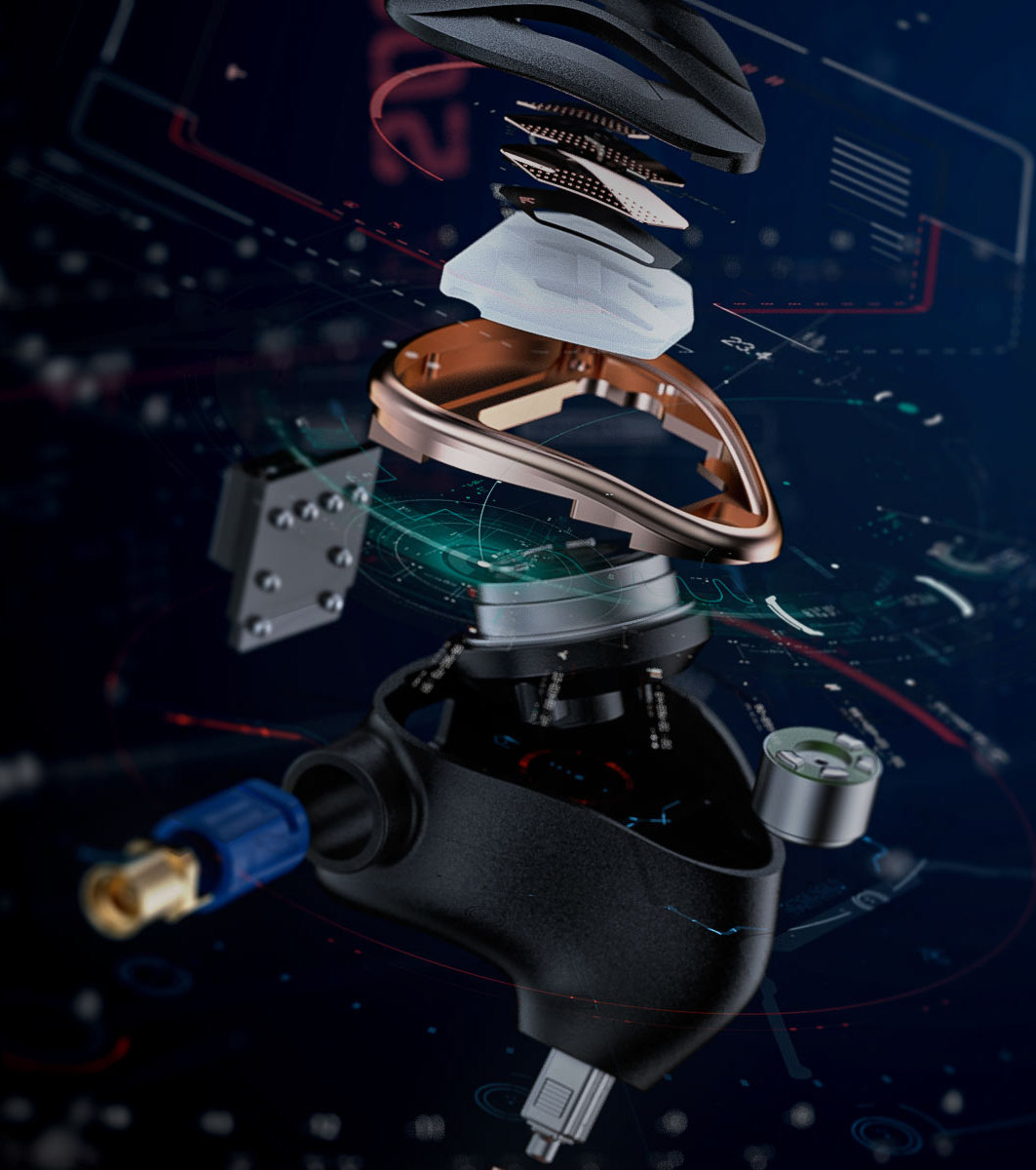 To complement the FH5s' unique driver complement is a user tunable crossover network with three two-position switches for Bass, Midrange, and Treble offering eight different crossover settings in addition to the five differently tuned eartips (bass, vocal, balanced, foam, bi-flange), meaning the FH5s can be adapted to almost any listening taste or preference.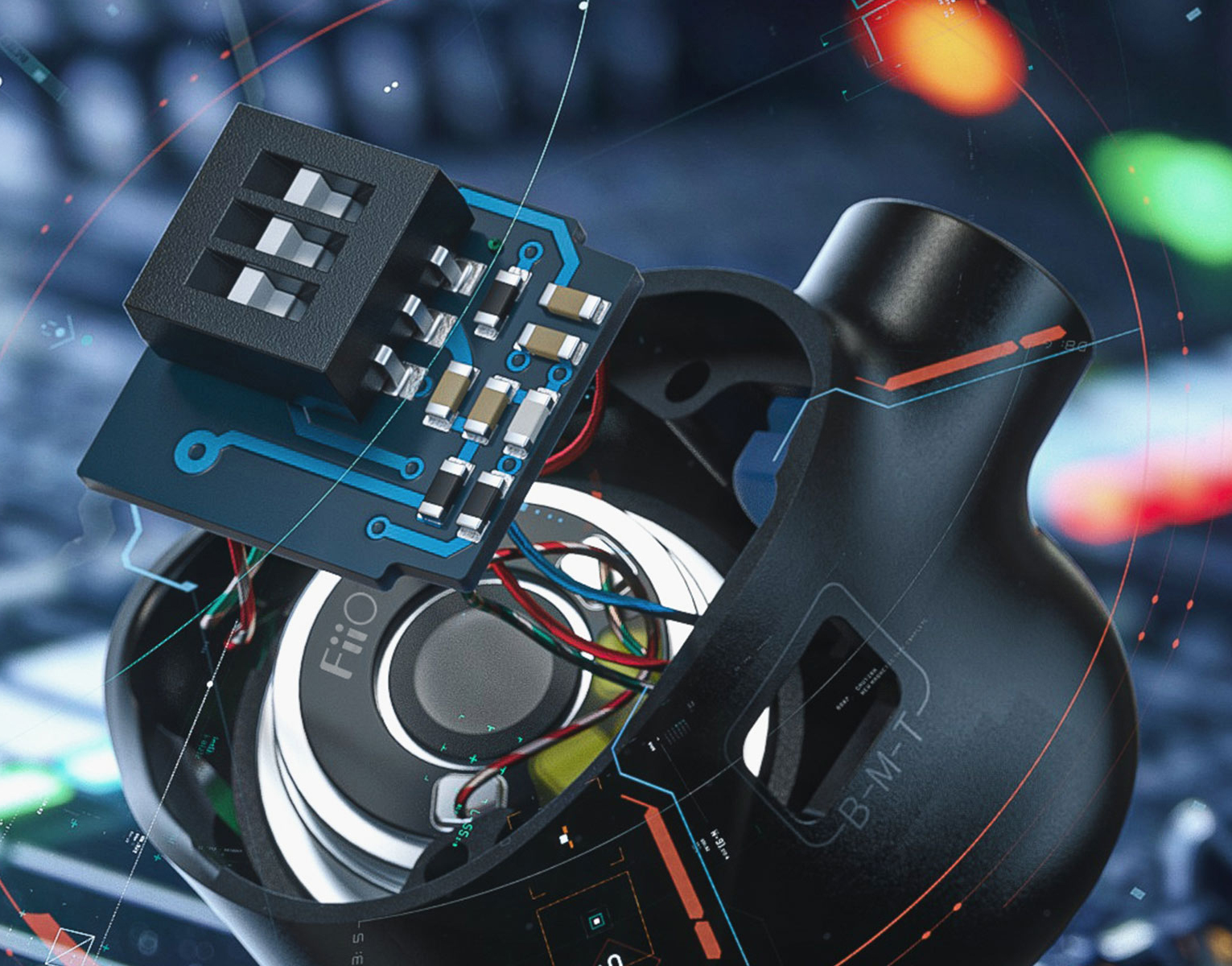 The cable provided is FiiO's Litz Type 2 braided cable featuring a four-strand 120 core, high-purity monocrystalline silver-plated copper cable, with Expanded MMCX connectors and FiiO's 316L stainless steel twist-lock swappable audio jacks provided in 2.5mm TRRS, 3.5mm TRS, and 4.4mm TRRRS.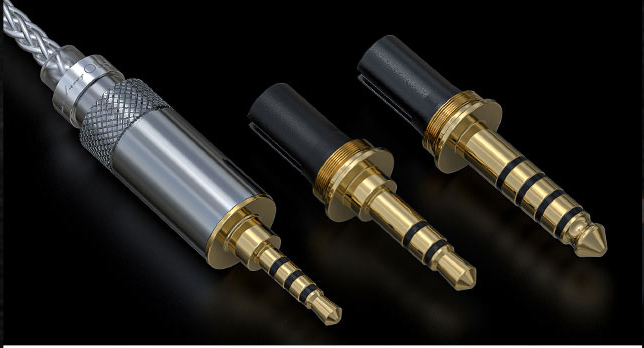 Of course, the packaging is elegant and practicable with the usual multi compartmented black box in an outer picture sleeve. Pull tabs are provided to lift out the various inserts containing the different items.
As to accessories other than the eartips the FH5s comes with an HB5 carrying case, an MMCX assist tool, a cleaning brush, and of course the manual. (Note: though I didn't have reason to use it during this review, the MMCX assist tool is a godsend as it is often practically impossible to separate an MMCX cable after several months of use.)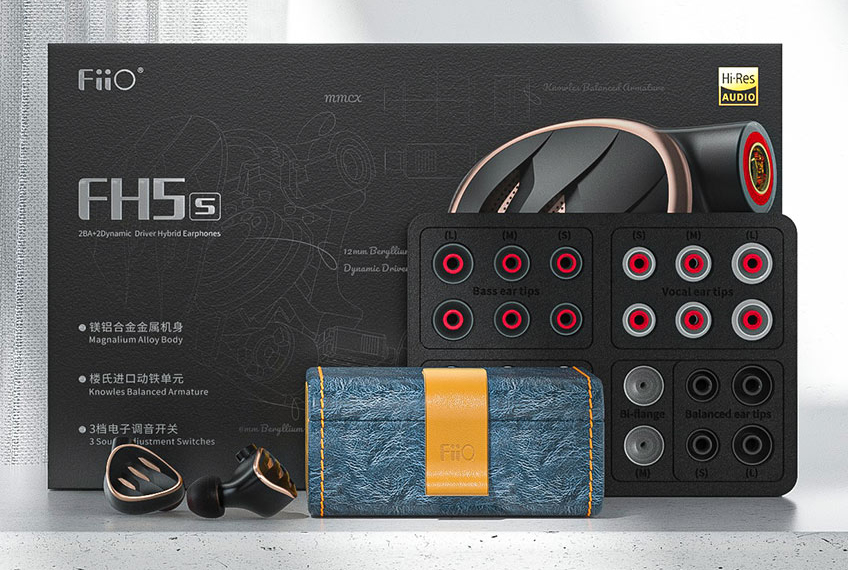 Living with the FiiO FH5s BA/Dynamic 4 Driver Hybrid IEM:
I burned in the FiiO FH5s with the FiiO M11 and the FiiO M11 Plus LTD (review pending) and I used the M11 Plus LTD via the 4.4mm balanced output for sound test as well as my iFi Pro iDSD and my MANLEY Absolute Headphone Amplifier (driven by the Audio-gd R2R-1 DAC).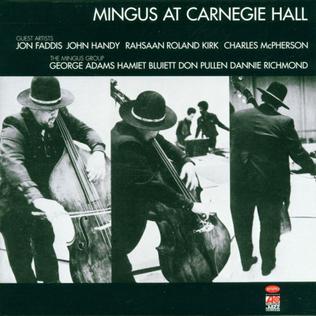 I began my listening using the M11 Plus LTD with the "balanced" tips and the tuning switches set to neutral (all switches off). Pulling up Qobuz I selected "Mingus At Carnegie Hall" (16-bit/44.1kHz) a rerelease of the 1974 live performance featuring an extra 72 minutes of previously unreleased material. "Peggy's Blue Skylight" opens at lightspeed with all five saxophones and trumpet competing for attention in a chaotic crescendo. The tonal balance was neutral with excellent timbre and texture on the horns in a huge soundstage, with a feeling of distance between the listener and the musicians. Charles on bass was solid but not artificially loud as one would expect from an acoustical instrument. The piano was rich with quick attack and subtle decay, while the percussion had snap and a bit of impact.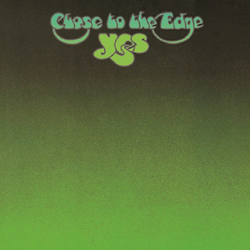 Moving onto more familiar ground to test the crossover switches and tip options I cued up "And You And I — I. Cord of Life, II. Eclipse, III. The Preacher the Teacher, IV. Apocalypse" by Yes ("Close to the Edge" – DSD). Again, in the base setting the sound was very neutral leaning slightly into the midrange creating a large soundstage, with solid but not accentuated bass exhibiting fairly deep if light sub-bass, and smooth mids and highs offering moderate musicality, and only slight sibilance to esses. Using the special tip on the cleaning tool designed for such purpose I first ticked on the bass switch. This brought the FH5s to life giving the bottom end a bit of meat without adversely affecting the soundstage. As expected the mid switch slightly enhanced the mid-bass and added presence to the midrange offering the tonality you expect from the better $200 – $300 IEMs. I'll admit I turned down the volume a bit in anticipation of activating the treble switch. While retaining a good deal of their musicality, this approached but didn't quite reach the sterile sound of Pro-Audio IEMs. Switching to the bi-flange tips came closest to this, though there is no escaping the solid bottom of the FH5s. As advertised the vocal tips do kick up the midrange a bit (more so than the mid switch which affects the mid-bass as well). While I am not a fan of foam tips comfort-wise they do occasionally improve the sound of some IEMs so, setting the switches back to neutral I gave them a try. These vastly extenuated the mid-bass creating a muddled sound with harsh depressed upper mids, bright high-end, and almost no sub-bass, which admittedly is the tonal balance preferred by most inexpensive IEMs. Next was time to try the bass tips, which with other models of FiiO IEMs is my preferred tip but given the response with the balanced tips was not sure would apply here. These did create a richer sound without becoming boomy and took the edge of the mild sibilance in the high frequencies. As a final test of the voicing, I flipped up the bass and mid switches expecting to get that warm poppy sound you get with the HiFiMan HE-1000 or the Dan Clark Audio ETHER2, but was treated to a much more musical presentation while retaining a natural tonality that seemed more appropriate to the music.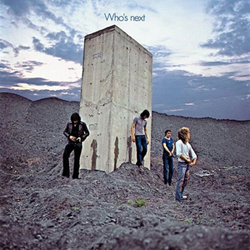 Figuring it was time to see how the FH5s scales up I flipped the iFi Pro iDSD into tube mode and set the gain to low cueing up The Who's "Getting In Tune" ("Who's Next" – DSD). The first thing I noticed was the bottom end was a little mellower and tighter, with lots of midrange presence. Nicky Hopkins' piano had a real honky-tonk feel, spritely and forceful, in a huge soundstage. Entwistle's bass was melodic and tuneful making great counterpoint to the piano and Keith's drums were sharp and impactful. One new experience was being able to identify the different band members as they provided choral backup to Roger's vocal.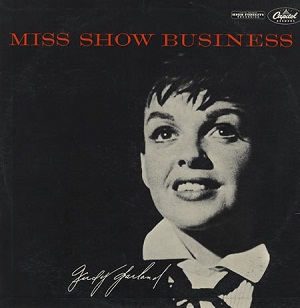 Switching to the MANLEY Absolute Headphone Amplifier and Audio-gd R2R-1 combo selecting Judy Garland's "Over The Rainbow" ("Miss Show Business" – 24-bit/96kHz) for a sampling of orchestral material I was handed pure magic, despite the recording being mono there was a great feeling of space, and the dynamics were epic, and Judy's voice was liquid and emotional.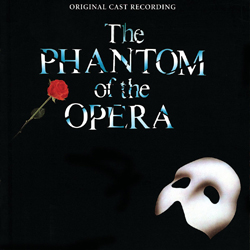 Since mono is not a proper source for orchestral soundstage, I quickly moved to "Think Of Me" as performed by Sarah Brightman ("The Phantom Of The Opera (Original Cast Recording) [REMST]" – 16-bit/44.1kHz) and was not disappointed. While this is an unlikely combination of components given the price of the FiiO FH5s the synergy was absolute, and the musicality was unbelievable.
Conclusion on the FiiO FH5s BA/Dynamic 4 Driver Hybrid IEM:
A couple of points that have become so ubiquitous with FiiO IEMs that I almost failed to remark upon them, first the fit and finish is top-notch and the shells are very attractive, secondly the left/right marking of the cables and shells is easy to see. Furthermore, the comfort of the silicone tips paired with the open back design that eliminates that plugged ear feeling you have with most IEMs, makes them almost disappear, a prime candidate for long hours of listening.
With a large soundstage, excellent detail, and better than average tonal balance, like most FiiO products, the FH5s punches well above its weight class easily competing with IEMs at twice the price. And though they paired very well with the FiiO M11 Plus LTD, they clearly leveled up when run through reference-quality gear.
The FiiO FH5s BA/Dynamic 4 Driver Hybrid IEM is not just a value proposition, but is a true music lover's IEM, and with the multitude of user-accessible sound profiles, I can't think of any reason that they can't be adjusted to fit anyone's particular listening tastes. Well done FiiO, I am happy to offer a hearty recommendation of this product.
Manufacturer's Website: https://www.fiio.com/fh5s
Price: $259.99 USD
Specifications:
Headphone Type – Over-the-ear
Drivers – 12mm beryllium-plated diaphragm/PU gasket + 6mm Beryllium-plated + Knowles TWFK-30017 compound BA
Frequency Response – 10Hz – 40kHz
Impedance – 40Ω(@1kHz)
Sensitivity – 106dB/mW
Max Power Input – 100mW
Headphone Plug – 2.5/3.5/4.4mm gold-plated plug
Cable Length – 120cm
Weight – Approx. 8.8g (single ear unit)