ArtVano one of our sponsors for the Shanghai show was showcasing their amazing portable DAC and amp which is fully compatible with Android, IOS, and Windows. The CLOT CP One design is a wood and stainless steel embedded design. The DAC can support 32 bit/384hz and does DSD 256, using the highly regarded AKK4497 custom chip. The CP One includes 4 gain adjustments and comes standard with a gold, silver and palladium alloy cable. Price was not announced.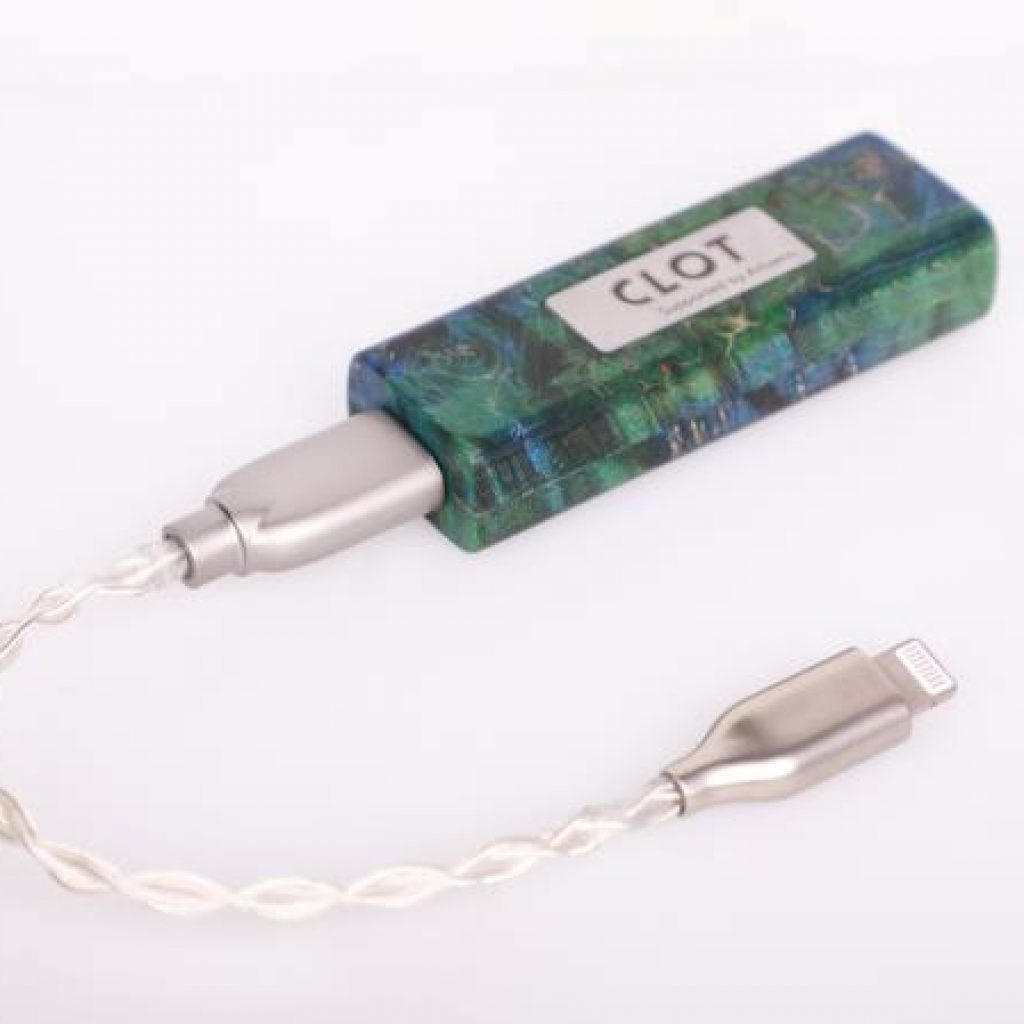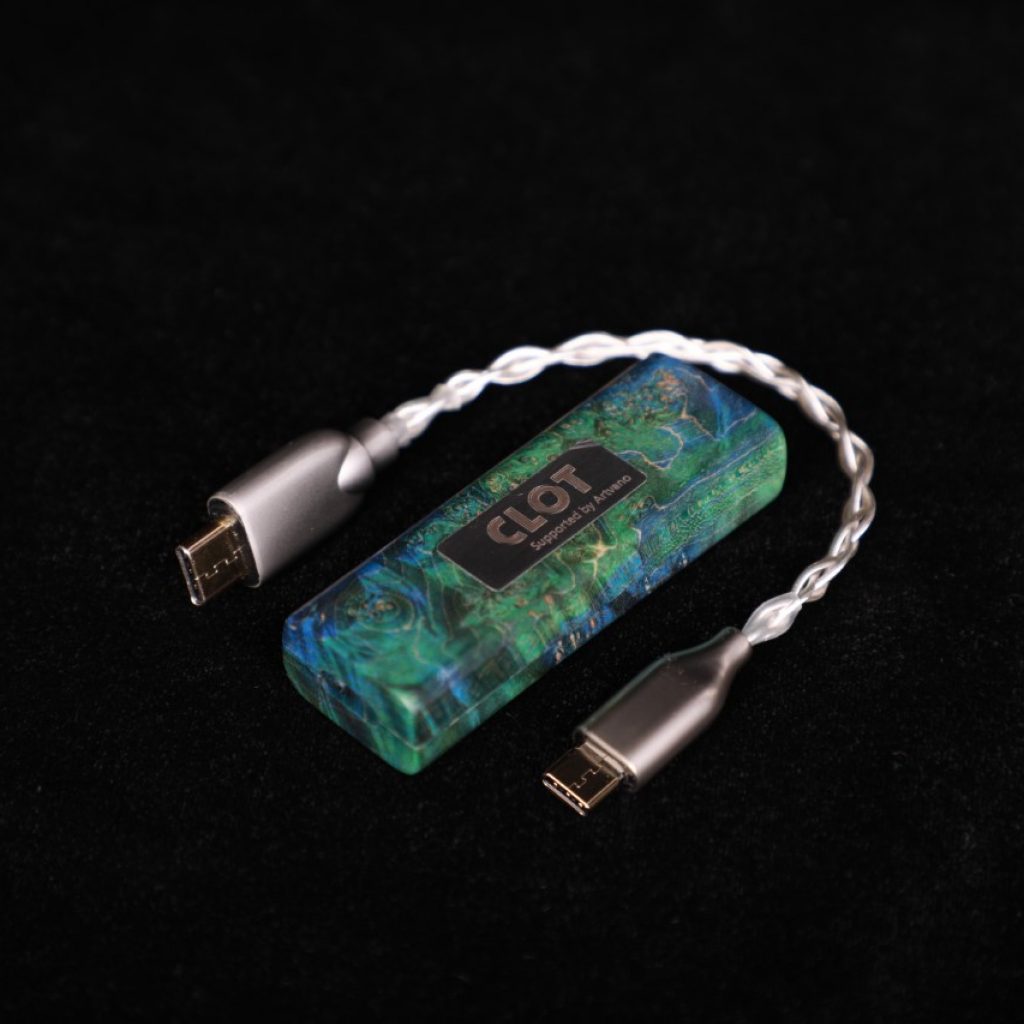 ArtVano is a company dedicated to design and they build their IEMs from exotic materials including valuable woods, resin gnarl, gemstone, and forged titanium metal. They also have a penchant for organic shapes as can be seen by their PISLO PX ($1,659 USD), which had an open and airy sound. They were also showing their OTATO OA-S ($569 USD) and OTATO OA-06 ($666 USD) IEMs, along with their M4 copper and silver alloy IEM cables ($1,689 USD).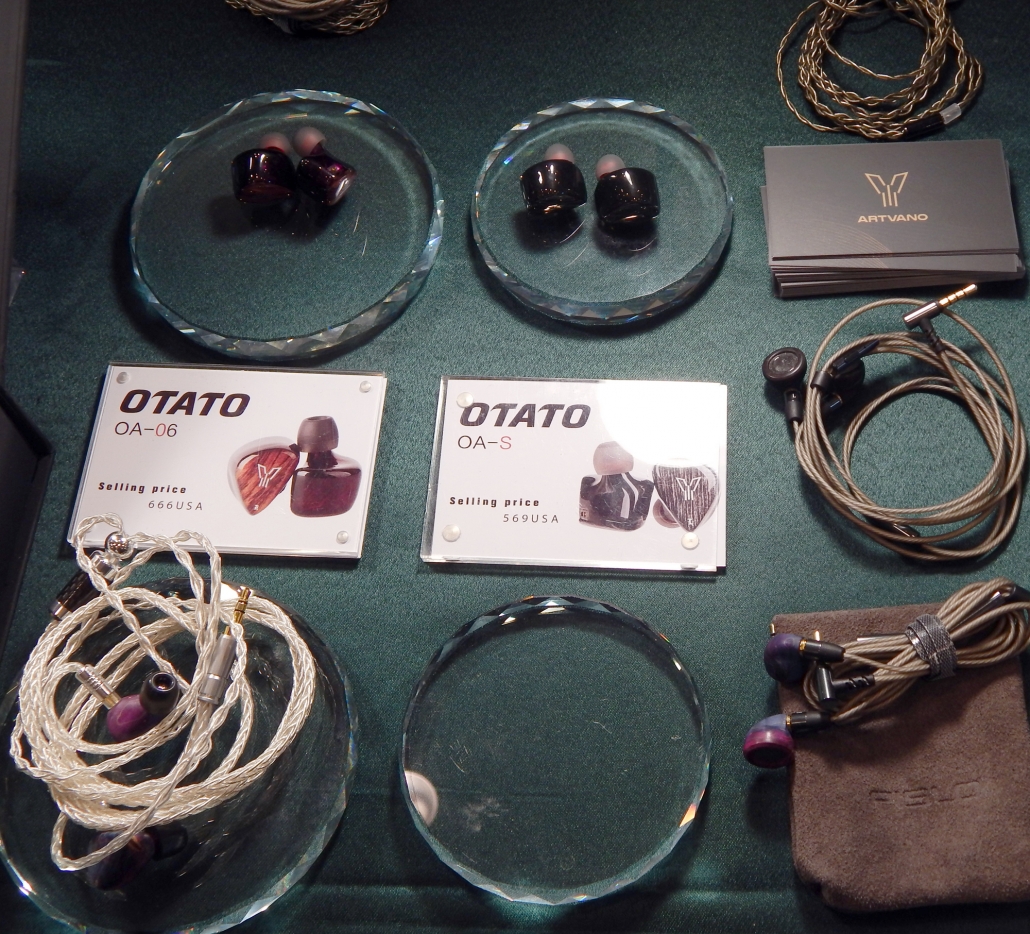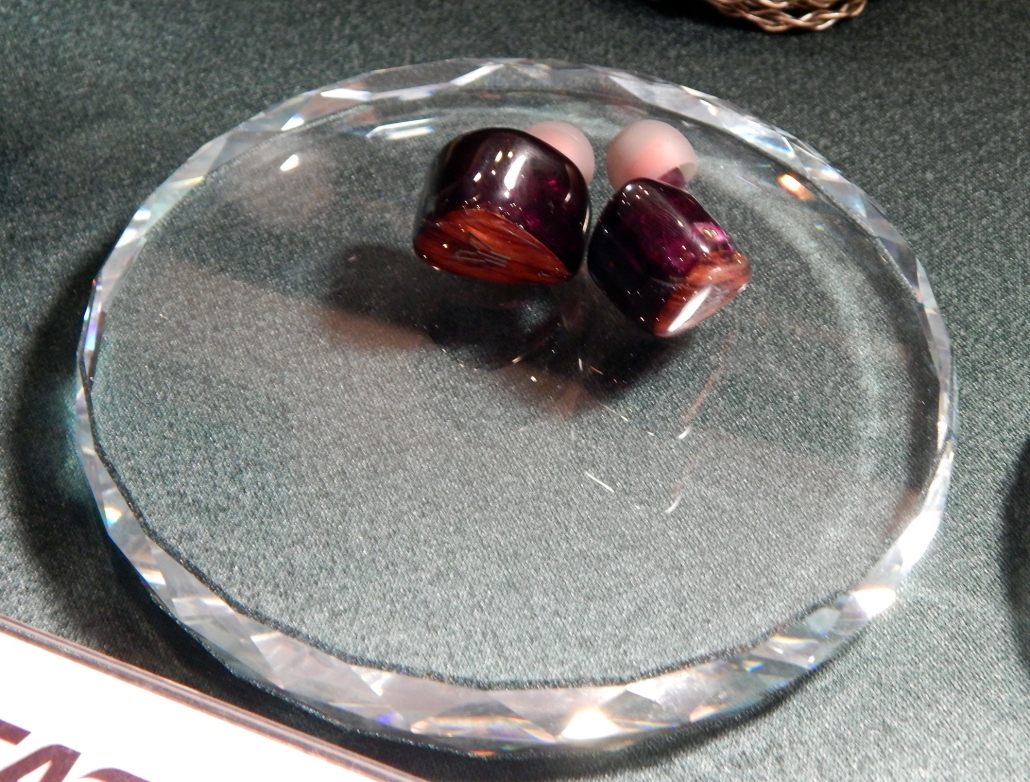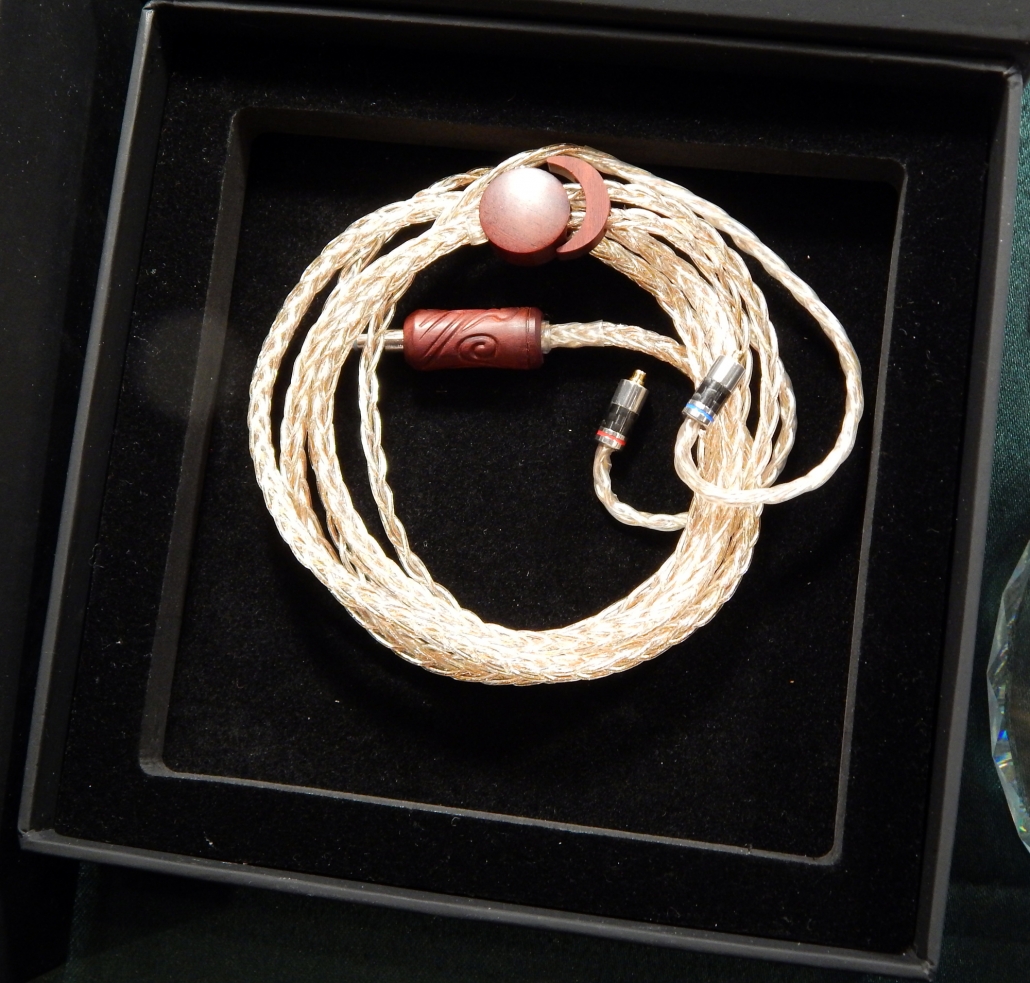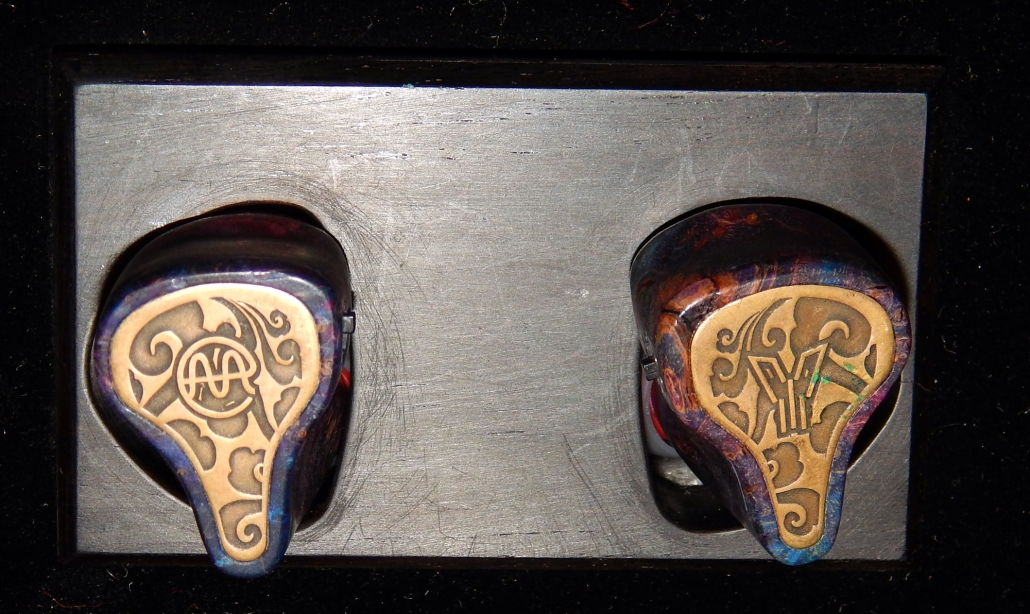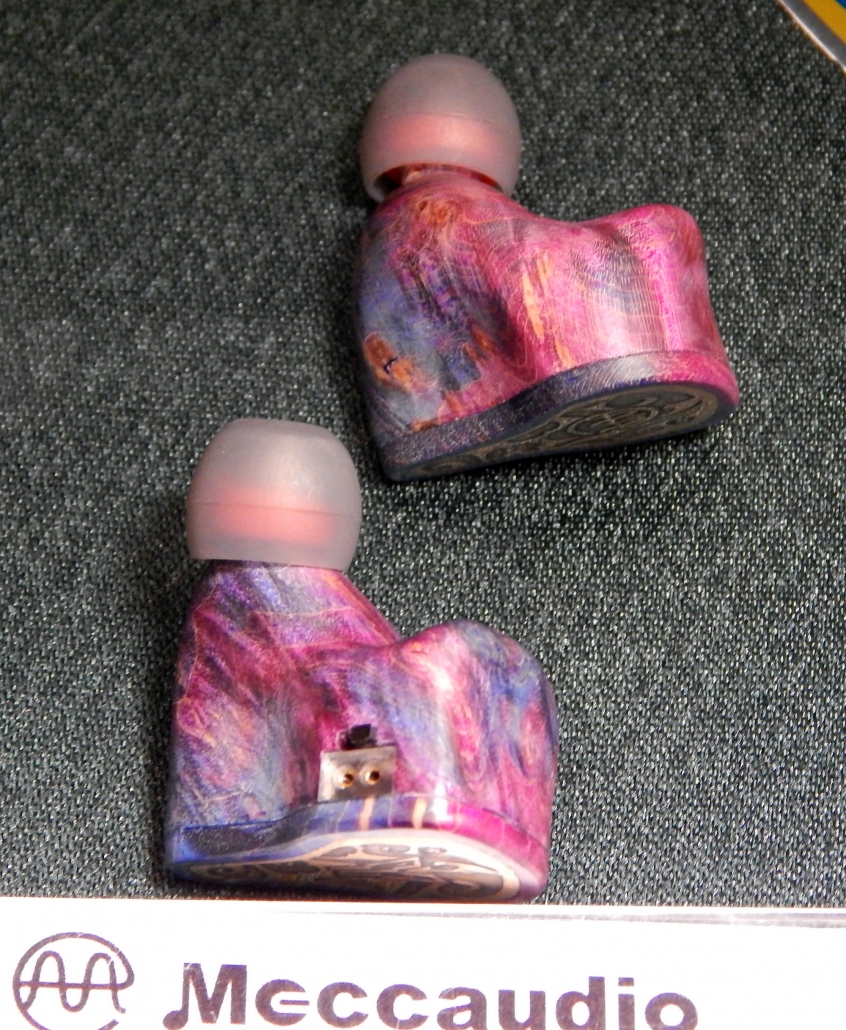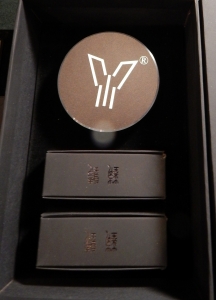 Meccaudio
The standout product of the Meccaudio line was the Meccaudio TITANS RHEA ($2,599 USD) which had a smooth yet detailed presentation. They also had their full line of IEMs and IEM cables on display for attendees to partake of.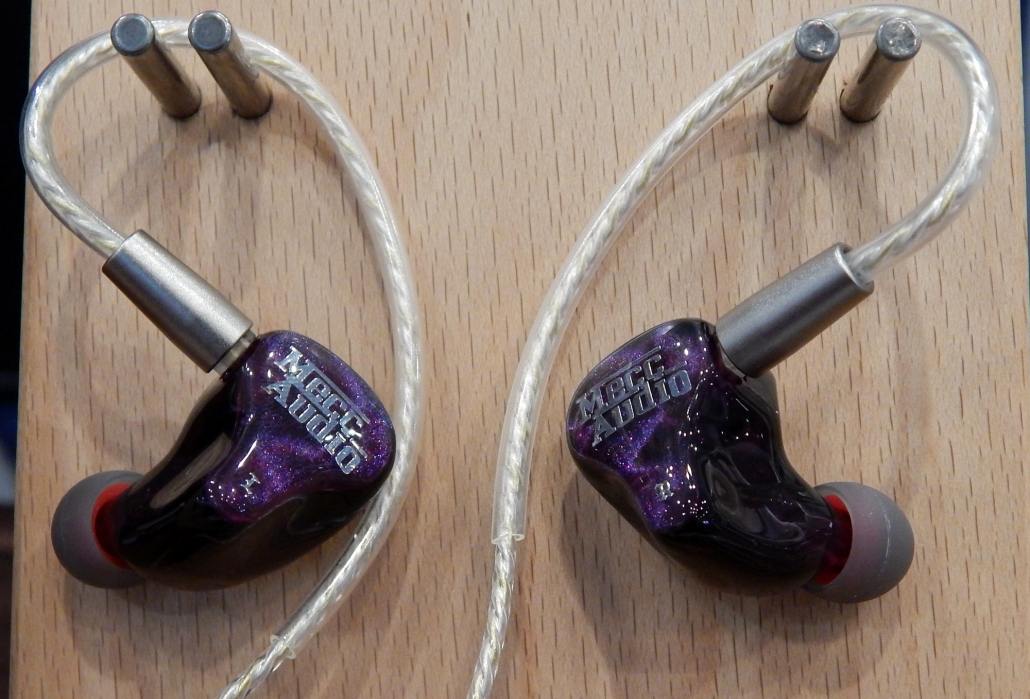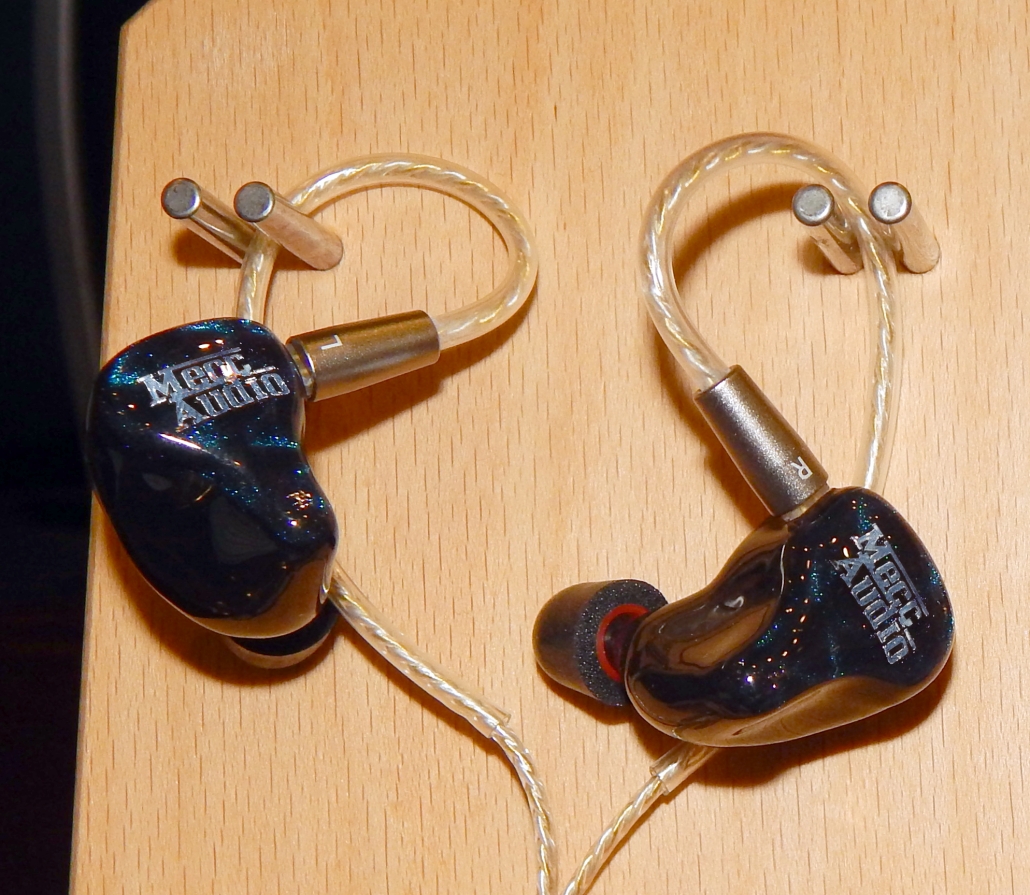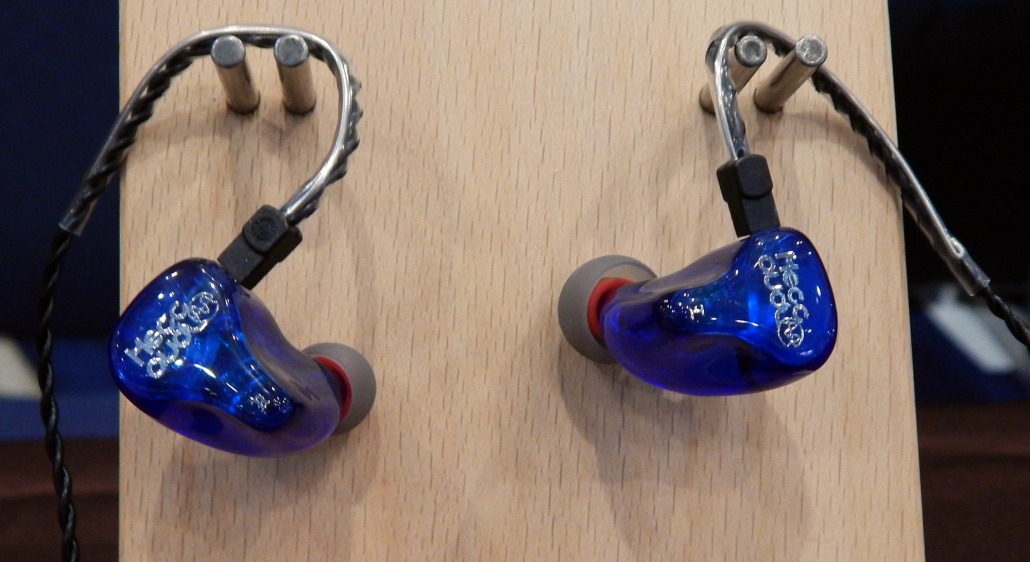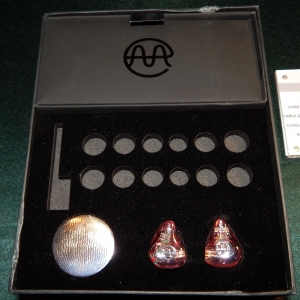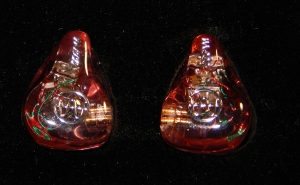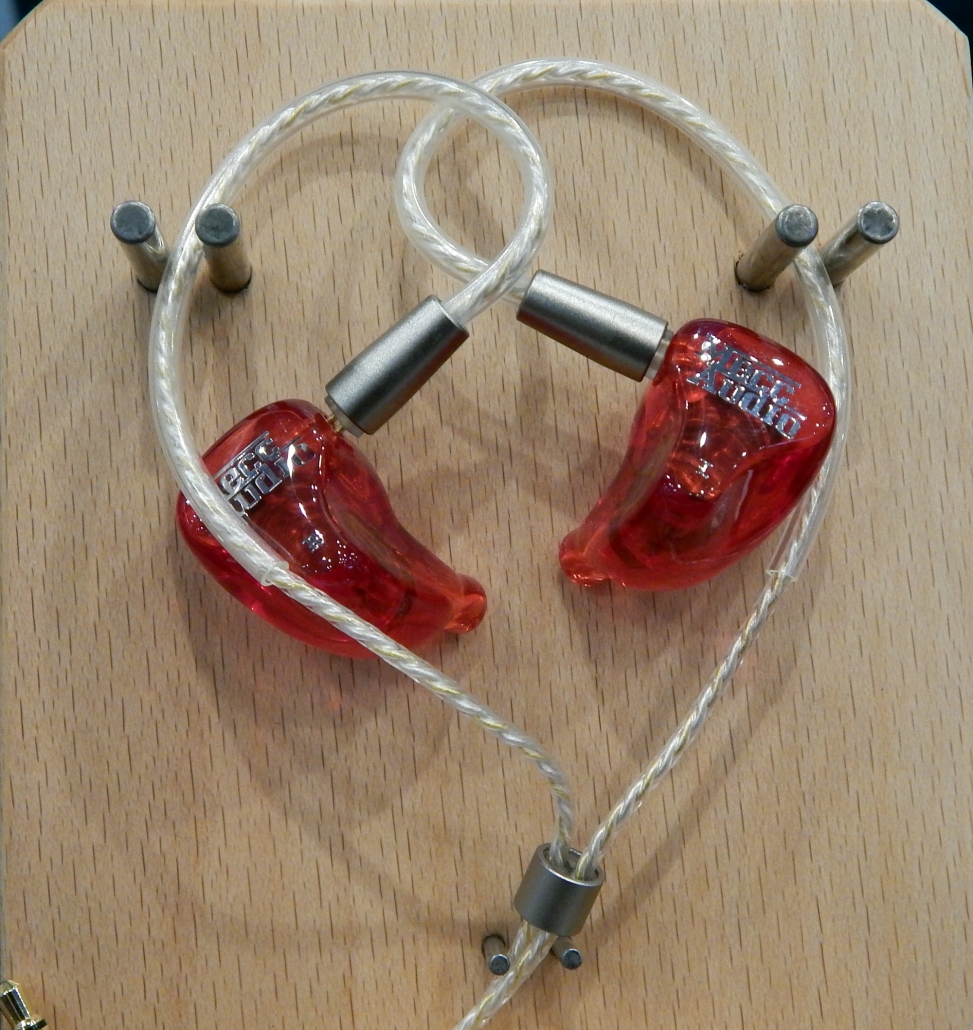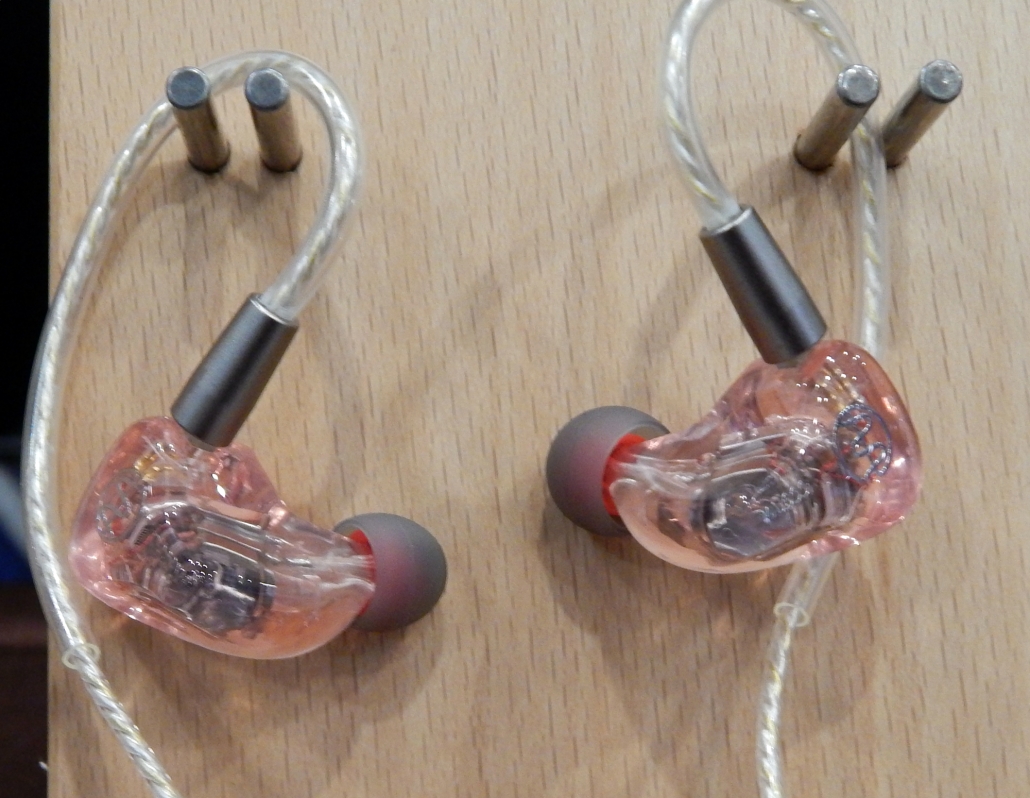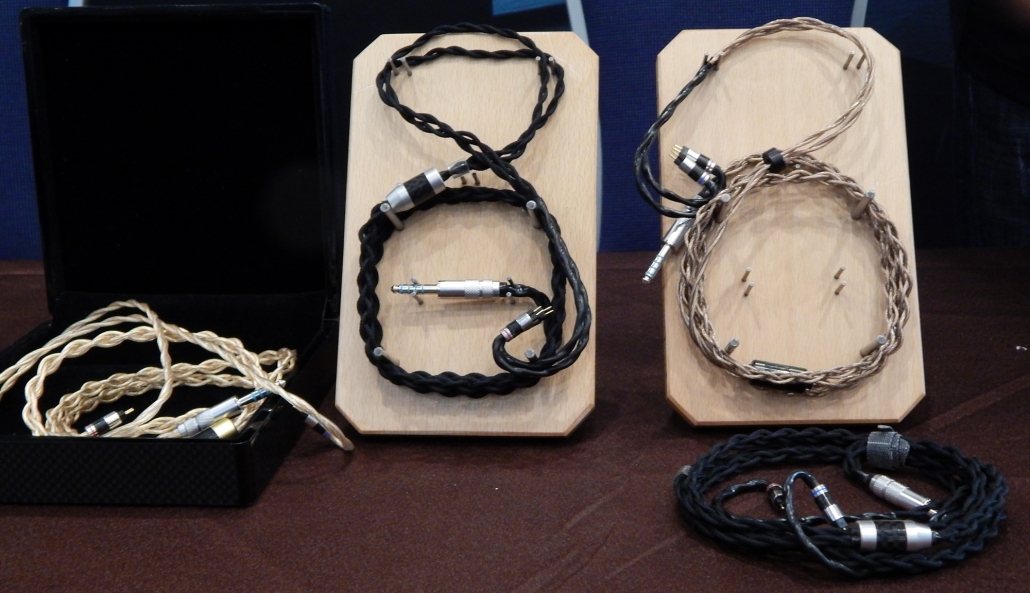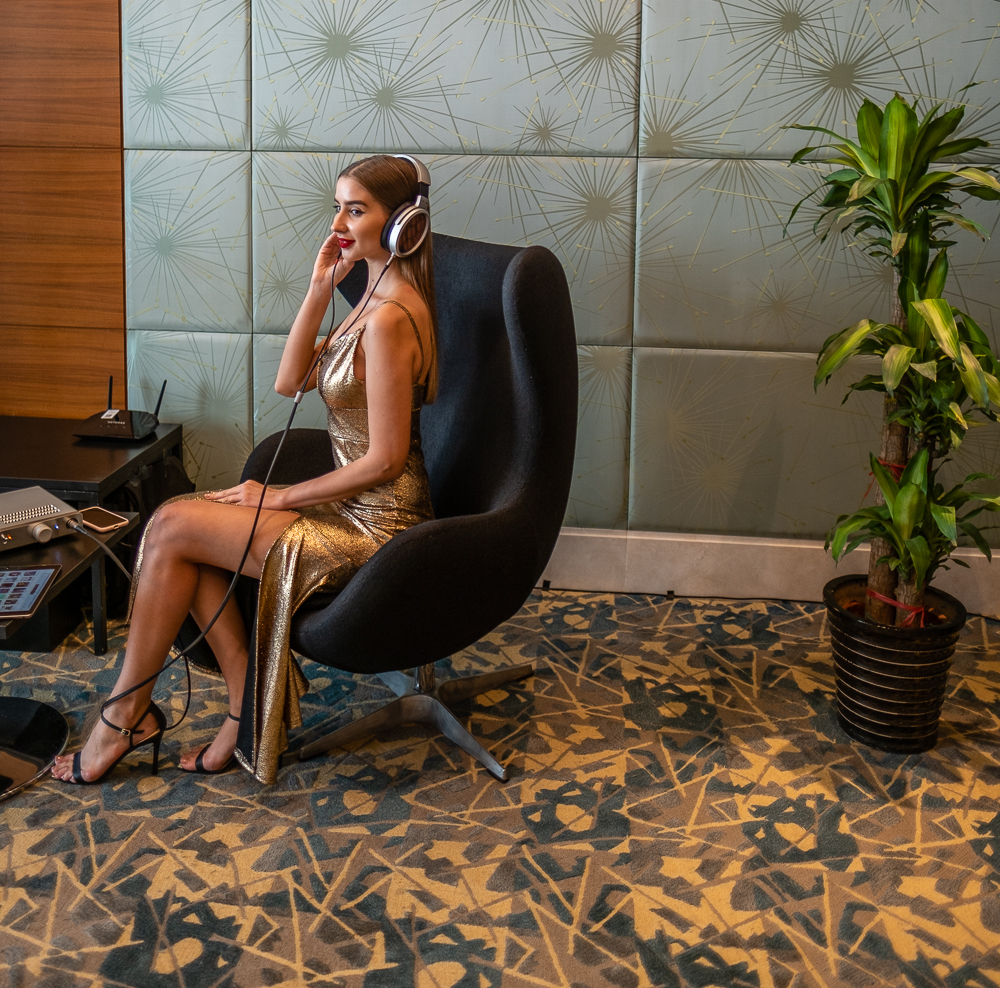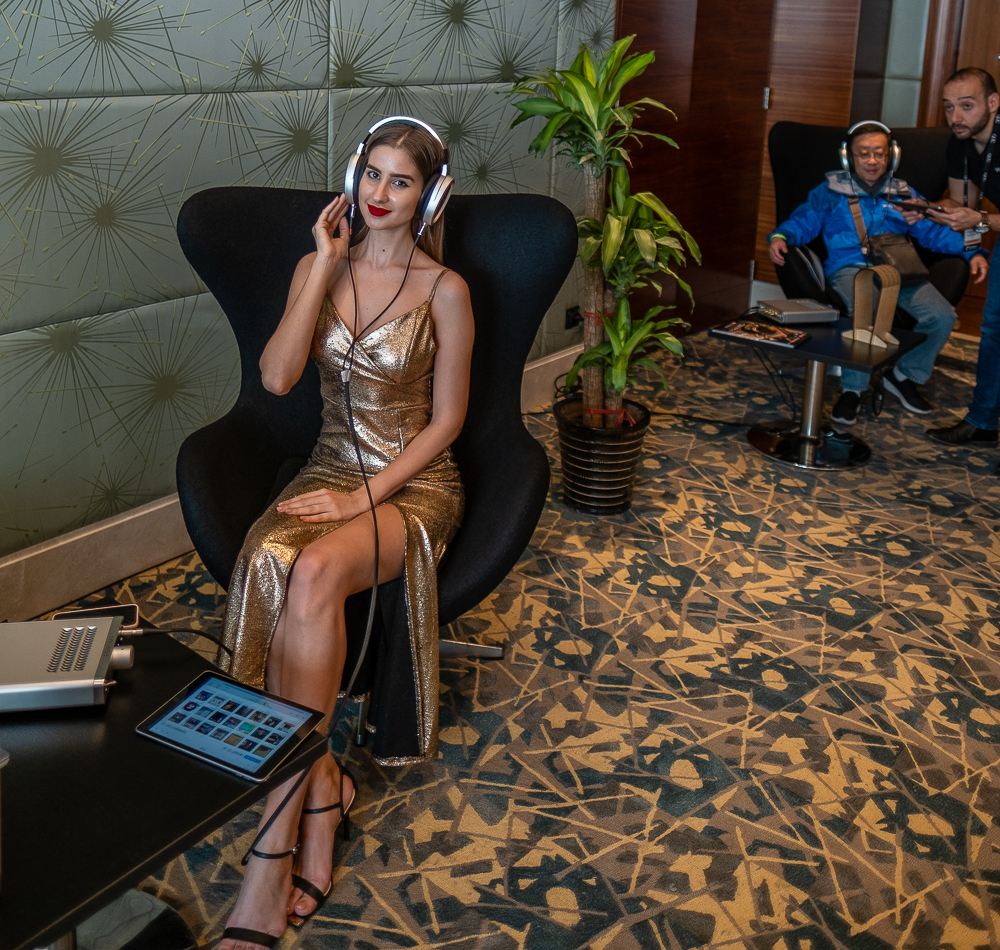 Warwick Acoustics was showing their new electrostatic system with the help of this beautiful young lady. Priced at $24000 with its own Headphone and amplifier. The system is liquid and transparent and designed to compete with systems twice the price and making beautiful music.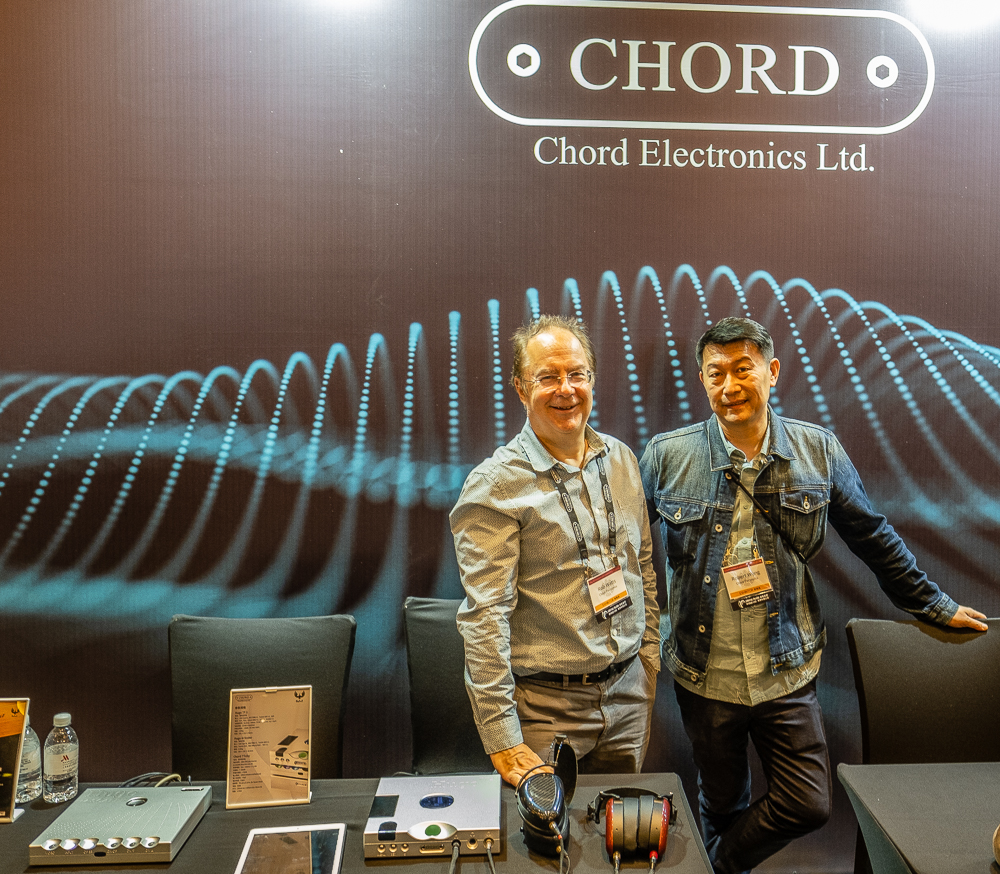 Rob Watts and Rob Wong from Chord UK were present. Rob Watts one of the most gifted digital talents in the world was showcasing products from Chord including the DAVE, Hugo 2 and Hugo TT 2.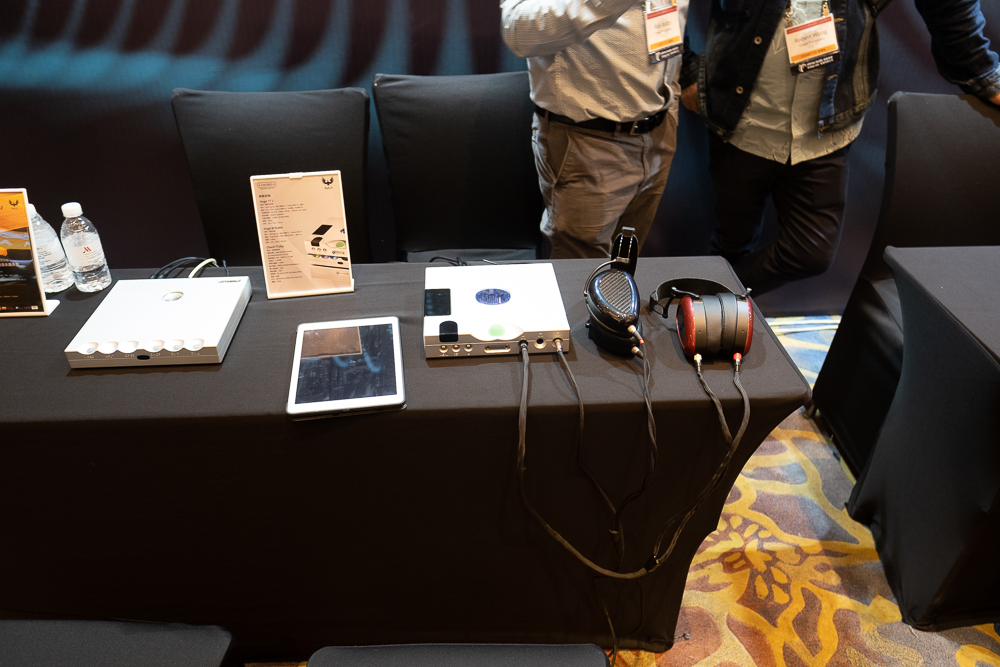 Dan Clark Audio's new AEON 2 closed phone our Traveler Headphone of the Year was making music with the Hugo TT 2 which was redesigned from the ground up with new casework. The Hugo TT 2 can do 768kHz PCM and DSD 512 playback. Technically one of the most advanced programmable DAC's in the world and sounded great with the AEON 2.
The AEON 2 is a major improvement over the AEON with more resolution, quieter listening, and more comfortable pads. The new headband design makes this a must-own headphone for road warriors. The Hugo TT2 priced at $5450 is a dynamic design that needs to be heard with great headphones and Dan Clark's newest creation got the most from the Hugo TT2 and made music come to life. The synergy was spectacular and a testament to two gifted designers who settle for nothing less than creating benchmark products. The AEON 2 open and closed models are available for $899 making it a must audition for one of the best values in headphones.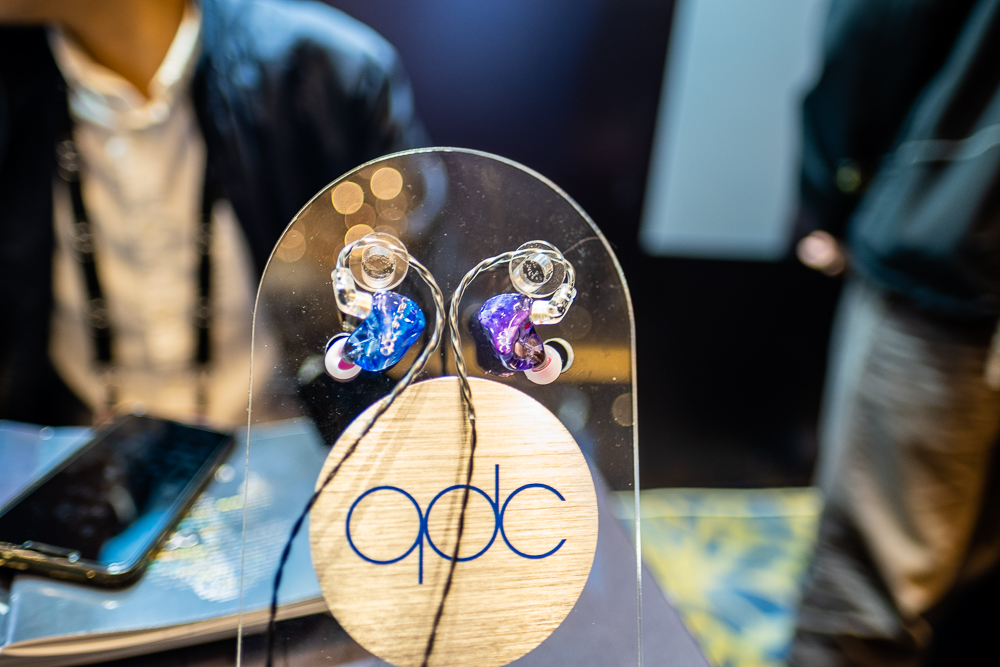 QDC introduced the Uranus IEM which includes one dynamic driver and one balanced armature driver. Uranus comes with a 3.5mm cable in the standard version and BTX cable as an addition in the Bluetooth version. Priced under $250.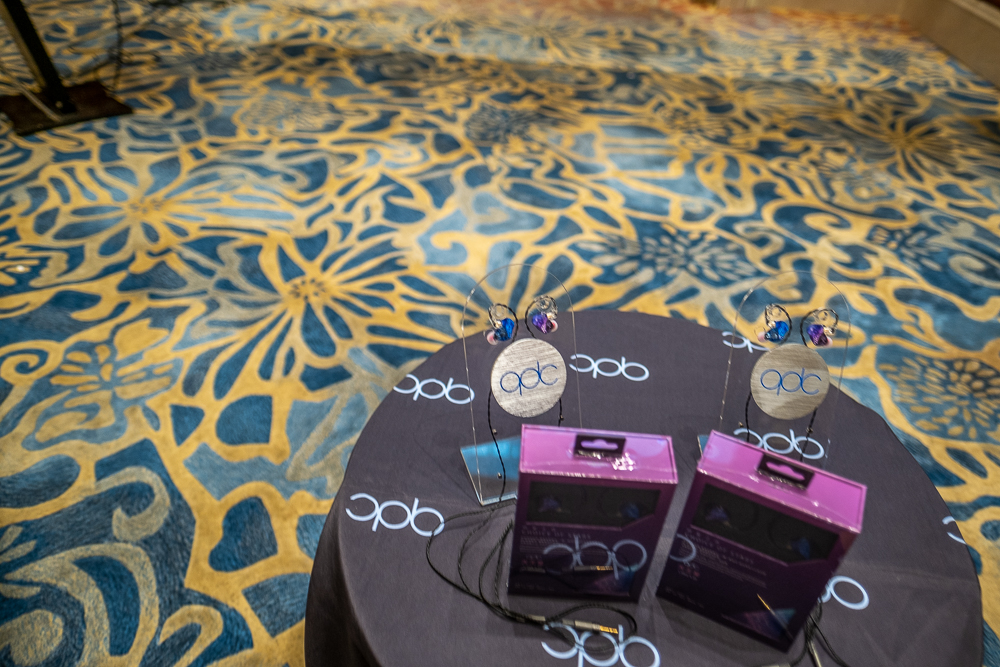 The sound is refreshing. Listening to the AK 240 the sound was well balanced, musical and had excellent detail retrieval. (Full review in progress on this outstanding QDC design.)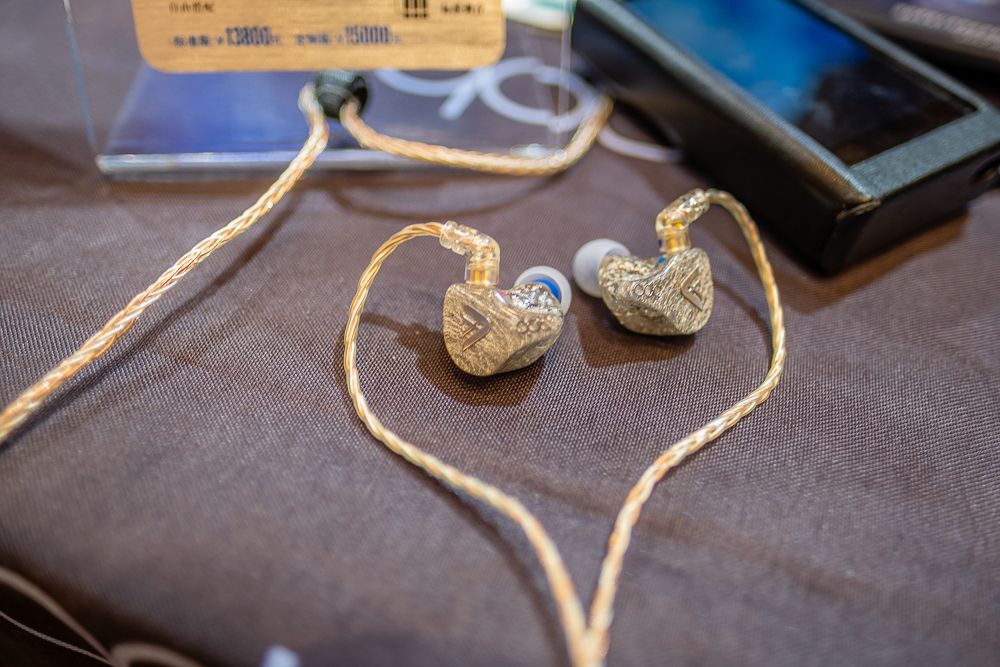 The Anole VX is a 10 driver design that includes three tuning switches to tune low, medium and high frequencies making it very unique. The sound outstanding with balance and makes tuning easy for the user. Priced at $2100 and available in the States at Moon Audio. A pure reference IEM that needs to be heard for the best out of your head experience.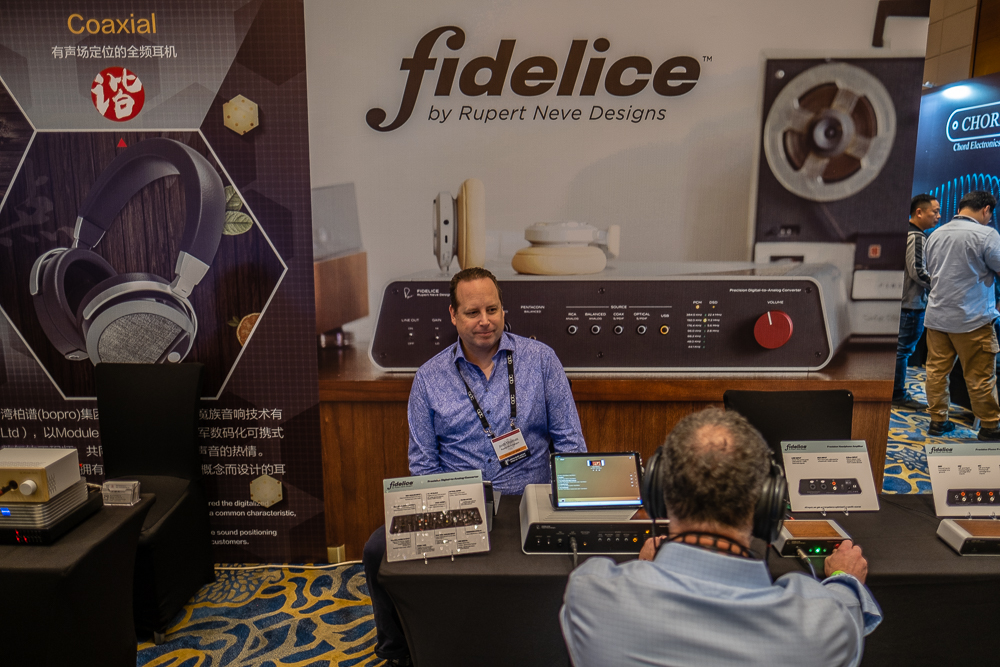 Josh Thomas was showing the new award-winning Fidelice line from Rupert Neve.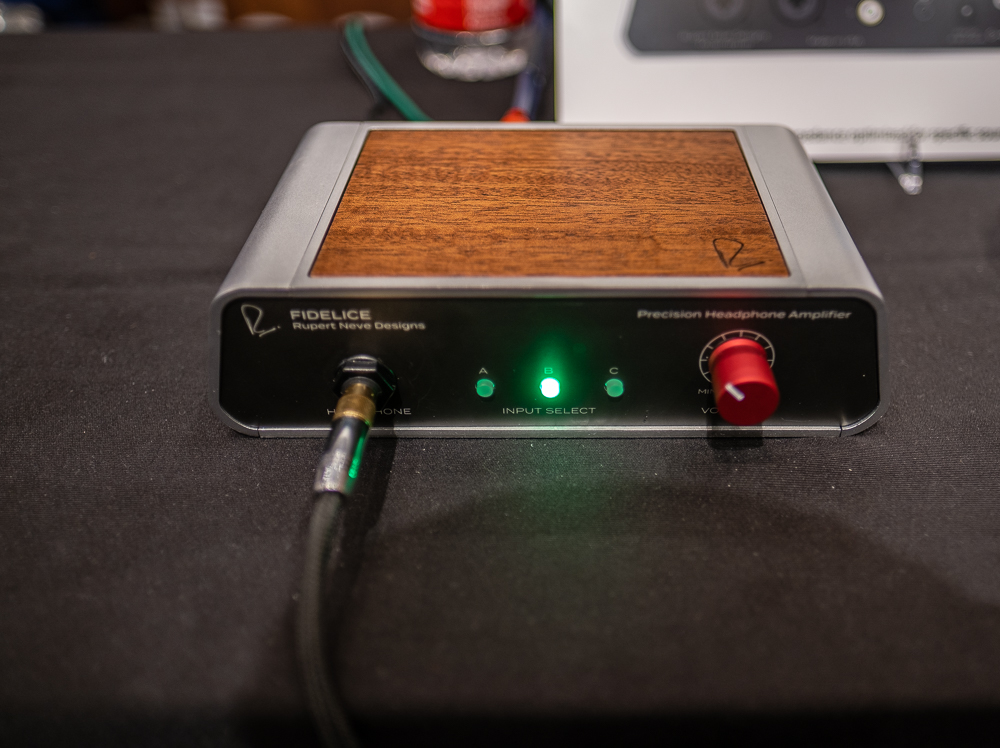 Priced at $499 the Fidelice Headphone Amplifier has much of what is in the reference line at a much lower cost. The amplifier has outstanding musicality. Dynamic and bold sounding it delivers music through your favorite headphones with conviction and clarity. Designed by Rubert Neve a Pro-Audio Company who knows how to get the most from recorded music.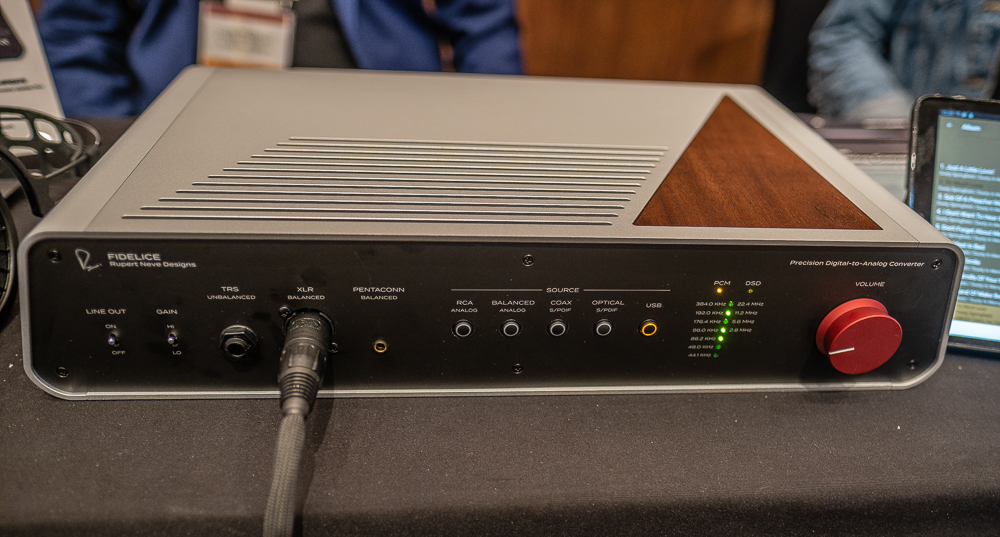 The Fidelice Precision DAC/Amp is a world-class headphone amplifier designed and built by Rupert Neve, using the same configurations as used in their studio consoles, with a built-in DAC utilizing the AKM chip which in many minds is the best sounding chip out there with their own slant and tweaking. The sensational new design is beautiful to look at and offers a clear window of light while listening to your best headphones. The sound is outstanding and gets the most from recordings. Priced at $4995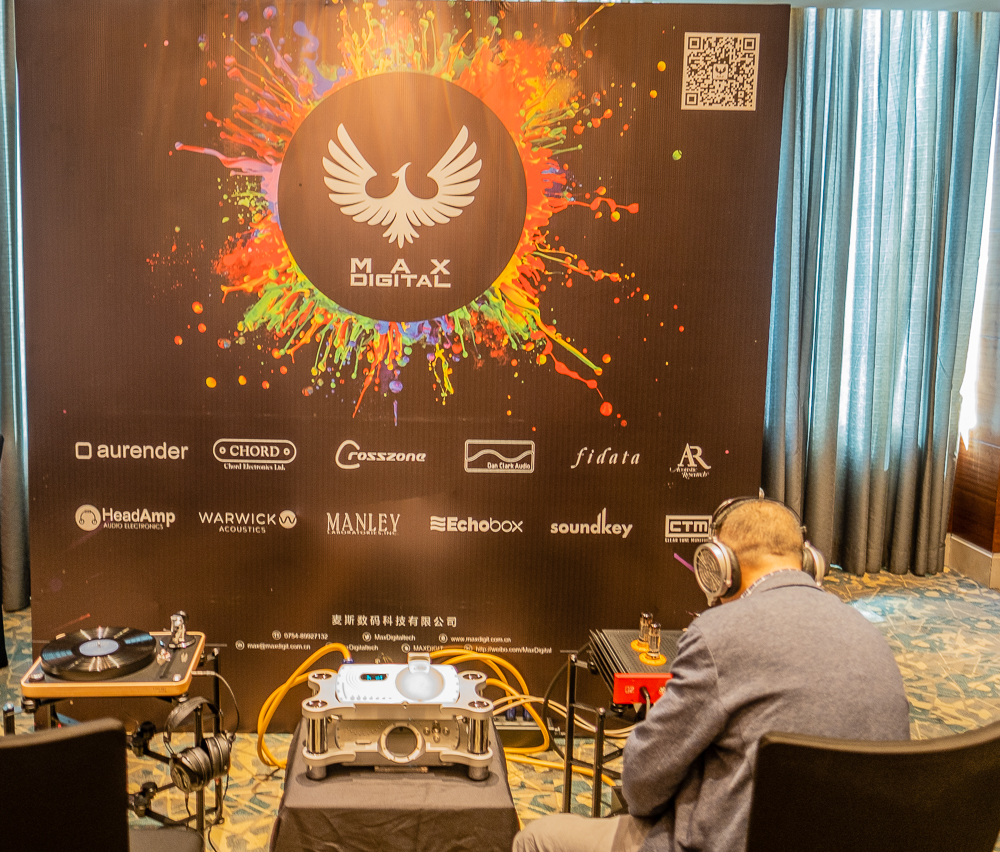 MaX Digital is the major distributor in China for most import brands looking for representation in the Asian markets. Shown here is the Chord DAVE with its reference stand making music. Representing companies listed on the banner in addition to Dan Clark Audio.
The HeadAmp Blue Hawaii priced at $6000 was making sensational music with the $2999 VOCE Electrostatic design from Dan Clark Audio with the Chord Dave as source. This is one of the finest electrostatic systems in the world.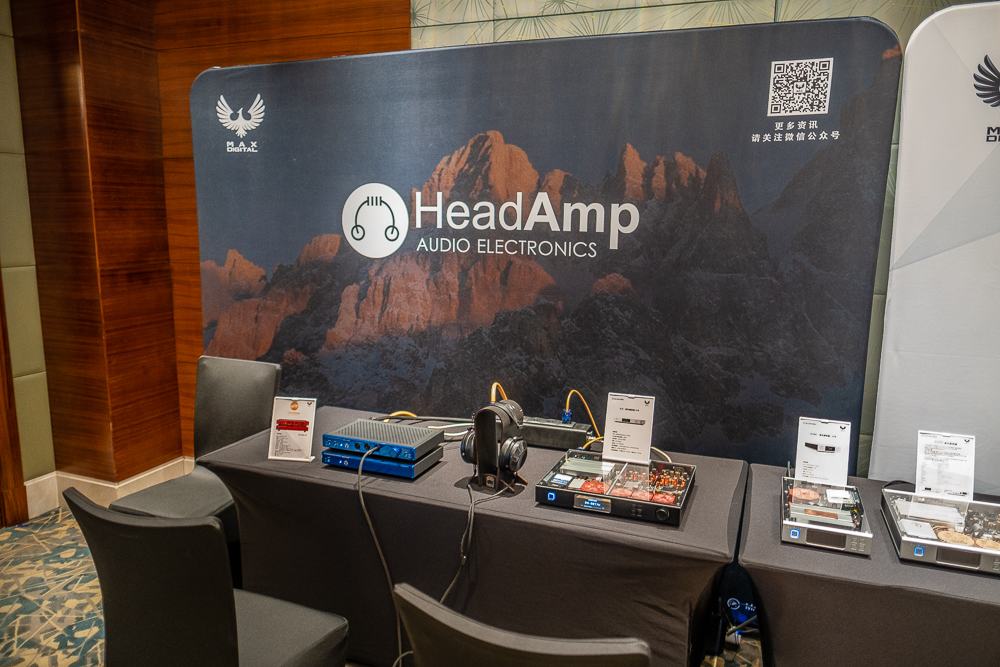 Max Digital showing Headamp with the ETHER 2 priced at $1999 and other products from Dan Clark Audio, showcasing the high-quality parts that Justin Wilson uses in their outstanding GSX and the GSX Mini amplifiers.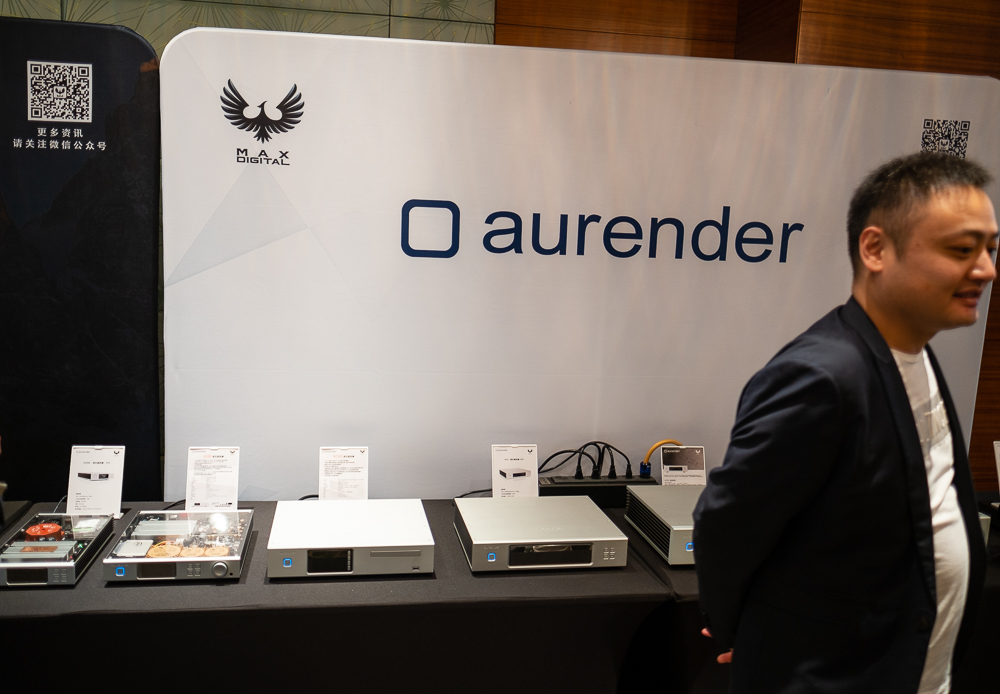 Aurender's outstanding Music Servers were being shown. The NH100 music server priced at $2700 supports all formats including DSD and can be ordered with a 2TB or 4 TB hard drive and USB class 2 output. The storage solution removes your computer for a faster music server dedicate to your music.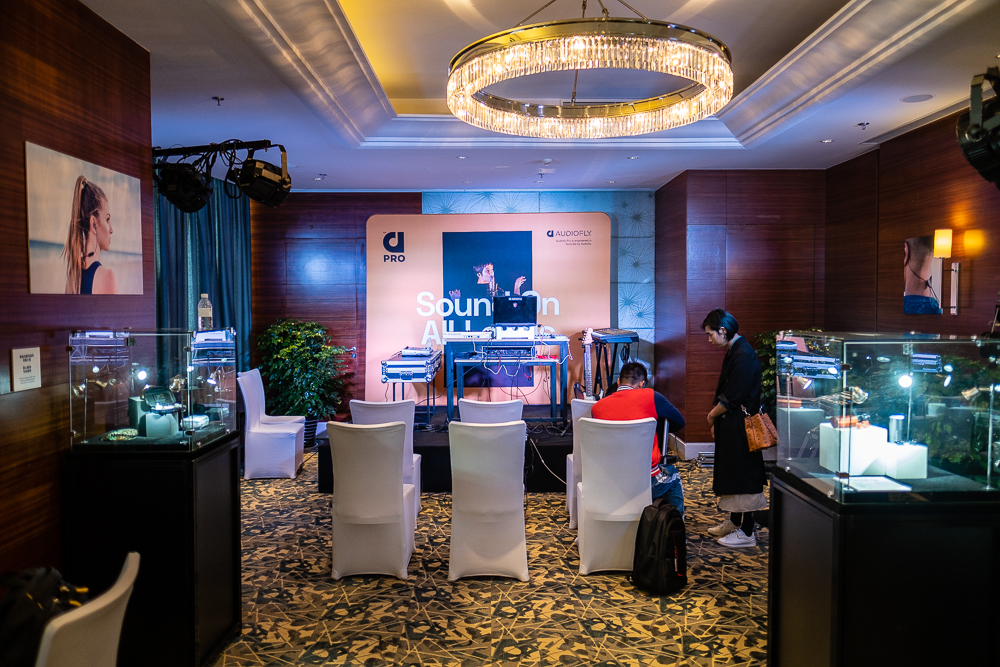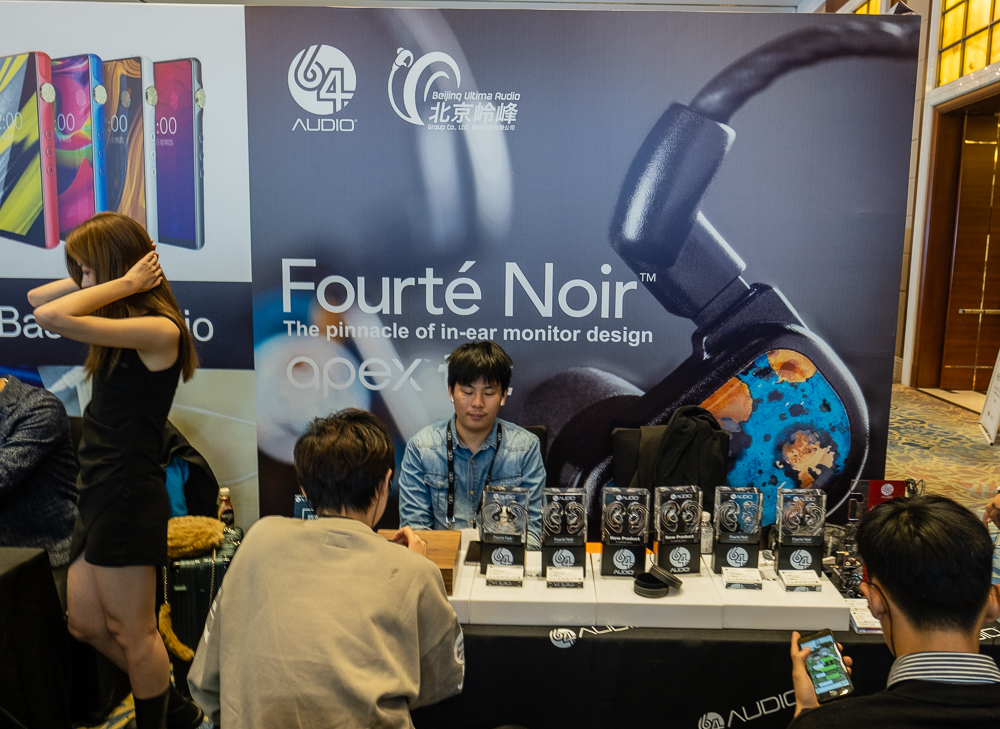 64 Audio was showing their Fourte Noir $3799 Universal IEM. The Dynamic Bass driver has a richer low-frequency signature and using an updated premium silver cable with Mundorf solder makes for better frequency response.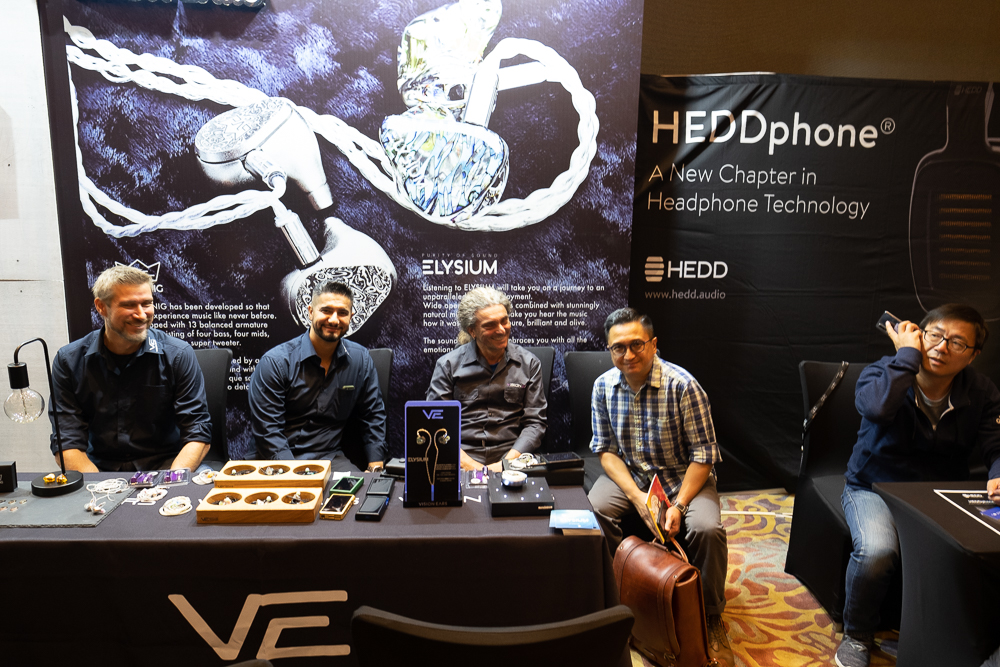 Jude Mansilla founder of Headfi.org and CanJam Global with the German-based company Vision Ears which is one of the best IEMs made in the world and Jude told me one of his favorite designs for musical listening.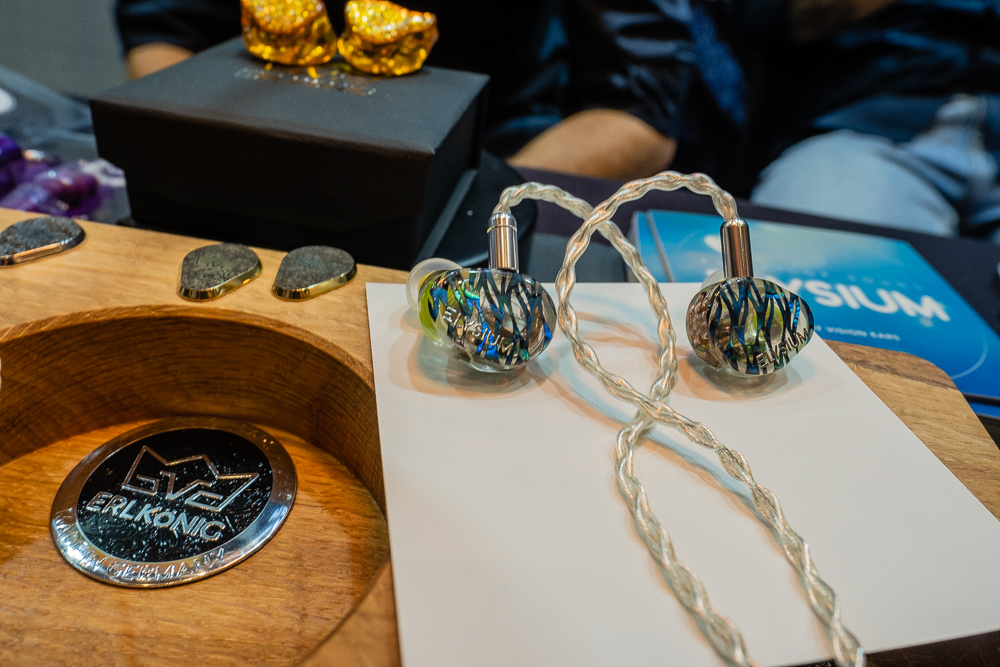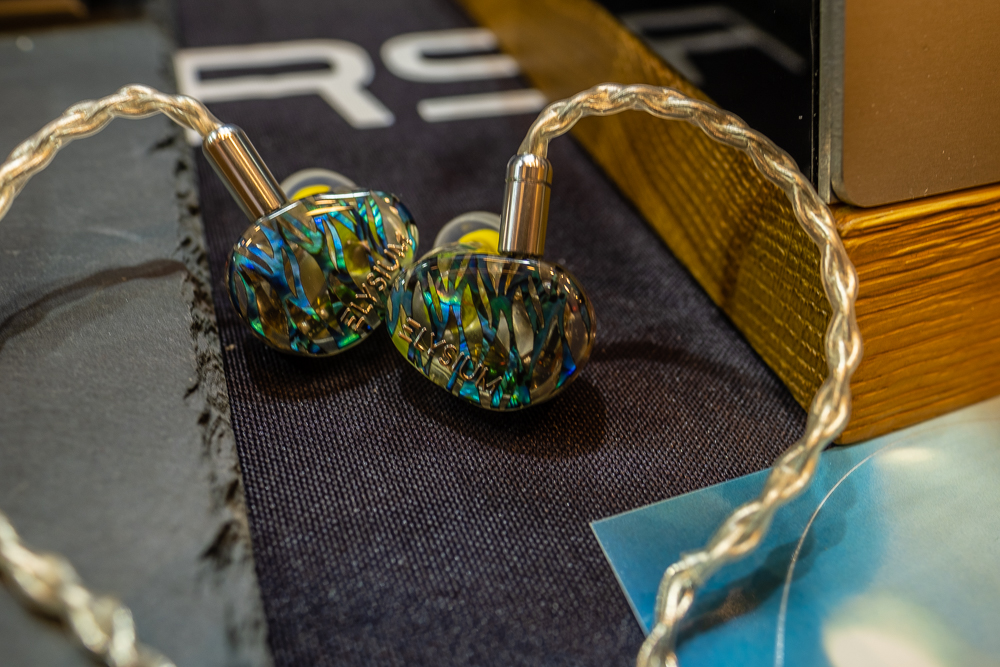 The Elysium is Vision Ears' first hybrid design. The hybrid features a dynamic driver for the midrange and a BA driver dedicated for low-frequency bass response and uses electrostatic tweeters for the best in sound for transparency and clarity. The universal sample I was listening to had an excellent vocal presentation and sounds out of my head and the tonality of instruments was special using the finest in a small beautiful footprint the ELYSIUM is available only as a custom design with excellent bass, and a beautiful tonality of instruments. Priced at $3200 one of the finest IEM's I have experienced.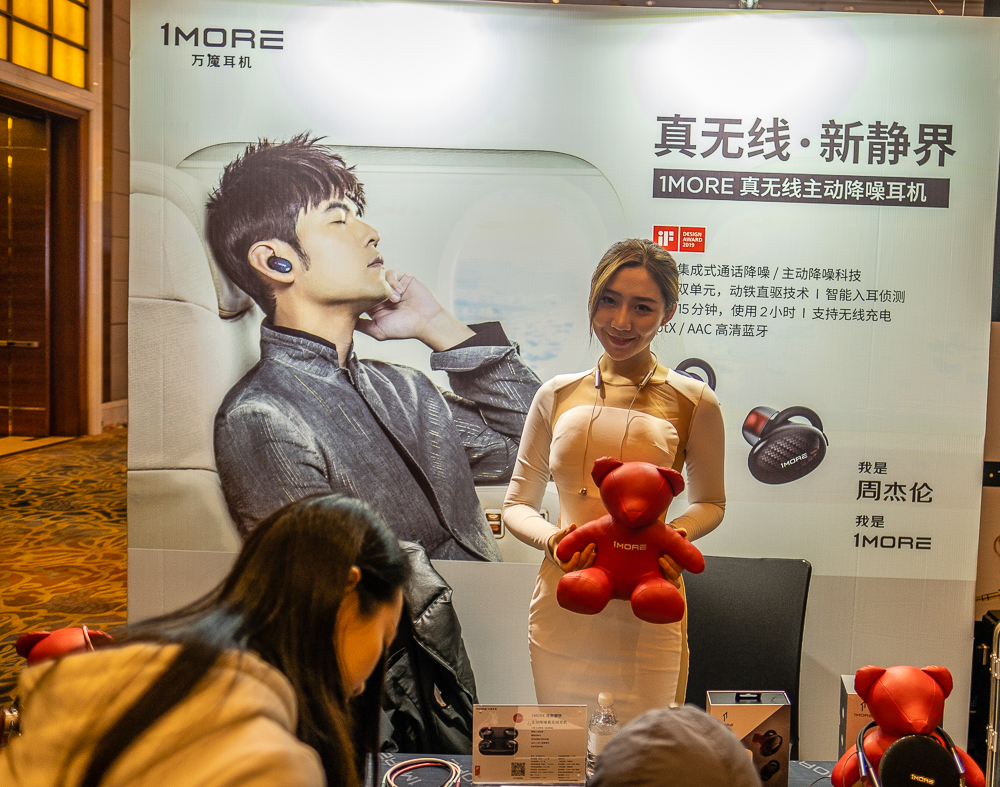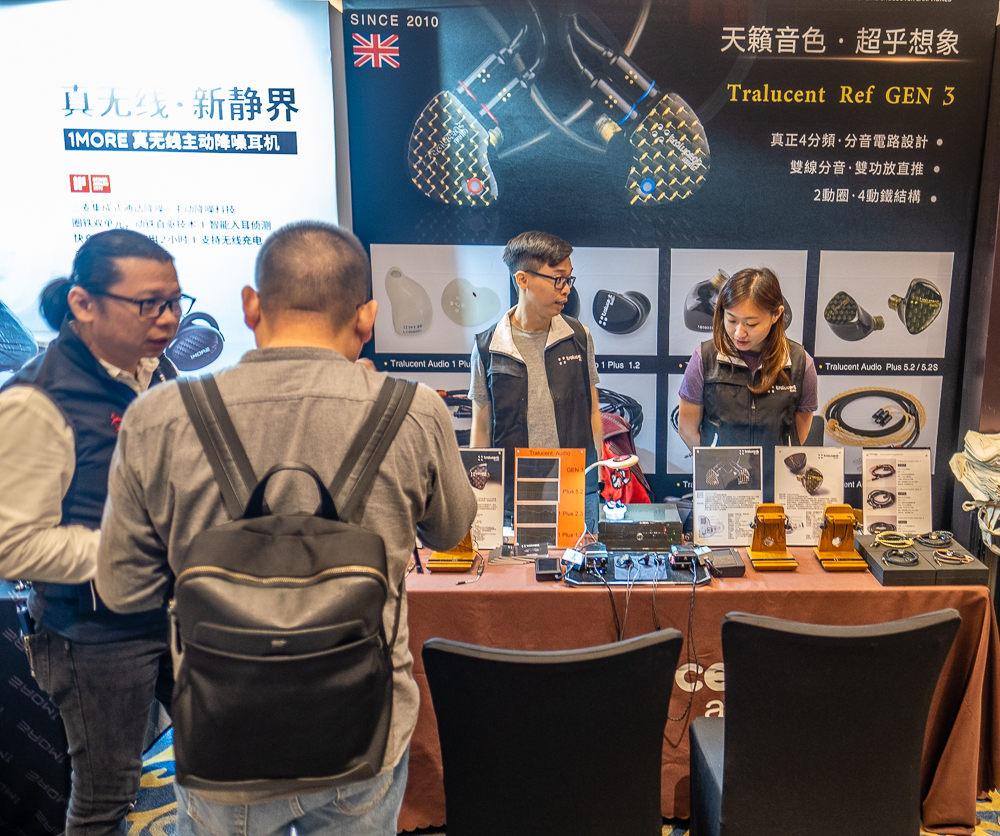 1More was showcasing their line of excellent IEM's starting at $29.99 to $169.00 Their new triple drive design priced at $79 is one the best sounding value monitors that offers no-compromise performance and sounds exceptional. Their $99 single driver took the world by storm and is still considered one of the best single driver monitors being manufactured today.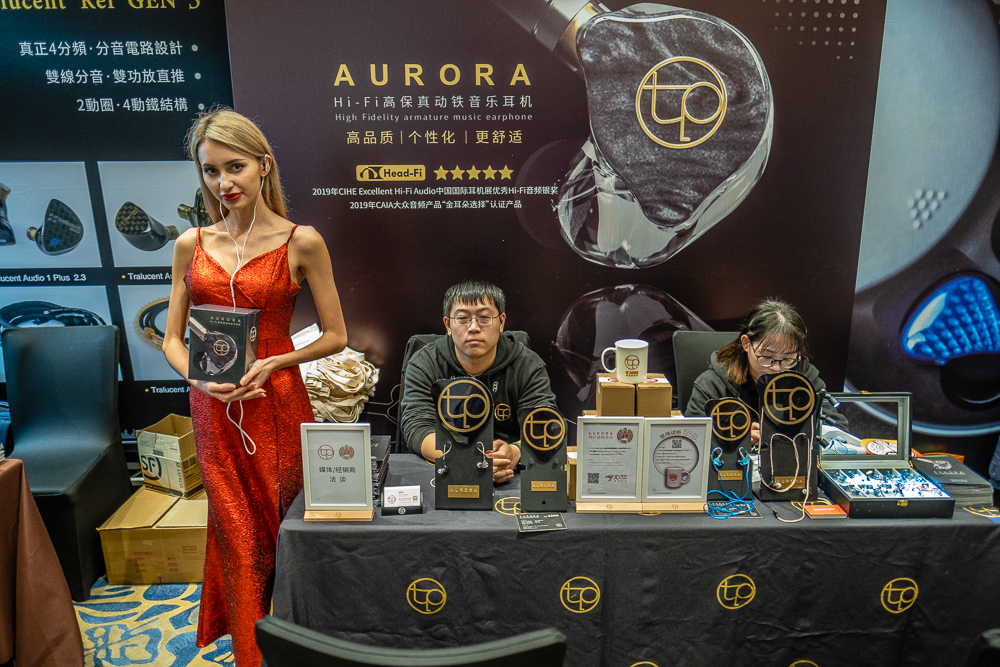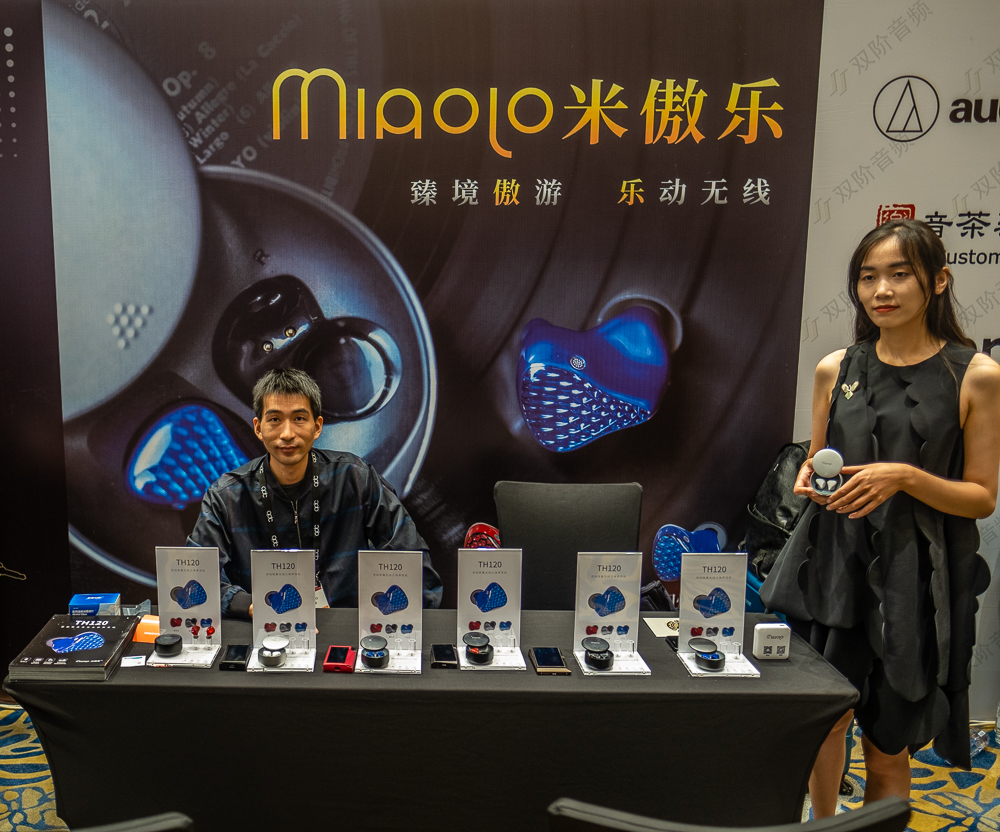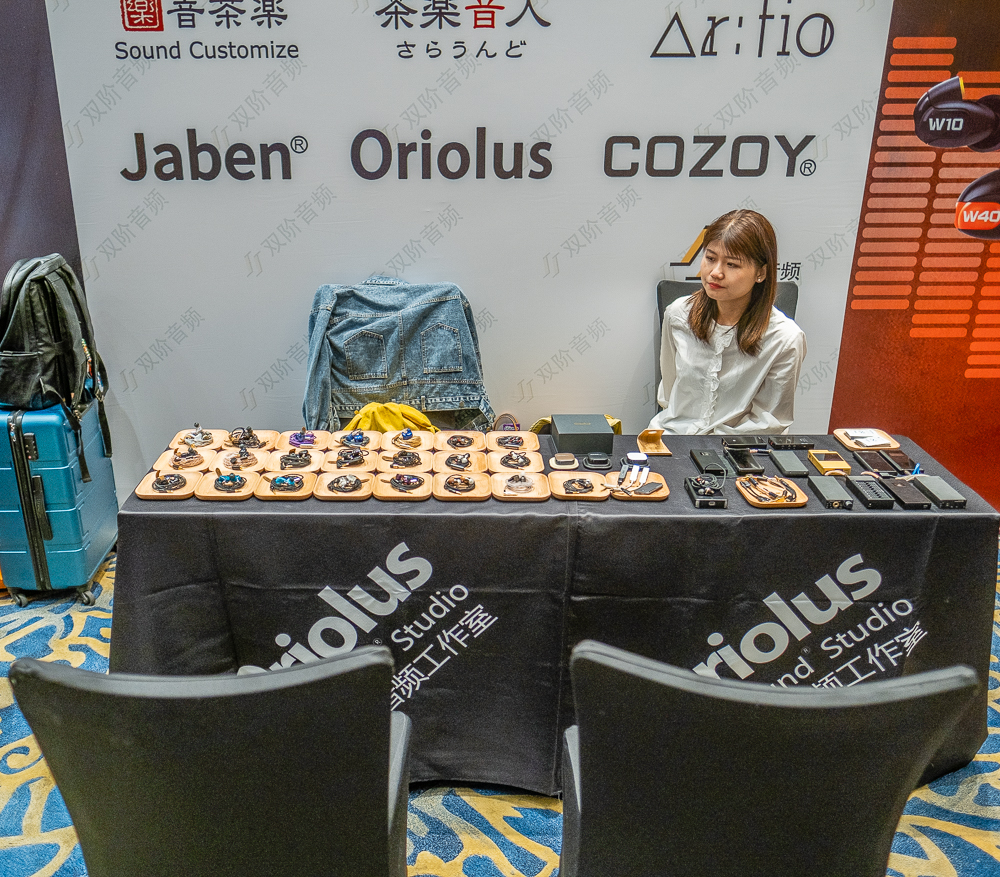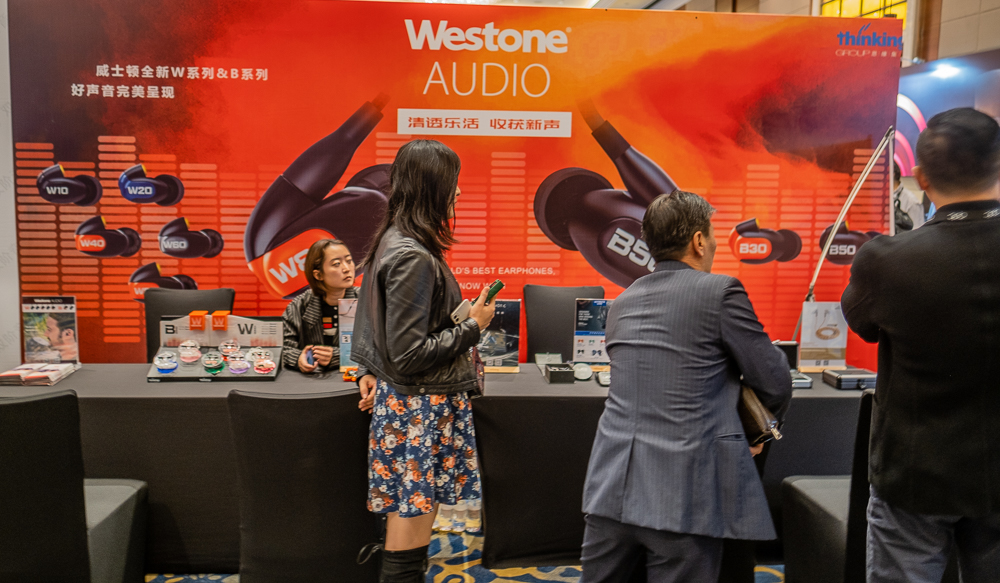 Westone Audio was showing its award-winning line of IEMS's starting at $189 for the AM Pro 10 designed for performing artists and a complete line of IEM's both universal and custom designs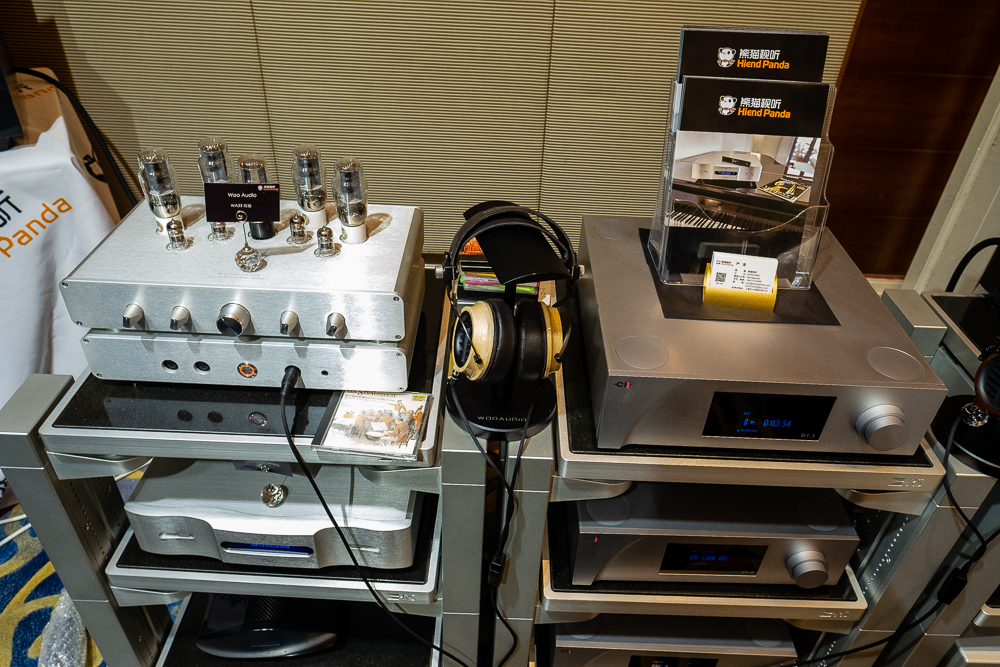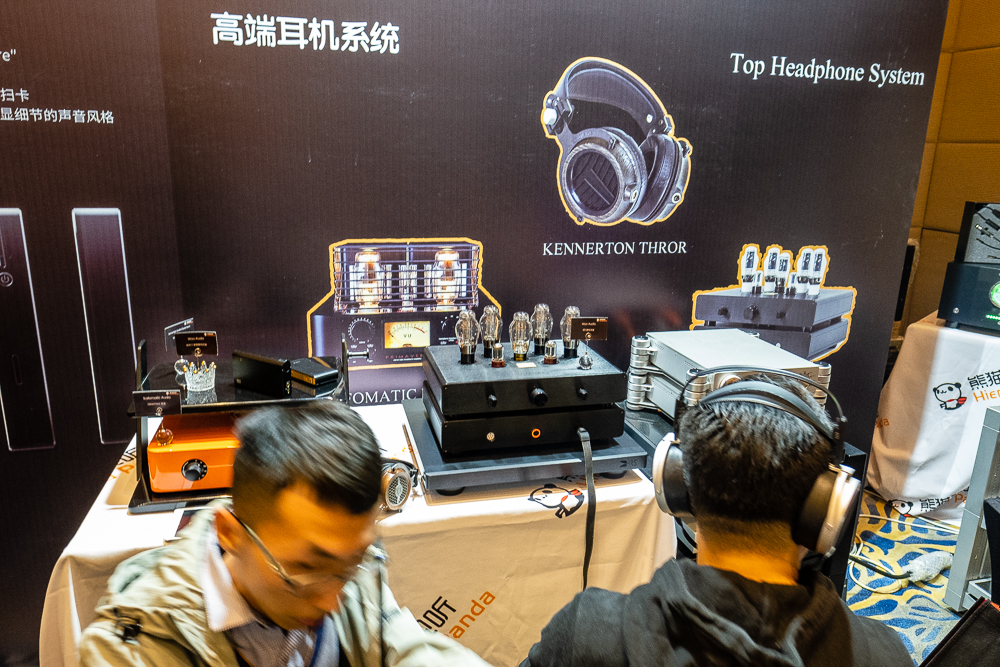 Kennerton, a company known for its reference line of headphones and tube amplification was showing a beautifully designed tube amplifier with their Thror Planar Headphones made in Russia and starting at $2500 US offer exceptional musicality that has a beautiful midrange with thunderous bass and liquid highs. It sounded excellent with the warmth of the tubes.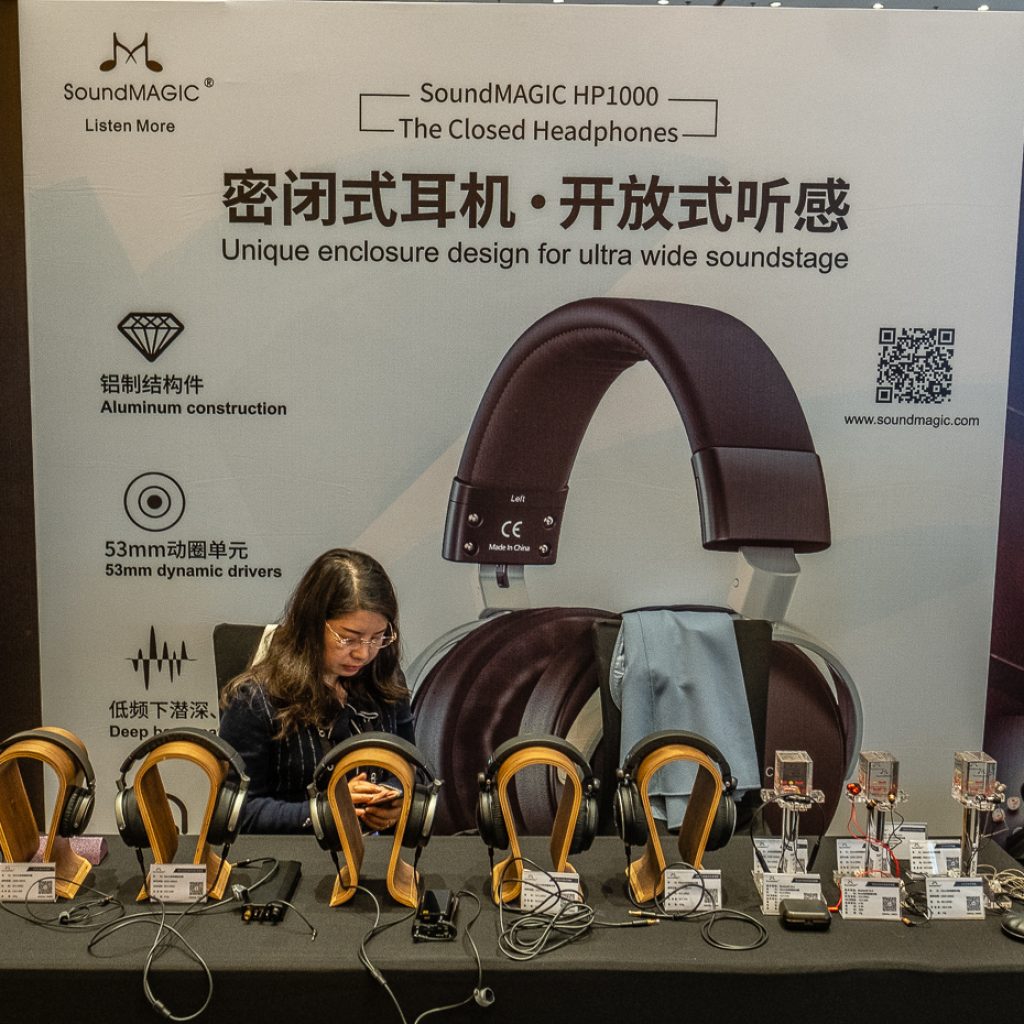 The SoundMAGIC HP1000 Over-Ear Headphones, HiFi Professional Studio Headphones, and Premium Full Size Closed-Back Headphones provide an Open-Sense of Sound and is offered at $299 US. The complete line of affordable headphones has received excellent reviews for high-quality sound at affordable prices.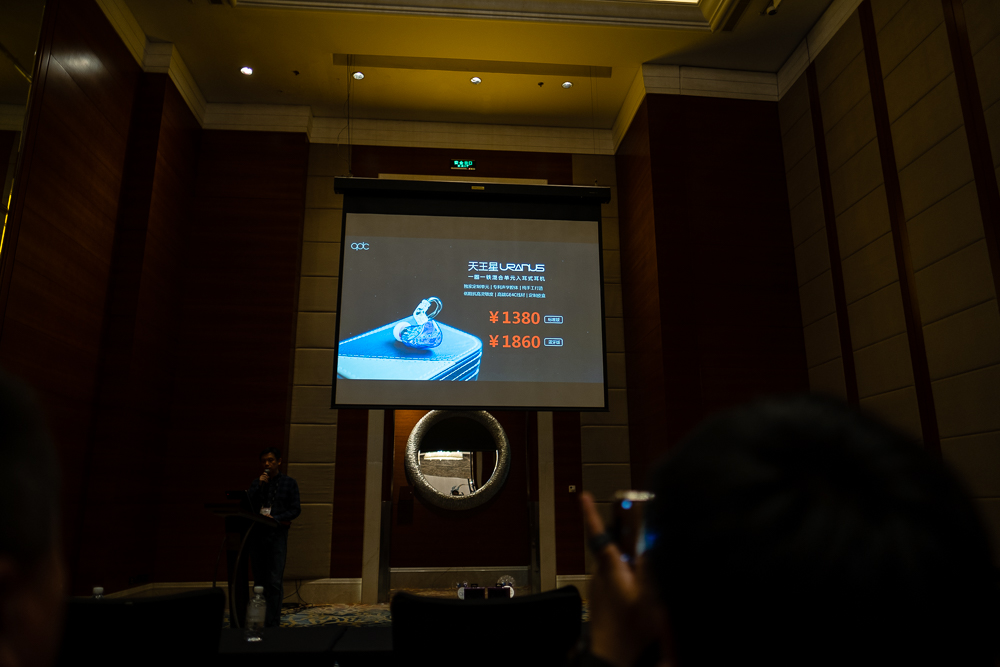 QDC Press Conference announcing their new Uranus model IEM mentioned above for $249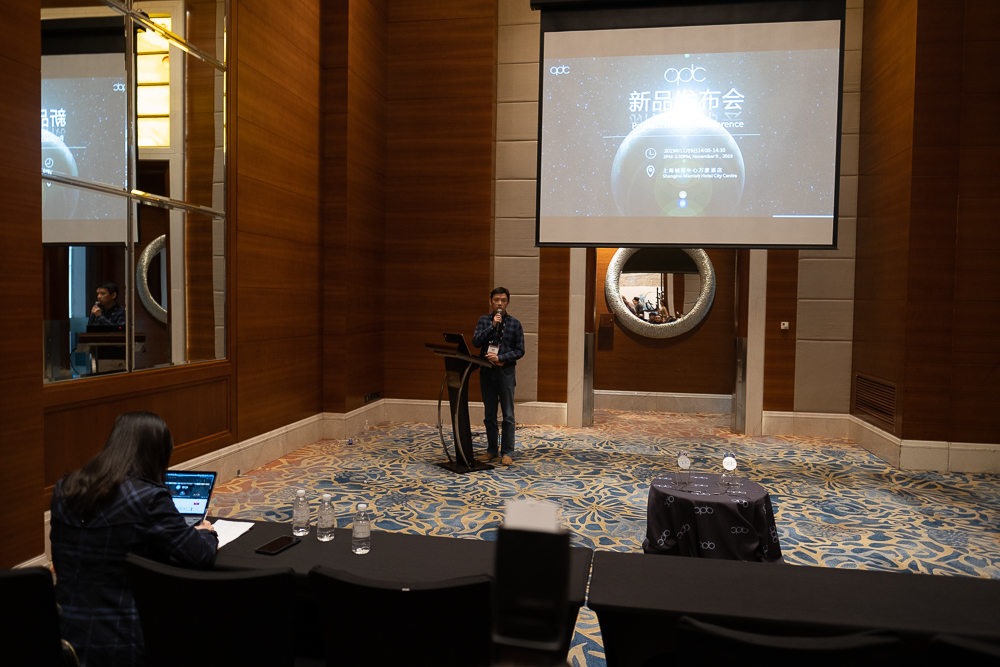 QDC introduced the Uranus IEM which includes one dynamic driver and one balanced armature driver. Uranus comes with 3.5mm cable in the standard version and BTX cable as an addition in the Bluetooth version. Priced under $250.