I have related my history with Dan Clark Audio headphones ad nauseam so I will spare you the details this time, but there is a reason why three of my reference headphones are Dan Clark Audio products (MrSpeakers when I acquired them). While the ETHER2 is my preferred daily use headphone due to its comfort and extreme resolution, the ETHER C Flow 1.1 remains my choice for testing tonal balance and sub-bass response, and the AEON open is my budget headphone of choice, and of course, the VOCE remains my all-time favorite headphone period, well, up to today at least. Introducing the Dan Clark Audio Stealth Planar Magnetic Headphone. As I have mentioned many, many times before, with each new Planar Magnetic headphone Dan Clark makes a huge improvement over those that came before, reaching ever closer to that magic ideal personified in the Electrostatic headphone, with greater dynamics and deep bass response to boot.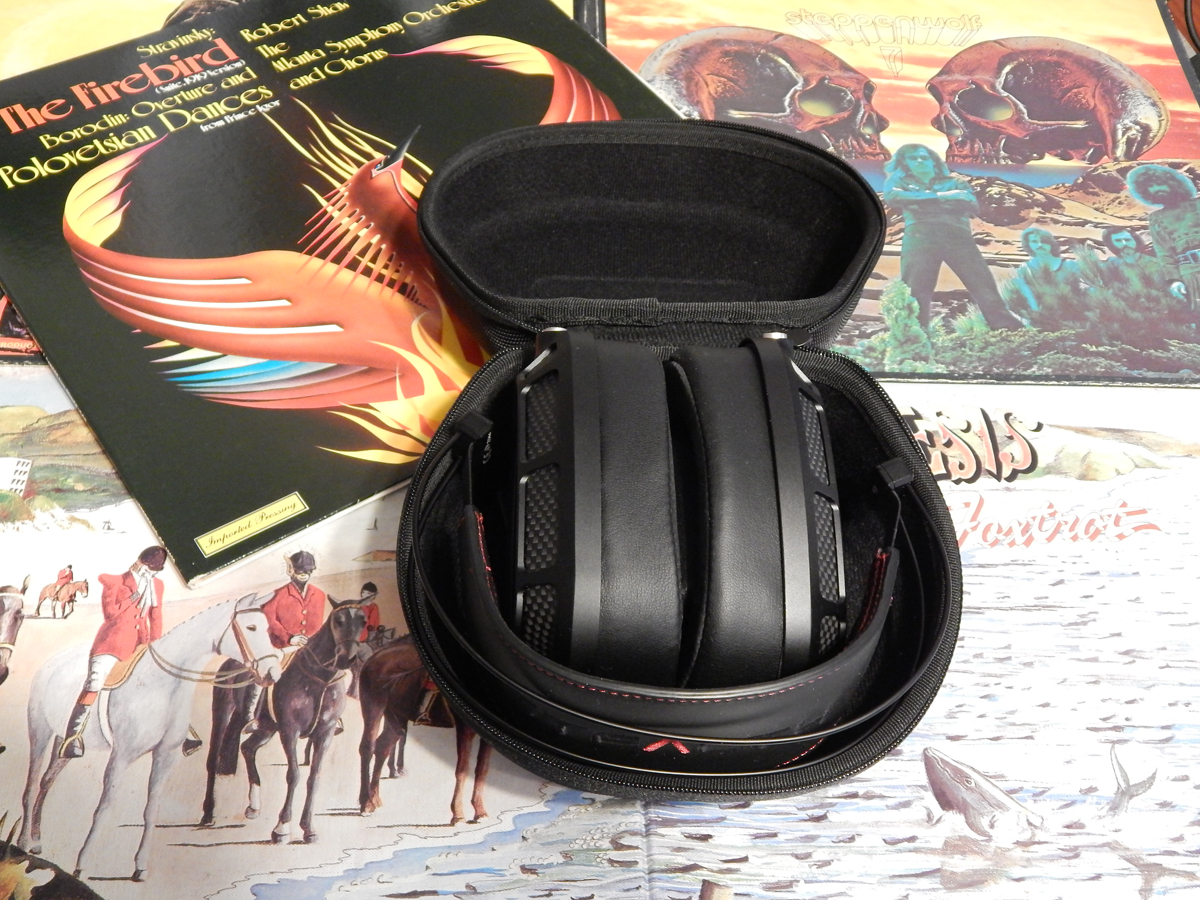 The Dan Clark Audio Stealth Planar Magnetic Headphone:
The Dan Clark Audio Stealth Planar Magnetic Headphone Features an all-new 4th generation planar magnetic driver and breakthrough Acoustic Metamaterial Tuning System as well as an improved gimbal headband based on the AEON 2 with their signature nickel-titanium crossbars, a self-adjusting head strap, and softer earpads making the Stealth one of the lightest and most comfortable reference headphones available. The list of benefits and specification is as follows:

 Patent-pending Acoustic Metamaterial Tuning System (AMTS) delivers unprecedented high-frequency detail and clarity for the ultimate in smoothness, tone, and detail retrieval

All-new 4th generation v-Planar driver with our largest planar diaphragm to date, delivering exceptional dynamics with vanishingly low distortion for a natural and "easy" listen

Improved driver tensioning system delivers incredible consistency across units

All-new auto-adjusting suspended strap gives Stealth a perfect fit, every time

Pre-formed ergonomic strap spreads weight evenly across the head for incredibly comfortable extended listening

Strap quilting improves comfort and reduces heat buildup

Composite synthetic suede and protein-leather pads offer a sung fit with minimal clamp, with a pleasant touch on the skin

Carbon/aluminum bonded cup design yields maximum stiffness with minimum weight

Folding gimbals allow Stealth to be packed in a compact case for safe and easy transport

Stealth is designed and built by hand in San Diego, California, and is backed by quality and support you can count on

 Driver: 62mm x 34mm single-ended planar magnetic

Driver matching: 0.25db weighted 20-10,000Hz

THD: less than 0.03% 20-20KHz, ref. 1KHz at 90dB

Sensitivity: 86dB/mW

Recommended Power Requirement: 500mW @ 32Ω, minimum 240mW@ 32Ω

Headband: Nickle-Titanium

Baffle: Carbon Fiber

Ear Pads: Synthetic Suede and Leather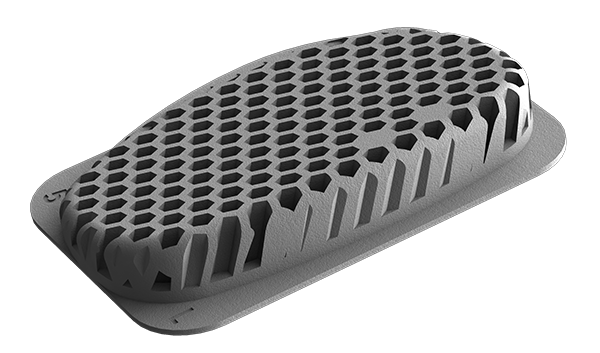 Acoustic Metamaterial Tuning System (AMTS):
"All headphones are subject to high-frequency standing waves which can make treble sound harsh, fatiguing, or synthetic.
AMTS is a patent-pending inline device placed between the transducer and ear. It integrates waveguides, diffusion control, quarter-wave, and Helmholtz resonators into one compact structure.
Diffusion reduces some standing wave formation while resonators act as both precision and broad filters to smooth and shape the frequency response, smoothing the sound from the midrange through the highest frequencies.
AMTS renders high frequencies with a refreshingly smooth, accurate, and detailed delivery across all genres.
Stealth's all-new 4th generation planar-magnetic driver delivers the smoothest, richest, and most detailed experience we could create. It's 20% larger than the E2 driver and uses our patented v-Planar technology to reduce THD and improve low-frequency extension.
Diaphragm are made on an all-new system for a more uniform and consistent tension, lower distortion, and better matching."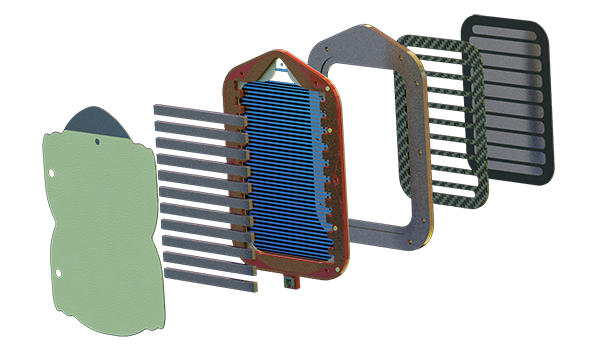 To put this in understandable language metamaterials are materials engineered to have properties not found in naturally occurring materials. In this case, Dan has engineered a material that acts as a programmable filter that allows him to fine-tune the standing waves surrounding your ear to reduce unwanted distortions as well as create a more realistic three-dimensional image by improving the linearity of phase in relation to your ear. Beyond that, the new Stealth driver employs stronger magnets and lighter diaphragm materials in a denser (thinner) package with greater surface area using propriety tensioning systems, improving dynamic range, speed, and accuracy. Of special note is the fact that when matching drivers (which are done to a higher tolerance than previous models) the whole earcup assembly is used rather than just the driver, creating an even more accurate match.
Living with the Dan Clark Audio Stealth Planar Magnetic Headphone: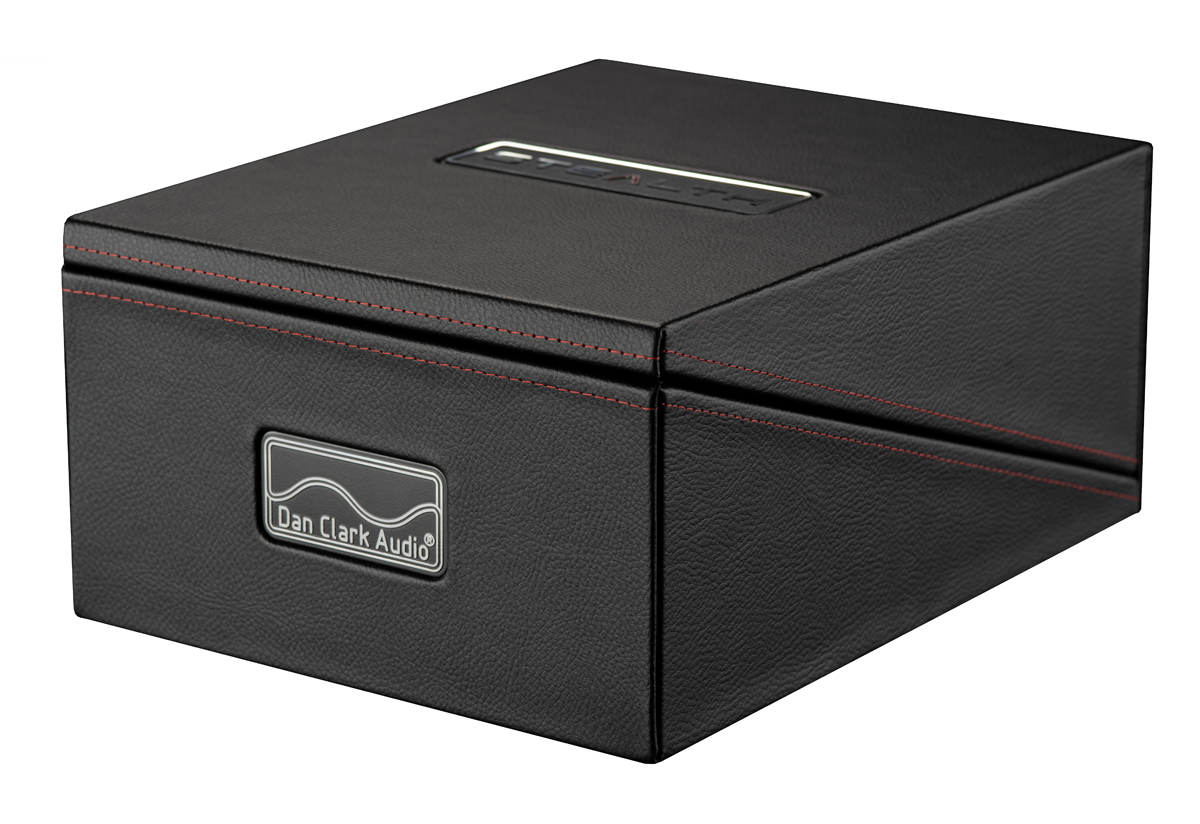 If presentation counts for anything the Dan Clark Audio Stealth Planar Magnetic Headphone takes the gold. It arrived in an elegant black (with red stitching and a metal Stealth name plate embedded in the top) velour-lined synthetic leather case with the smaller (tiny in fact) hardshell carrying case inside (with the Stealth inside of that) and a separate black box containing the VIVO headphone cable. The headphones themselves are similar in shape to the AEON 2, though slightly larger, with metal and carbon fiber cups, the ear-shaped earpads are synthetic leather on the outside and synthetic suede on the inside and contact surfaces. The head strap is synthetic leather with red and black stitching. The overall package offers up the beauty and elegance deserving of an extreme high-end reference headphone. As a point of detail, an insert is provided to prevent the earpads from being crushed during shipping or transport when the headphones are folded up.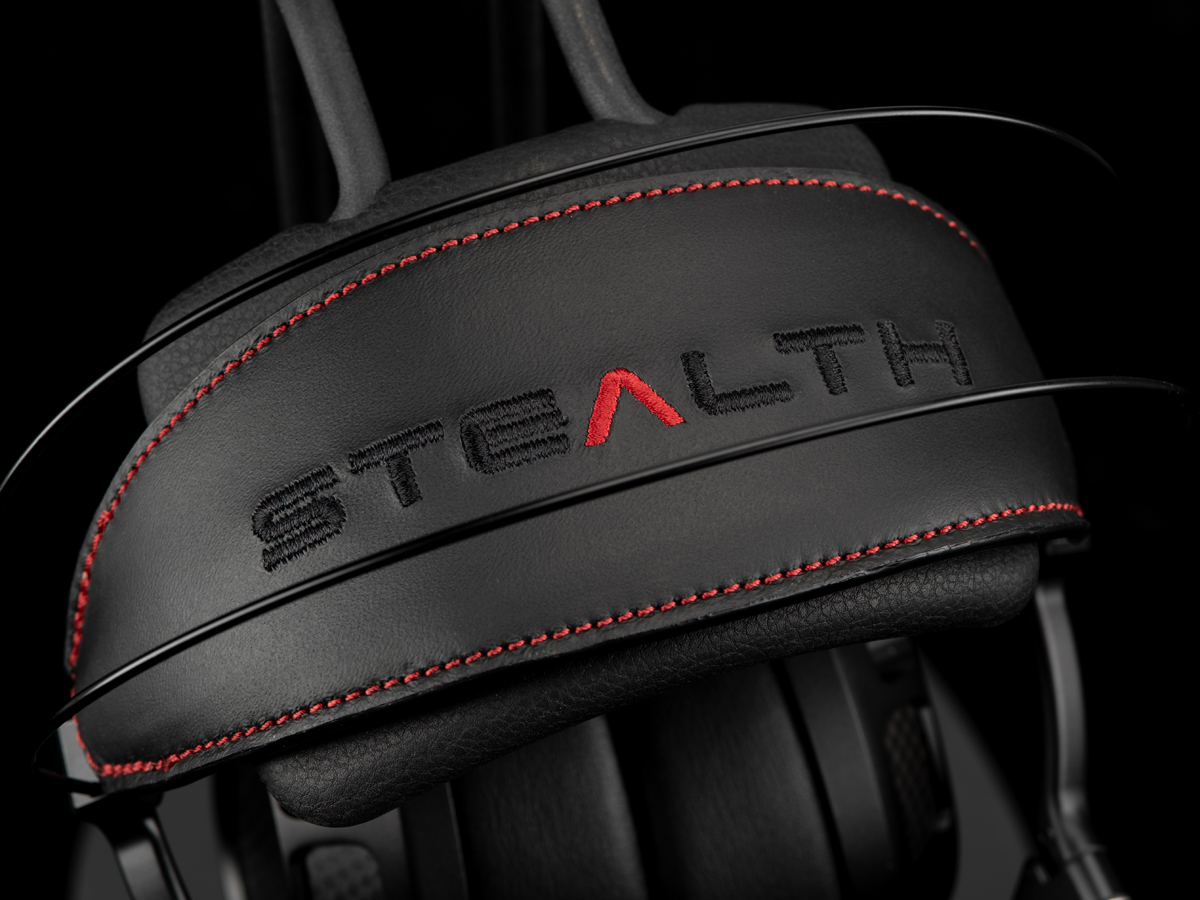 For burn-in I used my FiiO M11 DAP running Qobuz as is my usual habit which was able to drive the Stealth without problem as I expected given the efficiency of most of Dan's headphones. For sound checks, I used the Manley Absolute Amplifier in single-ended mode with feedback on max and the Audio-gd R2R-1 DAC using the single-ended outputs with Cardas Iridium Cables, Cardas Iridium Power Cords, and a Cardas Clear Serial Bus Rev 1 USB cable.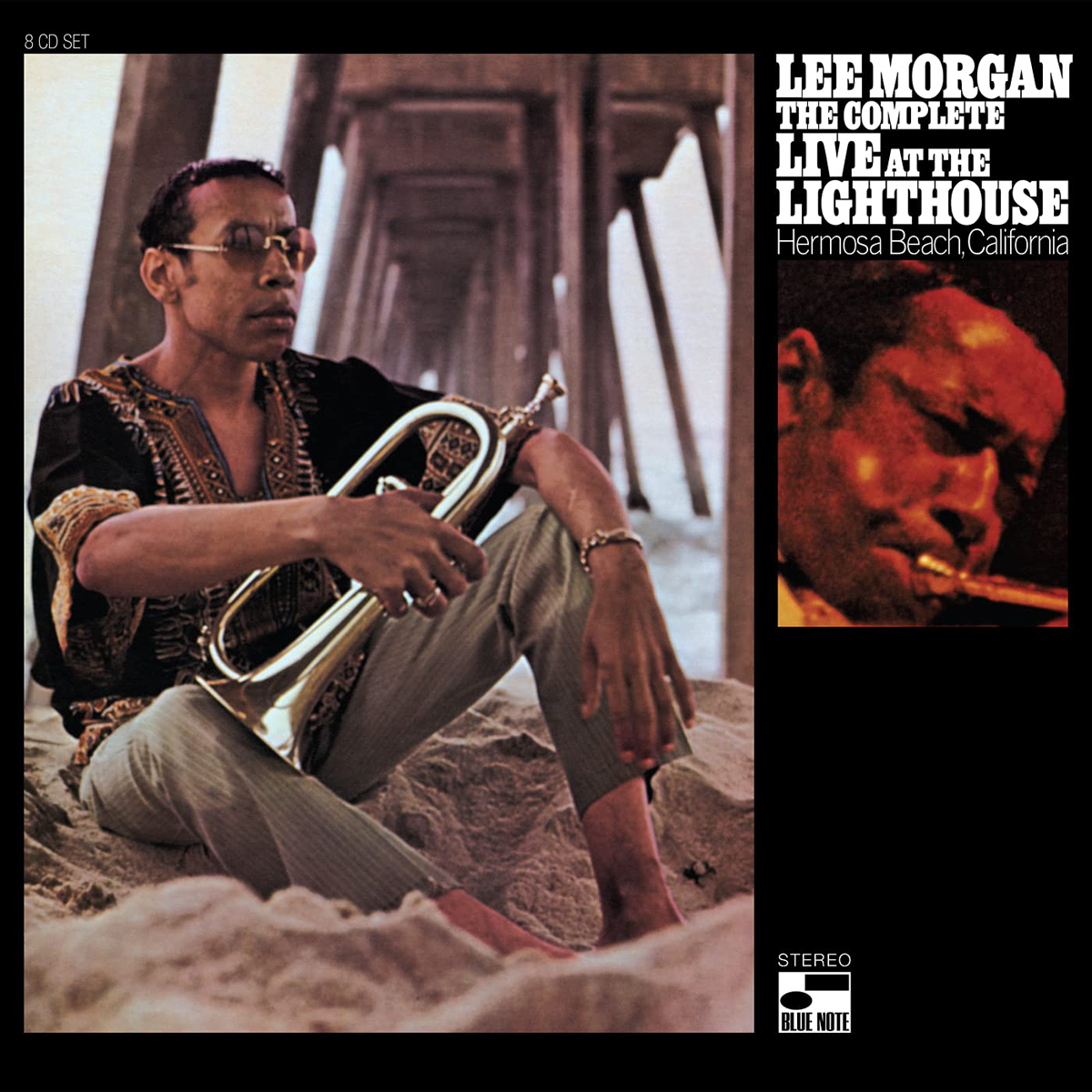 Placing the Stealth on my head for the first time, the comfort was excellent, with firm but unobtrusive clamping, as I never had a chance to try the AEON 2 it was a new experience and one that much pleased. Having selected "Lee Morgan: The Complete Live At The Lighthouse, Hermosa Beach California" (24-bit/192kHz – Qobuz) for a recent review in our sister publication HiFiAudio.Guru, I decided to start there for my listening tests. Listening to "Absolutions (Live (Friday, July 10, 1970 – Set2))" was like being there. The dynamics and detail were thrilling with the horns up front and the percussion, piano, and bass a bit behind capturing an in-person experience. The soundstage had wonderful width and depth with an unparalleled musicality. Lee Morgan's trumpet's ridiculous speed was reproduced with an unprecedented neutrality of timbre lacking blare or distortion. Mickey Roker's percussion had impact and detail, while Jymie Merritt's electric upright bass had texture and tone. The Stealth drew out all the layered resonance of Harold Mabern's piano creating a picture of Steinway-like delicacy.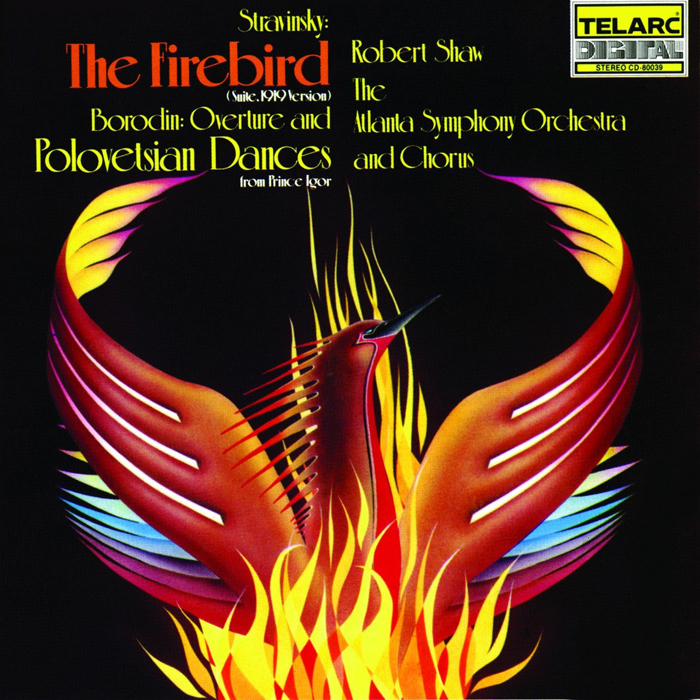 To find out if the Stealth truly reached electrostatic levels of resolution I selected my 24-bit/96kHz vinyl rip of Robert Shaw conducting the Atlanta Symphony Orchestra's performance of "The Firebird Suite" ("Stravinsky: The Firebird; Borodin: Music from Prince Igor") and the spine-tingling chill was there (listening to this track back in the '80s, vinyl vs CD was how I first discovered that resolution was the problem with digital [16-bit/44.1kHz] recordings, specifically the chill effect). The interplay between the different flutes was clear as a dialog between a pair of angry birds. The soundstage and image were solid with each instrument nailed to their perch in a massive theatrical hall. The listener was placed about twenty feet from the orchestra creating a real three-dimensional image. Each instrument was highlighted clearly as a separate entity during the crescendos offering the thump of the tympanis as clear and distinct.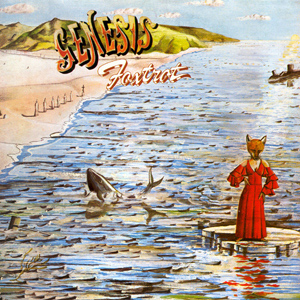 For a trip into the subsonic, I selected my standby "Can-utility And The Coastliners" by Genesis ("Foxtrot" – DSD) and was treated to a weight, authority, and texture like I have never heard from headphones before. And once again the musicality was astonishing. Phil Collins' percussion was in-studio in clarity, impact, and definition.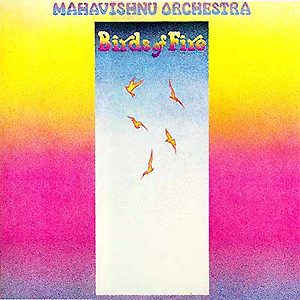 Clearly, my detail torture test "Birds Of Fire" by Mahavishnu Orchestra ("Birds Of Fire" – DSD) was called for. Containing multiple tracks from each instrument including two separate drum performances overlapped, most headphones (and electronics if I'm honest) can't unravel the cacophony of sound into independent musicians. The Stealth easily separated the two kick drums hammering in sync as well as the competing violins. A true master accomplishment of dynamics, resolution, and detail.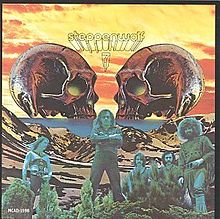 Listening to Steppenwolf's cover of the classic Hoyt Axton tune "Snowblind Friend" ("Steppenwolf 7" – 24-bit/192kHz) I was impressed at how the recording presented the band as if they were playing live in a vast music hall rather than in a small studio. The plucking of the steel strings was so natural and realistic that it was easy to picture them sitting there in front of me. And John Kay's voice was personal and intimate sounding as if it were spoken to me rather than into a microphone. Once again the bass was deep and tight, while the cymbals were crisp but devoid of spit, and as before the musicality was unbelievable.
One of my all-time favorite female vocal tracks is "Just Like U Said It Would B" by Sinéad O'Connor ("The Lion and the Cobra" – 16-bit/44.1kHz), in fact, the year that it came out I took it to CES (this was back when they had a high-end audio section at CES) and used it to test every system I listened to. While I still include it in my test-track list, I don't use it very often because on many systems her voice can be painfully strident, so what I love most about the song could make the experience unpleasant on a low-resolution system especially factoring in the fact that it is a standard resolution recording. Even when she was pushing the edge of clipping the microphone the Stealth presented her voice clear and undistorted with that magical heart-rending resonance that defines Sinéad O'Connor.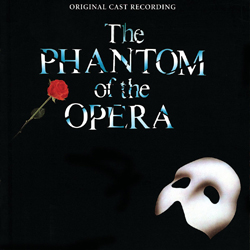 While the Stealth is well-deserving of the very best that you can throw at it I felt compelled to see how far down it could scale, so I broke out my Dummer Cable (3.5mm TRS) and plugged into my Motorolla Moto G Power (which has a headphone jack believe it or not) just to see. I struck up "Think Of Me" as performed by the incomparable Sarah Brightman ("The Phantom of the Opera (Original 1986 London Cast)" – 16-bit/44.1kHz- Qobuz) and though the volume was not particularly loud, Colonnade seating at best, you were still in the house expansive with honeyed vocals. To give the phone a little boost I added in the Questyle M12 inline DAC/Amp (subject of a future review) and while not on a par with Manley/Audio-gd setup, the sound was glorious. The piano was rich and full and Sarah was sweet and dynamic in a large soundstage. While not an ideal pairing it did show that the Stealth is capable of on-the-go listening with your better quality DAPs. (Note: Dan Clark Audio recommends a minimum of 500mW @ 32Ω for desktop units and at least 240mW@ 32Ω for portables, which tallies with my experience).
Conclusions on the Dan Clark Audio Stealth Planar Magnetic Headphone: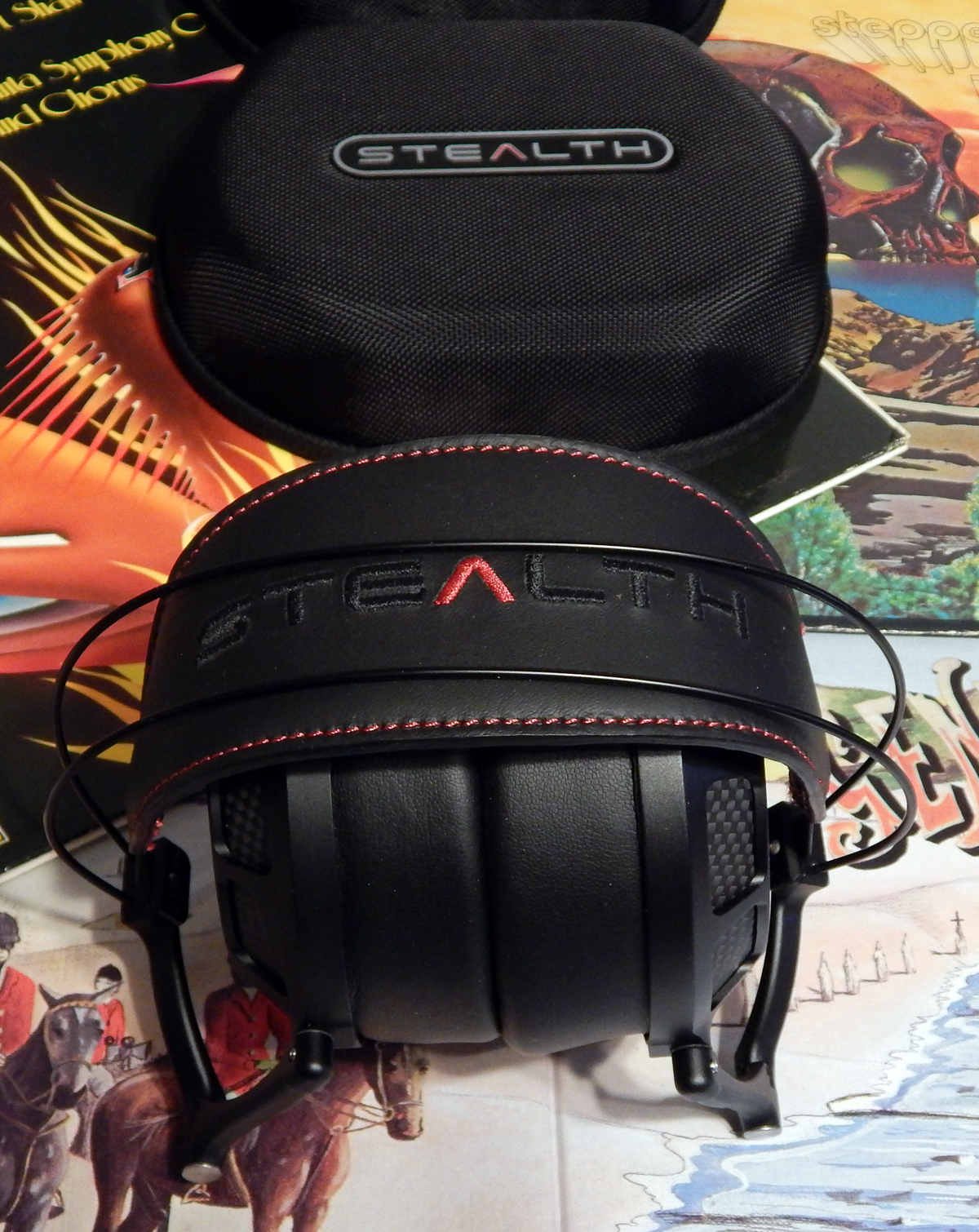 While I don't have a VOCE on hand to compare, I am fairly confident that Dan Clark has achieved his goal of approaching electrostatic speed and resolution with a planar magnetic in the Dan Clark Audio Stealth. And to be completely honest, even the very best electrostatics like the VOCE have a tendency to be slightly bright and thin in the extreme high frequencies, a problem the Stealth does not exhibit, making the Stealth if not the finest, at least within a hairsbreadth of being the finest headphone I have heard. Recently I have been reminded of how much difference world-class electronics can make in even an inexpensive pair of headphones, and now I have witnessed that the opposite is true also, that a truly brilliant headphone can sound great with even the most modest of electronics.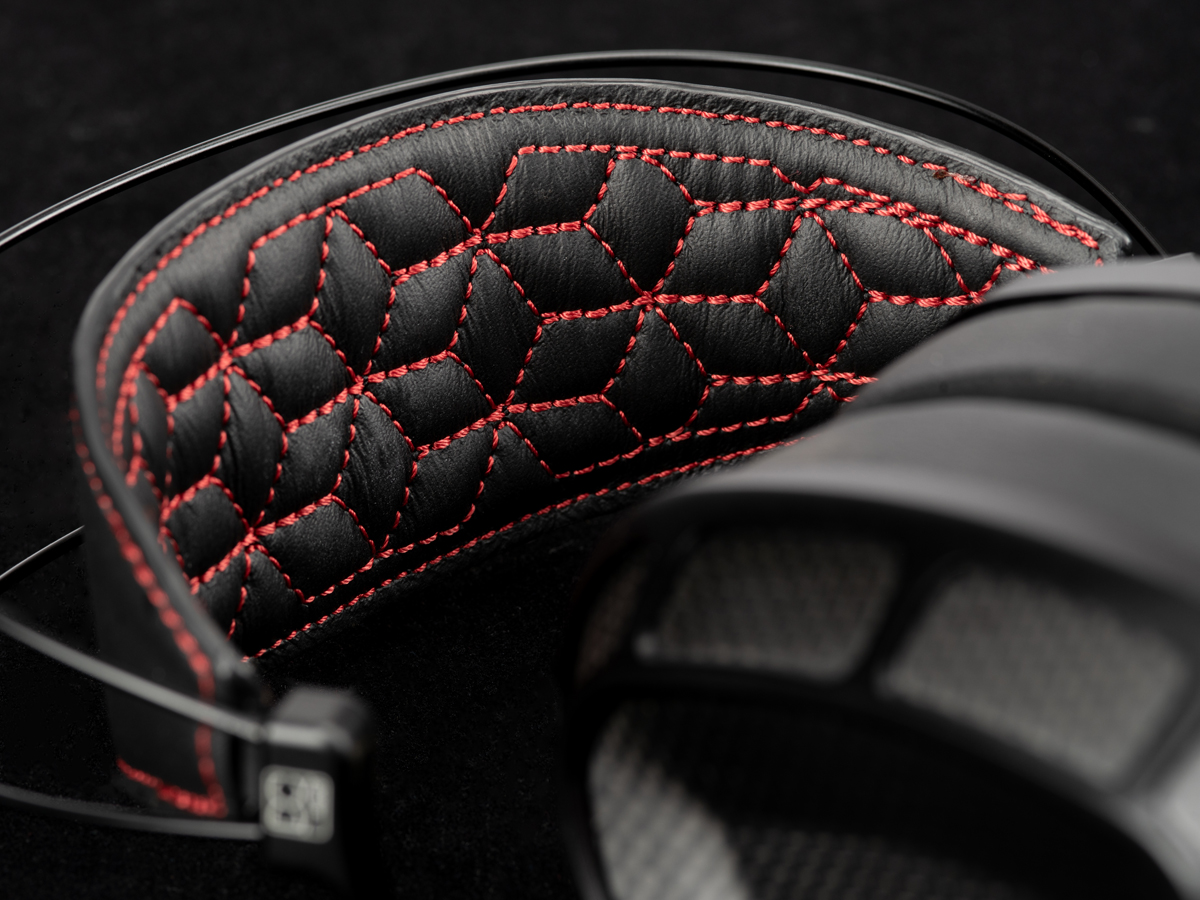 I have always contended that the most important part of a music system apart from the music itself, is the speaker or as in this case the headphone, as that is what defines the overall sound, but a headphone like this deserves the very best source and electronics that you can throw at it, and it will gleefully return a multitude for your investment.
For clarity, timbre, soundstage, dynamics, presence, tonal balance, low-frequency detail, and musicality I have not heard the Stealth's better in any headphone that has crossed my desk. It is also my firm belief that the right speaker will play any genre of music well and the Stealth is the right speaker, many kudos to Dan Clark, he has created a masterpiece that could easily retire my beloved ETHER C Flow 1.1 as my primary reference headphone and my ETHER 2 to boot.
Price: $,3999
Manufacturer's Website: danclarkaudio.com