Ever wish your TV, stereo system, headphone amp, or computer were Bluetooth? Well, now with the FiiO BTA30 they can be, and with High-Res aptX HD or LDAC to boot. Whether you need a transmitter, receiver, USB, or SPDIF (Optical or Coax) the BTA30 has you covered. And to round things out and add icing to the cake, FiiO's little universal box also acts as an inexpensive DAC accepting USB, Optical or Coax digital without the need to install special drivers. And since it is FiiO, this is all done at an extremely low price of less than $90.
The FiiO BTA30 High Fidelity Bluetooth Transceiver:
The FiiO BTA30 High Fidelity Bluetooth Transceiver is tiny, measuring about 5" wide 1" tall and 2 ½" deep with two buttons (On/Off and Pair), a switch (BT-RX, BT-TX, and DAC), and a knob (volume) on the front and a pair of RCA analog outputs, an Optical SPDIF output, a Coaxial SPDIF input/output, an Optical SPDIF input, an antenna, and a USB-C port on the back. The case and knob are black metal and reflect FiiO's usual excellent fit and finish. For accessories it came with a USB-C cable, RCA stereo cable, an extra set of isolation feet (presumably for use if you want to stand the BTA30 on end), a quick start guide, and a warranty card.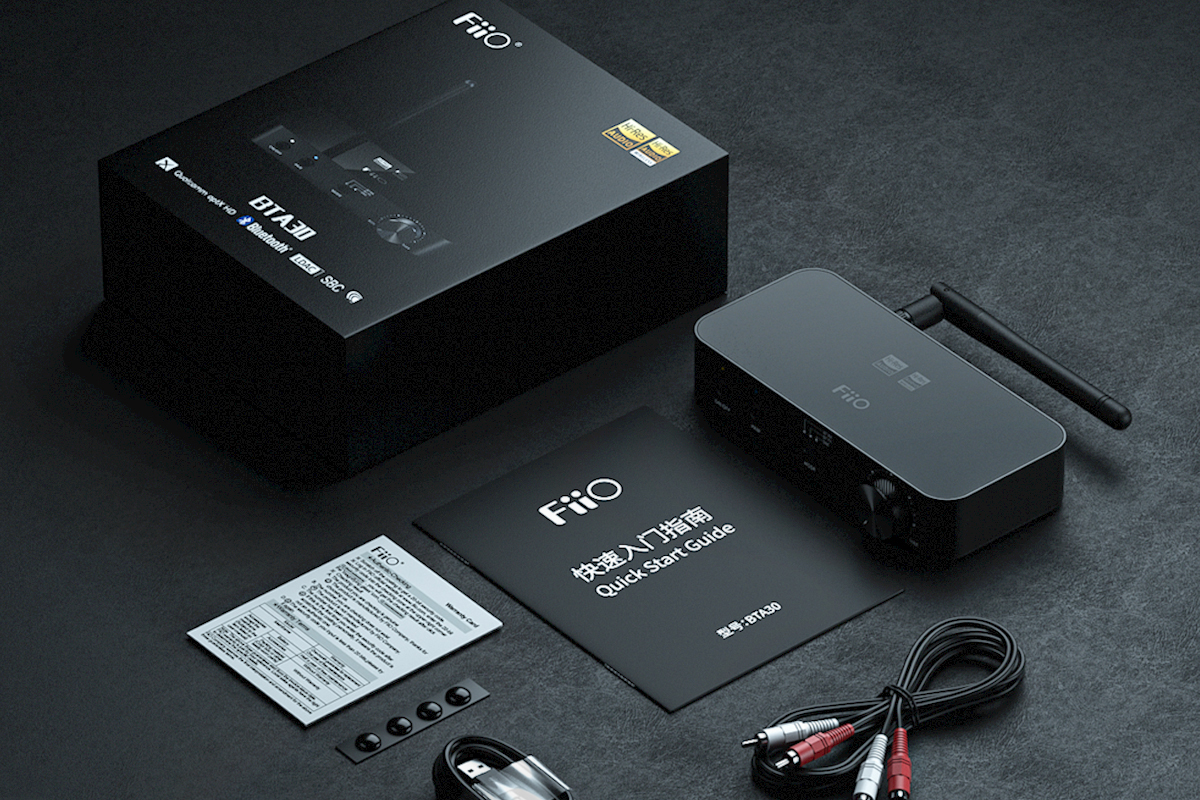 The epic list of features is as follows:
Initiatively research and develop the three-in-one multifunctional Bluetooth transceiver, functioning as a Bluetooth transmitter, Bluetooth receiver, and digital decoder.
The first desktop LDAC Bluetooth transceiver, which also supports the aptX LL connection.
Introduce DSP to the desktop Bluetooth transceiver, achieving accurate calculation on digital audios, more widely to be used.
Can be controlled by FiiO Control App, more convenient to use and more comfortable to operate.
Three-level sound trigger switch, allows for a quick switch between different working modes.
Exhaustive list of outputs: two-way optical and coaxial digital output, RCA analog audio output.
Pro-level chips equipped: –CSR8675, Bluetooth 5.0; –Professional DSP, supporting 192k and DSD decoding; –AKM DAC AK4490 –OPA1662, audio LPF op-amp circuit;
Bluetooth receiving codec: SBC/AAC/aptX/aptX HD/LDAC Bluetooth transmitting codec: SBC/aptX/aptX LL/aptX HD/LDAC DAC support: 192k sampling rate, DSD64 native decoding, 48k USB decoding
Smart RGB light indicator: Quickly indicate different Bluetooth formats and audio sampling rates.
Volume knob equipped helps to quickly adjust output volumes, esp. when connecting to active speakers.
Volume adjustments are supported under Bluetooth transmitting, esp. when connecting to TWS headphones (unless certain TWS headphones do not support volume adjustment.)
DSP audio added makes the digital input more adaptable. DSD input is also supported over Bluetooth transmitting.
App control- dig out more audio potentials. –5 types of DAC filters; –Left and right channel balance; –Turn on the digital audio upsampled mode (improve digital output to 192k). –Remotely control volumes (valid both under Bluetooth receiving and decoding mode). –Rename your device (customize the name of your BTA30). –Select Bluetooth codecs (choose Bluetooth quality or latency as output priority). –Gain selection under analog output.
Living with the FiiO BTA30 High Fidelity Bluetooth Transceiver: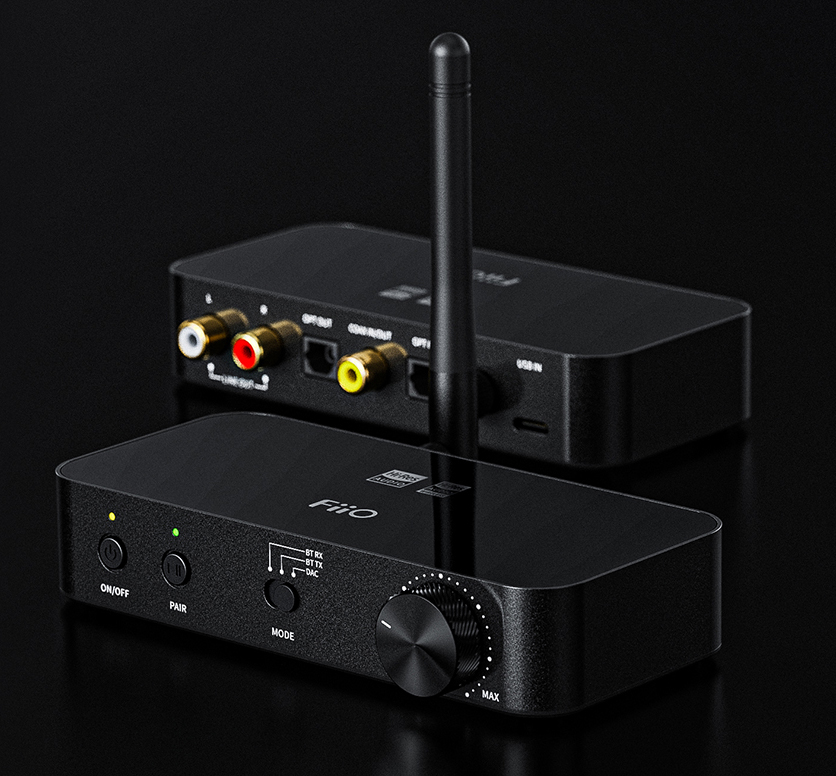 To burn-in the FiiO BTA30 High Fidelity Bluetooth Transceiver I used my FiiO M11 DAP as both Bluetooth and Coaxial SPDIF source running my Qobuz thousand song burn-in playlist. For Optical SPDIF I used my FiiO X7MKII DAP and my Questyle CMA 800R driving my Dan Clark Audio (MrSpeakers) ETHER2 headphones was used for all analog output tests. My iFi Pro iDSD (again with the ETHER2s) was used for digital output tests, and my compliment of Bluetooth receivers included the dodocool Magnetic Wireless Stereo Sports In-Ear Headphone, the 1MORE Triple Driver BT and the HELM Audio TW5. While I used the USB-C cable that came with the BTA30, I used Cardas Iridium Interconnects to connect to the amplifier.
BT-TX:
Bluetooth transmit is probably going to be the most used function so I started my testing with that. In order to assure access to all codecs, I used the coaxial input and performed a complete reset between pairings (the BTA30 will pair to more than one Bluetooth device simultaneously to run multiple headsets or other receivers at the same time, but aptX HD and LDAC are not supported for multiple receivers).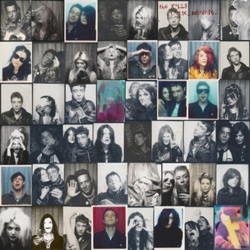 The BTA30 connected to the dodocools via aptX which is appropriate given that they were only Bluetooth V4.1. The bassy sound of the dodocools seemed appropriate for the punk club sound of The Kills' new album "Little Bastards" (24-bit/16kHz – Qobuz) as exemplified by their song "Passion is Accurate". The range of the BTA30 was impressive offering clear sound the full length of my house (well beyond the rated 30m and through multiple walls). While I wouldn't personally be inclined to use a $30 IEM for regular listening, the sound was enjoyable.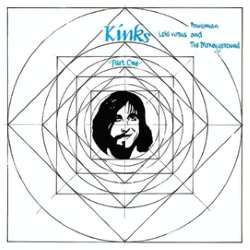 Next up was the 1MOREs connecting via LDAC the higher resolution was immediately audible listening to the live version of "Lola (with The Danish National Chamber Orchestra & The Danish National Vocal Ensemble)" (24-bit/96kHz – Qobuz) from The Kinks' "Lola Versus Powerman and the Moneygoround, Pt. 1".
The HELMs would only connect via SBC or aptX which I verified by connecting them to my phone; neither aptX HD nor LDAC would work despite claims of Bluetooth V5.0 and support for those codecs, so the HELMs offered little more to the tests than the dodocools.
BT-RX:
As noted previously, I used Bluetooth receive to burn in the BTA30 as this was the most convenient, which proved connection integrity to be uninterrupted over several days of play (if there is a signal disconnect the player stops playing). The range was about the same as the transmit though there was the occasional dropout, given that this is probably more due to the transmitter (the M11) it is still better than expected performance.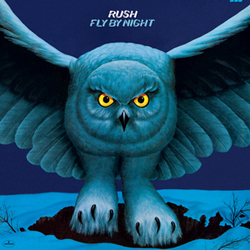 The sound quality via LDAC was excellent, especially for such an inexpensive DAC, making the most of the musicality of the AKM DAC chip. Thanks to the FiiO Control App I was able to set the AKM digital filter to my preferred setting (minimal pre and after ring which I find to be the most accurate and musical setting). This was confirmed listening to "Best I Can" (24-bit/96kHz) by Rush from their "Fly by Night" album.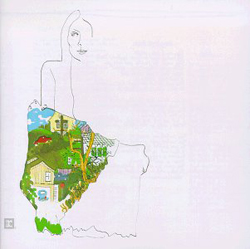 The upsampling offered a slight improvement to the soundstage even on the digital out presumably because it preserves more of the LDAC 24-bit/96kHz transmission, which outputs 16-bit/44.1kHz when not in upsampling mode (24-bit/192kHz) which I tested with Joni Mitchell's "Big Yellow Taxi" (24-bit/192kHz) from her epic "Ladies of the Canyon". Note: upsampling is not supported on the optical out.
DAC:
Last but not least was the simple straight DAC performance. Since the USB input is optimized for 16-bit/48kHz to eliminate the need for special drivers and to facilitate Bluetooth broadcast, coaxial input is the preferred choice for use as a DAC which accepts up to 24-bit/192kHz and DSD64 via DoP.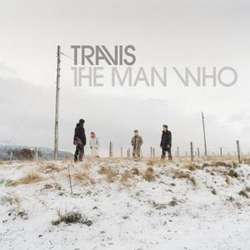 That all being said I hooked up to the USB testing with upsampling both on and off (the FiiO Control App only works in BT-RX mode but the setting changes are saved). Selecting "Why Does It Always Rain on Me?" by Travis (16-bit/44.1kHz – Qobuz – "The Man Who") once again I found the Upsampled setting to be preferable offering a decent sized sound stage and an overall musical performance.
If I have one complaint about the BTA30 it is the lack of an input switch. The ability to switch between USB, Coax, Optical, and BT-RX without having to disconnect the USB and switch to a dedicated power supply would be nice.
FiiO Control App: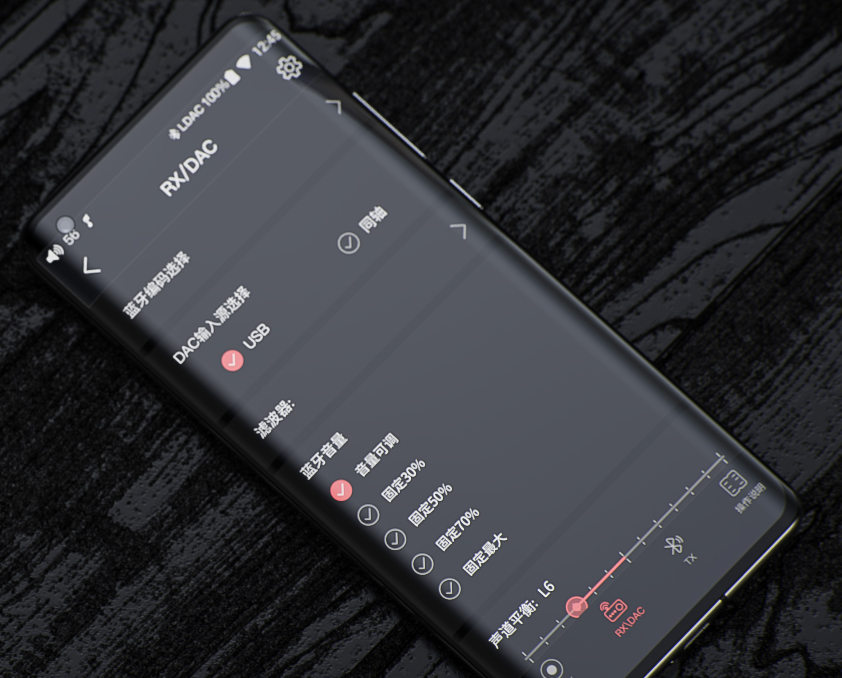 An essential accessory for your BTA30 is the FiiO Control app. Even if you don't plan on using the BTA30 in Bluetooth receive, install this app onto your phone, pad or similar device. Oddly it was not available in the FiiO Apps program on the M11, but it was simple enough to install from the Google Play Store app. Opening up the FiiO Control app a FiiO BTA30 icon will appear and you simply click on that to sync with the BTA30 and it brings up the BTA30 "Status" page. On this page you can change the "Status indicator pattern" from "Red-Green" to Red-Blue" (I have no idea why you would want to do this, but it's there), turn the "Auto power-on" on or off, and turn the "Indicator lights" off or on (for those who prefer a total blackout during operation). At the bottom of the screen are icons for "Status", "RX/DAC", "TX", and "Guide" (Guide will bring up the operating manual), and at the top right will be a settings icon.
If you click the settings icon you have the options to name the device (handy if you have more than one), clear pairing, restore to default settings, and to power off.
The RX/DAC screen is probably the most important. Here you can disable codecs, disable USB or Coax, set your "Volume Control mode" between "Adjustable" and four different fixed levels (30%, 50%, 70%, and 100%), and most importantly select your digital filter ("Lowpass filter").
On the TX screen, you can again disable codecs, disable USB or Coax, set your "Volume Control mode" (only works with SPDIF IN) between "Adjustable" and four different fixed levels, and set your "LDAC streaming quality" your choices being "Audio quality first", "Standard", "Connection first", and "Adaptive".
All in all a very useful tool.
Conclusions on the FiiO BTA30 High Fidelity Bluetooth Transceiver:
The FiiO BTA30 High Fidelity Bluetooth Transceiver is everything it promises to be. As a simple, easily transportable, high-performance inexpensive desktop DAC it is more than worth its price, providing excellent 24-bit/ 192kHz upsampled sound or 24-bit/ 192kHz and DSD64 native sound via Coaxial input. Add in the universal LDAC Bluetooth capabilities and you have the bargain of the century.
The ability to convert any non-Bluetooth digital device to Bluetooth V5.0 with the superior sound quality options of LDAC or aptX HD makes the BTA30 a boon to fans of wireless audio and smart technology. Whether you want to watch television with High Definition sound quality in your own head a 3 AM without disturbing others or stream music from your phone to your old HiFi system, the BTA30 is a must-have and will prove useful for a multitude of applications without putting a heavy lien on your pocketbook. Definite thumbs up and highly recommended product.
Manufacturer's Website: www.fiio.com/bta30
Price: $89.99 USD
Specifications:
Bluetooth chip: CSR8675
Bluetooth version: 5.0
DSP chip: CT5302
DAC chip: AK4490
Audio op-amp: OPA1662
Bluetooth receive formats support: SBC/AAC/aptX/aptX HD/LDAC
Bluetooth transmit format support: SBC/aptX/aptX LL/aptX HD/LDAC
Bluetooth transmit input support: 48k (44.1k not supported)
Optical decoding support: 96k/24bit
Coaxial decoding support: 192k/24bit; DSD64 (dop)
USB AUDIO out support: 44.1/48k 16bit
Transmission distance: Approx. 30m (no obstacles, SBC codec)
Status indicator: SBC: Blue; AAC: Teal; aptX HD: Yellow aptX: Purple, aptX LL: Green; LDAC: White
Hands-free calls, microphone: Not supported
Analog output: RCA (Max 3Vrms)
Digital output: Optical + Coaxial
Digital input: Optical + Coaxial
RCA out THD+N: 0.002% (SPDIF input 48k/24b, 1kHz -3dB)
RCA output SNR: 115dB
Digital out sampling rate: Can be upsampled to 192k/24b
USB interface: Type C
Antenna interface: BNC2.5
App control Supported
Dimensions 120x55x23.5mm Weight 115g
Accessories included Quick Start Guide*1, Warranty Card*1, Type C cable*1, RCA cable*1, Isolation Feet*8